| | |
| --- | --- |
| HUNT - Issue #300 | March 17, 2023 |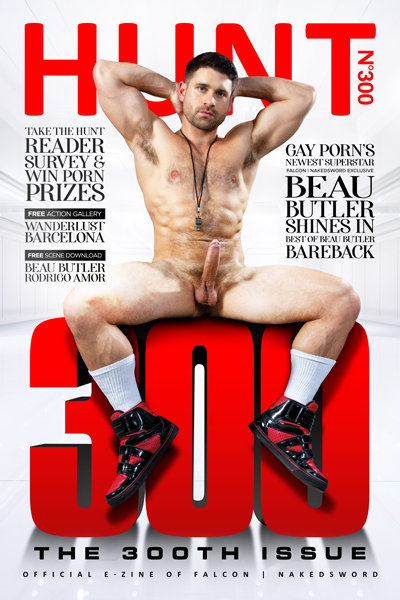 Hey loyal HUNTers,

Itís finally fucking here! Weíve reached our 300th issue and to celebrate, weíve got a fully stuffed HUNT thatís packed with your favorite porn stars, can't-miss free content, and plenty of other material thatís sure to leave your balls drained for the 300th time.
Starting off this monumental edition of HUNT with some Breaking News, weíre getting into Best of Beau Butler Bareback and taking a look at all its must-watch moments featuring titular star Beau Butler in his first-ever Falcon | NakedSword compilation project.
Our Beau obsession continues in this issueís Model Spotlight where you can get a look at the most cum-worthy snapshots from Beauís latest hookups with Falcon Studios, Raging Stallion, and NakedSword Originals.
More bareback snpashots can be seen in our Free Action Gallery as we head overseas for WanderLust: Barcelona with NakedSword Originalsí crew of rock-hard European content creators.
Scrolling down to Special Feature, the HUNT Reader Survey is officially back and ready to give you the chance to win major porn prizes, free site memberships, and even some full-length features.
As always, the fun continues in Studio News. There, you can read more about this oversized 300th issue, get your hole hair trimmed with Club Infernoís latest fisting flick, and meet the men of Meat Head from Trailer Trash Boys. Youíll also be able to catch the just-released Discretion Advised interview with RuPaulís Drag Race royalty Alaska Thunderfuck and industry cutie Levi Karter.
Throughout this special edition of HUNT, youíll find special deals in the Falcon | NakedSword store like International Stud Movie Download Discounts, St. Patrick's New Release DVD Sale and some St. Patrick's New Release Scene Download Deals.
Weíll then be closing out the issue with even more Beau Butler action. So, if seeing this Falcon | NakedSword exclusive on the cover of HUNT put you in the mood to see him utilize that beefy booty and hot cock, then click over to our Free Scene Download where you can get Beauís Raging Stallion flip-fuck with Rodrigo Amor from Get A Room Too.
Thanks for reading and cheers to 300 more issues,
The HUNT Men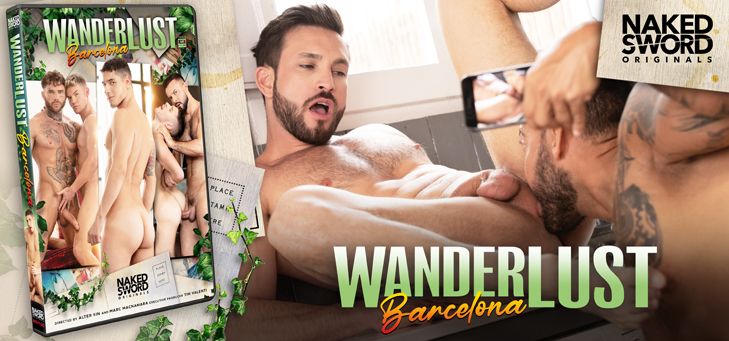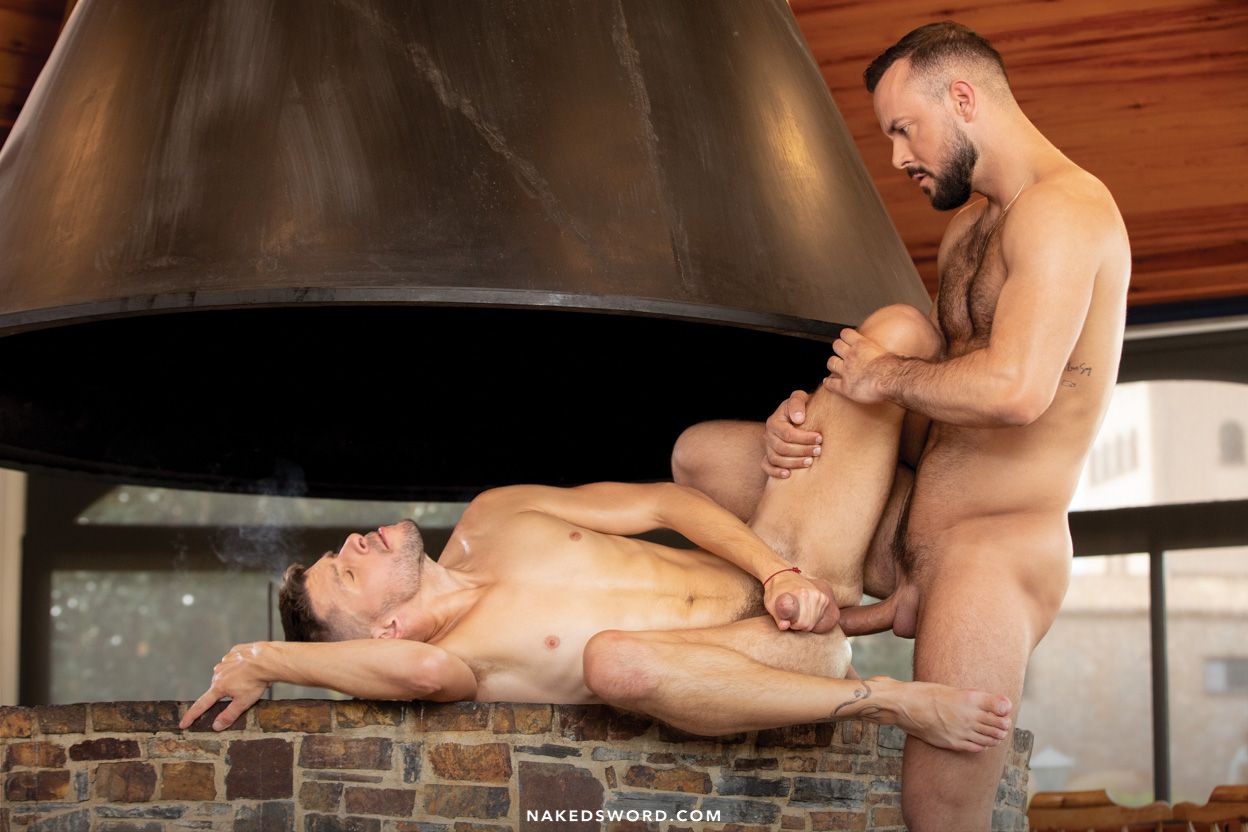 The destination? Barcelona. The men? Eager to fuck and excited to film it! Along with directors Alter Sin and Marc MacNamara, NakedSword Originals is jetting off to Europe to meet a crew of dedicated content creators for a bareback European expedition with WanderLust: Barcelona. The first stop on the journey is Joel Hartís private studio. There, the tattooed top becomes fixated on photographer Bastian Karimís every move before setting his sights on pounding his muscular ass. Days later, in the same space, it's influencer Dean Youngís turn in the studio Ė and his chance to get his own taste of Joel Hartís uncut meat. Meanwhile, Viktor Rom is miles away and getting ready to film content with Javi Gray and ensure that the camera catches every moment of his partner swallowing his pulsating dick. Next, wanting to capture his own magic, photographer Dmitry Osten gives his entire body to Sir Peter as the hung top fucks him by the fireplace and over an oversized table. Last, but not least, deep inside a Barcelona sex club, Bastian Karim is satisfying a different side of his sexual appetite as he allows stranger Diego Reyes to pump his furry cock into his wide-open mouth. So, embrace your lust for the gorgeous men traveling across Europe as NakedSword Originals takes you to WanderLust: Barcelona.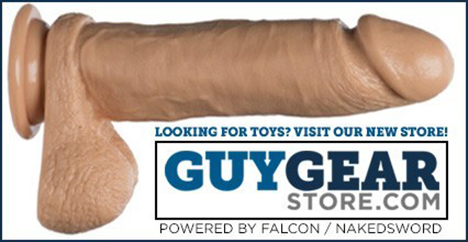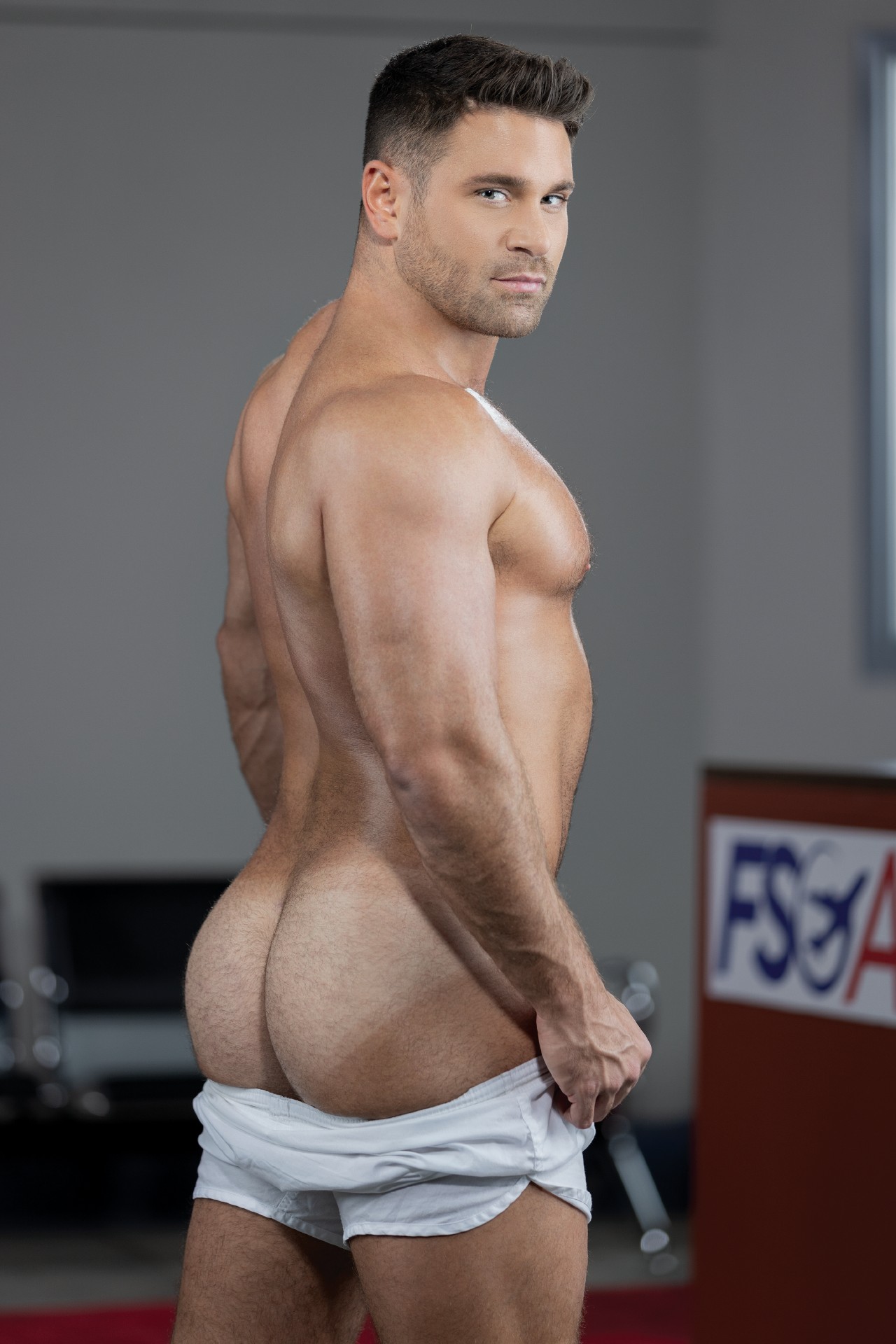 We couldnít think of a more fitting hunk to take over the 300th edition of HUNT than gay pornís newest superstar, Falcon | NakedSword Exclusive Beau Butler! In addition to this jaw-dropping cover, Beau has recently been taking charge of all things gay porn with a win for Favorite Bottom at the 2023 GayVN Awards and the recent release of Best of Beau Butler Bareback Ė his debut compilation project with Falcon | NakedSword. On top of all that, this fan favorite dreamboat is about to follow up his much-talked-about Falcon Studios hookup where heís seen flip-fucking a self-sucking Sean Xavier with a brand new versatile scene for Raging Stallion that has him getting his uncut cock wet in the middle of an empty airport terminal. With all that and much more on the way, thereís definitely not going to be a shortage of Beau Butler content in the cumming months, so keep your eyes out all year long as we update you with everything new that you need to know about this muscular sensation.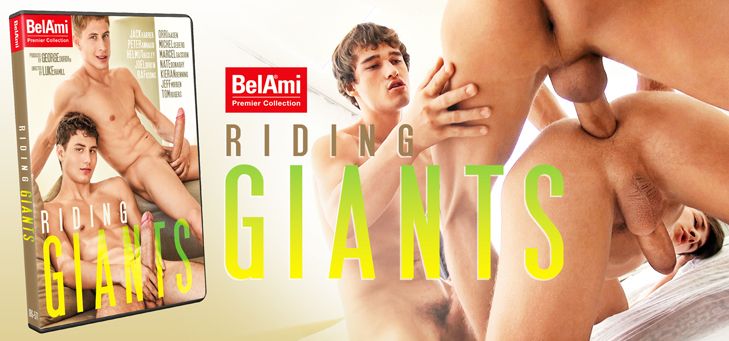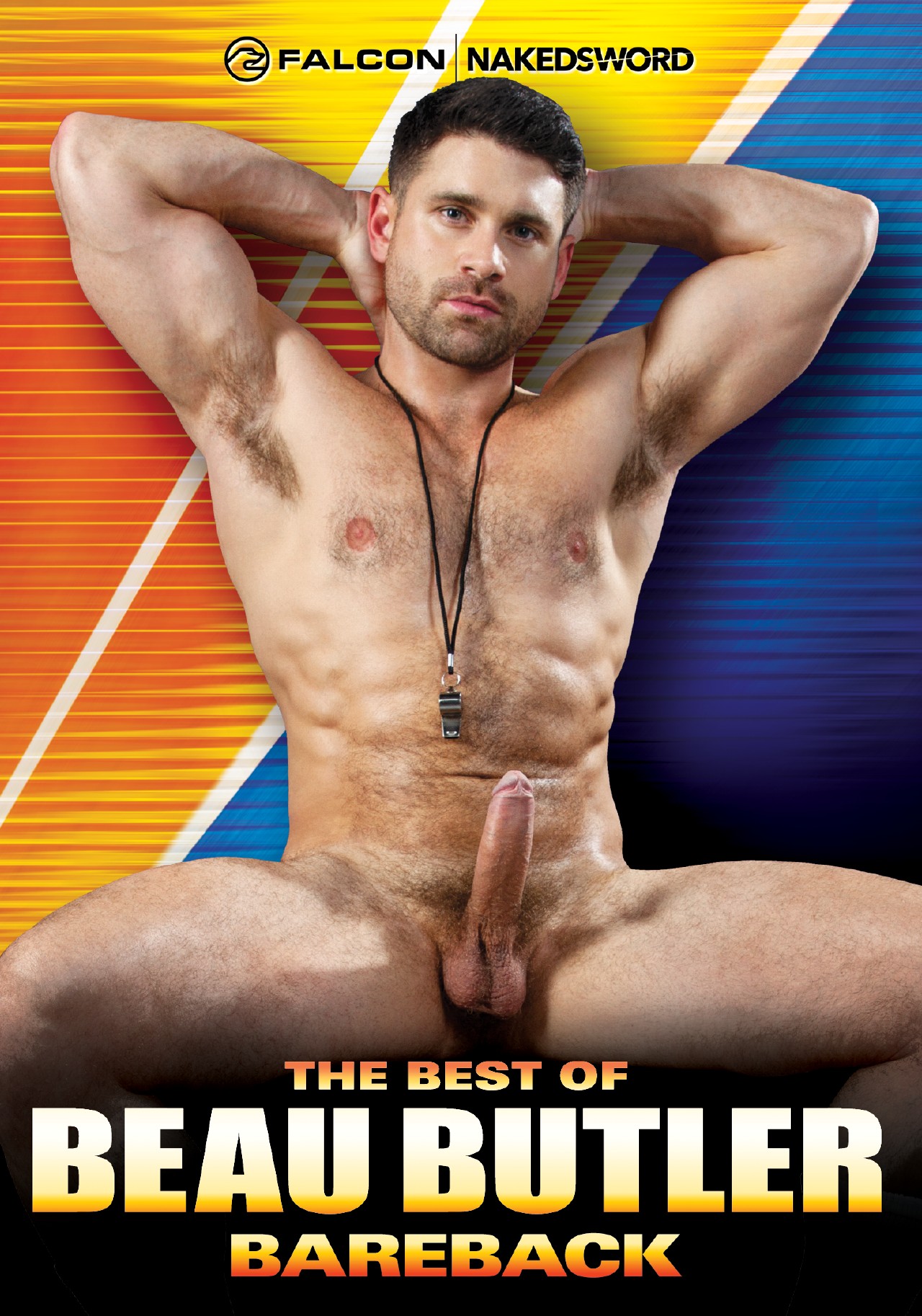 GAY PORNíS NEWEST SUPERSTAR SHINES IN BEST OF BEAU BUTLER BAREBACK
Between his natural charm, gorgeously beefy body and his perfectly hairy hole, itís easy to see why Falcon | NakedSword Exclusive Beau Butler has quickly become one of the top names in gay porn. Now, BEST OF BEAU BUTLER BAREBACK is showcasing the hirsute stud and every single reason the world has fallen in love with this award-winning industry standout. With scenes from acclaimed directors Tony Dimarco, Ben Rush, Pierce Paris and Chi Chi LaRue, this 100% raw, cum-draining compilation includes six of the starís most popular hookups from top brands Falcon Studios, NakedSword Originals, and Raging Stallion. BEST OF BEAU BUTLER BAREBACK makes its debut Friday, March 17th, and is available as both a DVD and digital download in the Falcon | NakedSword Store.

Click Here to Read the Full Story




Hot Membership Site Updates Available Now!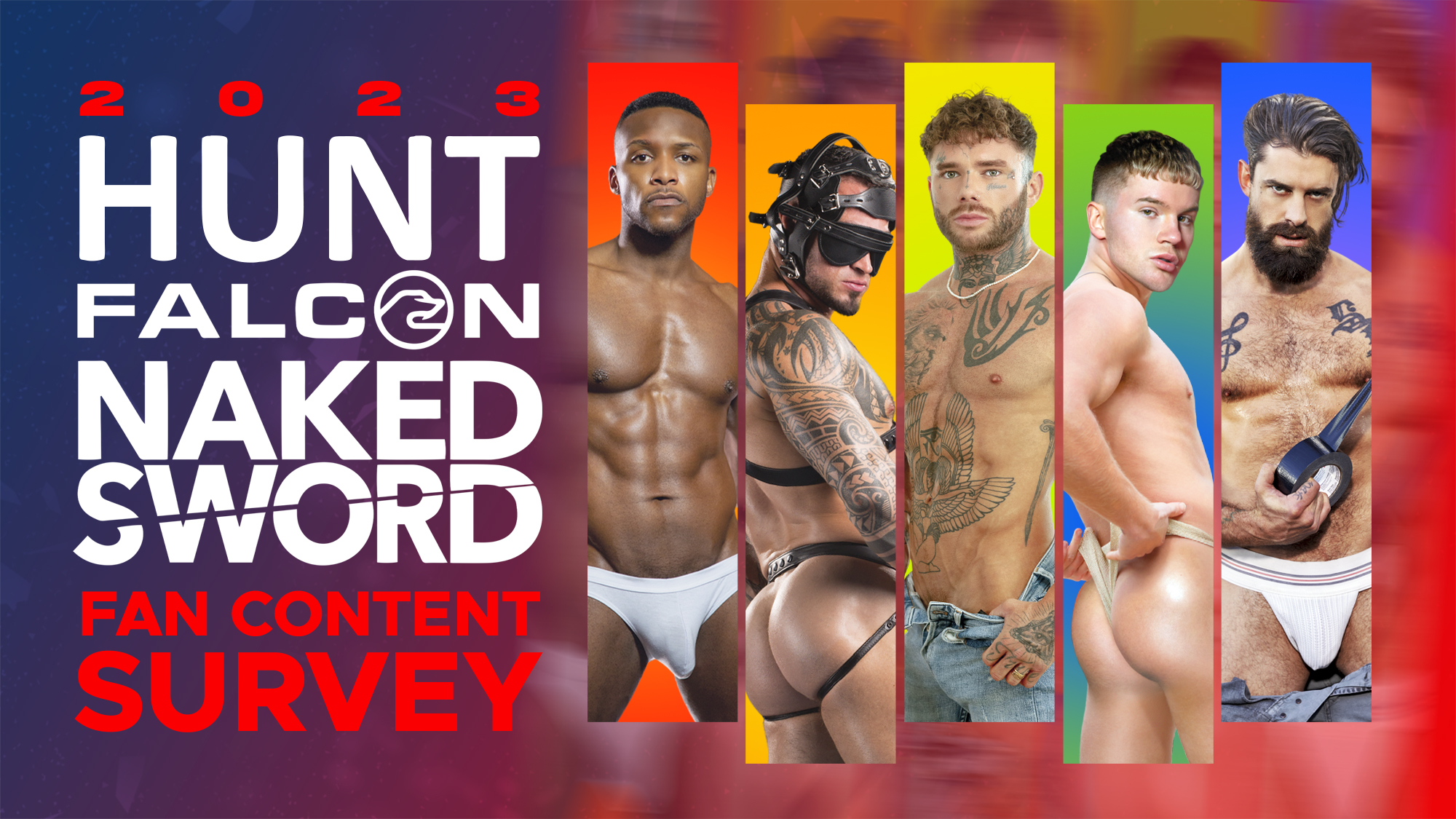 Take the HUNT Reader Survey & Win Porn Prizes
Provide your valuable feedback on Falcon | NakedSword content for your chance to win DVDs, Downloads and Memberships to our popular sites. HUNT Readers and fans of Falcon Studios, NakedSword Originals, Raging Stallion, Hot House , Club Inferno, Fisting Central and Fetish Force, this is your chance to tell us what you really think about our porn and help us make important decisions about our content in the coming year.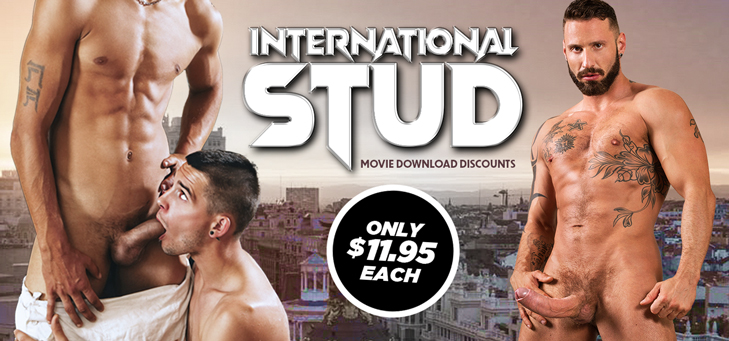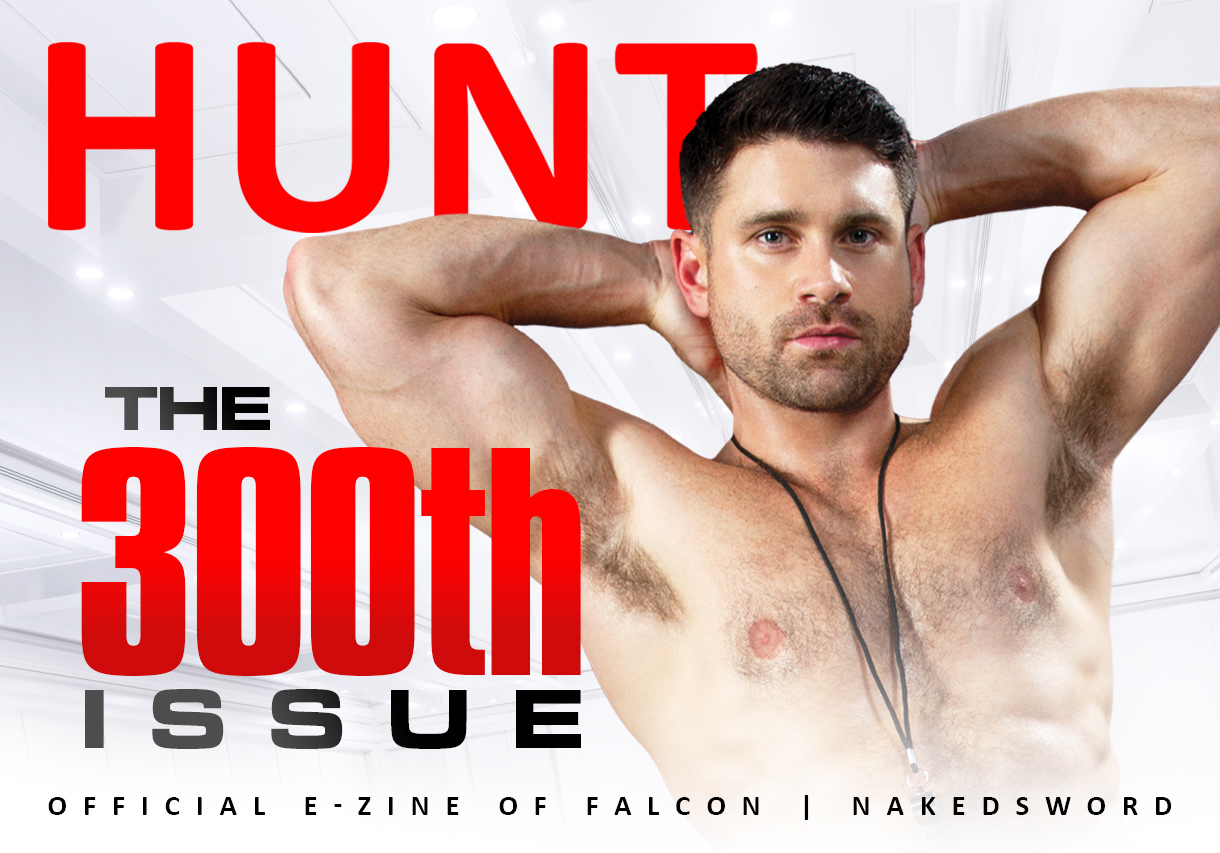 FALCON | NAKEDSWORDíS ĎHUNTí EZINE CELEBRATES ITS MILESTONE 300TH ISSUE - HUNT, the official eZine of Falcon | NakedSword, hit a milestone today with the release of its remarkable 300th issue. Boasting a loyal fan base of more than 60,000 readers worldwide, this special issue is jam-packed with the...
Read Full Story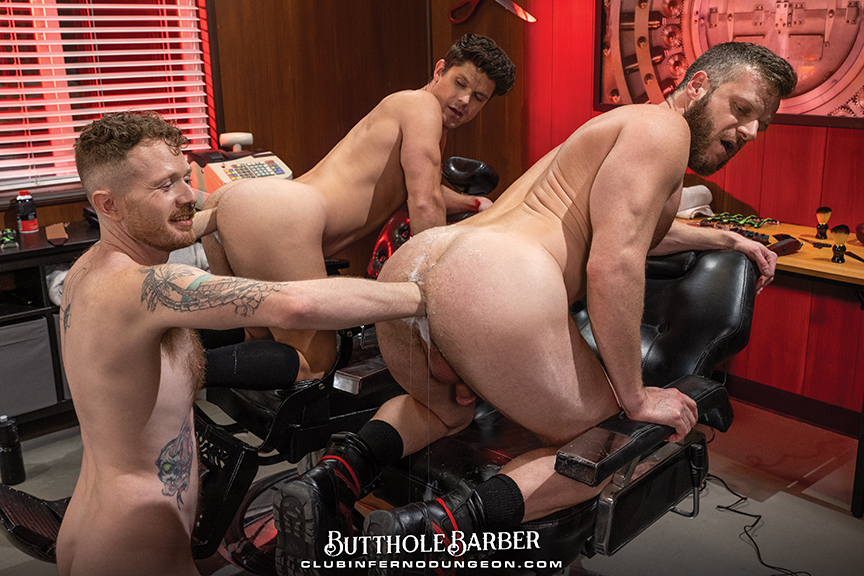 CLEAN SHAVES AND WRECKED HOLES ARE A PACKAGE DEAL AT CLUB INFERNOíS BUTTHOLE BARBER - There are plenty of men out there who are good at giving themselves a clean shave, but thereís only one BUTTHOLE BARBER whoís qualified to fully manscape and service wooly holes to complete satisfaction! Join award-winning...
Read Full Story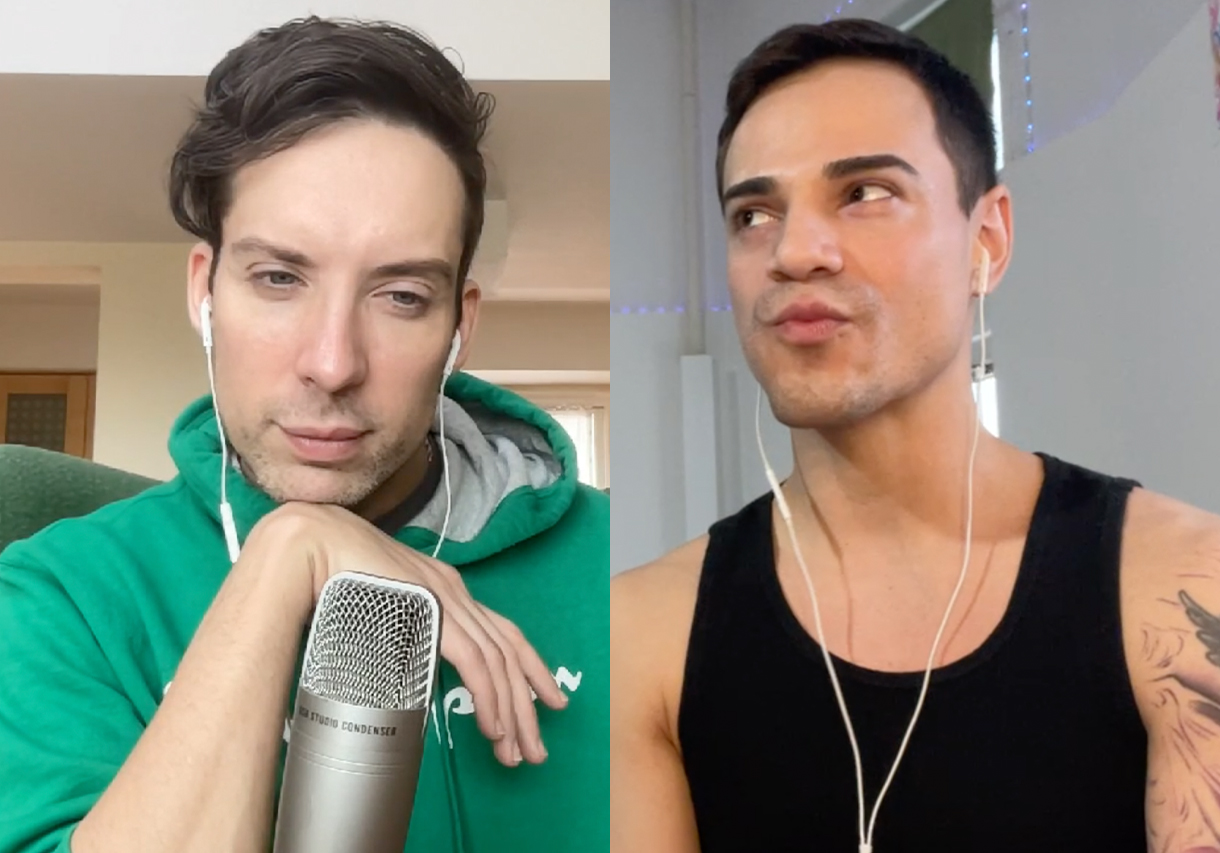 Alaska Thunderfuck & Levi Karter Team Up For Unfiltered Interview - For the latest episode of Discretion Advised, hosts John Hill and Marc MacNamara are going channeling their inner closet case as John shoves himself into Marcís literal bedroom closet in an attempt to find somewhere quiet to record. Surrounded...
Read Full Story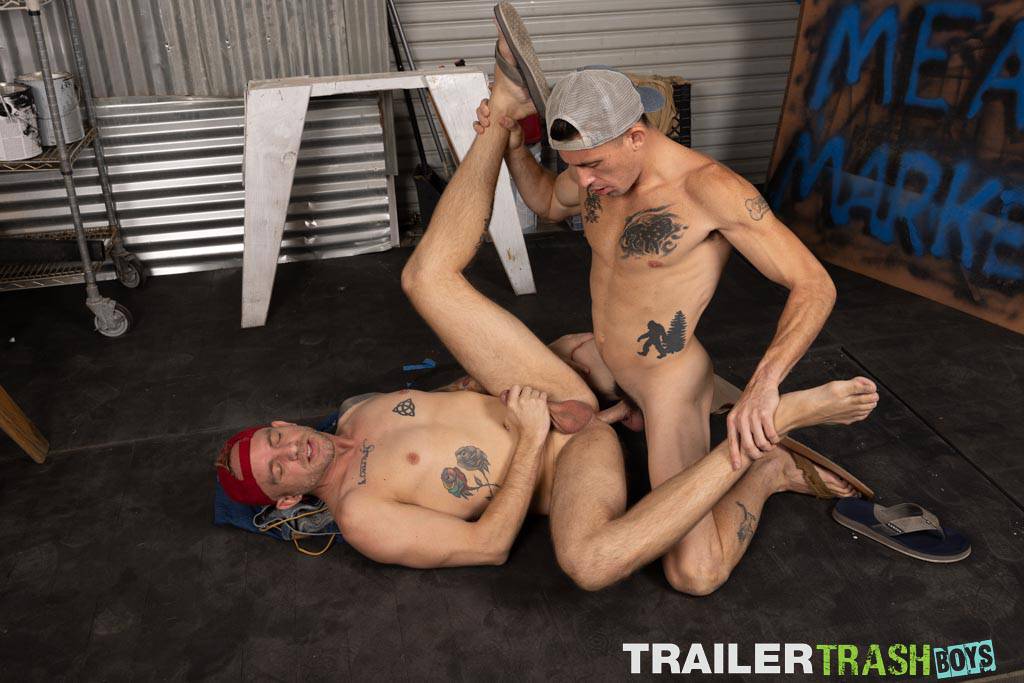 Meat Head from Trailer Trash Boys Available on DVD & Download - Today, Trailer Trash Boys have announced the release of their latest bareback DVD & Downloads, Meat Head. Created by co-directors Anthony Duran and Jasun Mark, these rugged studs show you how they get down over on Lot45. Meat Head is now...
Read Full Story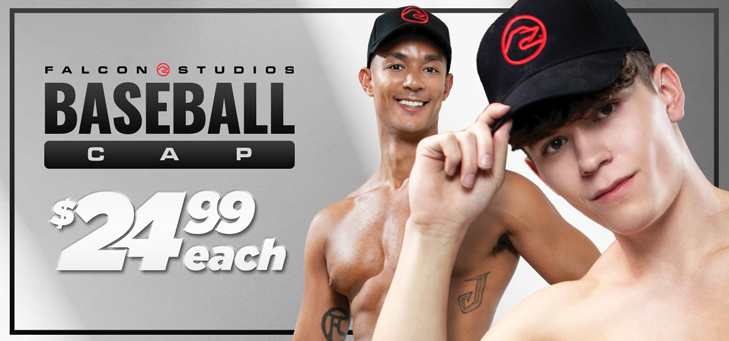 Beau Butler and Rodrigo Amor from Get A Room Too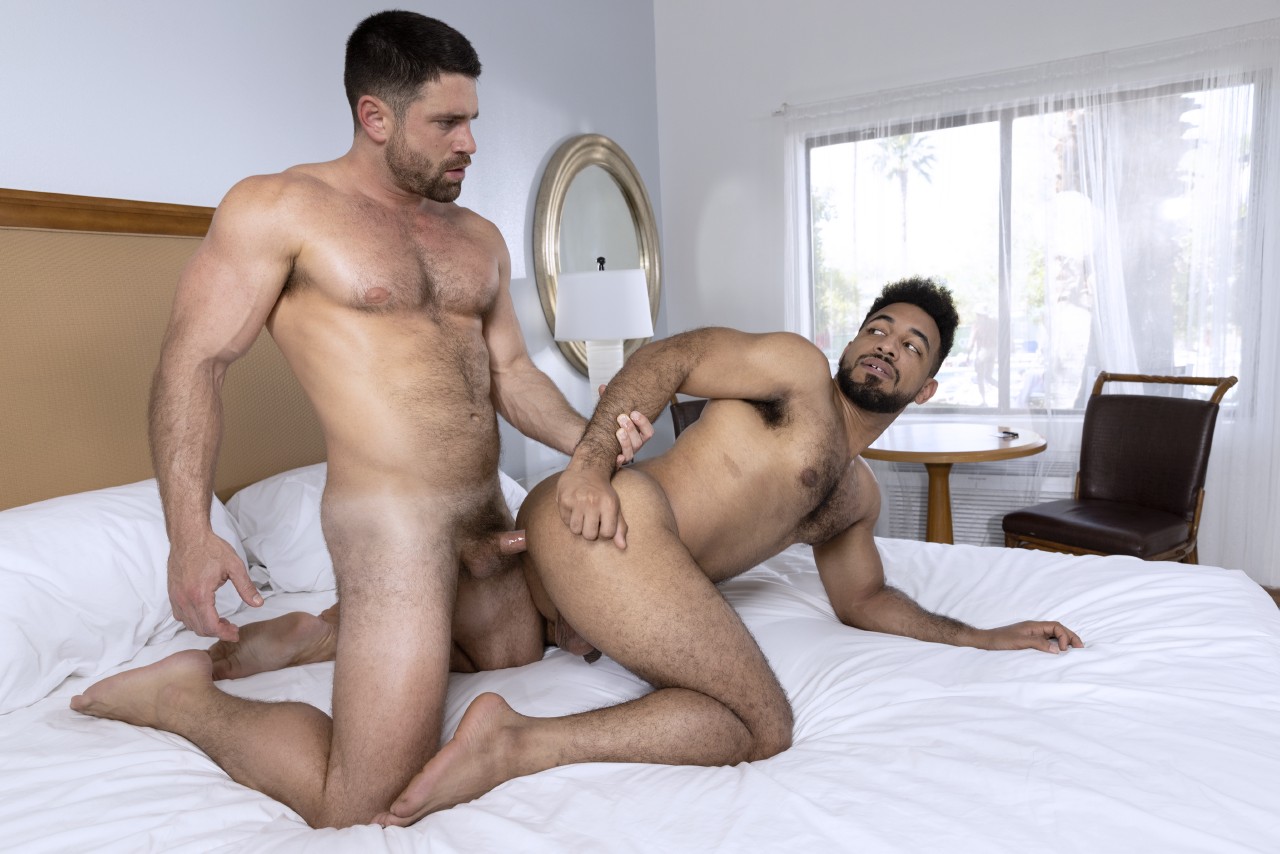 Muscle daddy Beau Butler just arrived at his resort and is already being cruised by hunk Rodrigo Amor. After exchanging a few words, a confident Rodrigo walks straight into Beauís room, makes out with the thick stud, and pulls down his swimwear to reveal his massive dick. With his face buried deep in Rodrigoís massive ass, Beau preps the stranger for his raw, hairy dick. Once Rodrigoís overeager hole is satisfied, Rodrigo turns the hookup into a bareback flip-fuck by using his own long cock to top Beauís giant bubble butt. Laying on his back with Rodrigoís XXL member sliding in and out of his backdoor, Beauís moans get louder and louder until he cums all over his own furry chest and thick patch of pubes. Rodrigo adds a second coat of seed to Beauís naked body by blasting an outrageously enormous amount of jizz all over the satisfied vacationer.