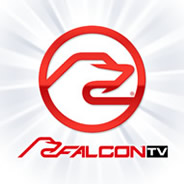 | | |
| --- | --- |
| | Check the listings in your Television Provider's Adult HD OnDemand Menu for: The Chalet, The OnDemand HD Release of Falcon Studios', The Chalet starring Skyy Knox, Peter Annaud, Colton Reece & more! |


| | |
| --- | --- |
| HUNT - Issue #299 | March 3, 2023 |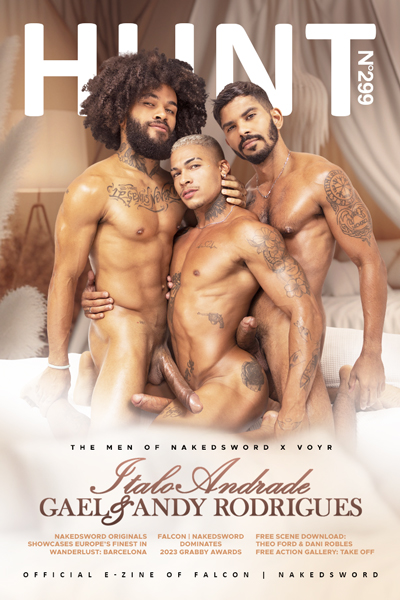 Hey HUNTers,

We've got big dicks, hot fucks, and brand new bareback projects on the brain, so let's get right into this edition of HUNT and break into the latest content from your favorite gay porn studios!
Starting off the issue with some Breaking News, a crew of hung porn stars are taking to Europe with directors Alter Sin and Marc MacNamara for WanderLust: Barcelona - the latest DVD and downloads release from NakedSword Originals.
More big dick action can be found in our Model Spotlight as we take a look at Gael, Andy Rodrigues, Italo Andrade - the three hung studs making their HUNT cover debut with this issue - and even more mouthwatering men that make up the cast for the newest batch of must-watch scenes on HUNTFORMEN.com.
Over in Special Feature, it's time to get into position as we 69 with the whopping 69 nominations Falcon | NakedSword just received for the upcoming 2023 Grabby Awards.
We'll then arrive at the country's horniest airport terminal as we look at the hottest snapshots from Raging Stallion's Take Off for our Free Action Gallery.
For Studio News, you can watch Falcon | NakedSword Exclusive Andre Donovan spill on THAT unforgettable position from First Mission and later catch up with A Few Hard Men from BelAmi's latest release.
You'll also be able to get your hands on some links to the Falcon | NakedSword store where you can get in on Hot House Scene Deals, Falcon Brand DVD Savings, and the final hours for some Recent Release Movie Download Deals.
If all the hot European action in WanderLust: Barcelona put you in the mood for even more international action, then be sure to hit up this issue's Free Scene Download where we're giving away Theo Ford and Dani Robles' big scene from NakedSword Originals' Paris Perfect.
Safe travels,
The HUNT Men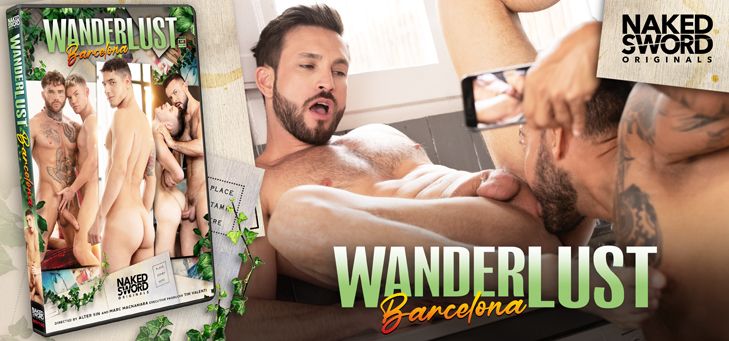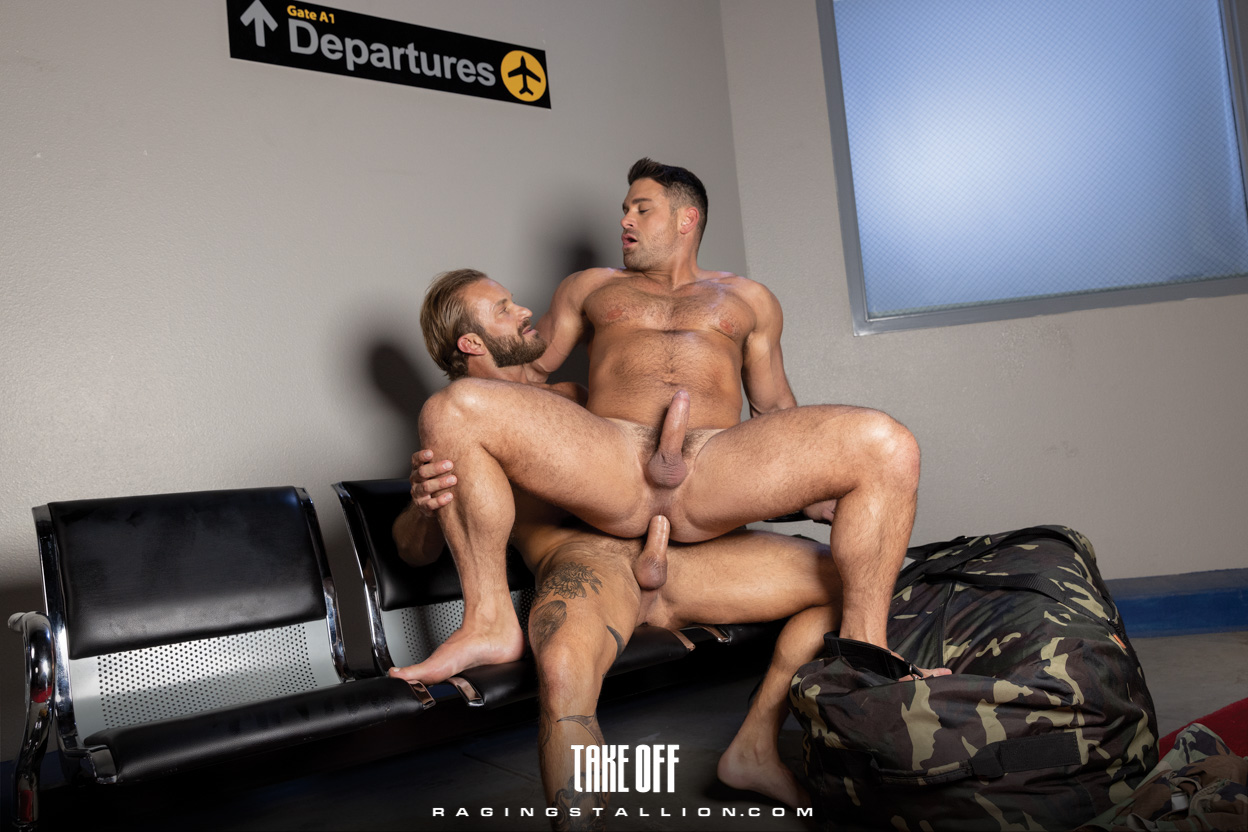 Air travel can be stressful these days. Just ask pilots Sean Xavier and Alpha Wolfe; they've spent hours crammed in a cockpit, waiting for clearance to Take Off. When it's eventually determined that an airline computer malfunction is set to delay more than 150 flights, Sean and Alpha decide to book one of the few hotel rooms still available in the area. There, the two hairy studs are finally able to act on their yearslong attraction, flip-fucking bareback for hours. Meanwhile, there's baggage handler Morgxn Thicke, who is enjoying some attention from randy flight attendant Drew Valentino. In a warehouse full of luggage, the two ripped men take a lengthy break to work off their frustrations with the day's unexpectedly chaotic turn. Over in the security area, TSA agent Andre Donovan notices a suspicious object on Luca Del Rey's x-ray body scan, prompting a very thorough cavity search. Then there are US serviceman Beau Butler and horny traveler Bruce Jones who aren't lucky enough to find accommodations and must find a way to pass the time. The two naughty passengers come together for a hot and sweaty throw-down in a secluded area of the airport. Grounded flight attendant Drew Valentino then finds the hot-as-fuck Brogan - who's coincidentally only 10 feet away - on a hook-up app. The stranded flyer may have missed his connection but is about to make another in the nearest public restroom. Director Tony Dimarco and screenwriter Ben Rush invite you to put your seatbacks in a horizontal position, turn on your devices and unfasten your seatbelts in preparation for Take Off.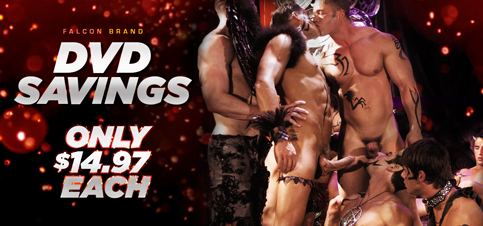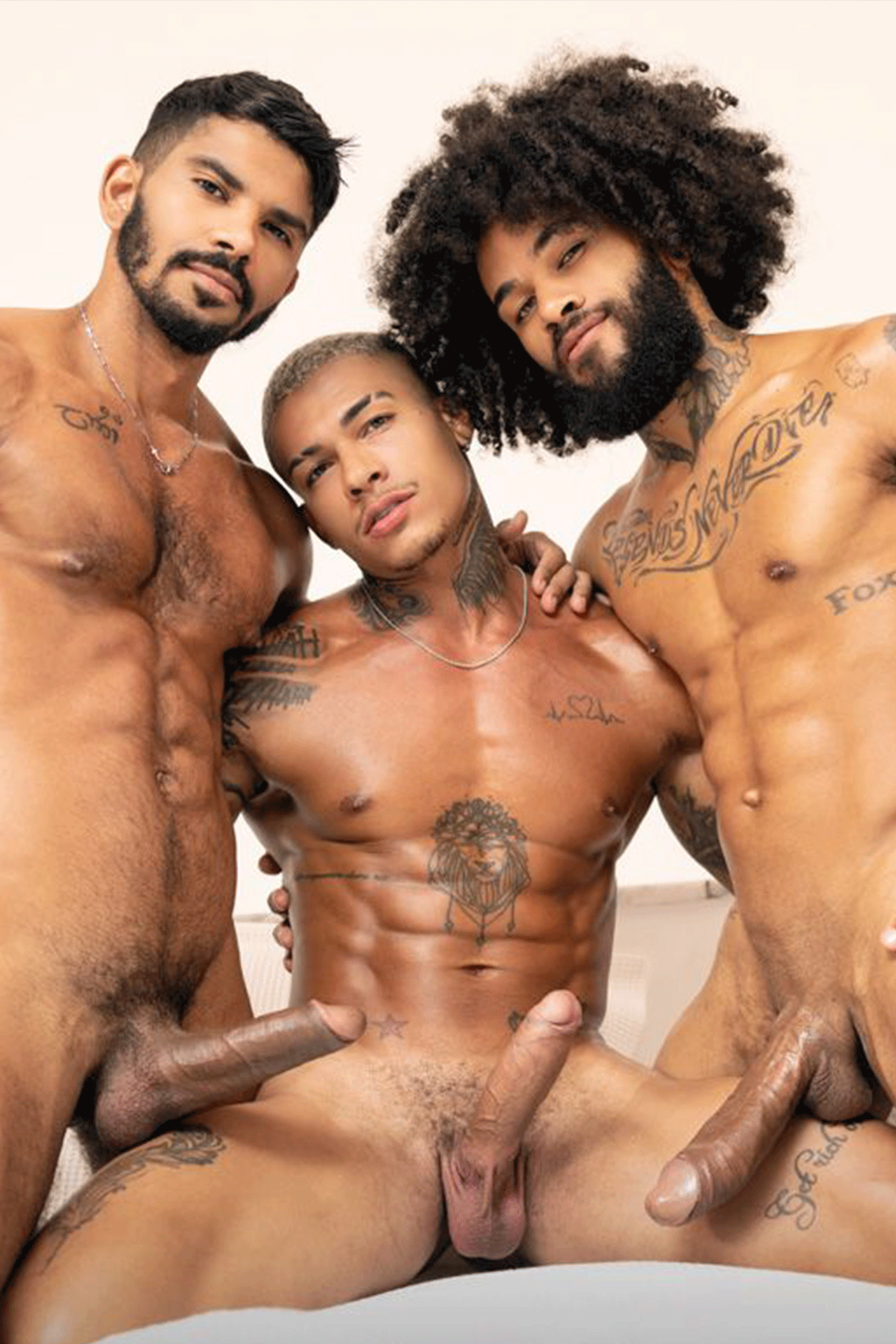 Unless you've been living under a rock, then you know all about the NakedSword X VoyR takeover happening right now over on HuntForMen.com! Filmed on location in Brazil, this collection of bareback hookups features some of the biggest - and we mean BIGGEST - fan favorite performers out there today. Just this week, we got a threesome starring Italo Andrade where he services the oversized cocks of hung hunks Gael and Andy Rodrigues. Other must-watch fuck vids in the event series include standouts like Markin Wolf, Gabriel Coimbra, Jordan Giraldi and Lucas Dias sucking and fucking their way across a scenic loft. Even more models are joining the NakedSword X VoyR takeover in the coming weeks as the final five scenes from executive producers Rhyheim Shabazz and Tim Valenti officially drop on HUNTFORMEN.com, so be sure to click over and catch every can't-miss moment from these men and their more-than-impressive packages.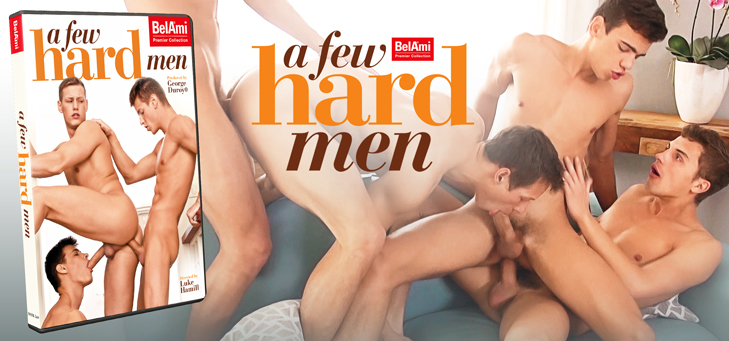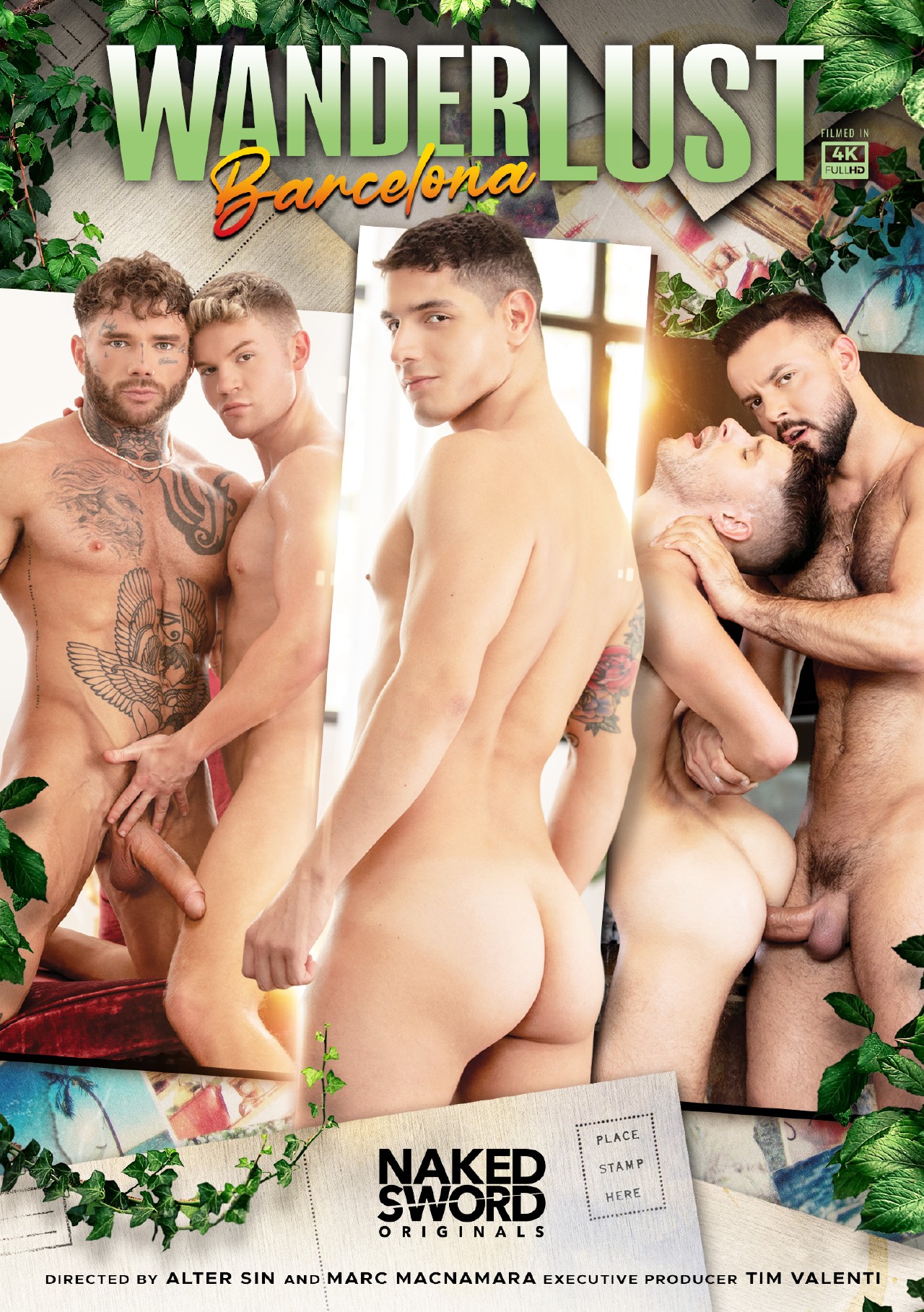 NAKEDSWORD ORIGINALS SHOWCASES EUROPE'S FINEST IN WANDERLUST: BARCELONA
The destination? Barcelona. The men? Eager to fuck and excited to film it! Along with lauded directors Alter Sin and Marc MacNamara, NakedSword Originals is jetting off to join eight dedicated content creators for the release WANDERLUST: BARCELONA. With five intimate encounters featuring the talents of Falcon | NakedSword Headliner Joel Hart along with Sir Peter, Dean Young and Bastian Karim, this European bareback blow-out debuts today (March 3rd) as a DVD and digital download in the Falcon | NakedSword Store.

Click Here to Read the Full Story




Hot Membership Site Updates Available Now!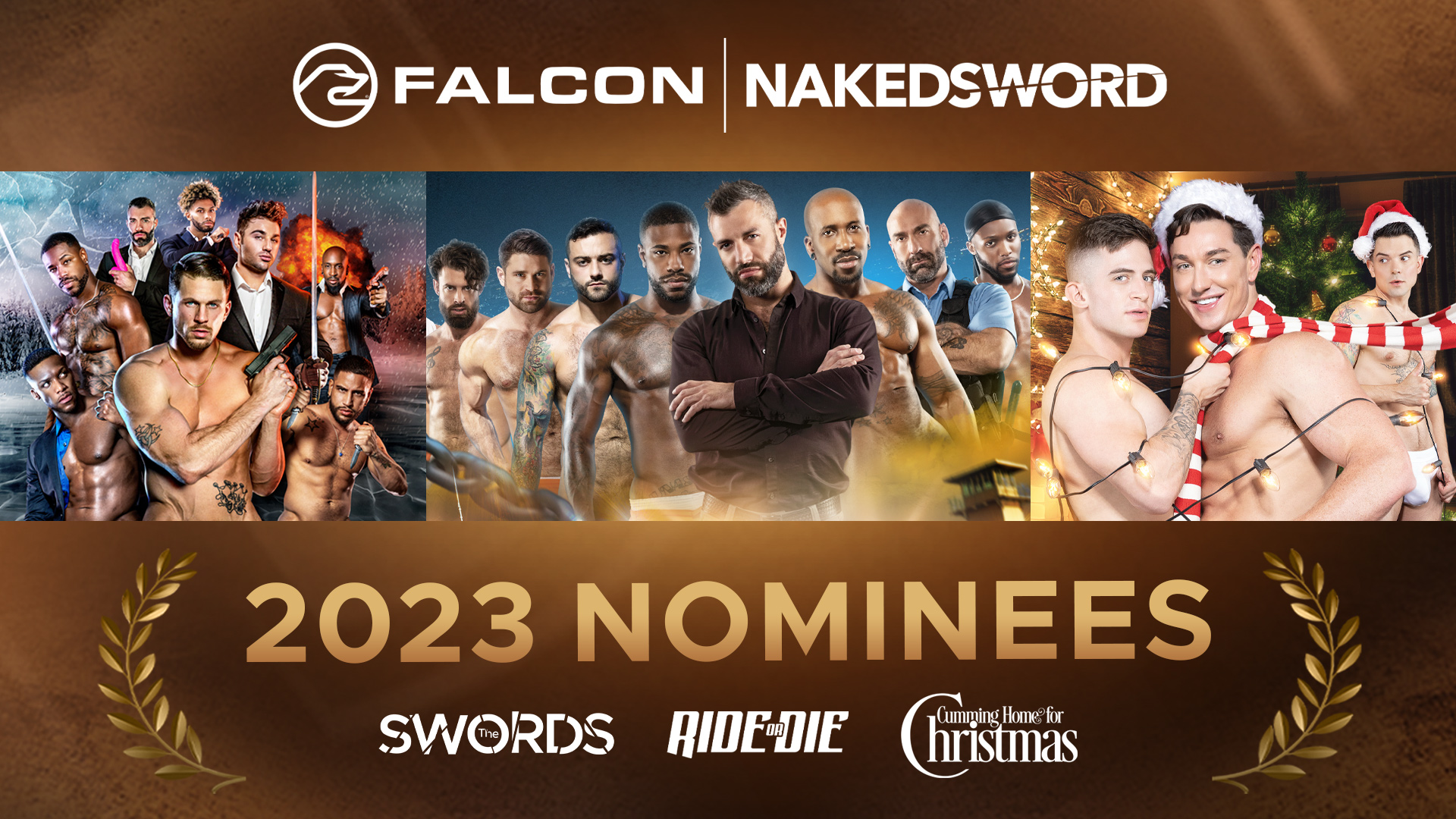 FALCON | NAKEDSWORD DOMINATES 2023 GRABBY AWARDS WITH A FITTING 69 NOMINATIONS
Falcon | NakedSword is at the top of the leader board for the 2023 Grabby Awards, scoring a magical 69 nominations in categories including Best Movie, Best Director, Best Screenplay and Best Actor. Raging Stallion Studios' RIDE OR DIE stays the course for more awards season glory, as do films such as THE SWORDS, BRED & BREAKFAST: THE COME INN, MEN'S BRIEFS, GUILTY AS SIN, and CUMMING HOME FOR CHRISTMAS. The Grabby Awards will be presented live on Saturday, May 27th, in Chicago.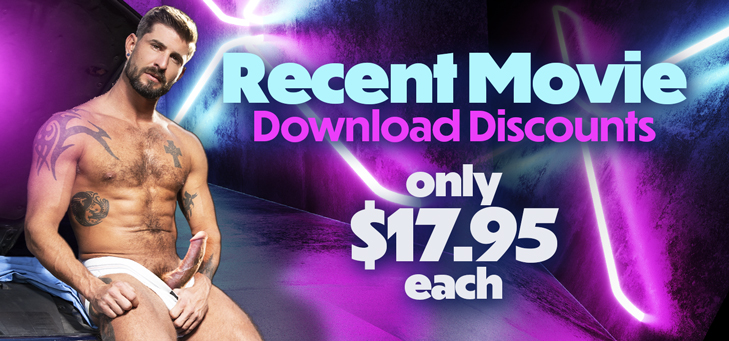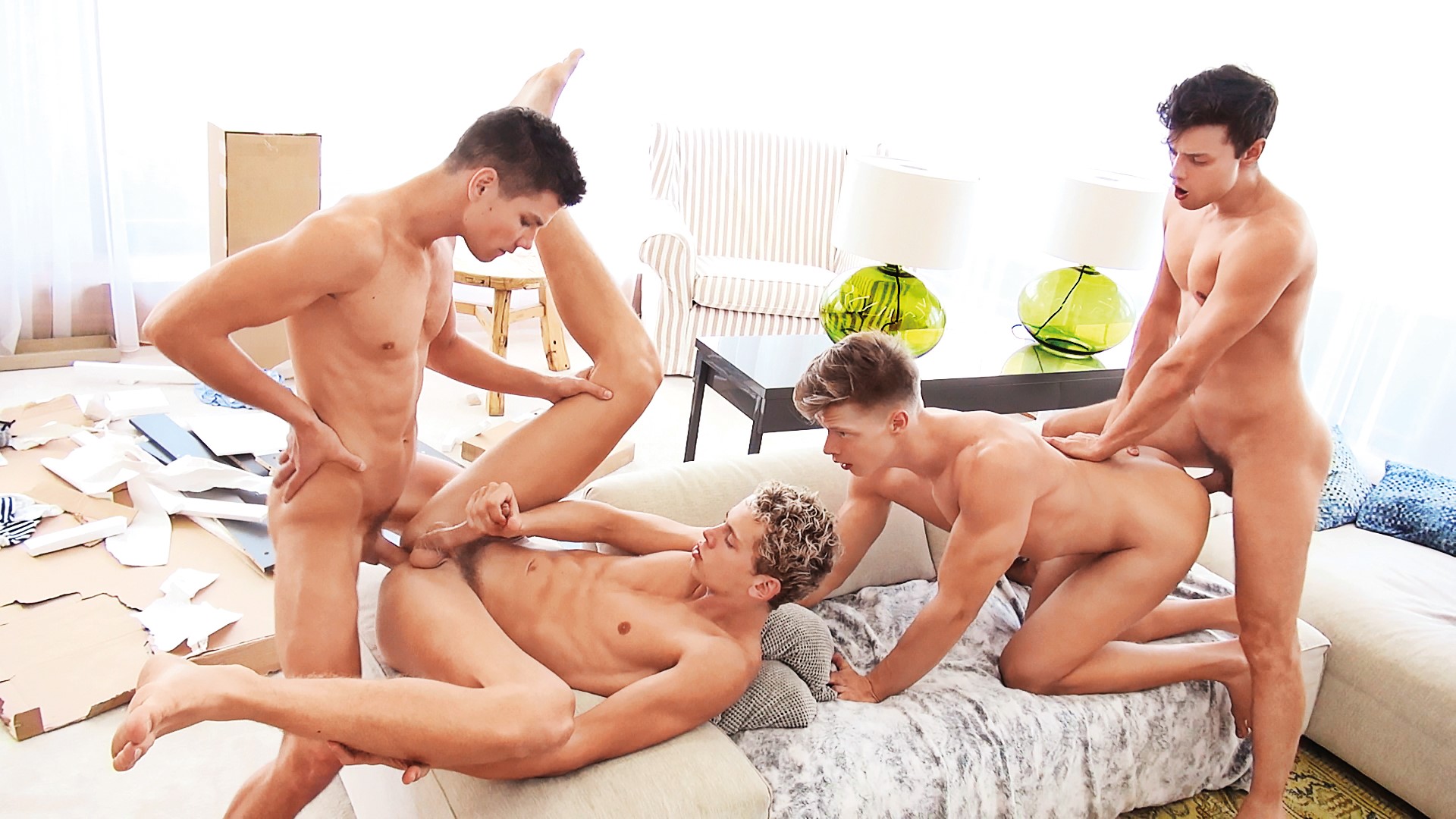 BelAmi Streets A Few Hard Men On DVD & Downloads - Foursomes, threesomes and a lot of fun! Luke Hamill directs the latest bareback feature for BelAmi featuring breathtaking studs Joaquin Arrenas, Bastian Duffy, Roald Ekberg, Dylan Maguire, Sven Basquiat and more! Get it on DVD & Downloads from the Falcon | NakedSword Store.
Read Full Story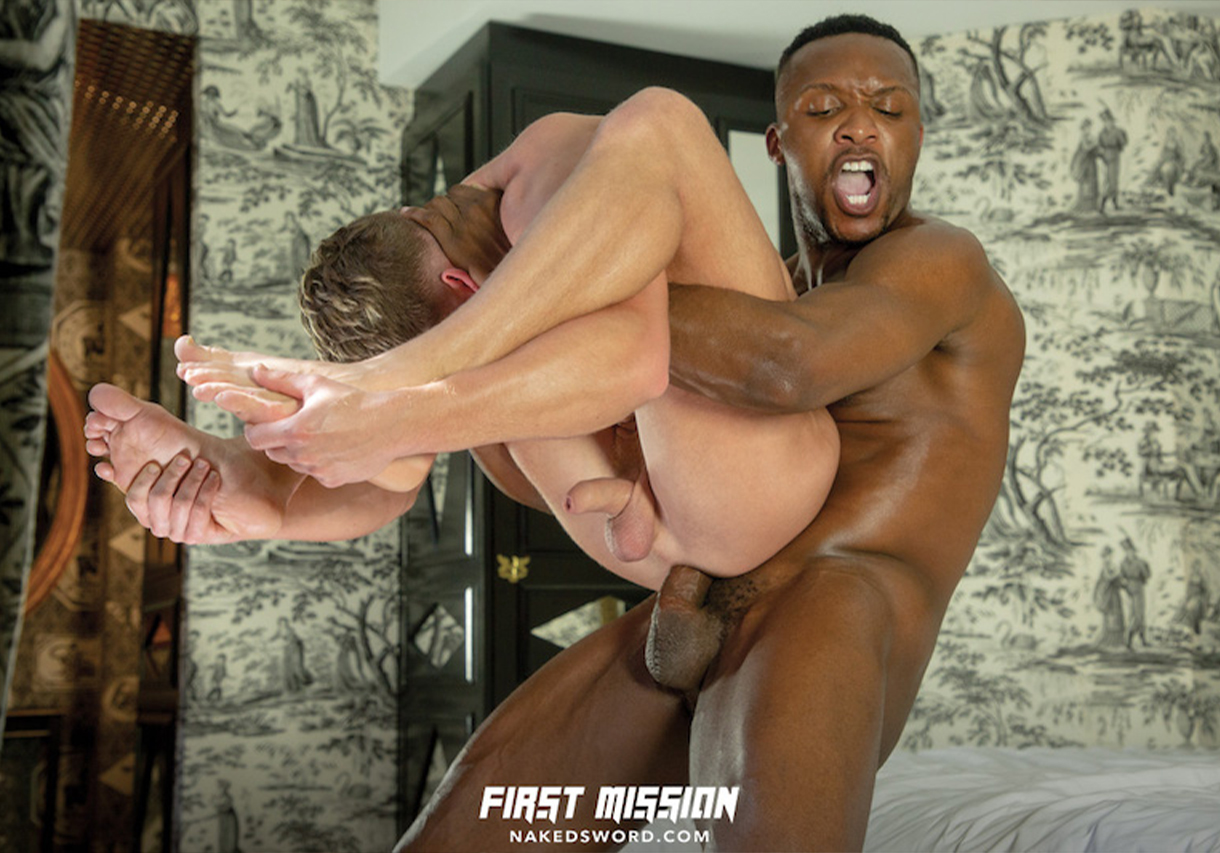 Andre Donovan Talks About *THAT* Sex Position - NakedSword Originals Lead Director Marc MacNamara is sitting down with Falcon | NakedSword Exclusive Andre Donovan and continuing his series of rapid fire interviews with The Swords: First Mission cast! For this quickie, Marc and Andre are...
Read Full Story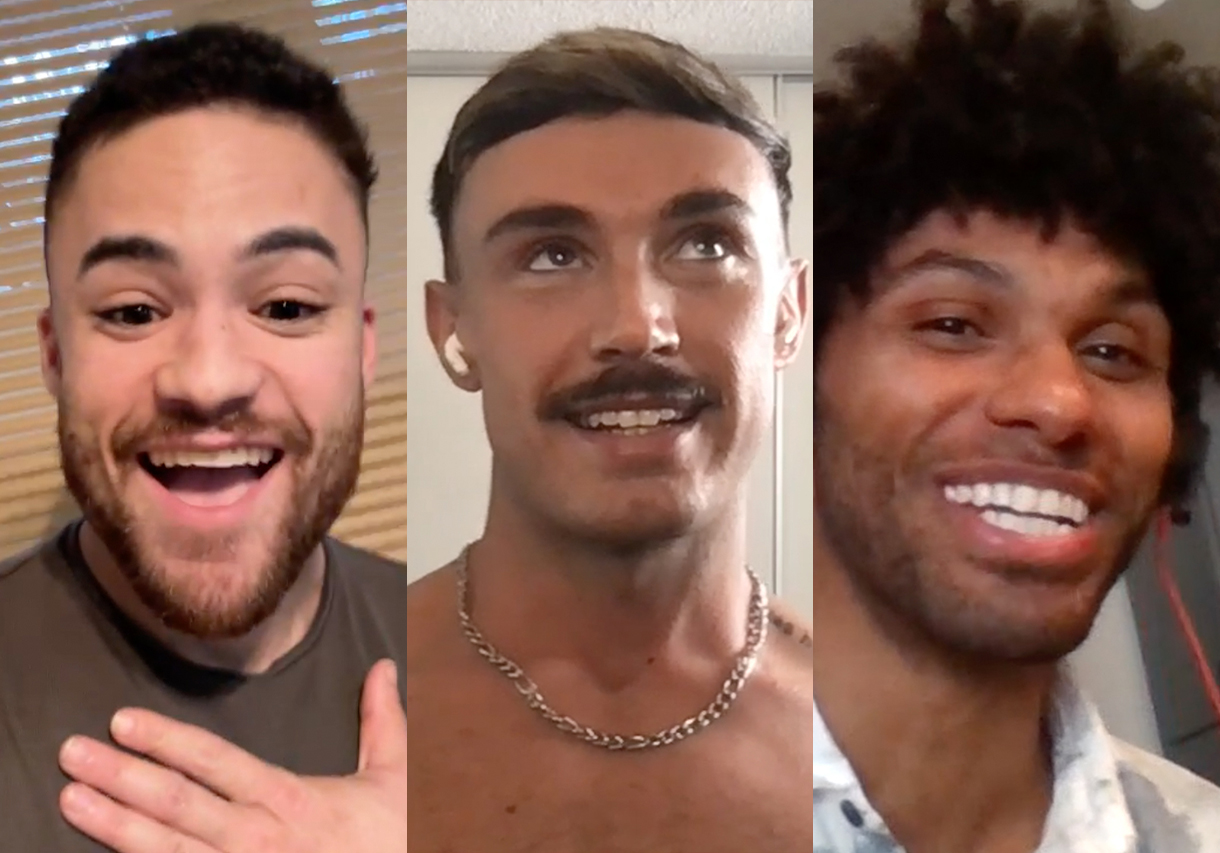 You'll Scream For This Trio Of Porn Star Interviews - What's going on in this episode? Your guess is as good as ours! Due to some scheduling conflicts, our guests had to cancel and we're calling up a bunch of fan-favorite adult stars for a rapid roulette of mystery interviews. First though, Marc MacNamara and John Hill...
Read Full Story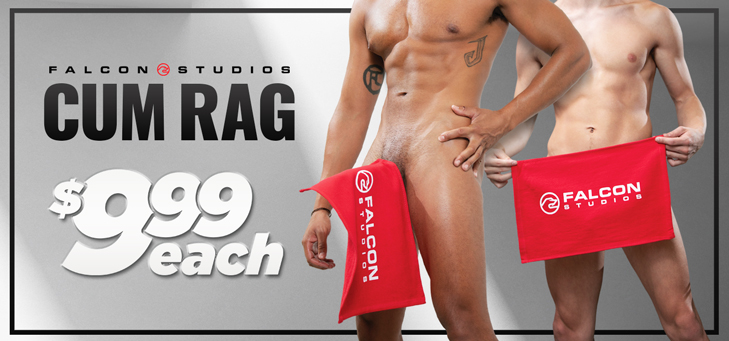 Theo Ford & Dani Robles from Paris Perfect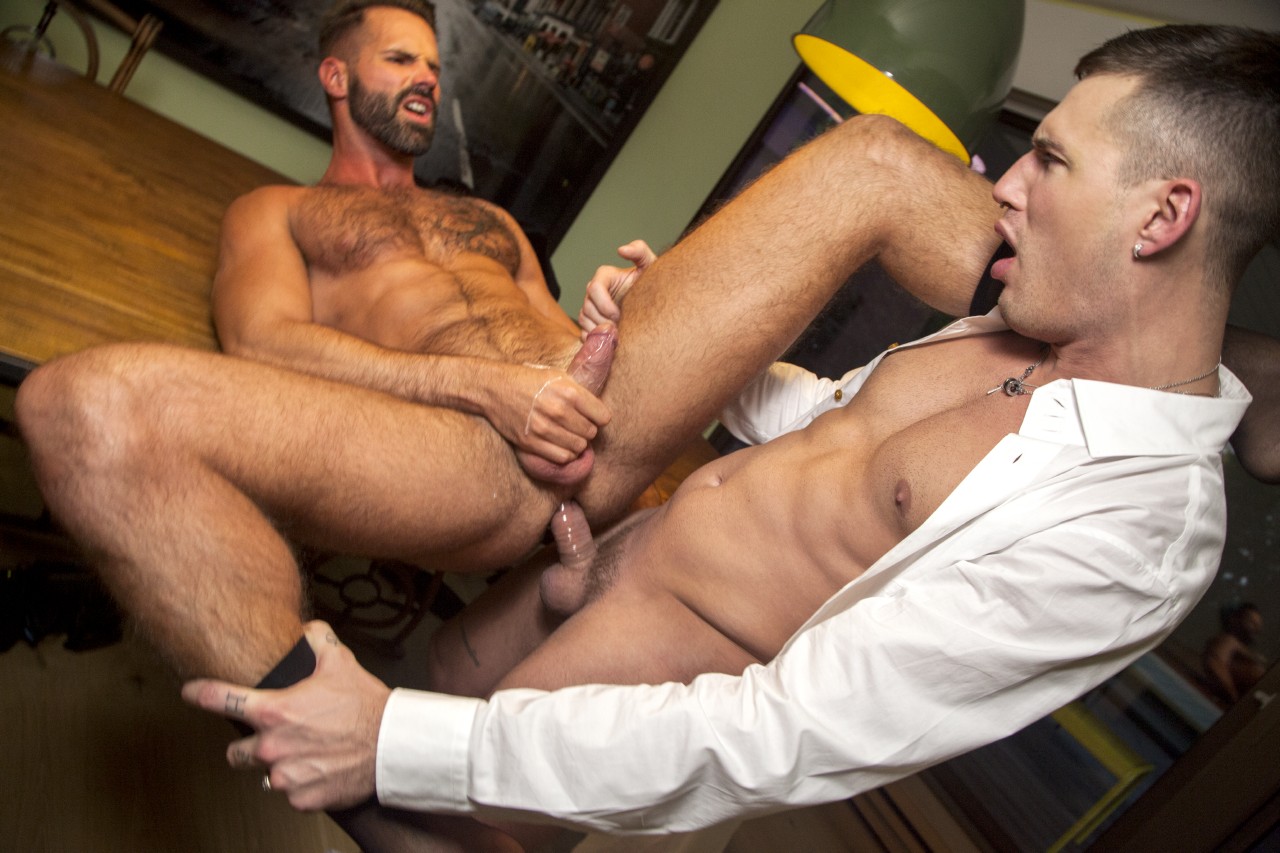 As if being forced to eat escargot, "Mr. Ferrand's Favorite" wasn't bad enough, Colton Grey's charade takes a turn for the worst when a Spanish hitman (Dani Robles) turns up at the Penthouse. His threatening demands for payment on a debt are appeased by Theo Ford who takes Dani into the next room to buy some time. The downpayment includes heavy foot play, ass eating, cock sucking, and every inch of Theo's thick, uncut cock, shoved up Dani's tight ass. All of the aggressive fucking and noisy load eating creates such a ruckus, Colton is convinced that Theo is being worked over by the Spanish hitman. On his way out, the disheveled Valet Theo ominously warns that the debt must be repaid within 24 hours - or else! Unaware that his best friend's phone has been stolen, Colton frantically calls Johnny V Where could he be? All is definitely NOT perfect in Paris!

You have received this email because you requested email updates from Falcon | NakedSword be sent to: %%EMAIL_ADDRESS%%
This is an advertisement. %%PLUGIN_Unsubscribe: 183936-Unsubscribe%%
Please add reply@huntezine.com to your address book or safe senders list to ensure that these emails arrive in your inbox.
© 2023 Silver State Services, LLC. All Rights Reserved. HUNT eZine, 4011 W. Oquendo Rd. Unit A. Las Vegas, NV 89118

Records required to be maintained pursuant to 18 U.S.C. 2257 and
C.F.R. 75 are kept in the following location by the Custodian of Records:
Custodian of Records
4011 W. Oquendo Rd. Unit A.
Las Vegas, NV 89118