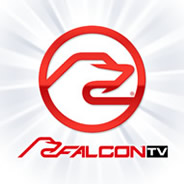 | | |
| --- | --- |
| | Check the listings in your Television Provider's Adult HD OnDemand Menu for: Do You Even Lift Bro, The OnDemand HD Release of Hot House's, The Trainer No Excuses starring Skyy Knox, Johnny V, Austin Wolf & more! |


| | |
| --- | --- |
| HUNT - Issue #296 | January 19, 2023 |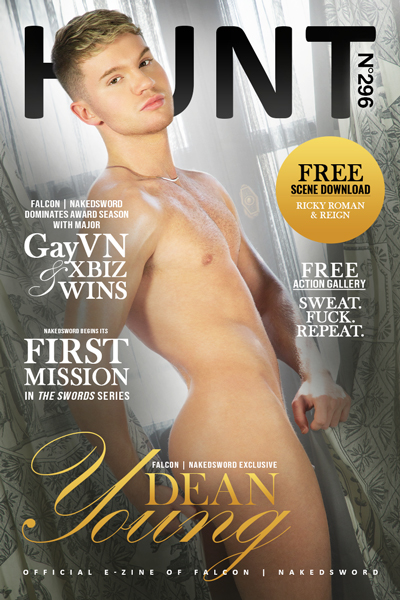 Bonjour!

Pack your bags and grab that cock, because we're jetting off to everywhere from France to the gym to the red carpet for this latest issue of HUNT!
Up first, we're getting Breaking News that the world's hottest porn stars are converging on Paris in the release of First Mission – the latest installment of The Swords saga from director Marc MacNamara and NakedSword Originals.
The bareback play continues in the Free Action Gallery with a slew of sweaty pics from Raging Stallion's ripest workout feature yet – Sweat. Fuck. Repeat.
Heading out of the gym and into awards season, our Special Feature is all about the major wins and trophies that Falcon | NakedSword has snatched up over the past couple of weeks at some of the industry's most prestigious award shows.
For Studio News, we're introducing you to uncut newcomer Joel Hart and his six-picture deal with Falcon | NakedSword along with the scene debut and DVD release for Hot House's In The Night. Plus, we've got Sweat. Fuck. Repeat. star Sean Xavier on the Discretion Advised podcast talking all about self-sucking and how he learned to slob his own knob.
You'll also be getting links to the Falcon | NakedSword Store where you can get in on some Threeways & Orgies Scene Savings as well as the New Year Big Dick DVD Sale and the final days for must-see Bareback Full Move Download Deals.
To close out, if you're a fan of the suspenseful action in First Mission, be sure to check out our Free Scene Download featuring Reign & Ricky Roman's hookup from Get.Away. – another Marc MacNamara-directed NakedSword Originals that we just can't get enough of.
Au revoir,
The HUNT Men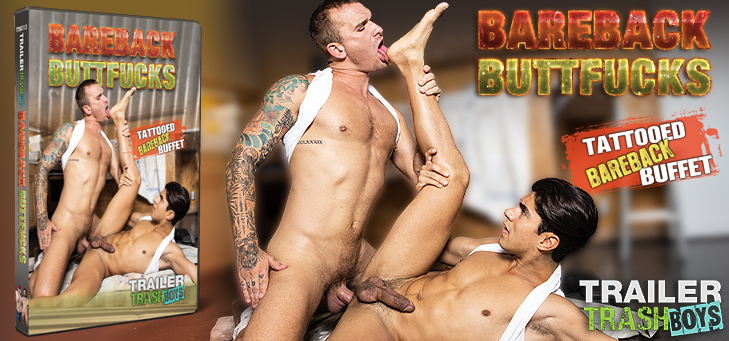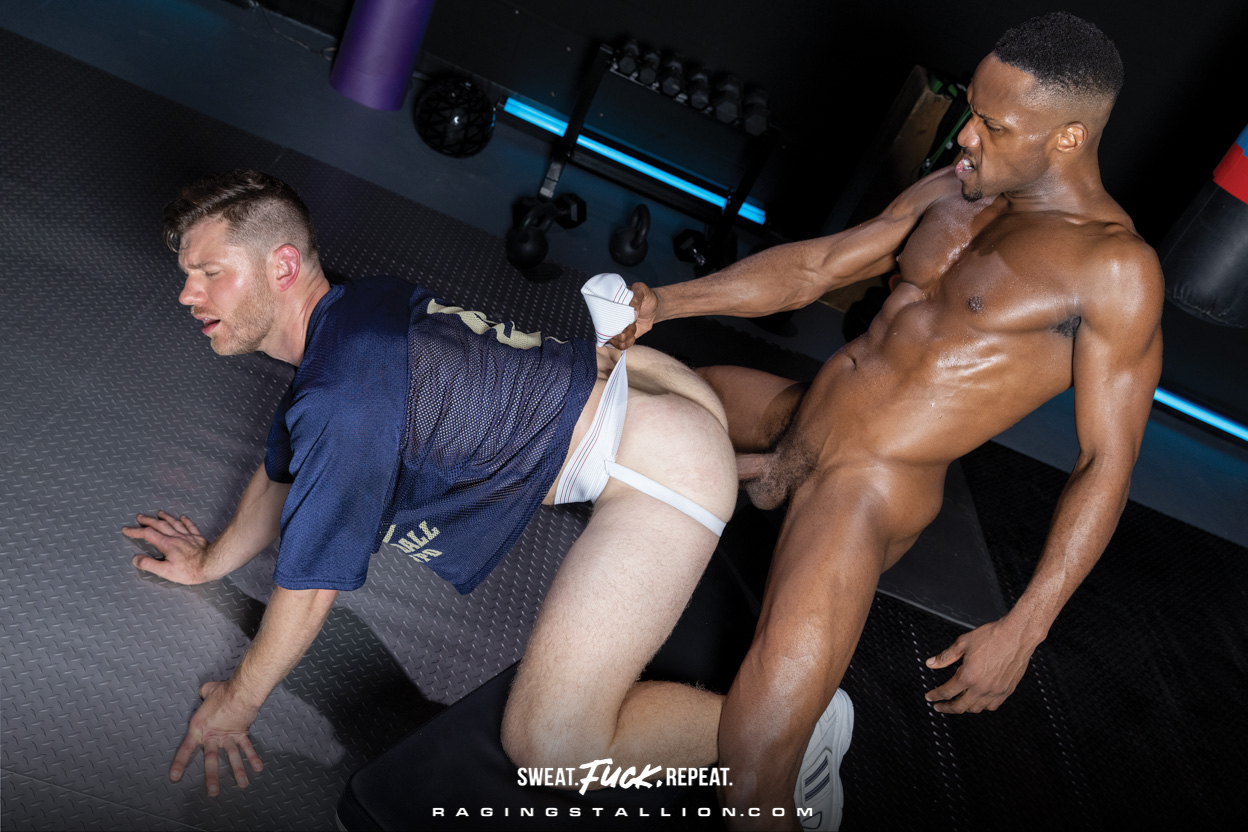 In this gym, there's only one mantra that these hot jocks live by – Sweat. Fuck. Repeat.! From awardwinning director Tony Dimarco, this muscled-up film follows the nation's horniest athletes and football fans as they work out, tailgate, and worship each other's ripped bodies. Up first, MVP Caden Jackson is getting in some time with personal trainer Andre Donovan when he suddenly feels the trainer's tongue rimming his jockstrap-covered ass. Over at the team's favorite spa, masseur Luca del Rey knows just what to do to help football fucker Sean Xavier loosen up after practice. The locker room always sees the most action though and the second a towel-clad Drew Valentino steps out of the showers, he goes to slap and tap the beefy ass of Colby Melvin. Even the number one fans of these all-star athletes like Lawson James and Jarrod James get in on the action when they're tailgating and barebacking in the middle of a parking lot. After the big game, Sean Xavier and Zod Blakk are heading back to the gym to pump some iron and pump some dick into each other's holes. When it comes to bulking up and unloading in this gym, you just always have to remember the motto – Sweat. Fuck. Repeat.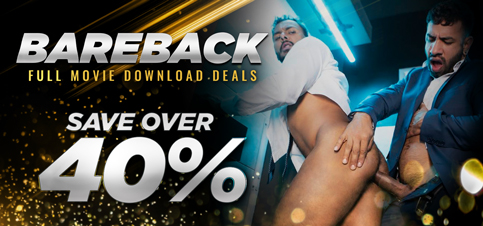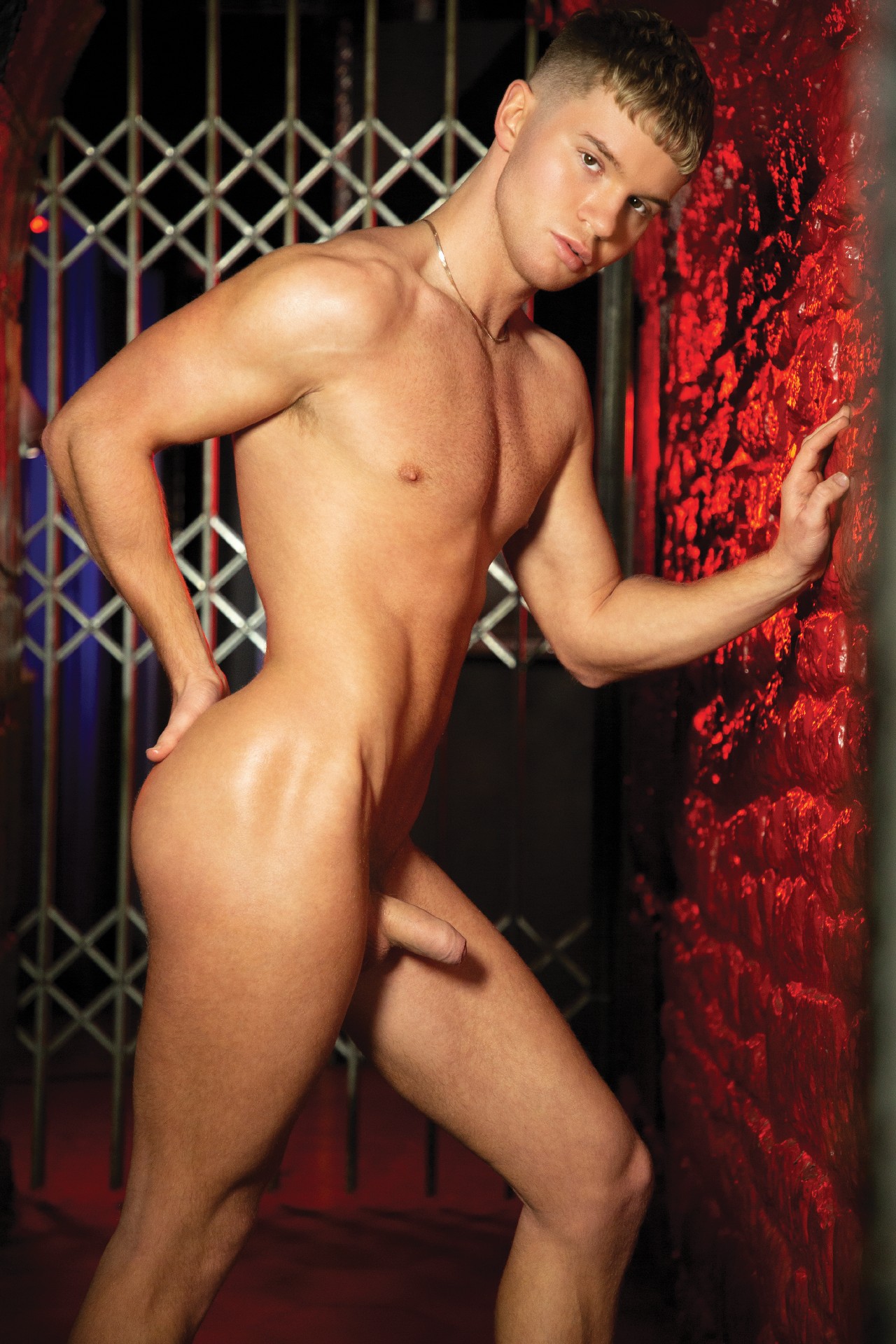 You've seen the world's hottest porn stars undergo basic training to become top secret government agents in The Swords and undergo Physical Evaluations for the NakedSword Originals sequel, but now for this latest movie in The Swords saga, we're flying to Europe and meeting up with international superstar Dean Young for First Mission! We're ecstatic to confirm that this fan favorite twunk not only steals the show in one scene from this epic action adventure, but two different scenes that have the fit bottom taking some of porn's biggest cocks. Those First Mission scenes will be dropping on HUNTFORMEN.com over the next couple of weeks, but if you need to see Dean in action even sooner than that, be sure to check out his series of international hookups in Body & Sol and Taking Care of Business from Falcon Studios. Trust us when we say all of these NakedSword and Falcon scenes will leave you and your balls drained and satisfied for weeks to cum.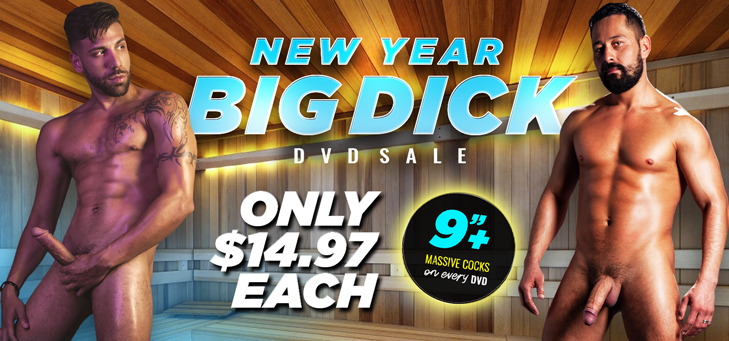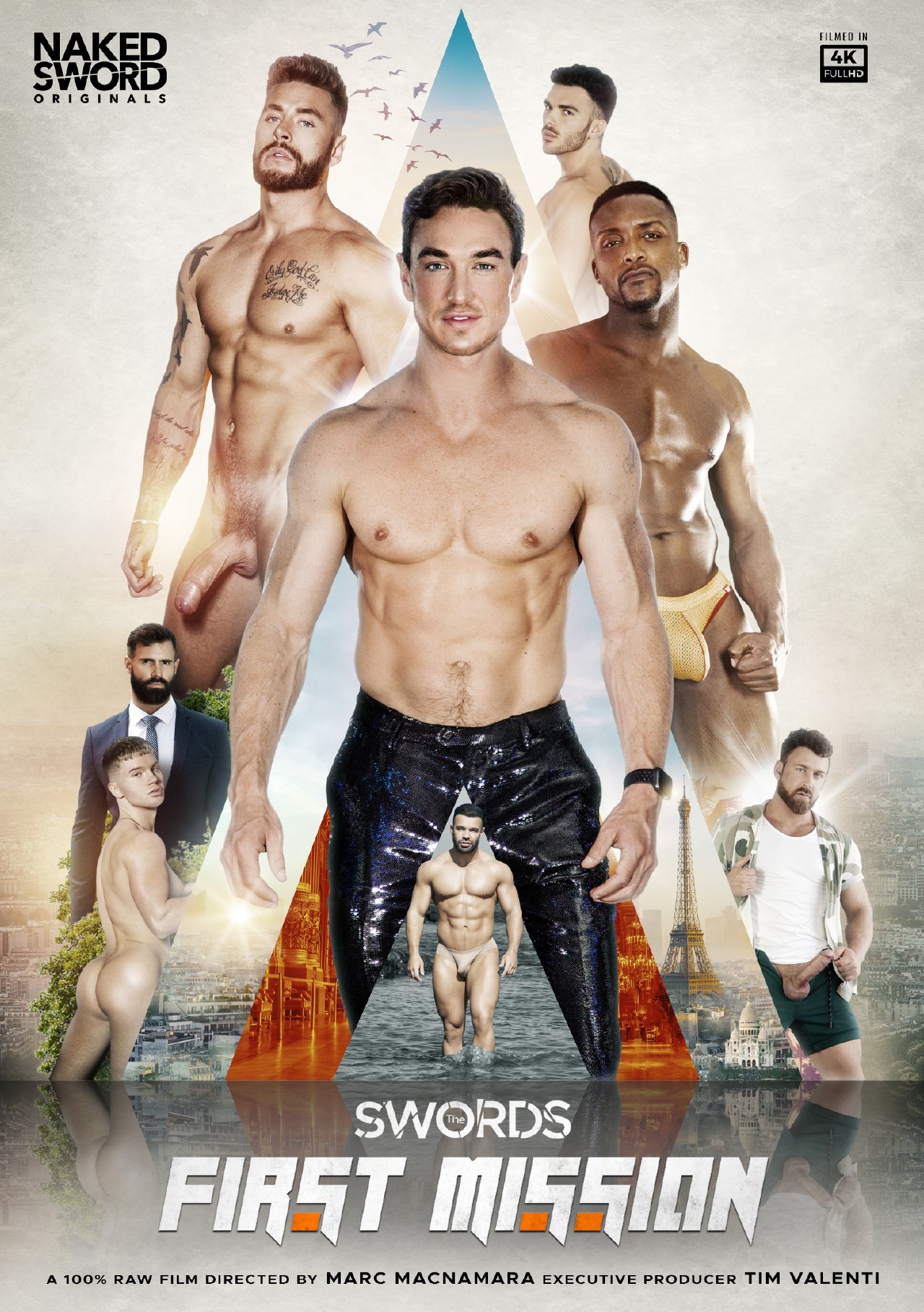 NAKEDSWORD ORIGINALS UNVEILS THIRD INSTALLMENT IN THE SWORDS SAGA WITH FIRST MISSION
NakedSword Originals today announced the release of First Mission, the latest DVD in The Swords saga. Helmed by acclaimed director Marc MacNamara, First Mission features an all-star cast of Falcon | NakedSword exclusives including Cade Maddox, Andre Donovan, Josh Moore and Dean Young, along with popular international performers Pol Paris, Logan Moore, Sean Austin, and Dani Robles.

Click Here to Read the Full Story




Hot Membership Site Updates Available Now!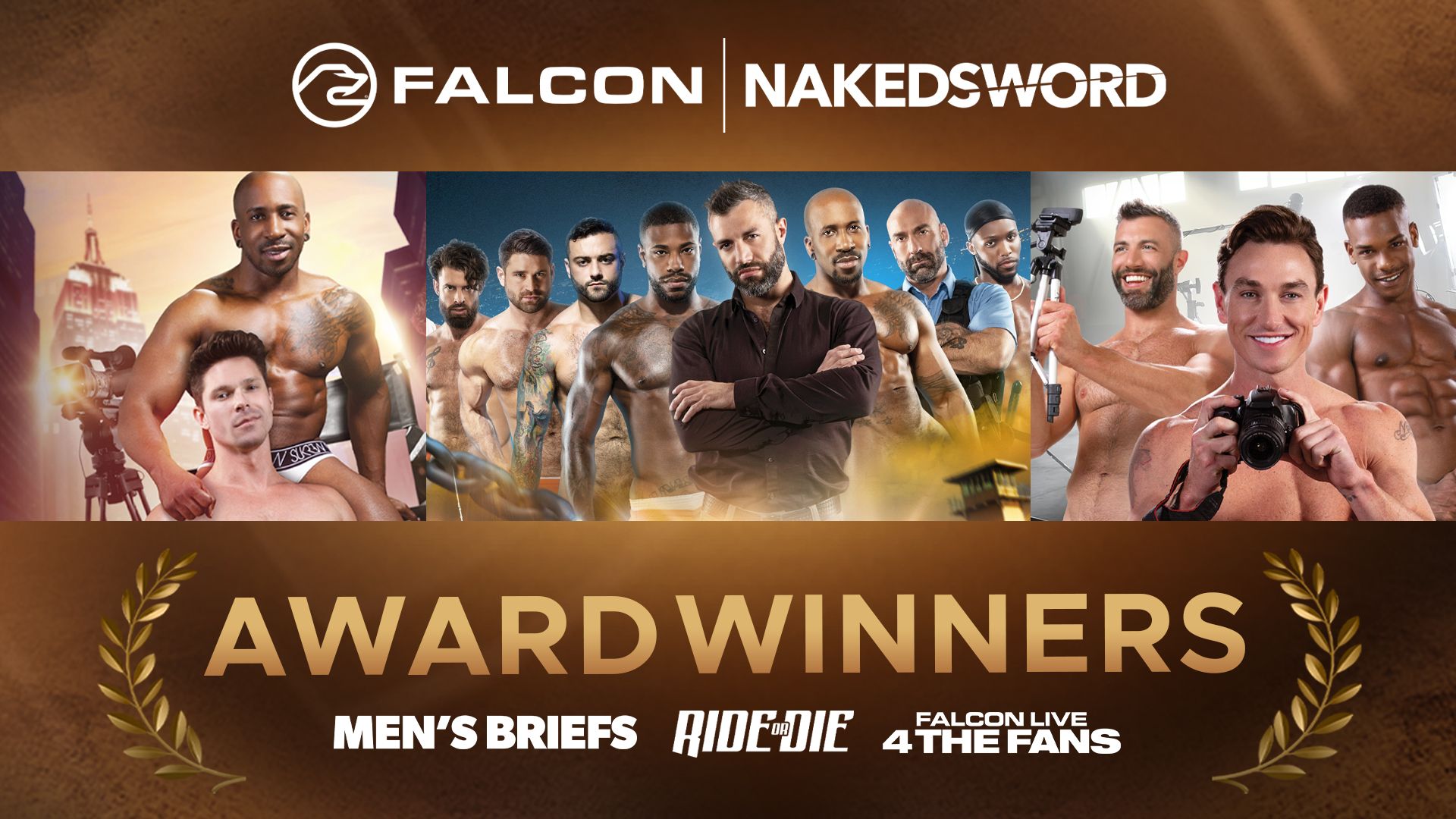 Falcon | NakedSword Dominates Award Season with Major GayVN & XBIZ Wins
It's RIDE OR DIE mania this award season! Only weeks into the new year, Falcon | NakedSword has already snatched up monumental wins for Raging Stallion's gritty nine-part mini-series at both the 2023 GayVN Awards and the XBIZ Awards. At the GayVNs, RIDE OR DIE became the award ceremony's top-honored project after earning a trophy for Best Feature along with a Best Leading Actor win for Falcon | NakedSword Exclusive Cole Connor and a Best Supporting Actor win for Falcon | NakedSword Exclusive Max Konnor. More recently at the XBIZ Awards, RIDE OR DIE took home Gay Movie of the Year with the series' director Tony Dimarco also winning Director of the Year – Gay.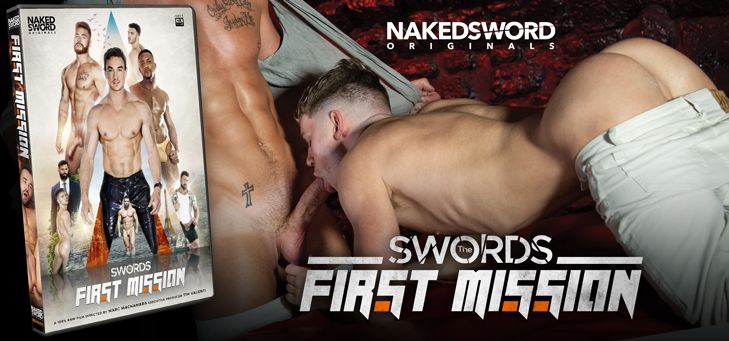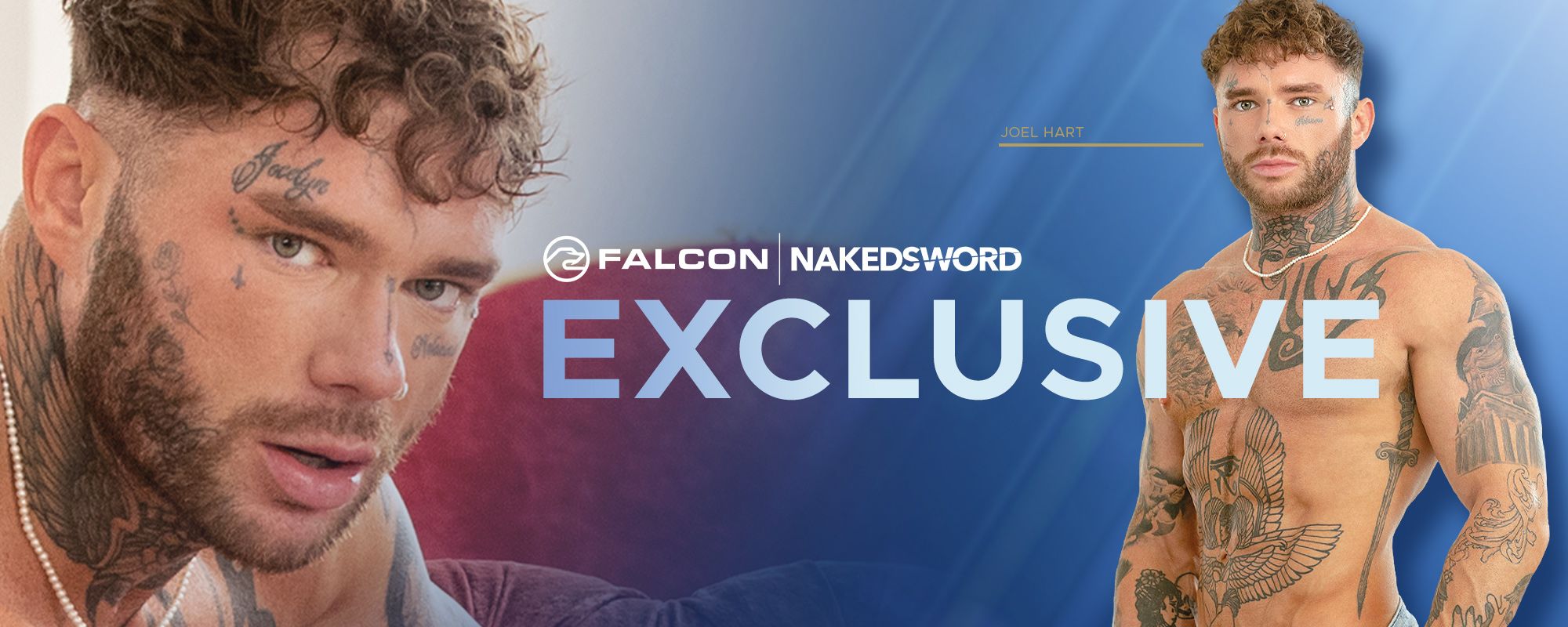 HOT BRITISH BANGER JOEL HART SIGNS EXCLUSIVE SIX-MOVIE DEAL WITH FALCON | NAKEDSWORD - Stunning UK newcomer Joel Hart has signed an exclusive, six-movie deal with all-male adult industry leader Falcon | NakedSword.
Read Full Story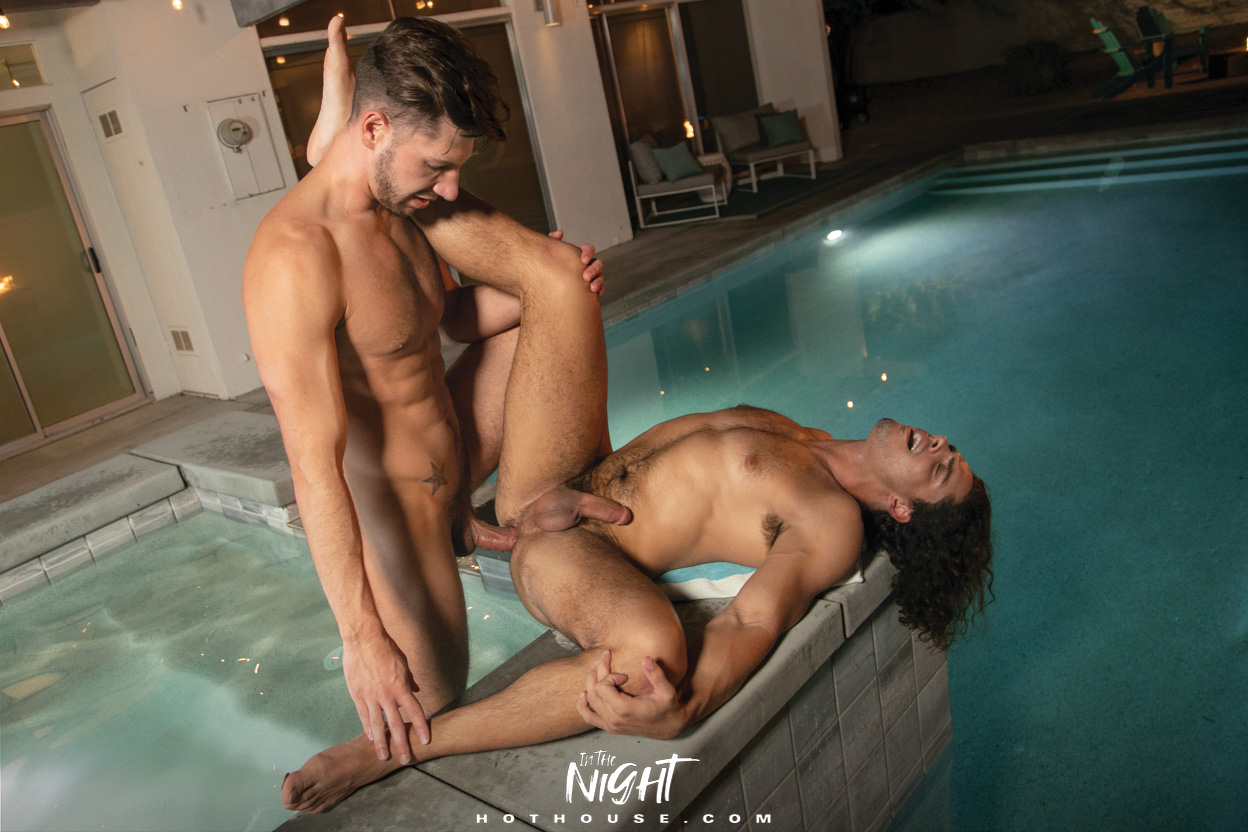 Luca del Rey & Jordan Starr Skinny Dip In The Night for Bareback Premiere - When the sun goes away, Luca del Rey comes out to play! HotHouse.com has announced the exclusive world premiere of the debut scene from its upcoming nocturnal feature, In The Night Featuring the solo directorial debut of Ryan...
Read Full Story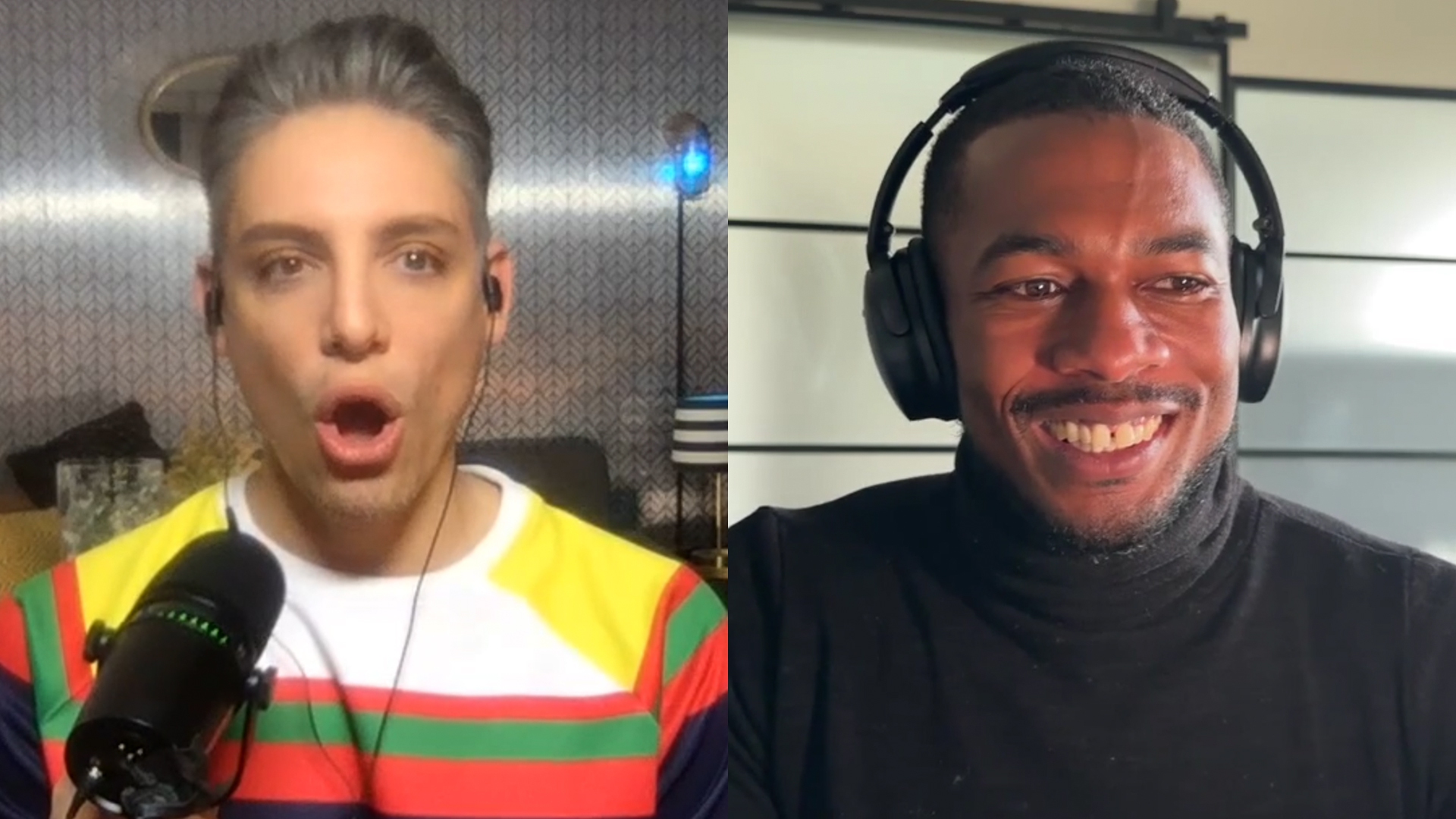 Sean Xavier Talks Self-Sucking During Latest Discretion Advised Episode - We're packing a lot into this episode! Up first, Marc MacNamara and John Hill are catching up, lightly harassing their lovely producer Cameron, revealing some sweepstakes opportunities for Marc's new movie, and talking about everything from the GayVN...
Read Full Story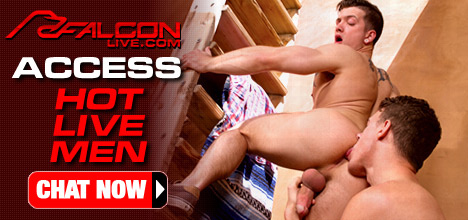 Reign and Ricky Roman from Get.Away.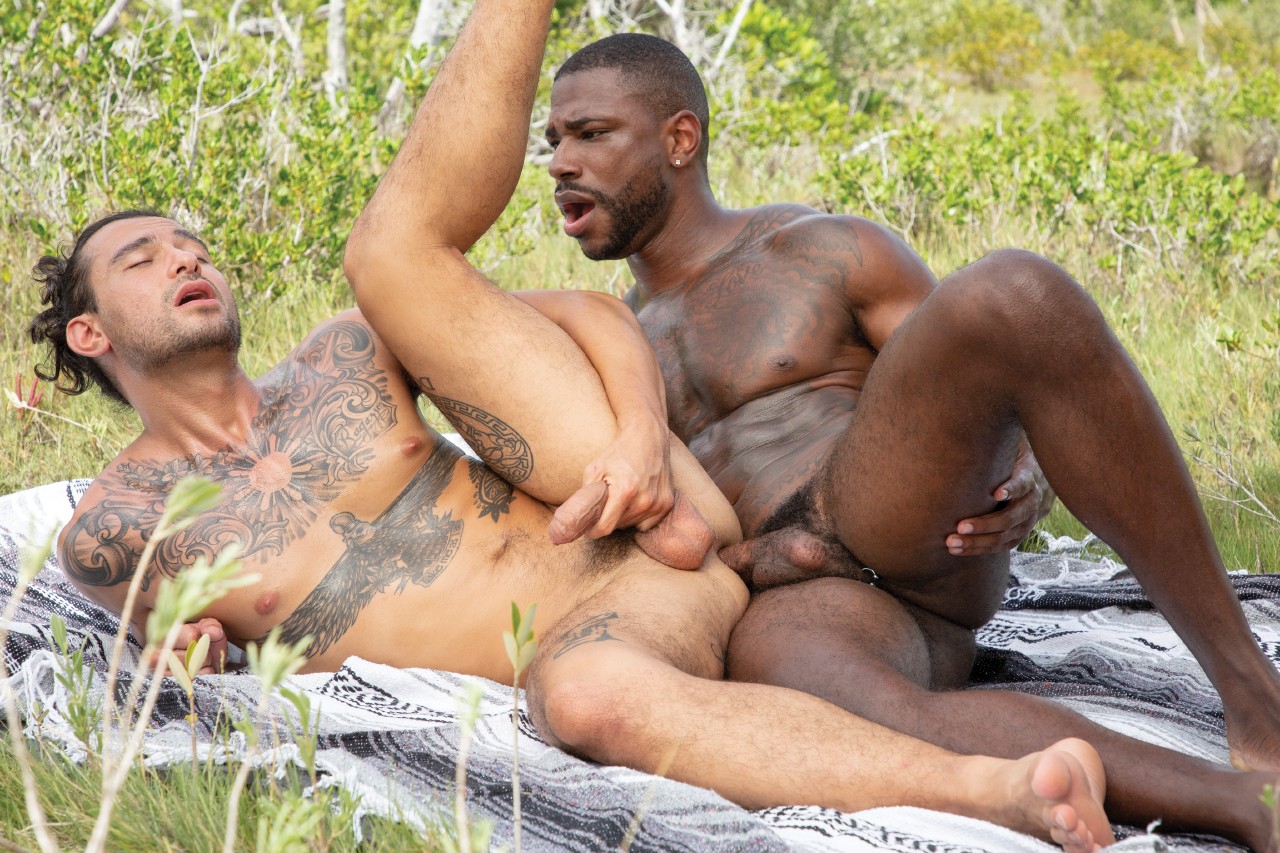 After a high-speed chase and startling twist, local men Reign and Ricky Roman find a secluded spot to unwind from their twisted ways. Ricky is a little jealous that Reign fucked someone else and wants to mark his territory. Reign warns Ricky that he'll get what he asks for but not to ask for mercy too. The pair head into the woods, lay down a blanket, strip and take turns polishing each other's hard dicks. Reign wants a taste of Ricky's ass, so he bends him over and sticks his tongue deep in Ricky's sun-soaked crack. With Ricky lubed up full of Reign's spit, Reign mounts the stud and fucks him hard. Ricky gets pounded doggy-style first, then rides Reign's cock down to the base. When Ricky's legs give out, he lays back to give Reign full access to his hole. While Ricky jerks off until he cums on his abs, Reign fucks him from the side until he can't hold back any longer and paints Ricky's lips with his seed. The pair bust just in time as we see Diego swim to shore after escaping a gun-down by Reign. Diego pulls out the stolen phone and heads to the location where all the mysteries will be revealed…

You have received this email because you requested email updates from Falcon | NakedSword be sent to: %%EMAIL_ADDRESS%%
This is an advertisement. %%PLUGIN_Unsubscribe: 183936-Unsubscribe%%
Please add reply@huntezine.com to your address book or safe senders list to ensure that these emails arrive in your inbox.
© 2023 Silver State Services, LLC. All Rights Reserved. HUNT eZine, 4011 W. Oquendo Rd. Unit A. Las Vegas, NV 89118

Records required to be maintained pursuant to 18 U.S.C. 2257 and
C.F.R. 75 are kept in the following location by the Custodian of Records:
Custodian of Records
4011 W. Oquendo Rd. Unit A.
Las Vegas, NV 89118