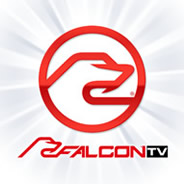 | | |
| --- | --- |
| | Check the listings in your Television Provider's Adult HD OnDemand Menu for: 24 Hour Private Show, The OnDemand HD Release of Falcon Studios', Privvate Show starring Skyy Knox, Woody Fox, Dave Slick & more! |


| | |
| --- | --- |
| HUNT - Issue #276 | April 15, 2022 |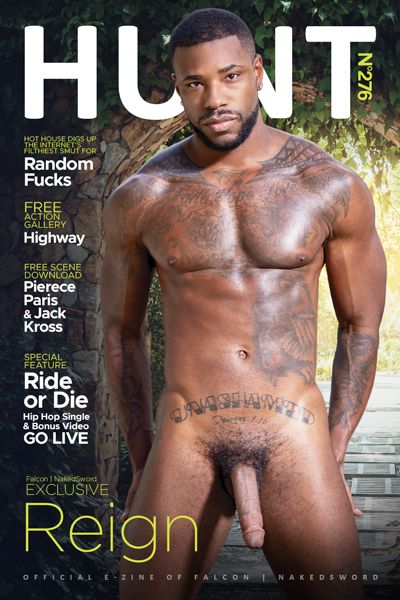 Hey all you horny hunks,

We're back again with another issue of HUNT that's filled to the brim with every gay porn want, need, and desire that you and your horny cock could ever possibly long for.
In Breaking News, we're starting off by heading to Palm Springs and meeting up with some anonymous hookups for the DVD release of Hot House's Random Fucks.
One of those anon fuckers happens to be the focus of our Model Spotlight and all of our wet dreams. Get ready as we tell you everything you need to know about Random Fucks star and Falcon | NakedSword Exclusive Reign.
For this issue's Free Action Gallery, we're hitting the Highway with Exclusive Devin Franco, Alpha Wolfe, and more for some explicit snapshots of Fetish Force's latest bareback thriller.
Scrolling over to the Special Feature, Raging Stallion is dropping loads of free bonus content for its original drama series RIDE OR DIE that features your favorite A-list actors in interviews, music videos and behind the scenes clips you won't wanna miss.
Down in Studios News, it's all about new debuts, must-watch films, and hot deals. We're getting into the premieres of Random Fucks from Hot House and Big Load Movers from the scruffy studs at Raging Stallion. Then catch the DVD releases of NakedSword Originals' Bred & Breakfast and Fisting Central's Blown Out O-Ring.
Anyone in need of even more kink should be sure to check out the Falcon store's Fisting & Fetish Clearance where FF DVDs are 67% OFF this week only. $11.95 Major Brand DVD Savings where FF DVDs are 67% OFF this week only. $11.95 Out of Print Big Dick Movie Download Deals also end on Sunday..
To close out, if you're into watching all those spontaneous hookups around Palm Springs in Random Fucks, then we'd recommend heading down to the Free Scene Download and watching Pierce Paris and Jack Kross' outdoor bareback scene from 2019's Palm Springs Day Pass.
Happy busting,
The HUNT Men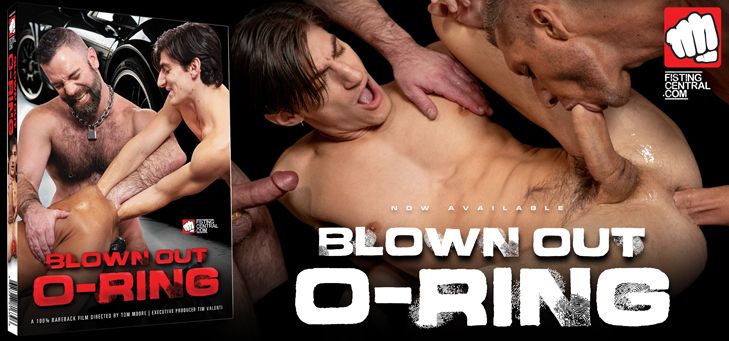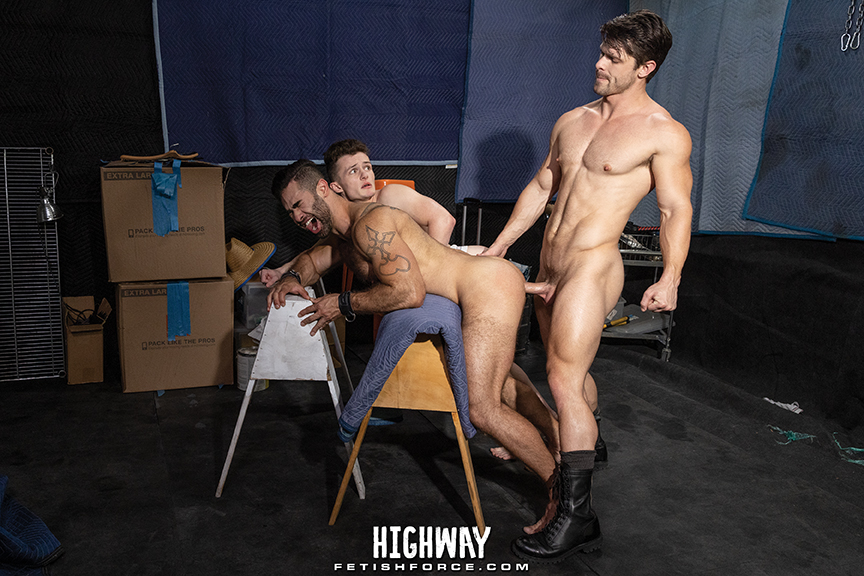 There's one specific van you should always be on the lookout for and if you see it on the Highway, just know that there's some naked college jock in there, and you can never be sure what's happening to him. From directors Devin Franco and Jasun Mark, this thriller follows two mysterious masters that are on the hunt for submissive bottoms willing to bend to their every whim. After calling a number on a bathroom wall, a clueless Jim Fit finds himself chained up in a dark basement being toyed with by bearded dom Alpha Wolfe. The master refuses to let him cum and proceeds to get off at how his big dick gradually wrecks the student's once-pristine asshole. Completely bound in yards of restricting shrink wrap, Grant Ducati and a tied-up Lucas Leon are eagerly submitting to every twisted act dom Devin Franco puts them through. The grateful pigs give into Devin Franco and his thick dick as he barebacks both of their submissive holes. Now wearing a mask with a dildo attached to it, Grant Ducati is forced to fuck the gaping mouth and stretched hole of Lucas Leon as the master watches on and helps him fill the sub. So, if you see this demented van pull up next to you on the Highway, just know it's just on a one-way ticket for some college studs to encounter some twisted fetish fantasies.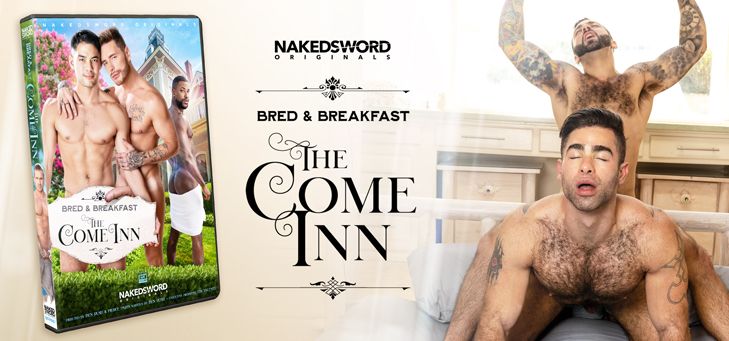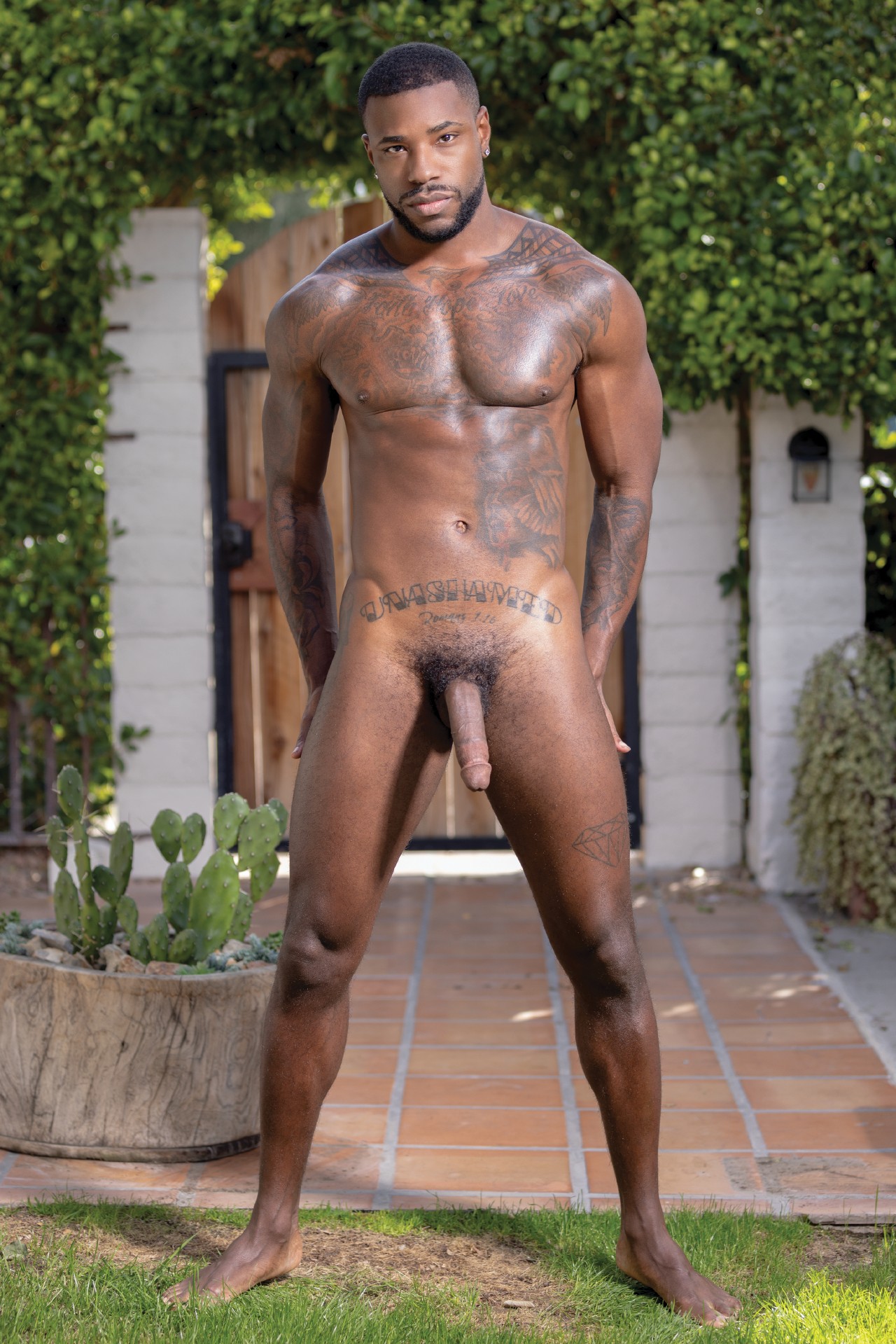 It's hard to believe that it's been less than a year since we were first introduced to gay porn newcomer Reign in Raging Stallion's Get A Room Too. In just the past eight months, the studio exclusive model, who just received a nomination for Best Newcomer at the 2022 Grabbys and Performer of the Year at the Cybersocket Awards, has gone on to dominate your favorite studios under the Falcon | NakedSword umbrella with some eye-catching starring roles. He's appeared in everything from Falcon Studios' Men's Briefs to NakedSword Originals' Bred & Breakfast: The Come Inn, Raging Stallion's Just Sex, and now Hot House's Random Fucks. There are no visible signs that this absolute dreamboat is planning to loosen his tight command over the industry anytime soon, but that's amazing news for us, since we truly hope that Reign's reign over all things gay porn never comes to an end.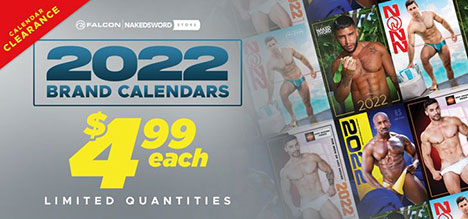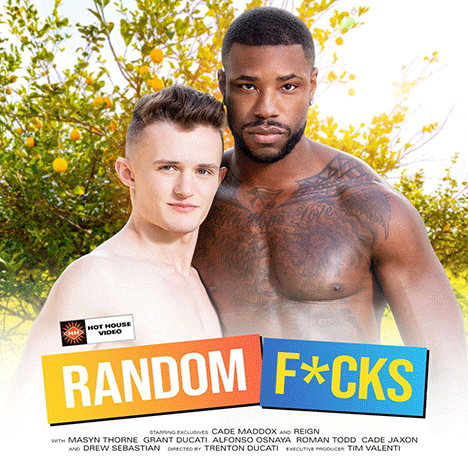 Hot House Digs Up The Internet's Filthiest Smut For Random Fucks
Today, Hot House announced the release of their latest bareback feature, Random Fucks. From award-winning director Trenton Ducati, this film brings to life multiple blog posts featuring the anonymous sexcapades of seven men that are ready to fuck any random guy in any random location that's available to them. Random Fucks is now available on DVD and Digital Download from the Falcon | NakedSword Store.

Click Here to Read the Full Story




Hot Membership Site Updates Available Now!


RIDE OR DIE HIP HOP SINGLE AND FREE BONUS VIDEO GO LIVE
In anticipation of the April 22 release of the all-new RIDE OR DIE episode, Raging Stallion Studios will offer fans a treasure trove of free bonus content featuring never-before-seen footage, cast interviews, behind-the-scenes material and an original music video.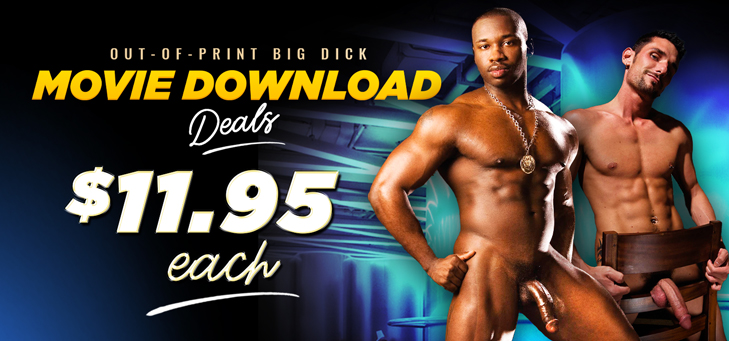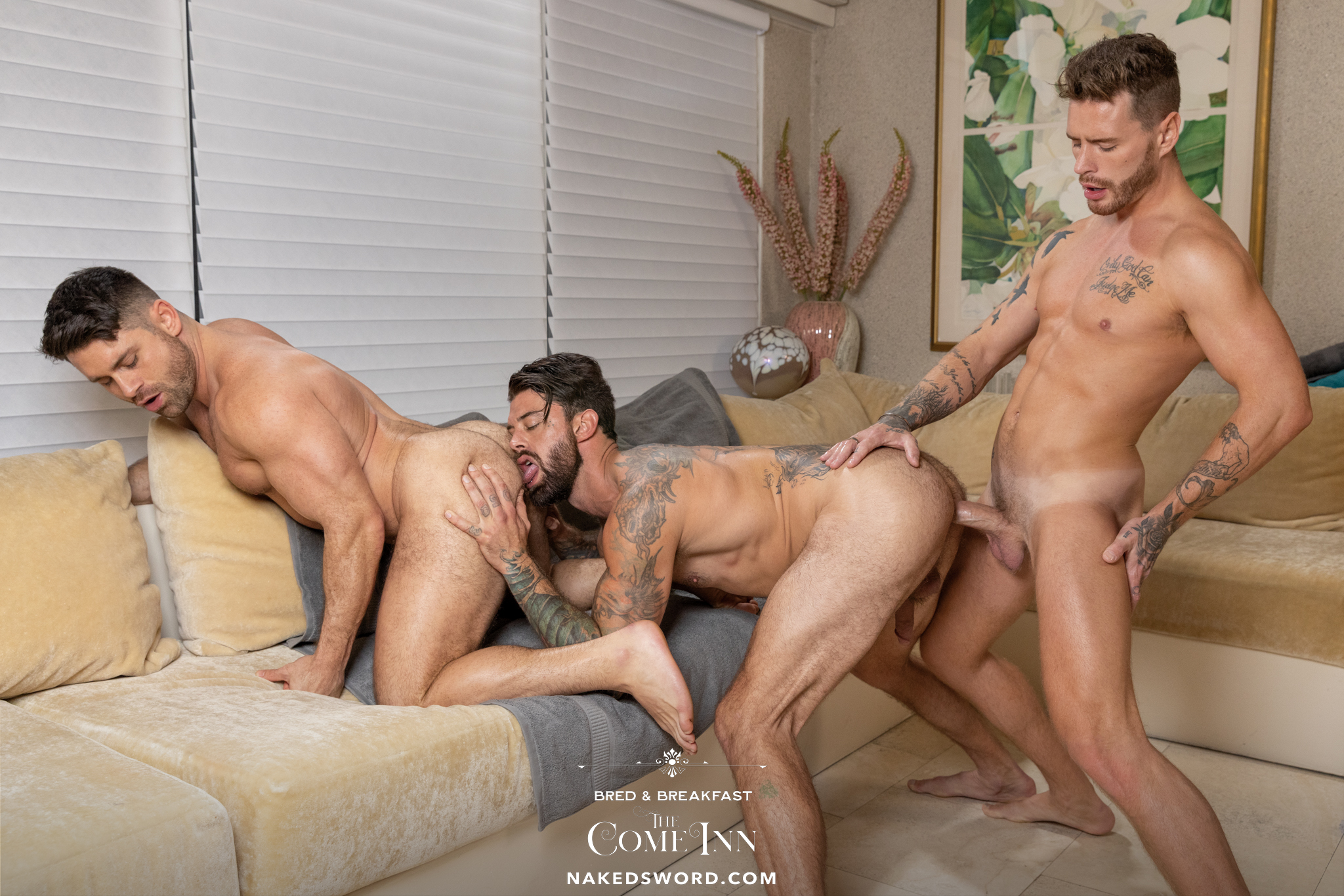 NAKEDSWORD RELEASES NEW SERIES BRED & BREAKFAST: THE COME INN ON DVD & DIGITAL DOWNLOAD! - Today, NakedSword Originals is excited to announce the release of their latest DVD, Bred & Breakfast: The Come Inn. Centered around a most exclusive resort, unlike anything in your wildest wet dreams, Bred & Breakfast:..
Read Full Story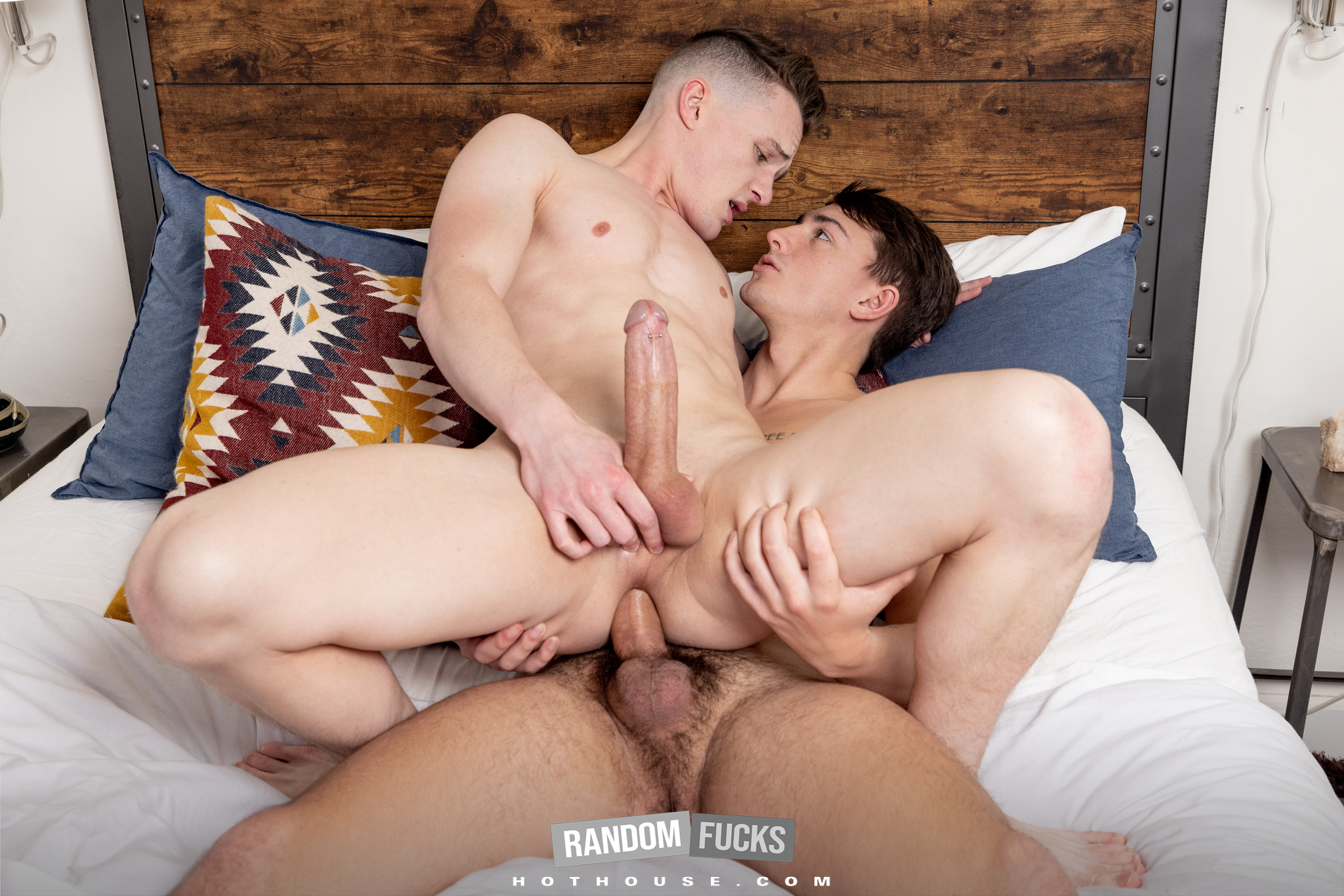 Masyn Thorne & Grant Ducati Go Cruising For Their Hot House Debuts - Today, HotHouse.com has announced the exclusive world premiere of the debut scene from its upcoming bareback film, Random Fucks. Directed by Trenton Ducati, the first scene of this all-sex feature stars Masyn Thorne as he cruises a clothing-optional...
Read Full Story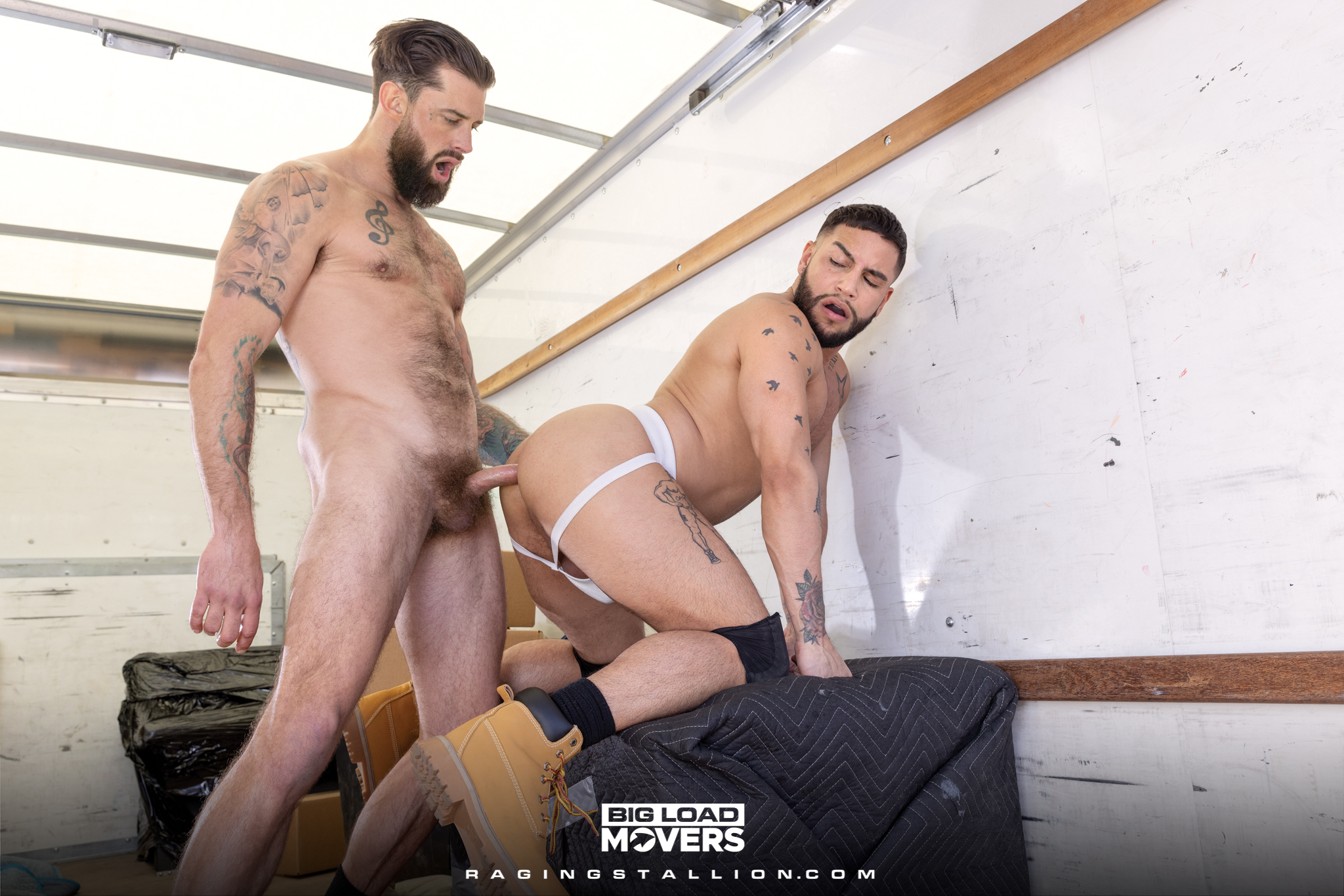 RagingStallion.com Gets An Oversized Delivery With Big Load Movers - RagingStallion.com, Falcon | NakedSword's site featuring rugged men and raw action, announced the release of the debut update from the upcoming bareback feature, Big Load Movers. Directed by Tony Dimarco, the premiere scene sees blue collar...
Read Full Story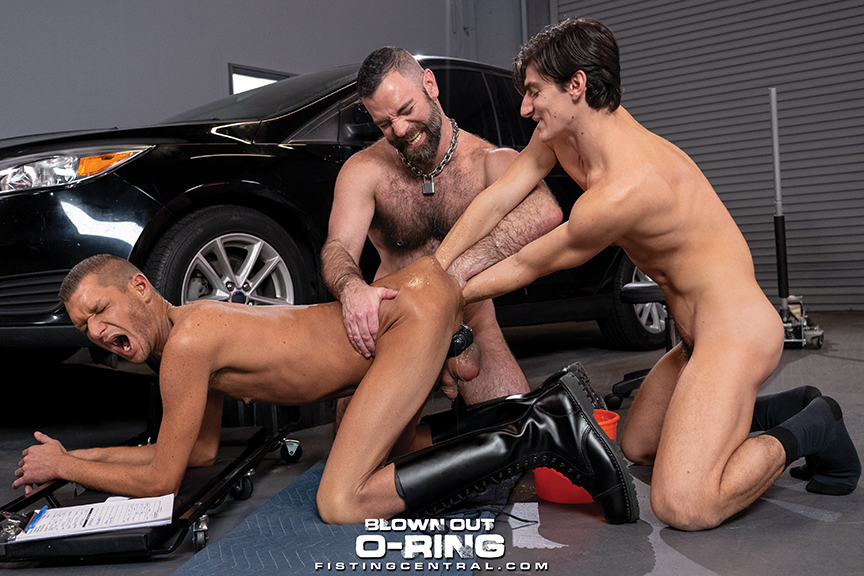 Fisting Central Takes to the Garage & Exposes Its Blown Out O-Ring - Fisting Central, the Falcon Studios Group brand featuring the finest gay fisting videos, has released their latest film, Blown Out O-Ring. From award-winning fetish director Tom Moore, this fisting feature follows five men who aren't afraid to go under the...
Read Full Story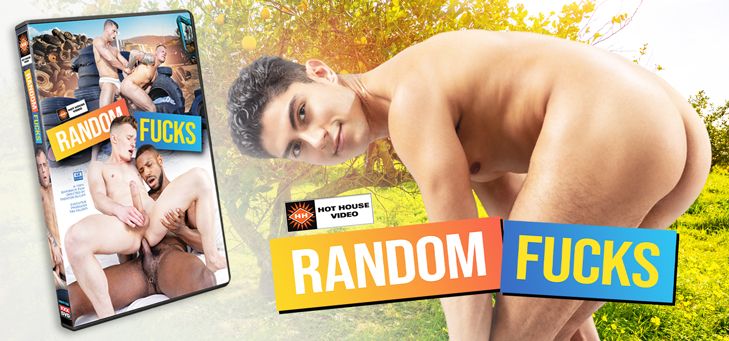 Pierce Paris & Jack Kross from Palm Springs Day Pass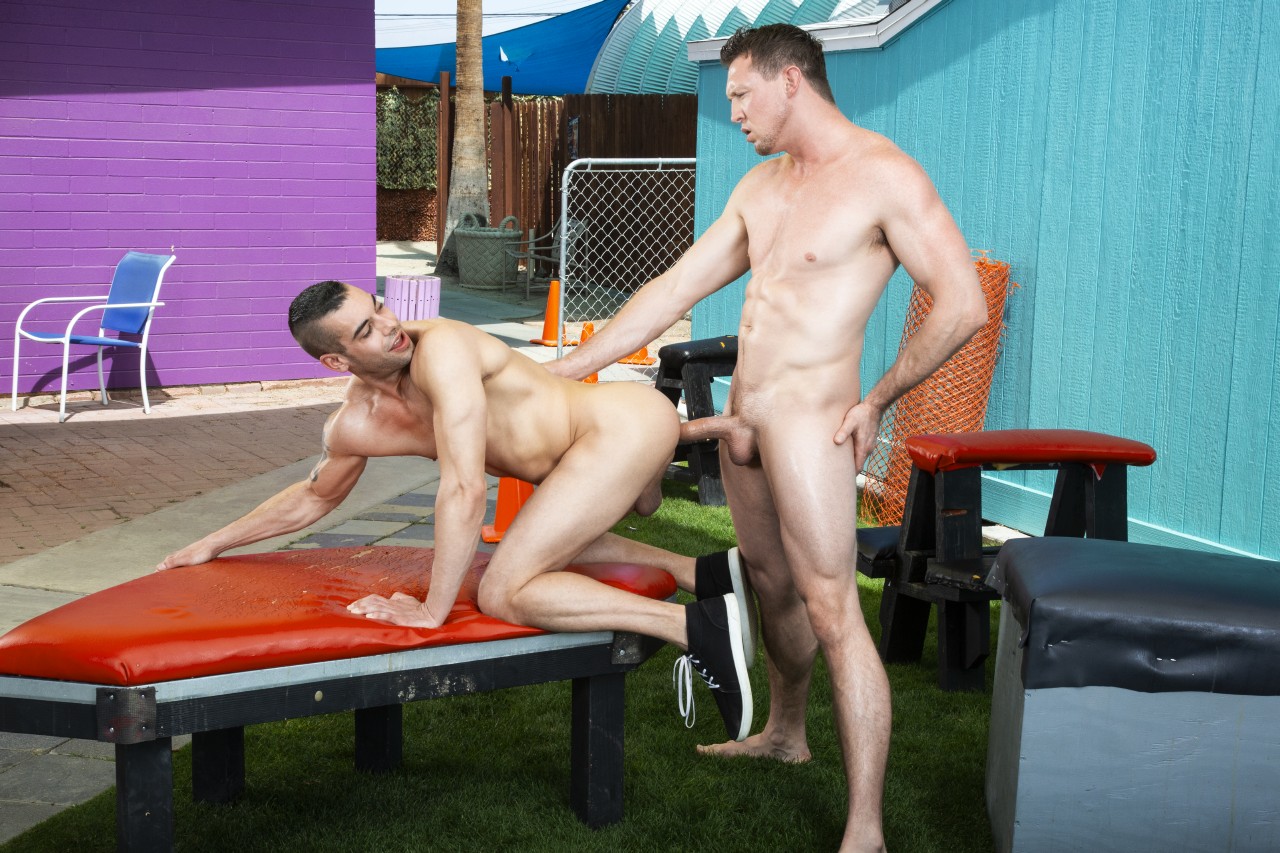 Pierce Paris is cruising the back alleys of Palm Springs when he finds horny hunk Jack Kross playing with himself, waiting for a someone to pass by and join him. Pierce walks over to Jack, and Jack quickly gets on his hands and knees to start worshiping Pierce's massive cock. Pierce fucks the back-alley hunk's mouth, making the horny stud gag with each thrust from his ripped torso. Pierce wants more and reaches down to finger Jack's tight hole as he continues plowing the stud's face. After doing all the work, it's Jack's turn to get sucked. Pierce takes Jack's hard cock into his mouth and starts sucking, making Jack moan with each slurp from Pierce's experienced mouth. Pierce wants a taste of Jack's ass and runs his tongue down to open up his awaiting crack. Now, Jack wants Pierce's huge, raw meat inside of him and gets on all-fours begging for Pierce to pierce his ass with his thick cock. Happy to accommodate, Pierce slams his cock deep inside as he picks up the pace and gives Jack the bareback fucking he begged for. Pierce keeps up the relentless pounding until he fucks the cum out of Jack. When Pierce sees Jack's mess, he's more than ready to blow his own load. Pierce pulls out of Jack's used-up hole and face fucks the lucky hunk's mouth one last time until he shoots his massive load down Jack's hungry throat.

You have received this email because you requested email updates from Falcon | NakedSword be sent to: %%EMAIL_ADDRESS%%
This is an advertisement. %%PLUGIN_Unsubscribe: 183936-Unsubscribe%%
Please add reply@huntezine.com to your address book or safe senders list to ensure that these emails arrive in your inbox.
© 2022 Silver State Services, LLC. All Rights Reserved. HUNT eZine, 4011 W. Oquendo Rd. Unit A. Las Vegas, NV 89118

Records required to be maintained pursuant to 18 U.S.C. 2257 and
C.F.R. 75 are kept in the following location by the Custodian of Records:
Custodian of Records
4011 W. Oquendo Rd. Unit A.
Las Vegas, NV 89118