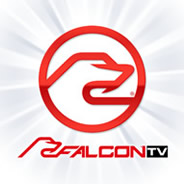 | | |
| --- | --- |
| | Check the listings in your Television Provider's Adult HD OnDemand Menu for: NorCal Anal Bin, The OnDemand HD Release of Falcon Studios', Naughty Pines 1 starring Sean Zevran, Connor Maguire, Brian Bonds & more! |


| | |
| --- | --- |
| HUNT - Issue #275 | April 1, 2022 |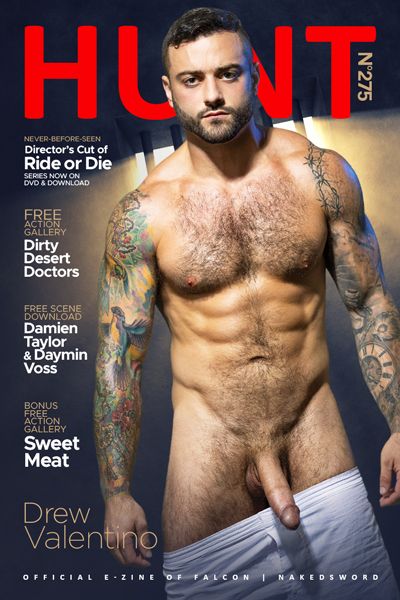 Assume the position HUNTers,

As the days heat up outside, we're hard at work at HUNT HQ to bring you the latest buzz, new releases, and cum-worthy giveaways from the boys over at Falcon | NakedSword.
Over in Breaking News, the hardcore directorís cut of the Raging Stallion action-drama RIDE OR DIE is finally here and weíre telling you how to get your hands on this 2-disc set and all its never-before-seen content.
All eyes on Falcon | NakedSword Exclusive Drew Valentino for our Model Spotlight where we spill on his newest releases and show off his hairy physique with a scorching photo gallery.
In our Free Action Gallery, itís time for a full-body examination from the DTF medical men of Hot Houseís Desert Dirty Doctors.
After that, you can rub one out to our Special Feature as we show you some X-rated images of the scantily-clad cast of the NakedSword Originals film Sweet Meat.
The yearís Falcon Forever celebrations continue over in Studio News with a new giveaway where ten you can win a remastered copy of the Falcon Studios classic The Other Side of Aspen Remastered. Later on, Fetish Force hits the gas for Highway on DVD and Falcon announces the free content coming to Weekends at Falcon.
You can then save 50% with some Hot House Popular Scene Savings and nab popular titles for $15.97 each with these Major Brand DVD Savings. Lastly, make sure you don't miss the final days of the Raging Stallion Movie Download Deals.
If thinking about the DVD release of Raging Stallionís RIDE OR DIE put you in the mood for some criminally hot action, then head to our Free Scene Download where you can watch Damien Taylor and Daymin Voss in Raging Stallion's controversial feature Vice.
Cheers,
The HUNT Men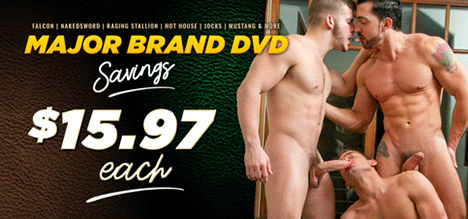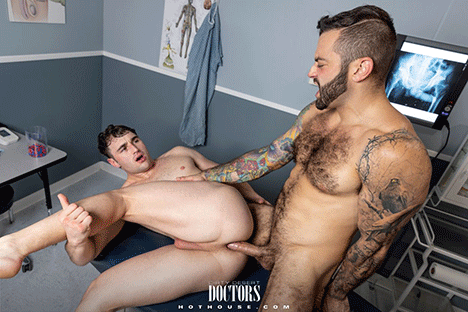 Anyone seeking medical attention out in this barren landscape should know that there are loads of Dirty Desert Doctors out there waiting to strip you down and give you a full-body examination that your cock and hole wonít soon forget. From acclaimed director Trenton Ducati, this film follows nine horny medical men that are simultaneously looking to get injected with a covid vaccine and an XL serving of cum. When Austin Avery finds himself with a glass dildo stuck in his hole, he calls on Dr. Max Konnor for a very intimate house call. Always a courteous professional, Dr. Konnor is able to remove it immediately and even offers up his 10-inch tool to further examine Austinís hungry ass. After getting his first covid shot, Devin Franco quickly finds himself in the middle of the vaccination site with his pants down and getting railed by Dr. Lucca Mazzi. When Adrian Hart finds out that beefcake daddy Lucca Mazzi is his new doctor, the young muscle stud immediately strips down and throws his legs in the air for a bareback examination. Nurse Drew Valentino didnít expect to walk into the examination room and discover coworker Michael Boston completely naked while fingering himself, but he doesnít seem to mind. Only seconds pass before the nurse is rimming and rapidly thrusting his raw cock in and out of Michael Bostonís enormous bubble butt. Dr. Cade Maddox is ready to unwind from a busy day at the hospital and lucky for him, boyfriend Angel Rivera is waiting at home with his cock out, ready to service his girthy doctor dick. So, no matter if youíre at home, in a vaccination tent, or waiting in an examination room, these hung Dirty Desert Doctors will do whatever it takes to make sure that youíre vaxxed and ready to climax.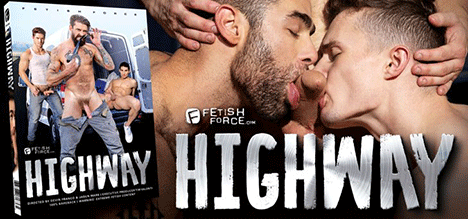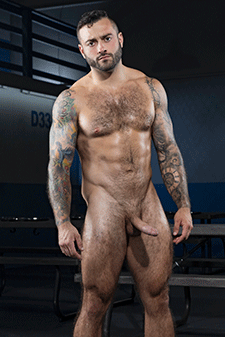 Since Exclusive Drew Valentino just checked into NakedSwordís Bred & Breakfast: The Come Inn, it only seemed right to check him out for this issueís Model Spotlight. In the short time since joining the Falcon | NakedSword family, this versatile hunk has quickly made a name for himself with explosive performances in Raging Stallionís Power Play, Hot Houseís Dirty Desert Doctors, and now Bred & Breakfast: The Come Inn from NakedSword Originals. You probably know him best though for his show-stopping role in the third episode of Raging Stallionís RIDE OR DIE. His passionate prison affair is guaranteed to dominate all the upcoming award shows and should be considered a must-watch for anyone thatís a fan of Drewís mouthwatering 7.5" cock and his furry, tatted physique. All these bareback productions are obviously only the beginning of Drewís long career with Falcon | NakedSword, and we canít wait to see what else this hairy hunk and his hot cock have to offer.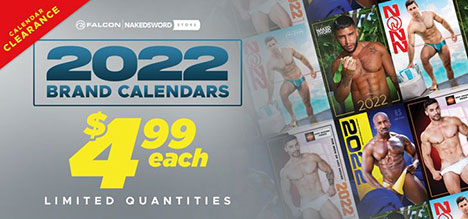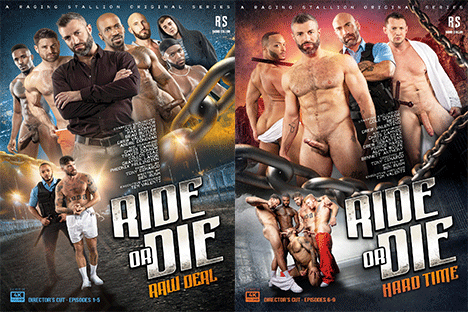 Never-Before-Seen Directorís Cut of RIDE OR DIE Series Now on DVD & Download
Raging Stallion Studios, the top brand featuring rugged men and raw action, has announced the DVD and download release of its groundbreaking, nine-episode original action-drama, RIDE OR DIE, available on two separately packaged discs and a commemorative, limited-edition RIDE OR DIE T-shirt now on the Falcon | NakedSword Store.

Click Here to Read the Full Story




Hot Membership Site Updates Available Now!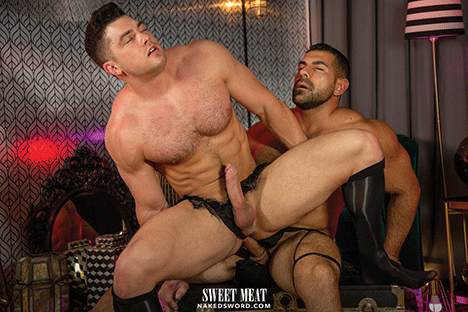 BONUS Free Action Gallery: Sweet Meat
Watch eight hard and ready men cover their chiseled muscles in feminine clothing in Sweet Meat, because it takes a confident, secure man to be a sissy boy. From award-winning director Marc MacNamara, Sweet Meat follows eight men who arenít afraid to be your secret fantasy and deliver unforgettable, intense sex. With his white thong pushed to the side, Beaux Banks canít stop moaning as a bodysuit-clad Reign rims his hole, fills him up, and fucks him so hard that his oversized balls go flying with each intense thrust. Over near the countryside, farmer Diego Sans has Blaze Austin laying in a wheelbarrow wearing only boots and a purple thong as he barebacks the backwoods bottom. Twinky student Eric Charming just showed up to detention wearing a barely-there thong and the shortest skirt he owns in hopes of getting the attention of Mr. Amone Bane and his delicious dick. Dressed head to toe in black lingerie, muscle men Damien Stone and Collin Simpson are aching to worship some muscles, drill some jock ass, and cum all over each otherís god-like bodies. As you can see, every single serving of Sweet Meat will leave your cock drained courtesy of a kinky jock and the lacy, skin-tight thong thatís gripping their mouthwatering hole and pole.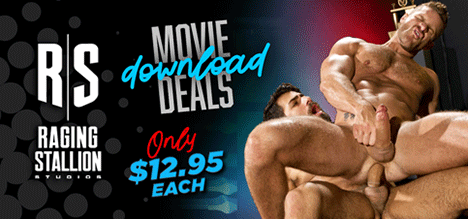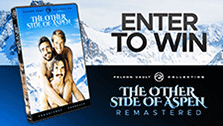 April Falcon Forever Giveaway Ė Your Chance To Win The Other Side of Aspen: Remastered - Hereís your shot at another Falcon Forever giveaway, celebrating the Golden Anniversary of the famed studios. During the month of April, fans can enter to win 1 of 10 copies of the classic Falcon hit The Other Side of Aspen...
Read Full Story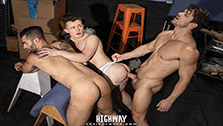 Fetish Force Hits The Highway For DVD & Downloads - Fetish Force, the brand featuring the finest gay kink and fetish video, has released its latest feature, Highway. Directed by Falcon | NakedSword Exclusive Devin Franco and Jasun Mark, this thriller follows two mysterious masters...
Read Full Story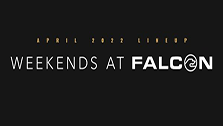 Weekends at Falcon - April Lineup - As part of the Falcon Forever, campaign celebrating the studios golden anniversary, Falcon is inviting all porn fans to enjoy different FREE content, giving them complimentary weekly access to xxx-rated scenes and movies...
Read Full Story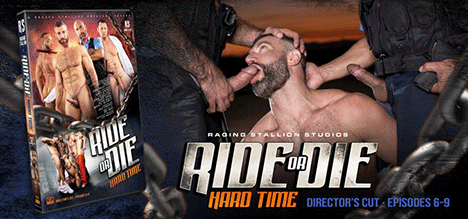 Damien Taylor & Daymin Voss from Vice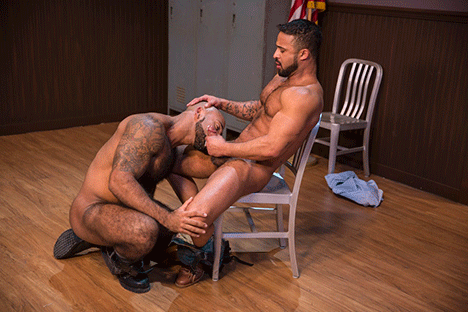 Vice cop Damian Taylor is at police headquarters with detective Daymin Voss. Someone has dosed their coffee with the powerful Tsunami party favor. When it kicks in, Daymin tells Damian that he ďwants to do gay shitĒ with him. Damian takes his fellow blue brother up on the offer and frantically unbuckles the detective's belt to release his big hairy dick. Damian takes it in his mouth and sucks it like his life depends on it as he rips off his clothes. Daymin's primal instincts kick in and heís soon the one begging for cock down his throat. The hairy muscle studs peel off the rest of their clothes and Damian takes his position in a chair. He opens his legs wide for Daymin to get in with his mouth as he makes the hung detective gag and cough by stuffing his face with dick. Daymin is like a machine, sucking and slurping and spitting all over as he services the thick shaft and big balls in front of him. His steady pace and talented tongue bring Damian to the brink and he pulls out to spray Daymin's face with cum. Covered in Damianís load, Daymin pounds away on his ready-to-burst cock until he polishes the floor with buckets of sticky white jizz.

You have received this email because you requested email updates from Falcon | NakedSword be sent to: %%EMAIL_ADDRESS%%
This is an advertisement. %%PLUGIN_Unsubscribe: 183936-Unsubscribe%%
Please add reply@huntezine.com to your address book or safe senders list to ensure that these emails arrive in your inbox.
© 2022 Silver State Services, LLC. All Rights Reserved. HUNT eZine, 4011 W. Oquendo Rd. Unit A. Las Vegas, NV 89118

Records required to be maintained pursuant to 18 U.S.C. 2257 and
C.F.R. 75 are kept in the following location by the Custodian of Records:
Custodian of Records
4011 W. Oquendo Rd. Unit A.
Las Vegas, NV 89118