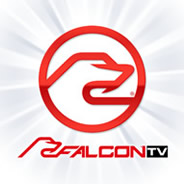 | | |
| --- | --- |
| | Check the listings in your Television Provider's Adult HD OnDemand Menu for: Hand E Men, The OnDemand HD Release of Falcon Studios', Servie Me! starring Alex Mecum, Wesley Woods, Skyy Knox & more! |


| | |
| --- | --- |
| HUNT - Issue #272 | February 18, 2022 |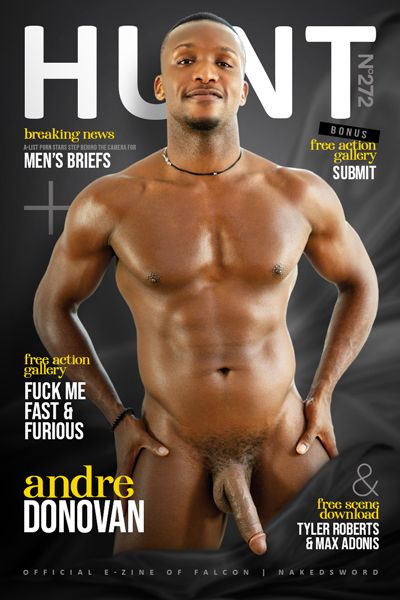 Hey boys,

We hope you had a cum-filled Valentine's Day week and are finally ready to use those worn-out hands again as we deliver loads of free images, hot deals, and one actor that we're sure will be the star of all your wet dreams.
Starting off, go ahead and scroll down to Breaking News where we tell you how to get your hands on some Men's Briefs. No, not those briefs. We're of course referring to the all-new Falcon film that features your favorite porn stars taking a turn in the director's chair.
In Model Spotlight, we're further introducing dynamic new exclusive Andre Donovan and giving you the 411 on where you can find him in Falcon | NakedSword New Releases.
For this issue's Free Action Gallery, it's time to start living life a quarter mile at a time with some must-see pics from Raging Stallion's bareback racing flick Fuck Me Fast and Furious.
That's not all though! Check out our latest Special Feature where we're serving up a bonus Free Action Gallery with all the hot shots you need to see from the kinked-up Fetish Force original film SUBMIT.
After you're done drooling over all those sexy snapshots, head down to Studio News where we're talking Train My Hole, Stripper Hole Tryouts, and this month's Falcon Forever sweepstakes. With the end of the month fast approaching, we'll also be telling you all about your last chance to participate in the 2022 HUNT Reader Survey and your final opportunity to nab some discounted 2022 calendars that are smothered front-to-back in images of your favorite porn stars.
On top of that calendar deal, we're spitting out some other hot savings with the last days of the Jocks & Sports DVD Super Sale. We're also getting into some NakedSword & Hard Friction Movie Download Discounts and the President's Day 5-Day DVD Clearance event where you can grab some DVDs for only $5.97.
If those money-saving opportunities turn you on, then be sure to check out this issue's Free Scene Download from Falcon's Max In The City and watch porn star Max Adonis as he figures out that his pizza delivery boy accepts some very alternative forms of payment. Similar scenes can now be jerked to on the latest Falcon bareback release, Men's Briefs.
Happy fapping,
The HUNT Men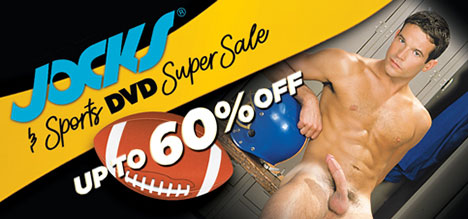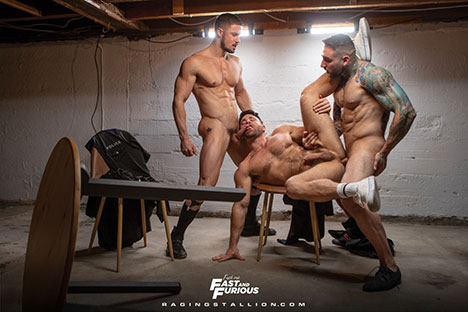 When the checkered flag has been waved, every driver knows that the best way to channel their raging, post-race adrenaline is by heading back to their garage and commanding their crew to 'Fuck Me Fast and Furious. From visionary directors Raph North and Iza Elle, these nine men are living life a lap at a time and know that the only thing more important than burning rubber on the road is busting a thick nut with their team. Driver Cole Connor just lost the most important race of his life, but muscular mechanic Darenger McCarthy can't figure out what went wrong with his car. Frustrated and ready to blow, the driver drags his auto tech into his RV where he strips down the 6'4" stud and drains his oversized cock. Still determined to figure out what happened to his prize ride, Cole Connor calls up retired racer Alex Mecum for help. It only takes a couple of minutes of convincing from Cole Connor's persuasive mouth until the former driver agrees to come out of retirement - but not before the muscle hunks finish their flip-fuck in the middle of the auto shop. On the other side of town, rival Markus Kage is celebrating his big with a bottle of champagne and a serving of Beau Butler's hairy cake. The bearded hunk bends his crew member over the seat of his racecar to rim and bareback his hole before both cross the finish line and smother Beau Butler's naked body in jizz. Mechanic Travis Connor is one of those boys who appreciates a fine body regardless of the make, so he immediately knows what to do with rival pretty boy Gabriel Clark and his hot cock when he catches him sabotaging his team's car. Now knowing the real reason he lost the race, Cole Connor challenges Beau Butler to a rematch, but everything goes wrong when the police show up. Officers Skyy Knox and Tony Dangelo take Beau Butler in for questioning, but quickly discover that while the tightlipped beefcake won't open his mouth to snitch on his crew, he will open up for their girthy cocks. So, if you're ready to take the wheel, just know that once you've crossed that finish line and think you're done for the day, there's an entire pit crew of insatiable, sweaty men waiting for you to scream out Fuck Me Fast and Furious.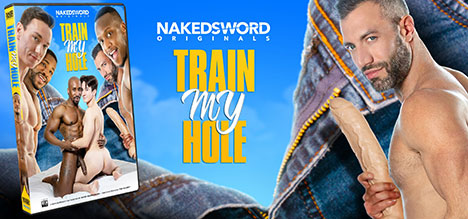 Andre Donovan may have just signed on a Falcon | NakedSword Exclusive late last month, but there's a 100% chance that you're already familiar with this hung performer and his extensive work with many of your favorite gay porn studios. Andre originally made his debut with the Falcon | NakedSword group in the 2017 Falcon blockbuster Earthbound: Heaven to Hell 2 and more recently, took on his first-ever NakedSword Originals role in 2021's Best Sex Ever. Since becoming an Exclusive, Andre has been making nonstop appearances in bareback projects like Train My Hole and Power Play. He even did a guest spot on the latest episode of the porn meets-pop culture podcast Discretion Advised where he opened up about his first time bottoming for NakedSword. It's hard to believe that this man has put out so much content in his first month as an Exclusive, but it just makes us all the more excited to see what else Andre's going to be pumping out in the near future.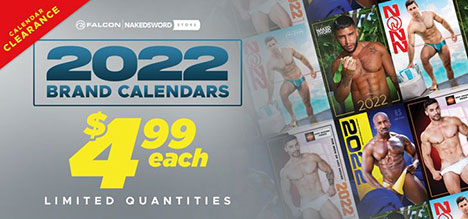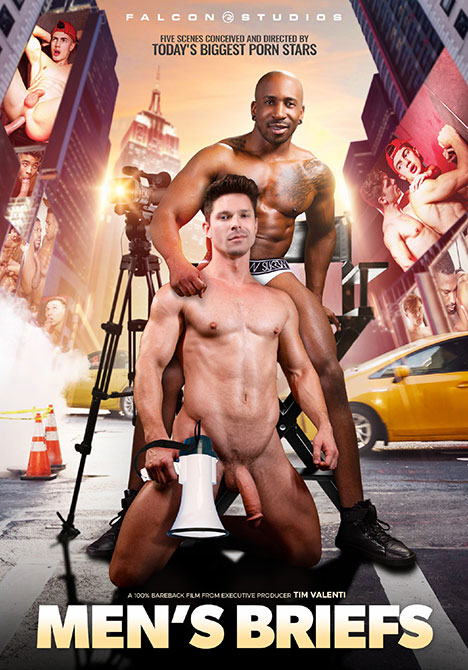 A-List Porn Stars Step Behind The Camera For Men's Briefs
Falcon Studios, the iconic producer of the world's hottest gay male porn, announced the release of its latest bareback project, Men's Briefs, on DVD and Digital Download. Shot on location in the Big Apple and at THE Q NYC, this film sees famed porn stars Max Konnor, Devin Franco, Leo Forte, and Boomer Banks going behind the camera to direct their own original short stories with the help of award-winning performer-turned-director Steve Cruz. The bareback feature is now available on DVD and Digital Download from the Falcon | NakedSword Store.

Click Here to Read the Full Story




Hot Membership Site Updates Available Now!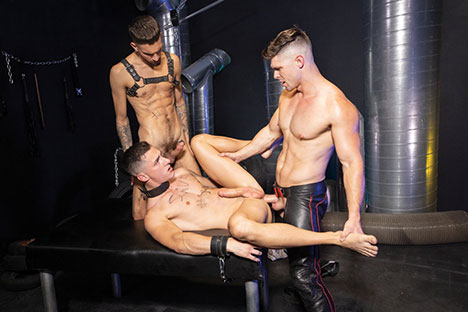 BONUS Free Action Gallery: SUBMIT
Be a good boy and SUBMIT! From the fetish minds of co-directors Jasun Mark and Trenton Ducati, 'SUBMIT' is an intense dive into sexual power dynamics featuring five eager men giving in to their deepest desires and submissive fantasies. Dominator Devin Franco has Tristan Hunter and Liam Skye bound and caged giving him the opportunity to have his way with these two eager subs, leaving everyone drained and satisfied. So turned on by their first session, Devin drives a sound into Liam's hard cock before both Devin and Tristan take turns driving their dicks into Liam's ass. Jack Vidra puts his sub, Cain Marko, to the test, relentlessly flogging him then stretching his hole with an array of toys, before giving Cain a fucking he won't soon forget. Cain wants more and takes an intense ride on Jack's hot cock, but the roles quickly reverse and Jack's on top of Cain riding hard in a scorching bareback flip-fuck that ends with Jack's ass bred full of cum. So, come on, boy SUBMIT, and give in to every demand until all are satisfied.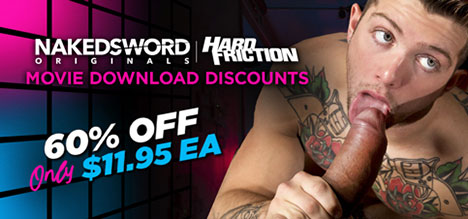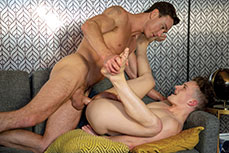 NAKEDSWORD ORIGINALS DEBUTS LATEST SERIES TRAIN MY HOLE ON DVD & DIGITAL DOWNLOAD - NakedSword Originals is excited to announce the release of their brand new all-sex series,Train My Hole, now available on DVD and digital download worldwide. Directed by acclaimed NakedSword director Marc MacNamara, Train My Hole, chronicles the stories of four tops who are looking to stretch out...
Read Full Story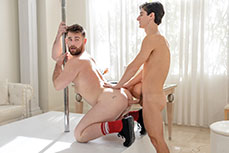 Hopeful Hunks Take The Stage & Take A Fist For Stripper Hole Tryouts - Fisting Central, the Falcon Studios Group brand featuring the finest gay fisting videos, has released their latest feature, Stripper Hole Tryouts. Director Tom Moore takes you into the back room where four hopeful studs and their sloppy holes earn their place on the stage. The latest feature is now available on DVD & digital download on the Falcon | NakedSword Store.
Read Full Story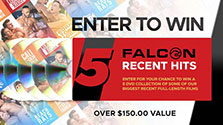 Enter to WIN 5 Falcon Recent Hits - Here's your shot at another Falcon Forever giveaway, celebrating the Golden Anniversary of the famed studios. During the month of February, fans can enter to win 5 Falcon recent hits! Enter through February 28th for your chance to win! 
Read Full Story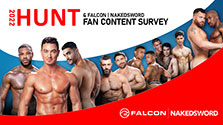 Your LAST Chance to Win Porn Prizes – HUNT Reader Survey - Take advantage of your last chance torovide your valuable feedback on Falcon | NakedSword content for your chance to win DVDs, Downloads and Memberships to our popular sites. HUNT Readers and fans of Falcon Studios, NakedSword Originals, Raging Stallion, Hot House , Club Inferno, Fisting Central and...
Read Full Story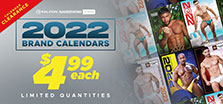 Falcon, NakedSword, Raging Stallion & Hot House 2022 Calendars Are Now 75% Off - Now that 2022 is here, get your hands on our limited-edition calendars for 75% off while supplies last! Take your pick from Falcon Studios, Raging Stallion, NakedSword Originals or Hot House...
Read Full Story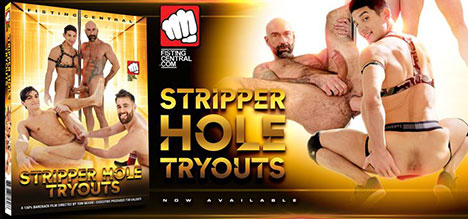 Tyler Roberts & Max Adonis from Max In the City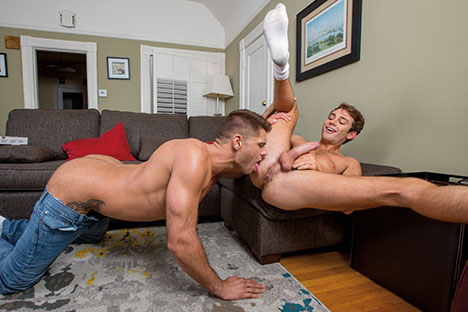 Tyler Roberts is delivering a pizza to Max Adonis when Max comes up short on cash. Tyler takes notice of Max's cute ass and body and throws out a few alternative options for payment; Tyler suggests that Max suck his dick. With no other way of paying, and with a raging hunger for cock, Max agrees and gets on his knees. Max's mouth feels amazing wrapped around Tyler's impressive thick dick and soon the delivery guy is balls deep in Max's throat. He face fucks the eager hunk as he closes his eyes and enjoys every second. Tyler wants a taste of Max's ass and throws him back on the couch to see what the fit stud has to offer. Tyler works his way up Max's hairy balls to his throbbing cock and takes it in his mouth to return the favor by sucking Max's dick. Max plows the mouth of the hung delivery stud before lying back one last time to let Tyler eat him out to a creamy finish. As Tyler gets in deep with his tongue, Max blasts his load all over his own ripped body. That's Tyler's cue to feed the hungry stud and with Max underneath him, eyes and mouth wide open, Tyler lets go and showers Max's face with cum.