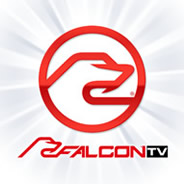 | | |
| --- | --- |
| | Check the listings in your Television Provider's Adult HD OnDemand Menu for: Capitol Anal Service, The OnDemand HD Release of Hot House's, Capitol Affairs starring Cade Maddox, Tristan Hunter, Cole Connor & more! |


| | |
| --- | --- |
| HUNT - Issue #269 | January 7, 2022 |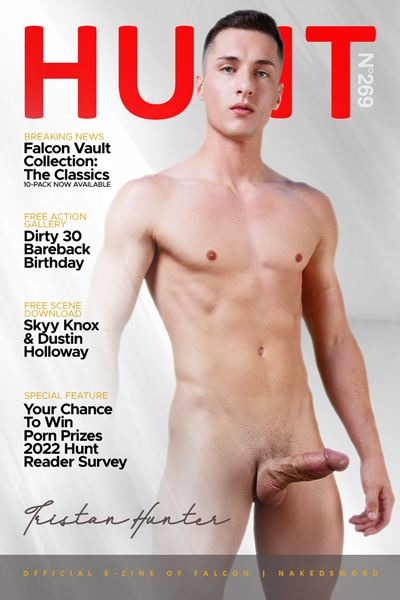 HUNT Readers,

Happy New Year! We hope all your dreams came true during the holiday season, and we promise to keep delivering you new fantasies to dream about in 2022. We'll start right now, let's go!
Check out Breaking News for our latest release the Falcon Vault Collection: The Classics. This 10 pack of enhanced early hits from Falcon features reissues of ten of the most popular releases in Falcon's history and is a must-have for avid Falcon Fans.
It might be cold where you are, but Tristan Hunter is hot, hot, hot in this issue's Model Spotlight. Catch him in the debut scene of Wet Heat, find out what else he's been up to and spy his free action shots from his most recent movies.
There's a celebration in our Free Action Gallery this week to with the hottest shots from Dirty 30 Bareback Birthday.
Provide your opinions about Falcon | NakedSword products and get a chance to win hot porn prizes in the Special Feature, where you'll learn more about the 2022 HUNT Reader Survey.
Head down to Studios News to learn more about the debut of Wet Heat on FalconStudios.com. While you're there, don't miss the premiere of Fuck Me Fast and Furious from RagingStallion.com. Finally, you'll find another opportunity to win with Falcon Studios monthly giveaway, featuring a chance to score the Falcon Vault Collection: The Classics ten pack. Good luck!
Save big with our New Year Big Dick Sale, giving you 50% off DVDs with 9" plus. And, don't miss the Massive Cock Scene Sale, delivering humongous cock downloads for half off.
Grab your first Free Scene Download of 2022, starring Skyy Knox and Dustin Holloway from Route 69.
Star Your New Year Off with a Bang,
The HUNT Men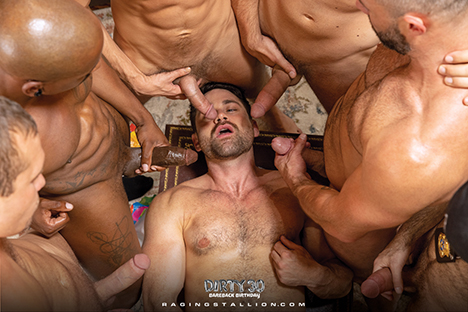 Turning the big 3-0 doesnít mean that you must leave behind all the bareback hookups and wild orgies from your 20s and this Dirty 30 Bareback Birthday proves it. Award-winning director Tony Dimarco is bringing together eight insatiable hunks for a birthday bash where the dress code only requires you to wear your birthday suit and a face full of your best friendís fresh load. Beau Butler thinks that boyfriend Cole Connor is taking him away for a quiet couple of days filled with froyo and snuggles, but what he doesnít know is that all his best friends are waiting to surprise him with a cum-filled weekend getaway. Before anyone even has the chance to strip down, the party is crashed by stripper cops Jake Nicola and Lucca Mazzi. Having always wanted to fuck a cop, Austin Avery takes Jake Nicola away for an intense bareback fuck session that ends with Austin Avery pushing a hot load of jizz out of his used hole. Once Max Konnor and Cole Connor successfully break off from the rest of the horned-up group, Cole Connor manages the impossible by swallowing every last bit of his friendís 10-inch monster cock. Stripper cop Lucca Mazzi is using both his police baton and hard cock to fill up the incredibly beefy ass of Beau Butler. Once the birthday boy gets to riding the faux officerís meaty cock, it isnít long before heís shooting ropes all over Lucca Mazziís ripped abs. Reign is excited to finally become friends with benefits with Isaac X and wastes no time stuffing all 8 of his inches into his palís open mouth and thick ass. Once theyíre done with each other, Reign and Isaac X go out to celebrate with birthday boy Beau Butler. The hunks stuff him at both ends, give him a creamy facial, and breed him before Max Konnor, Cole Connor, Austin Avery, Jake Nicola, and Lucca Mazzi all come out ready to add some extra coats of icing to Beau Butlerís cumcovered body. Once every one of his friends has unloaded their balls on him, the extremely drained Beau Butler exclaims that this Dirty 30 Bareback Birthday is officially the most satisfying party that him and his fat cock have ever had.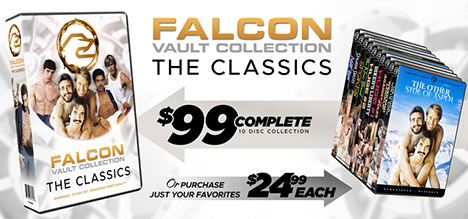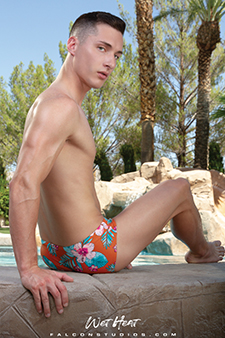 Falcon | NakedSword Exclusive Tristan Hunter doesn't stop, and we wouldn't want him to. He's a stunning versatile performer with a hefty 7.5" cut cock, a stunning body and he delivers show-stopping performance after show-stopping performance. His exclusive and exceptional ass and ripped body have been appearing in Falcon | NakedSword releases for over a year and fans are loving every frame in which he appears. His latest update from Wet Heatjust went live on FalconStudios.com and he can also be seen in recent hits Falcon Live: 4 The Fans and Making the Grade from Falcon and Sgt. Dick from Hot House. Keep your eye out for more dynamic sexual experiences from this superstar exclusive; he never disappoints.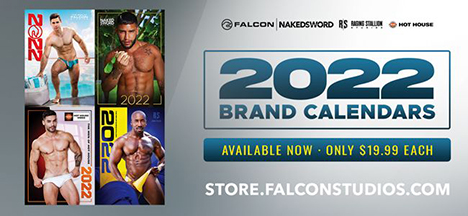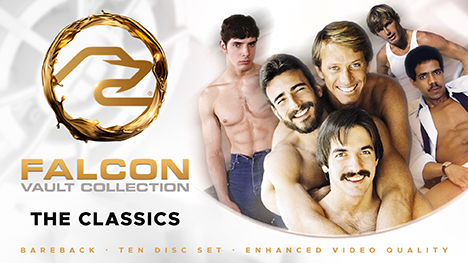 Falcon Vault Collection: The Classics 10 Pack Now Available
Raging Stallion, the brand featuring rugged men and raw action, has announced the release of their latest bareback feature, Dirty 30 Bareback Birthday. Award-winning director Tony Dimarco brings together eight insatiable hunks for a birthday bash where the dress code is your birthday suit and a face full of your best friendís fresh load. The Dirty 30 Bareback Birthday DVD and Digital Downloads are now available on the Falcon | NakedSword Store.

Click Here to Read the Full Story




Hot Membership Site Updates Available Now!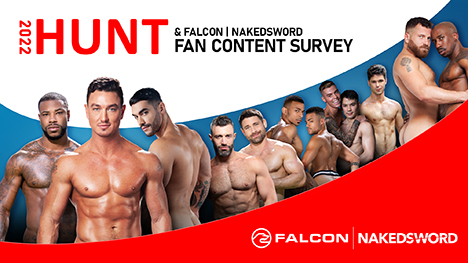 Your Chance to Win Porn Prizes - 2022 HUNT Reader Survey
Provide your valuable feedback on Falcon | NakedSword content for your chance to win DVDs, Downloads and Memberships to our popular sites. HUNT Readers and fans of Falcon Studios, NakedSword Originals, Raging Stallion, Hot House , Club Inferno, Fisting Central and Fetish Force, this is your chance to tell us what you really think about our porn and help us make important decisions about our content in the coming year.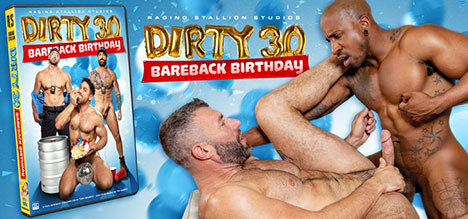 Fuck Me Fast and Furious Takes Off on RagingStallion.com - RagingStallion.com, Falcon | NakedSwordís site featuring rugged men and raw action, announced the release of the debut update from the upcoming bareback feature, Fuck Me Fast and Furious. Co-directors Iza Elle and Raph North head back behind the camera to shoot...
Read Full Story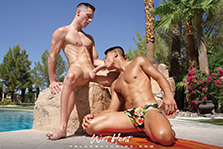 Tristan Hunter and Luke Truong Scorch in Wet Heat on FalconStudios.com - FalconStudios.com has announced the exclusive world premiere of the debut scene from their upcoming bareback pool feature, Wet Heat. Award-winning director Steve Cruz films in the desert sun as...
Read Full Story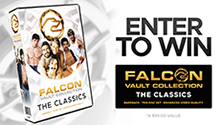 Enter to Win the 10-disc Falcon Vault Collection: The Classics - Here's your shot at another Falcon Forever giveaway, celebrating the Golden Anniversary of the famed studio! During the month of January, fans can enter to win this new product celebrating the classic hits of Falcon's illustrioius history!
Read Full Story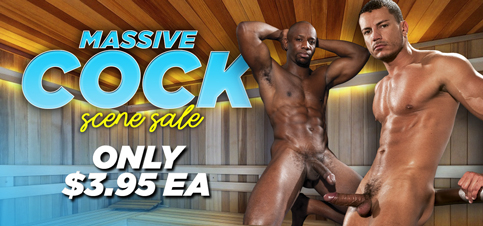 Skyy Knox and Dustin Holloway from Route 69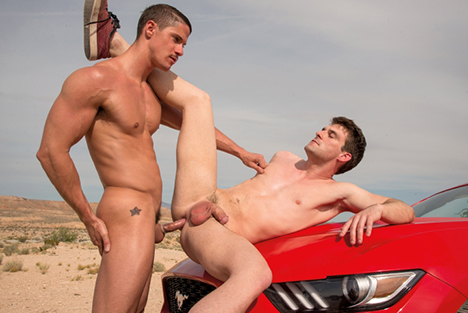 Dustin Holloway is in the car by the side of the road waiting for Fane Roberts to return from getting gas. He's jacking off in the front seat when he looks up to see Skyy Knox walking across the barren desert. As Skyy approaches, he asks if Dustin needs a helping hand and reaches down to feel the stud's hard dick. Skyy wants to do more than give Dustin a handie and opens wide to take Dustin's rod in his mouth. After giving Dustin a nice head session, Dustin wants access to what Skyy is packing and the guys take the fun to the side of the road. Dustin can't wait to get Skyy in his mouth and gets on his knees to service the horny stranger in the dirt. When Dustin gets Skyy as hard as he can be, Skyy bends the hunk over the car and slips his big dick into Dustin's open and ready ass. ďTake that power,Ē Skyy yells out as he picks up the pace and slams Dustin even harder. Dustin wants to feel Skyy deeper inside and lies back on the hood of the car. Skyy spits on Dustin's ass to lube it up and then once again slips inside the horny stud. The steady rhythm makes Dustin's eyes roll into the back of his head as he jacks his rod and blasts all over his tight ripped body. Skyy sees Dustin's handiwork and pulls to unleash a load of his own. Dustin wants to feel it hit his body and goes down on his knees in front of the muscle hunk to get his smooth chest doused with Skyy's pleasure.

You have received this email because you requested email updates from Falcon | NakedSword be sent to: %%EMAIL_ADDRESS%%
This is an advertisement. %%PLUGIN_Unsubscribe: 183936-Unsubscribe%%
Please add reply@huntezine.com to your address book or safe senders list to ensure that these emails arrive in your inbox.
© 2022 Silver State Services, LLC. All Rights Reserved. HUNT eZine, 4011 W. Oquendo Rd. Unit A. Las Vegas, NV 89118

Records required to be maintained pursuant to 18 U.S.C. 2257 and
C.F.R. 75 are kept in the following location by the Custodian of Records:
Custodian of Records
4011 W. Oquendo Rd. Unit A.
Las Vegas, NV 89118