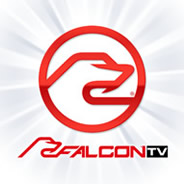 | | |
| --- | --- |
| | Check the listings in your Television Provider's Adult HD OnDemand Menu for: Leather Anal Liason, The OnDemand HD Release from Hot House's The URGE - Pound that Butt starring Nick Sterling, Sean Zevran, Austin Wolf & more! |


| | |
| --- | --- |
| HUNT - Issue #268 | December 10, 2021 |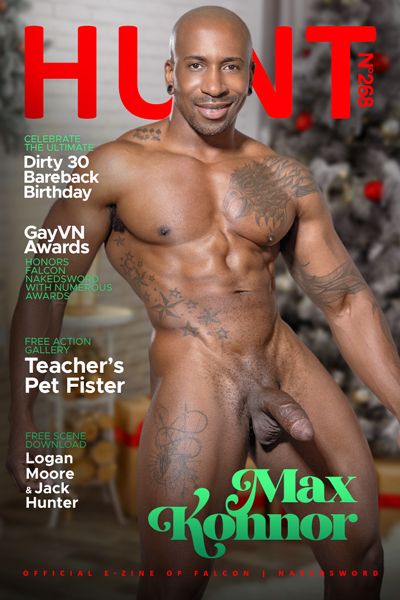 How's It Hangin' HUNT Studs?

As we recover from Thanksgiving, we hope you had a great time getting stuffed in more ways than one. You ready for a brand new issue full of new releases, new giveaways, free galleries, free scenes and more? Let's get it started!
There's a party in Breaking News, featuring the latest release from Raging Stallion Dirty 30 Bareback Birthday on DVD & Downloads.
Party-goer and star of the latest Raging release Max Konnor, shares all of his cake with us in Model Spotlight. Find out what he's been up to and celebrate with his free action shots from his most recent movies.
With finals approaching, head down to our Free Action Gallery this week to earn extra credit with Fisting Central's Teacher Pet Fister.
Award season is on the horizon and our Special Feature covers all the GayVN nominations that Falcon | NakedSword has been honored with.
Falcon Studios starts off Studios News with a bang, featuring their latest bareback release, It's Complicated, on DVD & Downloads. Then, Falcon | NakedSword launch the all-new podcast hosted by Marc MacNamara and John Hill, Discretion Advised. Finally, enter for a chance to win a $100 Amazona gift card as part of the Falcon Studios' Golden Anniversary celebrations.
Now that it's the most wonderful time of the year, check out the Holiday Season Savings with saving of up to 60% off on new releases, calendars, apparel & more.
Striking studs Logan Moore and Jack Hunter get Intimate in your Free Scene Download this issue. Comparable all-new scenes can now be jerked to on the newest Falcon Studios feature, It's Complicated.
Cheers,
The HUNT Men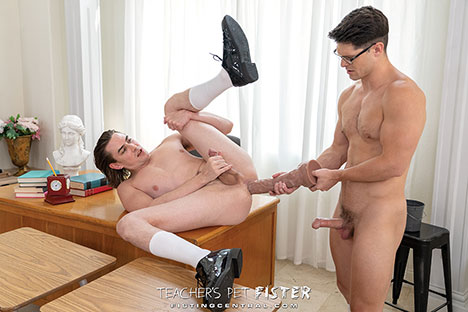 When the pressure of school life becomes too much to handle, you can always turn to the Teacher's Pet Fister to relieve some serious stress. Under the direction of headmaster Tom Moore, these four teachers and students know that they'll have to open up more than just their textbooks if they want a true hands-on (and hands-in) learning experience. Drew Dixon has to meet with his student's parents in less than an hour and he isn't looking forward to it. Lucky for him, colleague Micah Martinez is there to distract him from his tedious job with his raw cock, open hole, and burly fists. Both teachers take turns using their hands to fill each other up until they're both covered in their own creamy loads. In the same perverted classroom, troublemaker Jack Hunter begins rifling through his teacher's personal belongings and immediately comes across a violently oversized dildo. The rebel harasses the innocent Devin Franco with it and the goody-two-shoes student quickly discovers he isn't able to swallow the enormous toy, but he is able to make Jack Hunter's entire fist disappear in his gaping asshole. After getting stretched out and exposing his bright red insides, Devin Franco returns the favor by fisting and fucking Jack Hunter with their teacher's monster dildo until Jack sprays a thick load all over his naked body. These bareback studs know that academic life is hard, but if they put in the work and stretch out their peers like they've never been stretched before, they'll be able to earn the coveted title of Teacher's Pet Fister.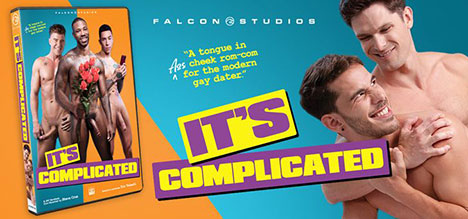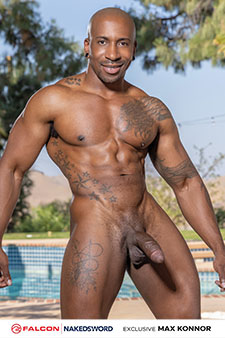 Performer of the Year nominee Max Konnor, is a well-established powerhouse with multiple award wins under his belt already. Since signing on as an Exclusive with Falcon | NakedSword, Konnor has starred in some of the biggest productions the mega-studios have put out in 2021. Max calls New York home, but he can often be found all around the world showcasing his exquisite physique, 10" cut cock, and insatiable untouched bubble-butt. Fans of Max Konnor can witness his award-winning prowess in NakedSword's Best Sex Ever. He can also be seen working out tight holes in the Falcon Studios releases Tales From the Locker Room 2 and Falcon LIVE: 4 the Fans, as well as his most recent project, Raging Stallion's Dirty 30 Bareback Birthday out today.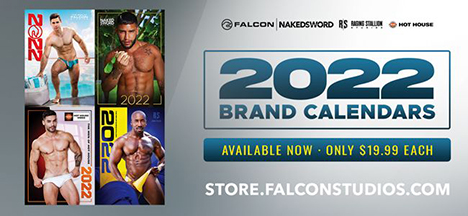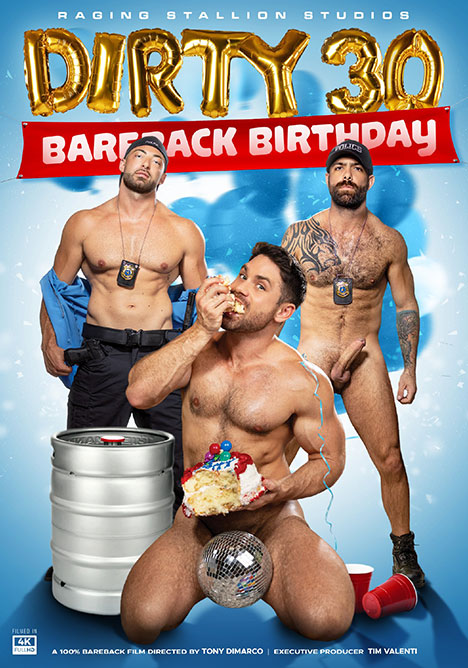 Celebrate the Ultimate Dirty 30 Bareback Birthday

Raging Stallion, the brand featuring rugged men and raw action, has announced the release of their latest bareback feature, Dirty 30 Bareback Birthday. Award-winning director Tony Dimarco brings together eight insatiable hunks for a birthday bash where the dress code is your birthday suit and a face full of your best friend's fresh load. The Dirty 30 Bareback Birthday DVD and Digital Downloads are now available on the Falcon | NakedSword Store.

Click Here to Read the Full Story




Hot Membership Site Updates Available Now!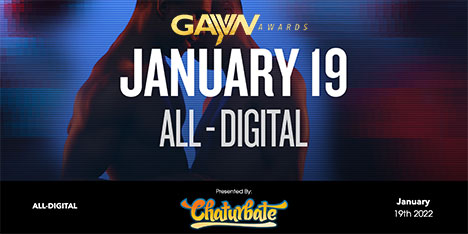 GAYVN Awards Honors Falcon | NakedSword with Numerous Nominations
Falcon | NakedSword have once again, dominated the nominations for the upcoming 2022 GAYVN Awards with a notable 33 total nominations. The GAYVN Awards, produced by AVN Magazine, salute excellence in gay adult entertainment. Winners will be announced at the all-digital 2022 GAYVN Awards Show, Wednesday, January 19, 2022 on https://avn.com/gayvnawards.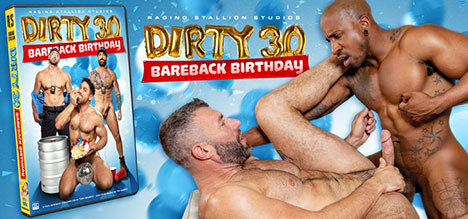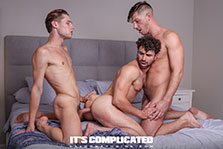 Falcon Streets New Bareback Feature It's Complicated - Falcon Studios, the iconic producer of the world's hottest gay male porn, announced the release of its latest bareback release, It's Complicated, on DVD and Digital Download. Captured by award-winning director Steve Cruz, these eleven studs are all on their own journey to find someone who fulfills their specific needs and satisfies their intense...
Read Full Story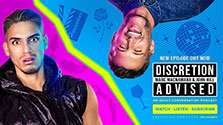 Pop Culture Meets Porn! Warning: Discretion Advised - Today, Falcon | NakedSword takes its first official jump into the world of audio and video podcasting with Discretion Advised. Hosted by award-winning porn director Marc MacNamara and acclaimed reality television producer John Hill, this first-of-its-kind podcast is set to combine the worlds of pop culture...
Read Full Story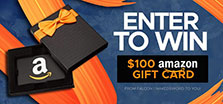 ENTER FOR YOUR CHANCE TO WIN A $100 AMAZON GIFT CARD - As Falcon Studios continues to celebrate its Golden Anniversary, fans get their shot at another giveaway! During the month of December, fans can enter to win a $100 Amazon Gift Card! Enter through December 31st for your chance to win!
Read Full Story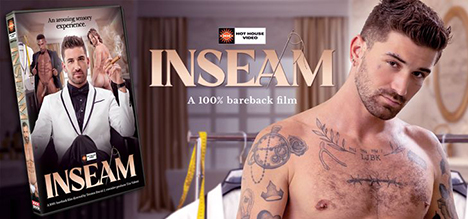 Logan Moore and Jack Hunter from Intimate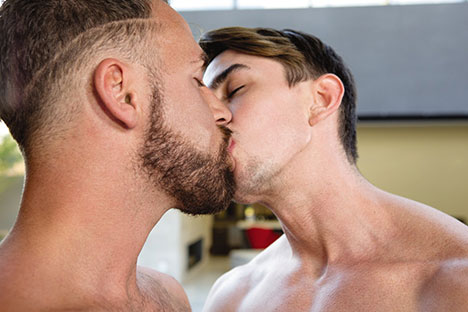 Logan Moore and Jack Hunter are kissing passionately in their underwear and tenderly rubbing their hands up and down their muscled-up bodies. Jack gets on the floor to show his lust for Logan by taking his thick erection into his mouth. Jack stares Logan in the eyes as he services his hunky man and takes him as far into his mouth as he can. Jack only stops momentarily to kiss Logan again before he gets back to work with his warm, wet mouth. Jack turns Logan around to tease Logan's tight, smooth hole with his tongue. Jack explores with excited intent, spreading Logan's cheeks wide open. Both hunks are in heaven as Jack licks and Logan enjoys the sensations. Logan wants to taste what Jack has to offer and gets on his knees in front of the stud. He gently pulls down Jack's underwear to let his thick pole out into the world. Logan pleasures Jack with his lips, taking the massive member in and out of his open, hungry mouth. Logan takes Jack's happiness to a whole new level when he works his magic and gets Jack to spill his seed all over Logan's beard and tongue. Logan can't get enough and continues sucking Jack, lapping up every last drop of semen as he lets out a moan and drops his own load all over the floor.

You have received this email because you requested email updates from Falcon | NakedSword be sent to: %%EMAIL_ADDRESS%%
This is an advertisement. %%PLUGIN_Unsubscribe: 183936-Unsubscribe%%
Please add reply@huntezine.com to your address book or safe senders list to ensure that these emails arrive in your inbox.
© 2021 Silver State Services, LLC. All Rights Reserved. HUNT eZine, 4011 W. Oquendo Rd. Unit A. Las Vegas, NV 89118

Records required to be maintained pursuant to 18 U.S.C. 2257 and
C.F.R. 75 are kept in the following location by the Custodian of Records:
Custodian of Records
4011 W. Oquendo Rd. Unit A.
Las Vegas, NV 89118