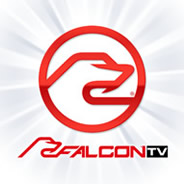 | | |
| --- | --- |
| | Check the listings in your Television Provider's Adult HD OnDemand Menu for: Deep Blue Butts, The OnDemand HD Release from Hot House's Dirty Work starring Jimmy Durano, Ace Era, Chris Bines & more! |


| | |
| --- | --- |
| HUNT - Issue #267 | November 24, 2021 |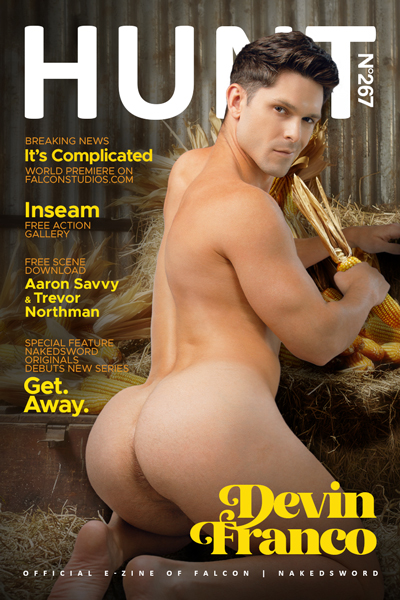 Hey HUNT Men,

Surprise! HUNT cums early this week. Before we unwind with friends and family and enjoy some good food, let's get into some new scenes, scorching galleries and more goodies to be thankful for.
Devin Franco "tops" it off in Breaking News, pounding newcomer Gabriel Nogueira raw in It's Complicated on FalconStudios.com.
To celebrate his new scene, Exclusive Devin Franco is featured in our Model Spotlight. Learn about where you can see this stud stuff and get stuffed next while you check out his hottest action shots.
The stunning Men of Hot House get ready for the big day in Inseam. Peep the sexiest shots from the release in our Free Action Gallery this week.
NakedSword Originals makes a splash in our Special Feature this week with the debut of their new series Get.Away..
First up in Studios News, grade A holes get stretched in the Teacher's Pet Fister DVD & Downloads. Celebrate with RagingStallion.com for the debut of Dirty 30 Bareback Birthday with fan favorites Jake Nicola and Austin Avery. Then, XBIZ drops the nominations for the 2022 awards with Falcon | NakedSword scoring 18 total nods. Also, don't miss your last chance to win a Falcon Swag Box. Finally, Cyber Week is finally here! Check out all of the savings.
Get a jump on the season's savings with our Early Holiday Shopping DVD Clearance with sizzling DVDs for $8.97 each, but act now because it ends Sunday. Black Friday has arrived in the Nut Buster Black Friday DVD Blowout where you nab features for only $5.97 each. If scenes are more your speed, check out the Black Friday Cyber Week Scene Savings featuring scorching downloads at only $2.55 each, and look out for the ultimate Cyber Week savings headed your way starting Monday next week!
We're thankful for you! So, enjoy a Free Scene Download featuring Aaron Savvy & Trevor Northman from NakedSword Originals' Five Brothers: Family Values. Similar scenes can now be streamed on the all-new NakedSword feature Get.Away..
Gratitude,
The HUNT Men






Subtle glances, inviting looks, suggestive gestures and provocative signals define the art of sensual gay seduction in Inseam. While preparing for his wedding, Chris Damned assembles the hottest wedding party and assistants, who help him prepare for the festivities by partaking in the silent persuasion that leads to the most intense bareback action. Director Trenton Ducati expertly orchestrates the Groom's big day and the intimate moments that evolve into unrelenting hardcore encounters. Husband-to-be Chris Damned visits his shoe shiner Jack Bailey for one last polish of Jack's tight hole. Best Man Austin Avery is joined in the shower by Groomsman Shane Cook to get his ass spread open. After enjoying a cigar by the pool, Cole Connor breeds Adrian Hart in the kitchen. While the groom watches, wedding party member Shane Cook and Tailor Jay Tee fuck on the bed. Groomsman Devin Franco has one last hookup with the Groom Chris Dammed before the ceremony. Inseam will have you loosening up that collar, dropping those trousers, and letting your inhibitions fall to the floor with them.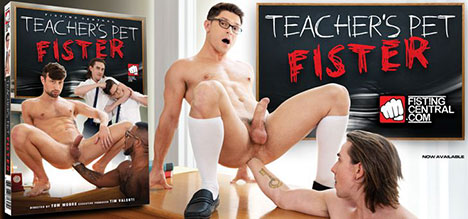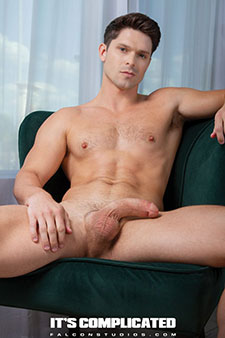 Devin Franco is a powerhouse in the gay porn industry with multiple award wins under his belt. Known as one of the most dynamic Exclusives ever, Devin is sure to put all of his mouth-watering assets to their full use. Whether he's topping with his 8" cut cock, getting drilled in his fine ass or getting his fisting and fetish on, you can expect his energy to always be explosive. Fans can watch Devin plow some ass in the debut update from It's Complicated that just hit FalconStudios.com. Franco is also featured in the new releases Teacher's Pet Fister from Fisting Central, Inseam from Hot House and Pinned from Fetish Force. No matter what role of Devin Franco's you prefer, this sexy stud has something for everyone! Keep watching as he continues to amaze and satisfy.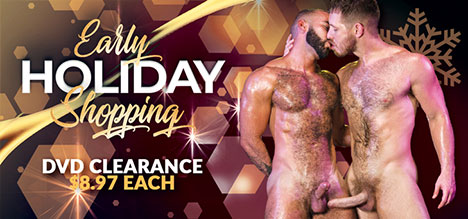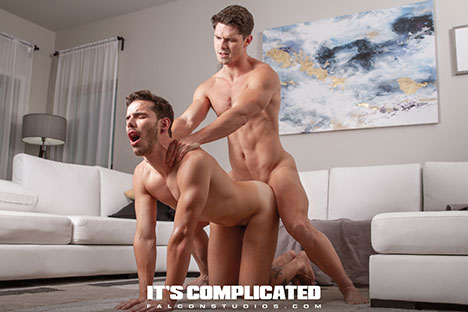 Debut of It's Complicated Drops on FalconStudios.com

FalconStudios.com has announced the exclusive world premiere of the debut scene from their upcoming bareback feature, It's Complicated. Award-winning director Steve Cruz captures the passion and bareback energy between Exclusive Devin Franco and newcomer Gabirel Nogueira. The debut scene from It's Complicated will premiere tomorrow November 26, on FalconStudios.com and is available for promotion throught the Buddy Profits affiliate program. The full DVD and scene downloads will be available soon on the Falcon | NakedSword Store.

Click Here to Read the Full Story




Hot Membership Site Updates Available Now!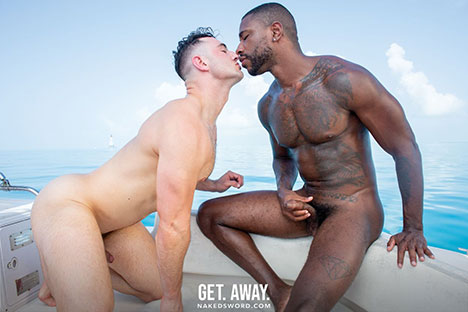 NAKEDSWORD ORIGINALS RELEASE NEW SEXUAL THRILLER GET. AWAY. DIRECTED BY MARC MACNAMARA!
NakedSword Originals has just released Episode 1 from their new action packed feature film GET. AWAY., the mysterious thriller now playing only on HUNTForMen.com.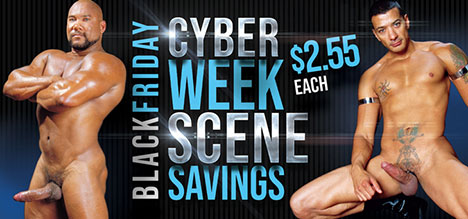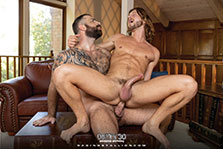 Raging Stallion Celebrates Dirty 30 Bareback Birthday Debut - RagingStallion.com, Falcon | NakedSword's site featuring rugged men and raw action, announced the release of the debut update from the upcoming bareback feature, Dirty 30 Bareback Birthday. Director Tony Dimarco is the party planner that films Jake Nicola and Austin Avery fucking raw. The first scene from Dirty 30 Bareback Birthday will...
Read Full Story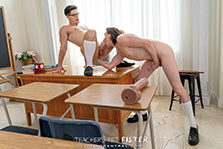 Watch Grade A Holes Get Stretched In Teacher's Pet Fister - Fisting Central, the Falcon Studios Group brand featuring the finest gay fisting videos, has released their latest feature, Teacher's Pet Fister. Under the direction of headmaster Tom Moore, these four teachers and students know that they'll have to open up more than just their textbooks if they want a true hands-on (and hands-in) learning experience.
Read Full Story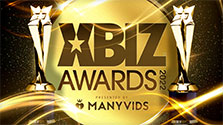 Falcon | NakedSword Amass 18 Nominations For the 2022 XBIZ Awards - The adult entertainment industry's biggest awards event, the 2020 XBIZ Awards, have honored the exclusive models, executives, directors and movies of Falcon Studios Group and the NakedSword Network with a total of 18 nominations.
Read Full Story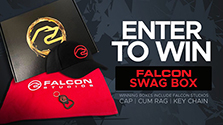 LAST CHACE TO ENTER TO WIN A FALCON SWAG BOX - As Falcon continues to celebrate its golden anniversary with another giveaway, don't miss your last chance to win a Falcon Swag Box. Thru November 30th, fans can enter to win a free Falcon Swag Box! Enter to win now!
Read Full Story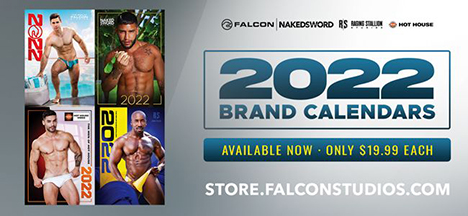 Aaron Savvy & Trevor Northman from Five Brothers: Family Values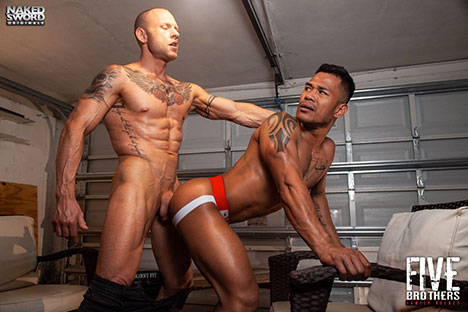 As the sun glistens on late afternoon in Miami, Aunt Danni is chillin in the backyard of the family home. Suddenly her darling Jay Dymel appears with their long lost recently orphaned brother Nic Sahara. "Nic, so great to see you baby!" she gives Nic a hug then slaps Jay across the face, "Don't you ever pull that shit again!" as a "welcome home" from five years in prison. Danni sees Nic to his room as Jay goes to the garage to reconnect with his brother Aaron Savvy. As Jay walks up to the door, he can hear Aaron reprimanding one of their dealers, Trevor Northman. Sadistic Jay settles in to watch Aaron give this boy a lesson in proper dealer etiquette: "Pull down your pants and bend over." Trevor does as he's told, and after a few spanks then Aaron unzips his pants to reveal his giant cock. "Pleasure Me" and shoves his cock all the way down Trevor's throat. After much sucking and gagging, Aaron pulls Trevor up, gives him a wet unwanted kiss, then bends him over again to reveal Trevor's perfect tight ass. Aaron teases the dealer by rubbing his giant cock up and down Trevor's hesitant hole, and then slides slowly inside. Aaron, having some pity on the boy, knowing his cock is gigantic, reminding him "shhhh, not so loud." Aaron continues to use Trevor's hole as his personal fuck toy until he is satisfied and blows his load all over Trevor's flawless ass then commands him "Get the fuck out, I'm done." Trevor scurries out of the garage; lesson learned as Aaron sadistically licks his cum off his fingers.

You have received this email because you requested email updates from Falcon | NakedSword be sent to: %%EMAIL_ADDRESS%%
This is an advertisement. %%PLUGIN_Unsubscribe: 183936-Unsubscribe%%
Please add reply@huntezine.com to your address book or safe senders list to ensure that these emails arrive in your inbox.
© 2021 Silver State Services, LLC. All Rights Reserved. HUNT eZine, 4011 W. Oquendo Rd. Unit A. Las Vegas, NV 89118

Records required to be maintained pursuant to 18 U.S.C. 2257 and
C.F.R. 75 are kept in the following location by the Custodian of Records:
Custodian of Records
4011 W. Oquendo Rd. Unit A.
Las Vegas, NV 89118