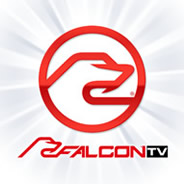 | | |
| --- | --- |
| | Check the listings in your Television Provider's Adult HD OnDemand Menu for: Scared Stiff!, The OnDemand HD Release from NakedSword Originals' Scared Stiff starring Ryan Rose, Colby Keller, Tom Faulk & more! |


| | |
| --- | --- |
| HUNT - Issue #265 | October 29, 2021 |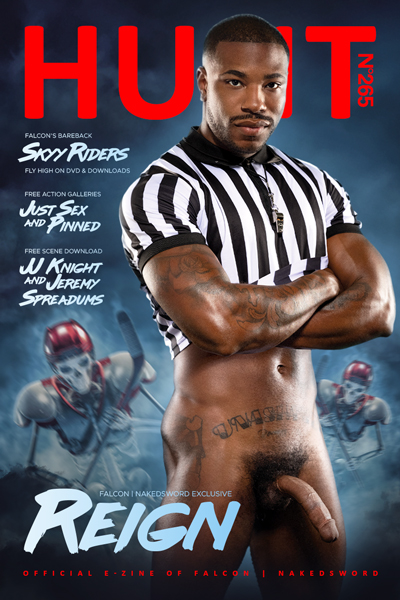 Sup, HUNT Studs?

Happy Halloween Weekend! Before you head out this weekend for tricks and treats, let's get you warmed up with new releases, free galleries, scene debuts and plenty more to sink your fangs and cocks into.
Falcon soars in Breaking News with the bareback release of Skyy Riders on DVD & Digital Download.
Get to know exceptional Exclusive Reign in our Model Spotlight this week. Find out where you can find him next as you stroke to his free gallery of scorching action shots.
Don't be frightened. It's Just Sex, and you're invited to enjoy the best pics from the bareback Raging Stallion feature in our Free Action Gallery.
As our personal treat to you, the Special Feature this week delivers a BONUS Free Action Gallery from Fetish Force's hot wrestling feature, Pinned.
Hot hunks launch Studios News with the world premiere of Skyy Riders on FalconStudios.com. You know what they say, Boys Will Be Boys! Grab the latest release from BelAmi today from the Falcon | NakedSword Store. Don't miss your last chance to WIN a Men of Falcon Studios 2022 Wall Calendar. Finally, howl at the moon only on Weekends at Falcon as Blood Moon: Timberwolves 2 streams free all weekend long.
As always, we have your scary-good discounts and savings. First, our Hot House Hit Scene Sale with the best scenes discounted 60%. Then, our NakedSword & Hard Friction Movie Download deals feature full movies going for only $11.95 each. Finally, get into the spirit with our Halloween DVD Discounts featuring hot costume and scary gay porn DVDs for only $15.97 each.
Your Free Scene Download this week features JJ Knight and Jeremy Spreadums from Pitching Tents. Similar scenes can now be seen on the latest Falcon bareback feature, Skyy Riders.
Boo!
The HUNT Men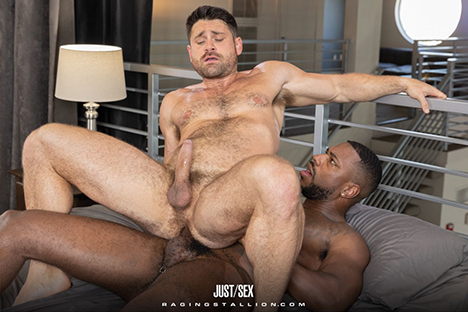 Everyone needs to release and smother a random man with their fresh load every once in a while, and thatís why these hot, hairy men are looking for nothing more than Just Sex. From award-winning director Tony Dimarco, this film follows seven studs as they suck, rim, and fuck each other until their balls have been fully drained. Jake Nicola is ecstatic to discover a completely naked Beau Butler waiting for him in bed. The bearded daddy immediately dives into the beefy manís hairy asshole and coats his insides with a thick layer of his cum. Tattooed hunk Chris Damned starts touching himself when he sees a hard and ripped Roman Todd showering off. Not caring about getting his clothes soaked, Chris Damned walks in on Roman Todd and fills up both ends of the muscle man with his XL cock. Cole Connor canít wait to relax after work, but Reign refuses to let the white-collar stud take a break until heís serviced his long dick with his mouth and hole. Bored at home alone, Ian Holms booty calls Jake Nicola over to rearrange his guts with his famously girthy dick. Beau Butler is face down, ass up, and patiently waiting for Reign to come in and destroy his furry hole. Reign doesnít disappoint the thick bottom and gives him the barebacking of a lifetime before covering his body in a fresh load of his cum. Take a look at how all of these cum-worthy hunks show off their oversized cocks, tight holes, and gushing loads and youíll understand why theyíre constantly on the hunt for Just Sex.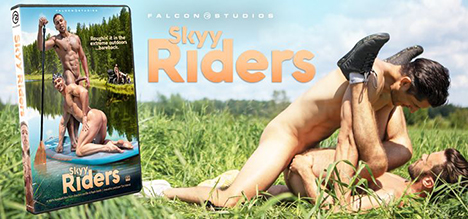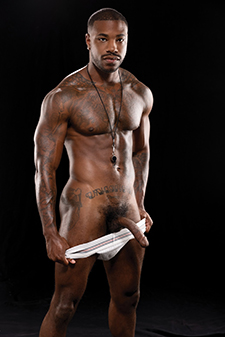 As the latest addition to Falcon | NakedSword's list of Exclusives, Reign fits right in. Not only does he have the looks, the body, the charm and the skills, but he has the assets to make him a mega-star. His hot, round ass and beautiful 9-incher that explodes on screen when a eager bottom gets plowed by it are the prefect compliment to his dynamic performance energy. In a simple phrase, he has it all. A military man, Reign began his gay porn journey starring in the Raging Stallion bareback feature, Get A Room Too. Since then, this tatted, muscled hunk has brought it all to NakedSword's Dear Johnny, Fetish Force's Pinned, and most recently, Raging Stallionís Just Sex. Get to know Reign and his girthy meat more by checking out his Model Spotlight gallery, plus keep your eye out for his new releases, coming soon to a site and store near you!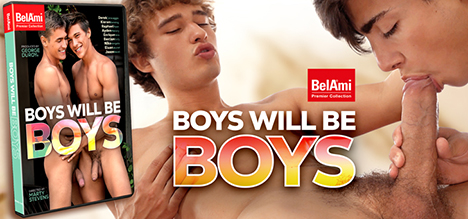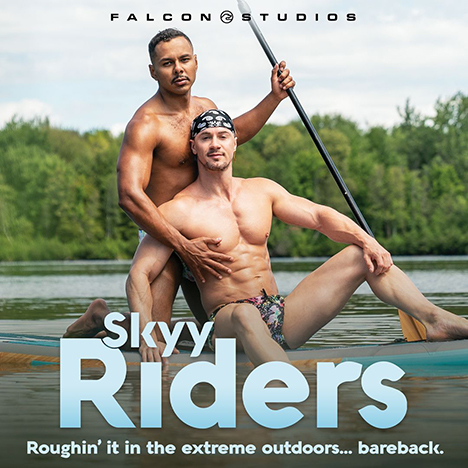 Falconís Bareback Skyy Riders Fly High On DVD & Downloads

Falcon Studios, the iconic producer of the worldís hottest gay male porn, announced the release of its latest steamy bareback feature, Skyy Riders, on DVD and Digital Download. With the help of prolific directors Iza Elle and Raph North, these eleven men pull out their dicks at a momentís notice and take advantage of the intense solitude that these vast landscapes provide. The bareback feature shot on location in the Canadian wilderness is now available on DVD and Digital Download from the Falcon | NakedSword Store.

Click Here to Read the Full Story




Hot Membership Site Updates Available Now!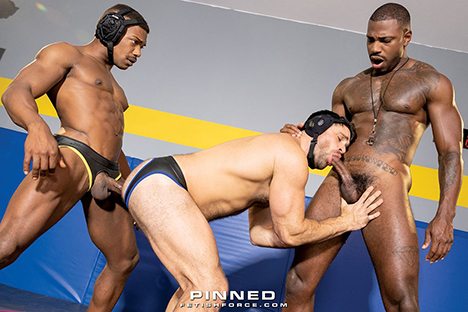 BONUS Free Action Gallery: Pinned
If youíre into wrestling mats, hot gear, hungry holes and hard cocks, brace yourself, because these stunning grapplers are about to manhandle you until youíre Pinned and begging for more. Directed by Trenton Ducati and Jasun Mark, these five wrestling jocks arenít afraid of asserting their physical dominance in front of anyone watching. After pinning down athletic stud Devin Franco, hung muscle man Shane Cook celebrates his victory by shoving his girthy cock into his opponentís open mouth. The rematch between the two wrestlers sees both men exposing their asses and hard dicks before Shane Cook knocks Devin Franco down yet again and barebacks his juicy bubble butt. Shane Cook ends the match by pulling out of Devin Francoís used ass and spewing heavy ropes all over the bottomís naked abs. Beau Butler just pinned down the ripped Adrian Hart and referee Reign is looking to award the beefy athlete. As a reward for the win, the hairy victor gets both ends stuffed until Reign and Adrian Hart blow their warm loads into his mouth and hole. After their rematch, itís Adrian Hartís turn to get fucked by the refís big dick. Beau Butler covers his opponent in his thick load as Reign breeds his smooth hole with his sweaty cock. No matter the outcome of the match, these wrestling hunks are making sure everyoneís getting manhandled, roughhoused, and Pinned until their balls are officially drained.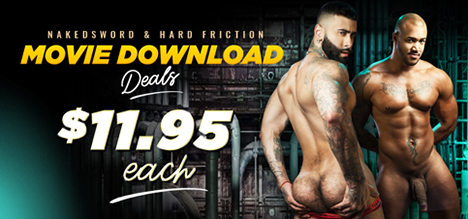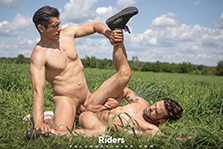 Skyy Riders Lifts Off On FalconStudios.com - Today, FalconStudios.com announced the exclusive world premiere of their latest bareback release, Skyy Riders. Directed by Canadian co-directors Iza Elle and Raph North, the debut update stars Rocky Vallarta and James Fox. The new scene will go live Friday, October 22,...
Read Full Story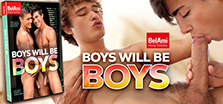 Boys Will Be Boys From BelAmi Releases On DVD & Downloads - What do you do when you're young & good looking and your hormones are raging? The jocks from Bel Ami show us in this great new all bareback DVD!
Read Full Story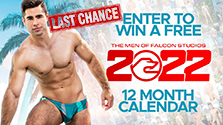 LAST CHANCE TO WIN A MEN OF FALCON STUDIOS 2022 WALL CALENDAR - Don't miss your chance to enter to win a Men of Falcon Studios 2022 Wall Calendar! As part of the Falcon Forever Anniversary Celebration, Falcon will give fans an opportunity to win one a Men of Falcon Studios 2022 wall calendar, with a...
Read Full Story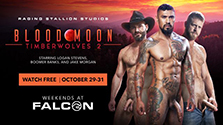 Blood Moon: Timberwolves 2 Comes To Weekends at Falcon For Free - As part of the Falcon Forever, campaign celebrating the studios golden anniversary, Falcon is inviting all porn fans to enjoy different FREE content, giving them complimentary weekly access to xxx-rated scenes and movies as well as specially...
Read Full Story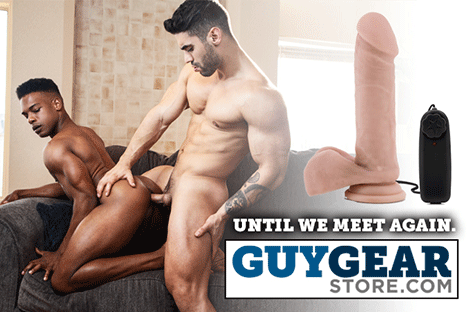 JJ Knight & Jeremy Spreadums from Pitching Tents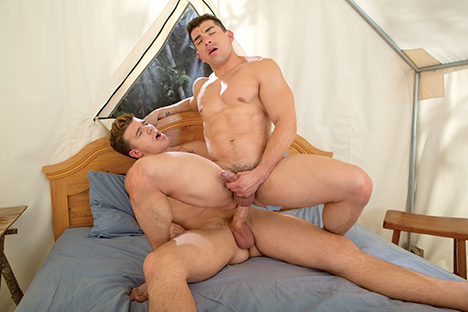 After horsing around in the river, JJ Knight and Jeremy Spreadums strip off their wet clothes to their tight, white briefs. Their sexual chemistry is so intense, Jeremy can't resist dropping to his knees and sucking JJ's insanely huge cock in broad daylight. Retreating to their tent for more privacy, they make out on the bed and Jeremy deepthroats JJ's massive rod. Reaching down, JJ massages Jeremy's spreadable ass cheeks, then repositions himself behind Jeremy to get a taste. Using his tongue, JJ probes Jeremy's hole with slick spit. With Jeremy ready to receive, JJ pushes his enormous member into Jeremy's hole. Their doggy style fucking picks up speed as Jeremy pushes his ass into JJ's crotch, pushing JJ's cock ever deeper. Dismounting, JJ lies down on the bed and invites Jeremy to go for a ride. As Jeremy rides JJ's cock, his muscular legs and beefy torso flex and swell. JJ thrusts up from above, then moves to missionary position. Jeremy puts his left leg in the air and enjoys the feeling of JJ's massive meat stretching his hole. As JJ pummels Jeremy's sweet spot, the sensation builds until Jeremy explodes with gushers of cum that drench his torso. Pulling out, JJ strokes his load out into Jeremy's waiting mouth. Hot rivers of cum accumulate on Jeremy's chin as JJ empties his balls. When he's finished, JJ leans in for a kiss, and his cum smears across both their faces as they enter a passionate embrace.