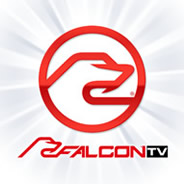 | | |
| --- | --- |
| | Check the listings in your Television Provider's Adult HD OnDemand Menu for: Salty Boys, The OnDemand HD Release from NakedSword Original's Salty Boys starring Cesar Rossi, Nick Milani, Scott Demarco & more! |


| | |
| --- | --- |
| HUNT - Issue #261 | September 3, 2021 |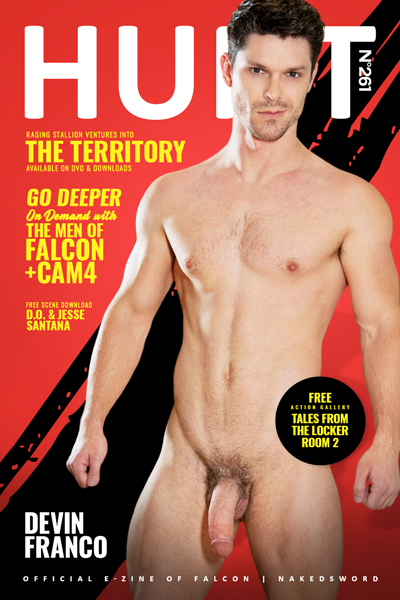 Hey HUNT Fans,

Happy Labor Day Weekend to all you hard workers from your friends at HUNT! Before you go out and enjoy your weekend, get into our latest issue with new releases, chances to win free prizes and plenty more to celebrate!
Raging Stallion hunks and director Marc MacNamara take us on a thrill ride in Breaking News with the release of the studiosí latest bareback feature, The Territory.
In our Model Spotlight this week, get caught up on Exclusive Devin Franco and all he's been up to, plus donít miss hot action images from his recent releases.
Hit the showers in our Free Action Gallery, featuring steamy action shots from Falcon Studios' Tales From the Locker Room 2.
Thanks to Falcon Studios + CAM4, fans can "Go Deeper" and watch four hot live shows On Demand in the Falcon Studios CAM4 My Shop. If you missed it when it was live, now's your chance to watch Cade Maddox, Max Konnor, Tristan Hunter, Cole Connor and more in behind the scenes action.
A new month means a new giveaway in Studio News. Enter for your chance to win the Falcon Icons of the Decades 5-Disc Set. In addition, Kirk Cummings and Taylor Reign star in a bareback scene from Tales From the Locker Room, streaming free only on Weekends at Falcon. Finally, Trailer Trash Boys streets their latest release, Snake Your Pipes on DVD & Downloads.
Looking for deals? It's your last chance for our 3 Way & Group Movie Downloads, featuring 60% off savings. Our Premium Scene Download Deals offering scenes for only $4.95, is also expiring soon. Finally, through Monday, enjoy the Labor Day Weekend DVD Clearance with hot titles as low as $7.97 each.
We head into The Woods, Part 2 for your Free Scene Download this week, featuring a rough and rugged fuck with Jesse Santana & D.O. All-natural men can also be seen getting it on in the newest Raging Stallion release, The Territory.
Happy Labor Day!
The HUNT Men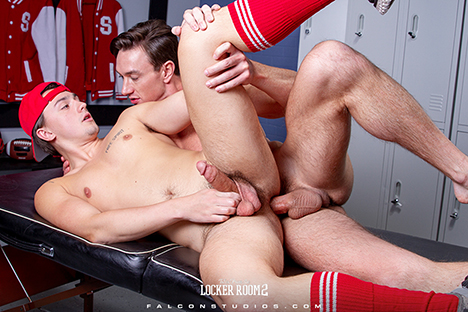 Team Falcon wins again, delivering another supercharged 100% bareback sports fantasy, Tales From The Locker Room 2. In this bareback gym fuck fest, award-winning, iconic director Chi Chi LaRue takes you back to the locker room where dirty jockstraps cover the floor and muscle hunks use the space as their own private fuck club. Football hunk Colton Reece canít control himself when he sees a completely naked Max Lorde rinsing off in the locker room shower. Without taking off his football pads or his sweaty jockstrap, Colton Reese slams his big dick into the gingerís hungry bubble butt. Muscle man Jim Fit just got caught sniffing piles of used jockstraps, so young twink Masyn Thorne makes him take a whiff of his smelly jock before covering him in his warm load. College athlete Jake Waters needs to clean up the filthy locker room, but heís too distracted by the fresh scent of dick to get anything done. Lucky for him, Isaac X is there to help satisfy his sudden craving for musky cock. Dr. Cade Maddox never wants to disappoint a patient, so when Masyn Thorne needs advice on how to jerk off and get rid of his constant erections, the doctor is more than happy to give some hands-on masturbation tips right in the middle of the locker room. When a desperate Colton Reece doesnít want to get kicked off the team, he drops to his knees to service coaches Max Konnor and Beau Butler. After some intense anal action between the three studs, the football star proves his dedication to the team by taking his beefy coachís hot loads directly to the face. If you want ripe jocks, musky socks and throbbing cocks, donít miss all the must-watch bareback action in Tales From The Locker Room 2.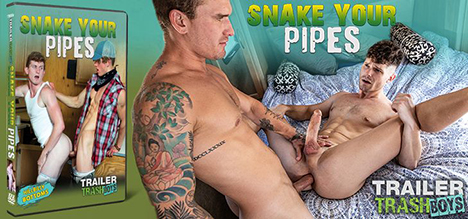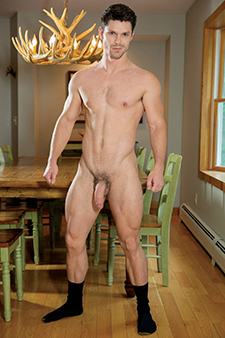 Award-winning superstar Devin Francoís popularity has grown by leaps and bounds since signing on as an Exclusive with Falcon | NakedSword over two years ago. Devinís body has grown too, starting as an exclusive with a slender, swimmerís build, but now heís muscled up and weighs in at 180 lbs. His delicious and hefty 8" cut cock and insatiable ass continue to please as Devin continues to be the versatile virtuoso who appears in every brand available from Falcon | NakedSword. Easily one of the most dynamic stars in the biz, Franco is known to go from mild to wild in a snap. Case in point, you can see him flip-flopping, giving and receiving in major releases like Dirty Intern, from Hot House; Best Sex Ever from NakedSword, and Raging Stallionís Mountain Tops and The Territory, as well as recent fisting and fetish features, Fisting Centralís The Colonary Academy and Fetish Forceís Maniacal. If you didn't know before, Devin Franco has something to offer everyone, so explore his diverse videography and see what side of Devin you prefer.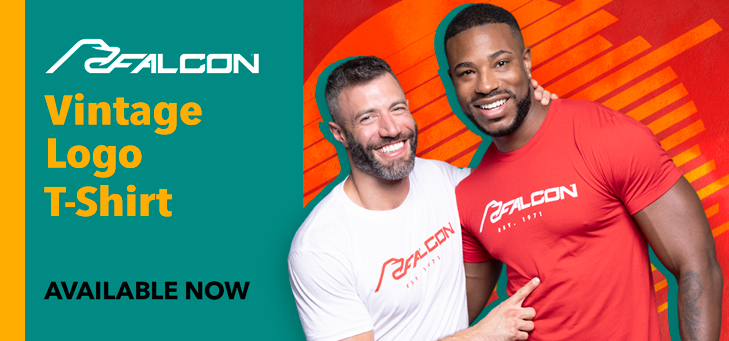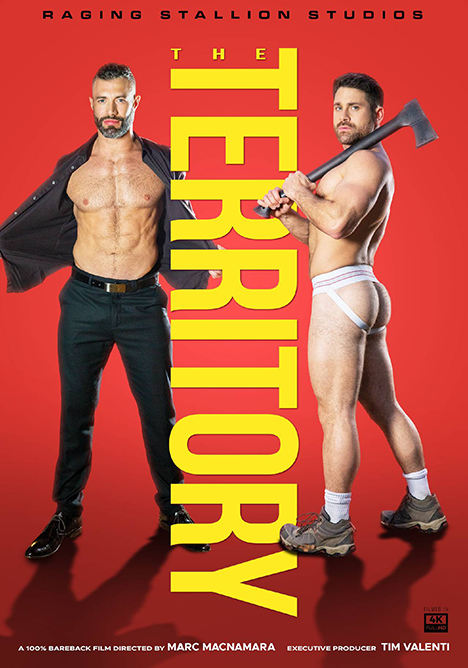 Venture Into The Territory with Raging Stallion

Raging Stallion, the brand featuring rugged men and raw action, has announced the release of their latest thrilling bareback feature, The Territory. Award-winning director Marc MacNamara delivers his Raging Stallion debut and goes off the grid with three suits from the city, three hunky mountain men and a local cop to deliver a tale of two worlds aggressively colliding and the resulting intense bareback sex. The Territory DVD and Digital Downloads are now available on the Falcon | NakedSword Store.

Click Here to Read the Full Story




Hot Membership Site Updates Available Now!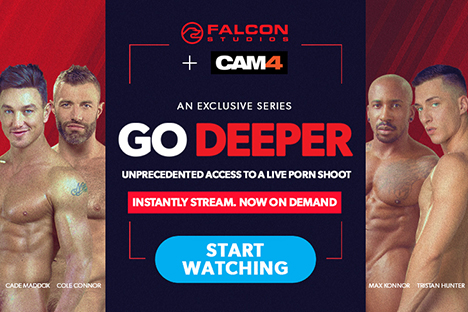 Go Deeper On Demand With the Men of Falcon + CAM4
For fans and those who either missed or would like to revisit the four-week Go Deeper live show series on CAM4 featuring Falcon Studiosí exclusive talent, the companies are now offering the opportunity to view the event on-demand.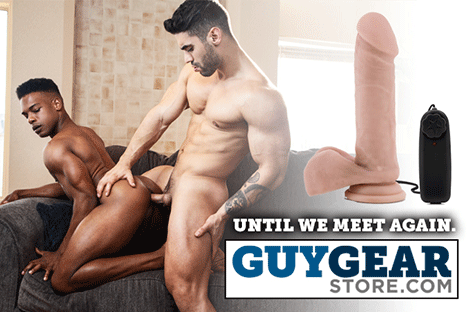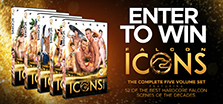 WIN A FALCON ICONS OF THE DECADES: 5 VOLUME SET - Falcon Studios continues to celebrate itís 50th anniversary with a new giveaway for September! As part of the Falcon Forever Anniversary Celebration, Falcon will give fans an opportunity to win one of ten...
Read Full Story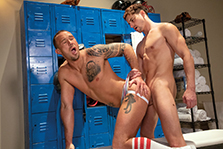 Weekends At Falcon Gets Steamy with Tales From the Locker Room - As part of the Falcon Forever, campaign celebrating the studios golden anniversary, Falcon is inviting all†porn fans to enjoy FREE content with the launch of†Weekends at Falcon, giving them complimentary weekly access to xxx-rated scenes and movies as well as specially produced exclusive content. This week, Weekends at Falcon features a steamy...
Read Full Story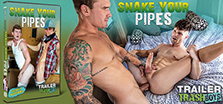 Snake Your Pipes With the Trailer Trash Boys - Need your pipes snaked out? Got a problem with your ball cock? Maybe you need a man who knows how to use a reamer. Don't worry, them Trailer Trash Boys know how to get ya pumping in no time. Join Gatlin Fox and Max Lorde as...
Read Full Story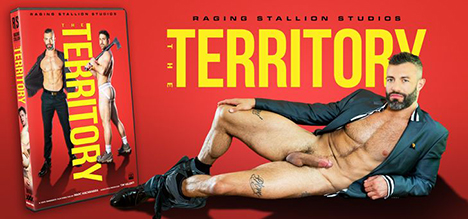 Jesse Santana & D.O. from The Woods, Part 2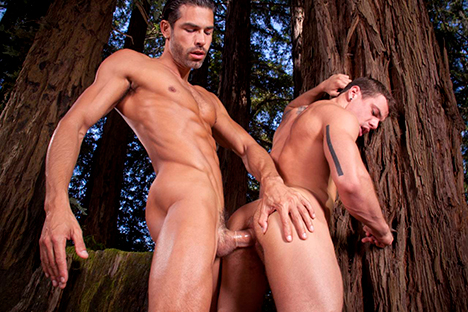 Jesse Santana and D.O. venture deep in the woods for a scorching tryst. Jesse is backed against a redwood, locked in an intense embrace. The seat of his jeans is shredded and D.O. is fiercely kneading those scrumptious buns. Scrumptious means D.O. can't wait to bury his face in that musty crevice. He licks it, chews it, spits on it and plugs it with his thumb like corking a wine bottle. Jesse is overcome with the need to be taken. He ferociously face-fucks himself on D.O.'s engorged cock until the blood vessels in his neck seem likely to burst. D.O. has to stop him or bust a nut. Then D.O. claims the rest of his prize, pushing Jesse against the tree again and fucking him through the torn pants he is still wearing. Jesse reaches through his legs to finger his hole and clasp D.O.'s cock while he's getting fucked. When Jesse can barely stand any longer, they move to a stump. Jesse hyperventilates when D.O. tongue-fucks his freshly-fucked ass, then plunges his nose into the relaxed and yielding hole, and then give Jesse a second serving of cock. When Jesse grabs his swollen cock, it spews jism all over his chest and pierced nipples. D.O.'s mighty orgasm follows, arcing high and long onto Jesse's face and hair and into The Woods beyond.

You have received this email because you requested email updates from Falcon | NakedSword be sent to: %%EMAIL_ADDRESS%%
This is an advertisement. %%PLUGIN_Unsubscribe: 183936-Unsubscribe%%
Please add reply@huntezine.com to your address book or safe senders list to ensure that these emails arrive in your inbox.
© 2021 Silver State Services, LLC. All Rights Reserved. HUNT eZine, 4011 W. Oquendo Rd. Unit A. Las Vegas, NV 89118

Records required to be maintained pursuant to 18 U.S.C. 2257 and
C.F.R. 75 are kept in the following location by the Custodian of Records:
Custodian of Records
4011 W. Oquendo Rd. Unit A.
Las Vegas, NV 89118