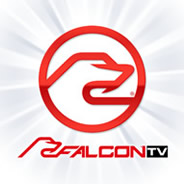 | | |
| --- | --- |
| | Check the listings in your Television Provider's Adult HD OnDemand Menu for: Miami Anal Mansion, The OnDemand HD Release of Falcon Studios' Poolside 2 starring Andrew Stark, Josh Conners, Jack King & more! |


| | |
| --- | --- |
| HUNT - Issue #259 | August 6, 2021 |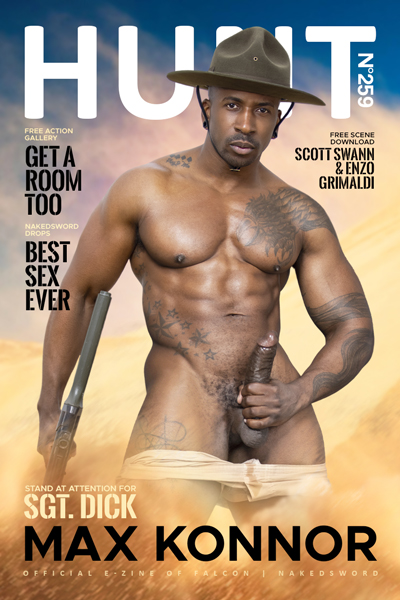 Attention! HUNTers,

Sgt. Dick is in the house and he orders you to have the Best Sex Ever. Here at HUNT, we've accepted our mission to keep you up to date on the hottest new releases, debut scenes, studio news and more, and each issue we say, Mission Accomplished!" Enjoy.
Lace up your boots and head down to Breaking News for your orders from Sgt. Dick. The latest Hot House DVD & Downloads feature smokin' hot troops who are serving their country and each other.
Max Konnor with the title role in Sgt. Dick commands our Model Spotlight this issue. Learn all about this ex-Vet and get off to his gallery full of heavy artillery.
Heat up in our Free Action Gallery, with too-hot-to-handle action shots from Raging Stallion's bareback flick, Get A Room Too.
Eligible bachelor's and best friends head to New York City to have the Best Sex Ever in our Special Feature. Be sure to get your hands on the latest full feature from NakedSword Originals.
In Studio News, the wait for Falcon | NakedSword Exclusive Josh Moore's Fleshjack and dildo is finally over. Plus, we've got more toy news with your chance to win a Falcon Toy Mystery Box as the next Falcon Forever Anniversary Giveaway.
Summer Black Friday and Cyberweek has officially kicked off! First, get full DVDs for only $4.97 each in our Summer NutBuster DVD Sale, as well as scenes going for only $2.25 each in our Summer Black Friday & Cyberweek Scene Steals. On top of that, it's your last chance to get huge discounts in our Summer Games DVD & Movie Download Sale, with DVDs or full movie downloads for 50% Off. Finally, only days remain to take advantage of our Jocks Movie Download Deals, with popular titles for just $11.95 a piece.
Stand at attention for your Free Scene Download this week, featuring a scorching fuck-sesh with Scott Swann and Enzo Grimaldi from Hot House's Private Lowlife. Similar scenes can now me jerked to in the latest feature from Hot House, Sgt. Dick.
At Ease,
The HUNT Men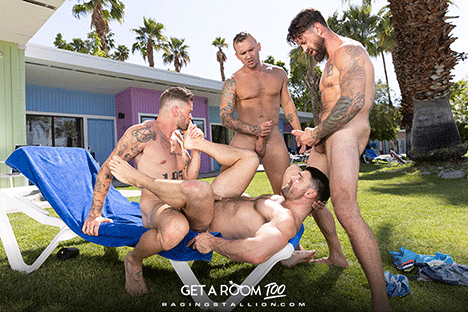 Get A Room Too takes you back to the clothing optional Cathedral City Boys' Club (CCBC), where hot guests let it all hang out and bareback fuck wherever they choose. If you're cruising a sexy daddy on the grounds, why go in your room when you can fuck his hairy hole right then and there? Filmed and directed by the award-winning Tony Dimarco, Get A Room Too showcases eight built hunks who arrive at CCBC ready to cruise, fuck, and suck anywhere and everywhere they possibly can. After going for a dip in the resort pool, a rock-hard Isaac X signals to stranger Alpha Wolfe to follow him so they can get even wetter with a steamy 69 and bareback session. Having just arrived at the clothing-optional CCBC resort, Beau Butler is greeted by a horny and hung Rodrigo Amor who will soon leave him and his hairy body covered in a sea of hot cum. Nude sunbather Reign needs help rubbing oil all over his body and Ian Holms is more than happy to assist his fellow vacationer, but the oil session quickly heats up as Reign uses his hung cock to dick down the helpful stranger with random bystanders sitting only feet away. After cruising the various resort suites, Chad Hammer comes across Alpha Wolfe's room and steps inside for an anonymous raw hookup that's filled with rough play, intense slapping, and extreme dirty talk. While on a walk around CCBC, Beau Butler and Alpha Wolfe come across Isaac X servicing Chris Damned's giant slab of meat in an open courtyard. Beau Butler's hairy hole quickly becomes the favorite of the group and gets blasted by the studs who end the public hookup by shooting their creamy ropes all over the bottom's face, junk, and torso. With all these insatiable men looking to bang you out in the open where everyone can see, you'll truly never need to Get A Room Too.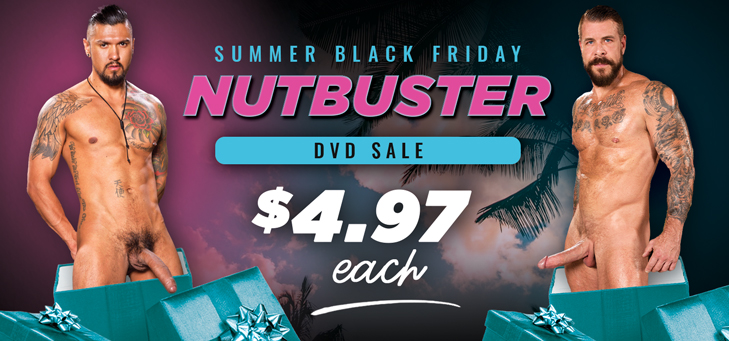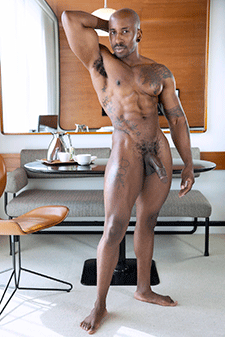 Starring as the title character in Hot House's new bareback feature Sgt. Dick and in NakedSword's latest Best Sex Ever, Max Konnor keeps delivering standout performances as a Falcon | NakedSword Exclusive. Now he's in the spotlight, so fans can get to know him a little better. A vision, Konnor is 160 lbs of All-American muscle with a massive 10" cock and on-screen energy that's unmatched. With countless awards and achievements under his belt, Max is one of the world's most sought-after gay porn stars. Since you can never get enough Max Konnor in your life, fans are encouraged to watch Max in his aforementioned new releases, as well as Mountain Tops, the hit Raging feature, and recent Falcon release Work From Home. Want to talk to Max directly? Tune into his weekly discussion on Twitter in Spaces exclusively on Max's personal Twitter page. Now that you know all of the places to catch this stunning hunk, what are you waiting for? Grab your cock and get to wankin'.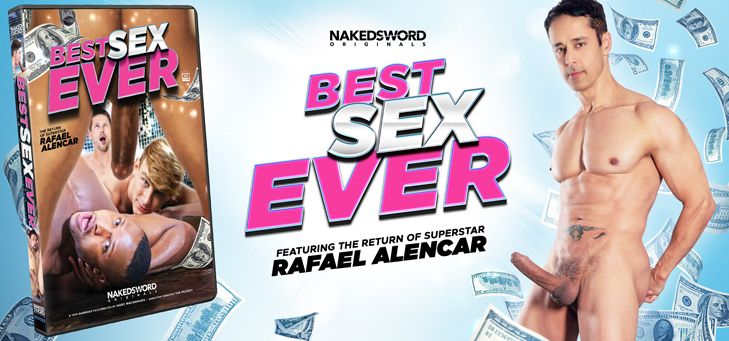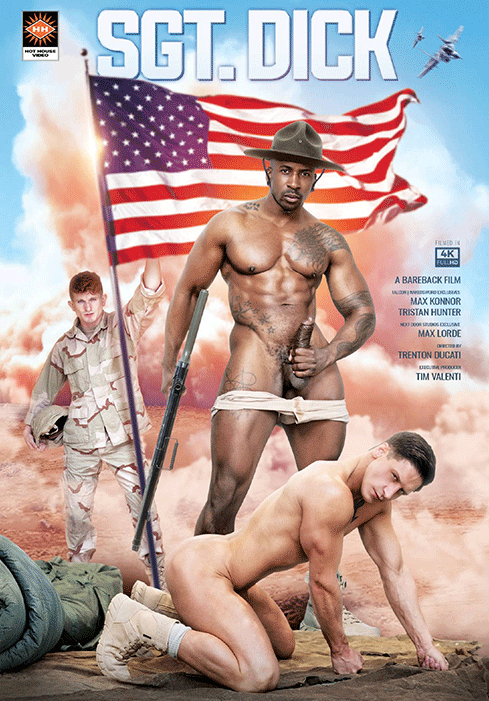 Stand At Attention For Sgt. Dick

Hot House, today announced the release of their latest bareback military feature, Sgt. Dick, on DVD & Digital Download. The hot barracks in the middle of the desert are filled with non-stop raw action as the General in charge of directing this mission is award-winning director Trenton Ducati. Ten-hut for Sgt. Dick on DVD and Digital Downloads, today on the Falcon | NakedSword Store.

Click Here to Read the Full Story




Hot Membership Site Updates Available Now!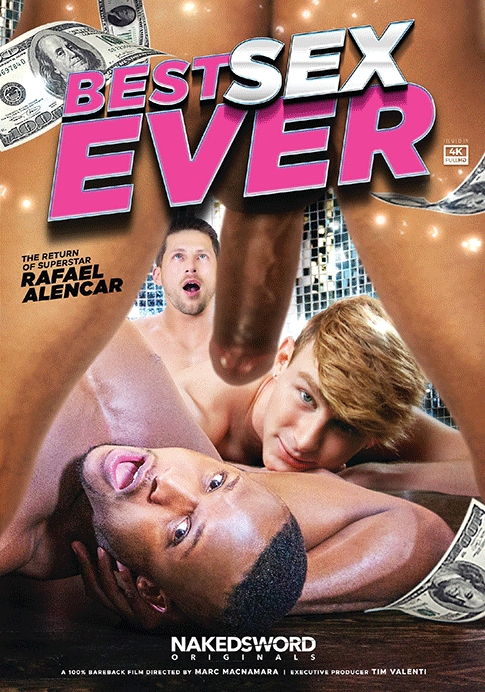 NakedSword Originals Drops Best Sex Ever
Today, NakedSword Originals is inviting viewers to celebrate their latest release Best Sex Ever, now on DVD! Best Sex Ever is a new movie directed by NakedSword Originals' acclaimed, award-winning director, Marc MacNamara, who films a hilarious and sexy epic boys' trip full of escorts, NSA sex and plenty of cum. Best Sex Ever is now available on DVD & Digital Download on the Falcon | NakedSword Store.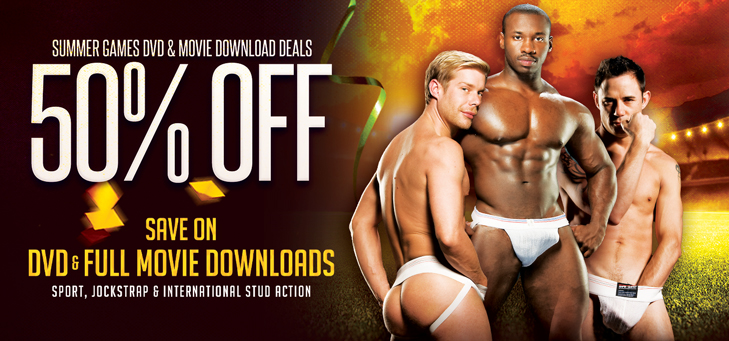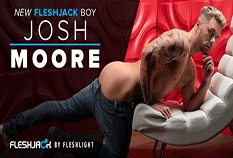 Falcon | NakedSword Exclusive Josh Moore Becomes Newest Fleshjack Man -The wait is finally over! Now you can have your own wild time with Falcon | NakedSword Exclusive Josh Moore. The popular performer has been named the latest Fleshjack Boy and has two brand new products to his name: a replica dildo and Cheeky Fleshlight! So the only question we...
Read Full Story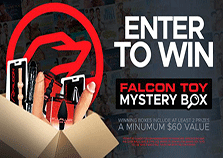 WIN A FALCON TOY MYSTERY BOX - Falcon Studios continues to celebrate it's 50th anniversary with a new giveaway! As part of the Falcon Forever Anniversary Celebration, Falcon will give fans an opportunity to win a mystery box of Falcon brand sex toys totaling at least $60 retail value.
Read Full Story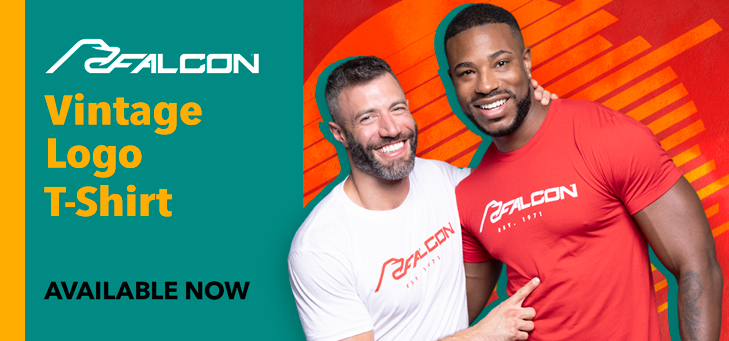 Scott Swann and Enzo Grimaldi from Private Lowlife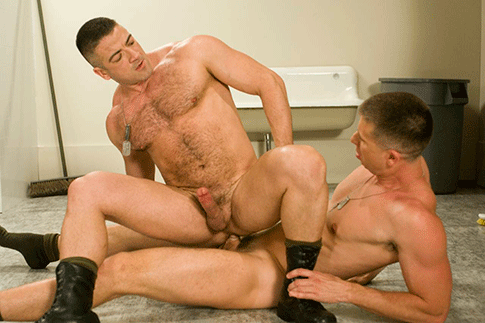 LATRINE DUTY - Private Enzo Grimaldi demonstrates the hardships of serving his country - on his knees scrubbing the latrine floor. Private Scott Swann takes him away from his duty so he can service his rock hard cock. Private Swann orders Enzo to stand spread eagle over the urinal so he can dig his tongue deep in Enzo's ass cheeks. Scott slides his tool into Enzo's spit-lubed ass then orders him to stand at attention so he can turn his attention to Enzo's rigid cock. Finally Scott lies down on the freshly scrubbed floor so Enzo can fuck himself by riding Scott's major cock. Eventually both men cum thick white loads.

You have received this email because you requested email updates from Falcon | NakedSword be sent to: %%EMAIL_ADDRESS%%
This is an advertisement. %%PLUGIN_Unsubscribe: 183936-Unsubscribe%%
Please add reply@huntezine.com to your address book or safe senders list to ensure that these emails arrive in your inbox.
© 2021 Silver State Services, LLC. All Rights Reserved. HUNT eZine, 2176 Shattuck Ave, Berkeley, CA 94704

Records required to be maintained pursuant to 18 U.S.C. 2257 and
C.F.R. 75 are kept in the following location by the Custodian of Records:
Custodian of Records
2716 Shattuck Ave,
Berkeley, CA 94704