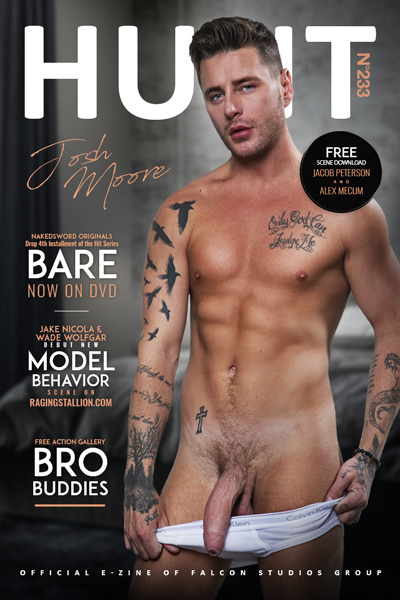 Amazing Content Now Live on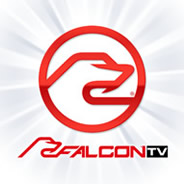 | | |
| --- | --- |
| | Check the listings in your Television Provider's Adult HD OnDemand Menu for: London Calling, The OnDemand HD Release of Falcon Studios' London Calling starring Colton Reece, Austin Sugar, Devin Franco & more! |














Tucked away in the Las Vegas suburbs, is the Bro Buddies house rigged at every corner with cameras and bareback hunks fucking with zero abandon at every chance they get. Award-winning director Tony Dimarco takes nine horny studs and their fans on a wild, in-depth ride full of hot men and even hotter sex. When Colton Reece initiates a shoulder massage on Greyson Lane, the two studs spend the afternoon exploring Greyson's holes. Michael Boston is just trying to enjoy a game of pool but Jax Thirio wants a piece of Michael's succulent bubble-butt, so he pounds the eager stud on the stairs. In the midst of a prank war, Steven Lee and Johnny Ford take a break to drain their balls with a bareback romp in the bedroom. Cade Maddox catches Josh Moore and Dylan Hayes having fun upstairs in the bedroom and the three have a scorching threeway that leaves Dylan soaked with everyone's load. So, when you need to bust a nut, log on and tune into the studs in the Bro Buddies house as they suck and fuck their way to drained balls, live on camera.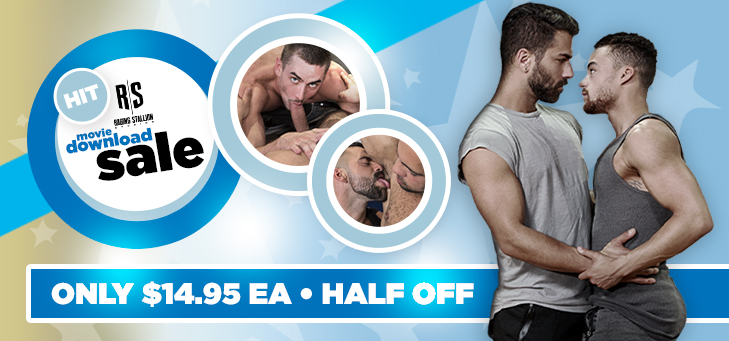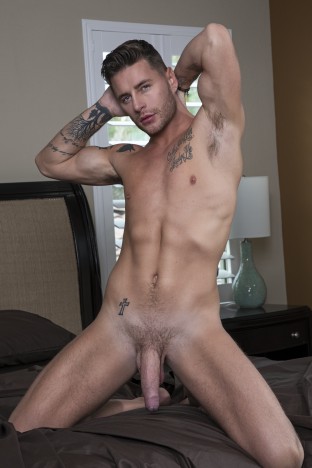 Hung, British, award-winning star Josh Moore is a gay porn powerhouse who can't be stopped! Hailing from London with an established following, Josh's popularity has exploded since he joined the elite list of Falcon | NakedSword Exclusives just a year ago. Piercing blue eyes, a rock-hard physique, a mouth-watering bum and a thick, suckable, 9-inch, uncut cock are only a few of the amazing assets Josh Moore. When Josh isn't trekking the world, cock-crazed fans can watch him stretch tight holes in the Falcon flicks Bro Buddies and Califuckinfornia, as well as The Gay Simple Life and Scared Stiff 2: The Amityville Whore from NakedSword Originals. Keep it locked on Josh Moore, and watch as this stunning star rises all the way to the very top of the gay porn stratosphere!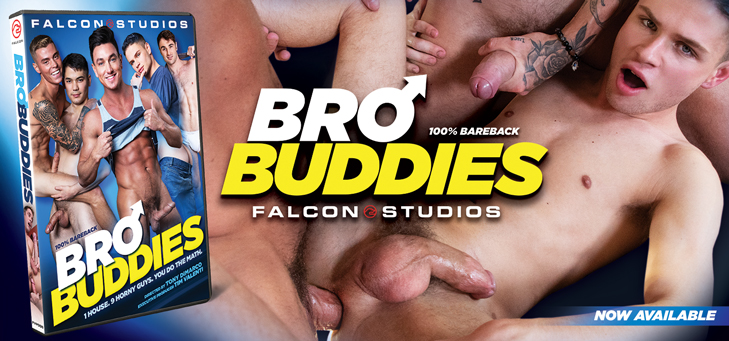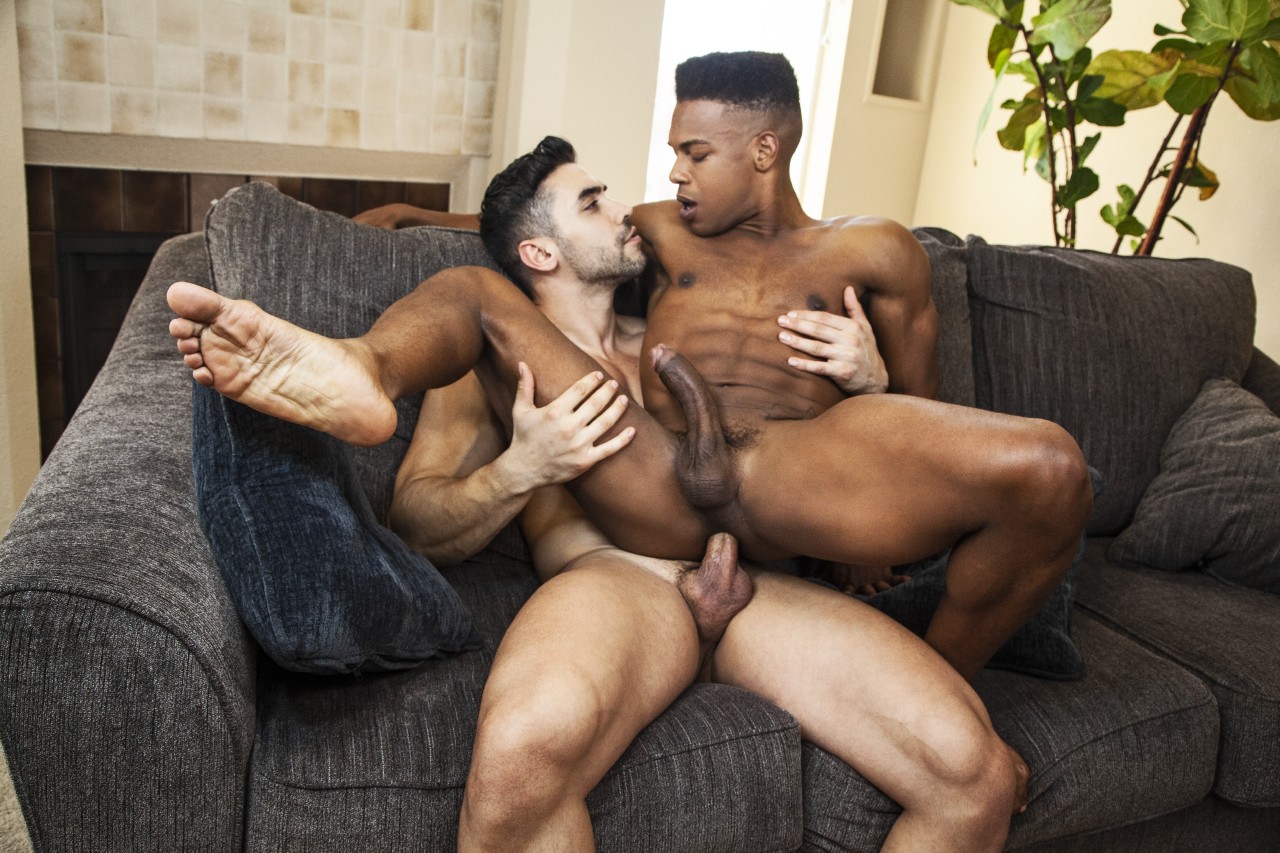 NAKEDSWORD ORIGINALS DROP 4th INSTALLMENT OF THE HIT SERIES 'BARE' - NOW ON DVD

Today, NakedSword Originals releases the 4th installment of the hit DVD franchise BARE, on DVD. Due to the COVID-19 pandemic, the DVD was not immediatley available for purchase. The latest, BARE: Big Dicks and Bubble Butts is now available on DVD exclusively on the Falcon Studios Group and NakedSword Store.

Click Here to Read the Full Story




Hot Membership Site Updates Available Now!



Falcon Studios Group Models Appearing Live in a City Near You.


Watch the Recording of the 2020 Miss Pineapple Pageant here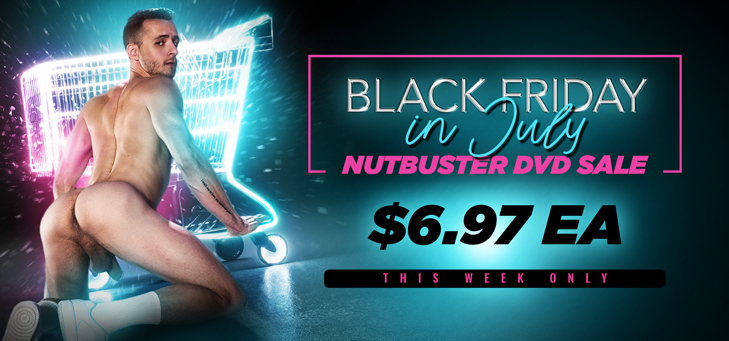 Hey HUNT Stud's

As we get into the hottest days of summer, we're here continuing to blast out the latest news and scorching updates from the world of gay porn. Here's another cum-soaked issue for you full of new releases, major announcements and much more! Get it…
Breaking News is on fire with the DVD release of NakedSword Original's bareback, all-sex hit, BARE: Big Dicks and Bubble Butts.
Falcon | NakedSword award-winning superstar Josh Moore and his big cock heat up our Model Spotlight this week. Find out what he's been up to and watch him work his uncut pole in his free gallery.
Speaking of free galleries, beat the heat and your meat by tapping into the hottest bareback action shots from Falcon's Bro Buddies, in our Free Action Gallery item this week.
Hairy studs Jake Nicola and Wade Wolfgar debut an all-new quarantined 'Model Behavior' scene in our Special Feature titled WFH: Wank From Home, on RagingStallion.com that is sure to get your temperature rising.
In Studio News catch the announcement of mr. Pam departing Falcon | NakedSword and starting her own production company. Then, on NakedSword.com/Weekends, watch Chilton Fit and Viking Muscle stroke it virtually in The Stranger. Finally, snag your own copy of the Falcon bareback blockbuster Bro Buddies, now on DVD.
We have a ton of savings this week so we hope you're ready! First, for a limited time, it's Black Friday in July with huge DVD Savings and over 7,000 downloads on sale for only $2.25 each. Then, get into the Hit Raging Stallion Movie Download Sale, , with scorching DVDs for half off, and peep our Huge Cock Download Deals, with downloads for only $3.25 each. Finally, it's the final days of the Great Outdoors DVD Sale, featuring DVDs that have hot outside and poolside action.
Your Free Scene Download this week, includes a scorching scene with hunks Alex Mecum and Jacob Peterson from Falcon's About Last Night. Similar scenes can now be seen on the latest Falcon bareback feature, Bro Buddies
Have Fun,
The HUNT Men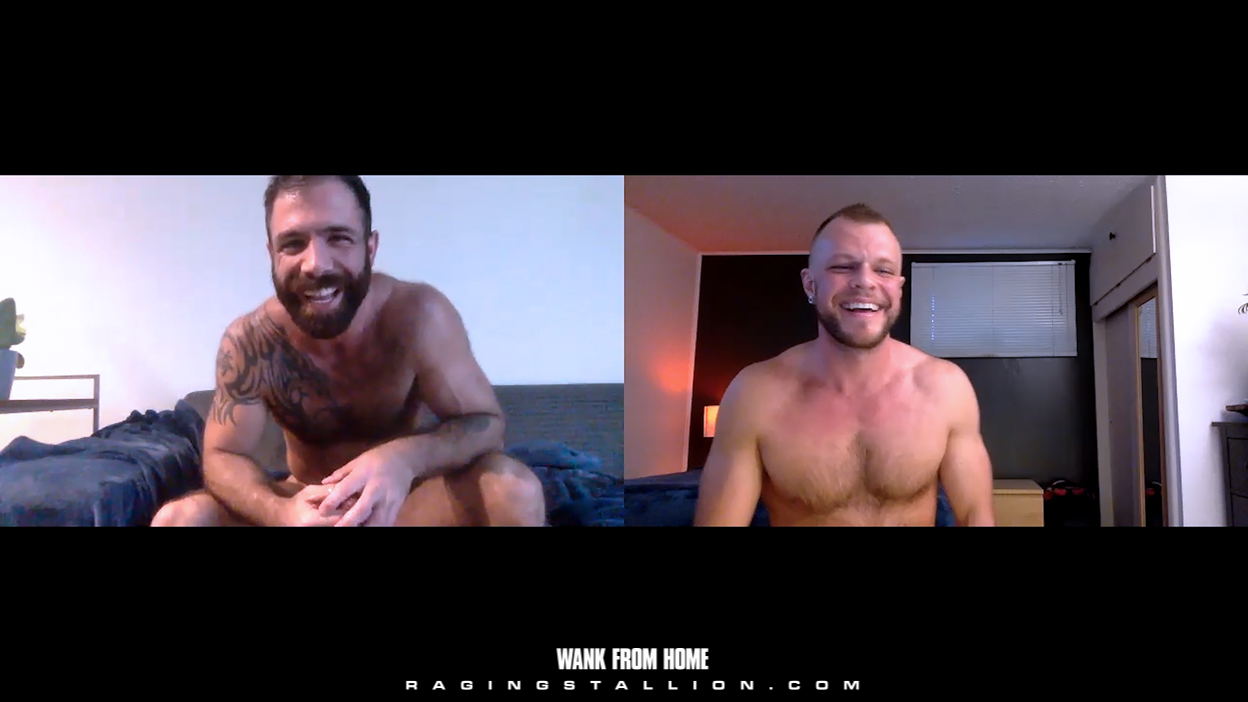 Jake Nicola and Wade Wolfgar Debut New 'Model Behavior' Scene On RagingStallion.com
RagingStallion.com, the Falcon Studios Group site featuring natural men, announced the release of the latest scene in popular quarantine 'Model Behavior' series, 'WFH: Wank From Home'. Directed by Tony Dimarco, the latest virtual scene stars hairy studs Jake Nicola and Wade Wolfgar. The latest update will go live Friday, July 24, on RagingStallion.com.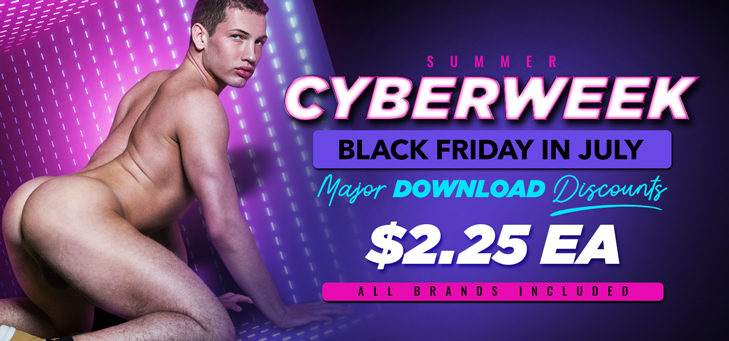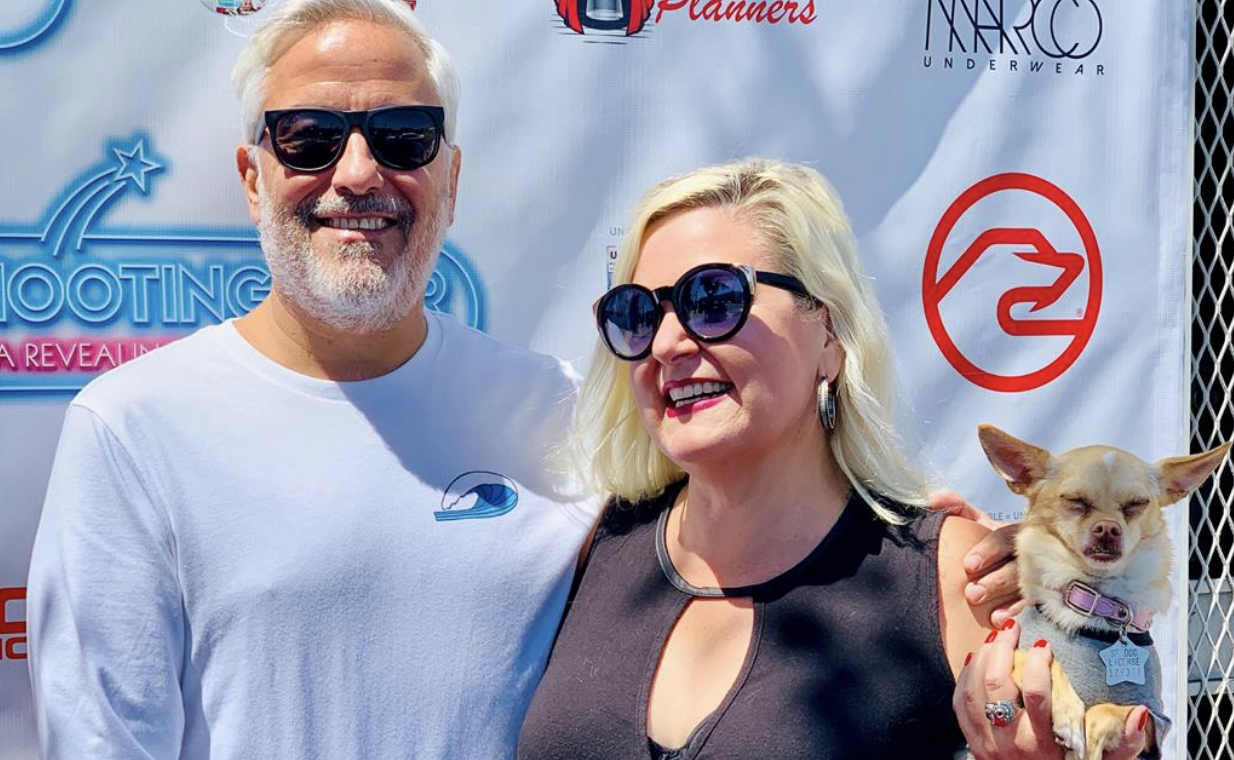 Award-Winning Director mr. Pam Charts New Course with NakedSword - Today 'The Netflix of Gay Porn', NakedSword, and beloved director mr. Pam announce a shift in their long-term working relationship. mr. Pam has long been an integral part of the NakedSword team going on 20 years since she started as Director of the popular...
Read Full Story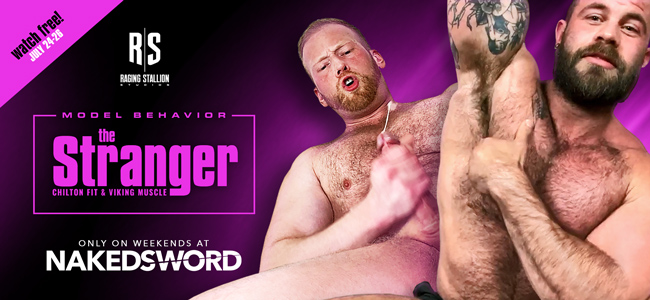 Watch 'The Stranger' Starring Chilton Fit and Viking Muscle Free on NakedSword Weekends - Weekends just got a whole lot hotter at NakedSword. Introducing, the all new quarantine updates to pass the time during this uncertain time, with hot, naked men. The best part? It's free! Watch now... 
Read Full Story

Tune Into the Bro Buddies Bareback House From Falcon Studios - Falcon Studios Group, the world's leading producer of the hottest gay male porn, announced their latest all-sex bareback release, Bro Buddies. Award-winning director Tony Dimarco takes nine horny studs and their fans on a wild, in-depth...
Read Full Story





Jacob Peterson & Alex Mecum from About Last Night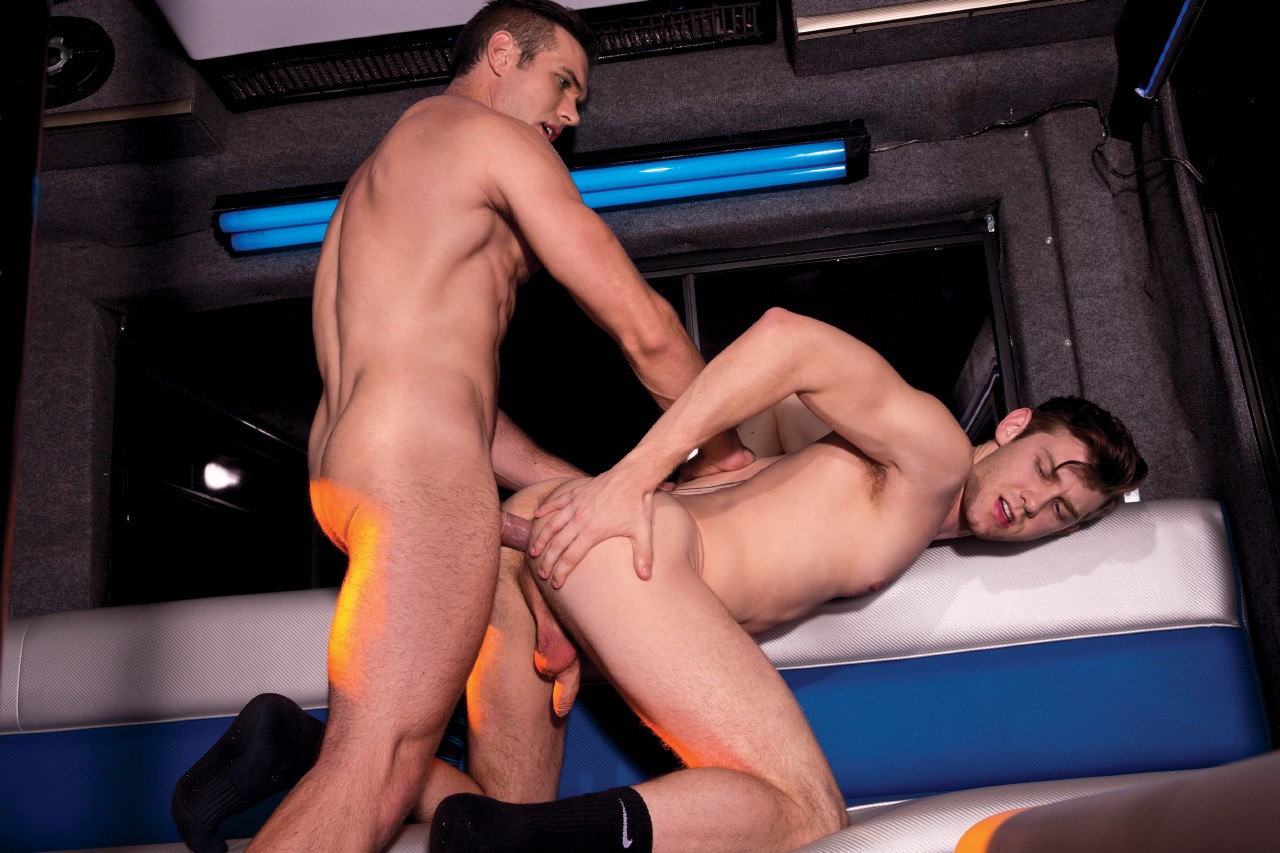 Jacob Peterson walks alone towards the bachelor party bus he took to the club with his buddies. The driver, Alex Mecum, lets him in and asks, "Where are the guys?" "They're out having fun," Jacob replies, clearly feeling left out. Alex joins Jacob in the back of the bus to keep him company, and Jacob shows Alex some pics he took on his phone, including one of Jacob's buddy Ryan Rose getting his dick sucked in the club! When Alex hands Jacob's phone back to him, he leans in for a kiss, and Jacob reciprocates by grabbing Alex's bulge. Opening his fly, Alex pulls out his huge, thick, throbbing erection, and Jacob uses his tongue to provide expert oral service. As they strip down inside the party bus, Alex reveals his ripped body and furry chest; Jacob shows off his smooth swimmer's bod. Wrapping his lips around Jacob's uncut meat, Alex eagerly swallows every inch of it. After getting his dick sucked, Jacob turns around and gives Alex the chance to taste his sweet hole. Rising to his feet, Alex uses the tip of his cock to tease Jacob's tight hole, then presses in until his cock is balls deep. After pounding Jacob's ass doggy style, they move to a seated position with Alex on the bench and Jacob riding him. Alex picks up speed, stretching Jacob's hole with every thrust. Putting Jacob on his back, Alex grinds his dick into Jacob's sweet spot. Grabbing his cock, Jacob strokes until hot, white cum overflows from his foreskin. Alex jerks out a massive load, shooting multiple ropes through the air and drenching Jacob's chest and cock with spunk.




You have received this email because you requested email updates from Falcon Studios Group be sent to: %%EMAIL_ADDRESS%%
This is an advertisement. %%PLUGIN_Unsubscribe: 183936-Unsubscribe%%
Please add reply@huntezine.com to your address book or safe senders list to ensure that these emails arrive in your inbox.
© 2020 Silver State Services, LLC. All Rights Reserved. HUNT eZine, 2176 Shattuck Ave, Berkeley, CA 94704

Records required to be maintained pursuant to 18 U.S.C. 2257 and
C.F.R. 75 are kept in the following location by the Custodian of Records:
Custodian of Records
2716 Shattuck Ave,
Berkeley, CA 94704