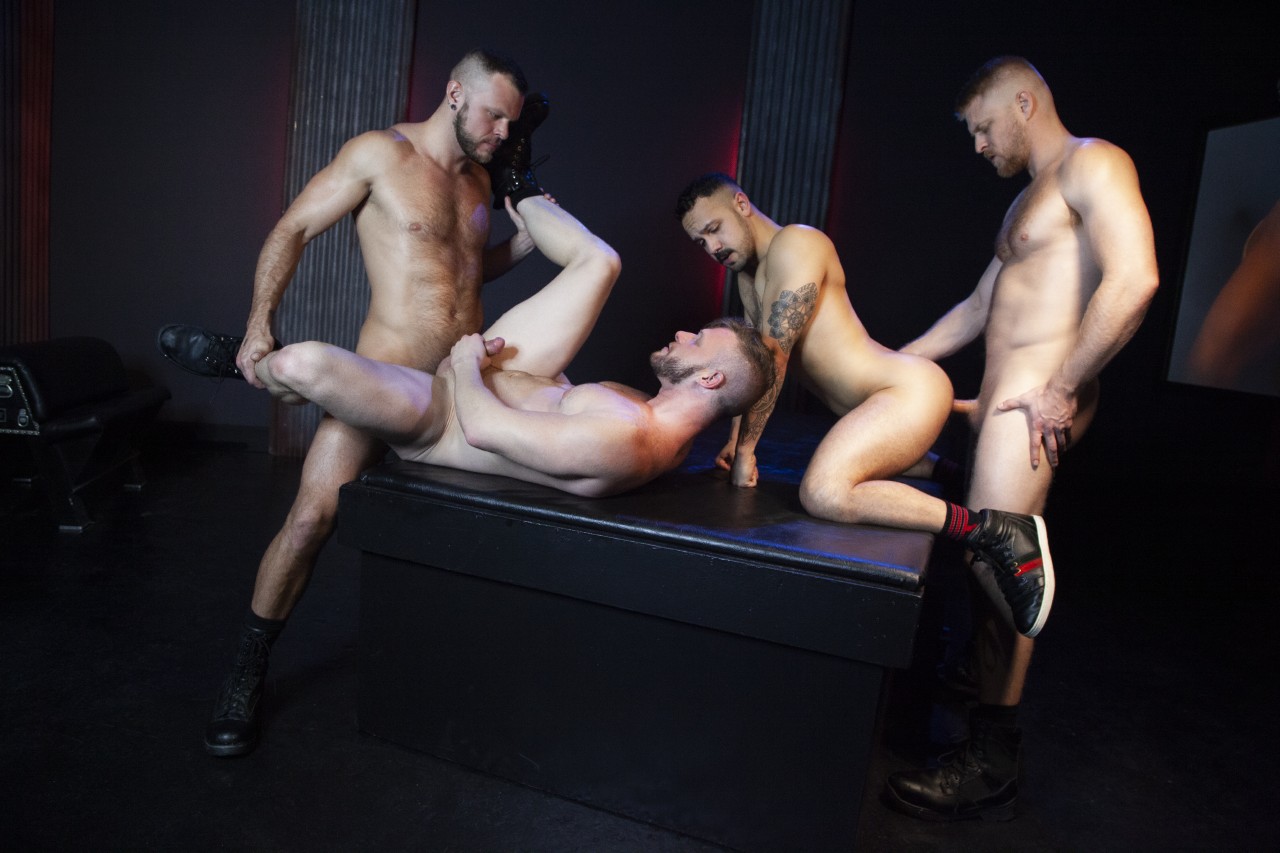 Enter the dark and steamy bathhouse where hot and hairy men are ready for anonymous, energized encounters. Seven all-natural studs are on the prowl in Cock Hunter, Raging Stallion's latest intense, bareback feature shot by award-winning director Tony Dimarco. The studs are hairy, horny and beefy, and they're on the hunt, cruising through the dark halls of the club, to find the hottest cocks to suck and ride raw. When Logan finds Donnie face down ass up, the two flip-fuck until they both explode all over each other. Jake Nicola finds Drew Sebastian wrapped in nothing but a towel, and offers up his hairy hole for Drew to empty his cock in. After finishing up at the glory hole, Brian Bonds is lead to the steam room to top Dev Tyler's hot, eager hole with his thick bare cock. Sean Harding is wandering the halls looking for the next big dick to breed him when he chooses Wade Wolfgar to give him a warm, wet creampie. After all these hot studs are done, they connect in the main room of the bathhouse for an over-the-top orgy, switching up and sharing holes, leaving everyone's balls drained. Next time you're craving anonymous loads, be a Cock Hunter, head to the bathhouse and leave all of your sexual inhibitions at the door.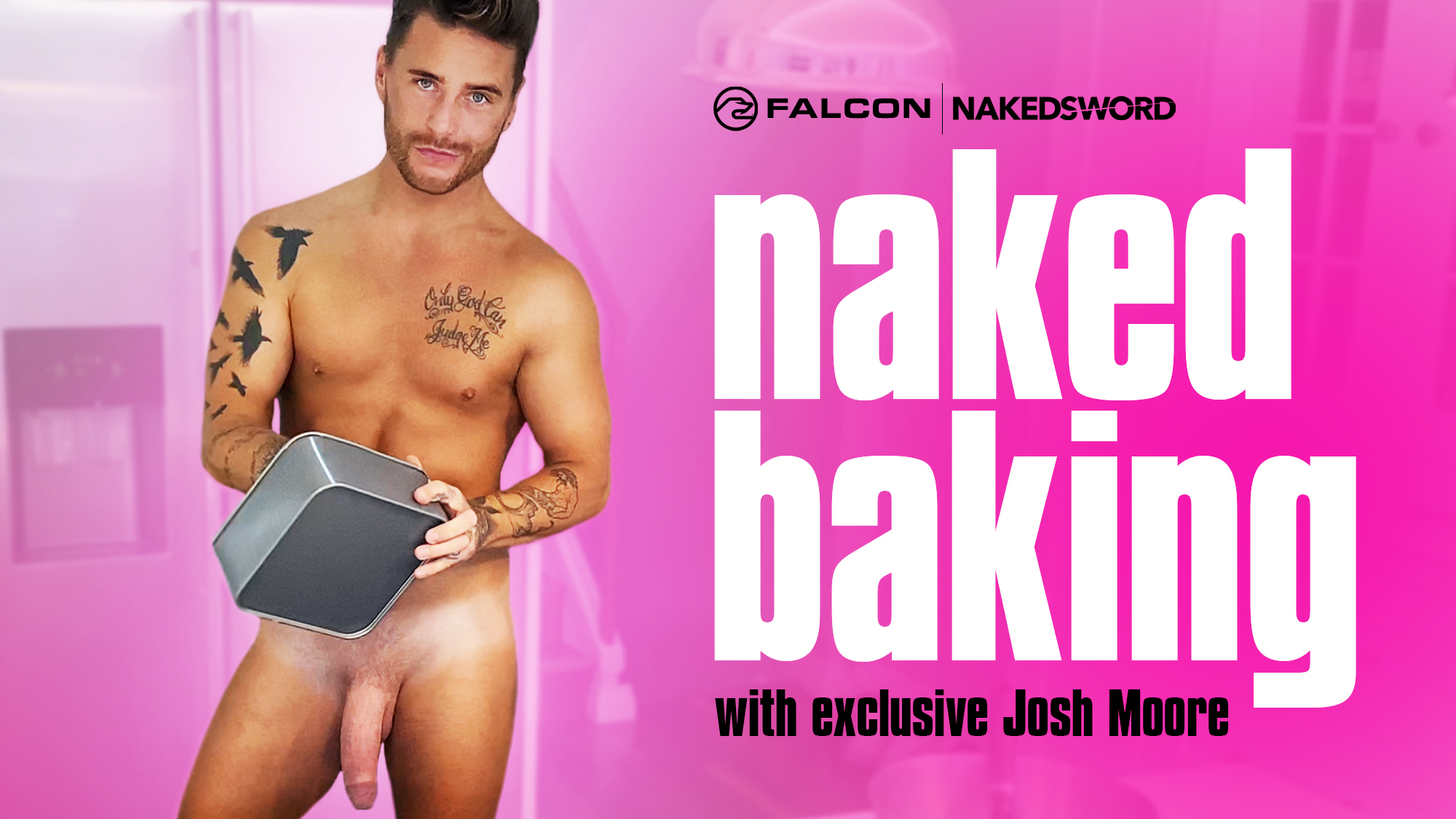 Skyy Knox has been a celebrated part of the elite list of Falcon Exclusives since 2017. From the very beginning, Skyy has wowed fans and directors alike with his visually arresting good looks, insatiable physique, talented bubble-butt and mouth-watering uncut cock. Not only known for his explosive performances on screen, Knox is also a successful live gogo dancer, often traveling the world to rock a box in local clubs and huge events. Most recently, Skyy Knox flip-fucks with Mickey Taylor in BARE: Big Dicks and Bubble Butts, from NakedSword. Fans can also get off with Skyy in Bareback Ranch, Afternoon Affairs and Casual Connections; recent bareback productions from Falcon Studios. So, check out everything Skyy Knox, and you'll see why this award-winning performer continues to satisfy fans in every scene in which he appears.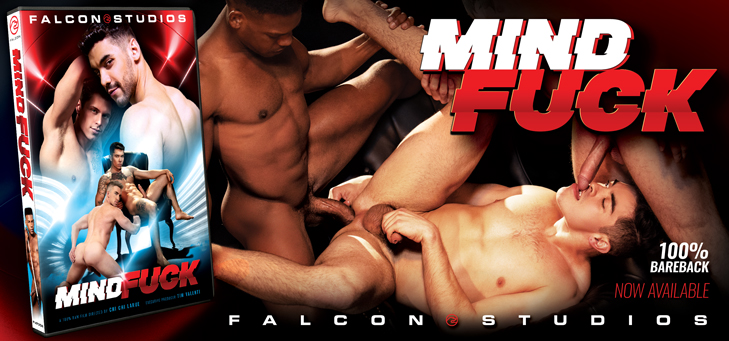 HUNT eZine Celebrates 9 Years

Happy Birthday to HUNT eZine! Here's to nine amazing years of providing our readers with the hottest content, news, free scenes and info about Falcon Studios Group brands and sites. We can't thank our readers and loyal fans enough for your support. In celebration of our anniversary, we've collected our top seven stories from the last year. You can check them out below and click through on the headline for the full story. Here's to another year of giving you all the hottest and steamiest gay porn news every two weeks.

Click Here to Read the Full Story




Hot Membership Site Updates Available Now!



Falcon Studios Group Models Appearing Live in a City Near You.


June 6: Cade Maddox on FalconLive.com 8:00PM EDT / 5:00PM PDT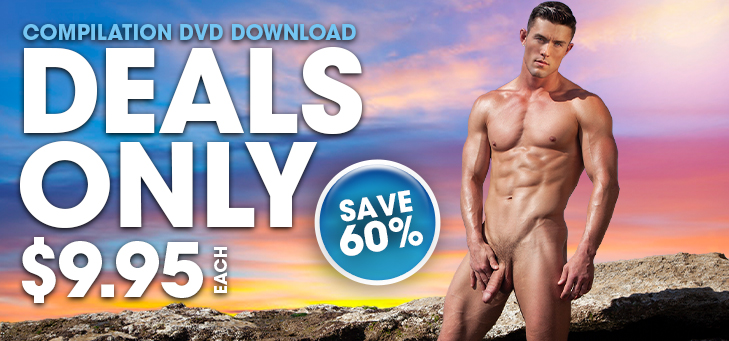 Hey Hunks,

It's official, HUNT has been bringing you the hottest gay porn news, galleries and free scenes every two weeks for the last 9 Years! And, we're not stopping. Enjoy Spring's final issue, because Summer is here and HUNT is as hot as ever. Let's not waste any more time!
First up in Breaking News, celebrate HUNT's 9th Anniversary with a recap of the last year's most popular stories, galleries and Model Spotlights. .
Then, Skyy Knox brings the heat in Model Spotlight this week. Learn how Skyy is passing time in quarantine and check out his gallery stocked full of scorching images.
The hunt for cock is on in our Free Action Gallery item this week featuring the hottest action shots from Raging Stallion's latest bareback release, Cock Hunter.
Get ready for an all-out Mind Fuck in Special Feature this week with the digital download release from Falcon's newest unsheathed feature.
First up in Studio News, check out the all-new quarantine virtual series Model Behavior, with updates from Falcon | NakedSword starring Jax Thirios, Dalton Riley and more. The weekend just got hotter and now NakedSword is hosting a free baking and jack off show with Exclusive Josh Moore. Finally, the Grabby Awards are going virtual for 2020. Watch for free online with hosts Chi Chi LaRue and Honey West.
We have a lot of deals this week but you know we'd never forget to give you first pick of our latest sales. Dive into our Compilation DVD Download Deals, and save 60% when you snag a DVD for $9.95 each. Or, skip the full DVD and save 60% with ourHot House Hit Scene Sale with downloads for only $3.25 each. And, finally, it's your last chance to save on the Grabby Nominated new releases and former award winners in our Annual Grabby DVD & Scene Sale.
Your Free Scene Download this week features Exclusive Skyy Knox with his "porn husband" Johnny V from Skyy's very first Falcon Studios Group shoot Blindfolded. Similar scenes can now be watched on the bareback Falcon feature, Bareback Ranch.
Stay Safe,
The HUNT Guys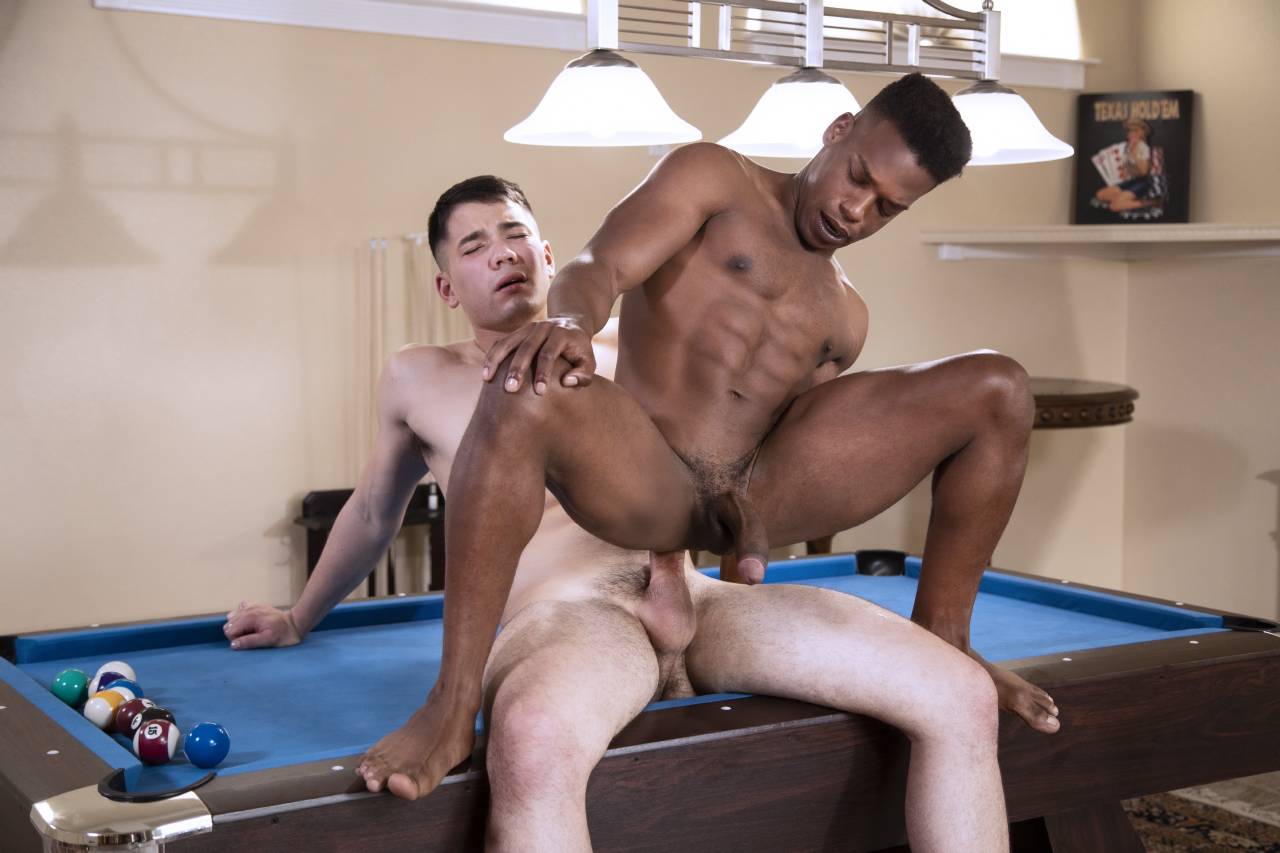 Falcon Studios Releases A Bareback Mind Fuck on Digital Download
Falcon Studios Group, the world's leading producer of the hottest gay male porn, announced the release of their latest bareback feature, Mind Fuck. Ten ripped and horny men come together in the latest all-sex, bareback fuck fest from award-winning director Chi Chi LaRue. Mind Fuck is now available on Digital Download from the Falcon Studios Group Store.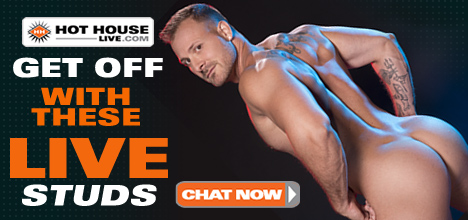 Falcon | NakedSword Roll Out New Quarantine Series 'Model Behavior' - Falcon Studios Group, the world's leading producer of the hottest gay male porn, announced the launch of their all new virtual quarantine series, 'Model Behavior'...
Read Full Story

Bake Naked & Jack Off with Exclusive Josh Moore - Weekends just got a whole lot hotter at NakedSword. Introducing, the all new quarantine updates to pass the time during this uncertain time, with hot, naked men. The best part? It's free! Watch now at NakedSword.com/Weekends.
Read Full Story

2020 Grabby Awards Streaming Live For Free on RagingStallion.com - The 2020 Grabbys go virtual, tomorrow, Saturday, May 30, 2020 and fans can watch for free GayVN Stars. Originally scheduled on May 23, the usual Memorial Day weekend date, the Grabbys were forced to move dates due to COVID concerns. 
Read Full Story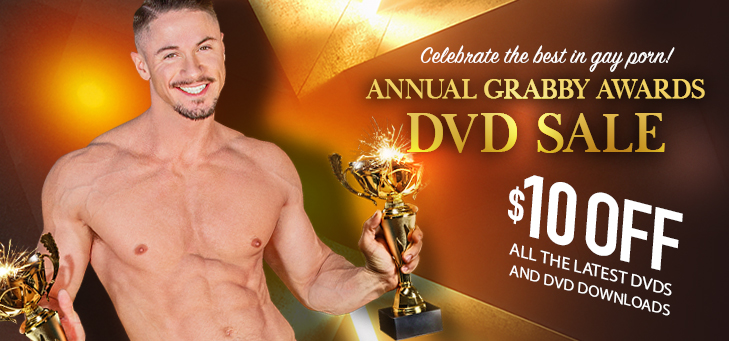 Skyy Knox & Johnny V from Blindfolded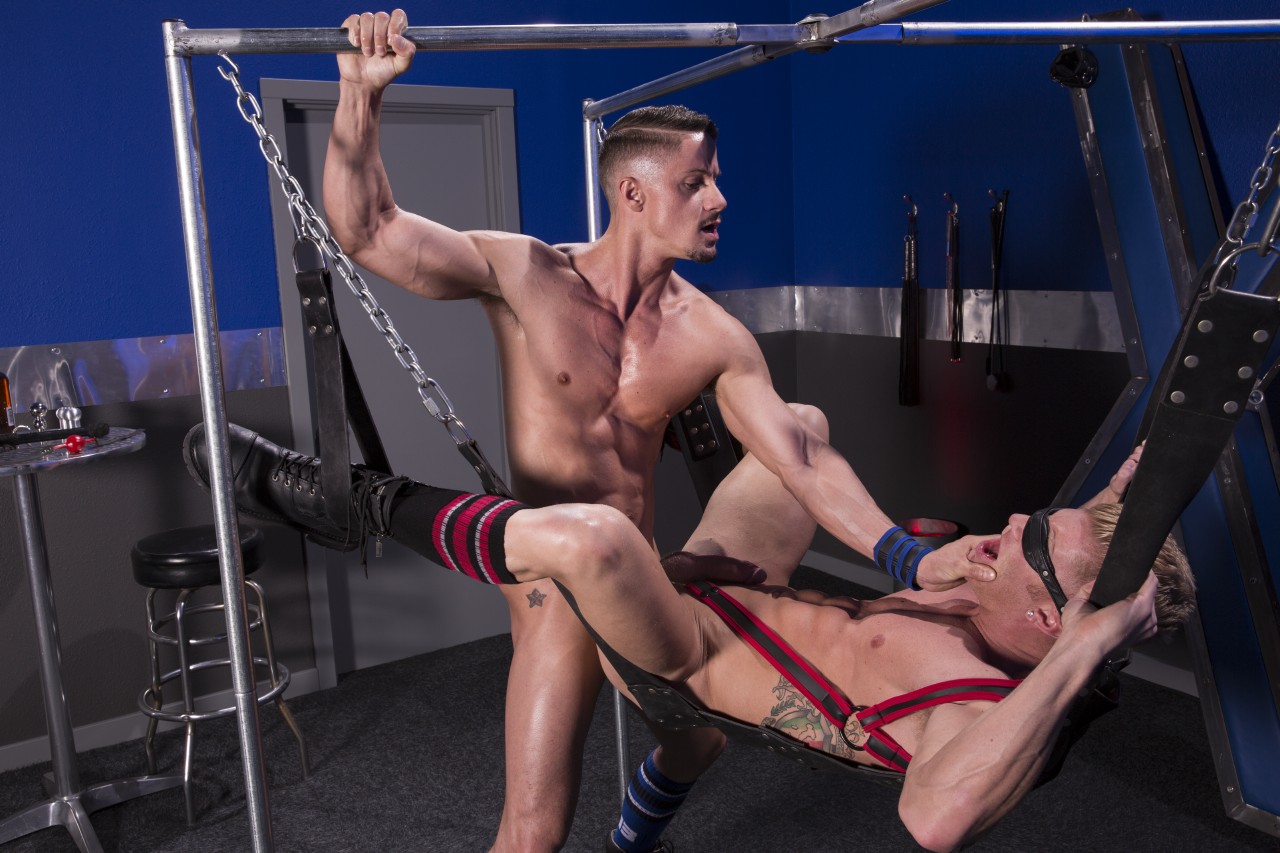 Skyy Knox and Johnny V make out passionately until Skyy takes control and throws Johnny in a sling with a blindfold on. Johnny hoists his legs in the straps with the help from Skyy giving him easy access to Johnny's awaiting hole. Finger, tongue, finger, tongue is the tease for this unknowing bottom. After a rigorous bow and rimjob, Skyy instantly shoves his thick tool deep inside Johnny. Moans and screams echo from Johnny as Skyy's thrusts get faster and harder. Skyy wants more so he rips Johnny from the sling and ball gags him before bending him over and slamming Johnny's lossened fuck hole. Unable to see or speak, Johnny jacks and shoots thick ropes of hard earned cum. Skyy empties his balls all over Johnny's face and chest and licks it off. Eventually, Johnny's blindfold and gag are removed and the two share a sweaty, cummy kiss.