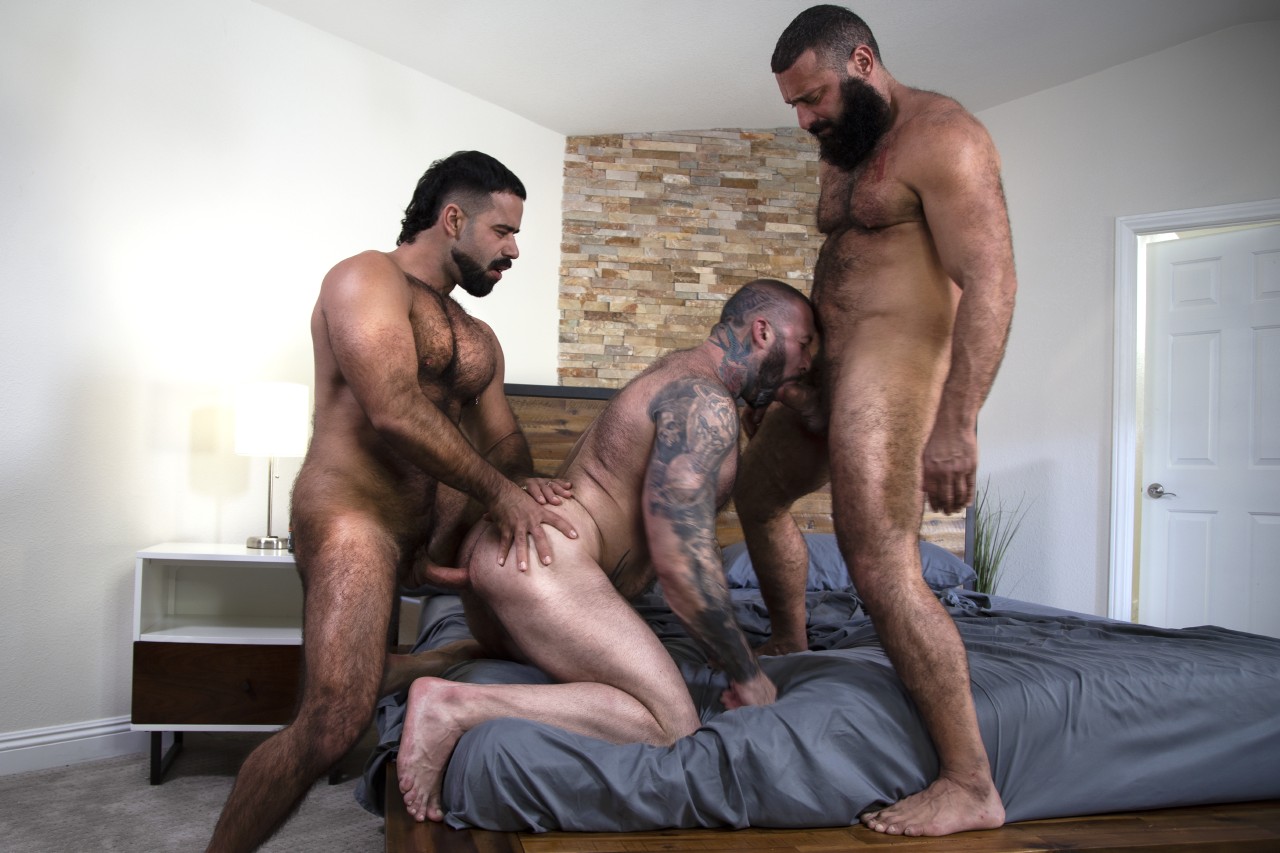 Woof, grrrr, sir yes sir, are the grunts and scoffs you hear when you're face-to-face with one of the big, brawny and bearded alpha-daddies of your dreams in Loaded: Muscle Fuck! All you can really do in the latest bareback fuck-fest from director Steve Cruz, is drop to your knees, service some thick meaty cock and watch tight holes get bred. Teddy Torres, Alexander Kristov and Alex Tikas get the balls rolling in a scorching hot three way, with serious ass eating, butt munching and face riding to get three holes primed for intense raw pounding and splattering volcanic orgasms. Inked and beefy studs Riley Mitchel and Markus Kage keep the sexual electricity at full voltage, tearing into each other with a passionate hunger bordering on cock starved. Wade Wolfgar and Dickie James have their own erotic heat in a more subdued and sensuous pairing that builds to a throbbing climax and Dickie's well-used hole drips with Wade's massive load. Riley Mitchel returns for a second ass-cramming adventure, this time with the hard-driving Jaxx Maxim manhandling the ginger bear muscle bottom on the dining room table till they're both squirting pearly pools of cum all over Riley. The living room sofa gets a rough workout as Rikk York, Jesse Zeppelin and Sharok crank up the volume to 11 with a raw three way flip-fuck that sees Sharok and Rikk taking turns drilling each other and riding Jesse's huge juicy tool. Last in the lusty line-up, Adam Ramzi and Vander Pulaski swap spit with dick-hungry blowjobs before flip-fucking in a toe-curling, moaning and grunting marathon of giant cocks destroying hairy holes and a spray of salty seed. Whether your fantasy man looks like a football coach, a trucker or a lumberjack, these hot and hairy handsome hunks deliver in Raging Stallion's newest epic feature, Loaded: Muscle Fuck!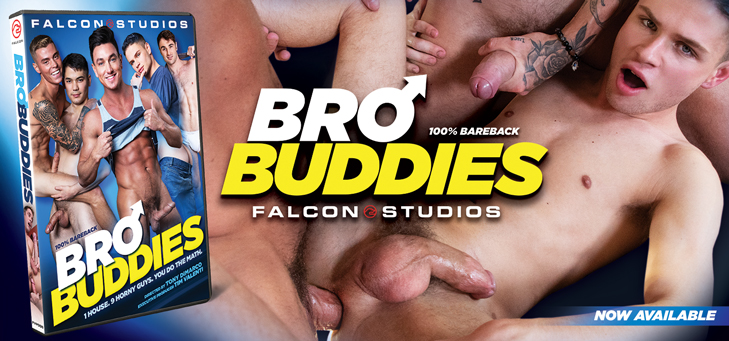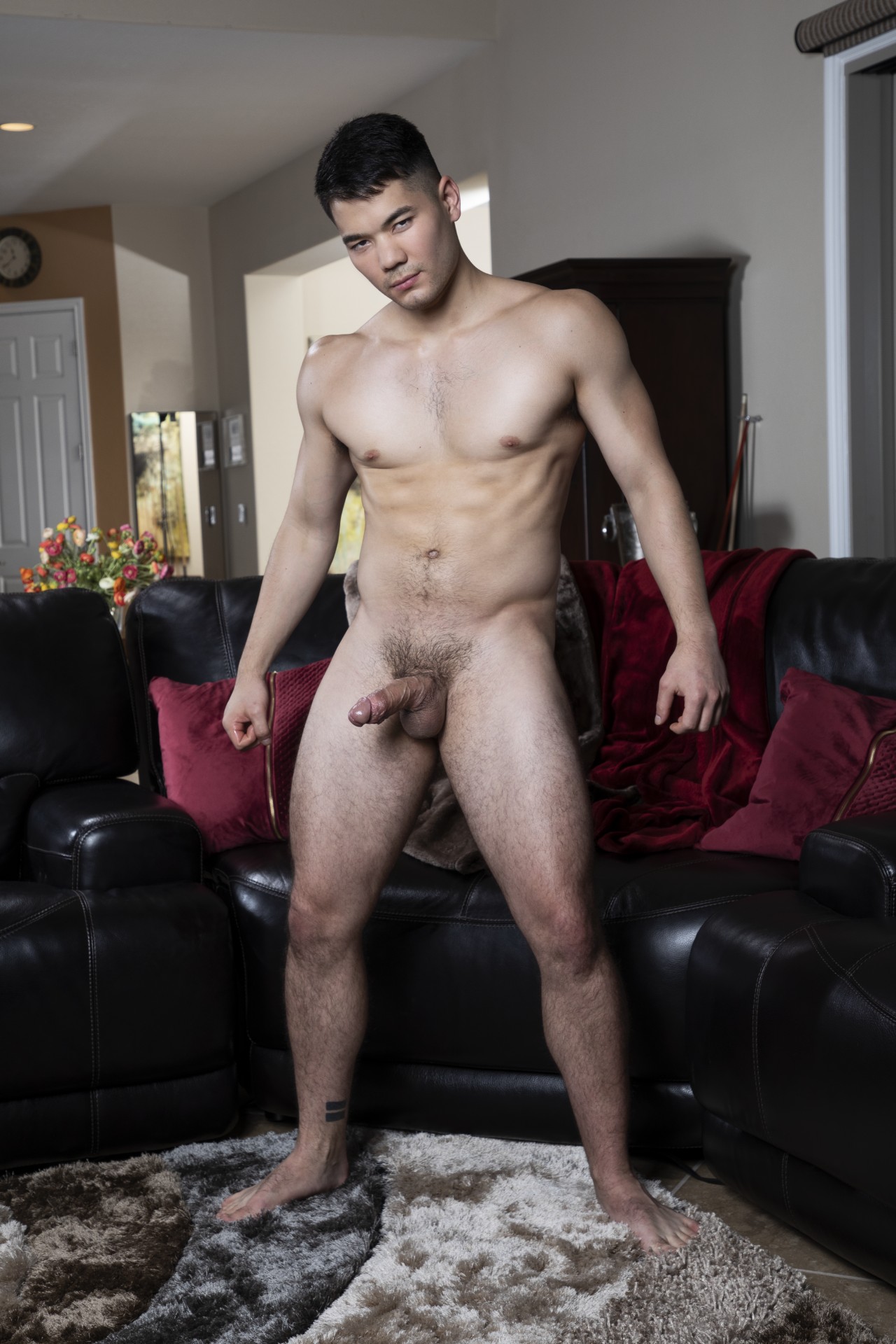 Hawaii native and all-around handsome intellectual, Colton Reece is one of the most-recent additions to the stunning list of Falcon Exclusives. Delivering more than just his charm, good looks and thick, 8-inch cut cock, Reece is a biochemistry student! What's hotter than a sexy nerd with a great cock, right? Since signing on with Falcon/NakedSword, Colton has starred in some of the mega-studios' biggest releases including Falcon's bareback road trip fuck-fest Califuckinfornia, directed by Tony Dimarco. You can also watch him dominate some tight ass in A Murdered Heart and BARE: Hookups and Fuck Downs, from NakedSword. His latest release with Falcon titled Bro Buddies, just released today on Digital Download. Get to know Colton Reece a little bit more and watch this hunk on his climb to porn superstardom!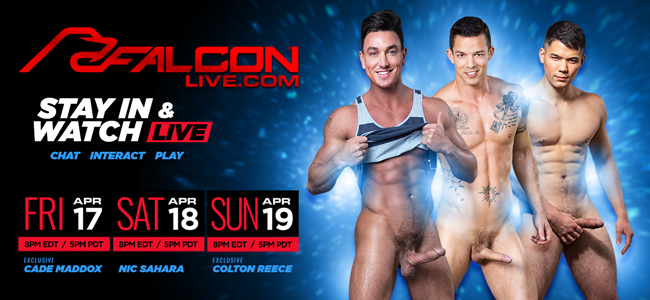 FALCON/NAKEDSWORD ANNOUNCE FREE LIVE SHOWS WITH POPULAR MODELS

Falcon/NakedSword announced today that they will sponsor free lives shows featuring three of the most popular models in gay porn this weekend. Exclusives Cade Maddox and Colton Reece, as well as featured Performer Nic Sahara, will appear in scheduled shows free to visitors on the popular FalconLive.com site.

Click Here to Read the Full Story




Hot Membership Site Updates Available Now!



Falcon Studios Group Models Appearing Live in a City Near You.


May 23: Grabby Awards, Chicago, IL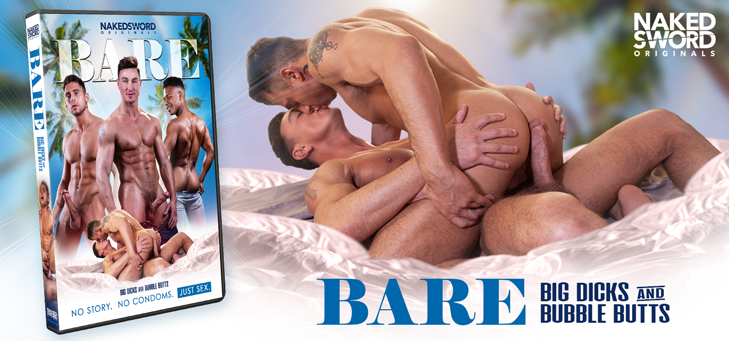 Hey HUNT Studs,

Anybody know what day it is? We do…it's HUNT day. We know it's hard to keep track lately, and we hope you're all staying safe but HUNT eZine is here to remind you that this too shall pass, and in the meantime we have another issue full of breaking porn news, new releases, debut scenes, live shows, special offers and more! Take it all in.
You may not be able to go out, but you can get into Breaking News as Falcon/Nakedsword Announce Free Live Shows with Popular Models. This weekend, get off with Cade Maddox, Nic Sahara and Colton Reece. Cade kicks off the festivities in a couple hours.
FalconLive.com Sunday headliner and exceptionally sexy smarty pants, Colton Reece cums in hot in our Model Spotlight this issue. Get to know this kinky chemist and Hawaiian native and peep his gallery while you're at it.
All sex. All natural. All bareback. That's what our Free Action Gallery is all about this week, with the scorching action images from Raging Stallion's Loaded: Muscle Fuck!
Tune into Falcon's Bro Buddies house in our Special Feature and watch these hot and horny bareback hunks fuck hard for the cameras.
This week in Studio News, get into the debut scene and fourth installment in the BARE series with Big Dicks and Bubble Butts. Starring Cade Maddox, Jarret Moon and more, the latest digital download is available today. Then, Exclusive Colton Reece debuts our new bareback movie Bro Buddies, with Greyson Lane on FalconStudios.com. Finally, Hot House keeps Making Moves with all new digital downloads from their latest bareback fuck-fest co-directed by Trenton Ducati and Jasun Mark.
We're going worldwide with our sales this week bringing you the International Scene Sale with downloads from around the world for only $3.25 each. Then, Hot House is offering over 55% in savings with their Hot House Brand DVD Download Savings featuring full-length digital downloads for only $12.95 each…some of which or no longer available on DVD.
Hop on the app and watch your Free Scene Download from Falcon's HOOK'D starring Jacob Durham and Seth Santoro. Similar scenes can now be watched on Falcon Studios' latest bareback release, Bro Buddies.
Stay Safe and Sane,
The HUNT Guys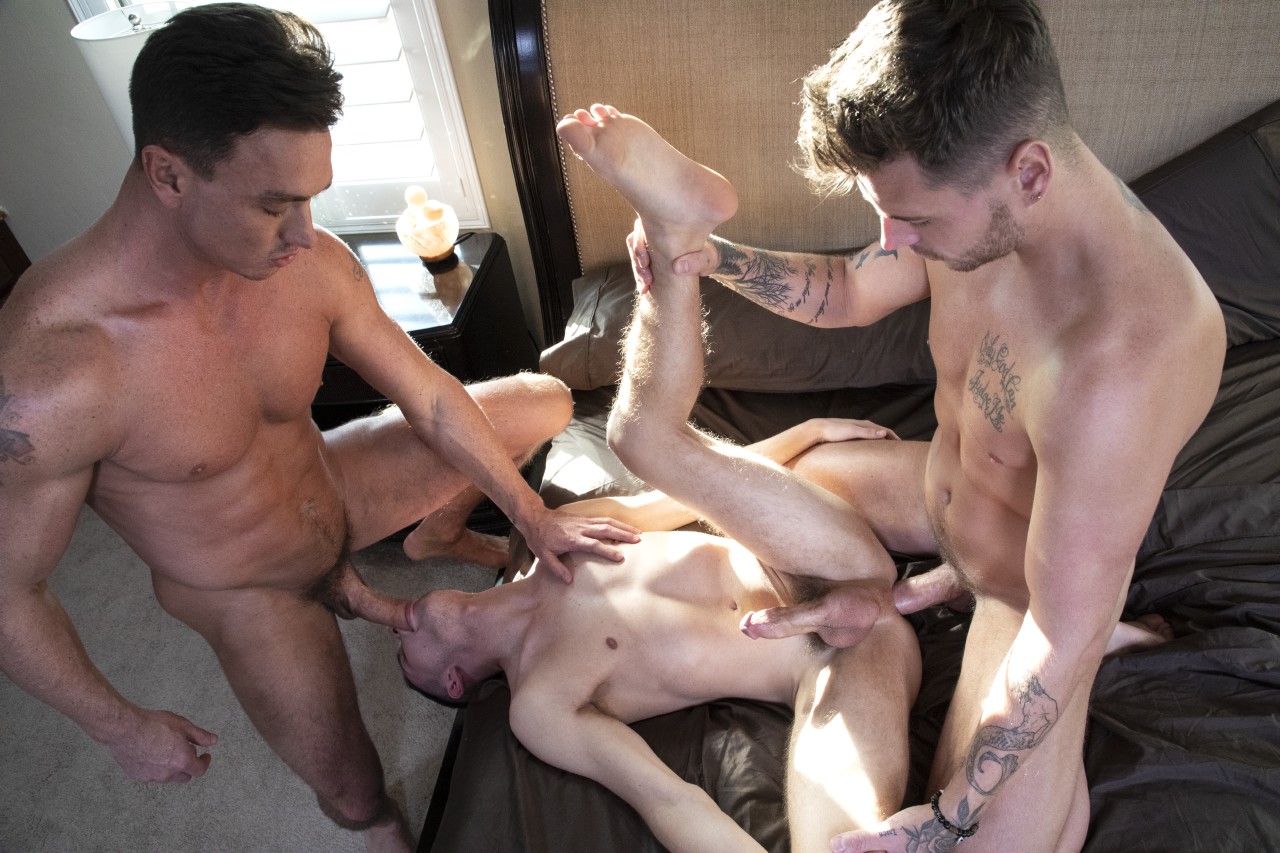 Tune Into the Bro Buddies Bareback House From Falcon Studios
Falcon Studios Group, the world's leading producer of the hottest gay male porn, announced their latest all-sex bareback release, Bro Buddies. Award-winning director Tony Dimarco takes nine horny studs and their fans on a wild, in-depth ride full of hot men and even hotter sex. Bro Buddies is now available on Digital Download from the Falcon Studios Group Store.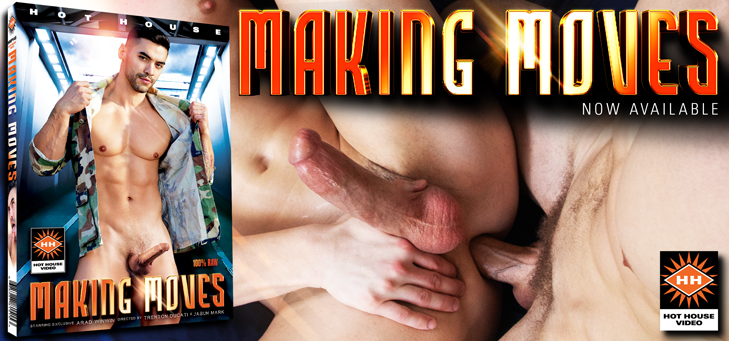 NAKEDSWORD ORIGINALS DROP 4th INSTALLMENT OF THE HIT SERIES BARE - Today, NakedSword Originals releases the 4th installment of the hit DVD franchise BARE. The latest, BARE: Big Dicks and Bubble Butts is now available for digital download exclusively on the Falcon Studios Group and NakedSword Store.
Read Full Story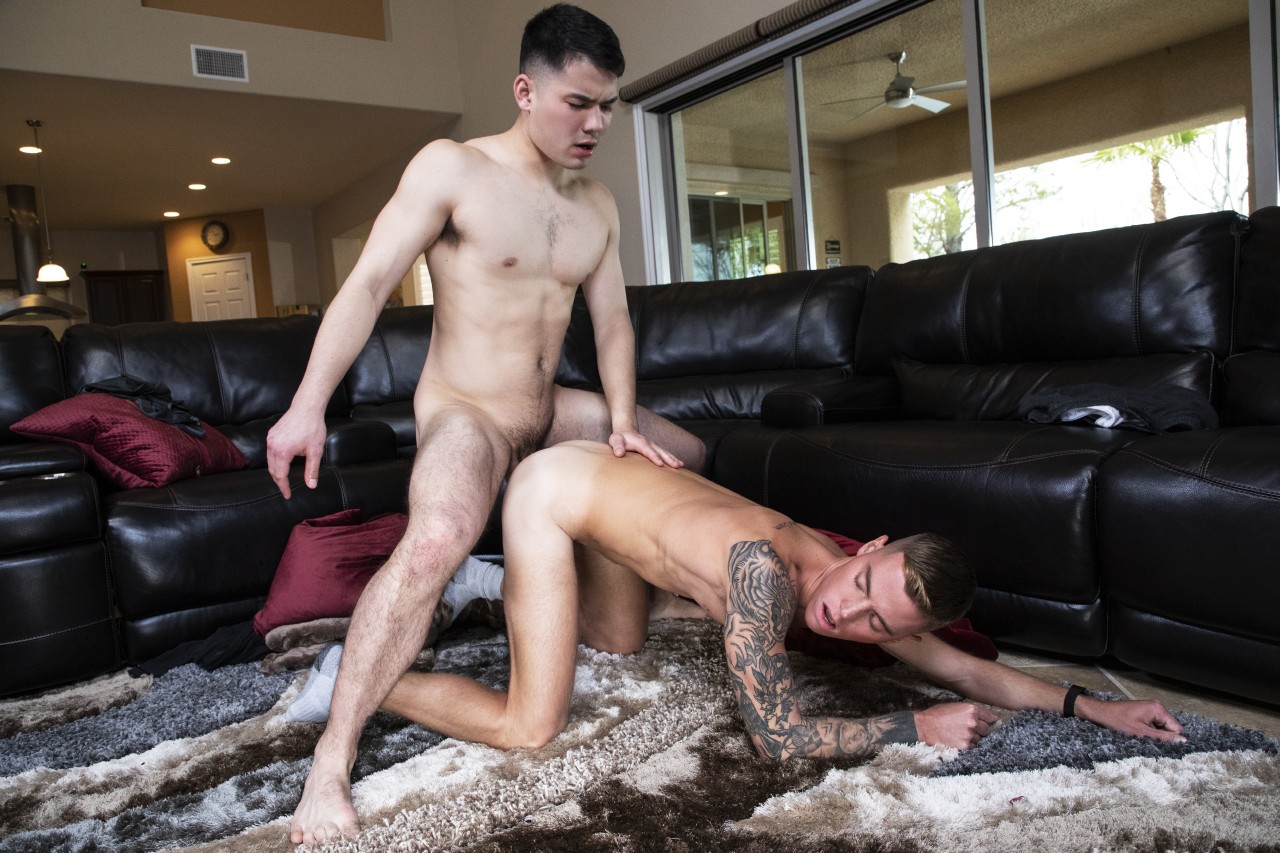 Colton Reece and Greyson Lane Premiere Bro Buddies on FalconStudios.com - FalconStudios.com has announced today, the exclusive world premiere of the debut scene from their latest bareback feature, Bro Buddies. The first update was captured by Falcon's award-winning director Tony Dimarco, and features Falcon Exclusive Colton Reece...
Read Full Story

FALCON/NAKEDSWORD EXCLUSIVE CADE MADDOX and NEWCOMER JARRET MOON STUN IN DEBUT SCENE FROM NEW NAKEDSWORD SERIES! - Today, NakedSword Originals releases their first scene from the fourth installment of the popular BARE series. The first scene from BARE: Big Dicks and Bubble Butts stars Falcon/NakedSword exclusive Cade ...
Read Full Story

Hot House Keeps Making Moves with Latest Downloads - Hot House today announced the release of their latest bareback feature, Making Moves. Join directors Trenton Ducati and Jasun Mark and a cast of nine horned up, unsheathed studs who see what they desire and make moves to get it and get off. Making Moves is now available on Digital Download...
Read Full Story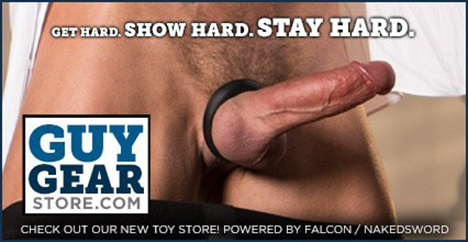 Seth Santoro & Jacob Durham from HOOK'D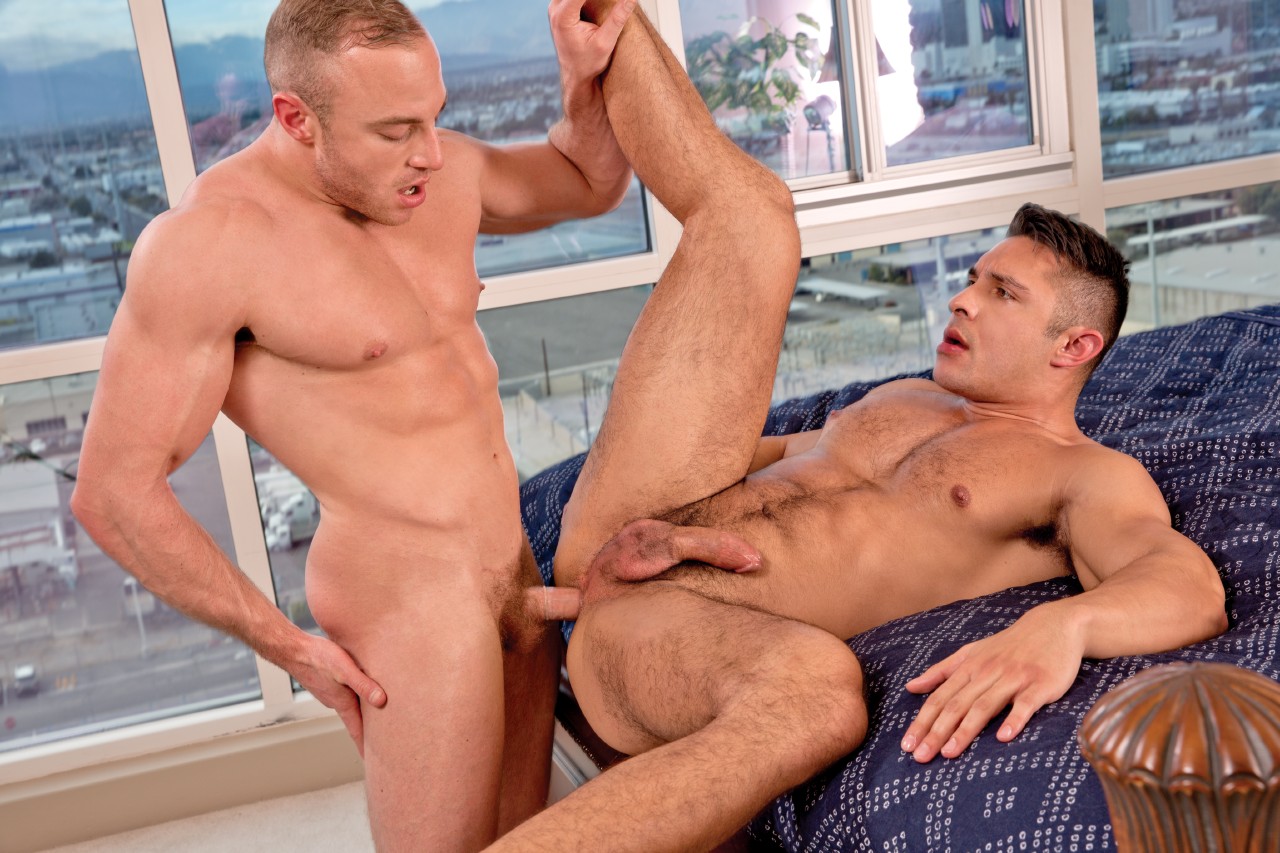 As Jacob Durham undresses after a long day, he gets some hot pics from Seth Santoro. They share their progress digitally, as their cocks get harder and harder. Seth comes over and wraps his lips around Jacob's girthy tool. Lying back on the bed, Jacob uses his phone to take a video. Reaching up to grab Seth's plump nipples and muscular pecs, Seth uses his special deepthroating abilities to give Jacob an epic blowjob. Turning around into a 69, Seth sits on Jacob's face while sucking on Jacob's cock. Extending his tongue, Jacob drives deep into the center of Seth's tight hole. Seth rolls over on his back and puts his legs in the air for Jacob to rim Seth's hole again. With Seth's hole slick and ready to get fucked, Jacob thrusts his cock inside. Sweat glistens on Seth's chest as Jacob pounds his ass. Switching it up, Seth assumes a doggy style stance and Jacob mounts him from behind. Their muscular bodies slam together as Jacob pummels Seth's hole with all his power. Jacob lies down on his back and Seth sits down on his cock reverse cowboy style, using his muscular legs to raise and lower himself on Jacob's girthy shaft. The intense pleasure of Jacob's cock makes Seth shoot a thick, creamy load all over his thigh. Jacob grabs his meat and blasts a massive jet of cum across Seth's face, and Seth uses his mouth to suck Jacob's cock clean.