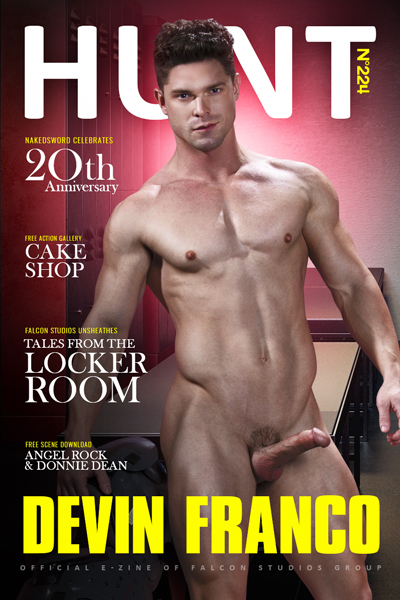 Amazing Content Now Live on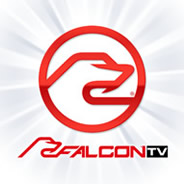 | | |
| --- | --- |
| | Check the listings in your Television Provider's Adult HD OnDemand Menu for: 24 Hour Boner, The OnDemand HD Release of Raging Stallion's 24 Hour Boner starring Rikk York, Teddy Torres, Tegan Zayne & more! |














Raging Stallion's busy, bareback bakery Cake Shop takes you on a behind the scenes look at two guys, a gay bakery dream and some very special ingredients! A sexually intense, gay porn comedic romp written and directed by award winner Steve Cruz, Cake Shop delivers a hilarious group of all-natural, creampie kinksters who drop a lot of icing on each other's cakes. Ex-lovers Wade Wolfgar and Jake Nicola set up shop, and their bareback bakery starts booming. Filling a special order for Donnie Argento's first anniversary cake for his husband Sharok, Jake Nicola gets nasty with a raw three way right on the countertop. Donnie squats on a delectable dessert and Jake and Sharok bury their faces in the frosting, till their hardcore vers three way leaves Jake glazed in cum. Wade hires an assistant, sexy smartass Beaux Banks, who sneaks huge hung fuck buddy Devin Trez thru the back door to pound his back door. In the spirit of equality, the Cake Shop caters to couples with differing beliefs, like a fictitious MAGA supporter played by Ricky Larkin and his antivax bride — till Beaux sabotages their big day and the new cashier, Draven Navarro, has to assuage the rage of the horned-up Ricky and drain his bull balls with a wet mouth and hot hungry hole. Health inspector Cain Marko pops by for a surprise visit, and Wade will do anything to make up for their code violations, including violating the inspector on the kitchen counter. With his job on the line, Beaux cooks up a scheme to ditch the cake shop for good. He calls up bad boy Romeo Davis for some booty call baby batter. As the health department finally puts an end to the rainbow confections, Draven Navarro comes up with a plan to save the business — by turning it into a porn studio with big dick stud Jason Vario fucking the daylights out of him. Jake and Wade face a bright new future, proving you can have your cock and eat it too, only at Raging Stallion's Cake Shop!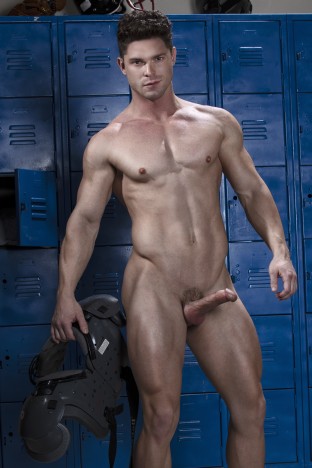 Team player Devin Franco is easily one of the most dynamic and versatile hunks currently on the elite roster for Falcon Studios Group Exclusives. This once small-town boy-next-door has become a household name since his gay porn debut in 2018. Franco has worked tirelessly to transform his body into the stunning sculpture it is today. From taking the biggest cocks, topping the tightest holes and getting gaped by the heftiest fists, Devin Franco can really do it all, and he does! Most recently, fans can watch Devin get pounded by a hunky coach in Falcon's latest bareback feature, Tales from the Locker Room. Or maybe you want to see the kinkier side of Franco? If so, watch him take all that he can in Submission Prison from Fetish Force. Then, watch his other Falcon blockbusters like Califuckinfornia & Bareback Ranch. No matter how you like Devin Franco, we promise he offers something for everyone; so sit back, whip out your cock and get off to Falcon's most versatile superstar exclusive today!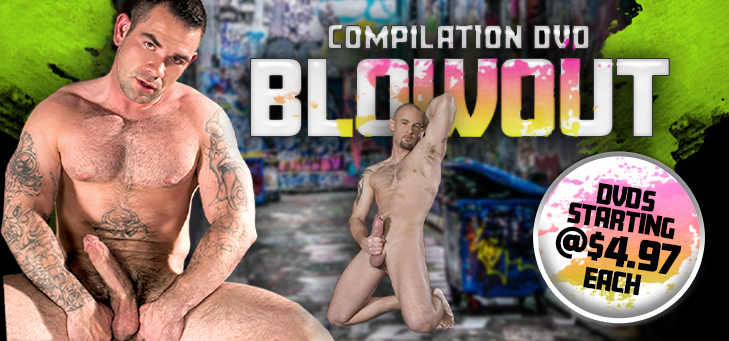 NakedSword Celebrates 20th Anniversary

NakedSword is officially kicking off their 20 year anniversary celebrating 20 years as the number one Video-On-Demand streaming site. For the last two decades, 'The Netflix of Gay Porn' has streamed the hits from the biggest gay adult studios on the planet as well as produced original content under their NakedSword Originals imprint. With 200 studios and over 27,000 scenes on the mega-site, NakedSword.com has something for everyone and from almost every content producer in gay adult film, big and small.

Click Here to Read the Full Story




Hot Membership Site Updates Available Now!



Falcon Studios Group Models Appearing Live in a City Near You.


May 23: Grabby Awards, Chicago, IL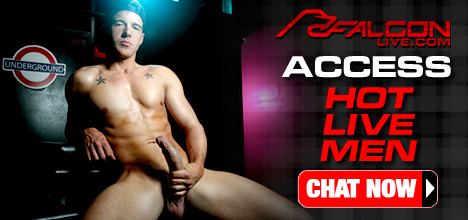 Hey HUNT Studs,

We know these are uncertain times...we're feeling them too, but we're dedicated to continue sending HUNT and maybe provide a little distraction from the challenging news of the day and deliver the hottest new releases, free galleries and fine men.
Breaking News celebrates two decades of NakedSword being on top with their 20th anniversary. Keep an eye out for giveaways all year long.
Versatile powerhouse, top-selling Exclusive and all-around fan favorite Devin Franco gets featured in our Model Spotlight this issue. Get to know this stud if you don't already and check out his free gallery!
Head to Cake Shop and feast on the scorching hot action shots from Raging Stallion's sweetest, new bareback feature in our Free Action Gallery this week.
Grab your jock and your cock and meet us after practice with our Special Feature item this week, featuring the DVD and download release of Falcon's latest bareback flick, Tales of the Locker Room.
First, power-bottom Avery Jones & Dillon Diaz debut the first scene from Tales from the Locker Room in Studio News. Then, it's your final chance to give us your valuable feedback with our HUNT Reader Content Survey and win free porn prizes. Finally, we didn't think one gallery was enough so we're giving you a BONUS Free Action Gallery filled with the best action shots from NakedSword's, A Murdered Heart.
We're still celebrating St Patrick's Day with New Release Savings – get $10 off new DVDs and DVD downloads and save 50% on the latest scenes. Plus, we're clearing out collections and Best Ofs with our Compilation DVD Blowout starting at only $4.97 each. And, the savings continue with our Major Brand DVD Specials with over 170 DVDs starting at $11.97 each.
Get a hot and sweaty workout in with your Free Scene Download this issue featuring a scorching scene from Falcon's, Musclebound. Similar scenes can now be watch on Falcon's latest bareback, sports-themed feature, Tales from the Locker Room.
Stay Safe,
The HUNT Guys





Falcon Studios Streets Unsheathed Flick Tales From the Locker Room
Falcon Studios Group, the world's leading producer of the hottest gay male porn, announced their latest sports-themed bareback release, Tales From the Locker Room. In this bareback gym fuck fest directed by award-winner Chi Chi LaRue, there's nothing like the distinctive scent and manly aroma of an all-male sports facility. Tales From the Locker Room is now available on DVD and Downloads from the Falcon Studios Group Store.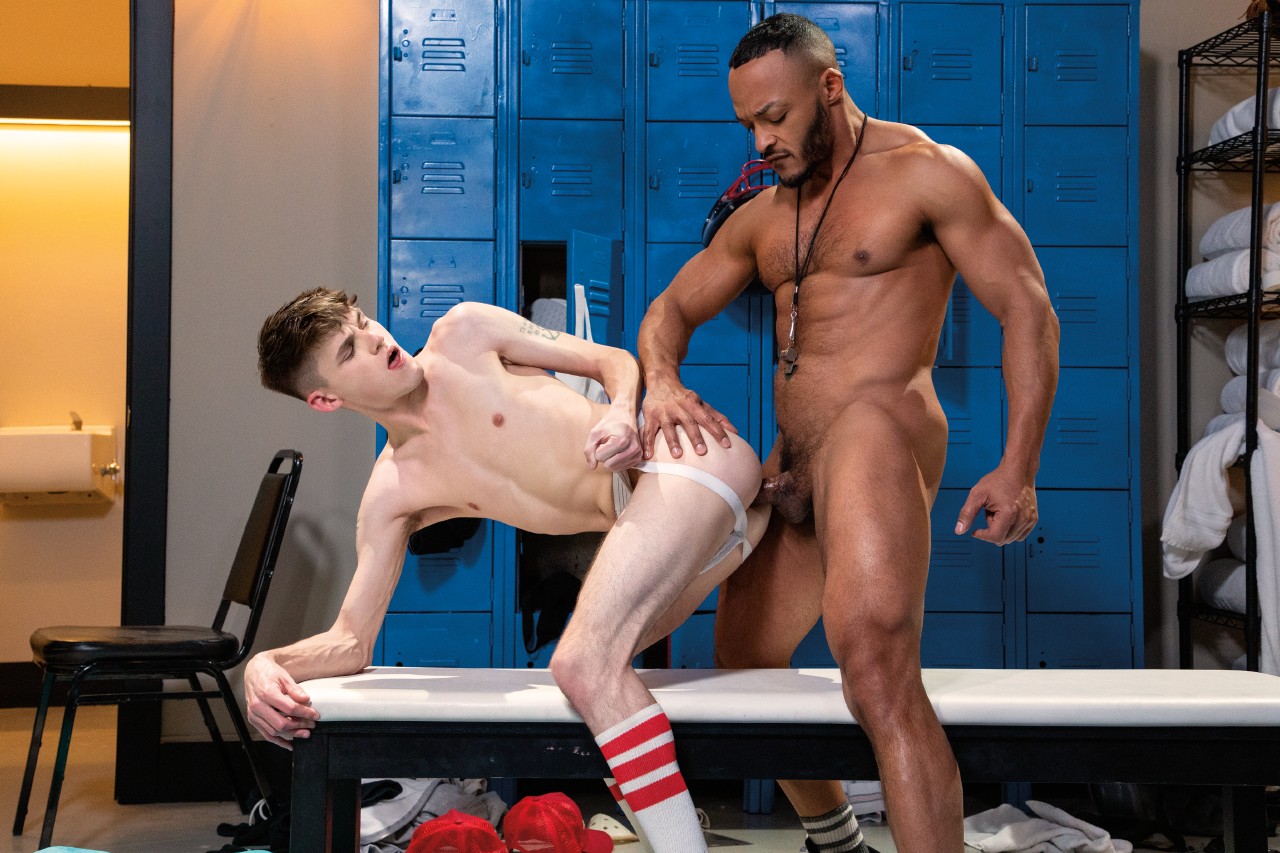 Dillon Diaz and Avery Jones Premiere FalconStudios.com's Tales from the Locker Room - FalconStudios.com has announced today, the exclusive world premiere of the debut scene from their latest bareback feature, Tales from the Locker Room. The first update was shot by award-winning director Chi Chi LaRue, and stars athletic hunks Dillon Diaz and...
Read Full Story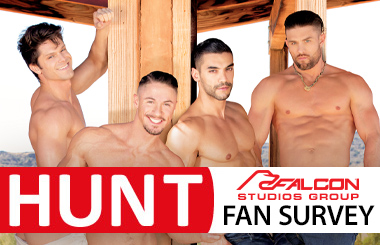 LAST CHANCE! Win Porn Prizes with the HUNT Reader Content Survey - Complete our newest survey focusing exclusively on our content for your chance to win DVDs, Downloads and Memberships to our popular sites. We want to thank all the HUNT Readers and Fans of Falcon Studios, NakedSword Originals, Raging Stallion Studios and Hot House Video...
Read Full Story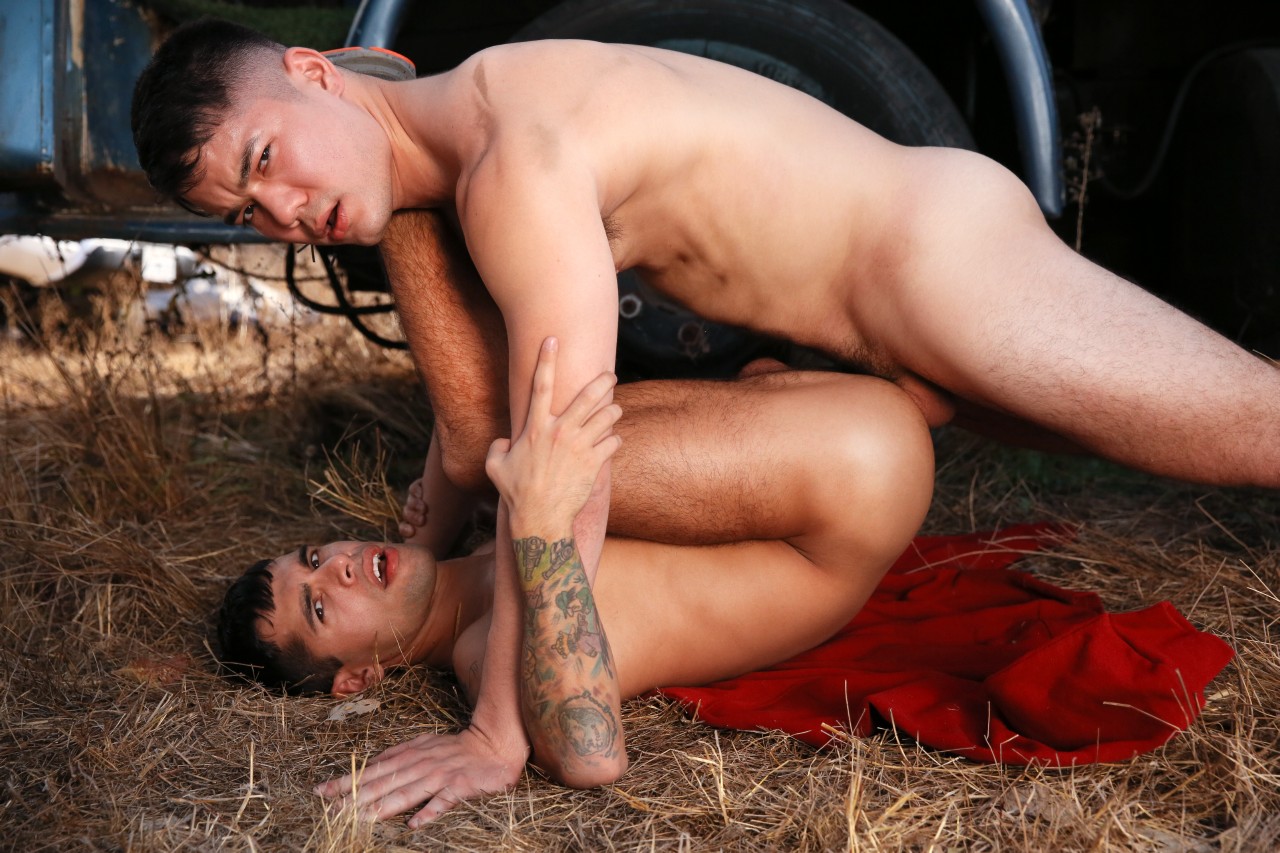 BONUS Free Action Gallery: A Murdered Heart - Award-winning director Marc MacNamara delivers a masterful drama that follows the stories of three young men who are sent to conversion therapy camp, ultimately proving that love and human desire conquer all in 'A Murdered Heart.' As they battle with manipulative techniques used to control people into changing their...
Read Full Story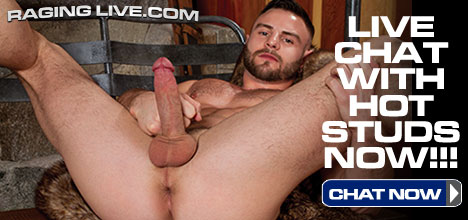 Angel Rock & Donnie Dean from Musclebound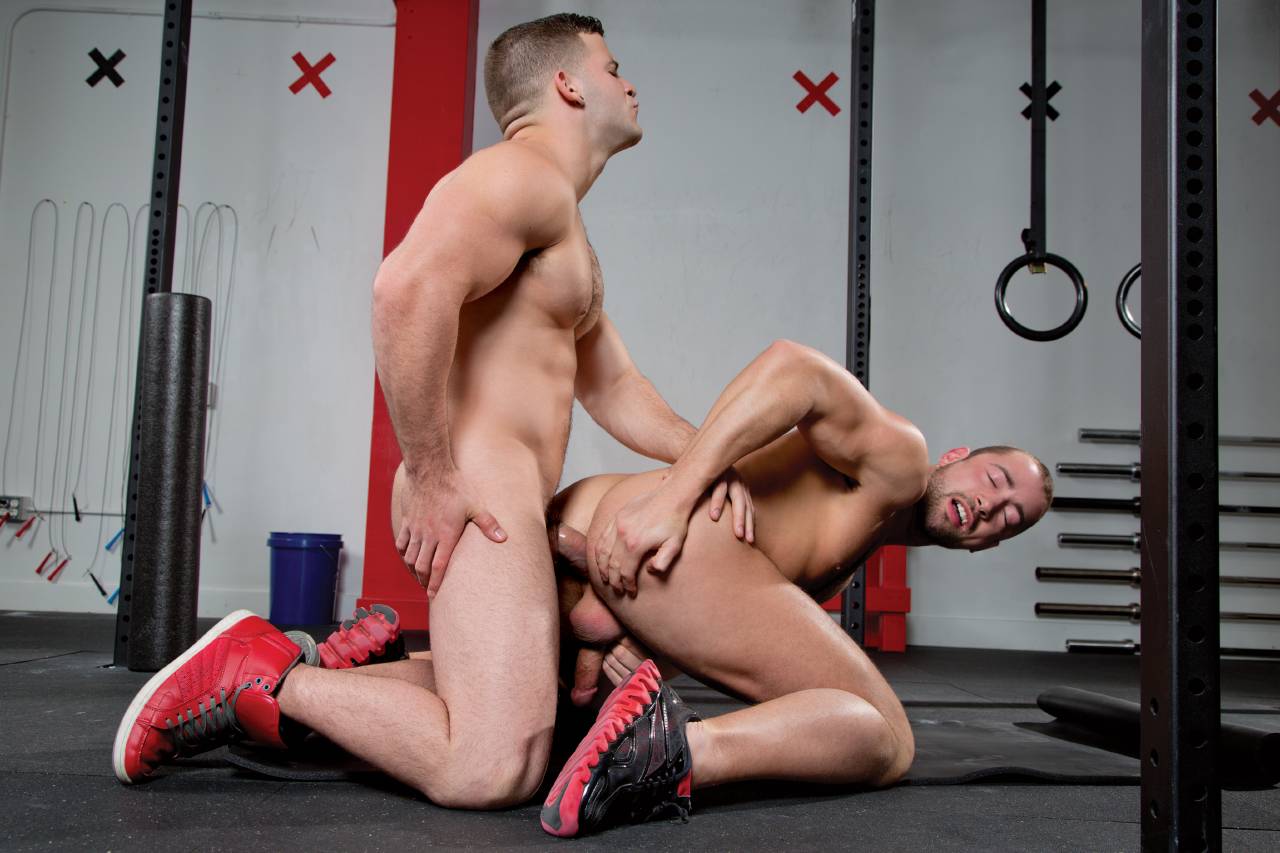 When Angel Rock offers to spot Donnie Dean at the gym, he takes every opportunity to ogle and touch. They trade sly smiles as Angel hovers with his hairy pecs only inches from Donnie's matching torso. Then Angel snatches the shorts off of Donnie and a boner pops out. It calls for a deep, wet kiss. Angel puts his mouth to work on the rest of Donnie's hard and furry frame, doing things with his tongue that would get him arrested in 39 states. Now Angel's shorts come off, exposing his amazingly fat, long and curved endowment to Donnie's grasp. Donnie's tongue circles Angel's meat and then he deepthroats it skillfully. Angel takes control and fucks Donnie doggie style, his cock moving like a heat-seeking missile that repeatedly finds its target in Donnie's ass. Switching to a sit-fuck, Donnie shoot a stream of cum high in the air, then recovers to capture and savor Angel's load in his mouth.




You have received this email because you requested email updates from Falcon Studios Group be sent to: %%EMAIL_ADDRESS%%
This is an advertisement. %%PLUGIN_Unsubscribe: 183936-Unsubscribe%%
Please add reply@huntezine.com to your address book or safe senders list to ensure that these emails arrive in your inbox.
© 2020 Silver State Services, LLC. All Rights Reserved. HUNT eZine, 2176 Shattuck Ave, Berkeley, CA 94704

Records required to be maintained pursuant to 18 U.S.C. 2257 and
C.F.R. 75 are kept in the following location by the Custodian of Records:
Custodian of Records
2716 Shattuck Ave,
Berkeley, CA 94704