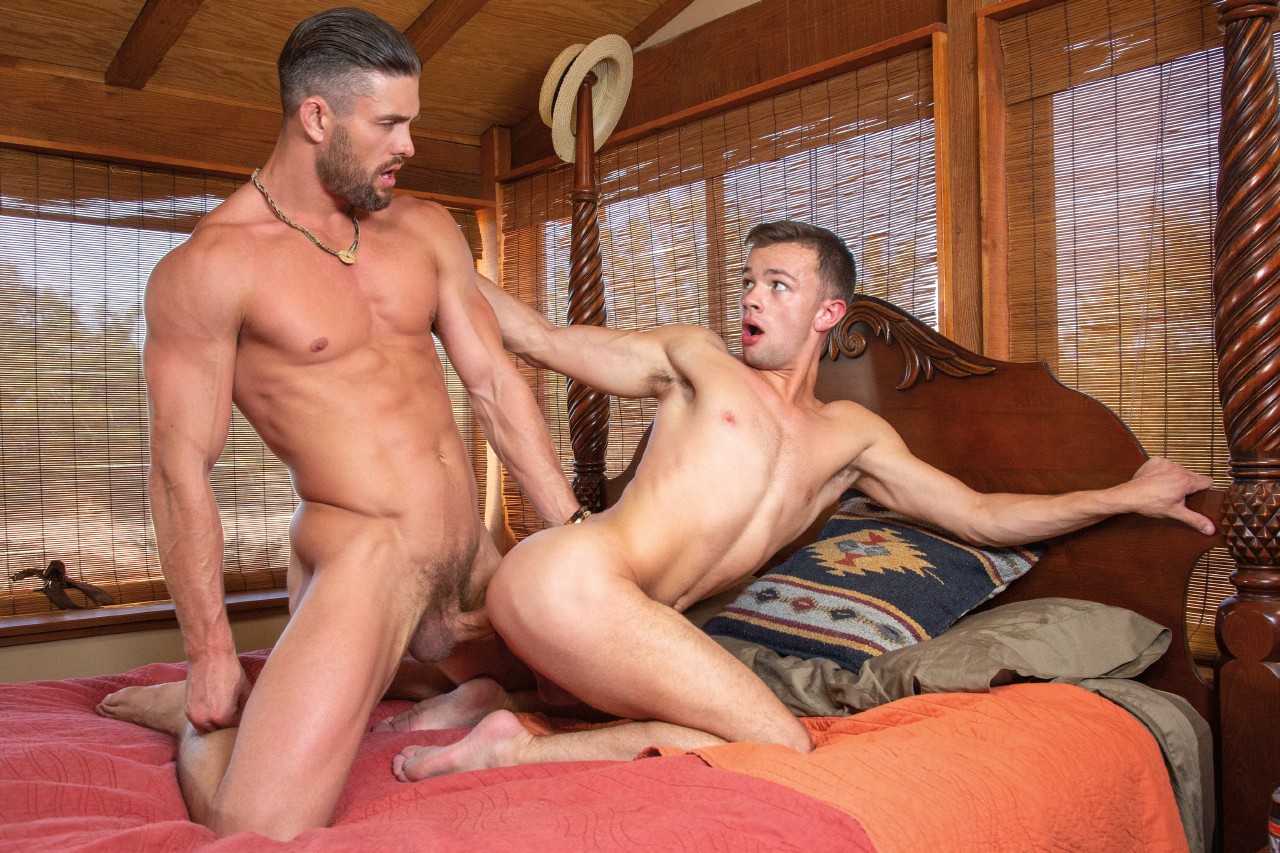 Somewhere hidden in the southwestern desert is a secret pleasure oasis known as the Bareback Ranch, the ultimate destination for sensual and sexy men who like wild action in the great outdoors. Join award-winning director Tony Dimarco and his cast of bareback cowboys, ranch hands, truckers and hitchhikers alike that his this spot for raw cocks rampaging eager, hungry holes and filling them with jizz under the sizzling badlands sun. First up at the ranch are horse-hung Brian Adams and eager bottom Devin Franco in blue jeans and boots, sucking cock out in the desert before they wend their way over to the ranch and take care of their needs on a big leather sofa that isnít the only thing to be overstuffed. Next Arad Winwin and Skyy Knox come clean outside for an al fresco blowjob swap and outdoor shower power-fuck. Logan Cross and Brian Adams get an eagleís eye view of the rustic surroundings as they rise to the rafters of the ranch house for a high noon rooftop romp on a private patio under the big blue sky. After a little roughhousing on the trail, Zario Travezz scoops up Nick Fitt and carries him back to his mancave at the ranch for beer-soaked, cum guzzling cock sucking and bareback butt fucking. Meanwhile, Logan Cross is alone and horny on the scorching highway, hitchhiking and hunting for trouble, which he finds when sexy trucker Ryan Rose picks him up on the side of the road and takes him home to the primal pleasures of the ranch. Rounding out the roster of big dicked roughnecks, Dalton Riley and Caleb Jaxon wrestle in the dirt until Dalton takes Caleb back for some old-fashioned, good olí boy corn-holin' on the couch. This is no country for straight men and there will be plenty of buds bustiní their nuts in each otherís butts down at the Bareback Ranch!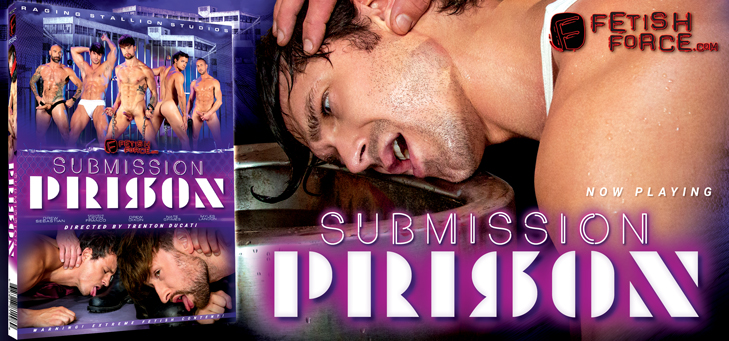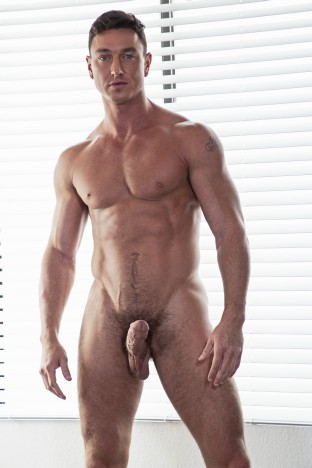 Everyoneís favorite Southern muscle-stud-next-door, Cade Maddox is an award-winning force to be reckoned with. Since Cade became a Falcon Studios Group Exclusive in 2019, he has proved over and over again why he and his striking physique deserve a spot on the winning team! Maybe, for you, it's his mouth-watering 8 inch cock? Maybe it's his bubbly backside? Maybe it's his powerful energy on set when he's pummeling a lucky bottom? For us, it's all of the above, and Cade has become one of our most-sought-after performers. Want to see Cade in person? Fans in L.A. have a chance to get up close and personal as Cade struts his goodies on the gogo box this weekend at Rocco's in WeHo with the Men of Falcon and NakedSword. Canít make it to L.A.? No worries, you can still jack off to Cade's explosive performances in The Gay Simple Life and Scared Stiff 2: The Amityville Whore, from NakedSword Originals, or in Falcon's latest bareback blockbuster, Califuckinfornia. You can also see him have a waiting room romp in Hot House's Dirty Doctor. Wherever you want Cade, there's plenty to go around and this porn juggernaut is staying around for the long-haul. †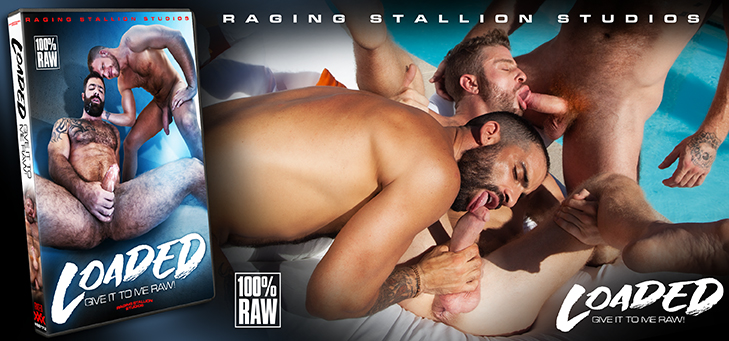 Buckle Up for Falconís New Bareback Blockbuster Califuckinfornia

Falcon Studios Group, the worldís leading producer of the hottest gay male porn, announced the release of their first major bareback blockbuster of 2020, Califuckinfornia. Join award-winning director Tony Dimarco, with an all-star bareback line-up of ten fresh-faced, big-dicked studs who like to ride more than just waves. Califuckinfornia†is now available on DVD and Downloads from the Falcon Studios Group Store.††

Click Here to Read the Full Story




Hot Membership Site Updates Available Now!



Falcon Studios Group Models Appearing Live in a City Near You.


January 11: Falcon Studios & NakedSword Offical Str*UpGay Porn Awards Party, Rocco's WeHo, West Hollywood, CA

January 12: Str8UpGayPorn Awards , Avalon Hollywood, Los Angeles, CA

January 20: GAYVN Awards, The Joint, Las Vegas, NV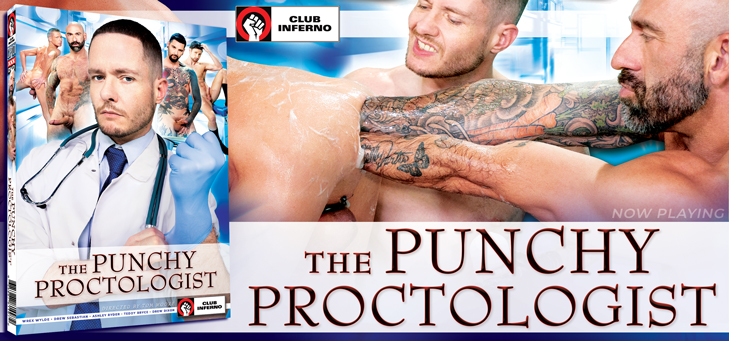 Happy New Year HUNTer's,

2020 is here and we hope your turn of the decade was amazing! We're back and ready to usher in the next decade with a fresh new issue of HUNT eZine jam-packed full of new releases, new scenes, free scenes, sales and so much more! Letís start this year with a bang!
The first Falcon blockbuster of 2020, Califuckinfornia, is here and itís in Breaking News. Join award-winning director Tony Dimarco, with an all-star bareback line-up of ten fresh-faced, big-dicked studs who like to ride more than just waves.
Star of new release Califuckinfornia and multiple award-winner Cade Maddox is the first Model Spotlight of the new decade. Read up on pornís sexiest Southern daddy and jerk off to his free action gallery a few times.
Summer might seem far away, you can bask in the sun with our Free Action Gallery this week, featuring the scorching unsheathed men of Bareback Ranch from Falcon Studios.
One gallery not enough for your cocks? Our Special Feature this week is coming at you with a BONUS Free Action Gallery from Raging Stallion's latest feature, Loaded: Give It To Me Raw!.
Studio News is packed full! First up, get locked up with Fetish Force's newest DVD & Downloads Submission Prison, directed by Trenton Ducati. Watch Ryan Rose take Cade Maddox's fat dick raw on FalconStudios.com, witness Raging Stallion's latest bareback fuck-fest Loaded: Give It To Me Raw, and get your hole diagnosed and stretched in Club Inferno's new movie, The Punchy Proctoligist. Did you get all of that?
New year, new savings! First, get into our New Year Best Of & Compilation Download Deals where the hottest compilations DVD downloads are only $9.95 each. Then, celebrate with our DVD Savings and Collectors' Edition Closeout event with the latest releases up to $15 off.
We're heating up with your Free Scene Download this week with a scorching scene from Falcon's California Dreamin' 2 with Liam Magnuson and Ray Han. Similar California themed scenes can now be watch on the all-new Falcon blockbuster, Califuckinfornia.
Get It,
The HUNT Guys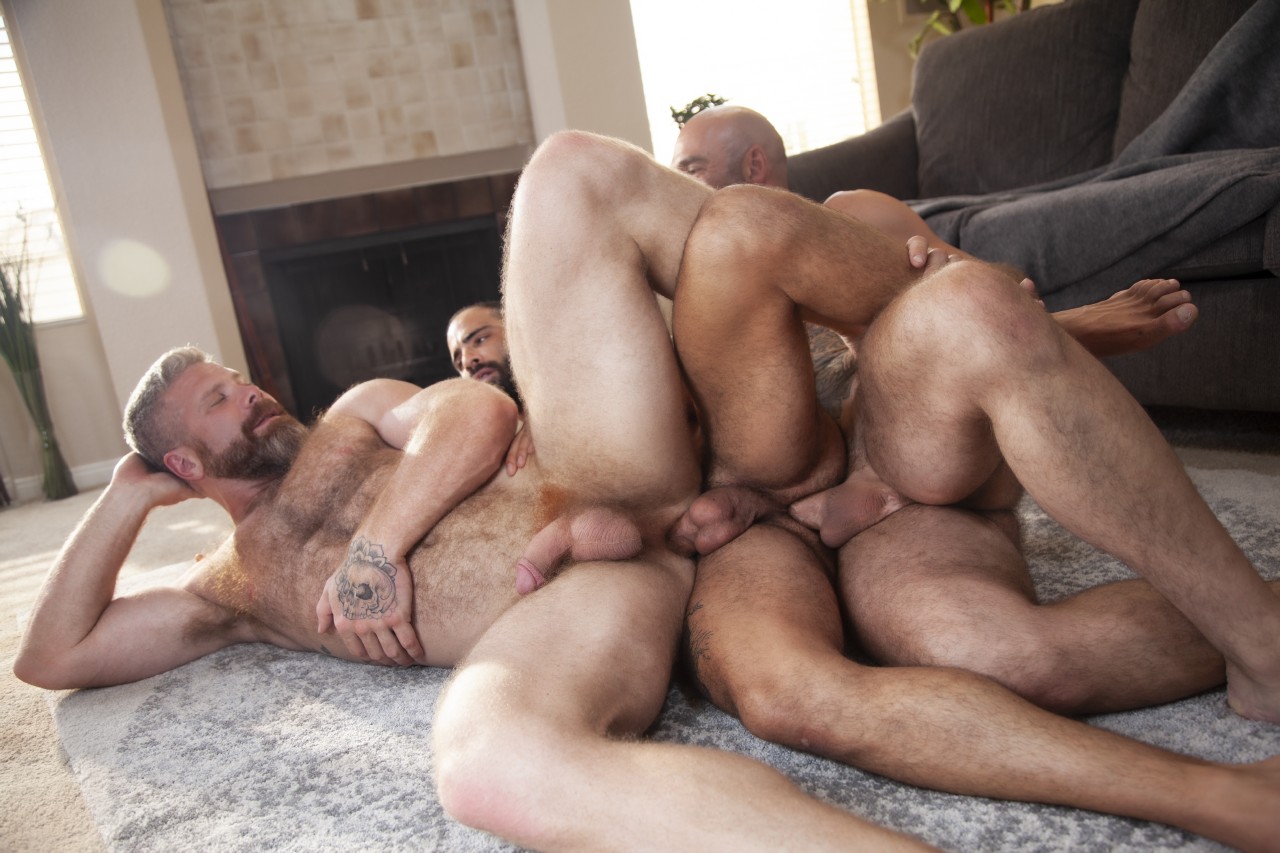 BONUS Free Action Gallery: Loaded: Give It To Me Raw!
Loaded: Give It To Me Raw! is Raging Stallionís latest 100% bareback, no-holds-barred, all-sex feature directed by award-winning director Steve Cruz, who puts the focus on these rough and rugged men and the steamy, intense action. Join this burly group of 11 bearded, inked, lust-crazed men stripping down and getting straight to raw barebacking in a spacious vacation villa. Drew Sebastian and Cain Marko kick things off with a leisurely backyard blowjob in the swimming pool, with Cain chowing down on Drew's massive meat till Edji Da Silva joins the fun, and he and Drew take turns drilling Cain, wrecking his hole. Wade Wolfgar is a hot uncut Daddy sharing his scruffy bottom boy Jake Nicola's obedient hole with Julian Grey in an ass-slamming, jizz-dripping three way. Papi Suave & Devin Trez suck and fuck in the foyer till they get their turn in one of the bedrooms for a raw pounding sesh. Wade Wolfgar comes out of the shower to take Jake Nicola on another throbbing thrill ride and fill his face with Daddy's warm load. Zario Travezz and Brock Banks share a poolside suck-fest and a bareback flip-fuck-a-thon before going inside for a volcanic finish. On a big stack of inflatable mattresses, Link Parker gets Cain Marko hungry and ready for a switch-hitting three way, where edgy Edji Da Silva joins in and Cain gets his fuzzy muscle-butt worked over. Next time youíre eager for raw, rough sex with all-natural men, come get sweaty with the studs in the cum-soaked, Loaded! Give It To Me Raw!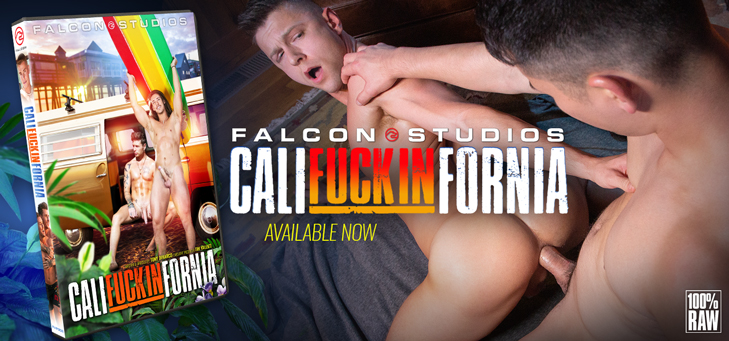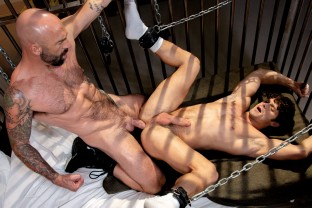 Submission Prison Dominates on DVD & Downloads - Fetish Force, the Falcon Studios Group brand featuring the best of gay kink and fetish, has released its latest feature, Submission Prison. Performer turned director Trenton Ducati, is a filthy fucker with a kinky imagination, taking us to the sweat and semen stained cells of Dorchester Corrections Facility,...
Read Full Story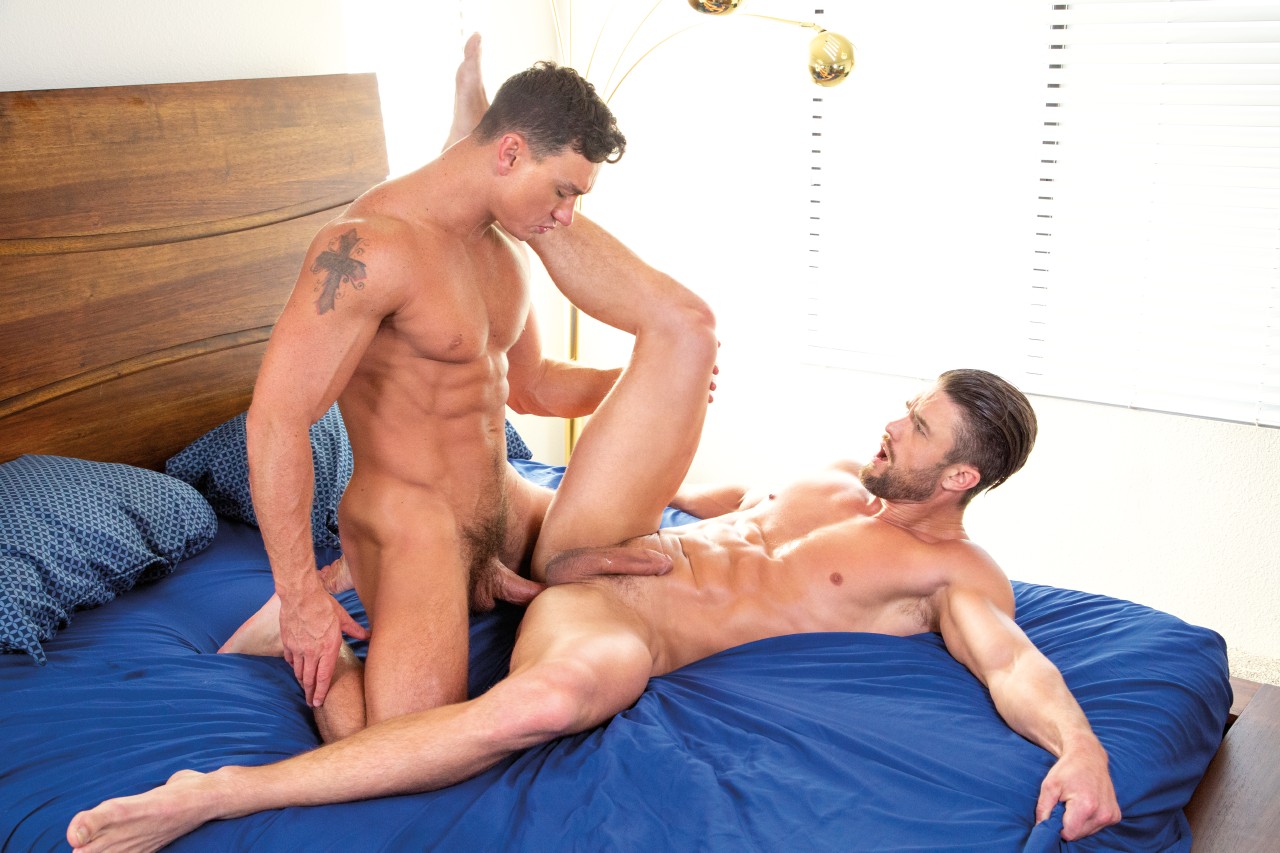 FalconStudios.com Kicks Off 2020 with Bareback Blockbuster Superstar Update - FalconStudios.com has announced†today, the exclusive world premiere of the debut scene from their upcoming bareback blockbuster feature, Califuckinfornia. The debut scene was filmed on location by award-winning director Tony Dimarco, and stars Falcon Studios Exclusives Ryan ...
Read Full Story

Raging Stallion Delivers Loaded: Give It To Me Raw on DVD & Downloads - Raging Stallion, the Falcon Studios Group brand featuring all-natural men, has released their latest bareback feature, Loaded: Give It To Me Raw, on DVD and digital download. Loaded: Give It To Me Raw! is Raging Stallionís latest 100% bareback, no-holds-barred, all-sex feature directed by...
Read Full Story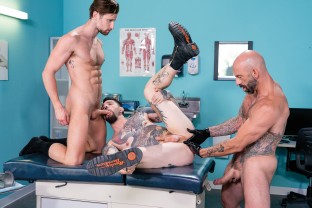 Get Diagnosed By The Punchy Proctologist on DVD & Downloads - Club Inferno, the Falcon Studios Group brand featuring gay muscle men in extreme gay porn and hardcore fisting videos, has released their latest feature, The Punchy Proctologist. Join director Tom Moore and the kinkiest doctor with the hottest and humpiest staff youíll ever meet, in...
Read Full Story





Liam Magnuson and Ryan Han from California Dreamin' 2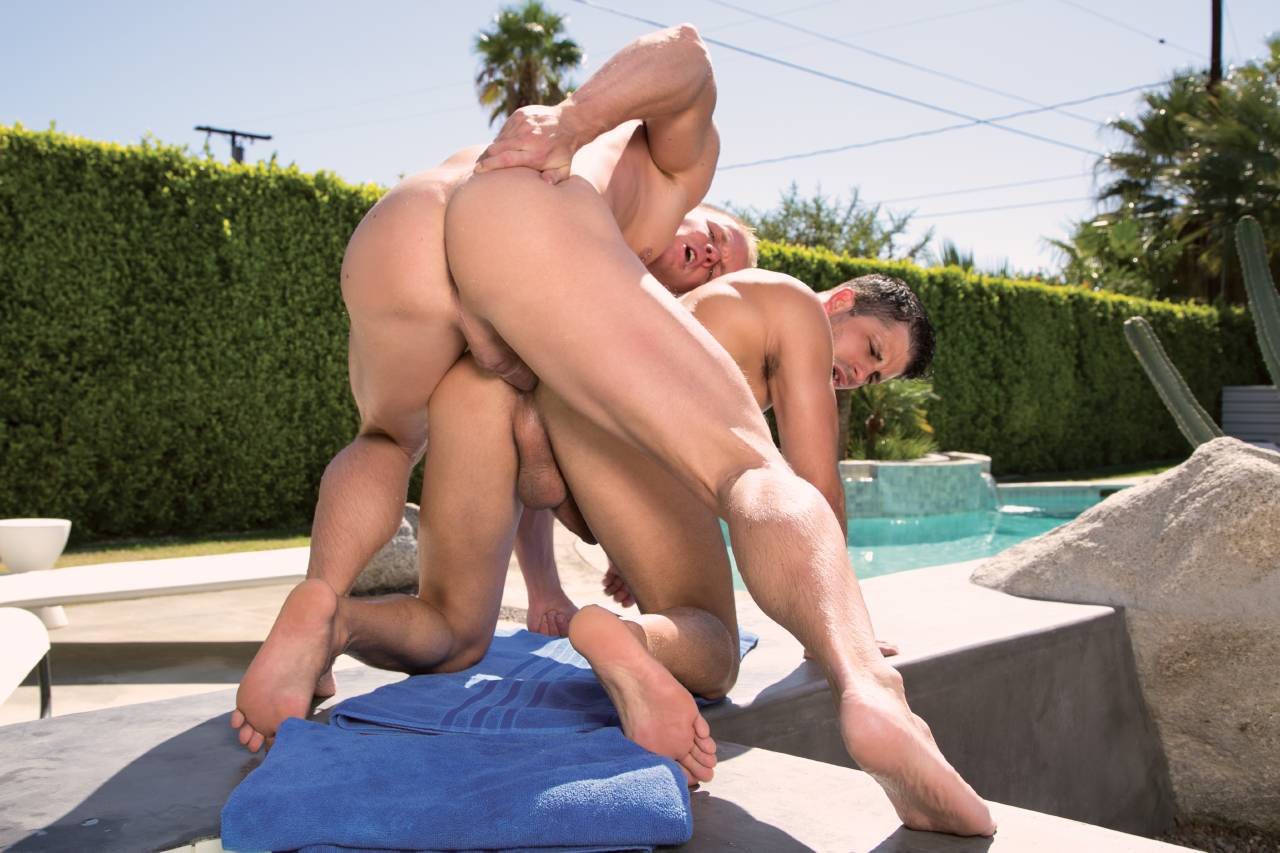 Ray Han leans back in the hot tub, enjoying the warm sun on his face. Liam Magnuson slides into the water across from him wearing an expectant grin. The water turns Liam's white trunks transparent. Their feet seek out each other's baskets under the water and Liam accelerates the momentum by exposing his cock for Ray to grab with his toes. Ducking underwater, Ray gives Liam a deep blow job. Ray's mouth feels so good, Liam doesn't want it to stop, so he stands up so Ray can suck and breathe at the same time. Liam eat Ray's ass, which quivers and vibrates until Ray's entire body jiggles. Ray squats lower and Liam slides his cock inside. Light glints off the post in Liam's nipple and the sparse blond hairs on his chest. Liam hops on top of Ray delivering his meat nuts. Ray bucks and moans. They separate briefly, Liam sucking Ray's cock until Ray drops his hole on Liam's cock and riding it. Crying out, he grabs his dick and sends jism in all directions. Then he kisses Liam and sucks his balls while Liam jerks a load onto his rigid abs, leaving Ray to lap up the drips.