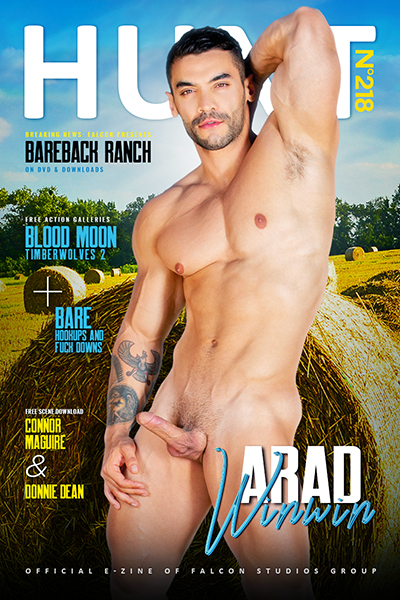 Amazing Content Now Live on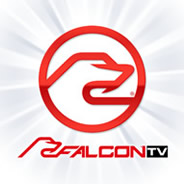 | | |
| --- | --- |
| | Check the listings in your Television Provider's Adult HD OnDemand Menu for: My Boyfriend & I: Anal At Home, The OnDemand HD Release of NakedSword Originals' feature Boyfriends starring Blake Daniels, Blue Bailey, Cole Streets & more! |














Sexual animals with primal inhibitions still walk among us in Blood Moon: Timberwolves 2, a supernatural sequel to the wildly successful Timberwolves from 2013. The stakes are higher, and the sex is hotter as furry studs tear into each other in a rapacious and raw fuck-fest. Wolf brothers, Drake Masters and Sharok, are living quietly among the mortals in this sleepy mountain town, but it's Drake who can't seem to control his primal impulses to feed, which threatens to expose the pack. 'Blood Moon' picks up with Adam Ramzi returning and seeking answers to a friend's disappearance in the local woods just five years earlier. Sheriff Ricky Larkin finds him irresistible. Adam tells himself he's looking for his missing friend, but as the case grows cold, he learns he's just being used for sweaty man sex. Unable to face the truth about his own actions, Adam has a huge fight with Ricky. Ricky seeks advice from his horse-hung besties Boomer Banks, Jake Morgan and Logan Stevens, and leaves them to finish their thirsty game of flip-fuck strip poker. Drunk on whiskey, Adam stumbles into the woods under a 'Blood Moon' and becomes prey for Drake's uncontrollable appetite. Drake denies his crime to his brother, Sharok, who turns to Alex Mecum's massive cock for comfort. Meanwhile, the rift between wolf brothers and the locals rips wide open when they find Adam's ravaged body. Taking the law into their own hands, they ambush the wolf brothers. Violence gets out of hand and Drake is forced to reveal his true wolf nature to help his brother escape. Drake and a wounded Sharok race through the badlands, where Drake blows married straight dude Brian Bonds for gas money. Desperate and lost, Drake wanders the desert where he meets lone wolf, Drew Sebastian who teaches him how to own his true nature and survive; Drake thanks him by riding his ten-inch dick. Back home, Deputy Riley Mitchel gets his beefy ass impaled by Sheriff Ricky. Alight with the fury of vengeance, Drake returns home to reckon with his tormentors. How will it end? Who lives and who lives again? Blood Moon: Timberwolves 2 will leave you howling for more.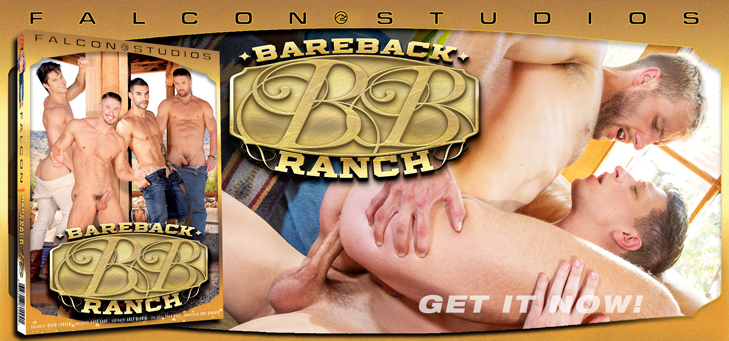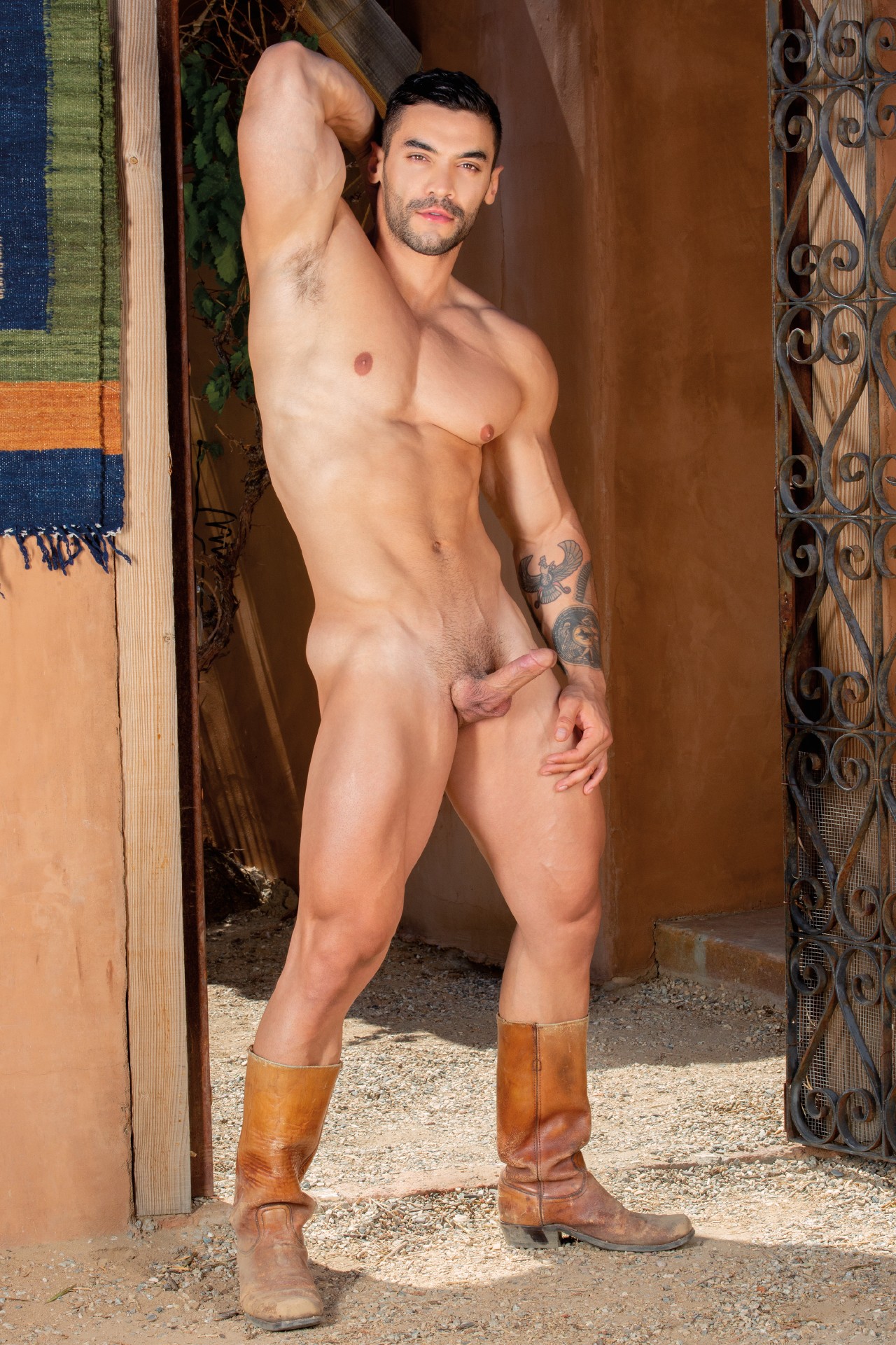 World-renowned, international superstar and Falcon Studios Exclusive Arad Winwin isn't just known for his cock-slinging performances on-screen. Arad is also a highly successful underwear model with the popular brand, Andrew Christian. Originally from Iran, Winwin now calls Los Angeles home. When he's not on set filming the next Falcon Studios blockbuster, fans can usually catch a glimpse of the stunning star at one of his many live appearances around. You can grab your cock and watch Arad work his thick, cut cock in Falcon's latest raw flick, Bareback Ranch. Or maybe you'd rather watch his midday romp in Afternoon Affairs, also from Falcon. Want even more? See him fuck bare ass in the Hot House releases, The Foreman's Son and Rimrock. So what are you waiting for? Hop on the Arad Winwin bandwagon and watch this ripped stud fuck his way to the pinnacle of gay porn!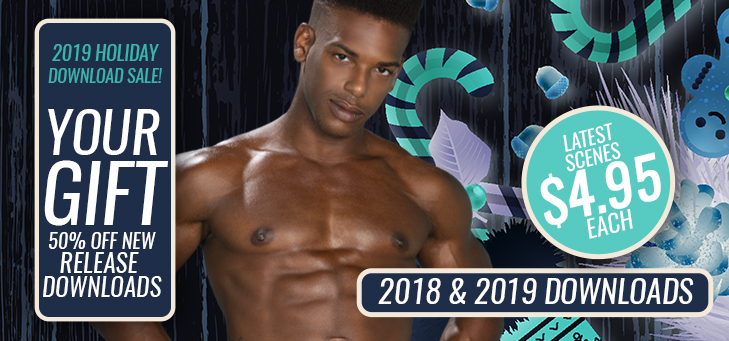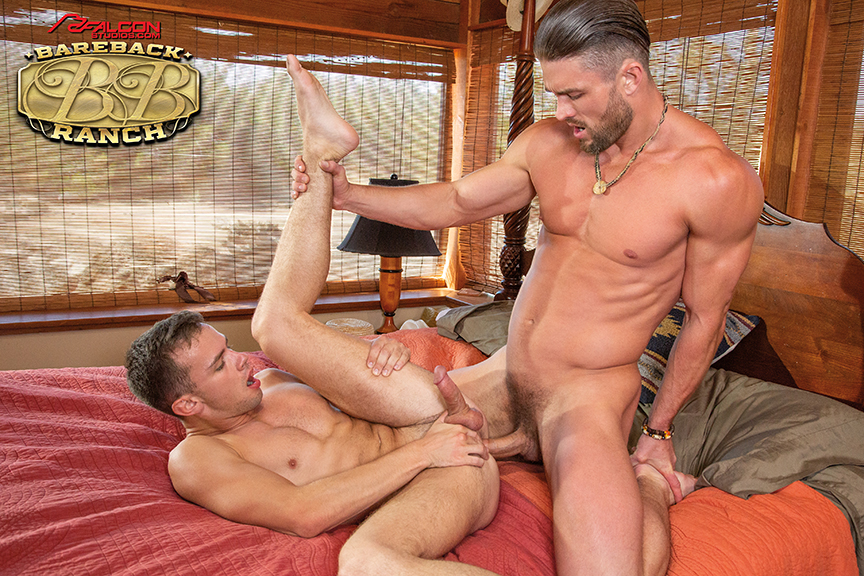 Falcon Presents Bareback Ranch on DVD & Downloads

Falcon Studios Group, the world's leading producer of the hottest gay male porn, announced the release of their final bareback film of 2019, Bareback Ranch. Join award-winning director Tony Dimarco and his cast of bareback cowboys, ranch hands, truckers and hitchhikers alike that his this spot for raw cocks rampaging eager, hungry holes and filling them with jizz under the sizzling badlands sun. Bareback Ranch is now available on DVD and Downloads from the Falcon Studios Group Store.

Click Here to Read the Full Story




Hot Membership Site Updates Available Now!



Falcon Studios Group Models Appearing Live in a City Near You.


January 12: Str8UpGayPorn Awards , Avalon Hollywood, Los Angeles, CA

January 20: GAYVN Awards, The Joint, Las Vegas, NV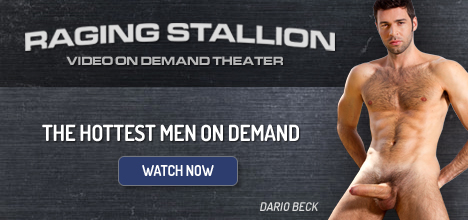 What's Up HUNT Studs?

We can't believe it's already December and time for the holidays! We hope you had a great Thanksgiving with your family and friends and family, no matter how you celebrate! Cum warm up with us with a fresh, scorching issue of HUNTeZine full of free galleries, new releases, debut scenes and awesome savings.
First things first, Falcon Studios streets their final bareback feature of 2019 in our Breaking News item this week. Join award-winning director Tony Dimarco in Bareback Ranch, with his cast of bareback cowboys, ranch hands, truckers and hitchhikers alike that his this spot for raw cocks rampaging eager, hungry holes and filling them with jizz under the sizzling badlands sun.
Star of Bareback Ranch and Falcon Exclusive, Arad Winwin, takes over our Model Spotlight. Catch up with this award-winning, international star and peep his free gallery while you're at it.
Howl at the Blood Moon, with our Free Action Gallery this week, featuring the hottest bareback action shots from Raging Stallion's latest thriller, Blood Moon: Timberwolves 2.
Surprise! The Special Feature this week is here to save the day with a BONUS Free Action Gallery from NakedSword Originals' latest feature, BARE: Hookups and Fuck Downs. Critically acclaimed, award-winning director mr. Pam leads a cast of eight hot and hung stars who cut out the small talk and get right down to fucking raw.
Award season is about to officially begin and Studio News has the scoop. Mega-studios Falcon Studios Group and the NakedSword Network raked in a total 49 nominations at the 2020 GayVN Awards, taking place on January 20, 2020 in Las Vegas. Then, join Exclusive Devin Franco and Brian Adams for a scorching, bareback fuck-sesh in the desert in the debut update from Falcon's latest unsheathed release, Bareback Ranch, on FalconStudios.com.
Get in the holiday spirit with some exclusive deals! Check out our 2019 Holiday New Release Download Deals where you can save half off new release scenes.
Since it's the season of giving, your Free Scene Download this issue stars Connor Maguire and Donnie Dean from Falcon Studios', Bucks County 1 - Into the Wild. All-new scenes similar to that can now be watched in the latest Falcon raw hit, Bareback Ranch.
Cheers,
The HUNT Guys





BONUS Free Action Gallery: BARE: Hookups and Fuck Downs
Welcome to the third installment of NakedSword Originals' bareback franchise, BARE: Hookups and Fuck Downs. Critically acclaimed, award-winning director mr. Pam leads a cast of eight hot and hung stars who cut out the small talk and get right down to fucking raw. Trevor Laster bends Derek Cline over and fucks him in multiple positions, leaving them both with empty balls. Exclusive Ryan Rose takes Draven Navarro hostage in the middle of the desert to brutally fuck him raw and leave him stranded to jerk off before nightfall. Colton Reece and Beaux Banks fuck hard and raw in a sling until Beaux is left covered in cum. Daddy Ricky Larkin calls Dakota Payne over to worship his big dick and quickly goes in for some cock-sucking, ball-slapping, feet-worshipping, hole-fucking action until they're both spent and satisfied. BARE: Hookups and Fuck Downs takes you right into the bareback action, no plot, no script, just intense raw action captured in the moment! Get BARE and get off now.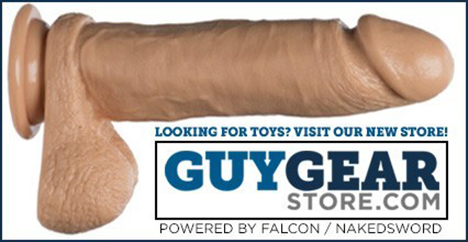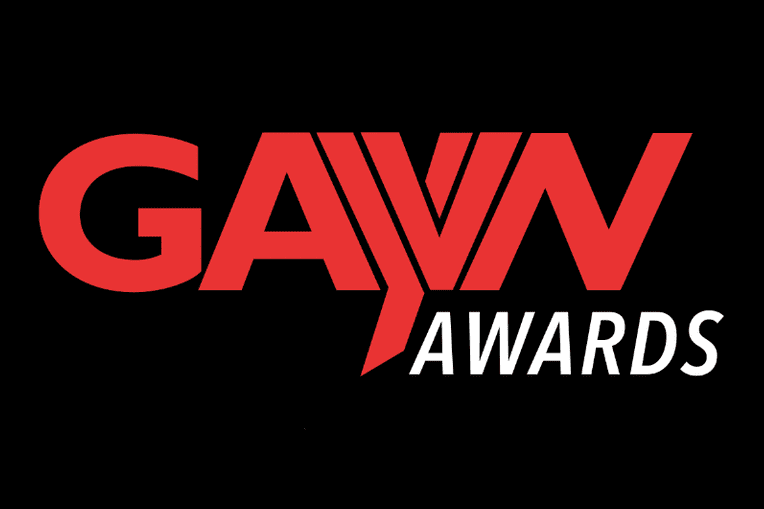 Falcon Studios Group & NakedSword Network Rack Up 48 GayVN Award Nominations - Falcon Studios Group and NakedSword Originals have dominated the nominations for the 2020 GAYVN Awards with an impressive 65 total nominations. The GAYVN Awards, produced by AVN Magazine, salute excellence in gay...
Read Full Story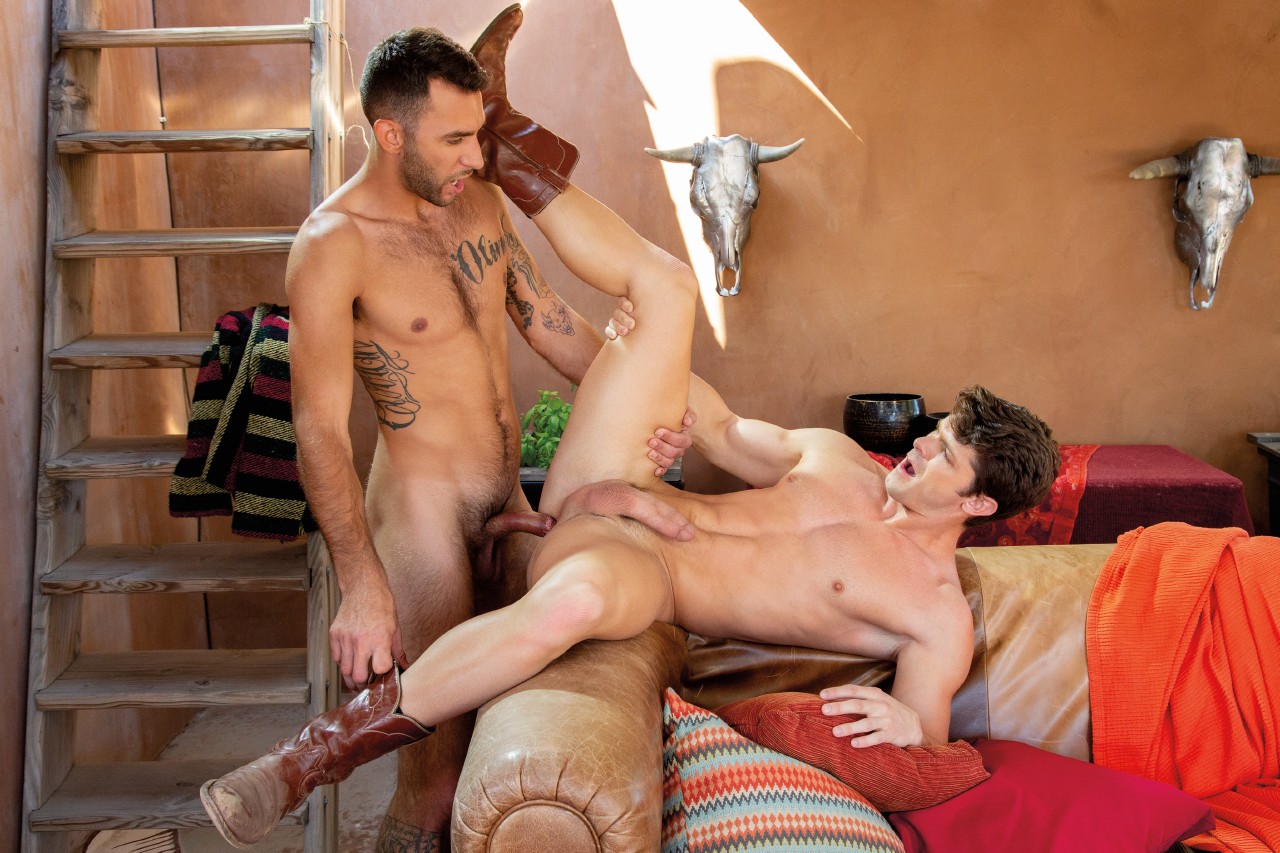 Exclusive Devin Franco & Brian Adams Launch Bareback Ranch with Raw Outdoor Action - FalconStudios.com has announced today, the exclusive world premiere of the debut scene from their latest bareback feature, Bareback Ranch. The debut scene, shot by award-winning director Tony Dimarco, stars award-winning Exclusive Devin Franco and fan...
Read Full Story





Connor Maguire & Donnie Dean from Bucks County 1 - Into The Wild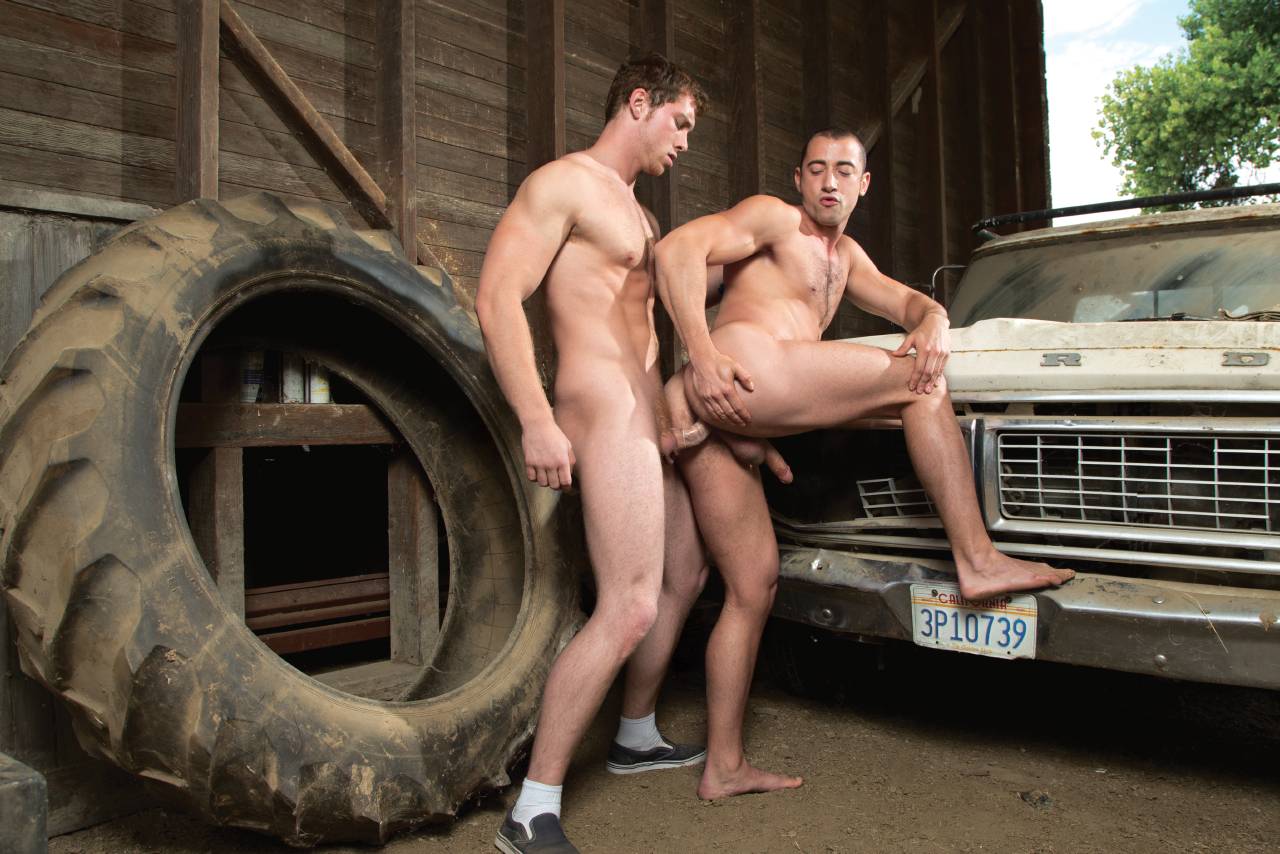 Country boy Connor Maguire is feeling frisky, so he finds a quiet place in the barn to jack off. His body is hard and firm, and he has a sprinkling of reddish hair across his pecs and down his tummy that lead to his super hard cock. There's an old truck in the barn, and sexy Donnie Dean is snoozing in the front seat. He wakes up when he hears Connor and he emerges from his nap ready to suck. Donnie's hard-bodied enthusiasm is infectious. It's a tossup which is hotter -- his mouth or his hole -- and lucky Connor doesn't have to make up his mind because he gets them both. After getting his cock sucked, Connor delivers an expert rim job to Donnie's hairy hole while he's laying back, legs spread on the hood of an old pickup. After its primed and ready Connor goes to down on Donnie's hole with his cock, ramming his ass over the fender of the truck and on a tractor. Pleasured by the intense pounding, Donnie squeezes and jerks his cock jism squirts out, coating the hairs on his chest. Connor's major load quickly follows.