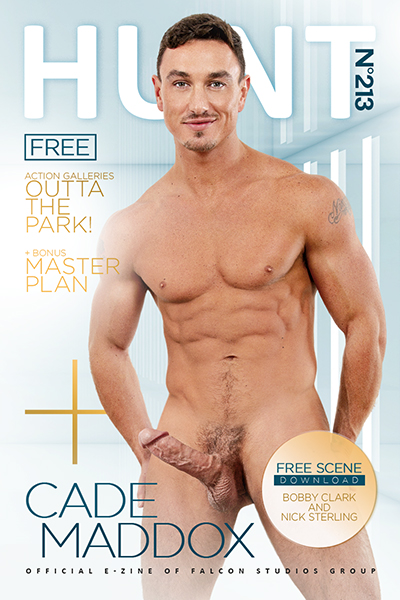 Amazing Content Now Live on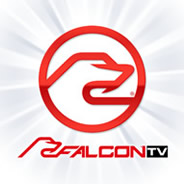 | | |
| --- | --- |
| | Check the listings in your Television Provider's Adult HD OnDemand Menu for: Hot Camper Boys, The OnDemand HD Release of Falcon Studios' feature Pitching Tents starring Seth Santoro, JJ Knight, Jeremy Spreadums & more! |














America's favorite pastime is baseball and the Stallions are the hottest team in the league! With more hard hunks than any other team, these bareback hunks know how to knock it Outta' the Park!. When star players Ricky Larkin and Wade Wolfgar step out of the showers, they find bat boy Sharok cleaning up the locker room. Sharok knows the guys need to blow off steam and offers up his hole for them to use in an epic, switch-hitting three way, until Ricky and Sharok spray jizz all over Wade's tight hairy body. Opposing team mascot, Drake Masters, harasses concession vendor, Jessie Colter. When Jessie tries to get Drake to leave, Jessie finds out that Drake's sausage tastes better than the wieners he sells. Jessie pounds the mascot until he fucks the cum out of Drake and pumps his load deep into Drake's hairy hole. Donnie Argento and Wade Wolfgar are training for the playoffs when Donnie pulls out his dick for Wade to gobble up, and the two take turns sucking cock until Drake drenches Donnie's ass with jizz and takes Donnie's load on his tongue. When Ricky Larkin orders up a 'nice big juicy wiener' from the concession stand, Lucas Leon takes his cue and sucks Ricky's cock before getting his legs in the air so Ricky can fuck the ass in front of him until his cock erupts with cum. Superfan Papi Suave runs into his favorite player, Rooney Marx, at the gym and offers up his ass so Rooney can get balls deep inside the muscle hunk. Rooney fucks the jizz out of Papi and then pumps his load on Papi's hole to fuck back inside. During a Stallions game, Anthoni Hardie slips into the locker room to perv out and sniff the team's dirty, used jocks. Ball players Nigel March and Donnie Argento catch the culprit in the act and offer up the fresh, sweaty jocks for the perverted fan to sniff while they use Anthoni's holes. Nigel pulls a double play and fucks both Donnie and Anthoni until everyone gets their bases loaded. When the players from this league show up at bat, you better be ready because in this game there are no foul balls, no strike-outs, the bases are always loaded, and the hung jocks are all waiting to hit it Outta' the Park!.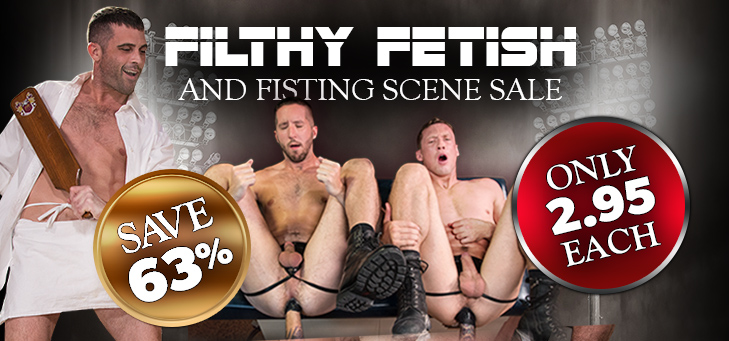 Shredded muscle-stud Cade Maddox is the newest addition to the elite list of Falcon Studios Exclusives. From the beginning, Cade has captivated fans with his stunning good looks, rock-hard physique and his girthy, 8" cock. He draws you in with his piercing blue eyes and keeps hold of you with his explosive and powerful performances, pounding lucky bottoms. We first saw Cade in the Hot House summer pool flick, Swim Meat and the San Francisco Falcon fuck-fest, Max in the City. Since then, Maddox has gone on to star in multiple massive productions across the Falcon Studios Group and NakedSword brands, with several new releases coming your way soon. Fans can watch Cade work his meat in the latest Falcon Studios bareback feature, Casual Connections. We're sure you knew about Cade before, but you're about to get to know him even better! Sit back and keep your cocks locked on this superstar!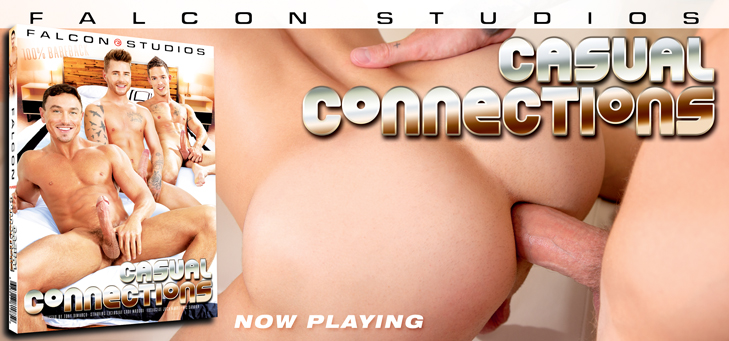 Falcon Studios Streets Latest Bareback Feature Casual Connections

Fetish Force, the Falcon Studios Group brand featuring the best of gay kink and fetish, has released its latest feature, Master Plan. Director Trenton Ducati unveils his Master Plan with eager caged slaves and their pent-up masters just begging for release. The newest Fetish Force feature is now available on DVD & digital download on the Falcon Studios Group Store.  

Click Here to Read the Full Story




Hot Membership Site Updates Available Now!



Falcon Studios Group Models Appearing Live in a City Near You.


There are no upcoming events at this time! Please check back often.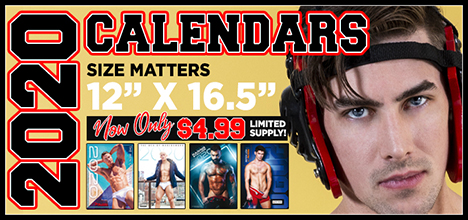 Hey HUNT Ghouls & Gals,

BOO! We've officially made it to spooky season and we're back with another scary good issue packed with frighteningly amazing deals, scream-worthy new releases, hair-raising new scenes and more! Buckle up and don't get too scared!
Warm up with your favorite Falcon studs in Breaking News, with the release of the latest bareback DVD & Downloads, Casual Connections.
If that doesn't heat you up, hopefully the star of Casual Connections, and Falcon Exclusive Cade Maddox, can in our Model Spotlight. All that muscle and stunning good looks are just the whip cream on top of your PSL with his free action gallery you can gawk at.
Baseball playoffs are in full swing, and we're delivering the hottest action shots from Raging Stallion's ballpark bareback flick, Outta The Park!, in our Free Action Gallery. Think you can hit a homerun?
Still not enough? Fetish Force has a Master Plan to show you a BONUS Free Action Gallery in the Special Feature item this issue. Submit to daddy and tame your sex-slaves with these scorching action shots from the film.
Finally, Falcon Exclusives Skyy Knox and Josh Moore fuck raw in the debut update from Casual Connections in Studio News. Watch the debut update on FalconStudios.com now, and after you've busted a nut, join Skyy and Josh for a live ASK ME ANYTHING session on October 11.
Ready for some scary-good savings this week? Bend over and take it deep with our Filthy Fetish and Fisting Scene Sale with each extreme scene only $2.95. Or, get more bang for your buck with our Compilation DVD Clearance featuring the best compilations to date for only $6.97 each.
Grab your best jack off bud and watch our Free Scene Download this week, featuring a hot scene with Nick Sterling and Bobby Clark from Falcon's, Best Buddies. Similar scenes are now featured on the all-new bareback feature from Falcon, Casual Connections.
Stay Warm,
The HUNT Guys





BONUS Free Action Gallery: Master Plan
Director Trenton Ducati unveils his Master Plan with eager caged slaves and their pent-up masters just begging for release. Join five hard and horny hunks on this journey of lessons, loyalty, and lust. Master Michael Roman lets Mason Lear out of his cage so that he can prove his worth. After licking Michael's boots, Mason gets restrained before Michael fucks Mason's face and pounds his open asshole until he finishes with a creamy load in Mason's gagging mouth. Then, Michael commands Mason to fuck his open hole like a good little slave, following every command from his master as he slides a massive dildo up his master's ass before fucking Michael one last time until Mason blows his load on Michael's spent cock and balls. Jessie Colter lets slaves Casey Everett and Kory Houston out of their cage to teach them lessons on flogging, face fucking, rimming and fucking that leave Kory's balls drained all over Casey's tight ass. Jessie puts his slaves and their lessons to good use when Kory gets his mouth stuffed with Jessie's thick dick as Casey looks on riding a giant dildo. With a dick in each hole, Casey slathers his jockstrap with cum before getting Kory's load on his cock and Jessie's jizz in his mouth. Whether you're a slave or a master, you'll be getting off to the Master Plan.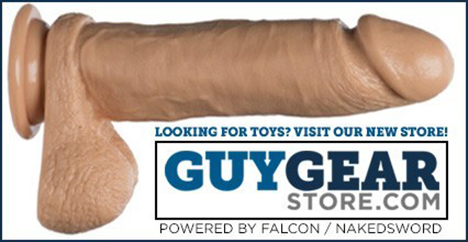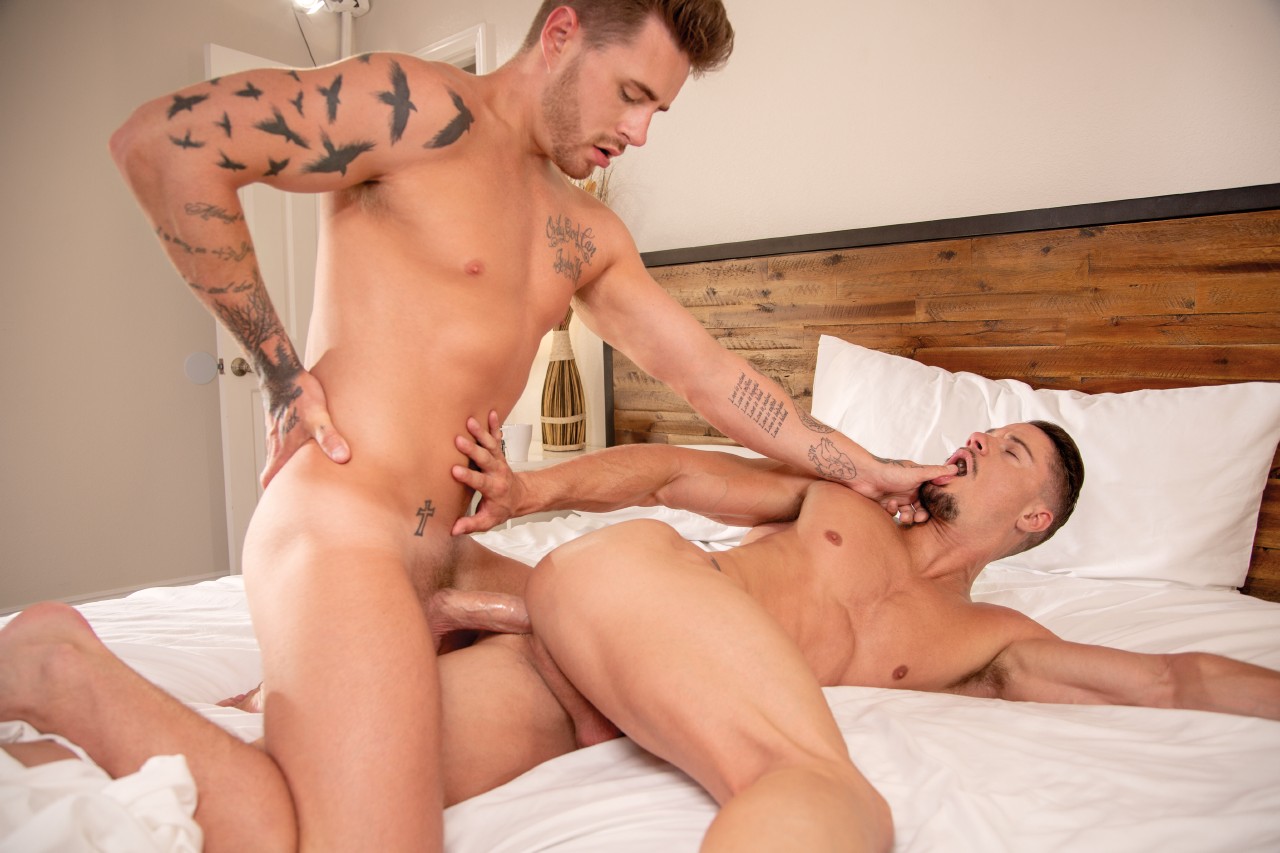 Exclusives Josh Moore & Skyy Knox Explore Their Casual Connections - FalconStudios.com has announced today, the exclusive world premiere of the debut scene from their latest bareback feature, Casual Connections. The debut scene, shot by award-winning director Tony Dimarco, stars Exclusives Skyy Knox and latest edition, Josh Moore. The first scene from...
Read Full Story

Skyy & Josh Deliver 1st Falcon Studios Ask Me Anything Forum 10/11 - To celebrate the debut scene and their first time working together, Josh and Skyy will participate in the first ever ASK ME ANYTHING Forum on FalconStudios.com onOctober 11, 2019. Falcon Fans are encouraged to join and log in to FalconStudios.com, click on the Forum...
Read Full Story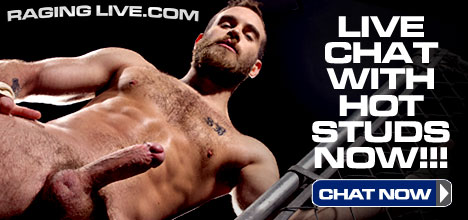 Bobby Clark & Nick Sterling from Best Buddies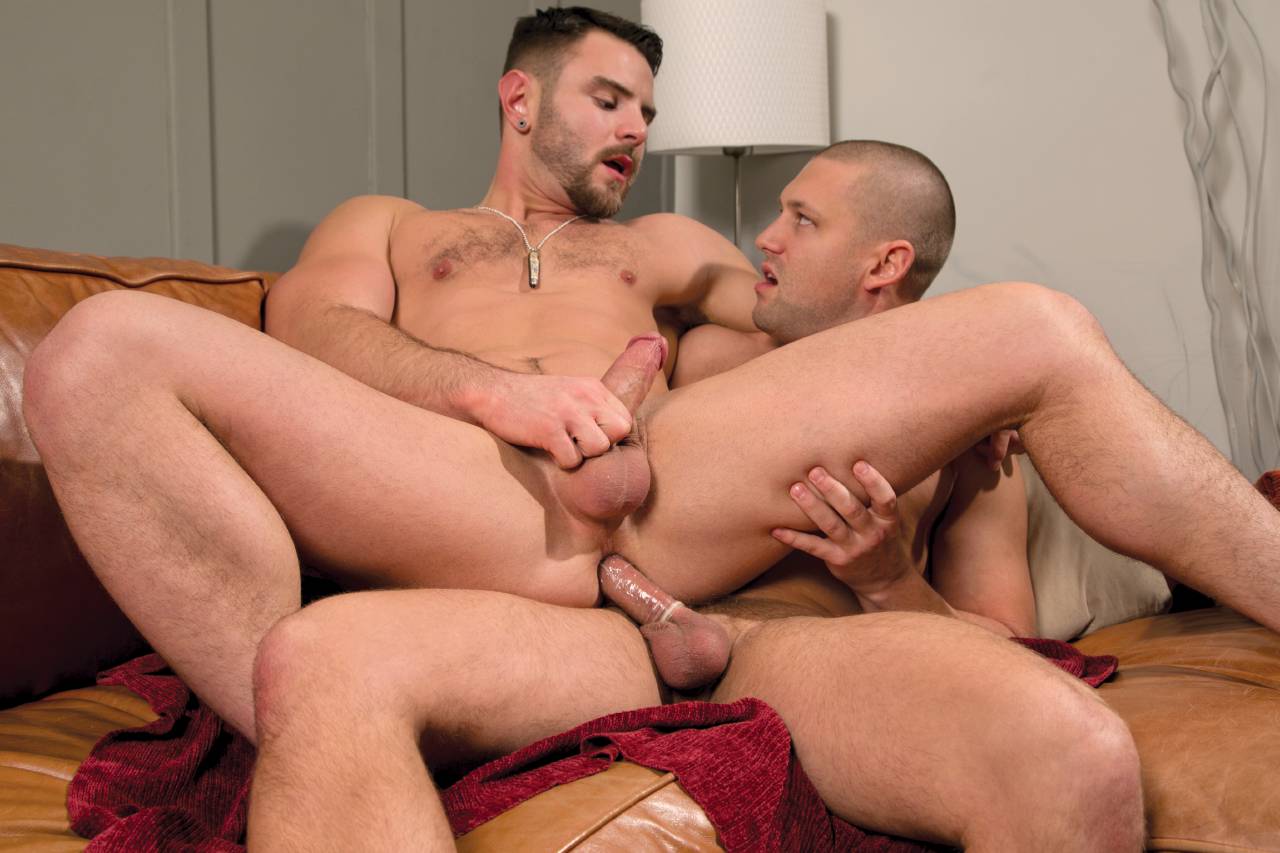 Feeling horny, Bobby Clark wonders if his favorite grocery delivery boy is on duty. He's in luck. Nick Sterling is the driver and Bobby places an order " for groceries, but really for Nick. Nick's got a clipped beard, broad chest, muscular legs and some light fur. When Bobby gropes him, Nick says he has "no time today," but Bobby promises a quickie. Blow jobs are the first order of business. Nick kneels and Bobby grabs his ears and feeds him cock, but not before sucking Nick first. Nick makes direct eye contact while giving Bobby's cock and balls a work-over. Bobby gets weak in the knees, so he squats and eat Nick's ass. Bobby's tongue flickers at a dizzying speed that elicits mooing moans from Nick. Nick's flawless, creamy buns are the ultimate object of Bobby's attention. He loosens Nick up with a few slow strokes, then picks up the pace and shortens the thrusts. Flipping to a sit-fuck, Nick slams his hole hard onto Bobby's shaft, fine-tuning the angle and pressure to trigger a huge cum shot that flies across the room. Bobby saves his load for Nick's furry chest.




You have received this email because you requested email updates from Falcon Studios Group be sent to: %%EMAIL_ADDRESS%%
This is an advertisement. %%PLUGIN_Unsubscribe: 183936-Unsubscribe%%
Please add reply@huntezine.com to your address book or safe senders list to ensure that these emails arrive in your inbox.
© 2018 Silver State Services, LLC. All Rights Reserved. HUNT eZine, 2176 Shattuck Ave, Berkeley, CA 94704

Records required to be maintained pursuant to 18 U.S.C. 2257 and
C.F.R. 75 are kept in the following location by the Custodian of Records:
Custodian of Records
2716 Shattuck Ave,
Berkeley, CA 94704