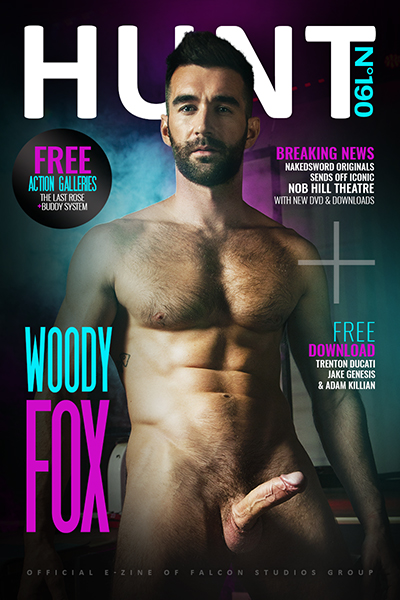 Amazing Content Now Live on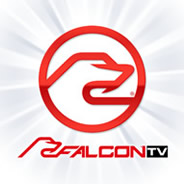 | | |
| --- | --- |
| | Check the listings in your Television Provider's Adult HD OnDemand Menu for: Night at the Entourage 'The OnDemand HD Release of Falcon Studios' A Night at the Entourage starring Skyy Knox, Brent Corrigan, JJ Knight & more! |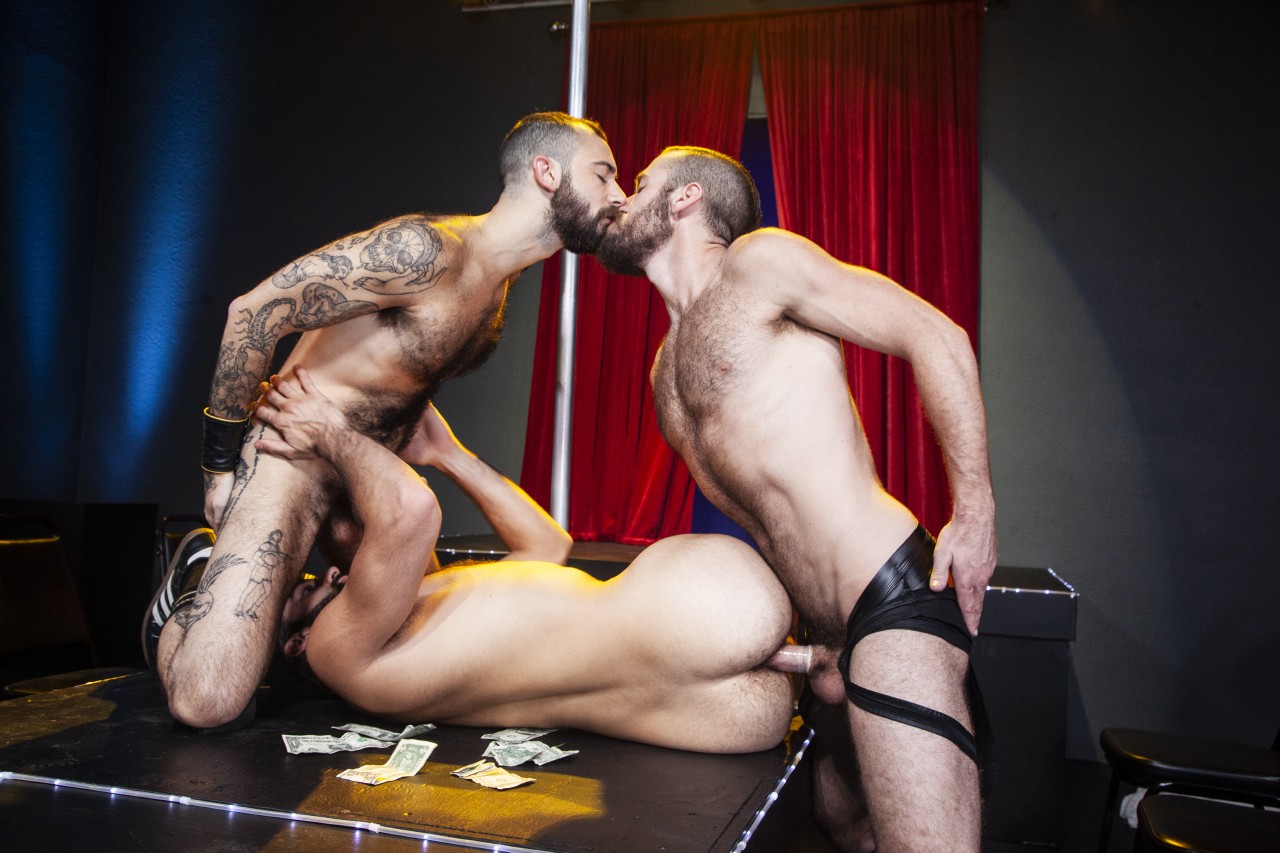 Raging Stallion and award-winning director Steve Cruz present Otter Erotic, a tale that follows the sexy, hairy customers and performers of a popular sex club where anything goes. Sit back, grab your cock, and enjoy the show where you might just end up as more than a voyeur when the action jumps out of the show and reels you in. Tegan Zayne slips into a peepshow and gets more than just an eyeful after feeding Drake Masters enough coins through the slot. Tegan steps through the window of the peepshow and bends over to take Drake's thick cock deep in his hairy hole and a load on his bushy beard. Nigel March is manning the front desk when customer Teddy Bear approaches him. Nigel likes what he sees and offers up his thick cock for Teddy to suck. Teddy takes a taste before bending over and getting his hairy hole plowed deep and lathered with cum. When James Steven is late to Drake Masters' show on main stage, Drake doesn't mind sticking around for a taste of what James has to offer. The two hung studs take turns sucking each other's cocks until both their beards and faces are covered in jizz. James gets back to work in the coat check room when Deviant Otter enters and offers up his talented mouth. Deviant gets James hard and bends over to get his hairy asshole filled with James' big cock. Deviant Otter gets plugged until both hairy studs end up with a face full of cum. Tegan is back watching Stephen Harte and Ziggy Banks put on a live sex show. When Tegan flashes his wad of cash, the studs bring him into the mix, so Tegan can fuck Stephen's tight hole, while Ziggy takes his place behind Tegan to open up his furry crack. In the end, Tegan is covered head-to-ass with their creamy white loads. Stop in and join this tantalizing show bulging with hairy, fit, and hung studs as they introduce you the Otter Erotic way of hot and sweaty sex.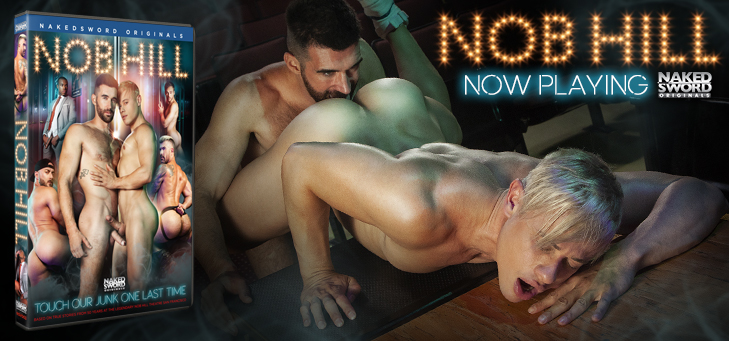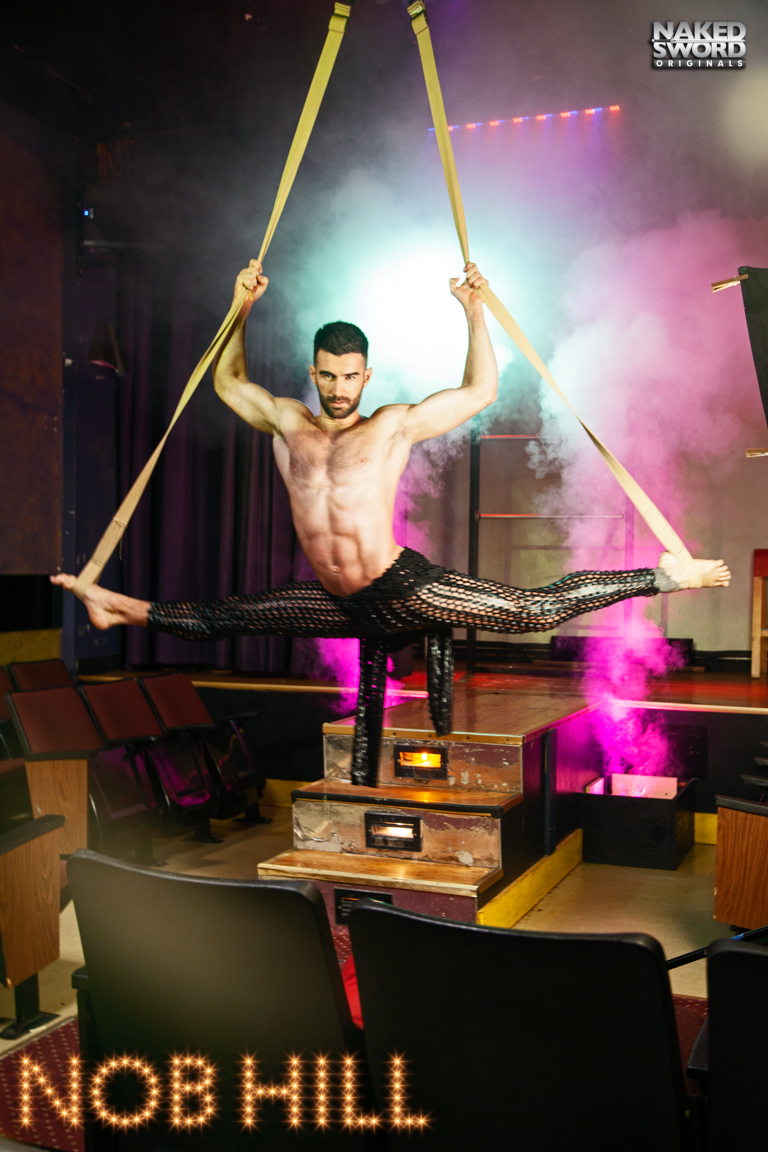 Falcon Studios Group Exclusive Woody Fox is one of the most infamous members of our elite list of Exclusives. Even from his early days, Woody has continuously kept fans engaged in his powerful performances with his massive uncut Aussie-cock, lickable hole, and ultra-charming personality. Oh, and that extremely charming accent from Down Under. Woody's talents go beyond being great at sucking cock and pounding ass. He's also a successful traveling acrobat. Haven't had a chance to catch Woody on screen or flying high above the crowd yet? No worries! You can watch him fuck hard in his most recent release, Nob Hill, from NakedSword Originals, shot at the iconic, and now shuttered, Nob Hill Theatre in San Francisco. You can also see him top eager bottoms in the Falcon Studios releases Buddy System, Work It Up & the hit of the Summer, Zack & Jack Make a Porno! There's plenty more of Woody Fox to come, so keep an eye out for his upcoming releases from Falcon Studios and Raging Stallion, releasing later this year and in early 2019.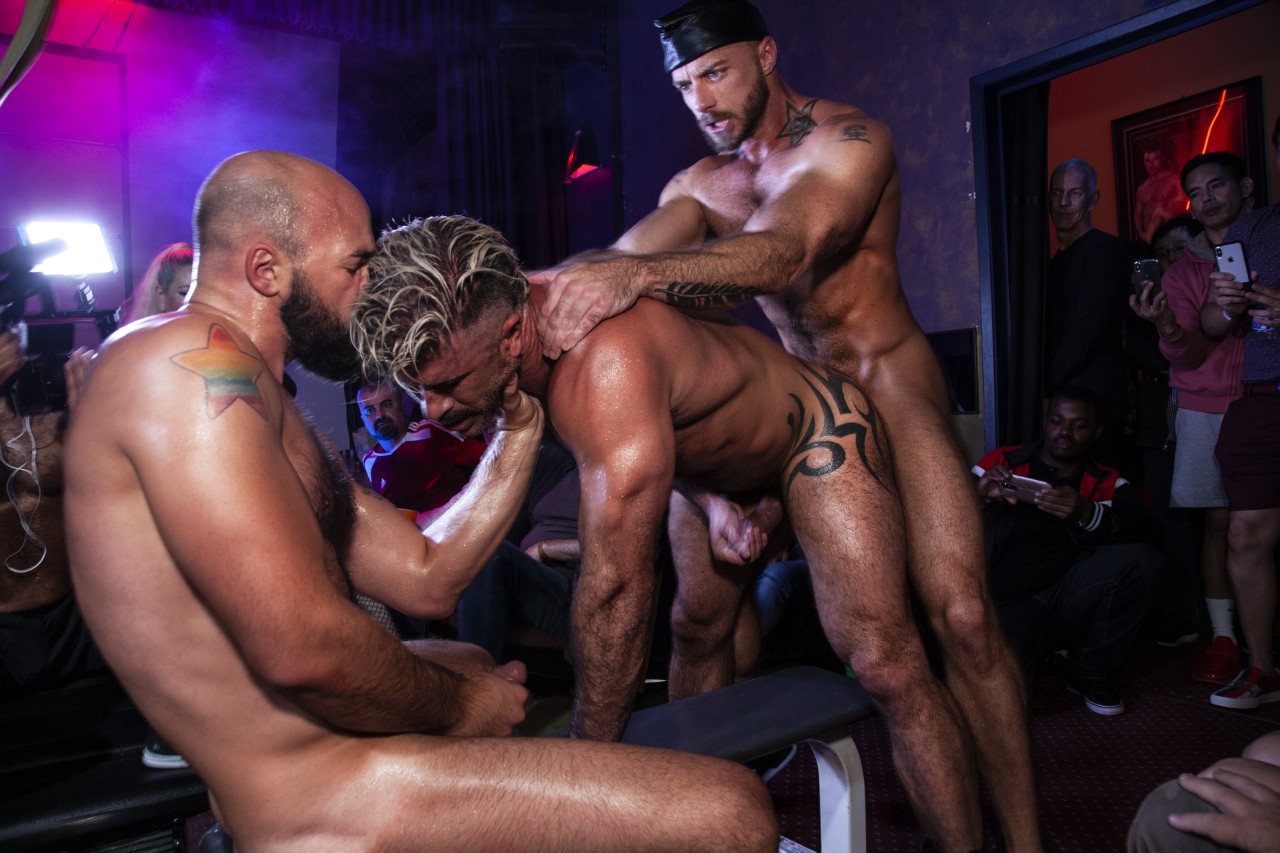 NakedSword Originals Sends Off Iconic Nob Hill Theatre with New DVD & Downloads
NakedSword Originals is happy to announce the release of their newest movie Nob Hill, now available on DVD wholesale and retail worldwide. The DVD and digital downloads are also available on the Falcon Studio Group and NakedSword Stores. Nob Hill was directed by award-winning gay porn director mr. Pam, and filmed in the infamous Nob Hill Theatre in San Francisco. 
Click Here to Read the Full Story




Hot Membership Site Updates Available Now!



Falcon Studios Group Models Appearing Live in a City Near You.
December 21: Skyy Knox at The Saloon, Minneapolis, MN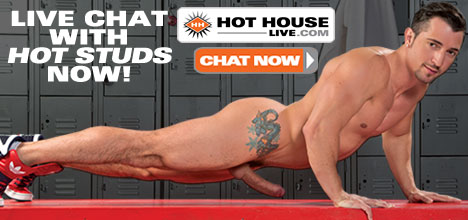 Hey HUNTer's,

Halloween is over and we're moving swiftly into the season of giving and being thankful! Boy do we have a lot to give this issue. You'll be thankful for new releases, debut updates, 2019 calendar info and more! As the days are shorter and the nights are colder, snuggle up with us to this scorching issue of HUNT eZine.
First up, NakedSword Originals and director mr. Pam send off the iconic Nob Hill Theatre with their all-new DVD & Downloads, Nob Hill. The movie was shot on location at the legendary theatre on its closing weekend. Nob Hill is now available on the Falcon Studios Group Store.
Watch Falcon Studios Exclusive Woody Fox fly high in Nob Hill, then read all about this stud from Down Under in our Model Spotlight. From the circus to the porn set, see what makes Woody Fox such hot commodity.
Hairy, rugged, all-natural men take over our Free Action Gallery, with only the hottest action pics from Raging Stallion's latest release, Otter Erotic.
Since it's the season of giving, our Special Feature showcases a BONUS Free Action Gallery from Falcon Studios' most recent release, Buddy System. Talk about generous!
First up in Studio News comes the release of Club Inferno's all-new DVD & downloads, Fisting Theater. 2019 is right around the corner! Get your 2019 calendars from Falcon Studios, Raging Stallion, Hot House and NakedSword Originals while supplies last. Exclusive Woody Fox and Danny Montero debut the first scene from the upcoming end-of-summer feature A Taste of Brazil on FalconStudios.com
Save up to 60% with our Fisting & Fetish Download Deals this week. All of the raunchy scenes you can handle for $3.25 each. You can also score major deals in our Partner Brand DVD Savings with select movies starting at only $9.97 each.
The Free Scene Download this week from is bursting at the seams with a scorching threeway from Grindhouse. Fuck-fests scenes just like it can now be watched on the all-new NakedSword Originals release, Nob Hill.
Have Fun,
The HUNT Men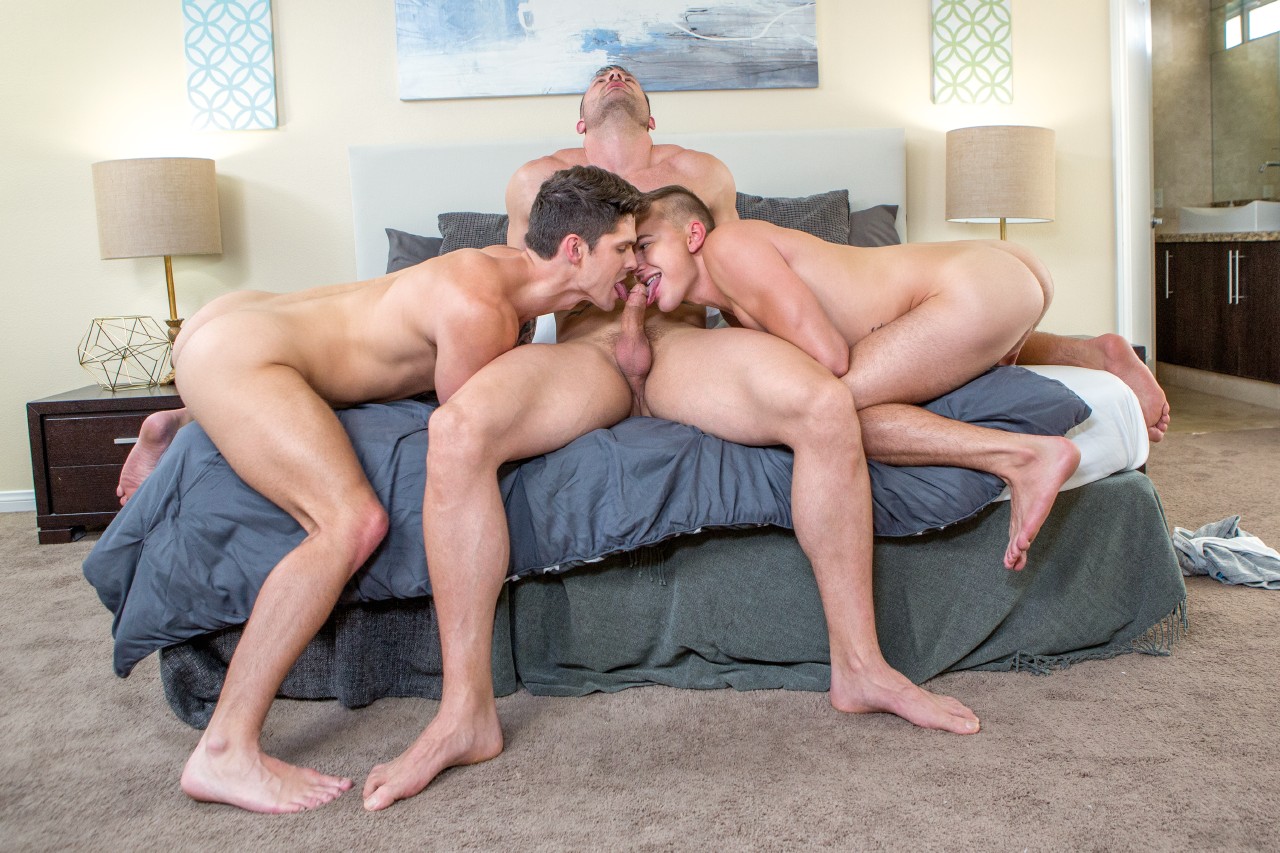 BONUS: Free Action Gallery: Buddy System
What else are friends for except to make sure you release all of your pent up sexual tension? When it comes down to getting what these hunks want, the Buddy System is the only way to get off! Award-winning director, mr. Pam, brings you nine horny studs that love getting their dicks serviced and their asses filled. When Woody Fox gets a new job reviewing sex toys, he calls his buddy, Max Adonis, to help him try them out. Woody plunges Max's tight hole with a big stainless steel dildo before pumping him full of the real thing. Austin Wolf is getting serviced by Zander Lane when he discovers Devin Franco watching while sniffing his used jockstrap. Austin invites Devin to join in on the fun and fucks the cum out of both Devin and Zander before the guys open wide to share Austin's massive load in their eager mouths. Casey Jacks is a massage therapist who is seeing a new client, Alexander Muller. When Alexander's towel hits the floor, Casey can't resist and soon he's bent over the table getting a rough reaming from Alexander's extra-large cock. Nikko Russo and Devin Franco lock eyes in the gym and soon ditch their workouts for something more fun. Devin's mouth finds Nikko's big uncut cock and they take turns working each other's throbbing meat. The two studs blast their loads, covering each other's faces with warm loads. Skyy Knox offers to take some photos for Nikko Russo to use on the dating apps, but when Skyy sees Nikko's massive dick, that plan goes out the window. Skyy bends over to let Nikko pile drive him until Skyy gets the cum pounded out of him and Nikko finishes off on Skyy's tongue. The next time you need to get off, look no further than a new or old buddy for a warm mouth or an open ass.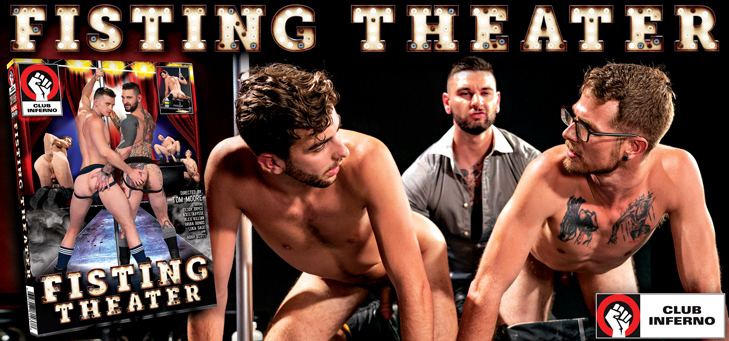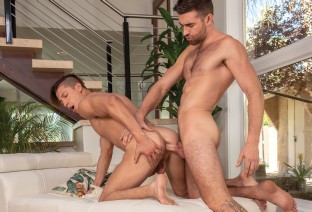 Woody Fox & Danny Montero Debut A Taste of Brazil on FalconStudios.com - FalconStudios.com has announced the exclusive world premiere of the debut scene from their latest release, A Taste of Brazil. The first scene from the upcoming release features Falcon Exclusive Woody Fox and fan favorite Danny Montero.
Read Full Story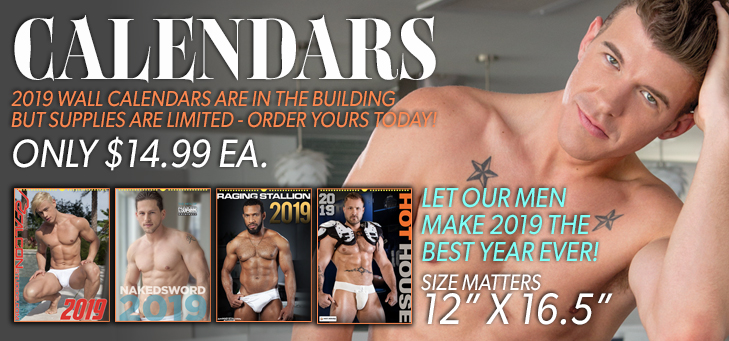 2019 Calendars Now Available - Limited Quantities - 2019 is right around the corner! Falcon Studios Group & The NakedSword Network have your 2019 calendars in stock for 2019! Drool over hunks like Alam Wernik, Jay Landford, Austin Wolf and more while supplies last!
Read Full Story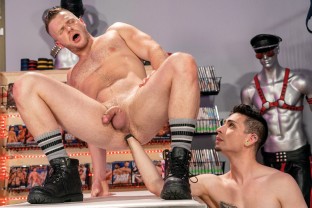 Cracks Get Stretched at the Fisting Theater Now on DVD & Downloads - Welcome to the Fisting Theater! Where hungry asses go to get wrecked on stage, and horny guys pay to watch, and join the show. If a hole ain't wrecked, it wont be too long until it is in this theater. Teddy Bryce is auditioning eager new holes...
Read Full Story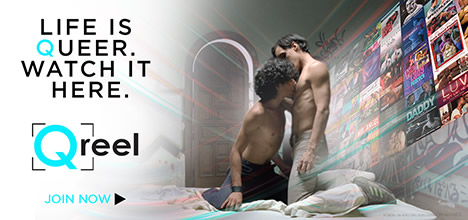 Trenton Ducati, Jake Genesis & Adam Killian from Grindhouse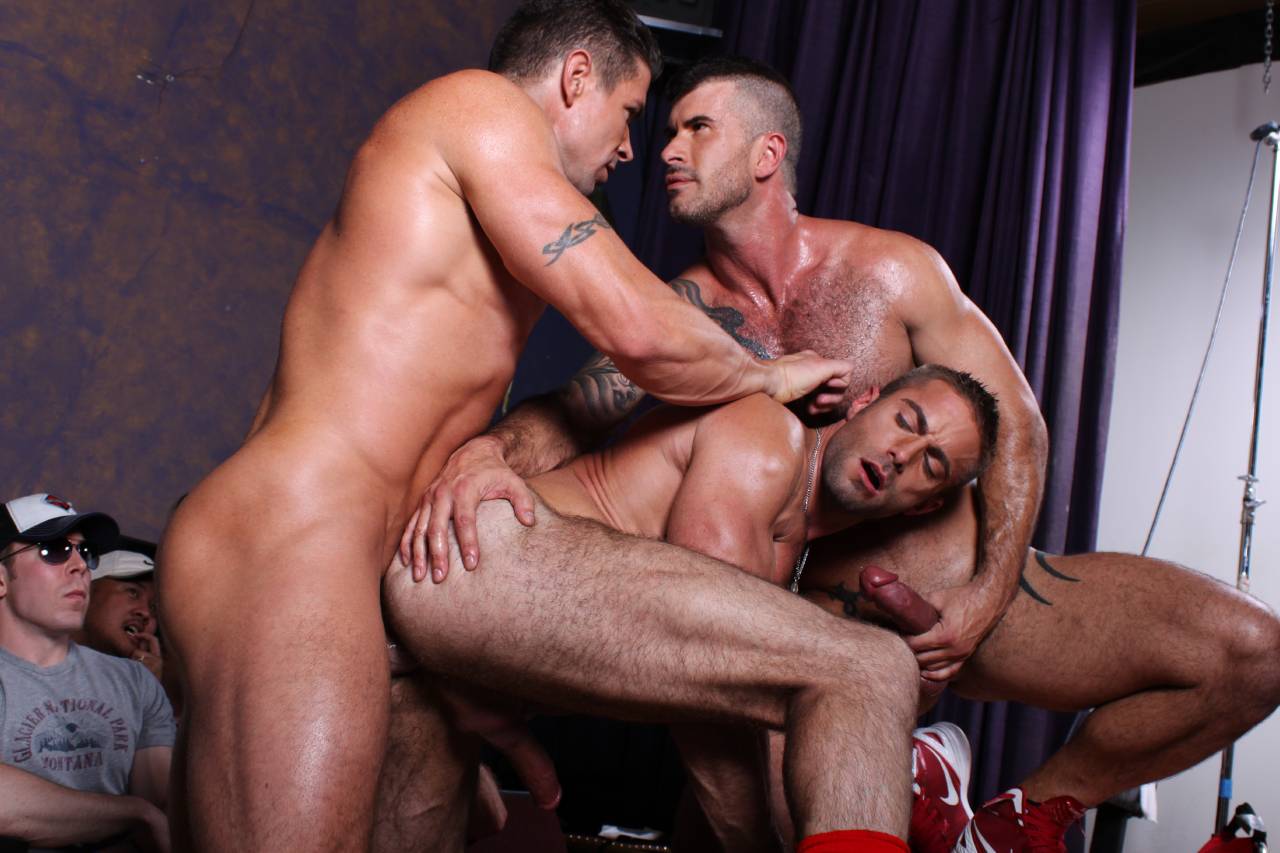 To make your dreams come true, sometimes you've got to sell a little ass. Trenton Ducati's got one last chance to save his club... and his name is Jake Genesis. In the riveting finale of Grindhouse, Trenton is counting on the hung headliner to bring in the crowds - and the cash to keep the sex business going. Sure enough, as Jake begins to make his moves, the fans pour in. But it's Adam Killian - partying hard and horned up - who rushes the stage, aching for a duet that's not on the bill. Trenton freaks, but as Adam starts sucking off Jake, the fans go wild - and Trenton is wise enough to join in. It's an explosive, epic threesome filmed in front of a live audience at San Francisco's legendary Nob Hill Theater. A torrent of cash, sweat, flesh and cum rain down on the boys in what might be the sex scene of the year" and the type of happy ending that you'll only get at Grindhouse.




You have received this email because you requested email updates from Falcon Studios Group be sent to: %%EMAIL_ADDRESS%%
This is an advertisement. %%PLUGIN_Unsubscribe: 183936-Unsubscribe%%
Please add reply@huntezine.com to your address book or safe senders list to ensure that these emails arrive in your inbox.
© 2018 Silver State Services, LLC. All Rights Reserved. HUNT eZine, 2176 Shattuck Ave, Berkeley, CA 94704

Records required to be maintained pursuant to 18 U.S.C. 2257 and
C.F.R. 75 are kept in the following location by the Custodian of Records:
Custodian of Records
2716 Shattuck Ave,
Berkeley, CA 94704