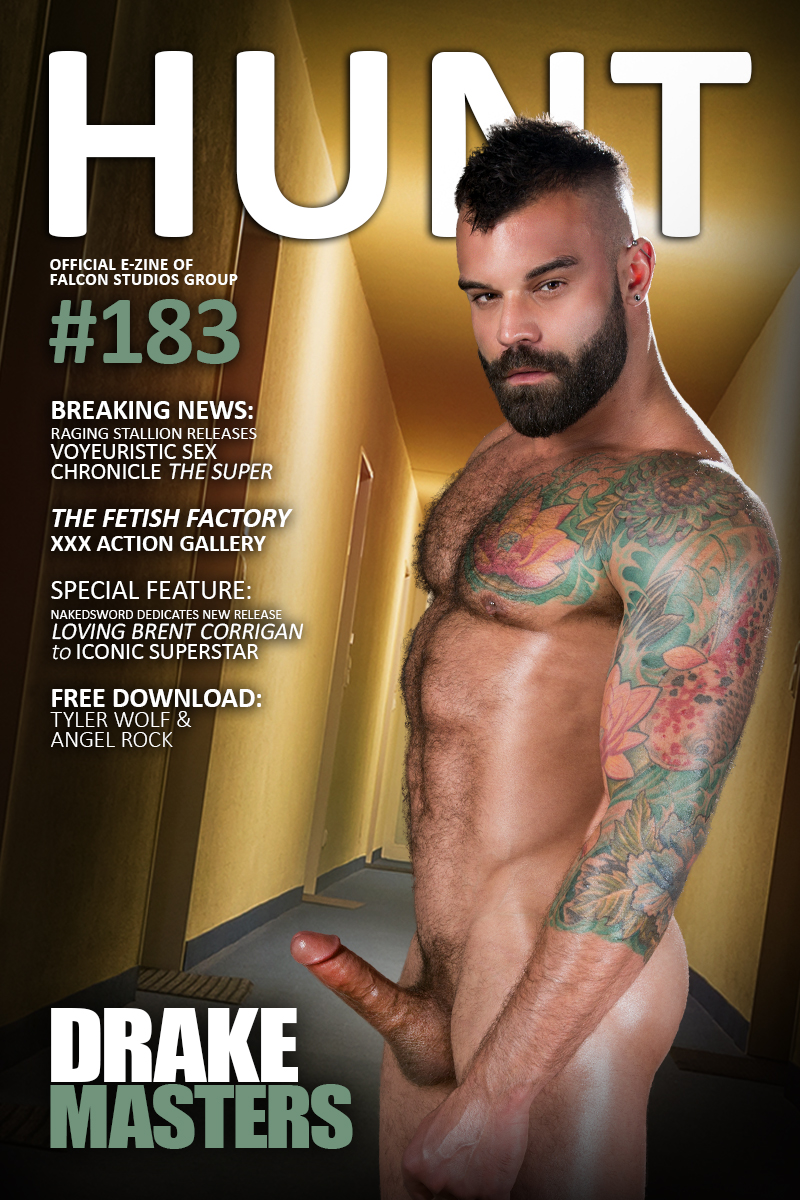 Amazing Content Now Live on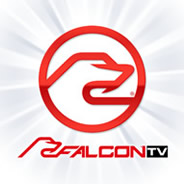 | | |
| --- | --- |
| | Check the listings in your Television Provider's Adult HD OnDemand Menu for: Hot 20 Year Old Twunks Butt Sex - The OnDemand HD Release of Falcon Studios' Intensity Part 1 starring Landon Conrad, Connor Maguire, Andrew Stark & more! |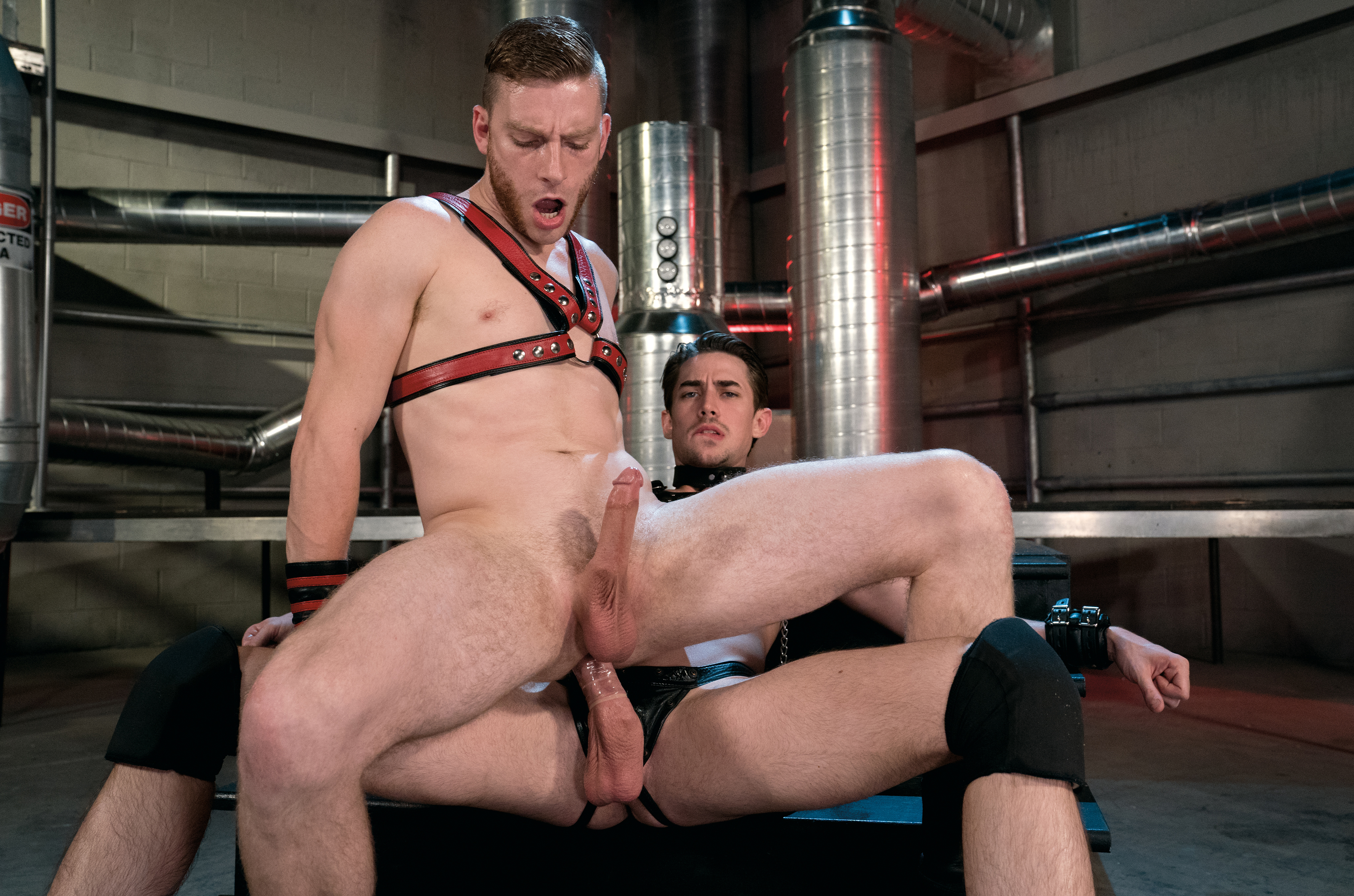 Welcome to The Fetish Factory, where dominant studs work the sloppy holes of their submissive slaves and everyone cums hard. Grab a flog, strap on your leather jock, and let fetish master Tom Moore take you on an unforgettable journey with four hung studs who want to get you off. After Mason Lear and Mike Panic take turns sucking thick cock and eating ass, Mason ties Mike up and suspends him from the ceiling. Mason teases Mike's dangling body before he lowers him down to fuck his hole and spews a giant load on his face. Now it's Mason's turn to submit and he bends over to let Mike flog and spank his hairy ass until he can't take it any longer. The sight of Mason in such pleasure gives Mike a hard-on that needs immediate attention. He slams his cock into the panting stud's asshole and pounds away until he blasts a load that Mason laps up with his tongue. Sir Sebastian Keys flogs his slave, Jack Hunter, before shoving a riding crop in his mouth and tightening his leash. With only spit for lube, Sebastian slams his cock deep into Jack's backside and plunges away until Sebastian covers Jack's massive balls with jizz. Sebastian restrains Jack and works his cock with his mouth and hands. He teases the hung stud with a flogging before he hops on to ride his slave's monster cock. Finally, with Sebastian's balls in his mouth, Jack is able to pound one out and cover the floor with cum. Whether you're a slave or a master, you're bound and required to get off to the hung studs who inhabit The Fetish Factory.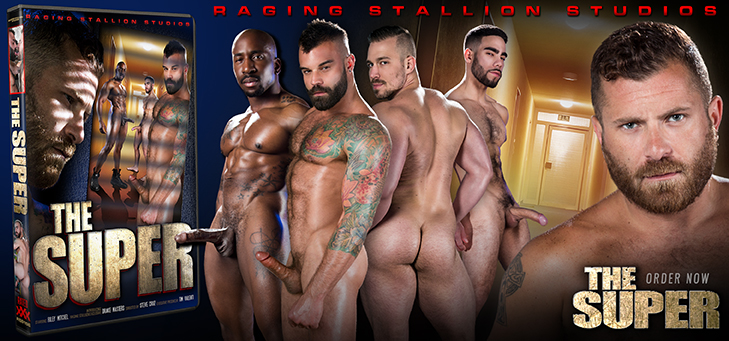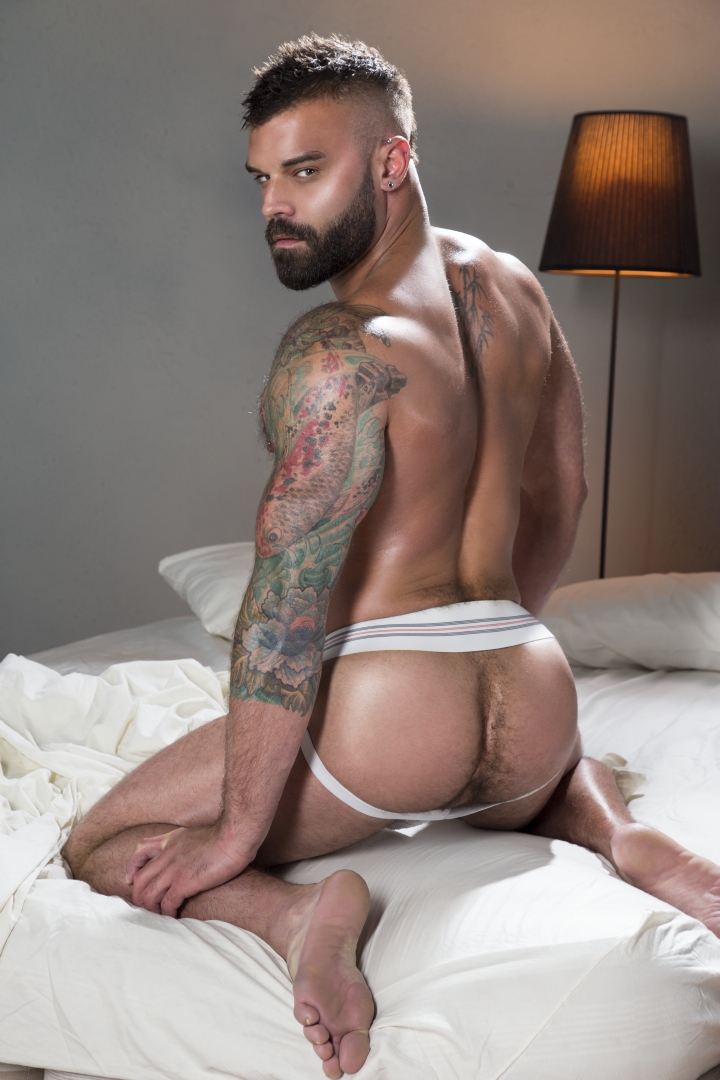 The latest hunk to be added to the high-caliber list of top notch exclusives for Raging Stallion is the one and only Drake Masters. Riddled with muscle, tattoos, good looks and an abundance of all-natural masculinity, it was a no-brainer when deciding to sign Drake up to represent Falcon Studios Group brands. His first project was filmed by award-winning director Steve Cruz. It's called The Super, and it's out now, so fans can watch him pound a relentless hole with his 8" cut cock in the all-new feature. Keep an eye on this versatile powerhouse, and make sure to catch his upcoming Raging Stallion movies that are currently in production!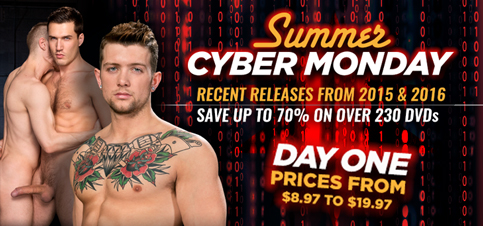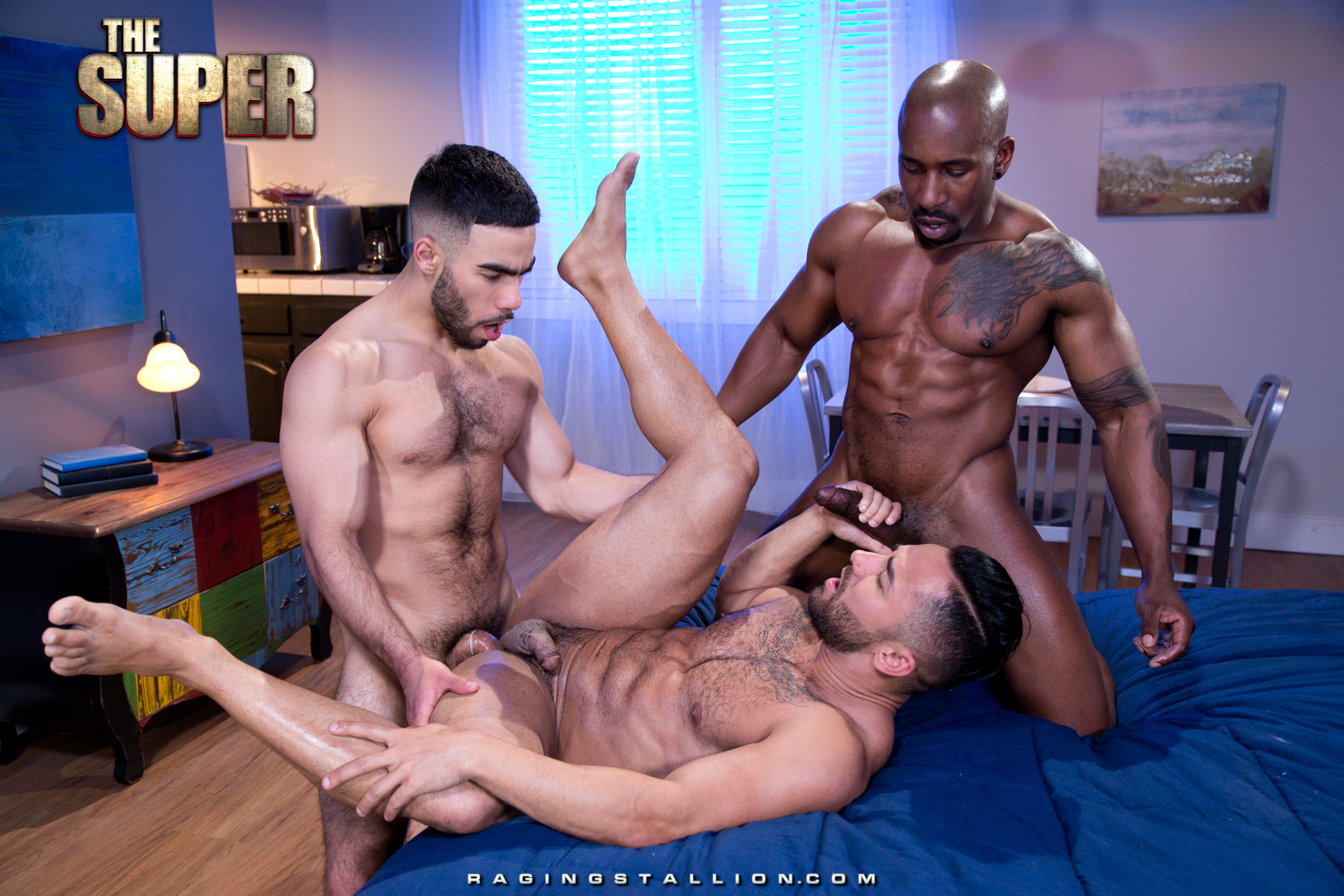 Raging Stallion Releases Voyeuristic Sex Chronicle The Super
Raging Stallion, the Falcon Studios Group site featuring rugged and natural men, has released their latest feature, The Super. Beefed-up hunk Riley Mitchel is the superintendent of a luxury residential property. Award-winning director Steve Cruz takes viewers into the mind of a pervy building super as he films horny and vulnerable men during their most private moments. Will Riley get caught, and what will happen to him if he does? The Super is now available on DVD and digital download on the Falcon Studios Group Store.






Hot Membership Site Updates Available Now!



Falcon Studios Group Models Appearing Live in a City Near You.
August 13-14: Trenton Ducati & More at The Brass Key, Provincetown, MA
August 11: Johnny V at Aragon Ballroom, Chicago, IL
August 25 -26: Johnny V & Skyy Knox at Flex Spas, Phoenix, AZ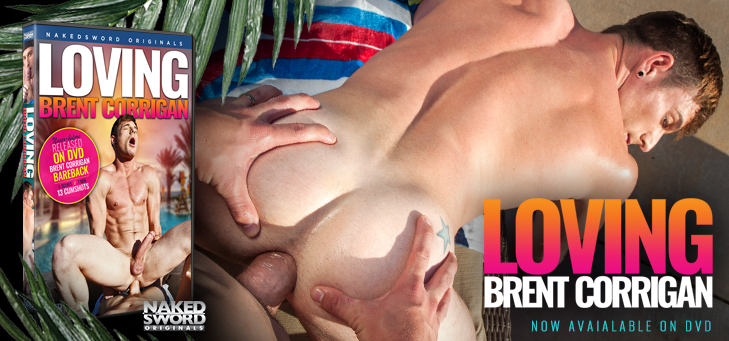 Hey HUNTers,

The days have been pretty hot but things have never been hotter at the HUNT eZIne HQ, and we're here to deliver another jam-packed issue of new releases, debut updates, iconic compilations and more! Careful! Don't get burned because this issue is sizzling!

Raging Stallion and director Steve Cruz deliver more scorching porn in Breaking News with the release of the voyeuristic flick, The Super. Cruz takes fans thru the eyes of an invasive superintendent filled with throbbing cocks and sore holes.

Raging Stallion Exclusive and star of The Super Drake Masters makes his first appearance in the brand's videos as well in our Model Spotlight. Find out what excites us so much about this tatted powerhouse and join his ever-growing fan base.

Do chains and whips excite you? If so, you better get down to our Free Action Gallery where the hottest action shots from the kinky feature, The Fetish Factory, are on display. Ride the wild ride of bondage, pleasure in the latest from director Tom Moore.

NakedSword Originals dedicated their latest compilation Loving Brent Corrigan, to the iconic superstar whose career spans over a dozen years in our Special Feature. The movie will boast never-before-on-DVD scenes from Corrigan including a POV bareback performance.

Creepy Superintendent Riley Mitchel spies on hairy hunks Brian Bonds and Teddy bear in the debut update from, The Super, in Studio News. Plus, check out the article on the insane savings we're offering with Black Friday in July and Summer Cyberweek Savings.

If you want to skip the explanation of what's on sale, you can go directly to the store and select from 14 different offers with DVDs as low as $7.97 and Downloads as low as $1.95.

Of course we would never forget your Free Scene Download. This week, enjoy a scorching scene from Hole 1, featuring ripped hunks Tyler Wolf and Angel Rock. Similar scenes can now be found on the all-new Raging Stallion feature, The Super.

We Hope You Enjoy,
The HUNT Men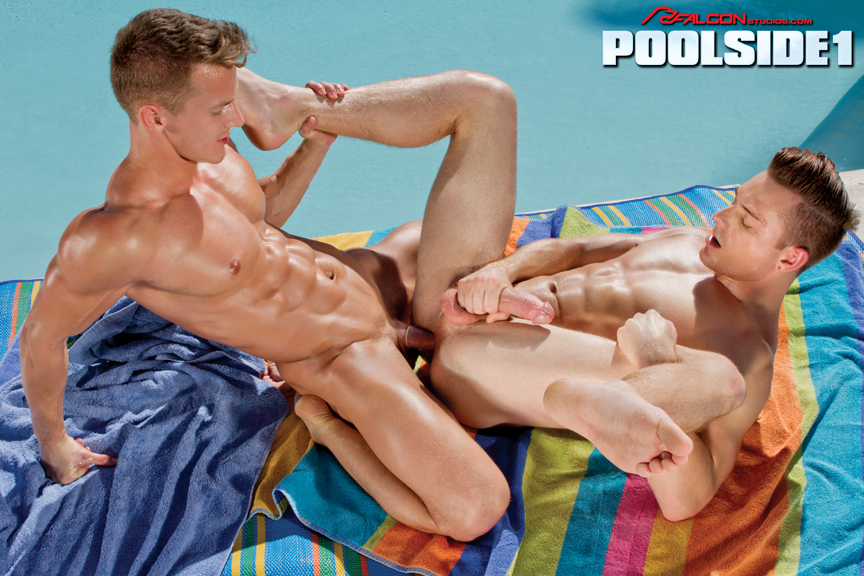 NakedSword Dedicates New Release Loving Brent Corrigan to Iconic Superstar
Brent Corrigan has it all. He's handsome, charming, sexy, magnetic, and a great actor. His smoking-hot performances in movie after movie have earned him legions of fans around the globe, many of whom are equally as interested in his intriguing personal life. There is no denying that Brent Corrigan is one of the biggest stars in the history of all-male adult entertainment. That's why we are proud to present LOVING BRENT CORRIGAN, the ultimate collection of the superstar's greatest work including two scenes never-before available on DVD; a live POV bareback "day in the life" with JJ Knight. Other NakedSword scenes include Brent with pizza boy Calvin Banks (Ultra Fan), Brent with star-struck Chris Harder (Vegas Hustle), a sweaty, cum drenched three way with Brent, Dorian Ferro and Dominic Pacifico (Ultra Fan), and from Falcon Studios, Brent with muscle-stud Darius Ferdynand (Poolside 1). So whether you're a Brent Corrigan super-fan or you just love watching really hot sex with the hottest men on the planet - you'll agree, we are all LOVING BRENT CORRIGAN!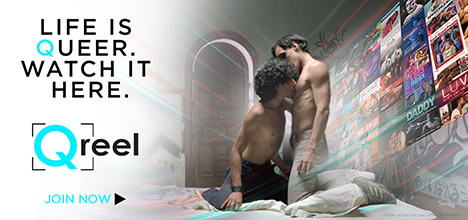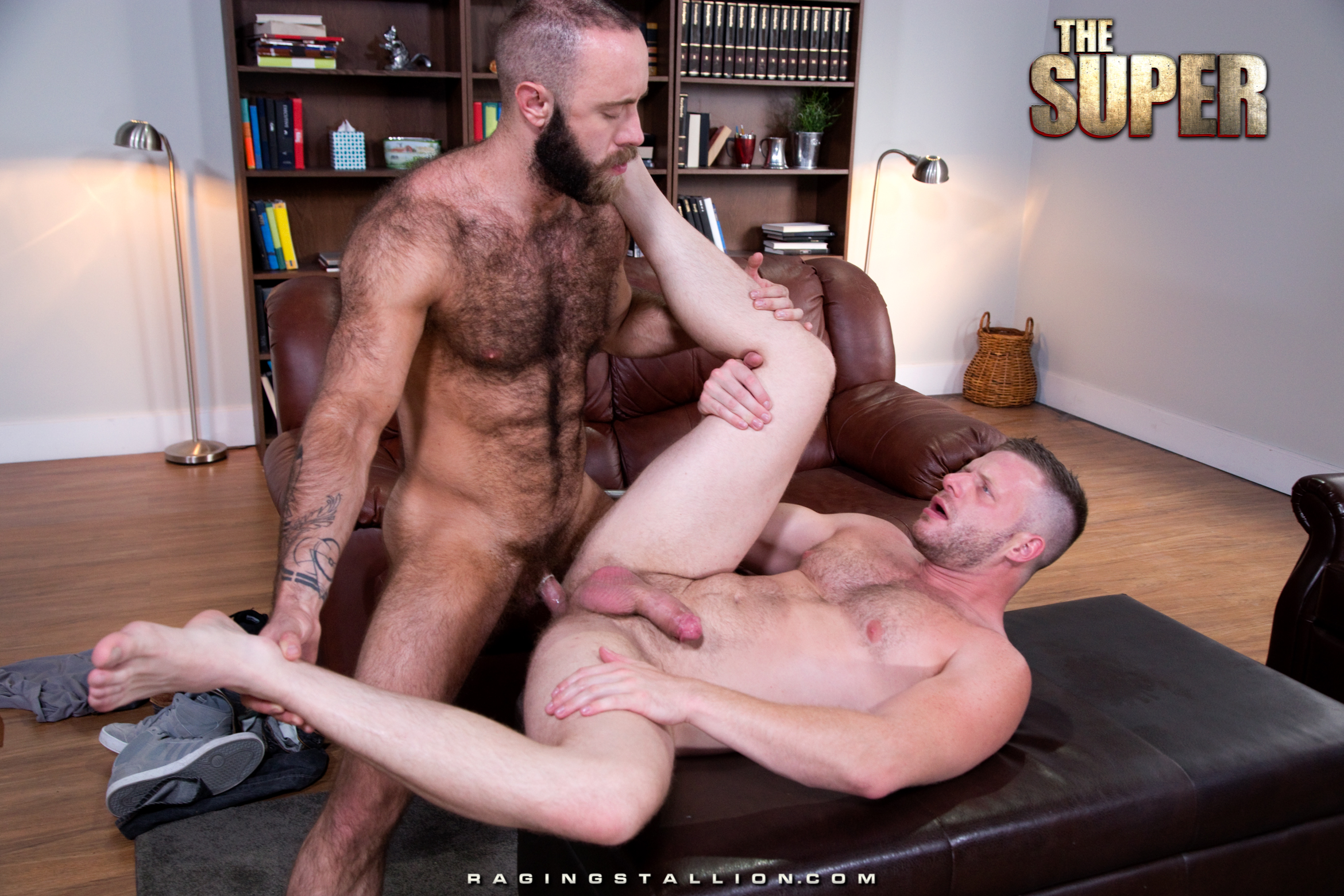 RagingStallion.com, the Falcon Studios Group site featuring rugged and natural men, announced the release of the debut scene from its latest feature, The Super. Award-winning director Steve Cruz brings scruffy studs Brian Bonds and Teddy Bear together to kick off the first scene that introduces a... Read Full Story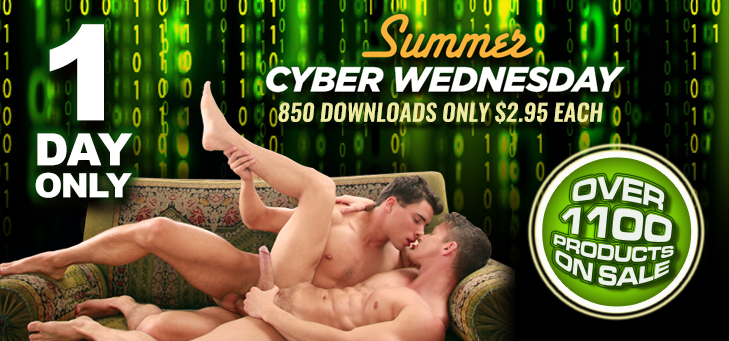 Last Chance to Take Advantage of Black Friday in July & Summer Cyber Week Deals - Thousands of DVDs and downloads are currently discounted during the Falcon Studios Group and NakedSword Online Store's Black Friday in July and Summer Cyber Week Promotions. With the biggest deals of the year, we're extending these offers for a limited time to HUNT and blog readers. Check out all the daily offers, now. Read Full Story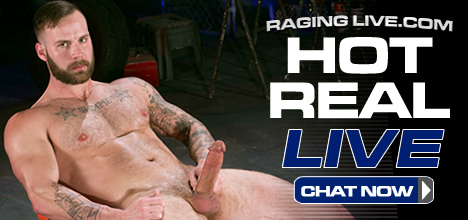 Tyler Wolf & Angel Rock from Hole 1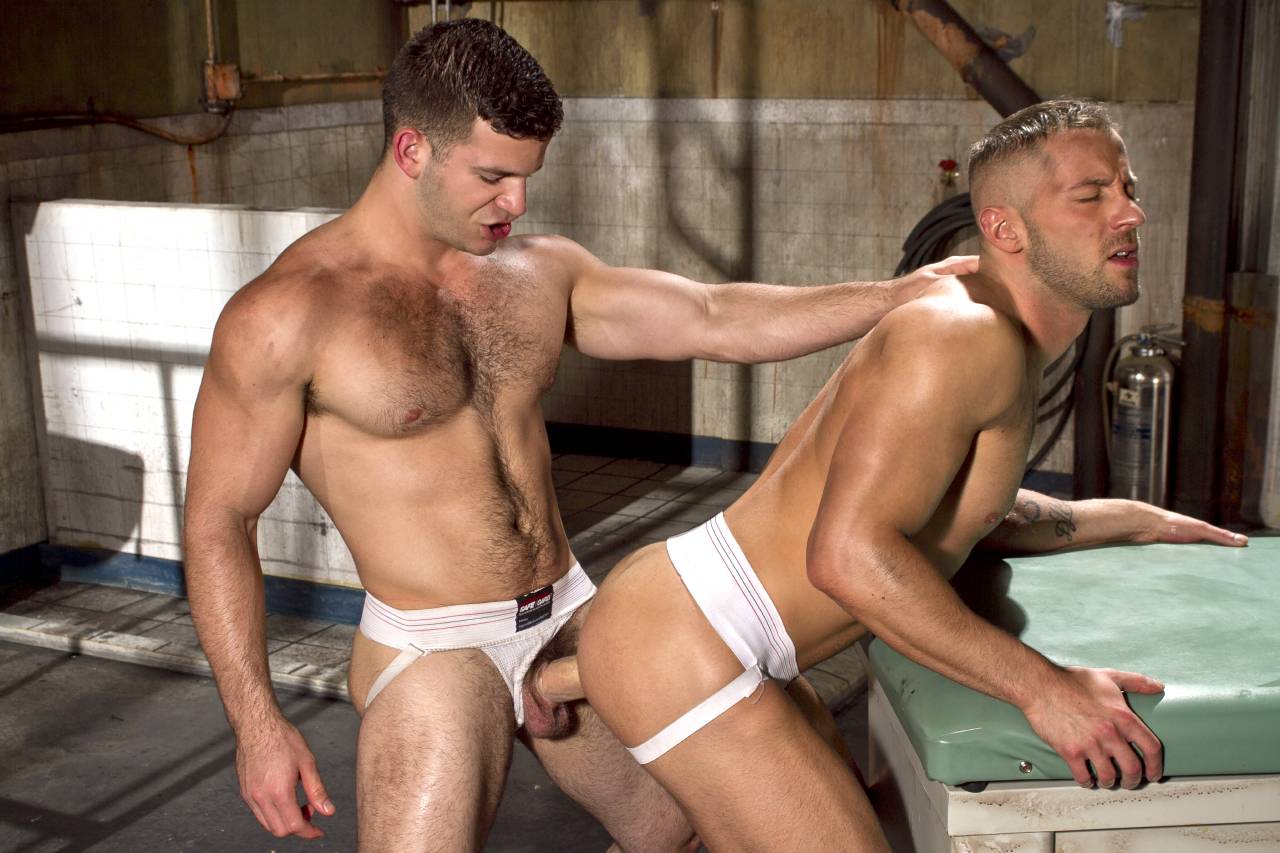 A prisoner splayed out on a bunk in a dank cell faces a bank of video monitors showing men fucking. Zoom in on Angel Rock getting blown by Tyler Wolf. Wolf's biceps, traps and delts bulge while glistening with sweat. Angel is wearing a crusty jock strap that has probably never been washed. His hairy pecs heave as he uses a hand to guide Tyler's head while pinching a nipple with the other hand. Angel pulls away and spits on Tyler's cock, then wraps his tongue around the head. Tyler's pulsing hole is a magnet that slowly but surely attracts Angel's tongue. Angel sucks, probes and licks Tyler's hole until it drips with saliva and ass juices, then plunges his swollen cock into the dark center of those smooth buns. Tyler grimaces, rapidly stroking himself to add pleasure to the pain. Their writhing fuck and loud cries are transmitted to monitors being watched throughout the detention center. The speed and force of Angel's thrusts reach a breaking point that sends Tyler's cum flying across his torso. Angel saves his own load for Tyler's mouth.




You have received this email because you requested email updates from Falcon Studios Group be sent to: %%EMAIL_ADDRESS%%
This is an advertisement. %%PLUGIN_Unsubscribe: 183936-Unsubscribe%%
Please add reply@huntezine.com to your address book or safe senders list to ensure that these emails arrive in your inbox.
© 2018 Silver State Services, LLC. All Rights Reserved. HUNT eZine, 2176 Shattuck Ave, Berkeley, CA 94704

Records required to be maintained pursuant to 18 U.S.C. 2257 and
C.F.R. 75 are kept in the following location by the Custodian of Records:
Custodian of Records
2716 Shattuck Ave,
Berkeley, CA 94704