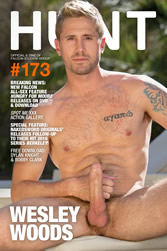 Amazing Content Now Live on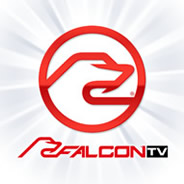 | | |
| --- | --- |
| | Check the listings in your Television Provider's Adult HD OnDemand Menu for: My Roommate Did Anal With Me - The OnDemand HD Release of Guys Like Us' Rub Me Right Starring: Dominic Pacifico, Steve Stiffer, Connor Maguire & more! |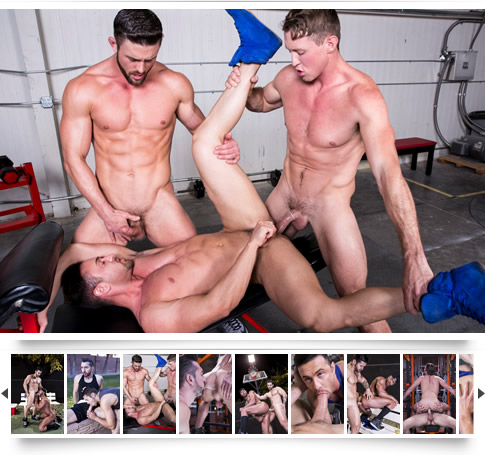 Whether you're pumping hard in the gym or sucking cock outside, you always need a spotter. When the eight studs of 'Spot Me' get down and dirty, they all look out for each other no matter where they are as they get their cocks wet and their assholes stretched. Jimmy Durano and Dante Colle are jogging stop to catch their breath. Between the two of them, they leave three thick loads on the sidewalk in the park. Micah Brandt and Arad Winwin are playing basketball in the park when they notice no one is around. Micah cautiously offers up his ass and the two studs fuck courtside. Arad makes quick work of their fun and dumps his load in Micah's mouth before Micah finishes. Muscly personal trainer Jimmy Durano is training Rex Regan at the gym when Jimmy notices that Rex has a hard-on. Jimmy slides his giant, uncut dick deep into Rex and plows him until both studs spray their loads all over Rex's tight body. Pierce Paris is training Josh Conners on the weights when Ryan Rose takes notice. After approaching the sweaty studs, the trio forms a muscle riddled fuck train, right in the middle of the weight room. The hunks of 'Spot Me' all have each other's backs, even when they're having each other's cocks and asses.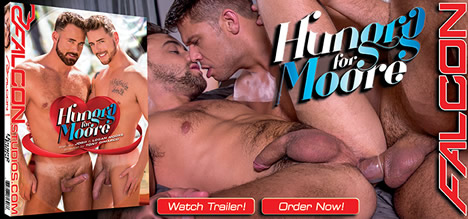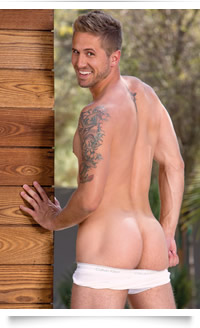 Charming, Southern hunk Wesley Woods is a well-seasoned performer in the gay porn spotlight! A man of many talents, not only is Wesley an expert cocksucker on screen, he also manages a comedy and business career when he's not delivering extraordinary performances for Falcon Studios Group and NakedSword Originals. This highly sought-after performer is a triple threat. Not staying in the same place for too long, Wesley is jet setting around the country to film his next award-nominated scene or to host an award show or perform his comedy. Fans can catch this versatile, two-time Gay Performer of the Year winner bouncing on hung poles, drilling willing bottoms and jerking his 8" rod in recent releases such as Berkeley: Sophomore Year from NakedSword Originals, Hungry for Moore and Love & Lust in New Orleans from Falcon Studios, and Raging Stallion's spooky thriller, It's Coming. Join Wesley Woods as he continues to rise to the top of the gay porn world, and be sure to catch him in a city near you!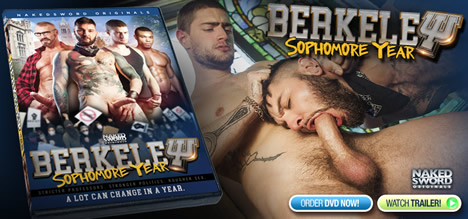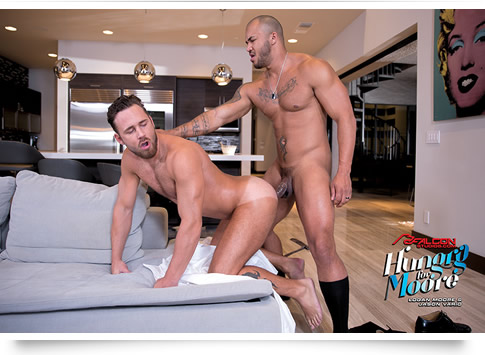 New Falcon All-Sex Feature Hungry for Moore Releases on DVD & Download
Falcon Studios Group announced the release of Hungry For Moore, a sensual, hardcore fantasy with a group of rock-hard studs who satisfy their hunger for dick starring Logan and Josh Moore.
The A-list cast of Hungry for Moore is by headlined Logan Moore and Josh Moore, and also includes hunky studs Brent Corrigan, Wesley Woods, Samuel Stone, Gabriel Cross, Tyler Roberts, and Jason Vario.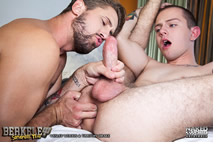 Getting Into College Is Very Hard - Timothy Drake's transcripts weren't exactly what the University Of Berkeley is looking for. But for recruiter Wesley Woods, the first step in becoming part of the student body starts with this student's body. Read Full Story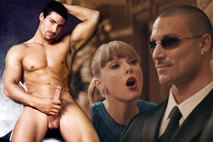 Gay Porn Star Kevin Falk Gets "Delicate" With Taylor Swift - A bodyguard is what Randy Blue alum Kevin Falk plays in Taylor Swift new music video. And when it comes to gay porn stars, he's not her first. Read Full Story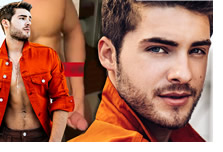 #CelebrityCock: Teen Wolf's Cody Christian - Lightning strikes twice with a second jack off video of heartthrob Cody Christian working his throbber. Which one is hotter? Come take a look at both and make an informed decision. Read Full Story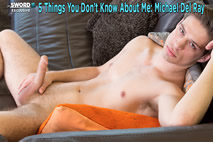 EXCLUSIVE: 5 Things You Don't Know About Me: Michael Del Ray - There's plenty you don't know about Michael Del Ray. What TV series reduces him to tears? How did his dick get him in trouble on the playground? What spit-roasting session still makes him hard just thinking about it? Read Full Story


Hot Membership Site Updates Available Now!



Falcon Studios Group Models Appearing Live in a City Near You.
March 23: Skyy Knox at Parliament House, Orlando, FL
March 24: Exclusive Dave Slick at BS West w/ Chi Chi LaRue, Phoenix, AZ
March 24-31: Skyy Knox Madrid Takeover, Madrid, ES
April 6: Beaux Banks at Spring Fling Underwear Party, Washington, DC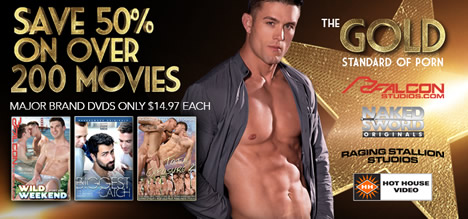 Hey HUNT Studs,
We hope you've adjusted to Daylight Savings time! We're always finding way to Spring ahead here at HUNT eZine. The only thing you'll need to adjust is your pants when you see the multiple new releases, debut scenes, contest winners and more we're delivering this issue.
Kicking things off in our Breaking News is the release of the latest Falcon feature, Hungry for Moore. Join director Tony Dimarco and his cast of horny hunks headlined by Logan and Josh Moore on a journey of love, sensuality, connection and hardcore fucking!
Triple-threat superstar Wesley Woods, headlines our Model Spotlight this issue. Find out what Wesley gets into when he's not filming his next big scene. From comedy to social media, this hunk does it all. Witness a glimpse of it in his scorching gallery of action images.
"Yo! Can you spot me bro?" Take a risk and suck some dick or fuck some ass outside in our Free Action Gallery featuring the hottest action shots from the latest Hot House release, Spot Me.
NakedSword Originals releases the follow up feature, Berkeley: Sophomore Year, on DVD and downloads in our Special Feature. After the huge success of the original Berkeley feature, it was a no-brainer for the mega-studio to release part 2.
Are you ready for some Studio News? First up, RagingStallion.com says Shut Up & Fuck Me! In the new update featuring hairy hunks, Kurtis Wolfe & Sergeant Miles. Logan & Josh Moore kick off the online release of Hungry for Moore, with their steamy debut scene. Then, find out who took home the DVD's, downloads and more in our 2017 HUNT Content Survey. Like our compilations? Love big dicks? Our latest compilation, My Big Fucking Dick – Dylan Knight, is now available on DVD & downloads from the Falcon Studios Group Store. Our 2018 Falcon Studios Group & NakedSword Calendar Contest was a huge success! Learn which seven lucky fans won a 2018 calendar of their choice.
Your Free Scene Download this week features an iconic scene from Guys Like Us, Down to Business, featuring Bobby Clark and Dylan Knight. The scene can now be found on the latest compilation, My Big Fucking Dick - Dylan Knight.
Looking for some great deals on DVDs and Downloads? Well, look no further…Secure crazy discounts on the best collection DVDs in our Compilation Inventory Reduction Clearance featuring DVDs for only $6.97 each. Save 50% with the NakedSword Originals Scene Savings promotion giving you half off the studio's hottest downloads. Plus, now is your last chance to save 50% on over 200 features in the Major Brand DVD Sale.
Happy Friday,
The HUNT Guys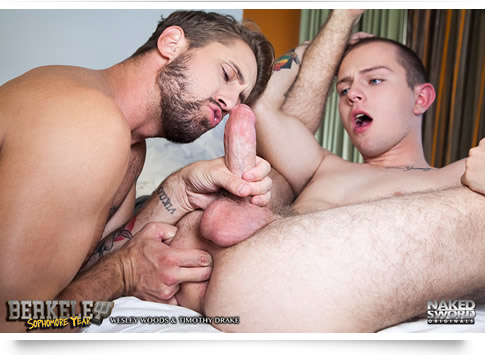 NakedSword Originals' Releases Follow-Up to Their Hit 2016 Series Berkeley!
NakedSword Originals is happy to announce that Berkeley: Sophomore Year, the follow-up to their 2016 hit DVD centered around their home town of Berkeley, California is now available on DVD via online and wholesale. Additionally, all individual scene downloads are for sale on the NakedSword and Falcon Studios Group Store at store.NakedSword.com.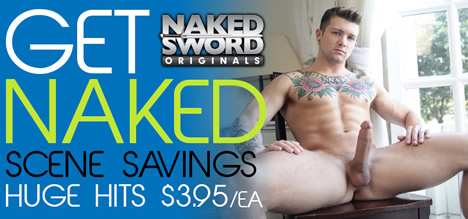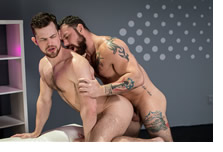 Get to RagingStallion.com Releases First Scene From All-Sex Feature Shut Up & Fuck Me! - RagingStallion.com, the Falcon Studios Group site featuring natural men, announced the release of the debut scene from its latest feature, Shut Up & Fuck Me!. Award-winning director Steve Cruz directs Kurtis Wolfe and Sergeant Miles in the opening scene from a DVD that concentrates on nothing but… Read Full Story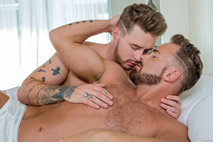 Logan Moore & Josh Moore Premiere FalconStudios.com's Hungry for Moore - FalconStudios.com has announced the exclusive world premiere of the debut scene from their latest release, Hungry For Moore. The first scene from the new release features uncut hunks Logan Moore and Josh Moore, in a romantic bedroom scene. The debut update from Hungry For Moore will go live… Read Full Story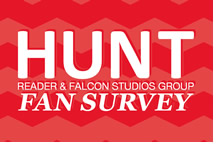 2017 HUNT Reader Survey Winners Announced - We are grateful to the 4,000+ fans who provided valuable feedback in the Annual HUNT Reader and Falcon Studios Group Fan Survey. Thank you for the overwhelming response and valuable input. We are excited to announce the winners of the contest. Congratulations to them all. Read Full Story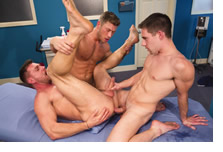 All-New Compilation, My Big Fucking Dick - Dylan Knight, Out Now - The latest compilation from Falcon Studios features Dylan Knight's massive meat is the star in six jaw-dropping, hot scenes! Read Full Story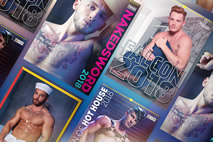 2018 Falcon Studios Group & NakedSword Calendar Winners - Falcon Studios Group and NakedSword Originals would like to thank the countless amount of entries we received for our first ever calendar contest! Below is a list of the winners from around the world. Be sure to follow us on all of our social media accounts to find out about our next contest. Read Full Story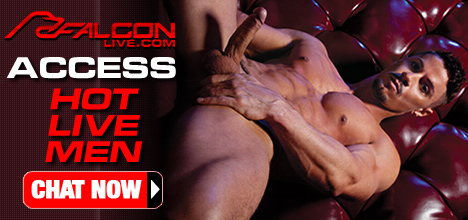 Dylan Knight & Bobby Clark from Down to Business now on My Big Fucking Dick - Dylan Knight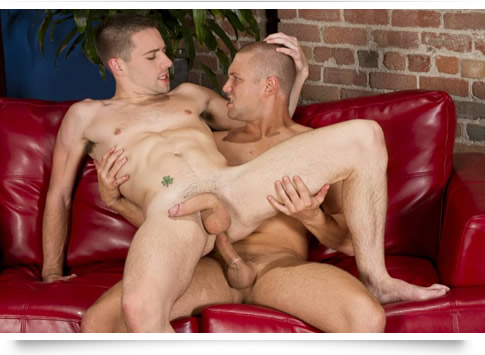 When Dylan Knight, crisply attired in white shirt, black slacks and a bowtie, delivers Bobby Clark's cocktail, he's caught off-guard by Bobby's penetrating stare and the obvious fact that Bobby is hard and wants Dylan to know it. Fully in control, Bobby knows that Dylan will do whatever he wants and Bobby always gets what he wants. Knowing resistance is futile, Dylan kneels to surrender to Bobby's carnal demands. Bobby's head is buzzed and his chest unwaxed. There's an erotic power edge to a hot guy, naked, getting sucked off by a cute young guy in a dress shirt and bowtie. Bobby steps away, jacking off while Dylan removes the rest of his clothes. He has a toned torso with scattered dark hair. Bobby sucks him in huge gulps. Dylan's hooded cock is thick as Bobby's wrist, with massive balls. His precum drips onto the furniture as Bobby enjoys his delicious prize: eating Bobby's ass before getting fucked. It's doggy position first then in a sit-fuck with Dylan slamming his hole onto Bobby's cock and his own massive meat and balls thrashing wildly about. Dylan's cum shot is amazing, a long-distance split-stream spurt that strikes them both in the face. Bobby responds by blasting Dylan's torso with cum.