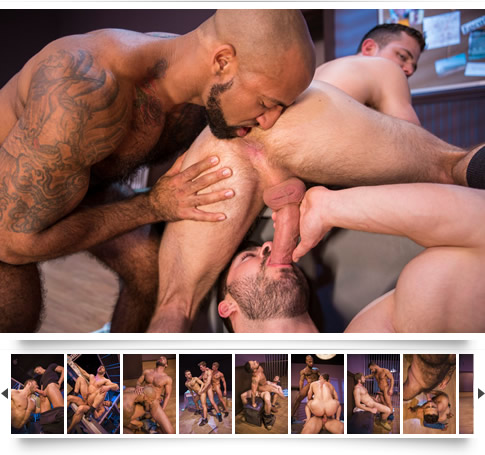 When Las Vegas is flipped on its ass by the latest sex party drug, Tsunami, local law enforcement goes undercover to bust the narco ring responsible. The effect of the drug proves too powerful for 'Vice' to contain and a reality film crew captures it all. Busts go awry. Is it a precinct or a brothel? Vice Squad Officer Damian Taylor has his perp, Colby Keller, behind bars. Colby won't nark unless he gets a taste of Damian's thick dick. Colby gets more than a taste and slides his big hairy cock balls deep into Damian's tight ass. Back at the cartel headquarters, Beaux Banks and Jack Hunter are working for kingpin Sean Maygers packaging the goods. When Sean catches Beaux with Jack's cock down his throat, the boss says he will fuck them both if they promise to get back to work. Derek Bolt is a Vice cop undercover in Sean Maygers' distribution warehouse. When Sean finds him snooping, he makes him try the merchandise and soon Derek is bent over taking Sean's thick curved cock deep inside his hairy ass. Officer Damian Taylor and detective Daymin Voss have had their coffee spiked at police headquarters. When Tsunami kicks in, Daymin tells Damian that he "wants to do gay shit" and soon his throat is being reamed with Damian's big hard cock. After getting his face stuffed with dick, Daymin walks in to find Derek Bolt and Kurtis Wolfe making out. Their lowered inhibitions lead to a hot confession and Derek taking on both hung studs before all three of them drain their balls all over Derek's hot, ripped body. Sometimes the line between the good guys and the bad guys is not completely defined. Who will end up on top in 'Vice' - the Law or the Cartel?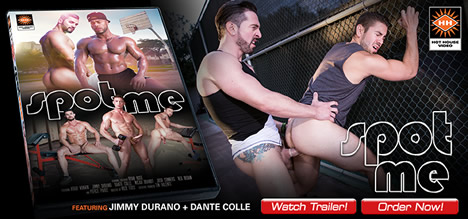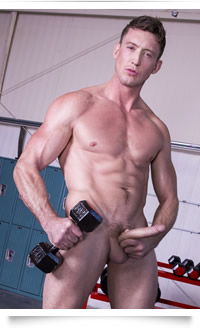 When fans think of Pierce Paris, their dirty thoughts are usually accompanied with the vision of his mouthwatering, 9" cock. Then, they can't stop thinking of his Adonis-like physique, powerful and dynamic performances and his bro-next-door look and charm. Pierce first introduced his massive cock to the world of Falcon Studios Group early last year in the release of Falcon Studios' armed-forces hit, Code of Silence. Since then, Paris has gone on to shoot award-worthy scenes for each line under the Falcon Studios Group and NakedSword umbrella. This small-town techy stud can take a rough pounding or pummel a lucky bottom to his limits. Keep an eye on the rapidly rising star and be sure to catch his latest scenes in Spot Me from Hot House, A Night at the Entourage from Falcon Studios, Clothing Optional from Raging Stallion, and Making Rent from NakedSword Originals.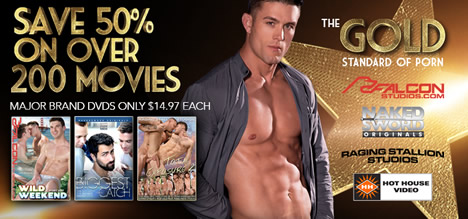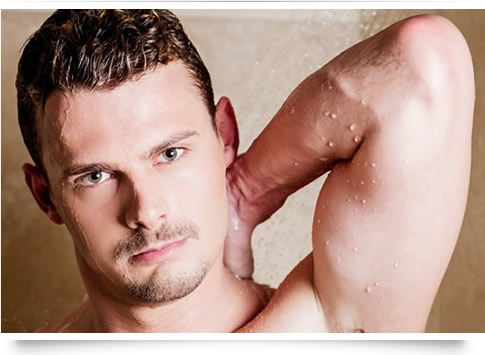 Breaking News: Celebrated Cam Model Dave Slick Signs as Newest Falcon Exclusive
Falcon Studios Group revealed today that it has added XBIZ Male Cam Model of the Year, Dave Slick, as an Exclusive model. Signing on to appear exclusively in Falcon and NakedSword features over the next year, Slick has officially been added to the exclusive roster of the world's largest producer of quality gay male adult video.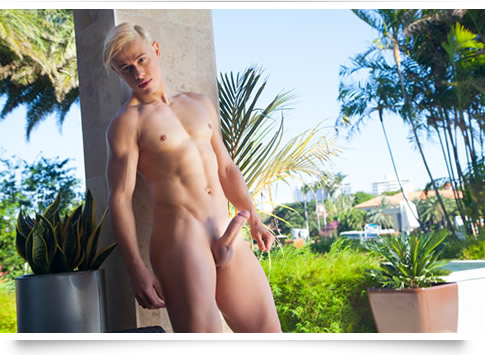 Alam Wernik - Instagram Sensation - Becomes Falcon Studios Exclusive
Falcon Studios Group announced today that Instagram sensation, Alam Wernik, has signed an agreement to become the newest Falcon Studios Exclusive. The native Brazilian who grew up in Argentina will appear exclusively in Falcon Studios and NakedSword Originals releases.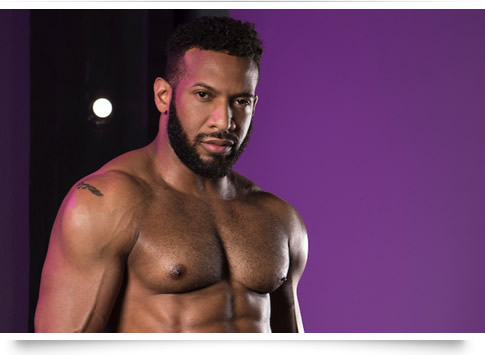 Raging Stallion Signs Jay Landford as an Exclusive
Falcon Studios Group has signed hung hunk and power top, Jay Landford, as the newest Raging Stallion Exclusive. The muscled fitness enthusiast will appear exclusively in Raging Stallion and NakedSword Originals releases.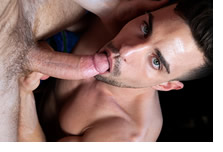 Got Milk? - Colton Grey has milk. As in Josh Milk's milk. And in turn, Josh also got some of Grey's anatomy all in the quest of "Making Rent". Read Full Story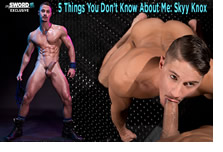 EXCLUSIVE: 5 Things You Don't Know About Me: Skyy Knox - It's Skyy Knox's world and welcome to it. Doing what will make Skyy multi-orgasmic off-screen? What does he think about bareback porn? Which scene really pushed his limits? Read Full Story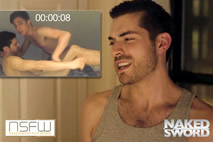 Your Own "Raw Footage" Doesn't Always Feel Right - Everyone has nudes. Everyone has videos. Who cares if people see them? Isn't that the point? It's a trend that shows no sign of stopping. But what if your partner wants out afterward? Read Full Story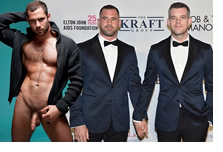 Russell Tovey & His Ex-Porn Star Fiancé - Russell Tovey just confirmed the engagement to hunky rugby player Steve Brockman. But under the name Ryan Stack in his pre-rugby days, he was a different kind of ball player. The X-rated kind. Read Full Story


Hot Membership Site Updates Available Now!



Falcon Studios Group Models Appearing Live in a City Near You.
There are currently no model events scheduled at this time!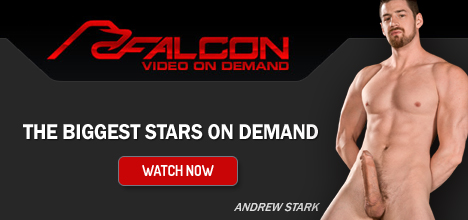 Hey HUNTer's,
March is here, the snow is thawing, and we keep bringing the heat at our HUNT eZine Headquarters. Once again, we're coming at you with another bulging issue of the hottest eZine! Did we mention it's 100% free? Lets get started…
2018 brings new, stunning men to our list of exclusives and we're excited to show them off in Breaking News. Popular cam hunk Dave Slick was the first to be announced followed by social media superstar Alam Wernik, and this week we've announced experienced pornstar, Jay Landford. Welcome to the family guys!
You may know our featured man in our Model Spotlight from many of our recent releases or by his massive, 9" cock. Learn a little more about featured hunk Pierce Paris and scroll down to his action gallery featuring his hottest shots from recent releases.
Dubbed "too controversial" by distributers, check out the uncensored action shots from Raging Stallion's Vice, in the Free Action Gallery. Join stars like Colby Keller, Sean Maygers, Derek Bolt and more on a wild ride between crooked cops and hunky outlaws.
Check out our Special Feature that shows off the release of Hot House's Spot Me, on DVD & Downloads. Horny trainers and athletes alike risk it all to satisfy their sexual urges in public settings.
Studio News features the world premiere of Spot Me on HotHouse.com featuring fan favorites, Jimmy Durano & Dante Colle. Then, get to know our new exclusives Alam Wernik a little bit more in his one-on-one interview with HUNT eZine.
We'd never forget your Free Scene Download and this week features a hot and sweaty scene from Jockholes, featuring Johnny Torque & Bobby Hart. Similar scenes can also be found on the new Hot House release, Spot Me.
Don't miss this issue's special DVD and Download promotions. First up, you only have 72 hours to take advantage of the March Into March Fisting & Fetish Flash Sale with DVDs as low as $7 each. Plus, get 50% off the Top Selling Downloads from the Past Year and get Hit DVDs from Major Brands for only $14.97.
Happy Fapping,
The HUNT Guys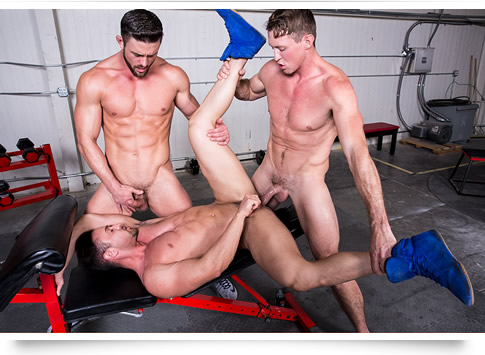 Hot House Showcases Gym and Public Fantasies with Spot Me
Hot House today announced the release of Spot Me, a movie with a combination of public and gym sex scenes where the term "Spot Me" takes on a dual meaning. Spot Me is available on DVD and through download on the Falcon Studios Group Store.