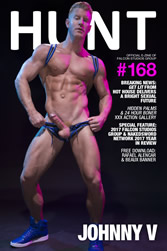 Amazing Content Now Live on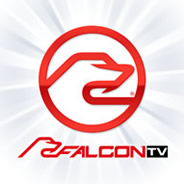 | | |
| --- | --- |
| | Check the listings in your Television Provider's Adult HD OnDemand Menu for: Deep Blue Collar Buttsex - The OnDemand HD Release of Hot House's Dirty Work Starring: Austin Wolf, Chris Bines, Nick Sterling & more! |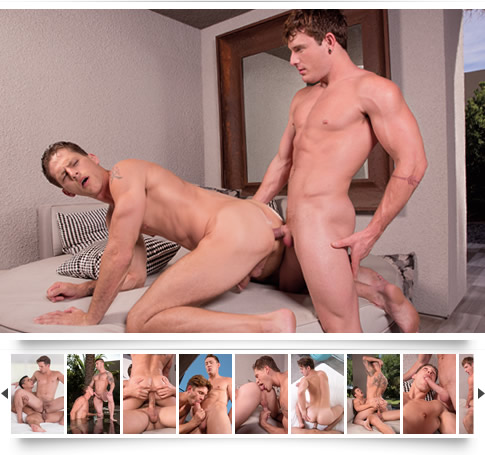 Sit back and relax poolside with 10 horny studs who will inject your summer day with heat. Hidden Palms will make your day off a little livelier and a lot more satisfying with plenty of rock hard abs, big throbbing dicks, and lots of love to go around. Brent Corrigan is out for a dip in the pool when he spies Roman Todd in his swim suit. Brent approaches the muscle stud and soon the two hunks are taking turns stuffing each other deep. Casey Jacks is napping by the pool when he's awakened by a passionate kiss from Pierce Paris. After making Paris hard as a rock with a long and tender blowjob, Casey bends over to let Pierce fill him up with his big, thick tool. JJ Knight is floating in the water when hunky Jake Ashford walks past and gives him the eye. After a quick outdoor shower, Jake heads back to JJ to ride the stud's extra thick pole. When Topher DiMaggio gets horny in the sun, he walks inside to take care of himself. Luckily on the way, he meets Casey Jacks and the two hit it off with a nice long pounding that leaves Casey covered in cum. Jake Ashford is relaxing in the hot tub when hunky Pierce Paris joins him. The two meet in the middle and suck each other off until thick loads are filling mouths. Dante Cole is catching some rays in the pool when Addison Graham makes the hot day even hotter. Addison's ass feels so amazing that Dante blows two loads all over the young stud. The next time you head to the pool, you might just find a little oasis called Hidden Palms where you'll see young studs lounging in the water and basking in the sun just waiting for you to float on by.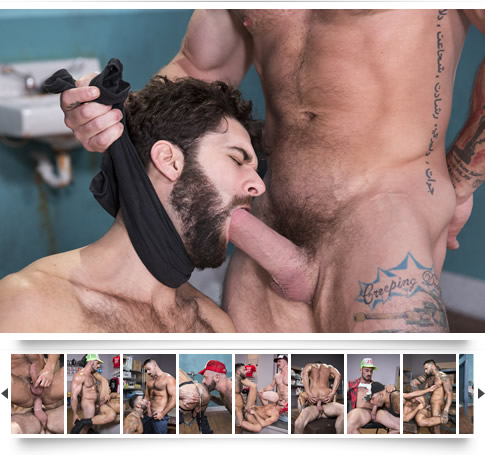 Welcome to the world's most fun and amazing 24-hour convenience store, where hot studs suck cock, fuck ass, and drink cum to pass the time. Step inside to do your shopping and you'll be sure to find all the 24 Hour Boner you can handle! Rikk York finds himself horny after accidentally drinking a boner elixir on the job. Luckily for Rikk, delivery guy Teddy Torres is there to help relieve him of his symptoms. When Sergeant Miles hits the bathroom to take a piss, he gets more than he bargained for when he sees Tegan Zayne's bearded lips inviting him to slip his cock through a glory hole. Jaxton Wheeler and Lorenzo Flexx are buying food when they realize no one is at the register. Jaxton takes full advantage of the situation and after getting a blowjob from his buddy while eating, he fucks the cum out of Lorenzo. Seth Santoro catches Sergeant Miles shoplifting and tries to stop the hunky stud from stealing. Instead of stopping the action, Seth finds himself getting railed as the hung shoplifter fucks his hairy asshole. Alek Buldocek finds Tegan Zayne with his cock out in the bathroom. Without words, Alek cracks a beer and lets Tegan suck him off before he fucks the load out of the horny bathroom pig. Rikk York is cleaning up the store when customer Nate Stetson enters to find Rikk rubbing his crotch. Nate takes his cue and the studs swap blowjobs until they both cum hard. Just as the two hunks finish up sucking each other off, Jett Rink enters the store. Nate and Rikk get to work on toned stud by spit roasting him. The three horny studs finish each other off as the cum flies into faces and on the floor. Whether you're at the store to buy food, take a piss, or admire the studs who work inside, 24 Hour Boner will deliver exactly what you need. The store never closes, and neither do the mouths and assholes inside!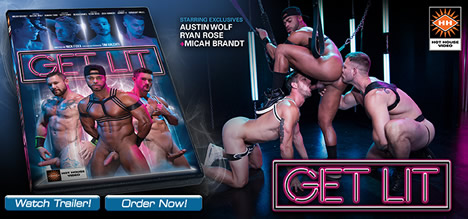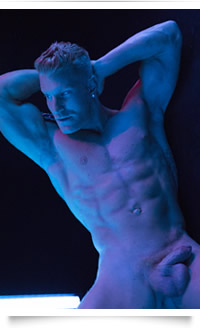 One of the most dynamic and versatile performers in gay porn today, exclusive Johnny V continues to deliver countless explosive performances that keep him appearing on the award nomination and winners lists year after year. Filming mostly for Hot House, Johnny recently jetted off to Paris with NakedSword Originals to conceive their end-of-summer blockbuster, Paris Perfect. When he's not bouncing on a hole-stretching cock or using his own 7.5 inches to dominate, fans can usually find Johnny working the club circuit around the nation. With multiple live appearances scheduled all year long, this ripped muscle god is sure to be in a city near you sometime soon. Get to know this versatile juggernaut through his recent performances in Get LIT and Dark Matter from Hot House and Falcon's Route 69. Johnny V shows no signs of slowing down in 2018 so sit back, grab your cock and release a load to this premium hunk!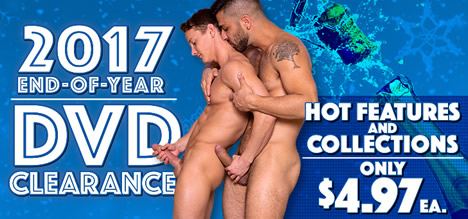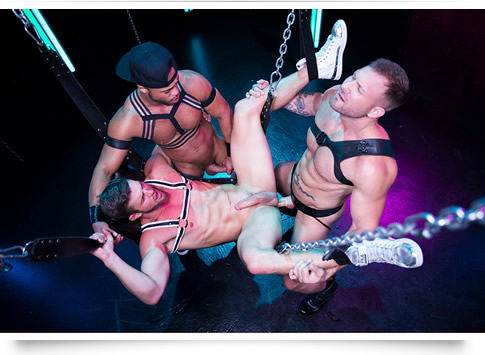 Get LIT from Hot House Delivers a Bright Sexual Future
Falcon Studios Group announced the release of the latest Hot House feature, Get LIT. Directed by Nick Foxx, Get LIT, follows the sexual play space of the not-so-far-off future that has evolved into a spectacular setting where the sex is extraordinary. Take a journey into the ultra-modern, sleek sex club with stunning men who take fucking to another level. Get LIT is available on DVD & download on the Falcon Studios Group Store.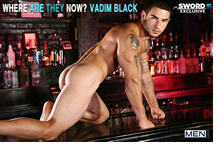 Where Are They Now: Vadim Black - Part One - Vadim Black is one of the most infamous and divisive gay porn stars of recent memory. In our exclusive, Vadim sat down for a self-effacing interview. What does he have to say for himself now? A lot. A whole lot. Read Full Story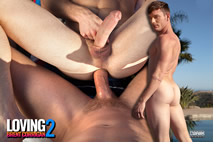 Loving Brent Corrigan: The Way They Were - For the first time outside of their cam shows, "Loving Brent Corrigan" from NakedSword Originals shows the bare fabled cock and world-class ass in an intimate look at the way things used to be.Read Full Story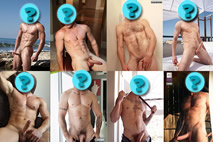 Top Ten Searched For Gay Porn Stars Of 2017 Were … - There are hundreds, hundreds as in plural, gay porn stars sharing their sexual stylings in over 20,000 hardcore scene at NakedSword. Out of those hundreds, which ones got the most clicks this year? You will be surprised.Read Full Story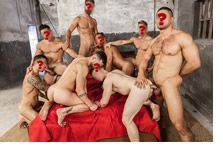 Gay Porn Forecast 2018: New Faces Please - The porn was plentiful in 2017. But fresh new blood, not so much. At least one company is looking to change that this year and all we can say is bring it on. Read Full Story


Hot Membership Site Updates Available Now!



Falcon Studios Group Models Appearing Live in a City Near You.
January 12-14: Armond Rizzo, Brian Bonds, Colby Jansen & Mason Lear at HustlaBall LV, Las Vegas, NV
January 14: Ryan Rose at Hydrate Nightclub, Chicago, IL
January 20: Chi Chi LaRue Skin Trade w/ Skyy Knox & Beaux Banks, Flair Nightclub, Las Vegas, NV
January 20: Mason Lear at Entourage Spa, Las Vegas, NV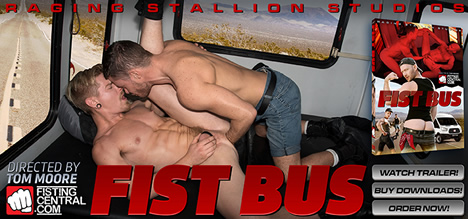 Hey HUNT Men,
Happy New Year studs! From all of us at the HUNT HQ, we hope everyone had an amazing holiday season! Getting right into it, issue #168 comes packed with epic new releases, multiple galleries and more! Let's make 2018 our best year to date together. Cheers!
Starting the year off right in Breaking News comes the release of Hot House's latest, illuminated feature, Get LIT, on DVD & Downloads. Get this star-studded flick today on the Falcon Studios Group Store.
Star of Get LIT and gay porn's most iconic power-bottom, Johnny V, lights up the Model Spotlight. From his latest appearance, to his countless upcoming projects on the horizon, find out what makes this hunky exclusive a force to be reckoned with.
It may be the middle of winter but we're keeping things hot in our Free Action Galleries. Lounge poolside and get a quick blowjob or fuck a tight ass with the hottest action images from Falcon Studios', Hidden Palms. Not Enough? We've loaded up a BONUS Free Action Gallery featuring the best images from Raging Stallion's, 24 Hour Boner.
The year 2017 was a year of growth and success for Falcon Studios Group. Check out all of the best stories and accomplishments from the past year in the Falcon Studios Group & NakedSword Network 2017 Year in Review, located in our Special Feature item.
Studio News is packed this issue. First up, hop onto director Tom Moore's infamous Fist Bus, as these hungry pigs get their eager holes stretched to the absolute max. Following comes the debut scene from Get LIT, featuring a suspended fuck sesh with fan favorites Beaux Banks & Roman Todd. We're not done yet! Just a few weeks remain for you to give your input and have the opportunity to win hot gay porn prizes with the HUNT Reader & Falcon Studios Group/NakedSword Fan 2017 Content Survey. Give your feedback and enter to win today! Finally, big dick lovers unite for the all new compilation, My Big Fucking Dick – Rafael Alencar. Whew!
If you want a hot scene from Rafael's special collection, don't forget your Free Scene Download featuring an intense offering from the latest collection. Stream or downloadRafael Alencar & Beaux Banner from Hot House's Reckless, now.
Before you go, what would the New Year be without some great opportunities to save? And, do we have some insane deals. This is the last weekend to get $4.97 movies in our 2017 End-of-Year DVD Clearance and $2.95 Downloads in the 2017 Scene Savings Finale. Get massive savings on tons of titles.
Here's To 2018,
The HUNT Guys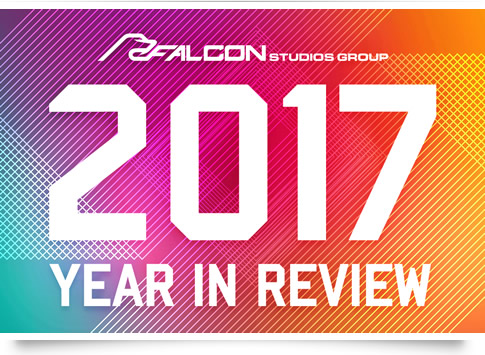 2017 Falcon Studios Grou & NakedSword Network 2017 Year in Review
2017 was a year of blockbusters, new beginnings, big anniversaries and more of the highest quality gay porn in the world. As a token of our gratitude for your continued support as a loyal fan, we've put together this Falcon Studios Group 2017 Year in Review collection of terrific free galleries, special features, most-popular content and the biggest news from the year.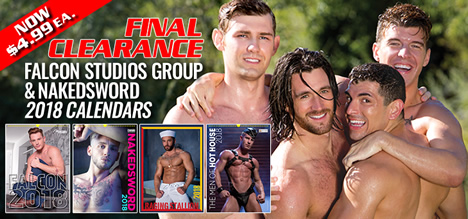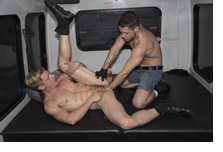 All Aboard Fetish Force's Fist Bus on DVD & Downloads - The Fist Bus is coming and you won't want to miss this ride. Take off your pants, lube up your gaping ass, and get ready to drive to Vegas with a crew of four hot studs who just want their assholes destroyed. Hop in and enjoy the ride because the next stop isn't until after you bust a load. Read Full Story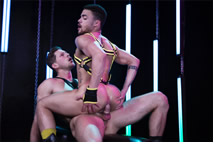 Beaux Banks & Roman Todd Debut Get LIT on HotHouse.com - HotHouse.com has announced the exclusive world premiere of the debut scene from their latest DVD, Get LIT, created by director, Nick Foxx. The first scene from the ultra-modern new release features Roman Todd and Beaux Banks in a sleek fantasy where futuristic sex gear and big dicks prevail. The… Read Full Story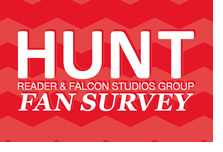 HUNT Reader & Falcon Studios Group Fan 2017 Content Survey - Welcome to the HUNT Reader & Falcon Studios Group/NakedSword Fan 2017 Content Survey. We are seeking your feedback to help us make important decisions about our content. This year, we shortened the survey and plan to provide more opportunities… Read Full Story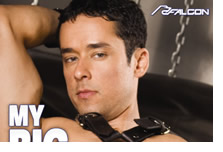 New Compilation: My Big Fucking Dick – Rafael Alencar on DVD & Downloads - Rafael Alencar's massive meat is the star in six jaw-dropping, hot scenes! Read Full Story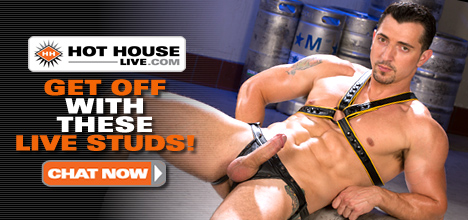 Rafael Alencar & Beaux Banner from Reckless now on My Big Fucking Dick - Rafael Alencar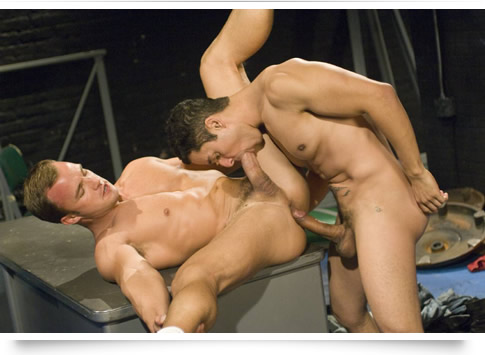 Hunky Rafael Alencar finds the quiet Beaux Banner hungrily awaiting a blue-collar hookup. Alencar's hard uncut cock quickly finds its way through a convenient hole in his jeans pocket and into the eager mouth of Beaux. Rafael's wet tongue and hard cock find their way to Beaux's juicy pink ass. "Oh fuck, that's a huge cock!" yells Beaux after Rafael forces his giant cock deep into Beaux's hole. Rafael nails Beaux from every angle until Beaux takes the whole uncut whopper while squatting over Rafael. "Oh my God! Fuck! That's a lot of cum!" Beaux says after they both shoot all over his tan chest.