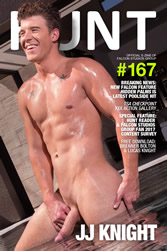 Amazing Content Now Live on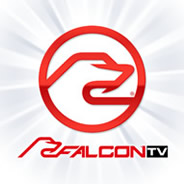 | | |
| --- | --- |
| | Check the listings in your Television Provider's Adult HD OnDemand Menu for: Object of Anal Desires - The OnDemand HD Release of Raging Stallion's Object of Desire 2 Starring: Bruce Beckham, Mick Stallone, Bruno Bernal & more! |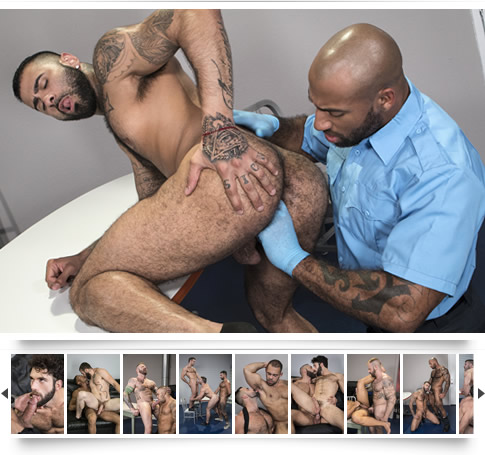 Traveling no longer has be a drag at the airport. Forget the lines and the delays, because when you hit the TSA Checkpoint you might just get a hunky agent making you hard in a pat-down or a cock up your ass in a cavity search. Sit back and let passengers, employees, and Federal Agents make sure that your loaded weapon is safe for travel! When Rikk York sets off the alarms at a TSA checkpoint, Officer Daymin Voss finds some contraband shoved up Rikk's fuzzy ass. Daymin probes the traveler until he sets off both of their explosive devices. Tegan Zayne is heading home for spring break and decides to take a nap in the air lounge. When hot daddy pilot, Eddy Ceetee, enters the lounge Tegan is no longer tired and goes straight for Eddy's cockpit before getting his hairy asshole filled with dick. Lorenzo Flexx and Aleks Buldocek are airline baggage handlers. After going through some luggage and trying out some sex toys, Aleks bends his co-worker over the inspection table and drills his throbbing hole. Buck Richards is a sexy first-class lounge barista who serves up more than a cup of coffee to passenger Trent King when he gets his ass pounded with an extra side of heavy cream. When baggage handler Lorenzo Flexx stumbles upon passenger Teddy Torres jacking his rod by the men's room, he gets on his knees and handles Teddy's bag until the two of them exchange facials and swap some cum. TSA Officer Alex Mecum catches Teddy lapping up the last of Lorenzo's public facial and brings him into custody where Alex and fellow officer Derek Bolt have some fun with the hung stranger that ends with Derek covered in jizz. The next time you're at a TSA Checkpoint make sure to misbehave so that you, too, can get manhandled by the horny hunks of the airport.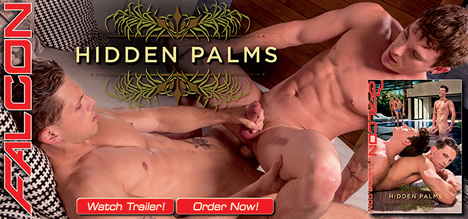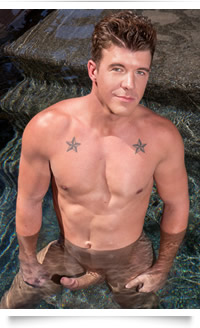 Big-dicked, Falcon exclusive JJ Knight started just recently in the porn industry, but he's quickly become gay erotica powerhouse. Since his debut featuring his award-winning 10" cock, Knight has captivated fans worldwide with his all-American good looks and southern boy charm. Now at the top of his game, JJ continues to knock out scene after scene and amazing performance after amazing performance, keeping fans eagerly awaiting what's next from the ever-rising star. Think you can take all 10 inches of JJ yourself? Try your hand at his personalized Signature Supercock if you think your hole is up for the challenge! In case you're not ready to be stretched to the max, you can catch JJ's recent performances in Hidden Palms, Love & Lust in New Orleans, and Head Play from Falcon Studios. Knight also played a horny patient in the medicinal fantasy, Private Practice, from Hot House. Be on the lookout for Knight's upcoming releases as this porn heavy-hitter is constantly wrecking holes and taking names!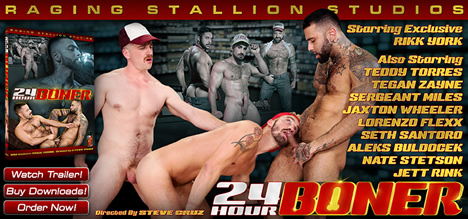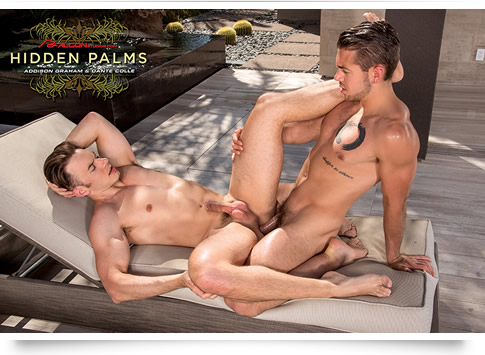 New Falcon Feature Hidden Palms is Latest Poolside Hit
Falcon Studios Group announced the release of Falcon's latest all-sex, poolside feature Hidden Palms, a showcase of 10 horny studs who will inject your summer day with heat. The pool-themed release is now available on DVD and download from the Falcon Studios Group Store.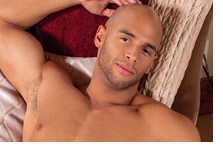 Sean Zevran's Naked Honesty on Race & Porn - "I want to be forthcoming and clear on exactly why I withdrew my nominations. My fans, and those with whom I was nominated for this particular award, deserve an explanation." ~Sean Zevran Read Full Story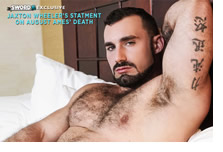 "August Ames' Death Is a Tragedy I Did Not Cause" ~Jaxton Wheeler - In our exclusive, Jaxton Wheeler issues his statement on the death of August Ames and categorically refutes the claims he caused her suicide. Read Full Story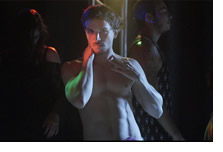 In Reality Or In Your Dreams? - As arousing as it is provocative, "Neptune", now showing at NakedSword Film Works, dives deep into the obsessive quest for love in a dreamlike depiction of queer lust. Read Full Story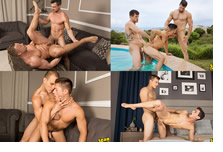 The Sean Cody Awards - Heat One - Cherry popping. Outdoor three-ways. Eight load cum-fests. Ferocious facials. Sean Cody has had a rocky 2017. But there were those golden moments when they still got our rocks off. The question is, which cream will rise above them all? Read Full Story


Hot Membership Site Updates Available Now!



Falcon Studios Group Models Appearing Live in a City Near You.
December 30: Skyy Knox at Theatre Berri, Montreal, CA
December 31: Skyy Knox & Johnny V at Evo Wonder Lounge, Edmonton, AL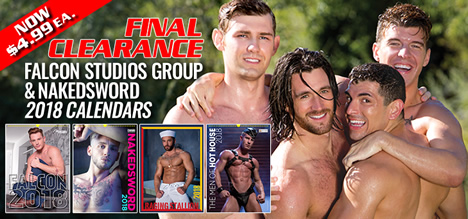 Hey HUNT Studs,
Season's Greetings! We hope you're all managing to stay warm in these frigid months and gearing up for some much-needed family and friend time during the holidays. This will be the final issue of 2017 so we'd like to send you all the best and wish you the happiest New Year. But, before we close out this amazing year, we have another jam-packed issue of HUNT eZine for you with multiple debut updates, free galleries, double new releases, contests and the return of the HUNT Reader Survey 2017. Merry Christmas!
Thawing out the snow this season in Breaking News comes the release of Falcon's latest poolside scorcher, Hidden Palms. Join director Tony Dimarco and his sun-kissed studs on an all-sex voyage in the desert.
Star of the new Falcon release, Hidden Palms, Signature Supercock model and big-dick award-winner JJ Knight, hosts the Model Spotlight this issue. Read up and take notes on the latest from one of gay porns biggest cocks and be sure to enjoy an action gallery featuring JJ's hottest shots!
It's time to fly off to your holiday destination, but, first, you must get a full body search at the TSA Checkpoint. Enjoy the Free Action Galleries featuring all the hottest probing action shots from the latest Raging Stallion release.
It's that time of year once again! Fill out our HUNT Reader & Falcon Studios Group Content Survey by visiting the Special Feature. Plus, get a chance to win tons of Falcon Studios Group and NakedSword goodies. Each participant in the survey receives a special gift at the end!
Heating things up first in Studio News comes the debut of the first scene from, Hidden Palms, featuring exclusive Brent Corrigan and fan-favorite, Roman Todd. Then, join exclusive Rikk York and Teddy Torres in the stockroom for the debut flip-fuck from 24 Hour Boner. Want more chances to win amazing 2018 merch from Falcon Studios Group and NakedSword Network? We're rolling out a series of contests to give fans a chance at some 2018 calendars, DVD's and more. Finally, drink the mysterious energy drink that gives you a 24 Hour Boner and embark on a journey with director Steve Cruz and his horny studs in an all-sex, truck stop fuck-fest.
Save $10 on select 2017 new releases and up to 80% off special products with the Annual Holiday DVD Sale. Plus, New Release Scenes are $4 off and Scene Bundles give you up to 80% off in the Holiday Big Scene Savings Event.
Since we're in the season of giving, your Free Scene Download this issue features a scorching scene from Falcon's Poolside 1, with Brenner Bolton and Lucas Knight. The sun-soaked scene is like those found in the present poolside hit, Hidden Palms.
Happy Holidays,
The HUNT Team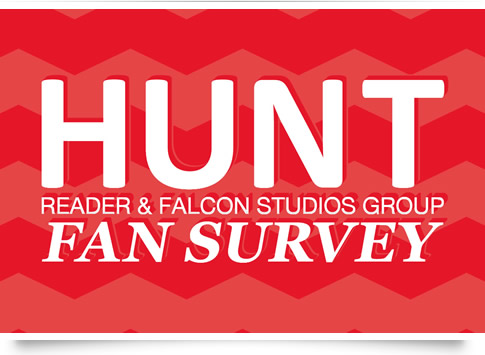 HUNT Reader & Falcon Studios Group Fan 2017 Content Survey
Welcome to the HUNT Reader & Falcon Studios Group/NakedSword Fan 2017 Content Survey. We are seeking your feedback to help us make important decisions about our content. This year, we shortened the survey and plan to provide more opportunities to provide your feedback and win great porn prizes throughout the coming year. The survey should only take you 2-4 minutes to complete, and everyone who completes the survey will receive a mystery offer/discount code of their choice at the end of the survey.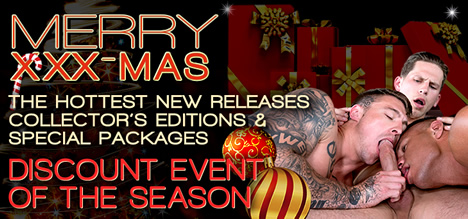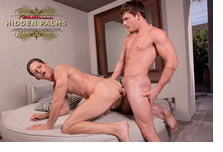 Brent Corrigan and Roman Todd Debut Hidden Palms on FalconStudios.com - FalconStudios.com has announced the exclusive world premiere of the debut scene from their latest release, Hidden Palms. The first scene from the new release features Brent Corrigan and Roman Todd in an upscale pool fantasy that leaves both studs dripping wet in the desert sun. The scene from Hidden… Read Full Story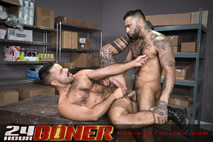 RagingStallion.com Releases First Scene from 24 Hour Boner - RagingStallion.com, the Falcon Studios Group site featuring natural men, announced the release of the debut scene from its latest feature, '24 Hour Boner'. Award-winning director Steve Cruz directs Rikk York and Teddy Torres in a scene set in a 24-hour convenience store where a delivery guy gets the surprise… Read Full Story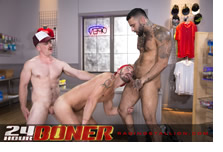 Raging Stallion Releases Convenience Store Spoof 24 Hour Boner - RagingStallion.com, the Falcon Studios Group site featuring natural men, has released their latest feature, '24 Hour Boner'. Award-winning Director Steve Cruz leads a cast of 10 all-natural studs through the doors to a store of debauchery. Customers, delivery guys, clerks, and truckers needing a respite… Read Full Story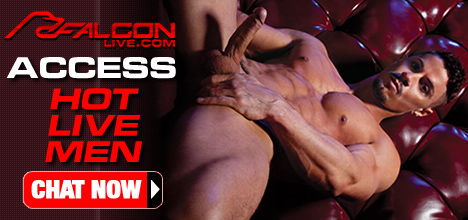 Brenner Bolton & Lucas Knight in Poolside 1 similar to scenes in Falcon's New Release Hidden Palms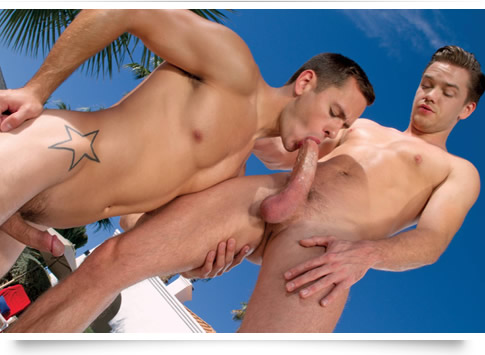 Lucas Knight and Brenner Bolton's hands roam over each other's bodies as they rendezvous under a palm tree by a shimmering pool. When Brenner kneels and yanks Lucas' trunks down, it reveals Lucas' staggering monster cock! Undeterred, Brenner deep throats Lucas' cock and slurps his balls. Lucas pulls Brenner onto his feet, sucks the taste of cock off his tongue, then faces Brenner against that palm tree and rips off his trunks. Brenner's untanned ass is smooth and round, and it was made to take Lucas' giant cock. After fucking, they lie down by the pool and Lucas eagerly tongues Brenner's freshly fucked hole before going at it again, this time in the missionary position. Brenner erupts, streaming cum across his body and into the turquoise waters, followed by a deluge from Lucas that does justice to the size of his massive cock.