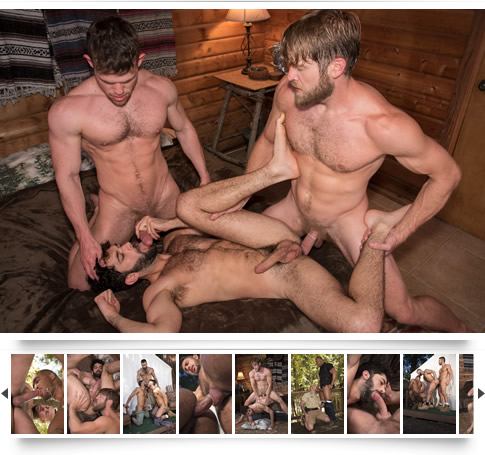 Is it love? Is it lust? Either way, Tegan Zayne is Trapped in this exciting sexual journey. Will he discover the answers? Will he escape his captors and all the unanswered questions? Find out in the latest steamy Raging Stallion featured from the mind of award-winning director Chi Chi LaRue. Kurtis Wolfe and Tegan Zayne are fucking on the couch. After taking each other's massive loads in their mouths, Kurtis proposes to Tegan. Tegan is unsure and decides to take a soul-searching trip to the woods to sort things out. After arriving at his destination, Tegan finds a local watering hole. All is well until he meets a handsome stranger and soon finds himself as a prisoner in a secluded cabin in the woods. Meanwhile, Seth Santoro and Ryan finch are back at the bar. Seth sucks Ryan's dick before he gets his own hairy hole serviced by Ryan's expert tongue on the pool table. Officer Sean Duran and Detective Jason Vario are working Tegan's missing persons case. When they disagree on how to proceed, the only way to remedy the situation is for Jason to prove that he has the bigger dick and then fuck the cum right out of Officer Sean. After being held by Colby Keller for almost two weeks, Tegan is ready for some action. He seduces his captor with a nice long blowjob before Colby rams his big cock deep inside his prisoner. Is Tegan falling for Colby or is it a classic case of Stockholm Syndrome? Damien Taylor, Rikk York, and Seth Santoro are camping in the woods. After the guys take turns stretching each other's holes and gobbling up all the cum they can get, Seth and Rikk get lost on a hike. One of the strangers in the woods who helps them on their way looks familiar. Can Seth figure it out before it's too late? When Kurtis gets a tip from Detective Jason on where Tegan is staying, he shows up at the cabin. Tegan is unable to choose between Kurtis and Colby so Kurtis suggests that they all love each other. After Colby fucks both hung studs, the cum flies and the aftermath begins. Will the three new lovers make their new arrangement work or is Tegan Trapped again in an entirely new complicated situation. See it all unfold in Trapped and let your inhibitions loose.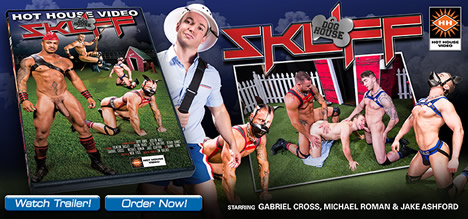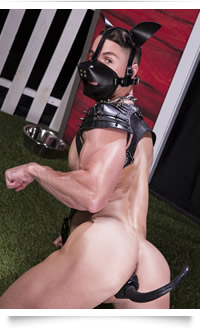 Falcon Studios Exclusive Skyy Knox blasted onto the scene earlier this year and has become a dominant force in the porn industry in a very short time. Maybe it's his ultra-ripped physique? Maybe it's his 7.5"-inch uncut cock? Or, maybe it's his talented, cock-hungry bubble butt that eagerly bounces on giant cocks. We say it's a combination of all-of-the-above, mixed with his infectious personality and charm that makes him one of the most popular models in the industry today. This Canadian-born hunk recently appeared on The Howard Stern Show, and he's constantly on the move making live appearances and starring in all the latest Falcon Studios Group blockbusters. Haven't had to chance to witness Skyy in action yet? Then, be sure to catch him in instant hits like Skuff: Dog House, The Fixer or Dark Matter from Hot House or the blockbuster Route 69, from Falcon Studios. Whether you're catching Skyy in one of his award-winning movies or live at an appearance, this dynamic stud is sure to show you why he's a porn force to be reckoned with.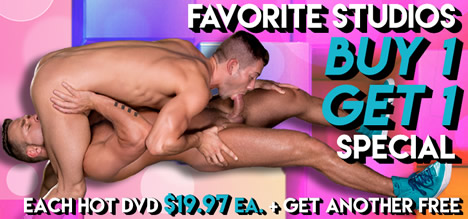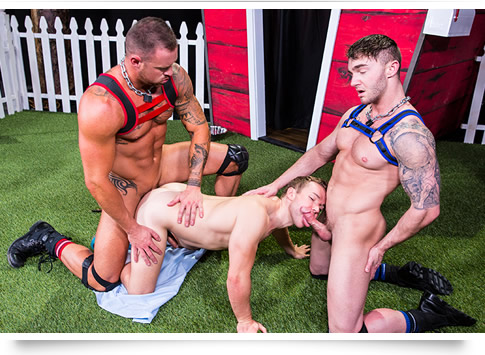 Hot House Lets the Dogs Out for Skuff: Dog House
Hot House today announced the release of Skuff: Dog House, a world where puppies please their masters and the reward for good behavior is always a nice fat dick. Skuff: Dog House is available on DVD and through download on the Falcon Studios Group Store.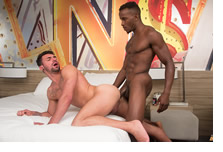 Pheonix Fellington Plunders Leo Luckett's Booty - Since plundering means "stealing goods with force," I stand corrected. One look at Pheonix's huge, hungry dick and Leo offered up that ass of more than willingly. Good thing. He may never get it back. Read Full Story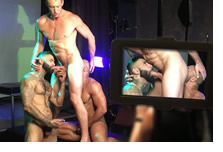 Exclusive Sneak Peek #3: "Making Rent" The Hard Way - We go on-set and behind the scenes where Jason Vario, Pierce Paris, & Rikk York show us that a hard day at work can be the best way to end the week. Read Full Story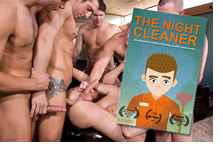 "The Night Cleaner" Is A Dirty, Dirty Job - "I hope viewers learn that shame should have no place in sexual spaces like bathhouses." ~ Blair Fukumura director of "The Night Cleaner" Read Full Story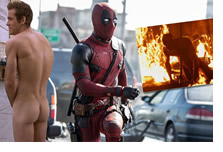 #CelebrityCock: The Smoking Ryan Reynolds - Ryan Reynolds just turned 41 today and to celebrate, we're showing you his birthday suit, front and back. Read Full Story


Hot Membership Site Updates Available Now!



Falcon Studios Group Models Appearing Live in a City Near You.
November 3 & 4: Brent Corrigan & JJ Knight at Nob Hill Theatre, San Francisco, CA
November 3: Ryan Rose at Parliament House, Orlando, FL
November 17 & 18: Ryan Rose at LeBoy, Fort Lauderdale, FL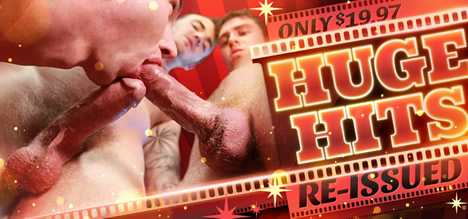 Hey HUNTer's,
Hope you had a fun and safe Halloween. Can you believe it's already, November? We're coming at you full force with another bulging issue of HUNT. We got multiple new releases, debut scenes, free galleries and more! Cozy up and enjoy.
Hot House unleashes a pup-filled fuck fest in our Breaking News with the release of Skuff: Dog House, on DVD & downloads. Director Nick Foxx explores pup play with horny doggies and their dominant masters.
Talented newbie turned overnight sensation, Skyy Knox, takes over the Model Spotlight. Starting in the gay adult world only this year, Skyy has managed to gain a massive fan base and countless award nominations. Peep his free gallery to see his dynamic and versatile performances for yourself.
It's time to double up on hot shots from recent releases! First up, join Tegan Zayne as he chooses between love and lust in the Free Action Gallery from Raging Stallion's, Trapped. Then, our Special Feature delivers a BONUS Free Action Gallery featuring the eerie and sexy action shots from NakedSword's latest, The Devil's Deal and Other Sordid Tales.
First up in Studio News, head on down to the Big Easy to witness the debut scene from Falcon's upcoming feature, Love and Lust in New Orleans. In addition to the debut update, Club Inferno's, World Series of Fisting, directed by Tom Moore, is now available on DVD & download. Finally, classic model Shane Rollins and his massive meat are featured in the new compilation, My Big Fucking Dick – Shane Rollins.
We've got some super BOGO savings for you this issue. Get discounted DVDs at $10 off each and get one free with every one you purchase with the Favorite Studios Buy 1 Get 1 Special. And you can save on scenes – only $3.95 each, plus get one free with every download from the offer with the Top Brand Buy One Get One Scene Sale.
Thought we were finished here? Think again! Shane Rollins and Alex Fuerte star in the Free Scene Download in a cum-guzzling scene from Hot House's, The Hard Way. This scorching scene is now available on the all-new compilation, My Big Fucking Dick – Shane Rollins.
Signing off,
The HUNT Team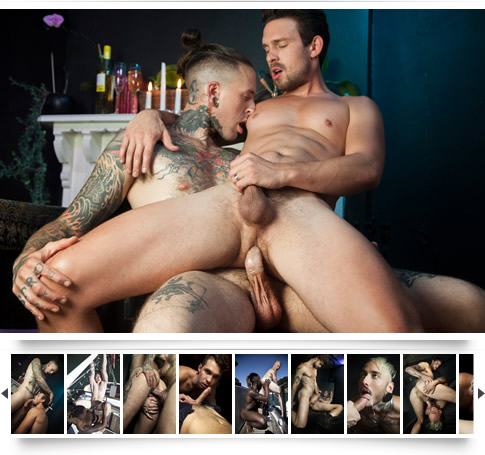 BONUS Free Action Gallery The Devil's Deal and Other Sordid Tales
Have you ever come face to face with evil? A chill in the room makes your skin crawl and all you want to do is get away. But sometimes the face is so beautiful you get a very different feeling; a lust that makes your dick hard and all you want to do is surrender to the sins of the flesh. These four vignettes of chilling sexual encounters will do both. So, grab your cock and hold on tight for haunting ghost fucks, shocking discoveries, and broken promises in The Devil's Deal & Other Sordid Tales.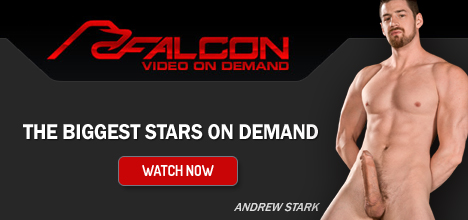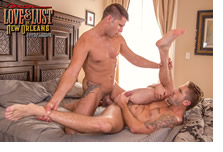 'Love and Lust in New Orleans' World Premieres on FalconStudios.com - FalconStudios.com announces the exclusive world premiere of the debut scene from their latest release, 'Love & Lust in New Orleans' directed by award-winners Chi Chi LaRue and Tony Dimarco. The first scene from the new release features Tyler Roberts and Wesley Woods in a sudsy union… Read Full Story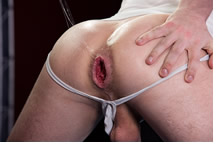 World Series of Fisting Spreads Holes Wide Open on DVD & Downloads - Welcome to the World Series of Fisting, where gaping holes, deep fist penetration and raging rosebuds rule the day. The competition is stiff and the contestants hail from around the world to show off for the judges just how deep they can take a fist. On the night before the competition, Hugh Hunter shows his… Read Full Story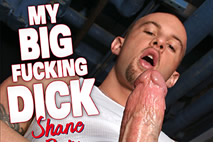 New Compilation My Big Fucking Dick - Shane Rollins Now Available - Shane Rollins' massive meat is the star in six jaw-dropping, hot scenes! This mega-star and his huge cock will have your mouth watering, and leave you asking for more. Check out all the scenes included and marvel at Mr. Rollins' big fucking dick. Read Full Story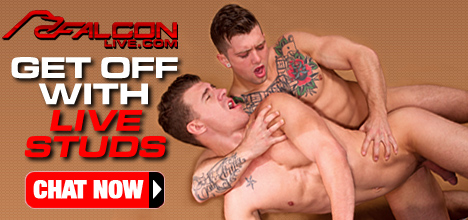 Shane Rollins & Alex Fuerte from The Hard Way now on My Big Fucking Dick - Shane Rollins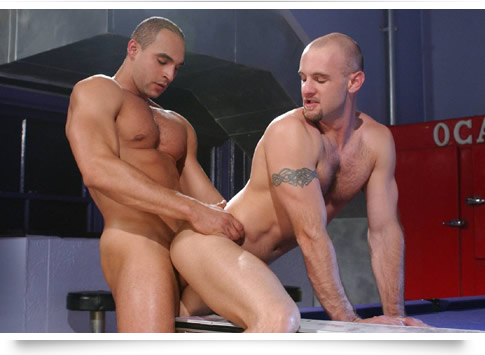 Hot House Exclusive Alex Fuerte and smooth inked seductive Shane Rollins are shooting pool. Shane reaches over the table for the perfect shot and that's all Alex needs to get the action going. In no time, the stud's pants are around his ankles while Alex goes to town on his smooth ass. Shane and his puckering manhole are begging for more of Alex's face but Alex would rather suck on his fantastically wide cock and low-hanging balls. Now it's Shane's turn to inhale Alex's long, uncut piece. Eagerly and sloppily trying to jam the entire monster down his hungry throat, he finally gives up knowing there's one other hole that he'd rather have Alex bury his bone in. After being plowed real good, Alex gives it up for Shane as he's propped up on the pool table. After some long, hard insertions, the two finally cum and collapse on each other.