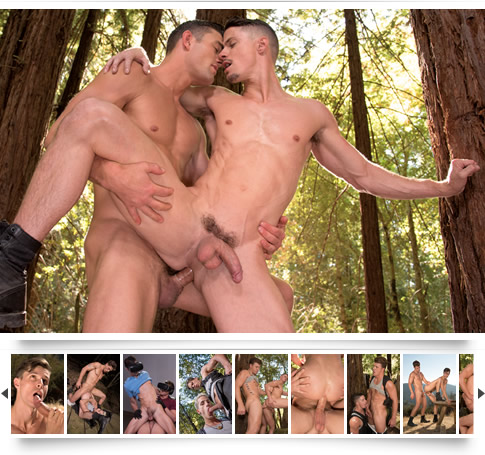 These studs are in it to win it. In the virtual world of Head Play, six stunning opponents out-wit and literally fuck their way out of situations with one goal in sight: Winning. Award-winner Tony Dimarco directs this high-energy, fast-paced sexual and mental competition that pits beautiful, athletic men against each other in a quest for the prize. Ryan Rose finally finds the treasure he seeks in a virtual reality world when Skyy Knox swoops in with his new-found superpowers and ties Ryan to a tree in the blink of an eye. Before he takes the coveted item, Skyy decides to sample the stud in front of him and takes a pounding like none he's ever had. As the two hunks finish up, they find out the hard way that they've been played. Roman Todd has just acquired the mysterious object when Jay James appears out of thin air. Jay takes the talisman and puts it off to the side before Roman gives Jay's smooth, tight hole a workout with his larger than average manhood. Sex is the distraction that keeps men from keeping the lost artifact, and neither Roman nor Jay are an exception to this rule. When JJ Knight sits down to test a virtual reality game, he has no idea that Alex Chandler will be testing his boundaries. Alex unzips JJ's jeans and gives his massive uncut dick an amazing oral workout that neither stud will soon forget. Skyy steals the trophy from JJ before he realizes that this is anyone's game. Once JJ gets what he needs and takes back the treasure, he gets his own reward by claiming Skyy's open, hairy hole. Alex and JJ are in the final round of the game. JJ can't seem to get the upper hand and decides to play dirty with Alex. When he strips down and offers up his extra large manhood, Alex caves in and gets his back door serviced hard as JJ plows him as deep as he can possibly go. Keep your eyes on the prize or it might slip into the hands of one of your sexy opponents. Watch Head Play to find out who wins and to revel in each sexual match up as the game unleashes the passions and desires of these handsome hunks.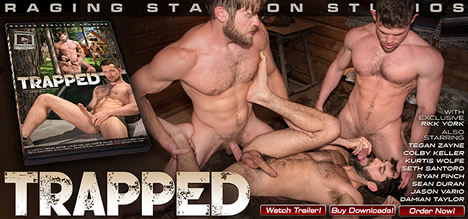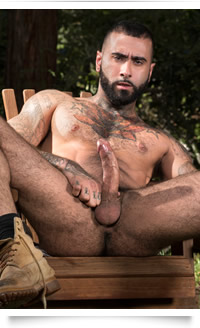 Rugged and tatted Raging Stallion Exclusive Rikk York is a bad boy admired by the masses. Since becoming one of our most popular exclusives last year, Rikk continues to captivate his fans. He delivers consistently dynamic, cum-filled, versatile performances as he sports his suckable 8-inch cock and one of the hairiest holes every tongue wishes they could lather up in. Mostly shooting for Raging Stallion, York has filmed for many lines under the Falcon Studios Group umbrella in the past including Club Inferno, Hard Friction and NakedSword Originals. Well-known as one of the fiercest gogo dancers in the porn industry, Rikk often graces lucky fans with live appearances and sex shows. Rather keep Rikk to yourself? Grab one of his recent Raging Stallion DVD's such as Trapped, Gaymers, Gun Show and Beards, Bulges and Ballsacks!. Keep those eyes peeled and those cocks out because a star like Rikk is certain to continue mesmerizing fans.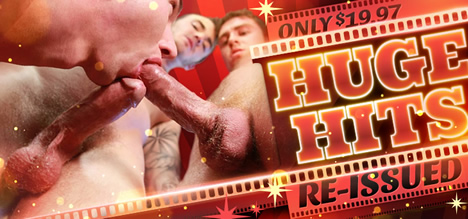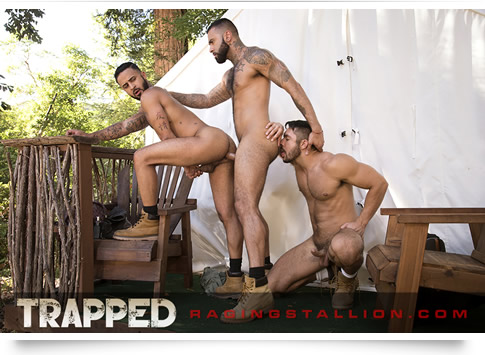 Breaking News: Raging Stallion Releases Sexual Mystery Movie Trapped
Falcon Studios Group's brand featuring natural, rugged men, Raging Stallion, has released its latest feature, Trapped. Award-winning co-Directors Chi Chi LaRue and Steve Cruz lead the way as nine hot studs fuck their way through the latest sexual mystery. Is it love? Is it lust? Either way, Tegan Zayne is Trapped in this exciting sexual journey. Will he discover the answers? Will he escape his captors and all the unanswered questions? Trapped is now available on DVD and download on the Falcon Studios Group Store.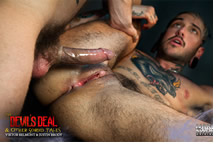 Justin Brody Delivers The Load From Hell - Sex begins with what's between our ears and ends with what's between our legs. Though today, when Justin Brody finishes up with Viktor Belmont, it ends with what is all over Viktor's face. Read Full Story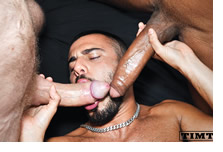 Yes. Too Much Cock Really Is Possible - Last week, we asked the question and today we get the answer. And if this looks like too much cock on Chucho Martin's face, wait until you see them DPing his ass. Read Full Story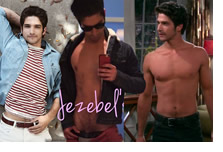 #CelebrityCock: Tyler Strikes A Posey - Striking a pose is nothing new to the "Teen Wolf" heartthrob. But in this particular video, he's doing more stroking than striking. And for the first time, he's talking about it. Read Full Story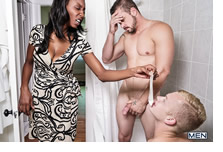 Do Women Belong In Gay Porn? - Now looking at the image, the question of whether condoms belong in gay porn is also a viable one, but we'll save that for another day. As for women in gay porn … Read Full Story


Hot Membership Site Updates Available Now!



Falcon Studios Group Models Appearing Live in a City Near You.
October 21: Austin Wolf at HustlaBall Germany, Berlin, Germany
October 27 & 28: Rikk York at HustlaBall SF, San Francisco, CA
October 29: Skyy Knox & Kurtis Wolfe w/ Chi Chi LaRue at The Saloon, Minneapolis, MN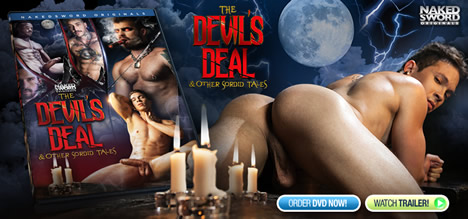 Hey HUNT Men,
BOO! It's about that time for the ghouls and goblins to roam the night but first, we're bringing you another issue of HUNT eZine that's so sexy, it's scary! If you're too frightened to see all of these massive cocks and insatiable holes alone, grab a friend and get off to all of our new content together. Happy Halloween!
Making headlines in our Breaking News item is the release of the latest Raging Stallion feature, Trapped. Co-directed by Iconic directors Chi Chi LaRue and Steve Cruz, Trapped is an epic tale of love and lust that results in the best hardcore sex from Raging Stallion.
Learn more about an entirely new way to purchase scene downloads in the Special Feature. These Scene Bundles group the hottest scenes together and offers them at some scary good deals. Check them out and SAVE today!
Star of Trapped and Raging Stallion Exclusive, Rikk York, takes over our Model Spotlight. This scruffy and tatted stud has wowed the masses in the short time he's been exclusive with us. Check out where you can catch one of his award-winning performances, and view his gallery of free images.
Director Tony Dimarco bends the lines between virtual reality and the real world mixed with hot, outdoor sex in the Free Action Gallery from Falcon Studios' latest, Head Play.
Studios News lays this issue to R.I.P. with the release of NakedSword Original's latest spooky and salacious feature, The Devil's Deal and Other Sordid Tales, on DVD & downloads; a recap of two appearances by Falcon Studios Group Exclusives on The Howard Stern Show this week and the debut scene from Hot House's upcoming puppy play feature, Skuff: Dog House. In it, Mailman Gabriel Cross makes the hottest mistake at crossing into the yard and gets used and pounded by two horny pups.
Want amazing Fall Promotional deals that will scare your pants off in the best way? Here they are…First up, our Annual Fall DVD Clearance Sale offers up to 60% off some of the hottest movies in our store. Then, get $5 off over 600 scenes in the Fall Scene Super Savings promo. Finally, a selection of best-selling DVDs have been re-pressed and they're back in stock at great savings in the Huge Hits Reissued offer.
Brad Rock, Rodin Kohl and Troy Brewer dominate your Free Scene Download this week with a barracks threesome that's hotter than the pits of hell. This scene from Bunker is similar to all the scenes in our new Military Meat Scene Bundle.
Have a Scary Good Time,
The HUNT Guys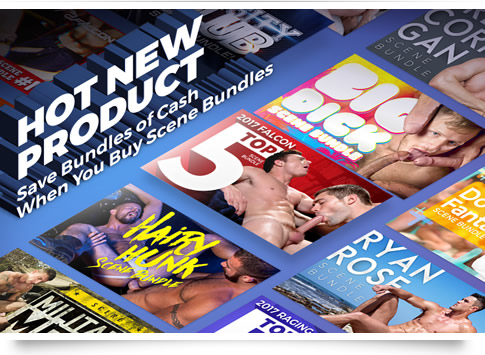 Introducing a New Way to Download: Scene Bundles
Falcon Studios Group and NakedSword have created a new product on their online store: Scene Bundles. The introduction of the new product on the Falcon Studios Group & NakedSword Store provides customers with an innovative new way to purchase a group of scenes at a discounted price.
Displayed prominently on the home page the initial offering includes groupings of scenes focused on themes like the Military Meat Scene Bundle and Doctor Fantasy Scene Bundle, performer bundles like the Brent Corrigan Scene Bundle and Ryan Rose Scene Bundle, studio focused bundles like NakedSword's Top 5 of 2017 Scene Bundle and special collections like Falcons Best of the 70s Scene Bundle #1.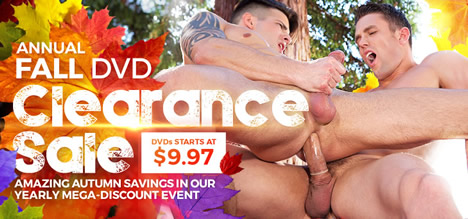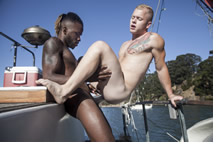 NakedSword Original's Releases New Film The Devil's Deal and Other Sordid Tales on DVD & Downloads - NakedSword Originals announces the release of the spooky, sexy and salacious, 'The Devil's Deal and Other Sordid Tales' on DVD and scene download. Directed by mr. Pam, the latest NakedSword offering that includes spirits, hauntings, near-death experiences and sexual deals made with the Devil himself. Read Full Story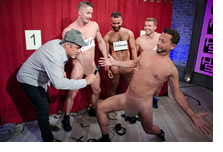 Exclusive Skyy Knox, Gabriel Cross & Fernando Del Rio Appear on The Howard Stern Show's Cocktober - Falcon Studios Group & NakedSword stars have been involved in the Howard Stern Show to celebrate the show's Cocktober festivities. Exclusive Skyy Knox and fan favorites Gabriel Cross and Fernando Del Rio hit the air to assist Howard and his team in an epic game of Pick the Pouch on Wednesday. Read Full Story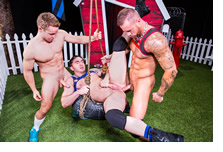 Michael Roman, Gabriel Cross & Jake Ashford Debut Skuff: Dog House - Hot House has announced the exclusive world premiere of the debut scene from their latest DVD, 'Skuff: Dog House', led by award-winning director, Nick Foxx . The first scene from the new release features Hot House fan faves Michael Roman and Jake Ashford puppy piling on the mailman, Gabriel Cross. The… Read Full Story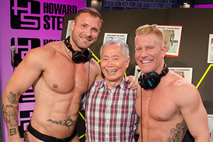 Superstar Exclusives Austin Wolf & Johnny V Join George Takei on The Howard Stern Show - On Monday, October 16, 2017, Falcon Studios Group superstars Austin Wolf & Johnny V, appeared on the world-famous Howard Stern Show for another week of Cocktober festivities. Joining the dynamic porn duo was actor and LGBT activist, George Takei. Read Full Story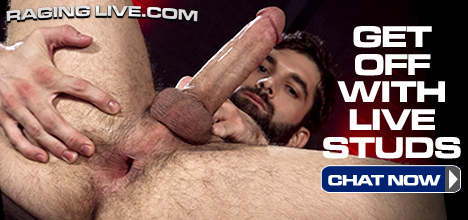 Brad Rock, Rodin Kohl, and Troy Brewer from Bunker similar to Scenes found in Military Meat Scene Bundle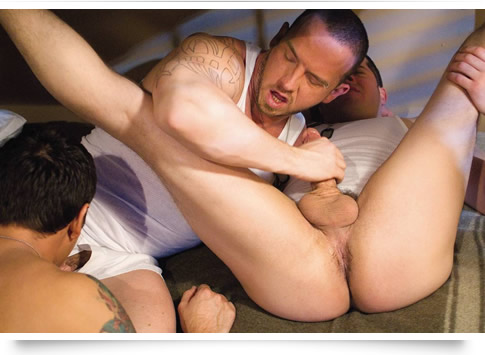 Brad Rock, Rodin Kohl, Troy Brewer settle into their bunks for the night, but Brad just can't keep his hands off his cock. Rodin catches the action out of the corner of his eye and rises to give Brad a hand. Meanwhile, Troy Brewer catches sight of Rodin's cock from the bottom bunk and can't resist the temptation. The men straddle the bunks sucking and stroking and before long these studs are all on the same bunk, sucking, rimming, and fucking their way through a scorching three-way. As the intensity heightens these enlisted men surrender to the call of their stiff cocks and asses until each man has had his fill and lost his load.