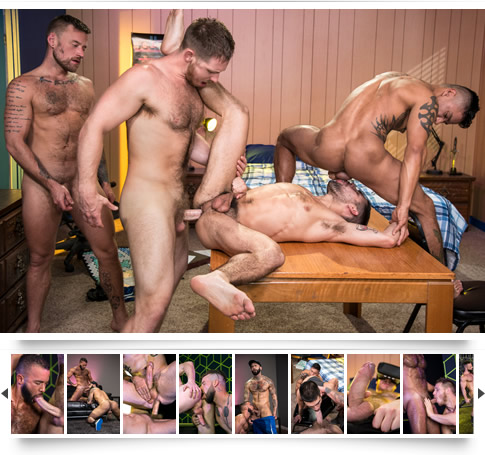 Welcome to the world of Gaymers, where games, role play and virtual reality all come together to blur the lines of real-life interactions and online and electronic fantasy. Gaymers keeps you guessing whether the steamy action is happening face-to-face or mind-to-mind, but it's always balls out, intense and energized. Director Steve Cruz guides a cast of 10 hung and horny Gaymers through his alternate plane where they play out their hottest sexual dreams in video games, fantasy board games, and go balls deep into the world of virtual reality. Every game they play brings each of them closer together with enough cock sucking and hole plunging action to keep them all occupied for hours. After Rikk York beats his online opponent while 'gayming', Fernando Del Rio enters the room feeling a little left out. Rikk shows his love for Fernando by sharing a super-charged flip fuck session until they both blow their massive loads all over each other. Daymin Voss and Eddy Ceetee are characters in a video game. After Daymin gets his ass handed to him in defeat, Eddy helps him off the floor and the two fuck away any hard feelings they may still harbor from the game. Spencer Whitman, Hoytt Walker, Xavier Huxx and Ty Mitchel are playing a fantasy board game when all the talk of big swords and conquering quests takes over. The four studs take turns fucking with double penetration and plenty of cock sucking action to go around for everyone. Buck Richards and Eddie West are the objects of a virtual reality fantasy being watched by Spencer Whitman. The two muscle studs take turns fucking for Spencer's viewing pleasure until they both cum all over Buck's sweaty, hairy body. When Spencer finishes watching Buck and Eddie fuck, he gets a dirty video text from Fernando Del Rio. After watching Fernando jack off, Spencer puts his headset back on and meets up with a virtual Fernando. The two studs suck each other off before they both get a nice thick facial. Gaymers never know who they'll hook up with or when, but when they do, they take it to the next level and sometimes real life is hard to distinguish from that of the virtual world of hardcore sex.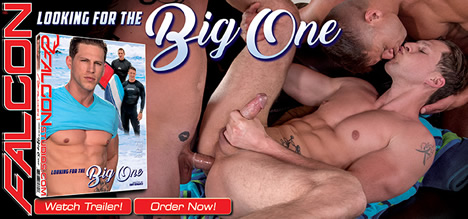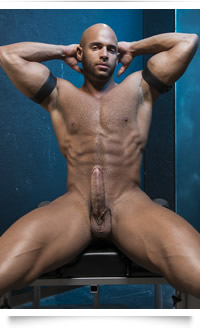 Hot House Exclusive Sean Zevran is a gay porn versatile powerhouse! His dynamic and explosive performances have earned him countless awards, including winning XBIZ's 2017 Gay Performer of the Year award. Sean towers and possesses bulging muscles that will make your mouth water. He's also packing an 8.5" inch uncut cock and one of the firmest, finest bubble butts in the biz. Zevran has recently cracked deals with respected toy company Fleshjack, to produce and mold toys from his famous assets. If for some odd reason you haven't got to know Sean Zevran on screen yet, you can catch him in recent releases such as Dark Matter, The Trainer: No Excuses and Overpowered, all from Hot House and Code of Silence, from Falcon Studios. Now see for yourself why Sean Zevran continues to prove that he's a massive force to be reckoned with and a superstar to be celebrated.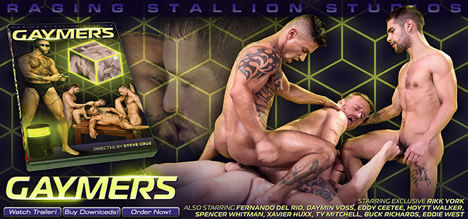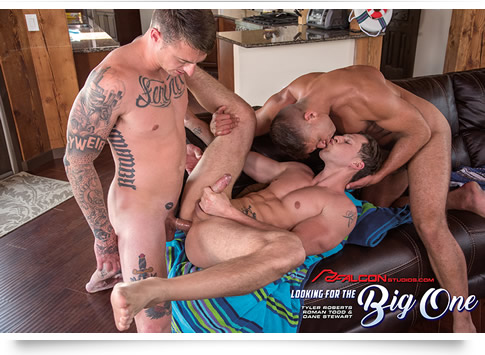 Falcon Surf's Up - Looking for the Big One Now on DVD & Download
Falcon Studios and a cast of surfing studs hits the beaches of beautiful Southern California for their latest release, Looking for the Big One. Award winning director Tony Dimarco leads a group of hunky buddies who rent a beach house on the Cali coast for the summer. Their season of surf, sex and sand quickly turns into a summer of bliss. The DVD and scene downloads are available to fans today on the Falcon Studios Group Store. What starts out as searching for the biggest wave aggressively turns into a search for the biggest cock, and these studs will never be done Looking for the Big One.
What starts out as searching for the biggest wave aggressively turns into a search for the biggest cock, and these studs will never be done 'Looking for the Big One'.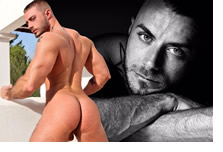 Jessie Colter: Two White Supremacists Tried To Kill Me - "If you're a sex worker in SF please read this! If I can happen to me, it can happen to anyone!" wrote gay porn star Jessie Colter last week. Now, he's telling exactly what happened -- and thankfully, what didn't. Read Full Story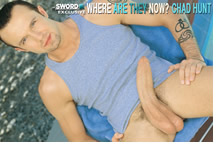 Where Are They Now: Gay Porn Star Chad Hunt - Chad Hunt, the original "Mr. Big", on his hottest scene, favorite co-stars, drug-fueled lows, & the break from his porn persona that led to the highs of fatherhood, activism, and self-acceptance. Read Full Story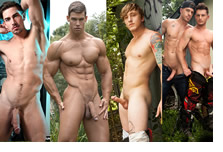 The Ten Hottest Gay Porn Stars of Summer 2017 - They may twinkle, but they ain't little. Which gay porn stars have shined brightest this summer? We've counted the clicks and your dicks have spoken. Read Full Story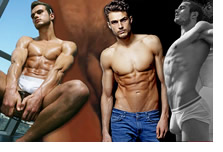 #CelebrityCock: Ryan Cooper - As if Ryan Cooper's face and body weren't wet dreams all by themselves, wait until you see the rest. Read Full Story


Hot Membership Site Scenes Available Now!



Falcon Studios Group Models Appearing Live in a City Near You.
September 9: Skyy Knox, Brent Corrigan & JJ Knight at EVO Wonder Lounge, Edmonton, AB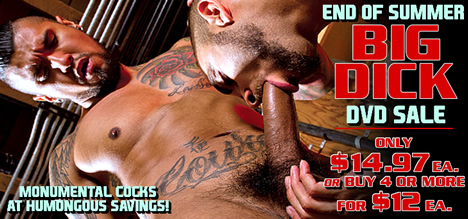 Hey HUNT Hunks,
The studs at HUNT eZine hope you all had a safe and sexy Labor Day weekend! Just because Summer is slowing doesn't mean we're doing the same here. We're back with another fully loaded issue featuring multiple new releases, debuts scenes, multiple free galleries and more. Clear your schedule because you're bound to be here for a while. Have fun!
Falcon Studios and director Tony Dimarco kick off Breaking News with the release of their new beachfront scorcher, Looking for the Big One. Hunky surfer bums rent a beach house for the Summer and find they like riding more than waves. Get it on the Falcon Studios Group Store today!
XBIZ's Gay Performer of the Year winner, Sean Zevran, takes over the Model Spotlight. One of the most prolific forces in gay porn today, read up on all that makes Sean Zevran one of the best in the biz. Then, peep his gallery of hot action shots from his latest release Dark Matter, which you can also find in Studios News below.
Join Raging Stallion and get played in our Free Action Gallery featuring the hottest action shots from the new release, Gaymers. Not enough free action? You're in luck because our Special Feature this issue comes with a BONUS Free Action Gallery from Hot House's Chi Chi LaRue-directed hit, One Night at the Ready.
We've got a packed Studio News for you this week! First, exclusive JJ Knight and Addison Blue take a break from the surf and retreat back to the beach house for some action in the debut update from Looking for the Big One. Hot House blends artistic scenarios with blazing-hot sex with the release of Dark Matter. Falcon's latest release, Intimate, is all about deep connections and passionate fucking. Finally, NakedSword Original's exposes the famous and cruisy Canal Street in Guyspotting, directed by XBIZ Gay Director of the Year, mr. Pam!
Just for our loyal HUNT readers, we've held over our Labor Day 72 Hour DVD Sale, where you can score $7.97 DVDs. We're also delivering huge cock savings in our End of Summer Big Dick DVD Sale that offers up as much as 60% off DVDs feature massive meat, and our End of Summer Big Dick Scene Savings, giving you downloads that feature 9+ inches at a low $3.25 each.
In the Free Scene Download, download hot surfer action with Dean Monroe, Jeremy Hall & Jason Harley from Longboard, Falcon surfer flick like new release, Looking for the Big One.
Lube Up,
The HUNT Team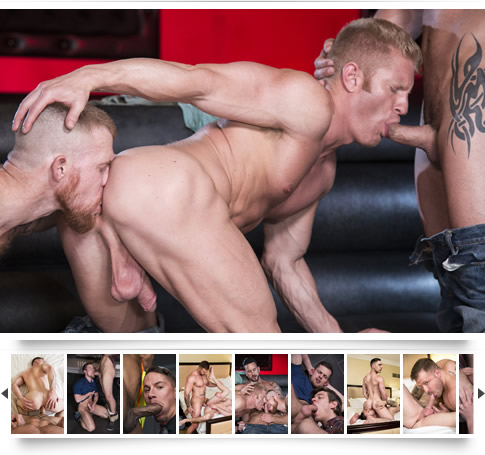 Welcome to The Ready – a dimly lit bar attached to a dim hotel. It's seen better days but it has a definite charm, a feeling of home and community to those who have made it their special place to go. If these walls could talk… well, through the experiences of nightshift bartender Jack Vidra they can. Join Jack and eight of his regulars for One Night at the Ready and find out why this is such a HARD job to quit. The Ready Bar is a special place where locals come to hang out and strangers are always welcome. Dimly lit and attached to a hotel, the politics of hustlers, the dynamics of old friends, and the cravings of lonely men converge to form a perfect place where passion and sex are always in the air. Award winning director Chi Chi LaRue heads up a cast of nine horny studs who will make your 'One Night at the Ready' an experience you won't soon forget! Michael Delray and Kurtis Wolfe are straight buddies from their college days. After discussing how their wives no longer put out, they end up in the bathroom where Kurtis feeds Michael's asshole with his big thick cock. Fane Roberts sets his sights on Austin Wolf and the two head to a hotel room. After rimming Fane's ass, Austin slides his meat inside the lonely stud and finishes up with a load in Fane's mouth. Well-dressed Skyy Knox spills a drink on Jason Vario's construction uniform. After following Skyy to the back alley, Jason makes Skyy lick up his mess before he skull fucks the dapper stranger and stretches his ass with his uncut monster cock. Bartender Jack Vidra is closing up for the night when Johnny V introduces him to Dakota Rivers. The three hung studs suck and fuck until Johnny and Dakota reward Jack for long day of work with two loads to his face. Every night at the bar is compelling, but this One Night at the Ready, as seen through the eyes of the bartender will get your cock hard and squirting in no time!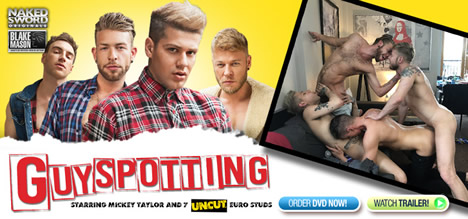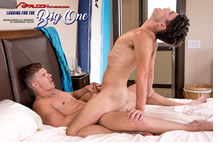 World Premiere: Looking for the Big One Makes Waves on FalconStudios.com - FalconStudios.com announces the first scene from the new beachfront feature from Tony Dimarco, Looking for the Big One. The new scene that features exclusive JJ Knight and fan favorite Addison Blue, debuts on Friday, September 08, 2017 on FalconStudios.com which coincides with the release of the… Read Full Story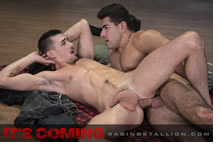 RagingStallion.com Debut of It's Coming Promises to Thrill - The world premiere of RagingStallion.com's new episodic thriller directed by Steve Cruz, It's Coming, is now live on the premium membership site. In a house with a horrific past, Jack Hunter and Damien Stone share a sleeping bag and themselves when they try to make it through a frightful night. Read Full Story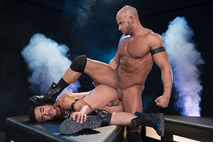 Hot House Brings Hedonistic Fantasy to Life With Dark Matter - Hot House announced the release of 'Dark Matter', a XXX spectacular where the worlds of gay sex and art collide in other-worldly scenes that consist of powerful and stunning male forms drawn together by mysterious forces, deep fantasies, and carnal desires. Read Full Story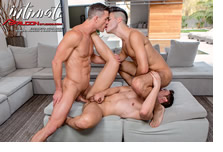 New Falcon Feature Gets Intimate - Falcon Studios dives deep into the world of passionate and connected sex in Intimate the latest release available from the iconic studio. Director Tony Dimarco captures what happens when seven hunky studs give an Intimate look into their private sex lives. The DVD and scene downloads are available to fans… Read Full Story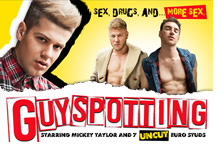 NakedSword Original's Releases Guyspotting on DVD & Downloads - This is Guyspotting, a glimpse into the sex-crazed, alcohol and drug induced world of Manchester's gay counter-culture. This cast of uncut, horse-hung Brits give zero fucks, taking their youth, good looks and each other for granted until the phone rings and tragedy strikes. Will this be a wake up call or just… Read Full Story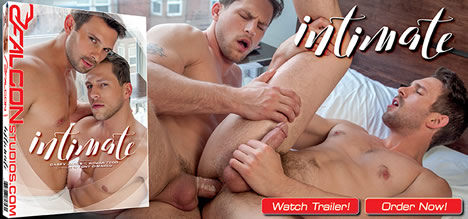 Dean Monroe, Jeremy Hall & Jason Harley from Longboard,
Falcon Surfer Flick like new release, Looking for the Big One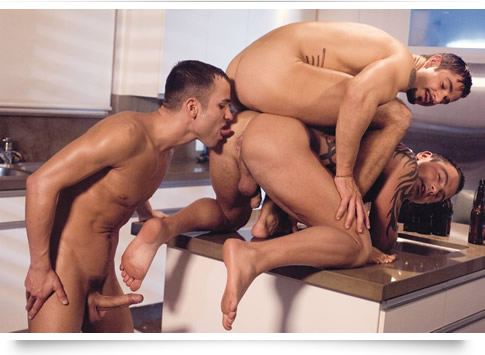 Another night, another party at surf-king Dean Monroe's house: Dean has pick of the litter, he gets down for a three-way with Jason Harley and Jeremy Hall. Zackary Ryan (in a non-sexual role) walks in on them and is shocked by what he's found … but maybe lingers a bit too long.