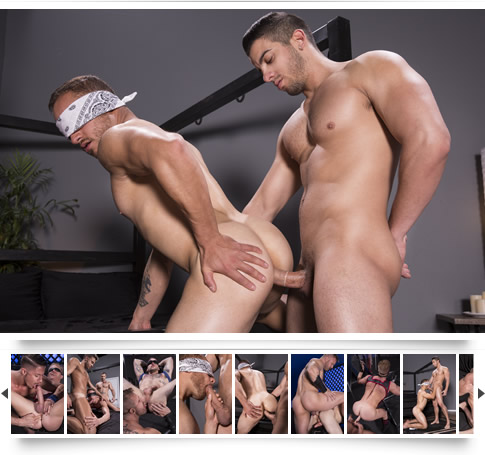 Deprived of sight and forced to rely on their other sexual senses, these hunks get Blindfolded and submit to the mercy of their anonymous hookups. Director Nick Foxx leads you and seven of the hottest Hot House men into the realm of sensory deprivation fucking. Skyy Knox gets surprised when Austin Wolf introduces another cock into their anonymous action. Skyy gets double the pleasure when Logan Moore and Austin fill unknowing Skyy with both their cocks. With eyes covered, Gabe Steele waits ass up for his anonymous fuck. Jacob Taylor arrives, giving him cock in every way, coats Gabe in cum and leaves. Austin Wolfe delivers ultimate pleasures to Blindfolded Colton Grey. Skyy Knox gets extreme when energized Johnny V is deprived of his sight, Skyy takes charge and takes his topping session with Johnny to extremes. Get 'Blindfolded', let loose of all control, and submit yourself to pure, anonymous ecstasy.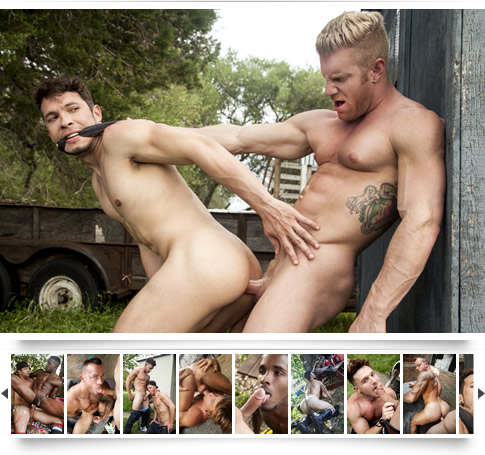 Life's pretty awesome for Tom Faulk. The carefree 24-year old spends his days drinking beer, smoking weed and going balls-to-the-wall with his motocross buddies - pulling stunts, jumps, burnouts, and tearing up the acreage around his uncle's ranch with dreams of going pro. Drunken parties, testosterone induced brawls, brutal grunge sex, and a pissed off probation officer bring everything to a head. With the help of his cousin (Brent Corrigan) and his uncle (JJ Knight), Tom realizes it's time to leave his Texas Neverland for the real world. The only question is… can he do it?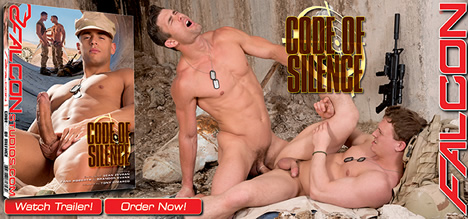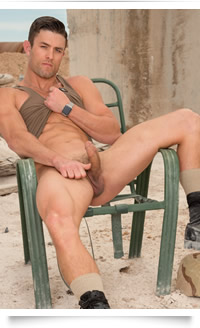 Falcon Studios Group Exclusive Ryan Rose is one of the most celebrated gay porn superstars of the last decade. Since signing an exclusive contract with Falcon, Ryan has gone on to deliver some of the most talked about performances ever. His award-winning 8.0" inch cut cock and insatiable muscle butt along with one of the hottest bodies to ever appear in gay adult movies have earned him countless awards. And, his spectacular performances are equally award-worth. He just landed the Best Actor trophy at the 2017 Str8UpGayPorn Awards this June in New York City, and he nabbed two consecutive Performer of the Year Awards from the Grabbys. Currently, you can catch Ryan's stunning, supercharged performances in Code of Silence & HOOK'D from Falcon Studios, or Kiss and Tel Aviv and MXXX The Hardest Ride from NakedSword Originals. Plus, you can always catch Ryan Rose rocking club appearances around the world. Keep a lookout because this all-star exclusive continues to deliver.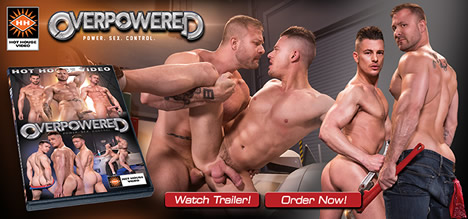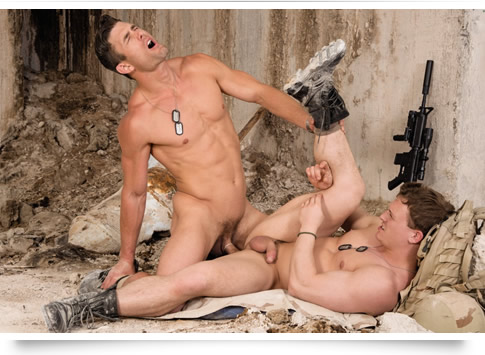 Falcon's Latest Hit Delivers Marine Sex & Their Code of Silence
Falcon Studios Group today announced the release of Falcon Studios' latest release featuring horny Marines risking it all for love and sex, Code of Silence. Director Tony Dimarco commands this extremely sexy desert unit to deliver action hotter than the desert they patrol. The DVD and scene downloads are available to fans today on the Falcon Studios Group Store.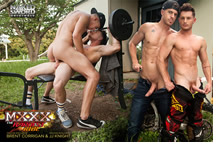 JJ Knight Makes Brent Corrigan "Say Uncle" - If they don't win, all will be lost. Uncle JJ is at the end of his rope. There's only way to calm him down. And that's with someone riding his dick ... no matter who it is. Read Full Story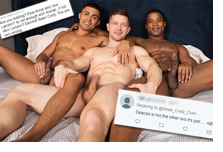 Sean Cody Went Interracial & The Twitter Trolls Got Ugly - Even a cursory glance at the social media on Asher, Deacon & Landon makes "Got Racism?" becomes rhetorical. The truth is we do. That's not surprising. And the freedom in which it was expressed is onerous and sad. Read Full Story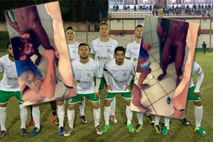 #CelebrityCock: Brazil Soccer Team's Jack Off Video - Brazilian club Sport Clube Gaucho has sacked four players after a video of them masturbating in the team's dressing room went public. You may have seen the blurred screencaps, but we have the actual footage. Read Full Story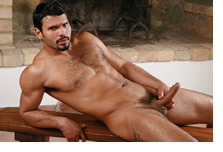 Our Exclusive: Jean Franko Returns To Gay Porn At 40 Years Young - It really was Christmas in July for director Lucas Kazan when one of his exclusives decided to return to the blue screen at an age when most had long since exited for good. Read Full Story


Hot Membership Site Scenes Available Now!



Falcon Studios Group Models Appearing Live in a City Near You.
August 12: Rikk York at Aragon Ballroom for Market Days, Chicago, IL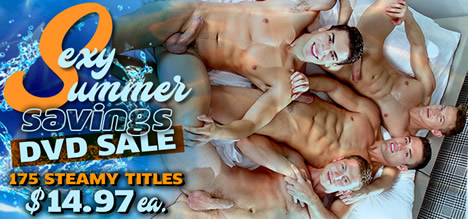 Hey HUNT Guys,
We hope you enjoyed a safe, fun and sexy 4th of July celebration. The HUNT crew is back with another jam-packed issue of free action galleries, hot models, new releases and a top ten list that is sure to heat up your already toasty summer. Let's get started!
Kicking things off in Breaking News is the latest feature from Falcon Studios, Code of Silence. Theses Marines enjoy each other fully, but also follow an extremely strict Code of Silence. Get the new movie on the Falcon Studios Group Store today!
Former US Marine and star of Code of Silence, Ryan Rose, is featured in the Model Spotlight. Ryan keeps pounding out amazing performances. See for yourself in the Model Spotlight gallery with all of Ryan's latest work.
It's a 2-for-1 in our Free Action Gallery area this issue. First, peep all the hottest action images from Hot House's anonymous fuck fest, Blindfolded. Then, gas up and rev up your cock to the images from NakedSword's high-octane feature, MXXX The Hardest Ride.
Over the years Falcon Studios Group has delivered amazing military themed productions. In celebration of the release of Code of Silence, we've put together a list of the Top 10 Military Themed Films of All Time from Falcon Studios Group in our Special Feature.
Studios News starts off with the debut update from Gun Show on RagingStallion.com.Then, prepare to be interrogated from the inside out in Club Inferno's latest fisting feature, Full Fist Interrogation. Finally, learn more about Hot House's newest film, Overpowered.
You won't want to miss our Sexy Summer Savings events! The Sexy Summer Savings DVD Sale offers 175 hot DVDs for half off and the Sexy Summer Savings Scene Sale serves up equally hot downloads for only $3.25 each. Take advantage of these great offers before they're gone.
We keep the military theme flowing in the Free Scene Download featuring a scene from Falcon's treasured hit, Fleet Week 2, starring Cliff Jensen, Cole Streets and Connor Habib.
See You Soon,
The HUNT Guys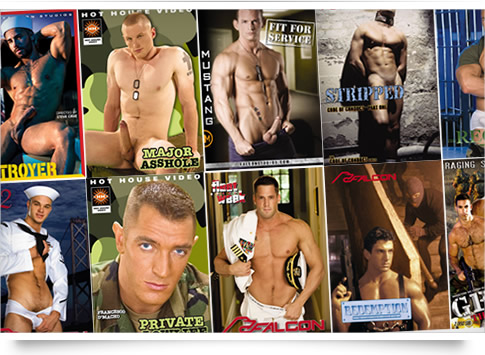 Top 10 Falcon Studios Group Military Movies
The brands of Falcon Studios Group have produced some of the hottest and most memorable military-themed gay porn movies and series of all time.  In celebration of the new Falcon film featuring a steamy platoon of Marines, Code of Silence, HUNT has compiled a list of the ten hottest military-themed releases from Falcon, Raging Stallion and Hot House studios. From the Marines to the Navy, and everywhere in between, get a load of all these soldiers hitting it hard in the armed forces.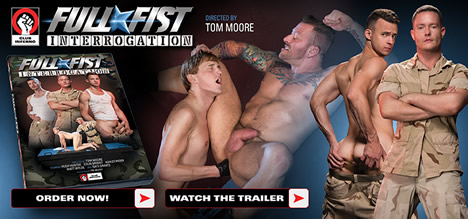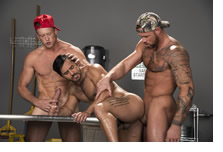 World Premiere Threeway from Gun Show Debuts on RagingStallion.com - RagingStallion.com has released the debut scene from its latest feature, 'Gun Show'. Muscle studs, Michael Roman and Pierce Paris, initiate the threesome with fellow hung jock, Bruno Bernal. In the debut scene, Michael Roman and Pierce Paris are right-wing Americans at the 'Gun Show'… Read Full Story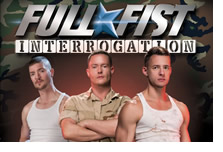 Club Inferno Releases Full Fist Interrogation on DVD & Downloads - Tom Moore directs a cast of five dirty pigs who can't stretch their asses enough in 'Full Fist Interrogation'. The latest fisting frenzy feature is now available on the Falcon Studios Group Store. Read Full Story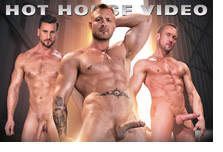 Size Matters as Studs Get Overpowered in New Hot House Feature - Falcon Studios Group today announced the release of Hot House's newest feature Overpowered. Power, sex and control! Dominant fuckers seize their opportunities and these willing subs get manhandled in Overpowered. Whether you like to be in control or you're into letting go and taking Read Full Story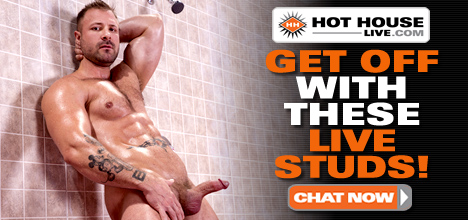 Cliff Jensen, Cole Streets & Connor Habib from Fleet Week 2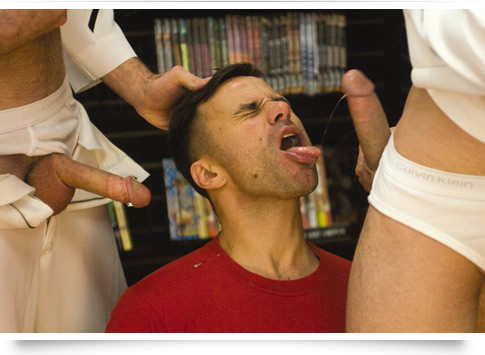 Cliff Jensen and Cole Streets hit a porno shop to see what they can pick up. They spot Conner Habib cruisin' them and quickly head his way. Conner's been hankerin' for hunky seamen and guzzles their dicks down. Then all three shuffle off to a private playroom where they strip down and engage in a more vigorous 3-man exercise sucking cock and eating ass. Cliff and Cole tease Conner as they jam fingers up his booby hatch making him whimper and gasp. Then Cliff lays back so Conner can suck his cock and rim his ass while Cole is behind fucking the civilian's hole. Soon it's all hands on deck as they line up for a daisy-chain fucking with Cole in the lead, Conner in the middle and Cliff taking up the rear. The men rock back and forth generating enough sexual heat that leaves them wanting even more. Cliff multi-tasks as he fucks Cole while sucking Conner off. More rimming, more intense fucking and even more cocksucking follow until all three finally blast their wads.