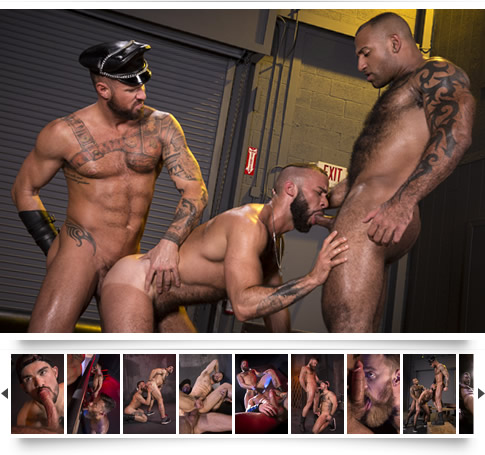 Enter a fetishistic fantasy realm where the men are natural, the sex is instinctual, and the hairy cocks are throbbing hard. All the best assets of real men are shown off with their Beards, Bulges & Ballsacks as they get fucked and sucked in intense exchanges. Director Steve Cruz brings together nine muscled up, hunky studs and highlights their bushy beards, big bulges, and swinging, meaty ballsacks. Leather daddy, Michael Roman, takes on Fernando Del Rio and Daymin Voss. The threesome eats ass, sucks cock, and fucks hard until all three paint the floor white. Aarin Asker walks up to Hoytt Walker as he's pissing in a trough. Aarin worships Hoytt's big balls and sucks his massive pole before Aarin bends over to take it up the ass. Rikk York is in nothing but a leather vest and big black boots when muscle daddy, Manuel Skye, catches his eye. Manuel pounds Rikk's ass and blasts his massive load in both of their beards. Tex Davidson and Michael Roman belly up to the double glory hole when Ryan Finch and Hoytt Walker join the fun to do their duty and service the hung muscle studs. Ryan and Hoytt suck cock like pros before everyone gangs up and takes turns on Michael's throbbing pole. Michael grabs Hoytt for himself and takes him to a bench where Hoytt finishes off the work and each stud gets a massive, wet facial to taste and cherish. Tex and Ryan don't like to waste time when it comes to getting laid. Tex bends Ryan over and has a nice long rim session as he savors the flavor of Ryan's ass, then stretches Ryan's hole until both throbbing poles drain their balls all over Ryan's dark, thick pubes and big, fuzzy balls. Beards, Bulges & Ballsacks! is a high energy fuck fest highlighting the sexiest of all manly attributes. The beards are bushier, the bulges are bulgier, and the ballsacks are bouncing hard and busting free!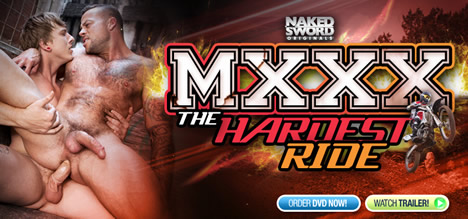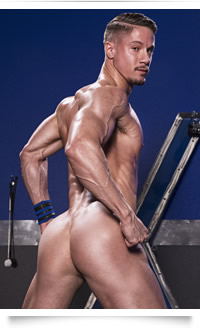 Recently signed Falcon Studios exclusive Skyy Knox is already a major rising star in the gay porn world. Skyy's breakout performance as the lead character, Rogue, in Falcon Studios' 2017 blockbuster, Earthbound: Heaven to Hell 2 has received major attention. Knox maintains his god-like physique as a professional dancer/choreographer in Montreal. On screen, Skyy is a versatile power-house with a talented and eager ass as well as a thick, sizable uncut dick. He was also featured in the debut scene from Hot House's Blindfolded, which hit the Falcon Studios Group Store today. Skyy has many big projects on the horizon with Falcon and continues to deliver outstanding and satisfying performances, each better than the last. Whether you're catching his tantalizing dance moves on a gogo box, or witnessing his expert sexual prowess in a Falcon Studios Group movie, Exclusive Skyy Knox will never disappoint.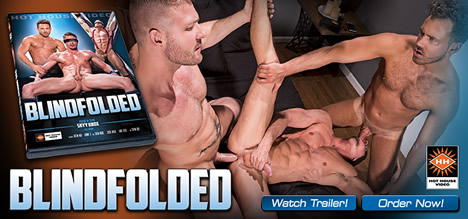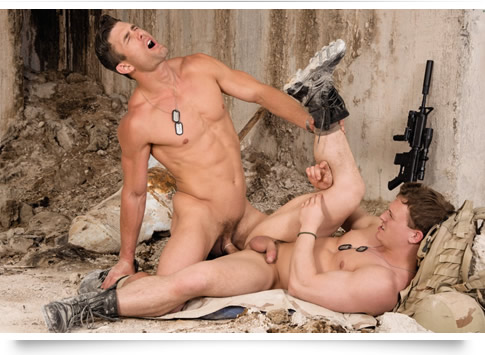 Ryan Rose & Tommy Regan Star in Code of Silence Debut Scene on FalconStudios.com
FalconStudios.com has announced the exclusive world premiere of the debut scene directed by Tony Dimarco in his new military film, 'Code of Silence'. The first scene from the new release stars Ryan Rose and Tommy Regan that also includes a significant intro blowjob featuring Fane Roberts and Brandon Evans to set the stage for the plot of the movie. The world premiere scene from 'Code of Silence' will debut on FalconStudios.com on June 30, 2017 The DVD and scene downloads will be released on the Falcon Studios Group Store on July 7, 2017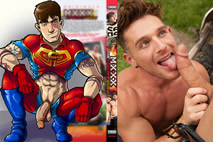 The GayComicGeek Review: MXXX: The Hardest Ride - Paul Charles, aka GayComicGeek, kicks off his exclusive series for The Sword taking on "MXXX: The Hardest Ride". Any guesses which scene made him pull it out and rub one off? Read Full Story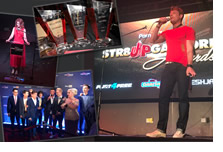 Gay Porn's Str8-est Nite - What happens when you mix 30 of the globe's hottest gay porn stars on stage -- and even more in the audience along with Manhattan, NYC Gay Pride, & Sandra Bernhard? Winners, baby. That's what happens. Read Full Story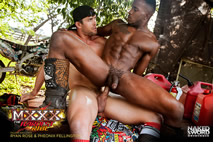 What A $10K Grunge Fuck Looks Like - Ryan Rose puts more miles on Pheonix Fellington's perfect ass than Pheonix put on the new bike before he crashed it. While the amount of cum Ryan sprays all over Pheonix can only be measured in gallons. Read Full Story


Hot Membership Site Scenes Available Now!



Falcon Studios Group Models Appearing Live in a City Near You.
Falcon Exclusive Skyy Knox at Flex Spas, Cleveland, OH - July 1-2, 2017
Skyy Knox, Alex Mecum, Jack Hunter, Brian Bonds, Casey Everett at Fluffer - Chalie's Las Vega, NV - July 8, 2017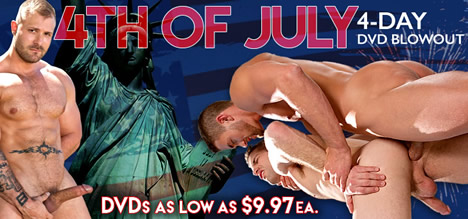 Hey HUNTer's,
It's officially summer here at the HUNT HQ, we've had a blast with gay pride events and we're gearing up for an explosive 4th of July. These scorching days of summer lend themselves to the hot, juicy  content we've got in store for you. This issue, we're bringing you multiple debut releases from some of the sexiest upcoming movies, free galleries, new releases and more. Keep cool and stay hydrated because this issue is burning up!
Get a taste of how hot the desert really is in our Breaking News item featuring the debut scene from Code of Silence from Falcon Studios. Hunky Marines are assigned to a post, but have trouble focusing on orders and begin to explore their sexual desires. Check it out on FalconStudios.com today!
Bushy beards, hairy balls and swinging ballsacks take over the Free Action Gallery. Peep the hottest action images from director Steve Cruz' all-sex fuck fest, Beards, Bulges and Ballsacks!.
Falcon Studios Group Exclusives Brent Corrigan and Ryan Rose were honored at the first annual STR8UPGAYPORN Awards. Find out what they won in our Special Feature.
Gay porn's freshest face and rapidly rising star, Skyy Knox is featured in this issues Model Spotlight. From his debut in the Falcon hit Earthbound: Heaven to Hell 2, to burning up the most recent Hot House feature, Blindfolded, learn why Skyy Knox is playing for keeps.
Studios News delivers the release of Hot House's totally anonymous feature, Blindfolded. Then, NakedSword revs up the dirt bikes and testosterone in the latest mr. Pam directed film, MXXX The Hardest Ride. Finally, our Model Spotlight Skyy Knox joins fellow Exclusive Sean Zevran in the gym to get his hole trained in the debut scene from, The Trainer: No Excuses.
We've got some great savings lined up for you in our Annual Pride Sales. The Annual Pride Scene Sale gives you $5 off every scene and the Annual Pride DVD Sale delivers up to 60% off some of our most popular DVDs. Plus, no 4th of July would be complete without incredible savings on Falcon Studios Group & NakedSword Original DVDs. The 4th of July 4-Day DVD Blowout offers over 200 DVDs as low as $9.97 each.
The Free Scene Download this issue features Topher DiMaggio and JR Matthews from Hot House's scorcher Cruise Control.  This cum worthy scene can now me scene on the hot new compilation, My Big Fucking Dick – Topher DiMaggio.
Keep It Cool,
The HUNT Guys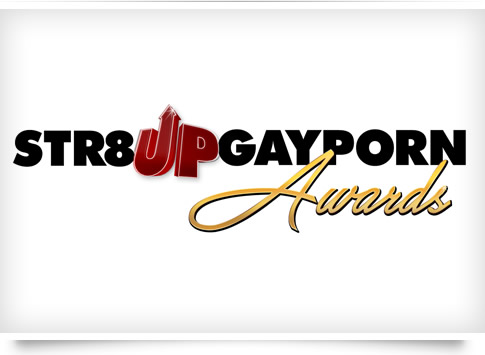 Falcon Exclusives Brent Corrigan & Ryan Rose Win Major STR8UPGAYPORN Awards
Models Honored at Inaugural Awards Show in New York City
The inaugural STR8UPGAYPORN Awards launched Thursday, June 22 with two Falcon Studios exclusives taking home major prizes. The anticipated award show, thrown by STR8UPGAYPORN.com, honored Brent Corrigan and Ryan Rose with two of the biggest performer awards of the night.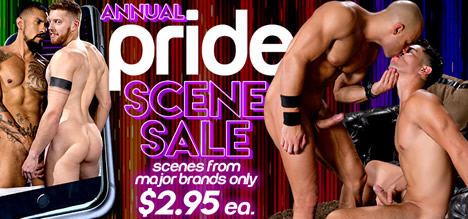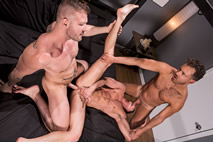 Hot House Showcases Anonymous Hookups with Release of Blindfolded - Falcon Studios Group today announced the release of Hot House's newest feature showcasing anonymous sex, Blindfolded, available on DVD and through download on the Falcon Studios Group Store. Award-winning director, Nick Foxx, leads seven horny studs as they get deprived of their sight… Read Full Story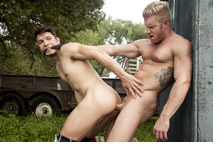 MXXX The Hardest Ride from NakedSword Originals on DVD & Downloads - Life's pretty awesome for Tom Faulk. The carefree 24-year old spends his days drinking beer, smoking weed and going balls-to-the-wall with his motocross buddies - pulling stunts, jumps, burnouts, and tearing up the acreage around his uncle's ranch with dreams of going pro. Drunken parties… Read Full Story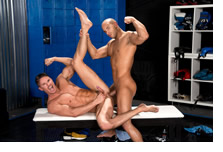 Exclusives Sean Zevran and Skyy Knox Combine Sex and Muscles in The Trainer: No Excuses - Hot House has announced the exclusive world premiere of the debut scene from director Nick Foxx in the second film of the gym fantasy series, The Trainer: No Excuses. The first scene from the new release features Sean Zevran and Skyy Knox working out and getting sweaty as they do more than your typical… Read Full Story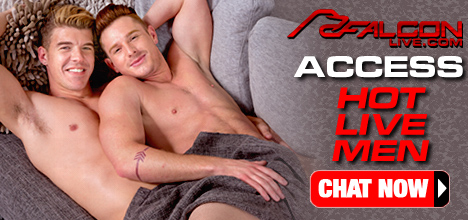 Topher DiMaggio & JR Matthews from Cruise Control
No on the new compilation My Big Fucking Dick Topher DiMaggio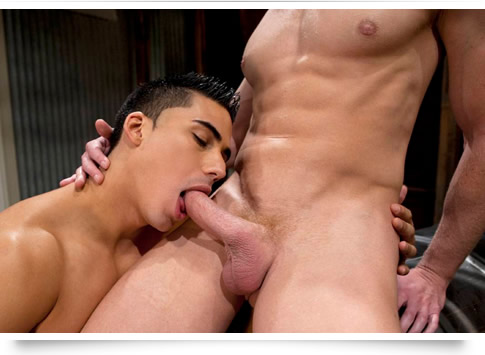 JR Matthews and Topher DiMaggio circle each other like hungry sharks in tank. When JR sits down, Topher makes his move; he whips out his giant cock and fucks JR's face. They both strip and Topher takes his turn feeding on JR's big tool until they're both ready to fuck. Topher throws JR down on a barrel and shoves his thick meat deep in his ass. The muscular hunks fuck like animals in the SOMA alley until they can't take it any more. Topher pulls out and they both jack hot loads out of their hard dicks.