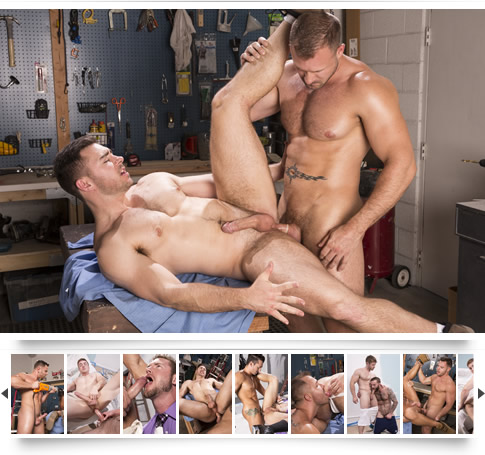 These horny handymen have a talent for Dirty Work. They labor all day, and they work each other over hard any chance they get. Director Nick Foxx gets down to business with eight pieces of rough trade for cum-spurting, hole-stretching, working-man action. Defiant painter Jimmy Durano responds to a scolding from his boss, Ace Era, by shoving his cock into Ace's face and ass! When Chris Bines gets bored on the job, he starts horsing around with his boyfriend Gabriel Cross, blowing one load in his face and another after fucking Gabriel's tight hole. Sparks fly between Austin Wolf and Derek Bolt in the workshop, and Derek is more than eager to get a taste of the big tool in Austin's pants. Nick Sterling uses two tools, his cock and a big mechanized dildo, to coax one of the biggest cumshots you've ever seen out of Coby Mitchell. If you hire these men to do your Dirty Work, you might find them slacking off at the job, but at least they'll be hard, horny, and ready to bust a nut!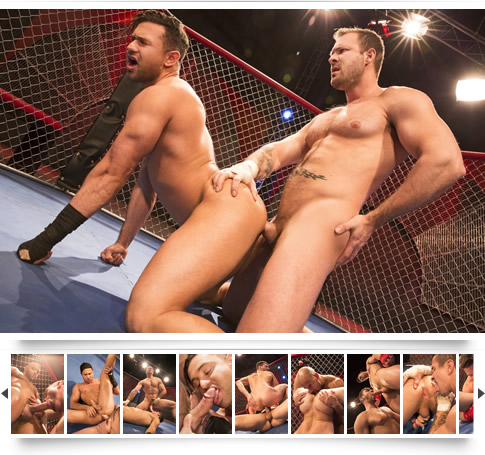 It's the ultimate fight, everything's on the line and these fine athletic studs will do anything they can to finish off their opponents. They're jacked up, they're hot as hell and they're horny as fuck; they're TKO Total Knockouts. They will fuck you until you beg for mercy and throw in the towel. Nick Foxx directs eight relentless, horny studs who punch, grapple, wrestle, suck, and fuck their way to mixed martial arts victory. Ian Greene is the up and comer vying for the win against Ryan Rose, but Ryan's USMC training gives him the upper hand over Ian and his tight ass. Austin Wolf asserts his solid, massive body in dominance against Josh Conners, claiming his prize with a no-holds-barred fuck. Trenton Ducati imparts some pro tips upon Alexander Gustavo, winning the fight and giving Alexander a hands-free cum shot. Micky Jr takes a beating from Sean Zevran, bending over to take Sean's cock doggy style and receiving a load to the face. Watch the excitement, intensity, and heavy action as the studs of TKO Total Knockouts fight for the sexual dominance.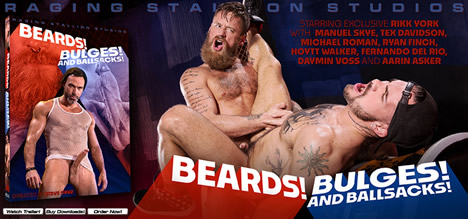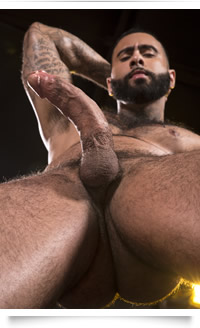 This versatile Puerto Rican stud and native New Yorker sports a smokin' athletic body and undeniably delicious assets. If he's not shooting one of the latest Raging Stallion blockbusters, he can usually be found on top of a gogo box rocking nightclubs around the world. This scruffy and tatted rising star is coming at you with an 8.0" inch cut cock and the most insatiable, hot and hairy ass. As the latest, Raging Stallion Exclusive, Rikk's been shooting hot loads in all the latest movies from the studio that brings you rough, rugged and natural men. York became a part of the Raging Stallion family with his breakout roll in High N' Tight, featuring Rikk in a steamy threesome. The studios execs loved his on-screen performance so much, they immediately asked him to sign as an Exclusive. Since then, Rikk has rocked assess and cocks in Raging Stallion titles Drive Thru, the new releases, Beards, Bulges and Ballsacks!, and the upcoming Gun Show. Whether he's drilling a hole with his fat cock or taking one from behind, Rikk York is one man that will get you stroking your power tool.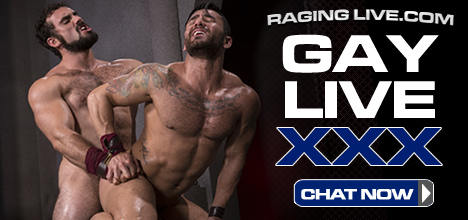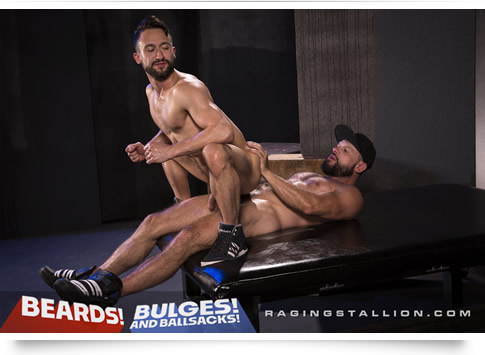 Raging Stallion's Latest Feature 'Beards, Bulges and Ballsacks!' Swings onto DVD & Download
RagingStallion.com, the Falcon Studios Group site featuring natural men, has released their latest feature, Beards, Bulges and Ballsacks!. Award winning director Steve Cruz brings together the best assets of nine muscled up, hunky studs with bushy beards, big bulges, and swinging, meaty ballsacks to get off in five dark and sexy scenes. The natural, hung studs rim, suck and fuck in dungeon-esque industrial settings until they shoot their massive loads and leave each other satisfied. The masculine, primal gay sex in Beards, Bulges and Ballsacks! is now available on DVD and download on the Falcon Studios Group Store.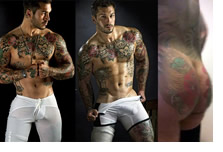 #CelebrityCock: The Alex Minsky Video - Alex Minsky is the inked former-marine hero who lost one of his legs in Afghanistan. Back in 2013, his cock pics had leaked out. And now in 2017, we have the video. Read Full Story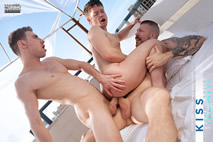 The Ultimate Big Dick Double Penetration - Kayden Gray & Rocco Steele has been in Israel for a week. And though Ashley Ryder just arrived in Tel Aviv, he soon wound up with two of the biggest cocks in the world invading his ass. Read Full Story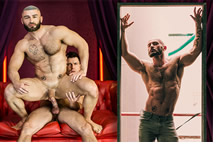 François Sagat: The Return Of A Legend - After a five-year absence from the blue screen, François Sagat returns to gay porn by taking a joy ride on Paddy O'Brian. Read Full Story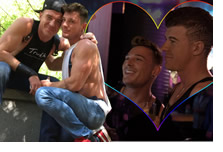 Brent Corrigan & JJ Knight To Say "I Do" - Falcon Studios Group exclusives -- and the reigning gay porn power couple -- are about to have a new name for each other: husbands. Read Full Story


Hot Membership Site Scenes Available Now!



Falcon Studios Group Models Appearing Live in a City Near You.
ONGOING: Weekly Sunday Swap Meat at Eagle L.A., Los Angeles, CA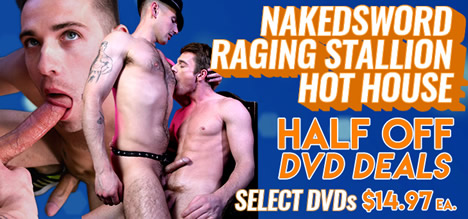 Hey HUNT Studs,
HAPPY PRIDE! The weather isn't the only thing that's heating up right now. We're back with another issue of cum busting new releases, bonus free action galleries and even a chance to get in front of the camera and become our next big star. Spread the word, because this issue of HUNT is hot!
Kicking the issue off, Breaking News gets hairier and bulgier with the new release of Raging Stallion's all-sex fuck fest, Beards, Bulges and Ballsacks!. Director Steve Cruz brings together nine muscled up, hunky studs and highlights their bushy beards, big bulges, and swinging, meaty ballsacks.
Our Free Action Gallery comes in twos again! Join the dirty men of Dirty Work as they ditch work duties for fucking in this scorching gallery from the release. Then, step inside the ring and go toe to toe with Hot House's TKO Total Knockouts in a action packed gallery.
Ever wanted the chance to break into the adult entertainment industry? Falcon Studios Group and NakedSword Originals are looking for the next big star in our Special Feature. Check out our brand new model application sites and get discovered today!
Hold on tight! Raging Stallion's latest rising star, Rikk York, takes over our Model Spotlight this issue. This Puerto Rican hunk has been burning up screens and stages all over the world. Read up on what makes Rikk York a man to keep an eye on.
In Studios News, Exclusive JJ Knight gets Intimate with fan favorite Ian Green in the new FalconStudios.com update. Then, Raging Stallion releases their latest all-sex fantasy feature Beards, Bulges and Ballsacks! on DVD & Downloads. Finally, the Falcon Studios blockbuster event of 2017, Earthbound: Heaven to Hell 1, concludes with a fiery scene between Exclusives Brent Corrigan & Skyy Knox.
Have we got some HOT SUMMER deals for you. First up, don't miss the final days of the Brands of Falcon Scene Savings promotion that includes over 1,000 downloads from some of the hottest gay porn features for only $2.95 each, and your last chance to get great DVD savings with the NakedSword, Raging Stallion and Hot House 50% Off DVD Deals offer. For 72 Hours Only, we're serving up deep discounts on DILFs in our Daddy's Day 72 Hour DVD Sale with select titles up to 67% off. Finally, don't miss the Fetish & Fisting Download Deals that give you over 60% off the hottest hardcore content around.
Your Free Scene Download this issue is from Raging Stallion's Open Road, Part 1 starring Aleks Bulddocek and Tony Orian. The free scene celebrates the release of Raging Stallion's latest feature, Beards, Bulges and Ballsacks!, out today!
Have Fun,
The HUNT Guys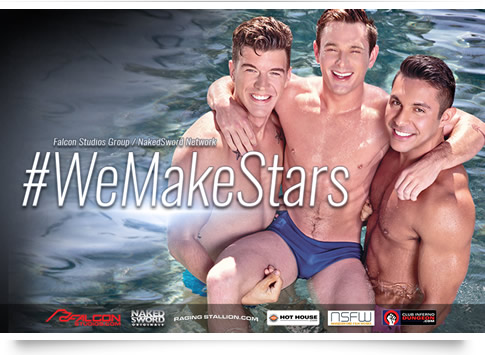 WORLDWIDE MODEL SEARCH #WeMakeStars Falcon Studios Group & NakedSword Launch New Model Application Site
Falcon Studios Group and NakedSword Originals have announced a major model search, #WeMakeStars, to coincide with the launch of their new model application pages.
Aspiring gay porn models are encouraged to apply on any of the new application landing pages www.Model4Falcon.com, www.Model4NakedSword.com,  www.Model4RagingStallion.com and www.Model4HotHouse.com.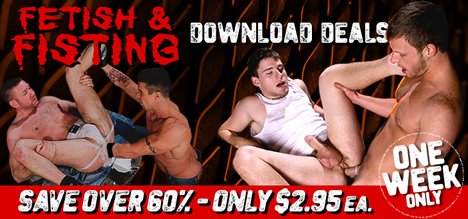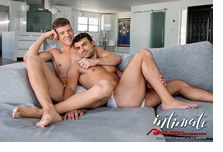 JJ Knight & Ian Greene Get Intimate in New FalconStudios.com Update - FalconStudios.com has announced the exclusive world premiere of the debut scene from the sensual, cinematic artistry of award winning director Tony Dimarco from his latest film, Intimate. The first scene from the new release features JJ Knight and Ian Greene in an 'Intimate' encounter that explores what… Read Full Story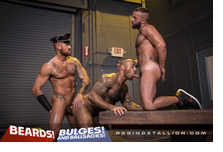 RagingStallion.com Showcases Hunks & Their Beards, Bulges and Ballsacks! - RagingStallion.com, the Falcon Studios Group brand that celebrates the rugged, natural man, presents the debut scene from Steve Cruz' latest man on man fucking 'Beards, Bulges and Ballsacks!,' starring scruffy hunks Michael Roman, Daymin Voss & Fernando Del Rio. Read Full Story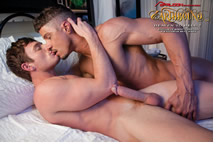 Stunning Conclusion of Earthbound: Heaven to Hell 2 on FalconStudios.com - FalconStudios.com today announced the finale of the movie event of 2017, Earthbound: Heaven to Hell 2, featuring the Falcon Exclusives Brent Corrigan as Lucky and Skyy Knox as Rogue in the culmination of this critically acclaimed episodic feature. Read Full Story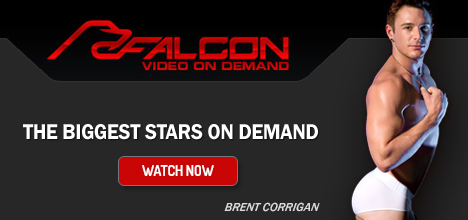 Aleks Buldocek & Tony Orion from Open Road
Similar to New Release Beards, Bulges and Ballsacks!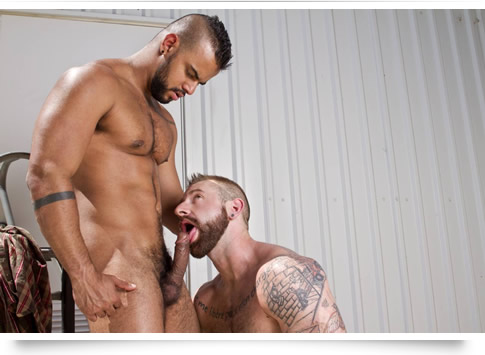 Aleks Buldocek, a thick, tattooed, hairy stud, and Tony Orion, a bearded, fiery Latino, are making out heavily in a loading zone behind building in the afternoon sun. Aleks gets on his knees to taste Tony's veiny, uncut meat. Tony urges Aleks on with accented orders, "Suck my cock!" Aleks complies and they share wet tongue kisses at each break. When it comes time for Tony to return the favor, he sits on an ice chest and relaxes to let every inch of Alek's hefty meat to slide down his throat. It also puts him in the perfect position for Aleks to fuck his mouth and slam Tony's head over his cock while Aleks' low hanging balls slap up against Tony's face. Aleks' impressive dick proves a challenge for Tony, but it's one he masters. When Tony blows his load, it makes Aleks shoot onto Tony's beard and mouth.