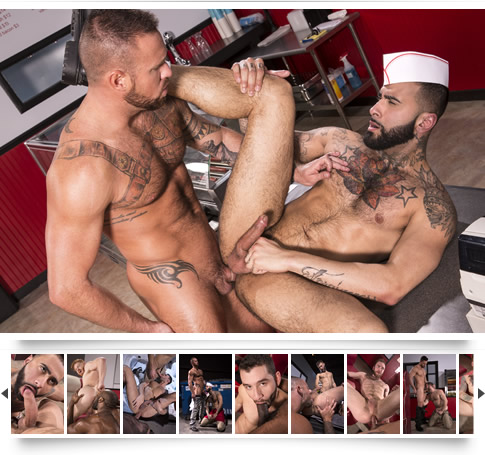 What if there was a place where you could get it hot and ready anytime whenever you wanted? Come on down to the Raging Stallion Drive Thru. We serve immediate gratification to satisfy even the hungriest appetite. Always giving it to you YOUR way! Every which way! Double the meat, protein style and loaded with special sauce just soaking through the bag! Grease it up and cum inside; the Drive Thru is always open. Or drive up to the service window, our young and hung meat men are equipped to serve you. Whether you're looking for an Extra Thick Hot Dog or a simple Tossed Salad, this menu and staff have it all. Raging Stallion director Steve Cruz takes you to the Drive Thru with his horny meat slingers who are more than willing to go the extra mile for customer service. Noah Donovan and Bennett Anthony dine-in but aren't satisfied with the service. When Bennett gets an attitude, workers Rikk York and Lucas Allen teach him a lesson with their cocks. After Bennett blows the employees, he gets pounded by his foodie friend, Noah Donovan, on the tabletop. Hopeful new hire Peter Marcus shows General Manager just how far he'll go to get the job. Will he get it? Sean Duran wants something that's not on the menu and Ian Greene and John Ander are happy to give it to him. Employee's Bruno Bernal and Lucas Allen get bored doing closing duties and decide to fuck at the cash register instead. Rikk York takes one last order for the night and ends up getting stuffed on both ends by Michael Roman. Pull up to the Drive Thru and order what you like. You just might get lucky with some extra special meat between your buns.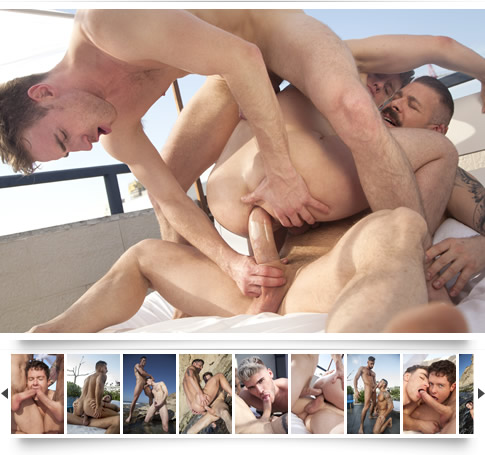 Towering over the Mediterranean coastline, Tel Aviv, the crown jewel of Israel, glows under the burning Middle Eastern sun. Recognized around the globe for it's booming economy, world-class beaches, and thriving nightlife, the city is alive with locals and tourists alike looking for action. And our cast of handsome hung superstars knows just where to find it. Kick back and enjoy this breathtaking adventure where Rocco Steele and Kayden Gray DP power-bottom Ashley Ryder on a rooftop overlooking the city then Ryan Rose's prayers are answered when he gets fucked by Kayden in the crashing waves on the local bay beach; and much more in Kiss and Tel Aviv.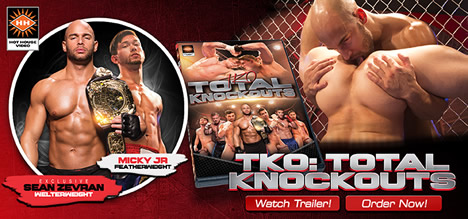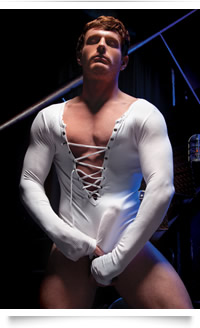 Multiple-award-winner and now one of only six Grabby Lifetime Achievement Award recipients, the super-talented, sexy and creative Brent Corrigan is one of the all-time greats in the gay porn industry. He's unstoppable and he's not going anywhere anytime soon. He's developing new projects, he looks better than ever and his sexual presence is undeniable. This iconic stud isn't just known for 8.5" inch cut cock or his scorching versatile performances on set. Brent has become one of the most influential adult models of all time. His most recent work includes Falcon's mega blockbuster of 2017, Earthbound: Heaven to Hell 2, as well as Property Lovers and HOOK'D, also from Falcon. Don't miss Corrigan's directorial debut for NakedSword Original's Ultra Fan in which he also stars. With over a dozen years in the business and a heap of major accomplishments, Brent Corrigan is a gay porn powerhouse, and he's here for the long haul!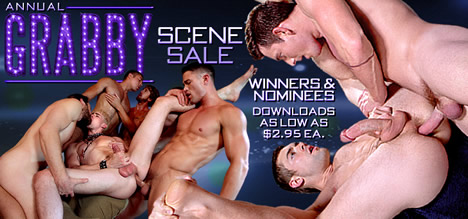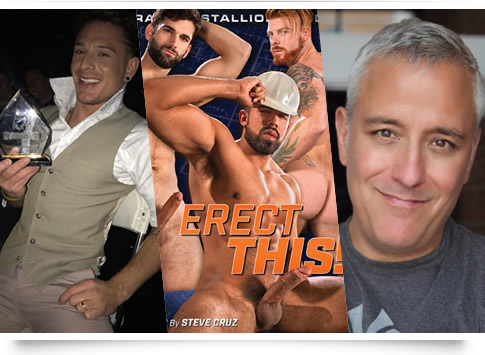 Falcon Studios Group Receives Major Honors at 2017 Grabbys
The 18th Annual Grabbys, one of gay adult entertainment's biggest awards shows, concluded on Saturday, May 27 with three major honors given to Falcon Studios Group. The coveted Best All-Sex Movie Grabby was awarded to Raging Stallion's Erect This!; Falcon Studios Exclusive Brent Corrigan was presented with a Lifetime Achievement Award and Falcon Studios Group President Tim Valenti was added to the Grabby Wall of Fame.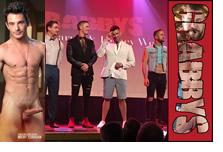 Winners Baby! Grabby Awards 2017 - The Grabby's, also known as Memorial Day Weekend, passed out the trophies last week. They gay glitterati was in all in attendance as Brent Corrigan was awarded the Lifetime Achievement Award. Read Full Story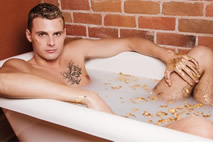 Our 1-On-1 With Dave Slick, One Of World's Most Popular Male Webcam Models - In our exclusive, Dave Slick spills the dirt with The Sword on how the proverbial boy next door became of one the busiest male webcam models on the planet. And one of the most ambitious. Read Full Story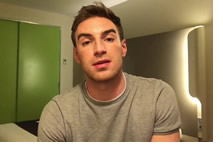 "I Would Like Everyone To Know That I Am HIV+" ~Kayden Gray - When it happened. How he got it. And why's he's telling his story now. Read Full Story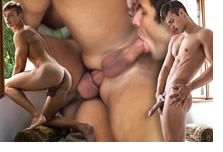 Is Hoyt Kogan Taking Over For Kris Evans At BelAmi? - Kris Evans is in a class by himself. He's out of porn. But BelAmi is just gearing up for their sixteen scene "Summer Break" series by giving Hoyt Kogan the full all-star treatment. Read Full Story


Hot Membership Site Scenes Available Now!



Falcon Studios Group Models Appearing Live in a City Near You.
June 10: Johnny V at EVOPRIDE, AB
ONGOING: Weekly Sunday Swap Meat at Eagle L.A., Los Angeles, CA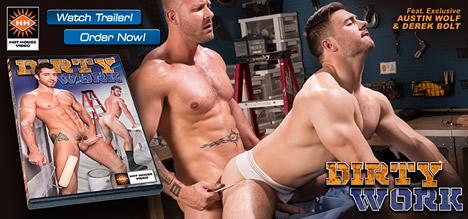 Hey HUNT Men,
The guys here at HUNT eZine are back from the Grabbys 2017 with another amazing issue to kickoff the beginning of summer. Read on for winners and exclusive pictures from the award show, exciting new releases, multiple free galleries and more!
Our Breaking News and Special Feature items are all about the Grabbys this issue. In Breaking News Falcon Studios Group received some of the biggest awards of the night. From Best All Sex Movie to being added to the Grabby Wall of Fame and given a Lifetime Achievement Award, we won big! Plus, the weekend featured multiple Falcon Studios Group parties and mixers all leading up to the awards on May 27, 2017. Relive all of the hottest highlights of the exciting weekend in our Special Feature Grabby Weekend Roundup.
Recipient of the Grabby Lifetime Achievement honor is Exclusive Brent Corrigan, and he is in the Model Spotlight. Learn why he's been so successful after over 10 years in the porn business, complete with the hottest images from his latest performances.
HUNT's Free Action Gallery is doing double duty this issue with NakedSword Originals taking you to Israel and featuring the hottest beachside action images from their latest, Kiss and Tel Aviv, and if you're hungry, Raging Stallion is also serving up some extra meat with a satisfying additional gallery from Drive Thru.
Studio News is jam packed this issue. Hot House does double duty with director Nick Foxx's two latest features: blue-collar sex fest, Dirty Work, and cage fight fuckathon TKO: Total Knockouts both on DVD and Downloads. Then, venture down the Pig Alley for Club Inferno's latest on DVD & Downloads. Mega-star Brent Corrigan gets his very own compilation titled, A-Team All Stars: Brent Corrigan, out now! Last but certainly not least, Hot House unleashes a debut update with Rex Cameron being Overpowered by mechanic Austin Wolf in the new HotHouse.com update.
In honor of the big winners at the Grabbys and the tons of nominations received by Falcon Studios Group and NakedSword Originals, we've put Award Nominated and Winning DVDs and Scenes on Special, including big winners Erect This!, Scared Stiff and Secrets & Lies. Buy winning DVDs for as low as $17.97 in the Annual Grabby DVD Sale and Downloads for as low as $2.95 in the Annual Grabby Download Sale. Plus, we're giving you $5 off each download in the Brands of Falcon Scene Savings promotion that includes over 1,000 downloads from some of the hottest gay porn features.
Lifetime Achievement Award winner Brent Corrigan joins Brian Bonds in our Free Scene Download this week. The original scene is from Falcon Edge's Jacked, but can now be found on the newest compilation, A-Team All Stars: Brent Corrigan.
Happy Hunting!
The HUNT Guys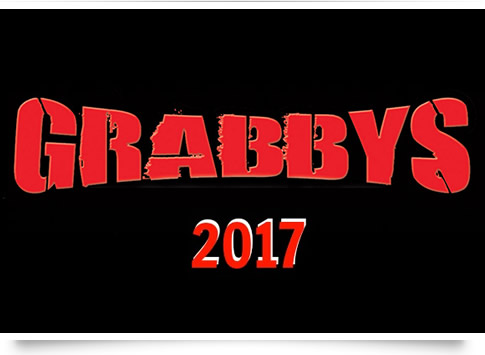 Full Grabbys Weekend Roundup
The Stars - The Parties - The Studios - The Awards! Memorial Day Weekend marked the celebration of the 18th Annual Grabby Awards in Chicago. The biggest and brightest stars made their way to the Windy City in hopes of winning big.  In the lead up and aftermath of one of gay porn's biggest nights, Falcon Studios Group and its exclusive models celebrated all Memorial Day weekend long with special events, live shows and more. Check out the weekend's hottest highlights from Falcon Studios Group and NakedSword.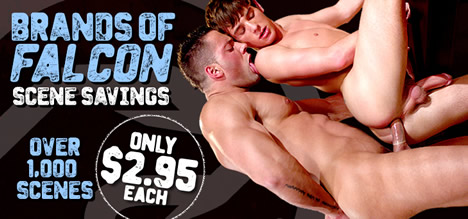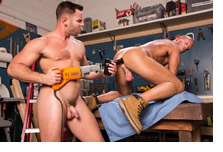 Dirty Men Get to Work in Hot House' Dirty Work on DVD & Downloads - Hot House announced the release of its newest movie, Dirty Work, on DVD and scene download. Director Nick Foxx gets down to business with eight pieces of rough trade for cum-spurting, hole-stretching, working-man action. The debut scene featuring Jimmy Durano & Ace Era is already available. Read Full Story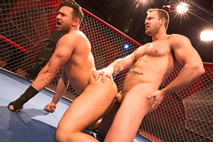 Horny Hunks Duke It Out in Hot House's 'TKO Total Knockouts' Now on DVD & Downloads - Hot House announced the release of its newest movie, 'TKO Total Knockouts', on DVD and scene download. Nick Foxx directs eight relentless, horny studs who punch, grapple, wrestle, suck, and fuck their way to mixed martial arts victory. Read Full Story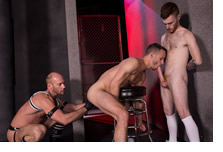 Unleash the Fist in Club Inferno's Pig Alley on DVD & Downloads - For dirty fist pigs who are craving their gut-punching fix, there's no better place to go than Pig Alley. Director Tom Moore recruits the finest fist-fuckers and hungry holes he could find and sets them loose in a playground where they can fulfill their deepest desires. Read Full Story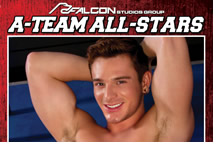 A-Team All Stars: Brent Corrigan on DVD & Downloads - A-Team All-Stars: Brent Corrigan is a collection of the finest sex ever shot by Falcon Studios Group A-Team Exclusive Brent Corrigan. This collector's edition includes Brent Corrigan's hottest man-on-man action compiled into one steamy, dick-hardening, orgasm-creating DVD. The Falcon Studios Group… Read Full Story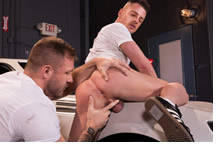 Rex Cameron Gets 'Overpowered' by Austin Wolf in New HotHouse.com Update - Hot House just announced the debut of the first scene from their upcoming dom vs sub feature 'Overpowered'. The new update featuring Exclusive Austin Wolf and gymnast-hunk Rex Cameron was directed by Nick Foxx and went live on HotHouse.com on Thursday, May 25. Additional updates from the production will appear on the membership site in coming weeks and the DVD and… Read Full Story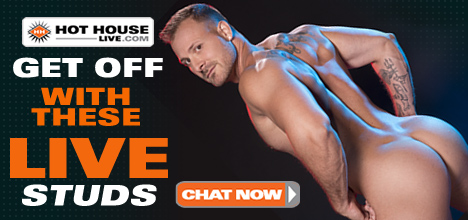 Brent Corrigan & Brian Bonds from Jacked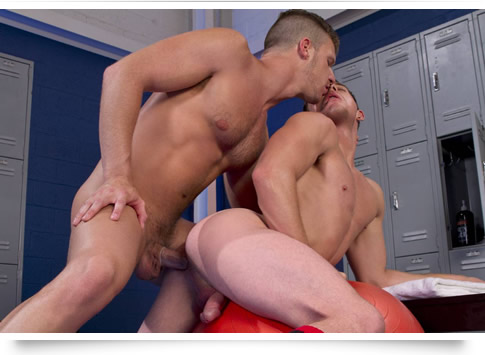 Brian Bonds has grabbed Brent Corrigan from behind to rub his shoulders. Quickly, their hard dicks escape their jockstraps. Brian rubs the head of his cock up and down Brent's crack, then Brent turns around so they can rub their cocks together. They're so horny, you can see the precum oozing from each of their cocks and mixing together. Brent gets down on his knees to service Brian's cock and balls, and Brian returns the favor and adds a finger up Brent's hole. Brian flips Brent around and delivers a rim job of such intensity that Brent has to lean over an exercise ball to support himself. When that hole is all slicked up, Brian slides his giant cock inside and fucks Brent on top of the ball. Thick drops of sweat accumulate on their bodies. For an even more intense penetration, Brent positions himself to take a pile driver pounding from Brian. Brian blows his load across Brent's ass and licks it up; Brent unleashes giant ropes of cum that fly across Brian's face. They return to kissing, their lips lubed with spit, sweat and semen.