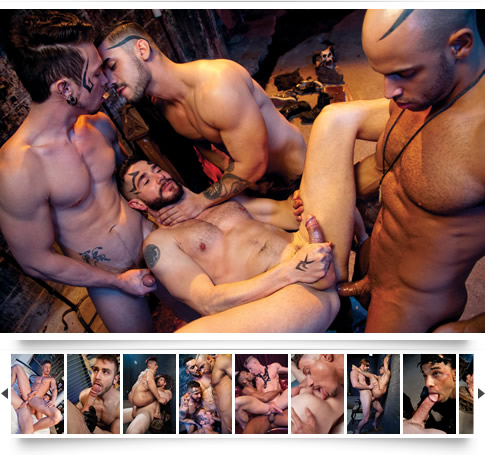 12 years ago…Falcon Studios released Heaven To Hell, one of the most talked-about and successful gay porn movies of all time. An epic story of good versus evil and of paradise lost and pleasure found finally continues in Earthbound: Heaven to Hell 2…
The Devil (Dean Monroe) rules with a harsh hand and his soulless Dark Angels do his evil bidding, reigning terror over all who cross their paths. The Devils slave, Rogue (Skyy Knox) refuses to accept this fate and escapes to the world above, making him Earthbound. On earth, Lord (Andrew Stark) is on a mission to find out who's ripping him off, but Snitch (Trelino) gets in his way and he must pay with a powerful pounding. Frustrated by one of his Rouge going astray, the Devil demands his other minions to service him. Dark Angels Sean Zevran, Arad Winwin and Gabriel Alanzo do as they are told in an epic, hedonistic group sex marathon. Lord is angered and equally in need of relief when he orders his sidekick, Alleycat (Armond Rizzo), to ease the sexual tensions built up in his massive dick with a tender yet intense session. While on a fact-finding mission, Henchman (JJ Knight) comes across the mysterious Biker (Blake Riley) and their anonymous session leads to them cumming Hard across each other's faces and bodies. As Dark Angel (Andre Donovan) closes in on capturing Rogue in a nightclub, he can't resist the sexual energy and astonishing good looks of Barfly (Johnny V). The powerful lust of the moment distracts this Dark Angel from his mission, meanwhile, Rogue finds angelic gogo dancer, Lucky (Brent Corrigan) and finds true love in him, consummated in a passionate and romantic love-making rendezvous, the breathtaking encounter breaks the ties that bind Rogue to an eternal hell.
Human kindness is put to the test as lust and desire fuel the suspense in this highly stylized, erotic, XXX thriller where sex is king but love conquers all!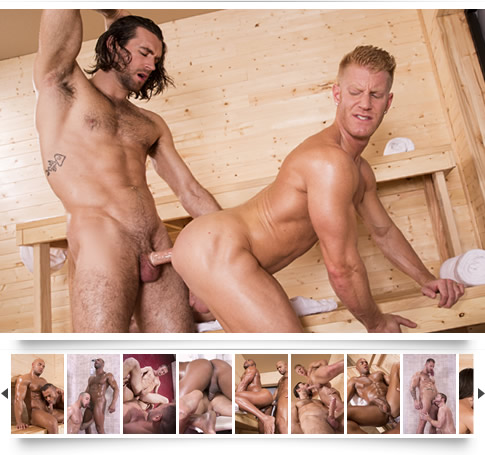 Around every corner there is another hot stud to hook up with anonymously in Bathhouse Ballers. Take a trip cruising through this steamy sex spa and find a baller to hit it with. Director Nick Foxx takes you into the sauna and the communal showers with seven of the sexiest muscle men in the world! Brendan Phillips shows off his ass to Micah Brandt in the communal showers, and Micah uses his tongue, his fingers, and his cock to thoroughly explore Brendan's hole. Giant muscle man Austin Wolf gives Scott Riley a peep show in the sauna, then leads him into the shower room for a dominating fuck session. Johnny V drips precum all over the sauna as he sucks Woody Fox's massive cock and delights in an epic anal reaming. Micah Brandt returns to the sauna with beefy hunk Sean Zevran for a flip flop session that culminates in two epic cumshots. When you see how sexy these Bathhouse Ballers are, you'll want to head on down and get serviced right.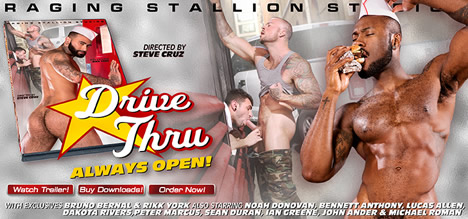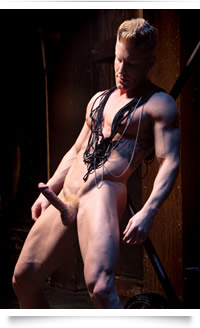 Grabby Winner for Hottest Bottom and sporting the "ass"ets to prove it, Falcon Studios Group Exclusive Johnny V is a force nature. A sexy-as-fuck, muscled hunk made of lust, libido and, ultimately, fun. This blonde haired, blue eyed, statuesque charmer can usually be found taking the biggest of dicks every which way and having a ball every moment. Once in a while, we get the opportunity to see him use his exceptional 8-inch cut cock fill up and plow a lucky bottoms hole. As one of the stars of Falcon's epic event movie Earthbound: Heaven to Hell 2, Johnny continues to show off his performing goods and they are great. In addition to Earthbound, you can also catch Johnny in the Hot House hits Bathhouse Ballers, Depths of Focus and Skuff: Rough Trade 2. When you're not watching his cum drenched scenes, you can usually catch him shaking his bubbly assets at clubs and parties around the globe. If you weren't a fan before, you definitely will be now!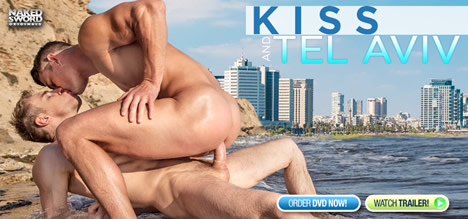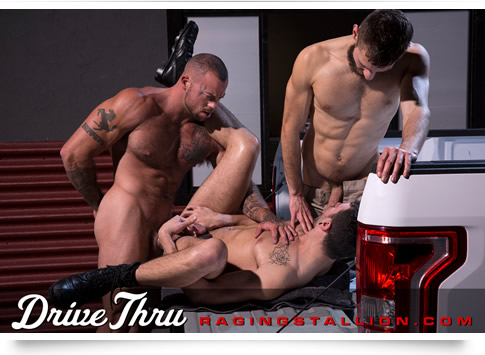 Raging Stallion Orders Up Hot Hookups in Drive Thru Now on DVD & Downloads
Falcon Studios Group announces the DVD and download release of Raging Stallion's fast food fuck-fest Drive Thru. What if there was a place where you could get it hot and ready anytime whenever you wanted? Come on down to the Raging Stallion Drive Thru. We serve immediate gratification to satisfy even the hungriest appetite. Always giving it to you YOUR way! Every which way! Double the meat, protein style and loaded with special sauce just soaking through the bag! Grease it up and cum inside…the Drive Thru is always open. Or drive up to the service window, our young and hung meat men are equipped to serve you.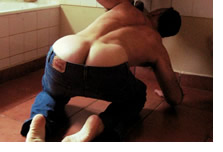 Got Crack? - The mainstream is figuring out what we have known all along: a hot ass really is all that it is cracked up to be. Read Full Story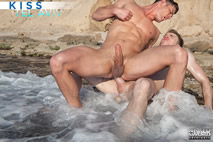 The Hottest Hole In The Holy Land - It was a public beach. It was not clothing optional. It could have caused an international incident if they had been caught. And they were. Read Full Story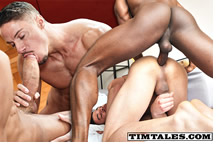 Can Cocks Ever Be Too Big? - Big. Big as in large. Large as in huge. And huge as in almost inhuman. Read Full Story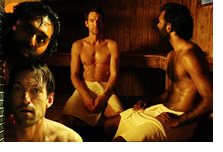 Who Knew Gay Zombies Were This Hot? - Ever been at a bathhouse very late at night or early in the morning, when the dregs of the night gone by are still left over, stumbling around looking for that last chance at getting lucky? Read Full Story


Hot Membership Site Scenes Available Now!



Falcon Studios Group Models Appearing Live in a City Near You.
May 25: Grabby Awards Weekend Kickoff Party at Hydrate Nightclub, Chicago, IL
May 26: Falcon Exclusives Host TKO Total Knockout Party at Lucky Horseshoe, Chicago, IL
May 26: Raging Exclusive Rikk York with Hugh Hunter & Dolf Dietrich, Steamworks, Chicago, IL
May 29: Falcon Exclusives Brent Corrigan & JJ Knight – Steamworks, Chicago, IL
ONGOING: Weekly Sunday Swap Meat at Eagle L.A., Los Angeles, CA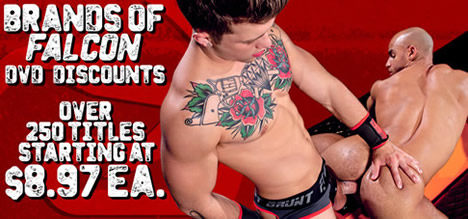 Hey HUNT Studs,
What time is it? It's Grabbys time! With the annual awards upon us next week, we're gearing up for a jam-packed issue of all of your favorite content. Get a double dose of Free Action Galleries, plus figure out where to party during Grabbys weekend and more! However you look at it, you WIN!
Hungry? Raging Stallion's latest fast-food fuck fest Drive Thru lands in our Breaking News item. Raging Stallion director Steve Cruz takes you to the Drive Thru with his horny meat slingers who are more than willing to go the extra mile for customer service or that promotion.
Kick off the Grabbys with a bang in our Special Feature item. Fans are invited to a night at Hydrate as Supermen.com and Falcon team up with the iconic director, Chi Chi LaRue presents the Official Grabby Award Weekend Kickoff Party: Skin Trade. This year arrive early for a special Heaven OR Hell cocktail and meet & greets with the stunning cast of Earthbound: Heaven to Hell 2.
You'll meet Earthbound: Heaven to Hell 2 star and Falcon Exclusive Johnny V, who also heats up this issue's Model Spotlight. And if you want to see the other studs in the movie, you have to go no further than the Free Action Gallery section where we're featuring only the very best action images from Falcon Studios' latest blockbuster Earthbound: Heaven to Hell 2, as well as Bathhouse Ballers from Hot House.
Head down to Studio News for more Grabby excitement, new releases and site debuts. Join NakedSword/Falcon Studios Group President Tim Valenti and Sister Roma in Chicago for the return of the Tim & Roma Show: Grabbys Edition. After the duo kicks off the night, dance the night away with Falcon's own TKO Total Knockouts at The Lucky Horseshoe Lounge on Friday, May 26! NakedSword Originals takes you overseas in their latest film Kiss & Tel Aviv on DVD & Downloads. Fetish Force's cop vs. criminal flick, Cops In Cuffs taking to the streets on DVD & Download. And, finally, the debut scene from Raging Stallion's Drive Thru finds Exclusive Rikk York getting cruised at work then fucked on the cashier counter.
And on top of all of that, we have some hot deals for you this issue…along with an offer that helps Ryan Rose and Falcon Studios Group employees raise money for AIDS Lifecycle. Save $5 per scene in our AIDS Lifecycle 2017 Benefit Download Sale. Plus, our Brands of Falcon DVD Discounts promotion gives you up to 70% savings on over 250 titles, and in honor of the grand-daddy of all leather events we present you with a one-week offer for up to 67% savings with the Leather & Hardcore Movie Specials.
Since we're talking about Grabbys, we decided to give you a recently Grabby Nominated scene for your Free Scene Download this week. Enjoy Dylan Roberts & Jimmy Durano from Point & Shoot with our compliments and keep your eyes peeled for the Annual Grabby DVD & Scene Sale that starts next week.
Happy Hunting!
The HUNT Guys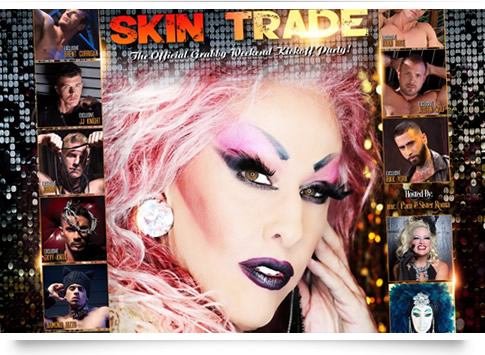 Falcon Studios & SuperMen.com Partner to Make Grabby Awards Kickoff Party Sensational
Falcon Studios, the leading producer of high quality gay porn, and Supermen.com, premier live video chat provider, have partnered to make this year's Official Grabby Weekend Kickoff Party, Chi Chi LaRue's Skin Trade, a night to remember. The festivities begin at 9pm, Thursday, May 25 at Hydrate, 3458 N. Halsted, Chicago, IL.
This year the annual Grabby Awards Weekend Kickoff Party will celebrate the release of Falcon Studios' event movie, 'Earthbound: Heaven to Hell 2'. The blockbuster feature's director, Chi Chi LaRue, will DJ. Cast members and Falcon Exclusives Brent Corrigan, JJ Knight, Johnny V and Skyy Knox will appear and perform for guests with fellow 'Earthbound' stars Armond Rizzo, Gabriel Alanzo, Arad Winwin and Blake Riley. Additional Falcon Studios Group Exclusives Ryan Rose, Austin Wolf and Rikk York will also be on hand to meet and greet fans.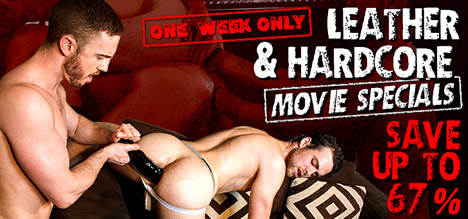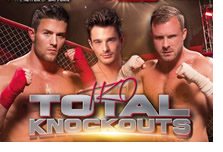 NakedSword's Tim & Roma Show and Falcon Studios Gropu Exclusives Host Official Total KNockout Grabbys Party - NakedSword Network and Falcon Studios Group announced today that they will host the Friday Night Total Knockout Grabby Party at Lucky Horseshoe Lounge, Friday May 26 at 9pm. The evening's festivities will begin with the return of the Tim & Roma Show and continue with Falcon Studios Group Exclusives go-go dancing the night away. Read Full Story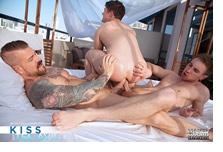 Kiss and Tel Aviv in NakedSword's Latest on DVD & Downloads - Towering over the Mediterranean coastline, Tel Aviv, the crown jewel of Israel, glows under the burning Middle Eastern sun. Recognized around the globe for it's booming economy, world-class beaches, and thriving nightlife, the city is alive with locals and tourists alike looking for action. And our cast of… Read Full Story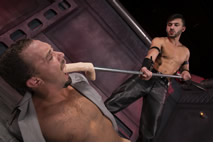 Fetish Force Fucks the Police in Cops in Cuffs on DVD & Downloads - Falcon Studios Group, America's Gay Porn Company, announces the release of Fetish Force's Cops in Cuffs. After decades of persecution, disparagement, vilification, harassment, and abuse at the hands of the police, it's about time for these hardcore fags to bash back and put Cops in Cuffs. Renowned fetish… Read Full Story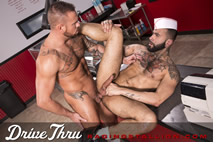 Drive Thru Serves Up Debut Update on RagingStallion.com - RagingStallion.com announces the release of the first scene from their latest foodie fuck fest feature Drive Thru starring Exclusive Rickk York and tatted favorite, Michael Roman. The scene will go live on RagingStallion.com on Friday, May 12, which coincides with the availability of the DVD and… Read Full Story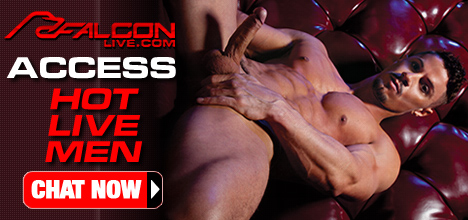 Dylan Roberts & Jimmy Durano from Point & Shoot
- Grabby Nominated Movie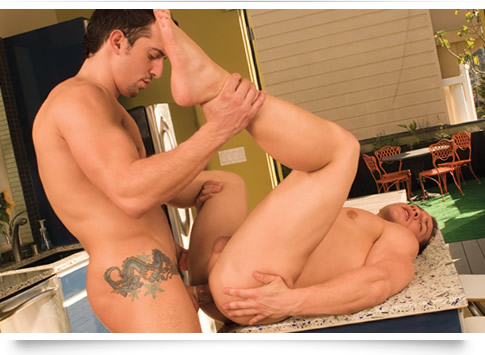 While all his friends are out sight-seeing Jimmy Durano decides to explore the city and see what he can find on his own. He spots local man, Dylan Roberts looking so hot and yummy as he dines al fresco chomping on a hot dog. The local native, Dylan, is just as smitten with the hunky tourist, Jimmy, and agrees to show him a good time. The two head home and Dylan begins to feast on Jimmy's meaty foot-long. Soon, wanting his share of some local cuisine, Jimmy eats out Dylan's asshole, juicing it up with enough spit and making it nice and slick to handle his raging hard-on. The two new friends fuck nice and easy, then gradually build up to a frenetic pounding until they both explode, shooting wads of cum.