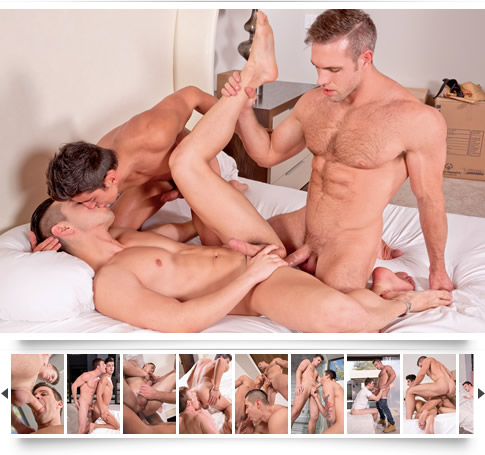 Sexy, successful Property Lovers Brent Corrigan and JJ Knight just bought their dream home: all it needs is a bit of remodeling for everything to be just perfect. Award winning director Tony Dimarco captures the action when the hot, horny contractors they've hired are all working hard to finish the job, but can't help turning some sexual attention onto each other - and their clients! When painter Dustin Holloway is doing some touch ups in the living room, leader contractor Alex Mecum sneaks up from behind and instigates an intense fuck session. Beau Reed comes in to do some work on the bathroom, but catches JJ Knight rinsing off in the shower. Hot oral leads to hardcore anal as JJ gets his rocks off before work and Beau shoots a massive load. Alex Mecum observes Zander Cole and Alessandro Haddad as they work, and the two young workers eagerly strip down and have a three-way with their sexy boss. When all the work is basically finished, Brent Corrigan asks Alessandro to stay on to be their gardener full time. They seal the deal with a hot lovemaking session in the master bedroom, finishing just in time to greet JJ, who is more than pleased with the arrangement. With their dream home finished and hot men all around, check out just how much action these Property Lovers get into with each other!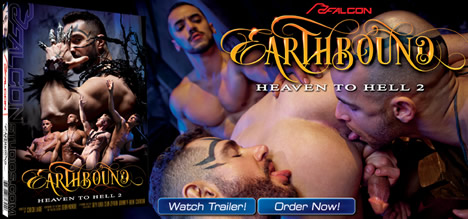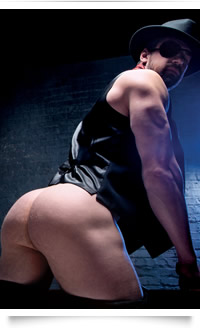 He's baaaaaaack! After a hiatus from the adult spotlight, exclusive Andrew Stark has returned to wield his huge cock, muscular ass, striking face and rockin' body in Falcon's gay porn event of the decade. Fans can find this 6'2" hunk driving his 8.5"-inch cut cock into eager bottoms in Falcon's latest, Earthbound: Heaven to Hell 2. After filming Total Exposure for Raging Stallion, Stark took a break from the adult world to focus on his art and family business. We're ecstatic he's back and playing 'Lord' in two, mesmerizing scenes in the upcoming Chi Chi LaRue directed masterpiece. Word from the set is that his acting gave crew members chills, and his sex scenes sent them over the edge. From the days of Tahoe - Cozy Up and Tahoe - Keep Me Warm, to today's latest blockbuster, Stark continues to prove why he's one of the hottest performers in the biz.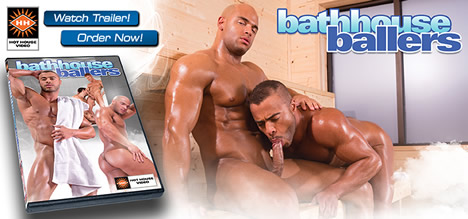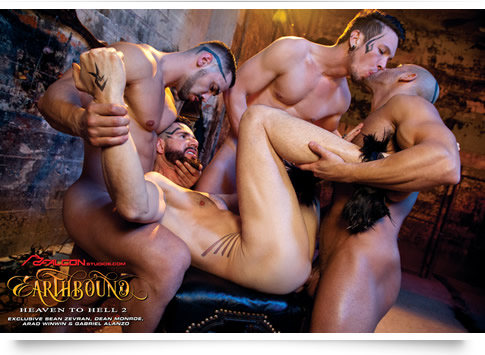 Movie Event of the Year Earthbound: Heaven to Hell 2 Arrives on DVD & Downloads
Falcon Studios Group, announces the release of the gay porn movie event of 2017, Earthbound: Heaven to Hell 2. Chi Chi LaRue returns to Falcon Studios to direct the continuation of one of the most talked-about and successful gay porn movies of all time, Heaven to Hell produced 12 years ago. Earthbound: Heaven to Hell 2 is an epic story of good versus evil and of paradise lost and pleasure found, which is now available on DVD and download from the Falcon Studios Group Store or fans can visit www.EarthboundXXX.com to check out teasers, trailers and galleries of models and action from the film.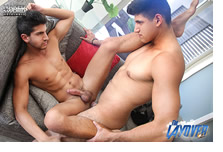 This Is How To Celebrate Ciñco De Mayo - "I want to find some local boy who's really hung and doesn't speak English." Read Full Story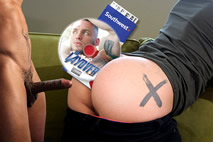 Who Wants To Fly For Free? - Here's your chance to fuck United Airlines by flying Southwest for free! Read Full Story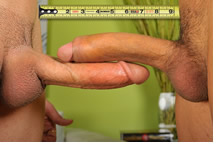 Yes. Dicks Are Indeed Getting Bigger. - Scientifically speaking, penis size is on the increase. Do you measure up? Read Full Story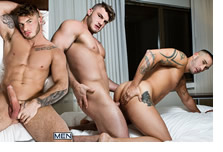 Is William The Seediest Newcomer Of The Year? - He has been rechristened William Seed. And while the name might not be perfect, just about everything on this fine boulder of a man is. Read Full Story


Hot Membership Site Scenes Available Now!



Falcon Studios Group Models Appearing Live in a City Near You.
ONGOING: Weekly Sunday Swap Meat at Eagle L.A., Los Angeles, CA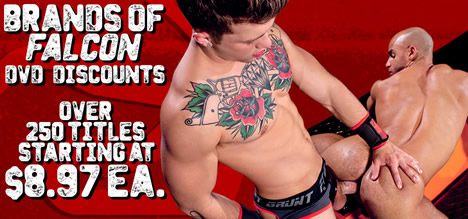 Hey HUNT Men,
Let's CELEBRATE! This is the 6-Year Anniversary of HUNT. Today Earthbound: Heaven to Hell 2 is available on FalconStudios.com and the Falcon Studios Group Store. This issue is one for the record books. From blockbuster new releases to the return of a porn favorite, this issue is sure to be all the buzz for some time to come.
Kicking things off in Breaking News, is the movie event of the year with Earthbound: Heaven to Hell 2 from Falcon Studios, on DVD & Downloads. 12 years ago…Falcon Studios released Heaven To Hell, one of the most talked-about and successful gay porn movies of all time. An epic story of good versus evil and of paradise lost and pleasure found finally continues in Earthbound: Heaven to Hell 2…
We celebrate HUNT eZine's 6th Anniversary in the Special Feature item. From the point of its inception, HUNT has continued to bring you the best stories in gay porn for free. Reflect with us on 6 amazing years with more to come.
Exclusive Andrew Stark returns to porn and takes over our Model Spotlight. After a hiatus from the spotlight, Andrew is back better than ever and delivers an extraordinary performance in the latest Falcon blockbuster, Earthbound: Heaven to Hell 2.
New homeowners give a little extra tip to guarantee superb renovations in our Free Action Gallery featuring the hottest shots from Falcon Studios' latest, Property Lovers.
Our Studio News is packed with new releases and debut scenes. First up, Earthbound: Heaven to Hell 2 world premieres on Falconstudios.com. Next up, Blindfolded debuts on HotHouse.com and Hot House releases Bathhouse Ballers on DVD and Download. Finally, find out who won the 2016 HUNT Reader Survey & Falcon Studios Group/NakedSword Fan Survey prizes.
It's offers you want? The new Brands of Falcon DVD Discounts promotion gives you up to 70% savings on over 250 titles, and we're entering the final days of the 2017 Annual Spring DVD Clearance with titles as low as $9.97 each. Plus, act now, because it's your last chance to grab scenes from 2014 & 2015 for only $3.25 each in our NEW-ISH Download Discounts.
Don't' think we forgot your Free Scene Download. Featured this week is an award worthy scene featuring Trevor Knight and Cavin Knight from Hot House's Backroom Exclusives 24. The scorching scene can now be found on the new compilation, My Big Fucking Dick – Trevor Knight.
Cheers Boys!
The HUNT Guys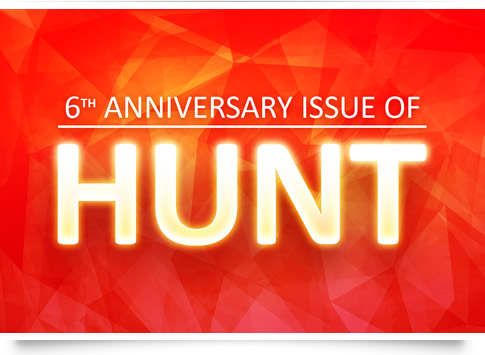 Celebrating 6 Years of HUNT eZine
Blasting onto the scene in May of 2011, HUNT's first issue debuted six years ago this week. 150 Issues later, HUNT is going strong and continues to be the most circulated gay porn eZine. HUNT prides itself on providing every two weeks, high-quality, free content, as well as breaking news and information from and about Falcon Studios Group, NakedSword Originals and TheSword.com directly into your inbox and the inboxes of over 100,000 more fans. For your continued support and readership over the past six years, the entire HUNT staff sends its sincerest gratitude and pledges an ongoing commitment to deliver the hottest free scene downloads, complimentary action and model galleries, special features, breaking news and exclusive offers.
HUNT delivers quality porn in every single issue, and urges you to take a look back at some of the highlights and hottest issues of the past year.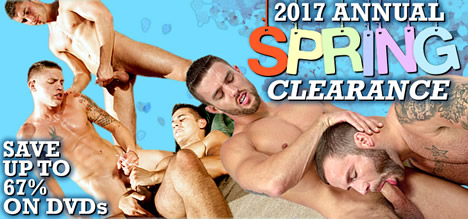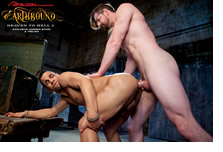 World Premiere from 'Earthbound: Heaven to Hell 2' Goes Live on FalconStudios.com - FalconStudios.com today announced the world premiere of the debut scene from the movie event of 2017, 'Earthbound: Heaven to Hell 2', featuring the return of hung exclusive Andrew Stark with sexy Trelino in an extraordinary acting and sexual performance. Read Full Story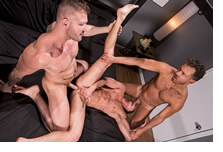 Debut Update from Blindfolded on HotHouse.com is Full of Surprises - HotHouse.com, announces today the world premiere of the debut scene from 'Blindfolded.' Deprived of sight and forced to rely on their other sexual senses, these hunks get 'Blindfolded' and submit to the mercy of their anonymous hookups. The debut scene, starring Exclusives Austin Wolf and Skyy Knox… Read Full Story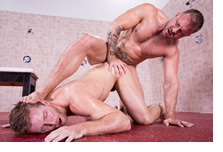 Hot House Gets Steamy in Bathhouse Ballers on DVD & Downloads - Falcon Studios Group announced today the release of Hot House's newest feature, Bathhouse Ballers, on DVD and Downloads. Director Nick Foxx takes you into the sauna and the communal showers with seven of the sexiest muscle men in the world! This steamy new movie can now be purchased on… Read Full Story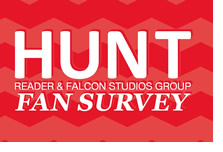 HUNT Reader Survey Winners Announced - We are grateful to the 4,500+ fans who provided valuable feedback in the Annual HUNT Reader and Falcon Studios Group Fan Survey. Thank you for the overwhelming response and valuable input. We are excited to announce the winners of the contest. Congratulations to them all. Read Full Story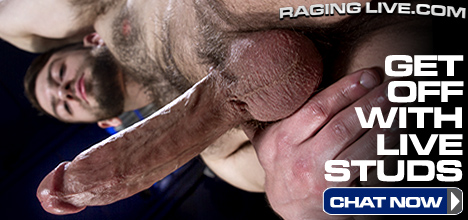 Trevor Knight & Cavin Knight from Backroom Exclusives 24
Now on My Big Fucking Dick - Trevor Knight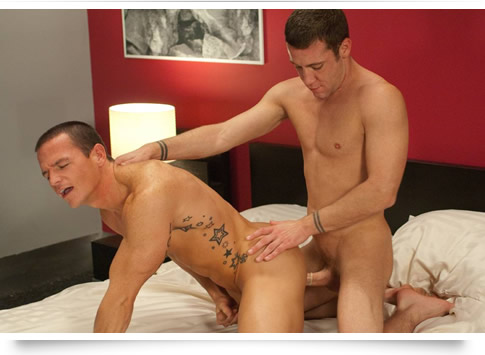 Trevor Knight orders his scene partners around; he's an aggressive top with plenty of cock to back it up. When he sees Cavin Knight's huge bubble-butt he knows he's going to fuck him. Trevor pushes Cavin down on the bed and immediately feeds him his 9-incher then flips him over and preps his hole for a hard pounding. He shoves his cock in Cavin's ass and fucks him mercilessly until he pulls out and blows a thick juicy load.