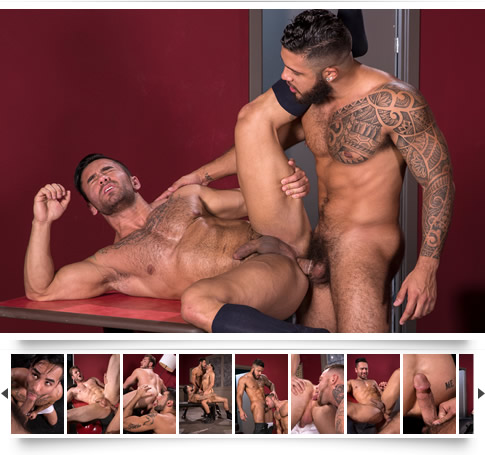 At the High n' Tight barbershop, men come to get their hair cut, their beards trimmed, and all their sexual desires fulfilled. Steve Cruz directs a stable of hairy, bearded, tattooed barbers and their clients as they indulge in intimate body rituals that leave them with mouths full of cum, holes wet with spit, and their muscles glistening with sweat. Bruno Bernal comes in for a haircut, but is so captivated by sexy barber Ryan Cruz, all he wants to do is give up his hole to him. Mick Stallone comes in for a high and tight from leatherman barber Rikk York, and Rikk's assistant Jackson Grant instigates a three-way fuck session that leaves all three men with their balls drained. Mick Stallone passes the time in the waiting room by stuffing his cock down Ace Era's throat, then bending him over and delivering an intense pounding. Bennett Anthony doesn't have enough cash on hand to give Gage Unkut the tip he deserves, so he graciously sinks to his knees and worships Gage's hard cock before taking Gage's dick up the ass and getting a load to the face. Book your appointment for a High n' Tight now from these macho barbers and their shop full of smoking hot studs.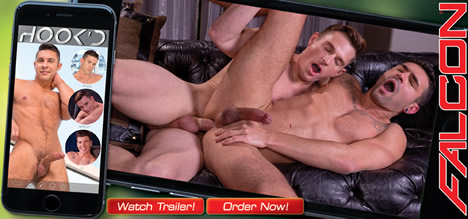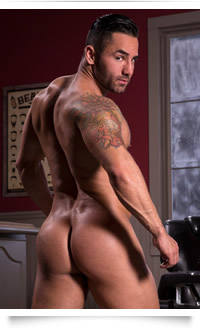 Direct from South America comes the tatted, Brazilian power-bottom, Bruno Bernal. Since bursting onto the porn scene in 2016 as a Falcon Studios Group Exclusive, Bruno continues to wow fans around the world with his awe-worthy physique, extremely willing and able bubble butt and inviting cock. Filming primarily for Raging Stallion as of late, Bernal has also been featured in Hot House releases and even some smoking-hot Falcon movies. You can catch Bruno riding a massive cock in his most recent projects like High n' Tight & Wasteland both from Raging Stallion and the all-sex features, Object of Desire & Backstage Pass 2, from Hard Friction. But he really lays it down and delivers in his latest performance in Raging Stallion's latest, ERECTUS, a monumental interpretation of the sexual appetites of Herculean men from Roman times when the virile athletic male was celebrated as art. The DVD and downloads are out next week and his scene will be up on RagingStallion.com soon. Keep a close eye on this ever-rising star to see where you can catch him in action next.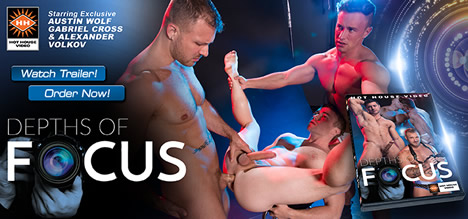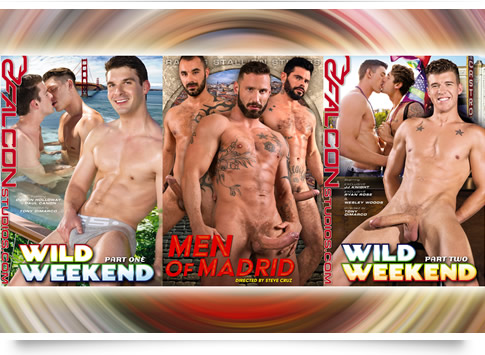 Falcon Studios Group Celebrates 78 Grabby Nominations: 21 Falcon Studios Group Movies Honored – 10 Exclusive Models Land Nods
Falcon Studios Group's movies and stars shined brightly in the release of the 2017 Grabby Nominations this week. Racking up a total of 78 nominations between Falcon Studios, Raging Stallion, Hot House, Hard Friction, Fetish Force and Club Inferno; Falcon Studios Group scored big in the 2017 Grabby Award nominations. The company received 47 nominations from 21 different features and 22 model category nominations from 10 exclusive models.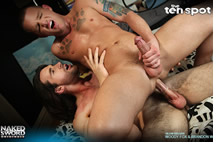 Woody Fox Turns Brandon Wilde Into A Cum Guzzler - For Woody and Brandon, watching was hot, but doing is hotter. Especially for Brandon whose tongue becomes a jizz rag. Twice. Read Full Story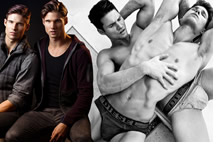 #CelebrityCock: Calvin Klein's Hot New Beau. And He's A Twin - 74-year-old Calvin Klein is a designer with a brand new designer beau. This one has a twin. And just like the Rossi's, these twins have a porn past too. Read Full Story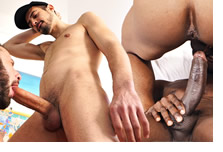 When Is Too Much Cock Too Much? - When Tim Kruger asks that question on his own site, he's asking as a top. But for the bottoms in his last two scenes, too much cock really meant "bring 'em on raw & find me more." Read Full Story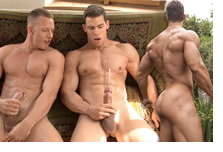 The Inhuman Perfection Of Kris Evans - If it wasn't true before, it is now. The complete "Loving of Kris Evans" can't possibly be completed in only thirty days. Read Full Story


Hot Membership Site Scenes Available Now!



Falcon Studios Group Models Appearing Live in a City Near You.
March 25: Austin Wolf, Skyy Knox & Trenton Ducati, BS West, Phoenix, AZ
March 25: Ryan Rose at Epic Bar & Nightclub, El Paso, TX
April 9: Ryan Rose at Miami Beach Gay Pride, Miami Beach, FL
ONGOING: Weekly Sunday Swap Meat at Eagle L.A., Los Angeles, CA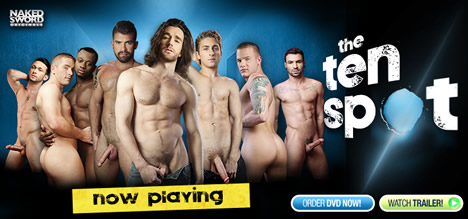 Hey HUNT Men,
If you think March Madness is hot, have we got a treat for you. This issue of HUNT has plenty of sweaty studs throwing their big balls around, and they're giving their all for every shot…cum shot that is. Check out all this hot content in another jam-packed issue of HUNT eZine that will have you shooting and scoring. Find new releases, debut scenes, chances to meet your favorite stars and more.
First up, our Breaking News item, in which Falcon Studios Group scores and celebrates an astounding win with 78 total nominations for the 2017 Grabby Awards. With a whopping 21 movies raking in 47 nominations, and 10 models grabbing 22 nods…we've got a lot to celebrate.
Time for a shave or fade? Head to this issue's Free Action Gallery and get all of the hottest action images from Raging Stallion's latest barbershop fuck-fest High n' Tight. Head on over to the High n' Tight barbershop where you get a close shave, a blow job and a hot fuck!
Heading down to Miami Beach for Gay Pride? Check out our Special Feature for details on how you can meet A-Team Exclusive Ryan Rose during Miami Beach Gay Pride at the Atlantic Broadband booth.
Model Spotlight gets the Brazilian treatment from Raging Stallion Exclusive, Bruno Bernal. From his recent performance in Raging Stallion's High n' Tight to being nominated in the Hottest Bottom category at the 2017 Grabby Awards, read up on all of Bruno's accomplishments since joining the Falcon family.
Studio News is what you want…well we have a full load. Head back to Roman times with the newest update from Raging Stallion's upcoming film ERECTUS. NakedSword takes its hunks to an intriguing and popular hookup spot in the Castro in their latest feature The Ten Spot. Hot House takes you behind the scenes of a real-life porn shoot in Depths of Focus directed by Nick Foxx. HOOK'D has award-winning director Tony Dimarco gathering the experiences of eight smoking hot men who use their technology to facilitate hot hookups.
We're blowing out our remaining inventory of some special products in the Collector's Edition Closeouts promotion. Save up to 80% on these popular products, because once the last copies are gone, the products will be discontinued and never available again. Plus, save big with the Compilation & Best Of Clearance delivering hot DVDs for only $9.97 each for a limited time.
Your Free Scene Download features Trenton Ducati and Dean Flynn in Hot House's classic Malpractice. The anal stretching medical scene can now be found as a BONUS scene on Hot House's latest doctor office film Internal Specialists.
Shoot and Score!
The HUNT Guys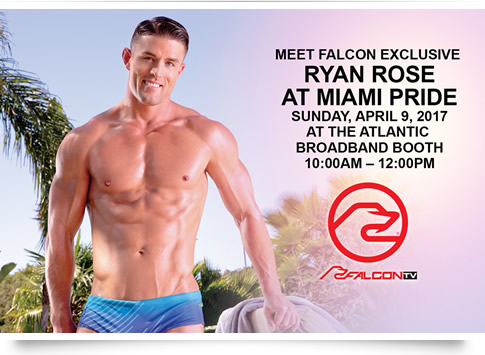 Meet Ryan Rose at Miami Beach Gay Pride
Calling all fans of gay porn mega-stars! This is an ALERT: Ryan Rose will be appearing live in the Miami Beach Gay Pride Parade and you can meet him and greet him and get an autograph and a photo at the Altantic Broadband booth on April 9, 2017 between 10 am and Noon. Don't miss this chance to meet 2-Time Grabby Performer of the Year and Falcon Exclusive Superstar…Live and in person and probably wearing little more than some Andrew Christian Underwear! Ryan will be on hand to promote the launch of Falcon TV Subscription Video on Demand!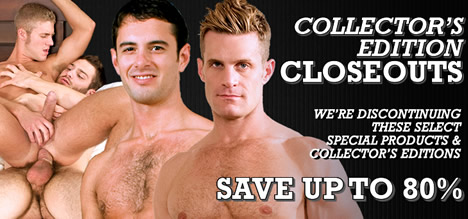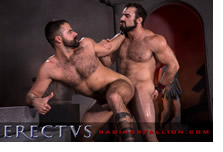 ERECTUS Delivers Godlike Physiques in RagingStallion.com Update - Raging Stallion debuts its latest release ERECTUS, starring muscle gods Jaxton Wheeler, Teddy Torres, and Ace Era on its premium membership site RagingStallion.com. Marvel at the virile athletic form celebrated as living art in this stunning, hedonistic Raging Stallion update. Read Full Story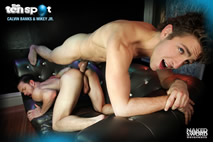 The Ten Spot from NakedSword Originals Hits DVD & Downloads - For years guys have been hooking up and taking their tricks to The Ten Spot, a legendary fuck pad located in San Francisco's Castro District. Today Sexy Falcon Exclusive Woody Fox lives in the apartment next door and runs the operation, where everyone is welcome as long as they leave $10 on the bed… Read Full Story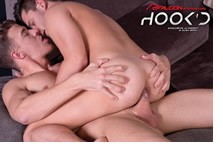 Get Online & Grab HOOK'D Falcon's Celebration of Hook Up Technology - Falcon Studios Group celebrates the power of sexual technology with the latest Falcon Studios release, HOOK'D. If you're horny and looking for a sexy guy to get with, all you have to do is open up your phone and get HOOK'D! Read Full Story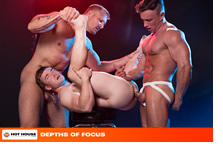 Hot House Releases Depths of Focus on DVD & Downloads - Falcon Studios Group invites you to go behind the scenes of a steamy Hot House shoot in Depths of Focus and get a special all ­access look at what happens behind closed doors when shooting the hottest porn stars on the planet! Read Full Story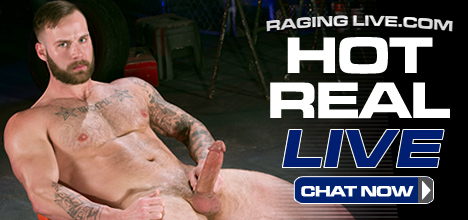 Trenton Ducati & Dean Flynn from Malpractice
Bonus Scene on Internal Specialists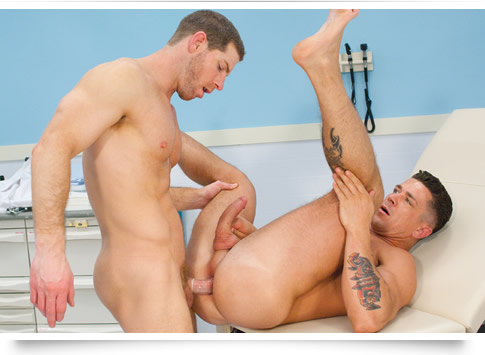 Trenton Ducati can't remember much from last night's party; all he knows is that his dick is rock hard and his ass is on fire. Dr. Dean Flynn orders the muscular stud to open his hole and pulls out a bullet-shaped metal butt-plug. That explains his burning ass; but now what to do with that giant boner? Dr. Dean is on it - literally. He swallows Trenton's massive cock to the base then flips him over to eat out his ass. This unconventional treatment drives Trenton wild as he demands that the Doctor fuck him. Dean shoves his big cock in Trenton's ass and fucks him hard. The dirty doctor pulls out and shoves his dick in his patient's mouth. Trenton sucks a load out of Dean then jacks off and shoots a healthy stream of cum all over the exam room floor.