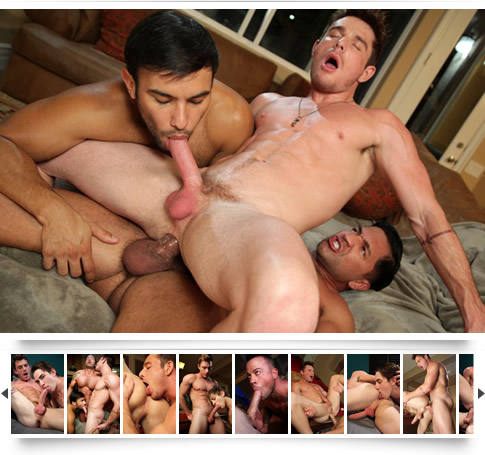 After years of being stuck in a webcam rut, adult mega-star Brent Corrigan has promised something completely different to his fans, his beloved 'LoverBees.' Little does he know that a twisted Ultra Fan has incriminating evidence and will use it to hijack his live show. A series of orchestrated events go from mild to wild to downright dangerous, all in an attempt to force Brent back into the business. Who is behind this master plan and how far will they go? The real question is how far will Brent go to save someone he loves? Find out in Ultra Fan!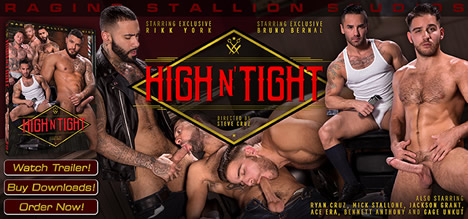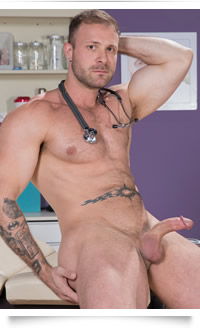 Everything about Austin Wolf is BIG! The A-Team Exclusive stands tall at 6'5", and he has a cock and a physique to match. With his bulging biceps, his massive chest, and his mouthwatering manhood, Austin rules as the top dog in the Hot House pack. His performances as a power top show off his athletic strength and his intense, authentic sex drive. In addition to his physical talents, every one of Austin's scenes is bolstered by his magnetic personality. He asserts his dominance with a stern, intimidating demeanor, fulfilling Tom of Finland fantasies of powerful executives or rough factory foremen demanding submission from their subordinates. But Austin also has a warm, affectionate, caregiving aspect to his personality, which generates intense emotional chemistry in every appearance. Catch the latest scenes from this mega hunk in the Hot House releases Internal Specialists, Skuff: Rough Trade 1, On the Market and Ride It, and watch this space for updates on Austin's upcoming performances.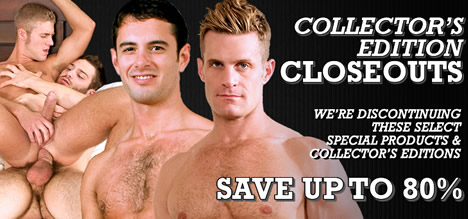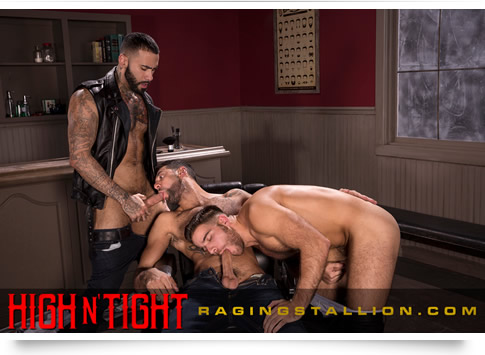 Raging Stallion Brings High n' Tight to DVD & Downloads
Falcon Studios Group announces the DVD and download release of Raging Stallion's High n' Tight, named for the barbershop where men come to get their hair cut, their beards trimmed, and all their sexual desires fulfilled. Steve Cruz directs a stable of hairy, bearded, tattooed barbers and their clients as they indulge in intimate body rituals that leave them with mouths full of cum, holes wet with spit, and their muscles glistening with sweat.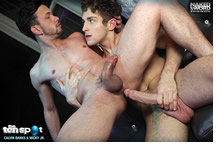 Shhh. Calvin Banks & Micky Jr. Don't Know They're Being Watched - What they don't know won't hurt them. But as for Calvin's huge cock, now that might do some damage. Read Full Story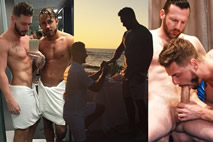 Moore Good News - True, Josh Moore has a new scene with Tim Kruger at Tim Tales, but over the weekend he got something even better. Fellow porn star Logan Moore is not his boyfriend now; he's his fiancé. Read Full Story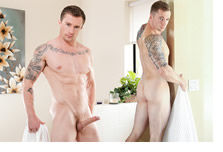 No More More - It was a helluva ride, but after three years, Markie More has announced his retirement from gay porn. Read Full Story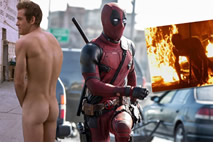 Full Frontal Ryan Reynolds Is Burning Hot - So Is The Rear View - "Fortunately, we had Bill Corso, who's this incredible Oscar-winning makeup artist ... He's a genius, and he made my penis look perfect." ~Ryan Reynolds Read Full Story


Hot Membership Site Scenes Available Now!



Falcon Studios Group Models Appearing Live in a City Near You.
ONGOING: Weekly Sunday Swap Meat at Eagle L.A., Los Angeles, CA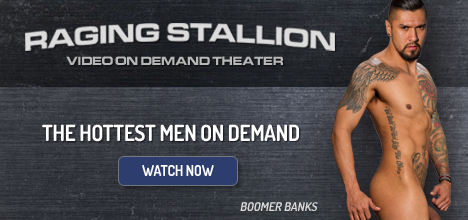 Hey HUNT Hunks,
March is here and Spring is almost upon us. HUNT is sprung with a ton of the hottest news, new releases, debut scenes, bonus galleries, free scenes and more. Enjoy our version of March Madness in this scorching-hot issue!
Let's start this party with tasty Breaking News. Now's your chance to witness the latest Raging Stallion available on DVD and Downloads, High n' Tight. Get a load of the hot barber shop stylists and patrons as they get their hair cut, their beards trimmed and their sexual desires fulfilled.
Iconic porn star Brent Corrigan and his recent collaboration with NakedSword Originals, Ultra Fan, take over the Free Action Gallery. See the hottest action shots from the feature directed by, written by and starring Corrigan. Plus, this issue's Special Feature showcases a BONUS Free Action Gallery packed with the hottest images from Hot House's Internal Specialists.
Get a heavy dose of muscle in our Model Spotlight with A-Team Exclusive Austin Wolf. From his recent appearance in Hot House's Internal Specialists to him consistently burning up the screen as one of porn's most dominate tops, we're delivering what you want to see and know about this meaty hunk.
Studio News is full of new releases, debut scenes and global updates. First up, get a recap of the Ultra Fan Australian Invasion with Brent Corrigan and JJ Knight's visit Down Under with Sister Roma and Chi Chi LaRue, sponsored by Swiss Navy. Next, Falcon's debut update from HOOK'D features A-Team Exclusive JJ Knight and newcomer Alex Gray in a cum-busting scene inspired by todays modern hookup apps. Then, Brazilian hunk Jimmy Durano fucks his jerk boss Ace Era in the debut scene from Hot House's blue-collar feature Dirty Work. Finally, reach deep into the insides of your fellow fist pig with Club Inferno's release of Deep Hole Dungeon on DVD & Downloads.
We're discontinuing select items in our Collector's Edition Closeouts promotion that gives you up to 80% savings on some hugely popular packs and special collections. Once we sell out, these products will be gone forever, so get them before they're gone. Plus, this is your final chance to access the amazing anniversary deals from the New Falcon Studios Group and NakedSword Store. Get major savings on the most popular DVDs and Scenes since we launched the store. Save up to 50% on the 325 most popular DVDs from the past three years in the Store 3-Year Anniversary DVD Discounts promotion and get up to 60% and more off on the top 250 scene downloads in the Store 3-Year Anniversary Scene Sale.
The Free Scene Download this week, TJ Hawke, Patrick Kennedy and Jake Woods from Pledgemaster – The Hazing can be found in the Falcon 10 Pack #2, just one of hot products available in the Collector's Edition Closeouts sale.
Cheers Boys,
The HUNT Guys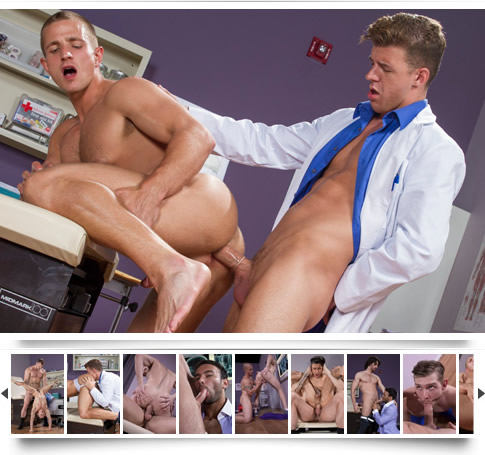 BONUS Free Action Gallery: Internal Specialists
The Doctor is in…inside his patient's ass. These Internal Specialists take their work seriously, and while they're stand up professionals, sometimes their attractions and urges take over. They know it's wrong, but it feels so right to do everything they can to thoroughly assist their patients and coworkers in taking care of their sexual needs. Nick Foxx and Tony Dimarco deliver medical office fantasies where the patients, doctors and assistants are delving deep inside each other and specializing in getting off with maximum intensity. Visit these Internal Specialists and you'll be in for a medical ejaculation like you've never experienced before.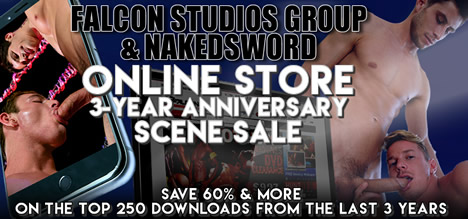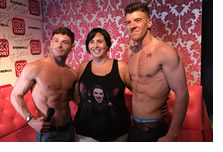 Australian Invasion Recap - Last week Falcon Exclusives Brent Corrigan & JJ Knight jetted off to Sydney, Australia accompanied by drag icons Sister Roma and Chi Chi LaRue. The trip, sponsored by Swiss Navy, was filled with amazing events promoting NakedSword Original's huge hit Ultra Fan: directed, written by and starring Corrigan…check out all the sexy moments and hot happenings in our Australian Invasion Recap! Read Full Story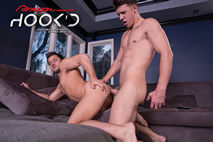 JJ Knight & Alex Grey Get HOOK'D in New Falcon Scene - If you're horny and looking for a sexy guy to get with, FalconStudios.com invites you to open up your phone and get HOOK'D! Award winning director Tony Dimarco gathers the experiences of eight smoking hot men who use their technology to facilitate hot hookups, full of wet oral, deep rimming, intense. Read Full Story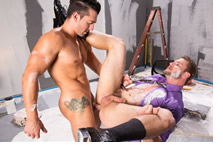 Jimmy Durano and Ace Era Do Dirty Work in HotHouse.com Update - HotHouse.com announces the world premiere of the debut scene from Dirty Work. If you hire these men to do your Dirty Work, you might find them slacking off at the job, but at least they'll be hard, horny, and ready to bust a nut! The debut scene, starring fan favorites Jimmy Durano and Ace Era, will world premiere on HotHouse.com on March 02, 2017. Read Full Story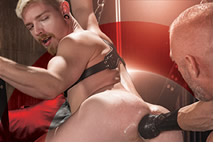 Head Down to the Deep Hole Dungeon with Club Inferno's Latest on DVD & Downloads - For these insatiable fisting pigs, nothing but a descent into Deep Hole Dungeon can give them the intense, hole-busting sensations they crave. Director Tom Moore wrangles six of the perviest fuckers out there to use and be used like the dirty butt sluts they are. Read Full Story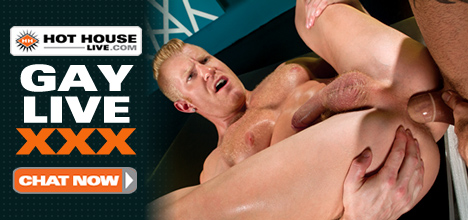 TJ Hawke, Patrick Kennedy and Jake Woods from Pledgemaster – The Hazing in the Falcon 10 Pack #2 on sale now in the Collector's Edition Closeout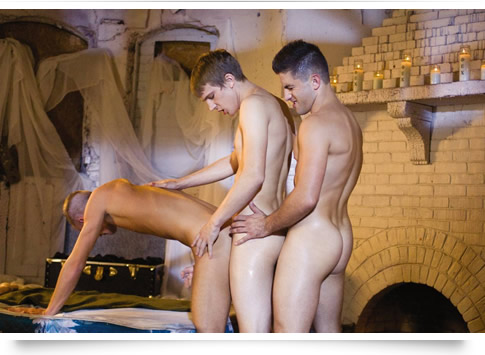 TJ Hawke has double duty, breaking in both Jake Woods and Patrick Kennedy. First TJ commands the boys rim each other's assholes, using spit to make their rosebuds slick and moist enough to slide a finger inside. Then TJ's playbook has him pulling out his collection of big rubber dildos. He jams the latex poles down their throats and up their asses. He twists the batons in their stretched holes, making the young men moan and gasp. Then he sets them both on his cock, demanding that they fellate him forcefully. To dominate the young men entirely, TJ commands Patrick to drill Jake while he gets behind to screw his ass, creating a 3-man daisy-chain fuck. Being the big man-in-charge, TJ selects who he fucks and who he sucks off. As their hazing ends, the three young men stroke out their thick loads as one.