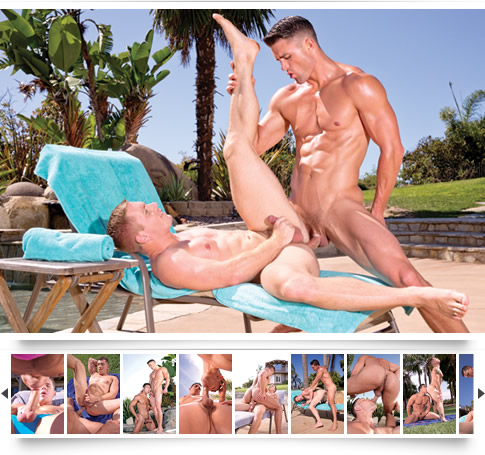 Dive 'Into the Blue' with a cadre of gorgeous men in a luxurious private pool. These studs are hot and as the temperature rises, so does their need for sexual satisfaction. Tony Dimarco directs seven toned, horny studs as they suck, rim fuck, and shoot enormous loads in and next to the stunning waters underneath the bright clear sky. Seth Santoro shows off his oral skills with JJ Knight's massive cock before JJ pounds Seth's ass and delivers a load of cum to the face. Topher Dimaggio's horseplay with Jeremy Spreadums leads to an intense fuck session in the soft green grass, and Topher shoots an epic load on Jeremy's muscular bubble butt. Ryan Rose and Seth Santoro trade head in the hot tub, and Ryan snowballs Seth's load back into his mouth. Brent Corrigan takes Topher Dimaggio's dick from both ends, then gets his chest covered with both their loads. Ryan Rose spies Scott Riley's round bubble butt and can't resist putting his dick inside, pounding Scott's hole and putting a load in his mouth. For the hottest poolside sex with the sexieset men in the world, just take a deep breath and dive 'Into the Blue.'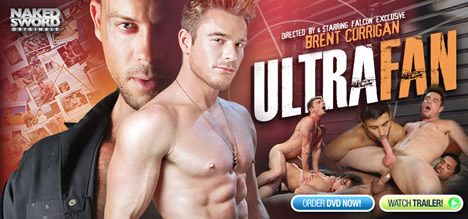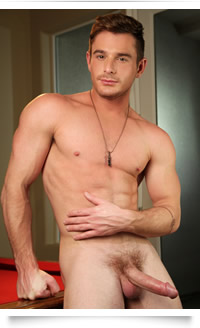 Falcon Studios A-Team Exclusive Brent Corrigan is one-of-a-kind! With his on-camera charisma, coupled with his leading-man good looks and mouthwatering physical assets, Brent captivates the minds and cocks of an army of fans, his 'Lover Bees'. Last year, part of his life was the subject of King Cobra, a mainstream indie film. As a continual award nominee and recipient, like his recent win at the PinkX Gay Video Awards for Best Actor, he's continuing on his trajectory toward gay porn Super Icon. This year, Brent's back and better than ever with recent Falcon scenes in Urban Spokes, Into the Blue, and About Last Night. Brent's latest endeavor finds him teaming up with NakedSword Originals for his directorial debut of Ultra Fan, which he wrote, directed, and starred in. It is available now on DVD and download from the Falcon Studios Group Store. And, he's on his way to Australia next week to appear at events during Sydney Mardi Gras to promote Ultra Fan and his Falcon Studios appearances. Stay tuned to HUNT to be the first to know what this gay porn superstar is up to next and see dispatches from his events in Sydney with boyfriend JJ Knight!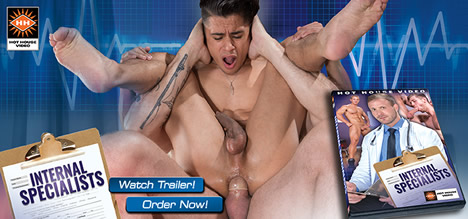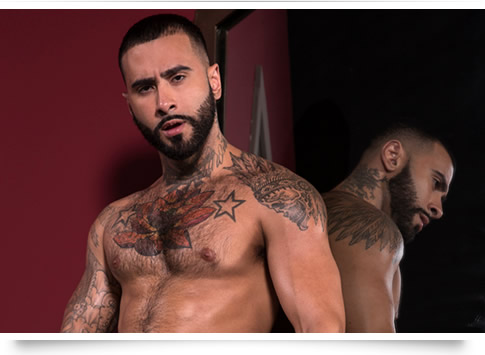 Rikk York Signs on as Raging Stallion Exclusive
Falcon Studios Group, the world's largest producer of all-male adult erotica, today announces the addition of Rikk York as a Raging Stallion Exclusive. The hairy, tattooed, Puerto Rican stud will appear primarily in releases from Raging Stallion Studios, the Falcon Studios Group brand that celebrates the rugged, natural man.
Rikk's first scene as a Raging Stallion Exclusive is a three-way hardcore fuck in Raging Stallion's barbershop-themed 'High n' Tight.' The scene, directed by Steve Cruz, debuts on RagingStallion.com tomorrow, February 24 and will be available on DVD and Download on March 3, 2017.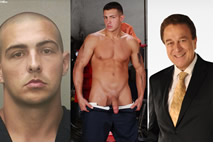 Did Gay Porn Star Josh Logan Just Get Away With Murder? - DNA and footprints lead to his arrest for the murder of Sam Del Brocco. After three years behind bars, a Florida judge didn't throw the book at him: she threw out the case. Read Full Story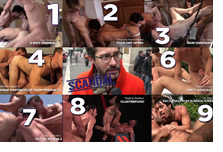 How the Italian Government Funded Gay Orgies - Seems the director of Italy's anti-discrimination department (UNAR) used funds earmarked to combat homophobia to invest in private prostitution clubs. Mamma Mia! Read Full Story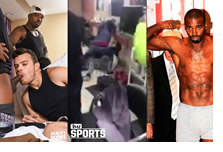 Boxer Turned Porn Star Yusaf Mack Delivers A Beat Down - A phobic twitter troll taunts a former professional boxer turned gay porn star with gay slurs online. Said boxer/porn star "ran" into him at the barbershop: what could possibly go right? Read Full Story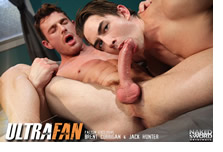 Brent Corrigan Conquers All - Today that list of conquests includes his career, love life, a flip fuck with Jack Hunter and finally, his 'Utra Fan.' Read Full Story


Hot Membership Site Scenes Available Now!



Falcon Studios Group Models Appearing Live in a City Near You.
March 1: Brent Corrigan & JJ Knight – Ultra Fan Model Search, The Midnight Shift, Sydney, Australia
March 2: Brent Corrigan & JJ Knight – VIP Meet & Greet + Performance, The Midnight Shift, Sydney, Australia
March 3: Brent Corrigan & JJ Knight – Autograph Session/Meet & Greet, Park Street Adult Books, Sydney, Australia
March 9: Ryan Rose at HusltaBall Tel Aviv, IL
ONGOING: Weekly Sunday Swap Meat at Eagle L.A., Los Angeles, CA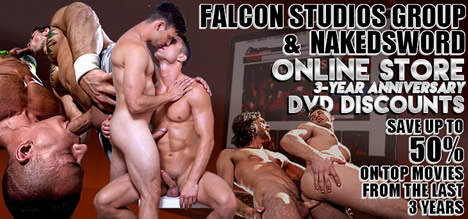 Hey HUNT Studs,
Spring is right around the corner and things are heating up and thawing out at the HUNT eZine headquarters from all of the intensely hot content this issue. HUNT 146 is scorching with plenty of freebies, celebration offers, new releases and important news.
First up in Breaking News, tatted and hairy hunk Rikk York joins the Falcon Studios Group family as the newest Raging Stallion Exclusive. Now, you can catch Rikk burning up the screen in the debut three-way, update from Steve Cruz' High n' Tight available on RagingStallion.com.
Dive Into the Blue in the Free Action Gallery. Tony Dimarco directs seven toned, horny studs as they suck, rim, fuck, and shoot enormous loads in and next to the stunning luxury pool.
The famous and iconic gay porn star, Brent Corrigan, is dominating our Model Spotlight. As one of the most recognizable performers in the history of gay porn, there's still plenty to learn about Brent Corrigan, so check out his spotlight and gallery of images from his most recent releases including the movie he wrote, directed and stars in, Ultra Fan.
Ultra Fan's release kicks off our Studio News section, which also includes more timely Falcon Studios Group updates. It's time for your annual check-up with Hot House's latest release Internal Specialists. Then, join Fetish Force in a journey with pups and their masters in Pig Puppy now on DVD & Downloads. The documentary about Falcon Studios founder, Chuck Holmes, is now out on DVD and download. Finally, learn more about Brent Corrigan and JJ Knight's tour in Australia during Sydney Mardi Gras as well as how to get updates from all of their events.
The New Falcon Studios Group and NakedSword Store is celebrating three amazing years of giving you the hottest releases and deals on gay porn. In honor of this anniversary, we're giving you major savings on the most popular DVDs and Scenes since we launched the store. Save up to 50% on the 325 most popular DVDs from the past three years in the Store 3-Year Anniversary DVD Discounts promotion and get up to 60% and more off on the top 250 scene downloads in the Store 3-Year Anniversary Scene Sale.
We'd never forget your Free Scene Download. Catch Derek Atlas and Duncan Black in a cum-busting scene from Raging Stallion's Clusterfuck! 1, now on the brand new compilation, My Big Fucking Dick – Derek Atlas.
Enjoy,
The Entire HUNT Staff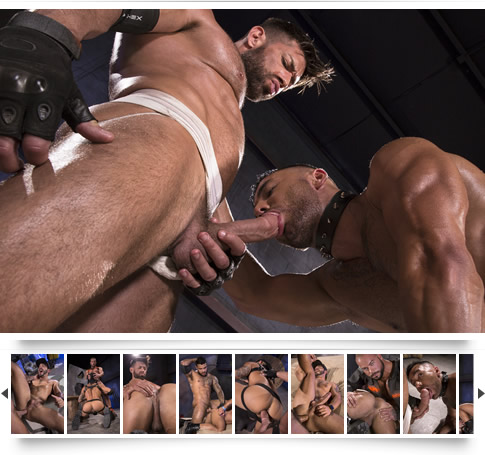 BONUS Free Action Gallery: Wasteland
Not too far in the future, things take a turn for the worse. The continent becomes a barren hellscape, a Wasteland, where the only valid currencies are food, water, shelter, and hardcore fucking. From the mind of director Steve Cruz, Wasteland is the story of the rough, ruthless survivors who wield their big muscles and big dicks to stay on top of the food chain.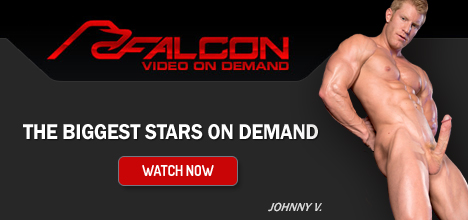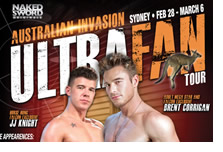 Set to Jet – Brent Corrigan & JJ Knight are Headed to Sydney - Falcon Exclusives, partners and iconic, gay porn stars Brent Corrigan and JJ Knight are getting set to jet off to Australia with Sister Roma, Chi Chi Larue and Swiss Navy's Mister Peeps for a whirlwind tour of appearances during Sydney Mardi Gras. Learn more about all the events and find out how you can stay updated on everything taking place while the boys are Down Under. Read Full Story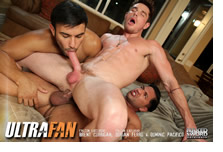 NakedSword Releases Brent Corrigan Directed Mega-Hit Ultra Fan on DVD - XBIZ 2017 Gay Studio of The Year, NakedSword Originals, is happy to announce that their new smash online series, Ultra Fan is now available on DVD and for scene downloads on the NakedSword and Falcon Studios Group Store. Read Full Story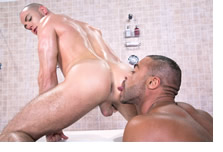 Hot House Releases Internal Specialists to DVD and Download - Falcon Studios Group has released a new Hot House feature including steamy doctor-patient fantasies starring a dedicated team of 'Internal Specialists.' Nick Foxx and Tony Dimarco deliver medical office fantasies, where the patients, doctors and assistants are delving deep inside each other… Read Full Story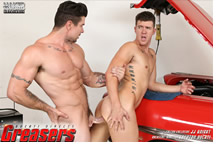 Fetish Force Unleashes Pig Puppy on DVD & Downloads - Are you a good boy, a bad dog, or are you something else entirely? Are you a Pig Puppy? Pups need strong masters, but only an experienced handler like Lance Hart can handle a Pig Puppy. Read Full Story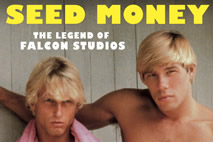 Seed Money - Documentary about Falcon Founder Now Available - Seed Money: The Legend of Falcon Studios a documentary about Chuck Holmes, the founder of Falcon Studios and a significant force in the gay rights movement in the 90s is now available on DVD and download in the Falcon Studios Group Store. Read Full Story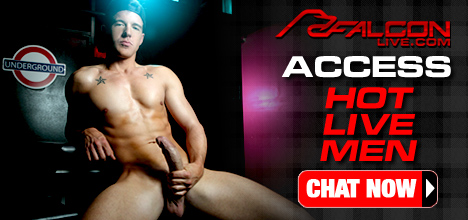 Derek Atlas & Duncan Black from Clusterfuck! 1
Now Available on My Big Fucking Dick - Derek Atlas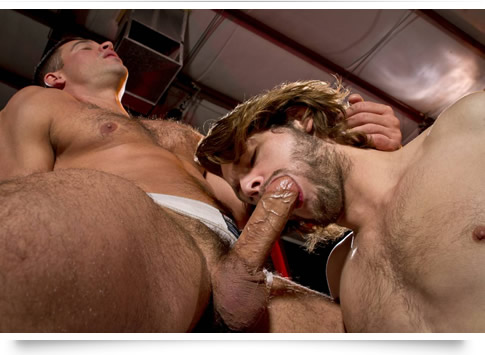 If the tattoo on sexy Duncan Black's left shoulder of an erect, life-sized cock and balls is any indication, cock is one of this stud's favorite pleasures in life. Derek Atlas has just the thing to satisfy Duncan's appetite, as he serves up his hard cock for Duncan to suck on. Derek's broad shoulders and muscular chest rock rhythmically as he pumps Duncan's face. Duncan's shaggy hair provides a perfect grip. But as good as Duncan's throat feels, you can tell by the look in Derek's eyes that Duncan's ass beckons. Derek pulls it towards his face with his muscular outstretched arms and buries his tongue and lips into Duncan's hole. Next, Derek pushes Duncan into a shoulder stand and splits the cheeks of his ass and bends low to steal a passionate kiss. Their cries pierce the air as Duncan drops onto his back and grabs his cock, which shoots milky streams of spunk across the treasure trail on his torso. Derek's hot cum erupts just in time for Duncan to catch it in his welcoming mouth.