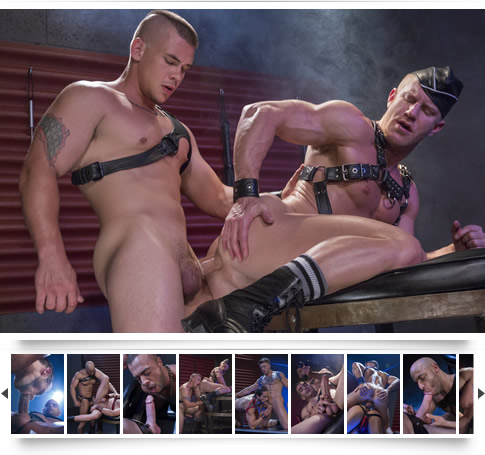 Get down and dirty again with the twisted leather men of part 2 of Skuff: Rough Trade. Nick Foxx and eight hunks rendezvous for the climax of this all-out leather fuck-fest in the finale of this installment of the famed Skuff series. These horny, hardcore fuckers are ready to go all the way with each other, boldly pushing their limits until they shoot hot, huge loads from their rock hard cocks. Sean Zevran and Alex Mecum trade head and flip flop in a sweaty, hazy warehouse, giving in entirely to their deviant pleasure. Adam Bryant shows Johnny V who's the boss of his hole and ends a wild fuck session with a power pounding. Jordan hits all of Micah Brandt's spots producing not one, not two, but three orgasms and hefty loads of cum. Sebastian Kross knows how to prep get a power bottom like Mikoah Kan with throat fucking, an intense rim job and hole-stretching toy play before giving him the fuck of his life and a huge load in his mouth. Join the men in the epic finale of Skuff: Rough Trade, Part 2 that will leave you dripping sweat and oozing loads of warm cum.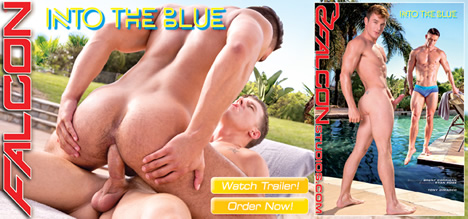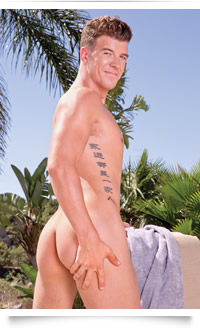 Ever since he became a Falcon A-Team Exclusive, JJ Knight has been running at the top of the pack. With his huge cock, versatile abilities, and warm personality, he's a fan favorite and the camera loves him. JJ packs an astonishing 10" inches in his pants, and his swimmers build and tall stature make him an unmissable treat for the eyes. He won the Grabby Award for Hottest Cock in 2016 (soon to be available as a Falcon Supercock dildo), and in 2017 he's set to continue his barnstorming success in the world of gay porn. You can catch his recent performances in the Falcon releases Urban Spokes, Pitching Tents, and About Last Night, as well as in NakedSword's Greasers. And, be sure to catch his brand new scene for Falcon's latest poolside feature, Into the Blue. If you're going to be in Sydney for Gay Mardi Gras, check out the Special Feature this week noting all the appearance JJ will make with his boyfriend and fellow Falcon Exclusive, Brent Corrigan.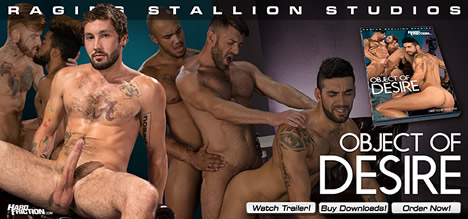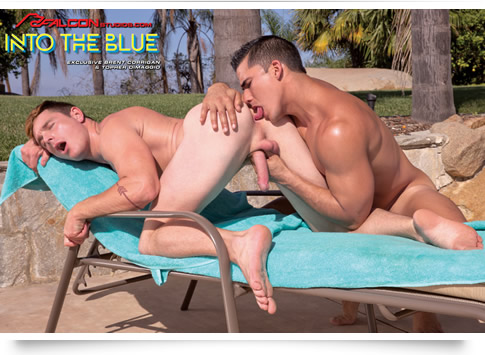 New Falcon Poolside Feature Into the Blue Makes a Splash
Falcon Studios Group invites you to dive Into the Blue with an enticing selection of gorgeous men who create a sexual paradise out of a luxurious private pool. Award winning director Tony Dimarco gives you exclusive access to seven toned, horny studs as they suck, rim, fuck and shoot enormous loads underneath a bright clear sky and in the deep blue pool. The sophisticated, elegant gay sex in Into the Blue is now available on DVD and download from the Falcon Studios Group Store.
The A-list cast of Into the Blue is headlined by Falcon Exclusives JJ Knight, Brent Corrigan, and Ryan Rose, plus superstars Topher DiMaggio, Seth Santoro, Scott Riley, and Jeremy Spreadums.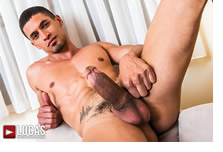 Gay Porn Star Ibrahim Moreno: Strip Searched Because Of His Name? - A French-Cuban by birth, Ibrahim Moreno traveled to Tel Aviv for a personal appearance at a gay club. Then at Ben Gurion International Airport, it all went wrong. Read Full Story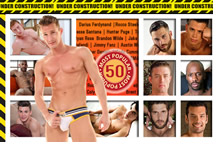 The 50 Most Popular Gay Porn Stars - The original title of this post was "The 50 Most Popular Gay Porn Stars Working Right Now, By Statistics". Even then, the list was, well, interesting. It's 2017 and time for an update. And this time, we want your input Read Full Story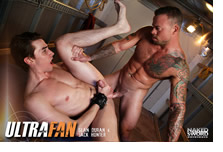 Brent Corrigan & Sean Duran Give Jack Hunter A Real Shocker - Brent Corrigan hoped his "Ultra Fan" was placated for the moment. No such luck. It turns out Brent is in for a real jolt. And at the hands of Sean Duran, so is Jack Hunter. Read Full Story


Hot Membership Site Scenes Available Now!



Falcon Studios Group Models Appearing Live in a City Near You.
March 1: Brent Corrigan & JJ Knight - Ultra Fan Model Search, The Midnight Shift, Sydney, Australia
March 2: Brent Corrigan & JJ Knight - VIP Meet & Greet + Performance, The Midnight Shift, Sydney, Australia
March 3: Brent Corrigan & JJ Knight - Autograph Session/Meet & Greet, Park Street Adult Books, Sydney, Australia
ONGOING: Weekly Sunday Swap Meat at Eagle L.A., Los Angeles, CA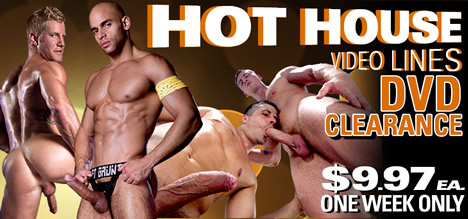 Dearest Fans,
Even though the New Year has come and gone, we're still celebrating Falcon's 45th Anniversary and we'll keep on packing every issue of HUNT with loads of free content, new releases and the hottest gay porn news. Buckle up! This is a good one.
Getting right into it, our Special Feature announces the NakedSword/Falcon ULTRA FAN Australian Invasion Tour. Boyfriends and two of the biggest superstars in the industry, Falcon Exclusives Brent Corrigan and JJ Knight are jetting to Sydney Mardi Gras to meet and greet fans from around the world in a series of sexy events. Get all the details in the Special Feature, and keep an eye out in future issue for updates and recounting of their tour.
Summer comes early this year in our Breaking News, article with the debut of Falcon's latest pool scorcher Into the Blue on DVD & Downloads. Award-winning director Tony Dimarco gives you exclusive access to seven toned, horny studs as they pound it poolside under the summer sun.
Get to the dungeon and strap on some leather. We're bringing you the sexiest action shots from Hot House's Skuff: Rough Trade 2 in the Free Action Gallery. Nick Foxx directs as these horny hunks bare it all in this top-notch thriller!
You know him from some of Falcon's most recent hits. You've seen him wield his 10" inch cock in and out of eager holes. It's JJ Knight, and he's in the Model Spotlight. JJ's quick rise to the top has been closely documented. Find out what he's up to and where you can see him next.
Studio News is packed with new releases and the latest updates! First up, HotHouse.com premieres a brand new scene from the studio's latest, Bathhouse Ballers, starring fan favorites Micah Brandt and Brendan Phillips. Then, FalconStudios.com follows suit with the premiere of the first scene from Into the Blue starring exclusive JJ Knight pounding Seth Santoro. Finally, Steve Cruz brings you the newest Hard Friction feature Object of Desire. All man. All sex!
The Hot House Video Lines DVD Clearance ends soon, so take advantage of $9.97 DVDs from the fabled studio while they last. And, we've held over our Big Dick DVD and Download Promotions just for you! Save 50% on movies featuring huge cocks in the 2017 Annual Big Dick DVD Sale, and the 2017 Big Dick Download Deals where every scene has 9"+ at 60% off.
Your FREE SCENE DOWNLOAD celebrates the uber-popular Hot House Skuff franchise with Josh West and Paul Wagner from Skuff 4. You can check out what inspired the latest installment of the Skuff franchise, Skuff: Rough Trade 2, out now from Hot House.
We Hope You Enjoy,
The Entire HUNT Team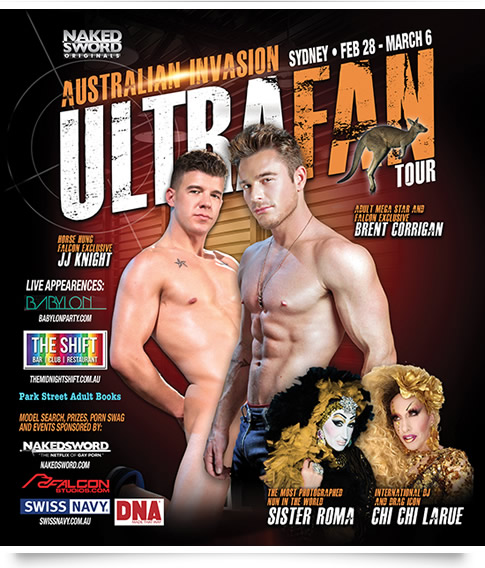 NakedSword/Falcon ULTRA FAN Australia Invasion Tour Sponsored by Swiss Navy
NakedSword.com, Falcon Studios Group and Swiss Navy Lube are jetting two of Gay Porn's biggest stars, Falcon Exclusives Brent Corrigan and JJ Knight, to Australia to appear at several events during Sydney Mardi Gras.
The appearances will be in support of the recent NakedSword Originals and Falcon Studios Group movies starring this gay porn power couple. The two started dating shortly after they met filming a scene together for Falcon's 'About Last Night'.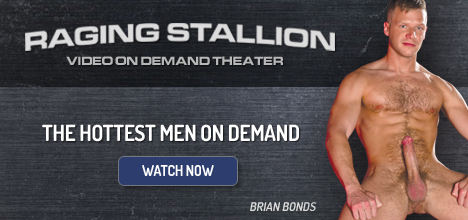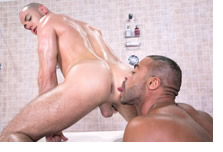 Micah Brandt and Brendan Phillips are Bathhouse Ballers in HotHouse.com Update - HotHouse.com, the Ass Authority, announces the world premiere of the debut scene from Bathhouse Ballers. Around every corner there is another hot stud to hook up with anonymously in Bathhouse Ballers. Take a trip cruising through this steamy sex spa and find a baller to hit it with. Read Full Story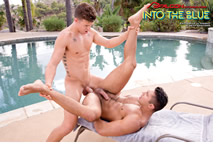 JJ Knight and Seth Santoro Dive 'Into the Blue' in World Premiere Falcon Scene - FalconStudios.com continues its tradition of super-popular pool movies with the world premiere scene from the latest feature, 'Into the Blue'. The update, featuring Falcon Exclusive JJ Knight and fan favorite Seth Santoro going at it at a luxurious private pool. Read Full Story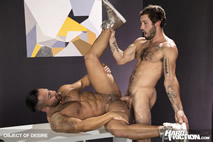 Hard Friction Releases Object of Desire on DVD & Downloads - Without chemistry, there is no desire. It is the essential element of sexual connection. Director Steve Cruz hand-pairs eight intensely sexual men with their Object of Desire for Hard Friction's most passionate erotic exploration yet. Read Full Story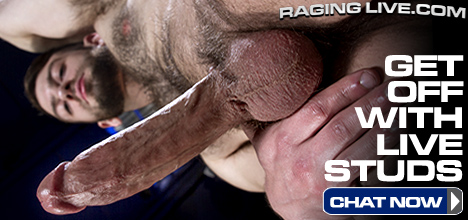 Josh West and Paul Wagner from Skuff 4
the inspiration for new Hot House feature Skuff: Rough Trade 2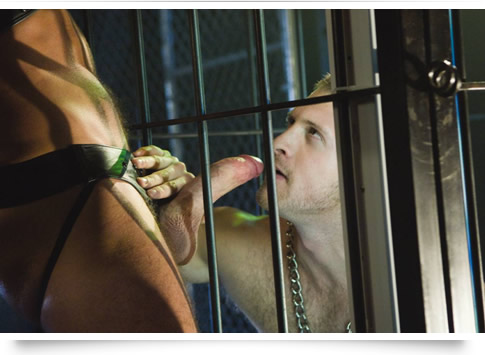 Don't be deceived by Paul Wagner. Although he's caged and begging for Josh West's giant cock, he's far from submissive. Josh starts off aggressively smacking the sides of the cage, trying to intimidate the eager cocksucker. But the minute the cage is opened Paul turns the tables on Josh, choking him with his own rock-hard tool. Josh regains control of the situation by flipping Paul over to lick his throbbing hole. Paul demands to be fucked, literally forcing his huge ass onto Josh's monster!