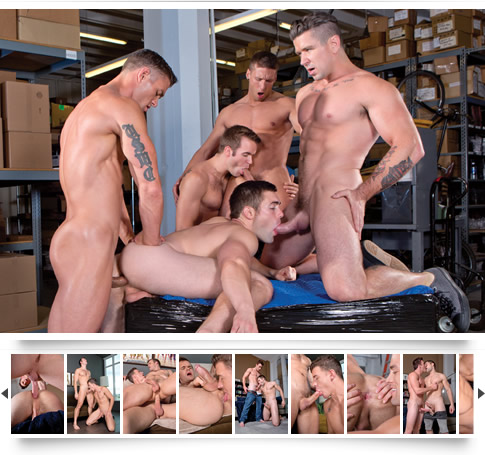 Welcome to Urban Spokes, a secret sex club for San Francisco's hottest, horniest, most intense cyclists. Award-winning director Tony Dimarco captures the underground network of big-dicked, fast-moving bike studs who work hard and play hard. When Rod Peterson's chain breaks on a ride, Ryan Rose offers to help him fix it at the Spokes headquarters, but not before Ryan uses both of Rod's holes! Messenger Griffin Barrows is star struck meeting famous app developer Brent Corrigan, and Brent is so impressed by Griffin's riding abilities, he extends an invitation to join Spokes. Connor Patricks nearly collides with Spokes member JJ Knight, but instead of being angry at each other, they take the opportunity to collide JJ's massive cock into Connor's willing ass. On Friday night, Rod, Griffin, and Connor make their way down to the Spokes shop for their initiation ritual at the mercy of Spokes leaders Ryan Rose and Trenton Ducati. Who will be the newest initiate into this elite riding club? Go for a ride with the Urban Spokes to find out!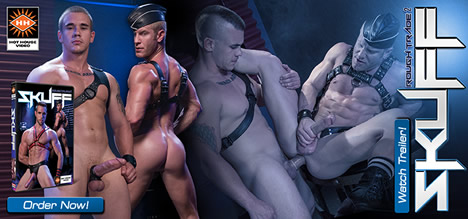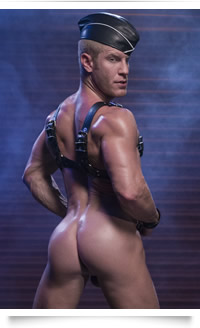 Standing 5'11" and 185 lbs. of pure, lean muscle, A-Team Exclusive Johnny V is arguably the hottest bottom in the business today, and he can also turn a hot versatile scene sporting his fat dick! Since hitting the scene, Johnny has continued to wow fans everywhere with his expert cock sucking skills, sensational bubble butt and his extraordinary ability to take a pounding from the biggest of cocks around. With a statuesque body and a fun and accessible personality, it's no surprise why this ginger stud continues to win awards year in and year out. Shooting primarily for Hot House as of late, Johnny has starred in Tony Dimarco's real estate fuckfest On the Market, got caught between two cocks in Nick Foxx's hit The Trainer as well as working on the revival of the iconic Skuff series in Skuff: Rough Trade 2. Keep a close eye out for this talented and eager power bottom. He recently wrapped two more Hot House flicks that are sure to keep your cum flowing freely!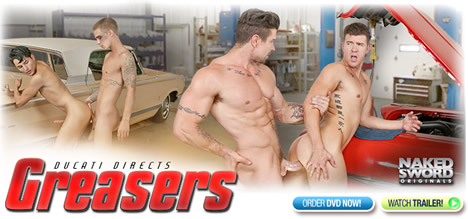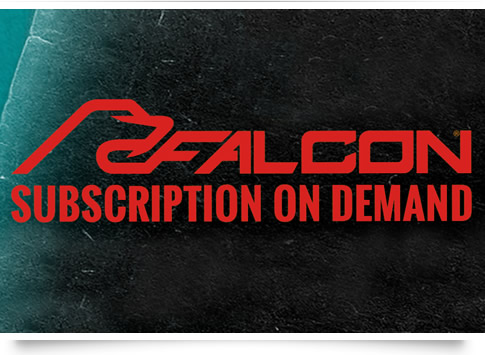 FalconTV Launces Subscription on Demand TV on Major U.S. Cable Provider
The Falcon Studios Group along in conjunction with a major U.S. cable provider, are pleased to announce the first ever gay adult content subscription on demand product on a major cable TV operator.
What does subscription on demand or "SVOD" mean for adult consumers? "It's an enormous variety of content from the Falcon Studios Group and NakedSword Network available from your cable provider for one low monthly price," says VP Marketing Toby J Morris.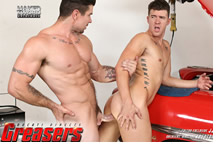 A New Bar Has Been Set For The Phrase "Epic Flip" - It's not just another scene, another flip fuck, or even a finale. Today, JJ Knight and Trenton Ducati battle it out in a sexual grudge match where everyone cums up a winner. Everyone. Read Full Story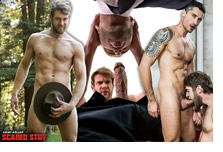 Is It Time To Let Colby Keller Out Of The Doghouse? - Colby Keller telling the world who was voting for last October was an unpleasant, unwelcome shock. Three months later, are we still mad? Read Full Story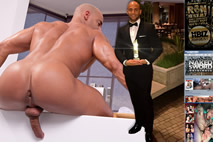 The Cream Always Rises - From the blue screen to the red carpet, Sean Zevran looks every inch the XBIZ Award winner. And with NakedSword Originals & mr. Pam, he's is some sterling company! Read Full Story


Hot Membership Site Scenes Available Now!



Falcon Studios Group Models Appearing Live in a City Near You.
ONGOING: Weekly Sunday Swap Meat at Eagle L.A., Los Angeles, CA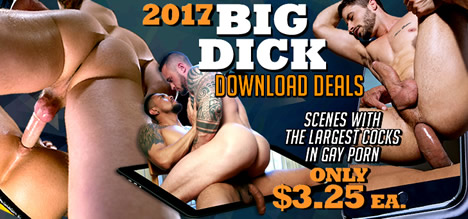 Hey HUNT Studs,
2017 is in full swing at the HUNT headquarters, and we hope your year is off to a great start! In this issue, we've got hot new releases, big award news and announcements of some really hot and new ways to find the porn and the men you want!
First up in our Special Feature, be the first to get the scoop on the newest and hottest dating and hook up app, GRIZZLY. Hunting for hot bears for dating and mating just got a lot easier with the latest gay dating/hook up app for bears and the men who love them, GRIZZLY.
Falcon does it first in Breaking News. FalconTV has partnered with a major U.S. cable provider to bring fans Falcon Subscription On Demand TV. Read all about this exciting opportunity to subscribe to this service that allows you to enjoy all of your favorite Falcon Studios Group and NakedSword Originals titles from the comfort of your own home (just like Amazon Prime or Netflix).
Continue Falcon's 45-year legacy in our Free Action Gallery featuring only the hottest action images from Falcon's most recent release, Urban Spokes.
Porns hottest bottom and star of Skuff: Rough Trade 2 Johnny V invades the Model Spotlight. Since Johnny first hit the scene, he's been burning up screens around the world with his insane physique, expert cock sucking skills, and his ability to bottom like nobody else. You'll also find him in part 2 of Hot House new movie Skuff: Rough Trade 2 on DVD & Downloads.
In Studio News, you'll find Johnny again in Hot House's revival of the iconic Skuff series with Skuff: Rough Trade 2 now available on the Falcon Studios Group Store. Head back to the 50's with the DVD and Downloads from Trenton Ducati's directorial debut in Greasers. Next, The CyberSockets and XBIZ Awards saw big wins for NakedSword and a Gay Performer of the Year from XBIZ for A-Team Exclusive Sean Zevran. Lastly, we've included a BONUS Free Action Gallery featuring Raging Stallion's futuristic and rugged Wasteland.
Don't miss out on the BIGGEST sales of the year – Our Big Dick DVD and Download Promotions! Save 50% on movies featuring huge cocks in the 2017 Annual Big Dick DVD Sale, and the 2017 Big Dick Download Deals where every scene has 9"+ at 60% off. Plus, if that wasn't enough, we've held over the New Year Scene Specials where over 400 scenes are only $3.25 each.
We hope you didn't think we'd forget your FREE SCENE DOWNLOAD! Check out one of the hottest scenes from Cruising For Ass starring A-Team Exclusive Sebastian Kross & Casey Moore. You can now find they two hunks in the new compilation, A-Team All Stars: Sebastian Kross out now!
Enjoy,
The Entire HUNT Team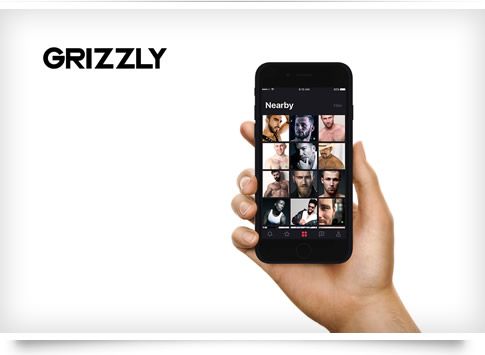 Get GRIZZLY - the All-New Gay Bear Dating/Hook Up App
Hunting for hot bears for dating and mating just got a lot easier with the latest gay dating/hook up app for bears and the men who love them, GRIZZLY.
The new GRIZZLY Gay Bears Dating App is one of the hottest gay dating apps to come around in some time. It just launched this week and it promises to become the go-to app for every Cub, Otter, Bear, Chub, Ursula, Panda and Polar Bear.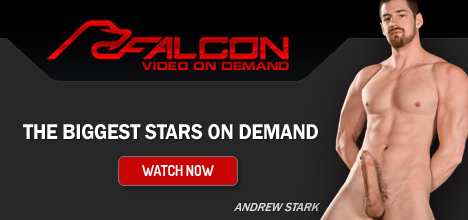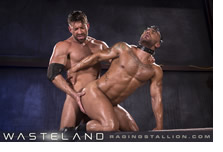 BONUS Free Action Gallery: Wasteland - Not too far in the future, things take a turn for the worse. The continent becomes a barren hellscape, a Wasteland, where the only valid currencies are food, water, shelter, and hardcore fucking. From the mind of director Steve Cruz, Wasteland is the story of the rough, ruthless survivors who wield their big muscles and big dicks to stay on top of the food chain. Read Full Story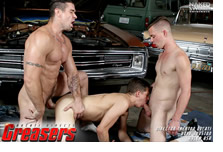 Greasers DVD & Downloads - Today, NakedSword Originals, XBIZ 2017 Gay Studio of The Year, is happy to announce their first DVD release of 2017 now available on DVD and for scene download on the NakedSword and Falcon Studios Group Stores. Read Full Story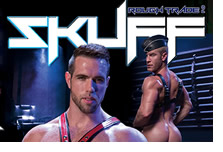 Hot House Continues Revival with Skuff: Rough Trade 2 - Falcon Studios Group, America's Gay Porn Company, returns to the underground world of kink-laden leathersex with Hot House's 'Skuff: Rough Trade 2,' out now on DVD and Download. Get down and dirty again with the twisted leather men of part 2 of 'Skuff: Rough Trade'. Nick Foxx and eight hunks… Read Full Story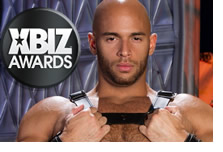 A-Team Exclusive Sean Zevran Wins XBIZ Performer of the Year & NakedSword Nabs Most Wins at Cybersocket and XBIZ Awards - The prestigious Gay Performer of the Year from XBIZ was awarded to Falcon Studios Group's A-Team Exclusive Sean Zevran. Plus, NakedSword scored amazing wins for Best Gay Company, Best VOD Site, Gay Studios of the Year and Gay Director of the year at the 2017 XBIZ and Cybersocket Awards. Read Full Story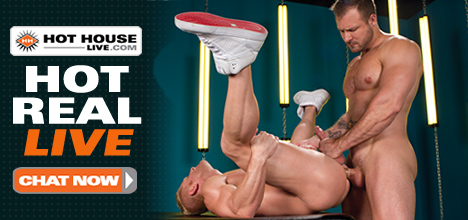 Sebastian Kross & Casey Moore from Cruising for Ass
Now on A-Team All Stars: Sebastian Kross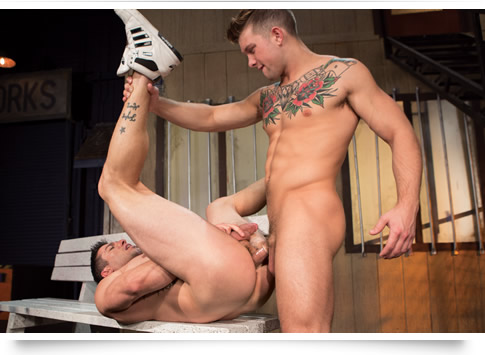 Ripped and tatted heartthrob Sebastian Kross is so horny he's cruising for ass by sitting on a bench and stroking his cock in a dark alley. He needs release and he just wishes someone would cruise by and suck his thick hot cock. Thankfully Casey Moore passes by and accepts Sebastian's offer of some dick so suck. Casey's right on it, slurping up Sebastian's hefty dick and getting smacked in the face by his low hangers. While Casey's going to town on his cock, Sebastian has his sights on Casey's ass. Wanting to take Sebastian's cock in every way, Casey's quickly bent over and welcoming that cock in his tight hole. Sebastian gets behind and slams away deep into Casey butt. Casey's wants to take it deeper and lays on the bench and has his legs in the air to give Sebastian deep penetrating ass access. With his balls slamming against Casey's ass cheeks, Sebastian increases the pace with rapid thrusts that push him over the edge, pulling out, and jerking a shower of cum onto Casey's leg. Streams of milky jizz fly out of Casey's cock and onto his ripped abs.