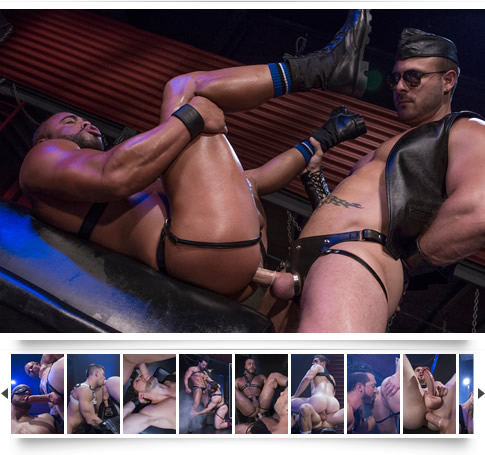 Get down and dirty with the perverted leather men of 'Skuff: Rough Trade.' These horny, hardcore fuckers are ready to go all the way with each other, boldly pushing their limits until they shoot hot, huge loads from their rock hard cocks. Nick Foxx revisits the themes of dungeon, fetish, master/slave, bondage and uninhibited sex the 'Skuff' series has delivered since its inception. Leather dom Austin Wolf takes command of his sub, Micah Brandt, with deep oral, a slippery rim job, and intense fucking that pushes Micah to shoot two loads. Brendan Phillips is tied up and blindfolded submitting himself entirely to Jordan's whims and his powerful fucking. Leathered up Sebastian Kross and Griffin Barrows take cock worship and deep throat fetish to an entirely new level before Sebastian has his way with Griffin's power bottom. When Jimmy Durano releases his pup, Derek Bolt, from his cage, all bets are off. Jimmy gives Derek the ultimate sexual treat, Jimmy's huge prize-winning cock, and Derek enjoys every inch in every hole. Brace yourself for intense play and deep pleasure with the men of 'Skuff: Rough Trade.'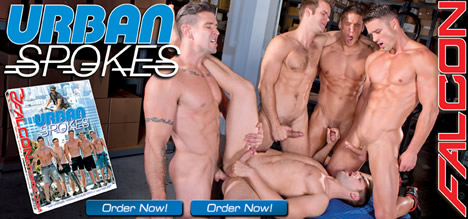 The A-Team is the most elite roster of gay porn stars in the industry, and Ryan Rose is the A-Team Captain. The out, proud, former US Marine is a versatile powerhouse, utilizing his huge 8" endowment, cock-hungry ass, and ripped physique to dazzle fans again and again. With performances for all of the studios comprising Falcon Studios Group, Ryan has something special to offer every taste. His incredible talents have earned him significant industry recognition: among other awards, he won the Performer of the Year Grabby award twice in a row! He's well-traveled, often appearing live at nightclubs and gay bars to give fans an up close and personal experience. When he's not showing off on the go-go box or in front of the camera, Ryan uses his athletic gifts for good: last year he rode in the AIDS/Lifecycle bike ride from San Francisco to Los Angeles, raising money to support the San Francisco AIDS Foundation and the Los Angeles LGBT Center. You can see for yourself how amazing Ryan is by checking out his latest epic scenes in Urban Spokes, Pitching Tents, and About Last Night, all from Falcon Studios, and in NakedSword's Scared Stiff. And if you want all Ryan all the time, pick up the A-Team All-Stars: Ryan Rose compilation, with six scenes and over two-and-a-half hours of his most intense exchanges and connected pairings. The stud delivers, so keep watching to find out what he puts out next.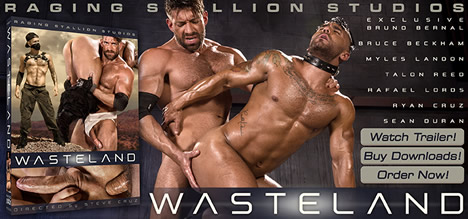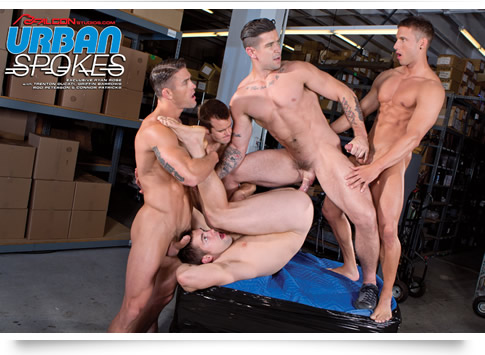 Urban Spokes: Falcon Revives Legendary Series
Falcon Studios Group, America's Gay Porn Company, invites you to join the Urban Spokes,' a secret sex club for San Francisco's hottest, horniest, most intense cyclists. Award-winning director Tony Dimarco captures the underground network of big-dicked, fast-moving bike studs that work hard and play hard. With references to the original Spokes movies from the 70s, 80s, and 2000s, Urban Spokes celebrates the 45-year legacy of Falcon Studios. The athletic, high-intensity action of Urban Spokes is now available on DVD and downloads from the Falcon Studios Group Store, as well as a special retrospective of the Spokes series that traces the evolution of Falcon's groundbreaking gay erotica.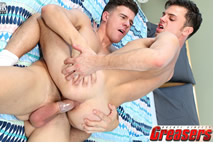 Christian Taylor Takes A Hard Ride On JJ Knight's Hot Rod - Greaser JJ Knight enlists the help of nerdy Christian Taylor for his term paper. But in reality, it's Christian who gets a crash course in wood shop. Read Full Story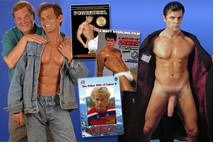 John Travis: Remembering A Gay Porn Pioneer - Legendary gay porn director John Travis has passed away. Perhaps most famous for discovering Jeff Stryker, he left an indelible mark on the gay porn industry that lives on today. Read Full Story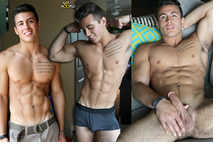 Do We Already Have The Worst Porn Name Of The Year? - They sure can pick 'em. But when it comes to naming their finds, too often they miss. With both joy and regret, say hello to Taylor Shift. Read Full Story


Hot Membership Site Scenes Available Now!



Falcon Studios Group Models Appearing Live in a City Near You.
January 12: Johnny V & Rocco Steele at Charlie's, Las Vegas, NV
January 12-15: Brent Corrigan at HustlaBall Vegas, Las Vegas, NV
January 12-15: JJ Knight at HustlaBall Vegas, Las Vegas, NV
January 12-15: Johnny V at HustlaBall Vegas, Las Vegas, NV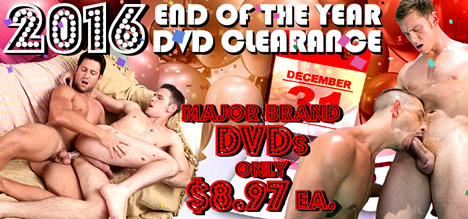 Hey HUNT Men,
Happy New Year! We at HUNT hope you had a fantastic holiday season, and we're kicking off the first issue of 2017 with a bang! This issue is loaded with tons of new, epic releases, free galleries, Falcon history and so much more.
We are dedicating this issue to one of the series that launched the Falcon brand into the stratosphere: Spokes. In the early days of Falcon, this sexy cyclist franchise became one of the biggest hits in early gay porn, and we've added a new, modern version of it for your library: Urban Spokes.
Check out the Special Feature to learn more about the evolution Spokes and how it became one of Falcon's most iconic series. From its original release nearly 40 years ago to the modern version today, check out how it's changed through the decades. Plus, you can see a hot scene from Spokes III as this issue's Free Scene Download. As part of the celebration of the Spokes legacy, download or stream this smokin' three way with Tyler Marks, Jeremy Hall and Ross Stuart.
Urban Spokes rides hard into Breaking News with more info about the newest release in the series on DVD and Downloads. Porn's heavy hitters like Ryan Rose, Brent Corrigan, JJ Knight and Trenton Ducati bring back the legendary cycling franchise to the streets of San Francisco.
Star of Urban Spokes, A-Team Captain and porn supermodel Ryan Rose, takes over this issue's Model Spotlight. As one of the biggest models in gay porn today, read up on all that Ryan Rose is constantly offering and see what you can catch him in next. Plus, you'll find him in the Studio News item about his World Premiere Urban Spokes scene with Rod Peterson.
Studios News also includes the latest from Raging Stallion, Wasteland and the debut scene from Hot House's Depths of Focus. See if you have what it takes to survive Raging Stallion's apocalyptic fuck-fest in Wasteland, now on DVD & Downloads. In Depths of Focus, Austin Wolf, Gabriel Cross and Alexander Volkov deliver the behind the scenes fantasy of a porn shoot in this steamy three-way.
We promise we didn't forget your Free Action Gallery. Strap on some leather and head to the musty dungeon in Skuff: Rough Trade 1.
We've held over the End of Year DVD Clearance offering hot movies for only $8.97, and you can get amazing download deals in our New Year Scene Savings promotion where each scene is only $3.25.
Cheers,
The Entire HUNT Team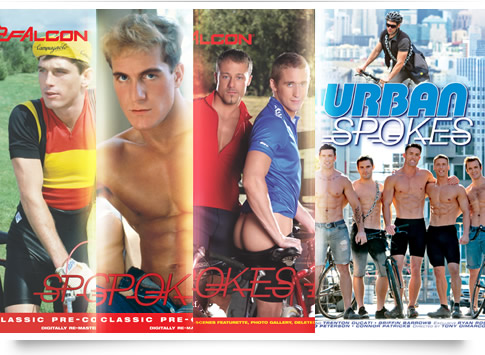 The Evolution of Spokes
With the release of Urban Spokes, the fourth installment of the iconic Spokes series, we celebrate the history of one of the most popular franchises ever release by Falcon studios. From its beginnings in the early 80s, the Spokes series has offered hot, young cyclist getting it on in scenic landscapes and back road stops. Now, Spokes gets a little gritty in the city but still delivers the beautiful backdrop of San Francisco. With the latest entry into this iconic string of movies, Falcon brings the countryside to the urban landscape.
In this Special Feature, we take you on a bike ride from Spokes, Spokes II, Spokes III and now Urban Spokes to show you how the Falcon features have evolved with time by sharing some of the hottest images from each release. From the very first Spokes film in 1983, to the newest addition Urban Spokes, Falcon continues to celebrate one of our most iconic series as part of our 45th Anniversary Celebration.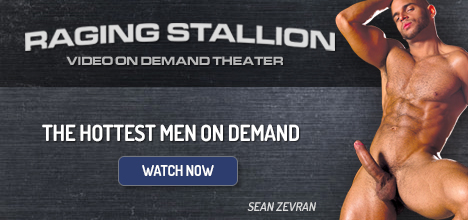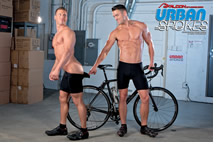 Ryan Rose Recruits Rod Peterson for Urban Spokes in New Update - FalconStudios.com brings you to the underground lair of Urban Spokes, a secret sex club for San Francisco's hottest, horniest, most intense cyclists. Tony Dimarco revives Falcon Studio's legendary Spokes series in this new take on the cycling-themed releases of the 70s, 80s, and 2000s. Read Full Story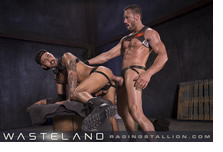 Visit Raging Stallion's Wasteland Now on DVD & Downloads - Falcon Studios Group, America's Gay Porn Company, has released Raging Stallion's Wasteland on DVD and download. Steve Cruz presents a world not too far in the future, where things take a turn for the worse. The continent becomes a barren hellscape, a 'Wasteland', and the only valid currencies are… Read Full Story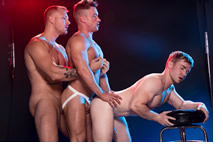 HotHouse.com Goes Behind the Scenes in Depths of Focus Threesome Debut Scene - Hot House, The Ass Authority – announces the debut of the first scene from its upcoming behind the scenes feature Depths of Focus. The new update featuring A-Team Exclusive Austin Wolf as well as muscle bottoms Gabriel Cross and Alexander Volkov was directed by Nick Foxx and goes live… Read Full Story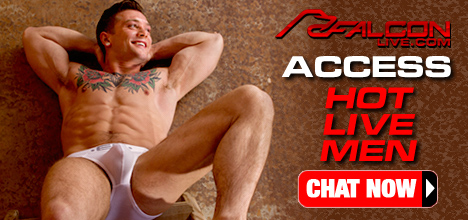 Tyler Marks, Jeremy Hall & Ross Stuart from Spokes III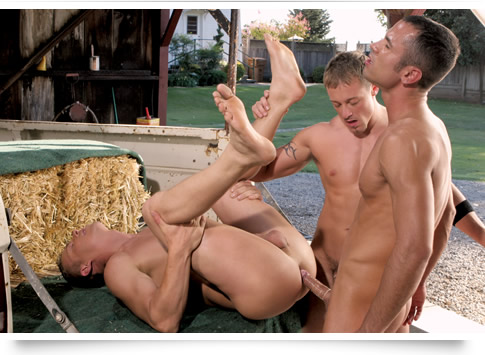 Working quietly in the garage, Ross Stuart spies Tyler Marks and Jeremy Hall getting it on. When the two bike jockeys catch him watching, they decide to show the curious farm boy how things really roll with them. And soon all thee men quickly spin outta control sucking cock, eating ass and fucking like madmen.