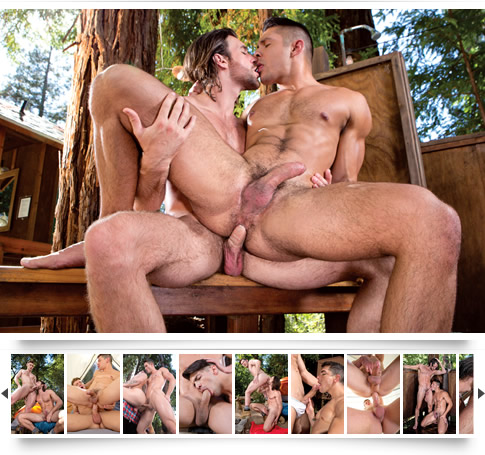 When a bunch of gorgeous, horny men show up in the middle of the woods, you know that they're going to be Pitching Tents. Tony Dimarco directs this prime group of beautiful Falcon studs as they rim, suck, and fuck their way to enormous cum shots in the middle of expansive natural splendor. Seth Santoro opens up to Woody Fox in the campground's outdoor showers, taking a heavy pounding and bringing both of them to huge cum shots. Jeremy Spreadums parts his spreadable ass cheeks for JJ Knight's supersized cock and gets a sweaty, cum-soaked ride. Jacob Pederson is the second lucky man to take Woody's cock on this camping adventure, moving through three different positions that lead to a cum-spurting climax. When Casey Everett has difficulty pitching his tent on the campsite, he gets an assist from Ryan Rose, but they get sidetracked by the tent in Ryan's shorts! When Woody heads out to the woodland cruising area, his hard cock and incredible abs get the attention of Jeremy Spreadums, and the two ripped studs suck each other off, with Jeremy taking Woody's load in the face and soaking the ground with his own. Grab your gear and head to the woods, where horny Falcon men are running wild and Pitching Tents.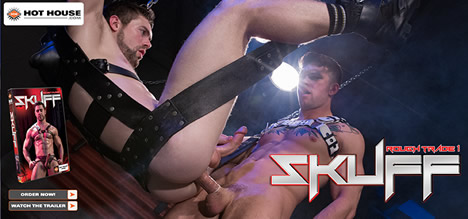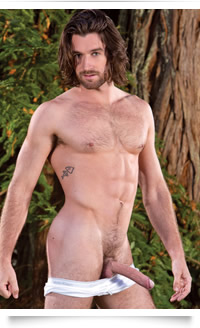 The elite stable of Falcon Studios Group A-Team Exclusives got an exciting new arrival in October with Australian super hunk Woody Fox. After first appearing in Falcon's 2013 blockbuster, Bucks County 2 - Road to Temptation, Woody bulked up and re-emerged hotter and sexier than ever! The energized, athletic wonder from down under has movie star good looks, accentuated by his full beard, piercing eyes, and long, dark hair. When he drops trou, all eyes lock on his perfect ass, rock-hard uncut cock, and heavy balls. To see this glorious man in action, be sure to check out Hot House's Internal Specialists, in which Woody's sports physical leads to a taboo sex session with his doctor. Woody also appeared in Hot House's Slicked Up, where the guys' edgy looks are only outdone by the even edgier sex! And finally, don't miss Woody's latest release, Falcon's Pitching Tents, where gorgeous men take over a campsite in Northern California to get naked and sweaty in the expansive natural splendor. With many more scenes to come, keep your eyes peeled for Woody's next thrilling performance!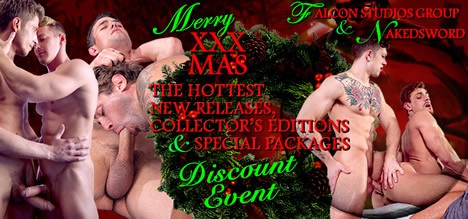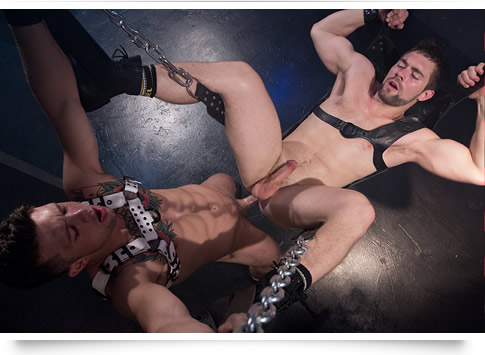 Hot House Revives 'Skuff' line with Rough Trade, Part 1
Falcon Studios Group, America's Gay Porn Company, dives deep into the underground world of leather and kink with Hot House's Skuff: Rough Trade 1, out now on DVD and Download. Get down and dirty with the perverted leather men of Skuff: Rough Trade. These horny, hardcore fuckers are ready to go all the way with each other, boldly pushing their limits until they shoot hot, huge loads from their rock hard cocks. Director Nick Foxx revisits the themes of dungeon, fetish, master/slave, bondage and uninhibited sex the Skuff series has delivered since its inception. This heavy, BDSM-inspired action is now available for download and on DVD today at the Falcon Studios Group Store.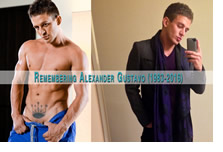 Remembering Alexander Gustavo - It's with great sadness we share the news that gay porn performer Alexander Gustavo died of self-inflicted gun shot wound this weekend. He was just 33 years old. Read Full Story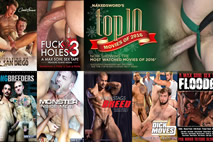 Your Dicks Have Spoken: The Top Ten Gay Porn Moves Of 2016 - Thousands and thousands of gay porn movies from over 200 studios in 365 days. It all came down to this: the top ten dick flicks as voted by your clicks. Did your favorite make the cut? Read Full Story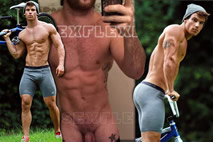 #CelebrityCock: BMX Champ Will "The Thrill" Grant? - Even if you never seen a BMX bike before, this is one model you definitely need to take for a test ride. Read Full Story


Hot Membership Site Scenes Available Now!



Falcon Studios Group Models Appearing Live in a City Near You.
January 12: Johnny V & Rocco Steele at Charlie's, Las Vegas, NV
January 12-15: Brent Corrigan at HustlaBall Vegas, Las Vegas, NV
January 12-15: JJ Knight at HustlaBall Vegas, Las Vegas, NV
January 12-15: Johnny V at HustlaBall Vegas, Las Vegas, NV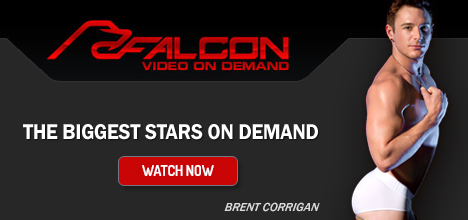 Hey HUNT Hunks,
With 2016 coming to an end and the New Year about to begin, we at HUNT eZine and Falcon Studios Group would like to thank our loyal fans for another year of never-ending support. We strive to bring you the latest news and the highest quality gay adult entertainment. So, without further ado, here's the final issue of 2016 packed with new releases, BONUS galleries and tons of satisfying content to close out the year!
In a tribute to all the hottest items from our studios this year, don't miss this issue's Special Feature. We've gathered all the biggest news, the hottest galleries and most popular releases of 2016 in the Falcon Studios Group Year in Review.
Hot House revives the popular Skuff line in Breaking News with their latest leather film, Skuff: Rough Trade, Part 1. Director Nick Fox revisits the themes of dungeon, fetish, master/slave, bondage and uninhibited sex the Skuff series has delivered since its inception.
Deep in the woods, men will be men and testosterone runs high. Witness our Free Action Gallery featuring the sexy and gritty images from Falcon's latest blockbuster Pitching Tents. See stars like Woody Fox and Ryan Rose head into the woods and let their sexual nature take its course.
Closing out 2016 with a bang in our Model Spotlight is our newest A-Team Exclusive, Woody Fox. From the circus to his comeback in the adult industry, read up on all you can expect from this gorgeous hairy hunk from down under.
Lastly, Studios News delivers a Bonus Free Action Gallery for the NakedSword produced Rock Candy feature Secrets & Lies. Then, takes you to RagingStallion.com's debut update from Wasteland featuring A-Team Exclusive Bruno Bernal and macho hunk Bruce Beckham. Plus we've added another reminder to complete the HUNT Reader Survey for your chance at amazing porn prizes. And, finally, we're clearing house and giving fans a special price at our 2017 full-size calendars with our 2017 Calendar Deep Discounts. Get your favorite 2017 wall calendar for only $4.95 ea. while supplies last.
This is your last chance to save on 2016 releases, value pack and collector's edition products in the Holiday DVD Sale and there are only a few days left to save half off 2016 New Release downloads in the Holiday Scene Sale.
We didn't forget your final Free Scene Download of 2016. This week features John Magnum and JR Matthews from Hot House's poolside scorcher, Trunks 6. The cum busting scene can now be found on the brand new compilation Amazing Ass 14.
Happy New Year,
The Entire HUNT Team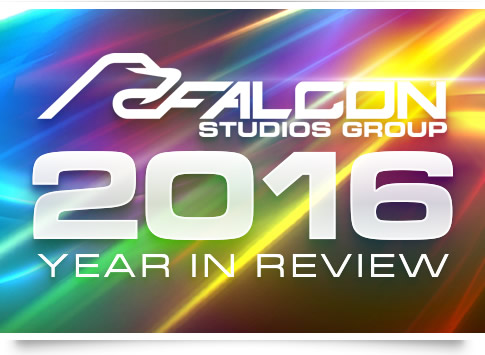 2016 Falcon Studios Group Year in Review
2016 was a year of blockbusters, new beginnings, big anniversaries and more of the highest quality gay porn in the world. As a token of our gratitude for your continued support as a loyal fan, we've put together this Falcon Studios Group 2016 Year in Review collection of terrific free galleries, special features, most-popular content and the biggest news from the year.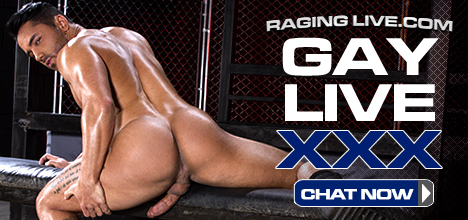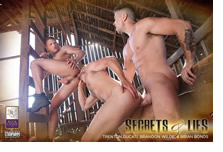 BONUS Free Action Gallery: Secrets & Lies - Nestled in the sun-kissed fields of the California's Central Valley, there's no place more beautiful than the Ridge Family Farm. But once the family is filled with lust and deceit, will things once again be as beautiful as they appear on the Ridge Family Farm or will they forever be shrouded in Secrets and Lies? Read Full Story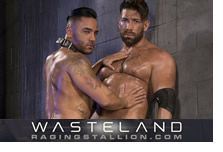 RagingStallion.com Brings Danger and Domination in the Wasteland - RagingStallion.com announces the debut scene from Wasteland, starring A-Team Exclusive Bruno Bernal with muscle dom Bruce Beckham. Welcome to the Wasteland, a post-apocalyptic hellscape where the only valid currencies are food, water, shelter, and fucking. Read Full Story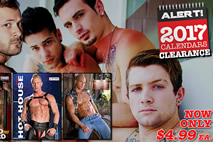 2017 Calendar Deep Discounts - With the New Year right around the corner, now is the time to get the sexiest wall calendars to keep track of 2017. With Raging Stallion already sold out and limited supplies on Falcon, Hot House and NakedSword calendars, don't miss this chance to get them at 67% off – the lowest price available. Read Full Story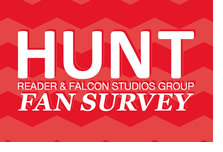 HUNT 2016 Reader Survey - Complete for Your Chance to Win - HUNT eZine announces the launch of the 2016 Annual Reader & Falcon Studios Group Fan Survey today. Every year, HUNT and Falcon Studios Group invite gay porn fans everywhere to provide feedback that helps the studios make important decisions about models, movies, content and how it's delivered. Read Full Story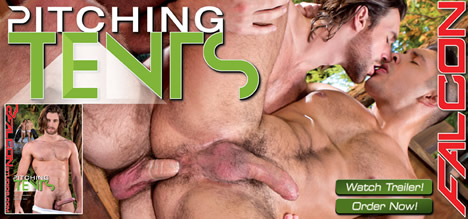 John Magnum & JR Matthews from Trunks 6
Now on Amazing Ass 14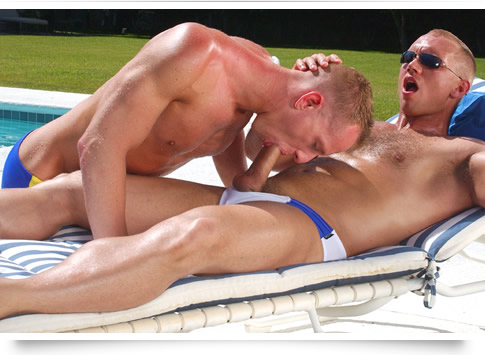 The Palms Springs heat makes everyone horny, especially John Magnum and JR Mathews. John knows JR is watching him from the pool so he pulls out his uncut whopper and starts stroking in the hot sun. JR slides out of the pool and goes down on John, sucking his dick until they're both so overheated they jump in the pool to cool off. JR hops up on the side of the pool and offers John his fat cock and perfect hole  it's time to fuck. John bends the chiseled redhead over and fucks him hard, doggy-style then on his back. John pulls out and goes down on JR, using his mad cock sucking skills to drain JR's load!