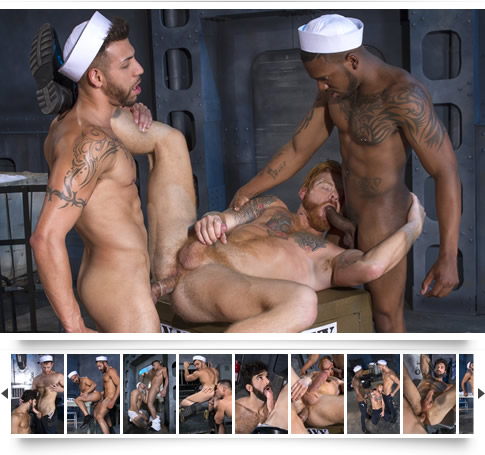 Step aboard the RSS 'Destroyer,' a warship with a full complement of thirsty sea men who must turn to each other for sexual release. Director Steve Cruz captures the pent up sexual antics of these hung, hairy, horny sailors. Bennett Anthony doesn't lift a finger to help his shipmates FX Rios and Aaron Reese complete their difficult cargo loading job. Bennett has a different kind of loading job in mind: the kind where FX and Aaron tag team him from both ends, ending with gushers of cum. Bruce Beckham and Brogran Reed report for duty with hard wood and a taste for cock. Hairy studs Tegan Zayne and Spencer Whitman have a flip flop in the boiler room that leaves their fur drenched with sweat and cum. Bruno Bernal doesn't hold back when it comes to his cock lust for Gabriel Taurus' girthy member, giving slobbering oral service before riding Gabriel's cock with abandon. Sign up with the crew of the 'Destroyer' and report for heavy-duty man on man action.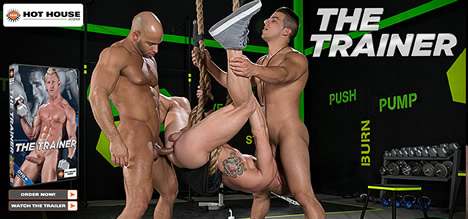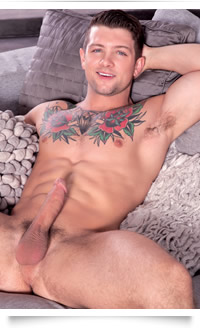 A perfect example of the classic Falcon Man, A-Team Exclusive Sebastian Kross personifies masculine sexuality. His enormous, mouthwatering cock and huge balls are complemented by his bright blue eyes, colorful ink, and his sculpted body. Sebastian's fan base has grown exponentially, bolstered by his energetic performances and his big wins at award shows. He took home the Best Newcomer Award at the 2016 Cybersockets, and was nominated for 'Best Porn Star' as well. Recently, he attended the PinkX Gay Video Awards in Paris, where he took home the trophy for Best Orgy on behalf of the cast of Raging Stallion's Clusterfuck! 1, in addition to performing at the awards ceremony and the after party hosted by NakedSword's own Sister Roma. See for yourself why Sebastian is in such high demand by checking out his recent releases: The Trainer from Hot House features athletes getting their pump on in the gym, Slicked Up shows Hot House men getting it on with kinky, edgy gear, and Falcon's Desert Getaway features hot Falcon sex with the beautiful, stark backdrop of Joshua Tree. Plus, you can now see him in the biggest gay porn of the year, Falcon's About Last Night. Keep watching this stud's shining star get brighter, because there's not stopping him.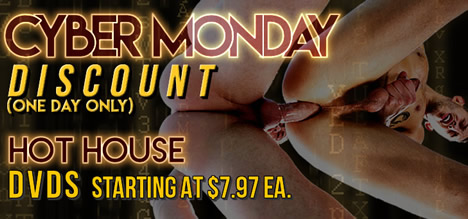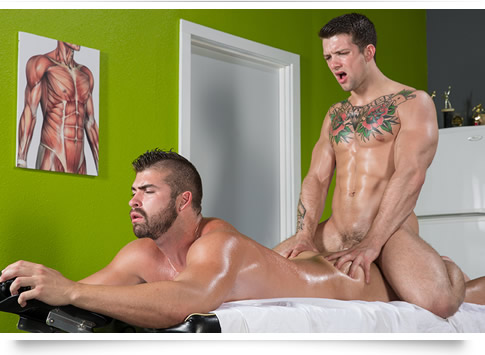 Hot House Pumps Out DVD & Downloads of The Trainer
Hot House announced the release of its newest athletic feature, 'The Trainer', on DVD and scene download. Director Nick Foxx leads this fit cast in sex-filled exercises that do a body good, inside and out. Fans can now purchase the DVD & downloads on the Falcon Studios Group Store.
'The Trainer' cast features A-Team Exclusives Sebastian Kross, Sean Zevran, Johnny V and fellow A-Teamer Jimmy Durano, as well as fan favorites Rex Cameron, Landon Mycles, Jonah Fontana and Jacob Taylor.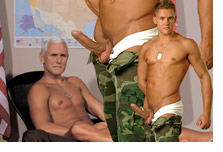 Mikey Wishes He Was Ever Half As Hot As His Gay Porn Doppelganger - And if his dick was half as big, he wouldn't be married to that bow wow. Read Full Story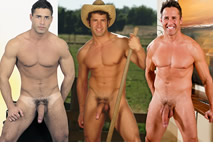 Dean Phoenix: Then And Now - When it turned the year 2000, everyone was in love with Dean Phoenix. They felt the same way a few years later. He's returned to the blue screen today. How do you feel about him now? Read Full Story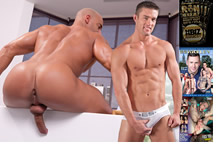 What Winners Look Like - Sometimes you really can judge a book by its cover. Even more so when you're talking about gay porn. Read Full Story


Hot Membership Site Scenes Available Now!



Falcon Studios Group Models Appearing Live in a City Near You.
Weekly: Sunday Swap Meat, Falcon DVD Giveaways at Eagle L.A., Los Angeles, CA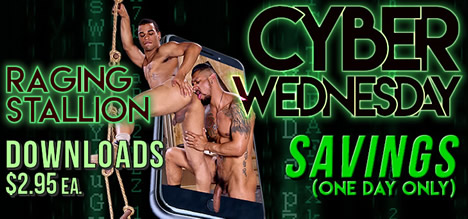 Hey HUNT Hunks,
We hope you had an amazing long Thanksgiving weekend filled with family, friends and maybe even a some hot Falcon Studios Group porn. We're right back at you this week, with more tasty porn treats.
Burn off all of those extra calories you ate this week with our Breaking News with Hot House's horny, athletic studs in The Trainer on DVD & Downloads. Director Nick Foxx leads this fit cast in sex-filled exercises that do a body good, inside and out.
All hand on deck in our Free Action Gallery featuring the horny hunks of Steve Cruz' Destroyer, taking you on a rough ride through a free gallery of the sexiest images from aboard the ship.
Special Feature hits the real estate market with Tony Dimarco's sexy new feature of housing agents and their clients in On the Market. Enjoy this BONUS Free Action Gallery with the hottest action shots from the film.
Hold on tight! Porn powerhouse Sebastian Kross takes over the Model Spotlight this issue. Read all about Sebastian's latest release in the new Falcon blockbuster About Last Night and get a free gallery of this sexy hunks hottest action images to date.
Finally, Studios News takes you behind closed doors of the doctor's office with the debut update from HotHouse.com 's Internal Specialists. Woody Fox comes in for a routine physical and ends up bending over Dr. Dorian Ferro and pounding him good. Also, get ready to learn all about all the major savings you can access with our exclusive Cyber Week deals.
Read the Studio News article or visit the On Sale Now page on the Falcon Studios Group Store to find a week full of the hottest offers of the entire year. Our Black Friday & Cyberweek Specials are still available to HUNT readers and you can get smokin' DVDs as low at $6.97 and Downloads starting at $2.97.
Your ultra-tasty Free Scene Download is the Monster Bang Size Matters scene featuring Landon Conrad and Seamus O'Reilly now available on Humongous Cocks 38.
Stay Warm,
HUNT Staff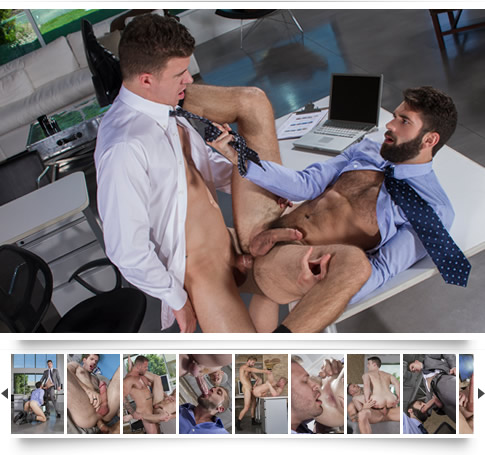 Bonus Free Action Gallery On the Market
In the world of luxury real estate, houses and condos aren't all that's 'On the Market,' because these cocky realtors will do anything it takes to close a deal! Award winning director Tony Dimarco takes you inside a competitive real estate office where the horny agents never stop cruising for high-intensity hookups. Wesley Woods takes a break from consulting his client to dominate muscled delivery man Johnny V, indulging in deep oral and heavy man-ramming. Junior agent Dustin Holloway is anxious about impressing his boss, Austin Wolf, but he gets his chance by performing expert oral service and taking Austin's big cock like a champ. Wesley Woods shows off a new home to his hot Australian client Skippy Baxter, and they seal the deal in the bedroom with intense fucking and a creamy facial. JJ Knight gives his gigantic cock to furry Tegan Zayne, and the sexual chemistry is so intense it drives them both to epic, spurting cum shots that you have to see to believe! Dive into the fast-paced world of high-stakes real estate, where luxury, glamour, and sexual conquest are all 'On the Market.'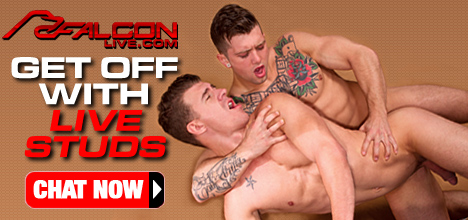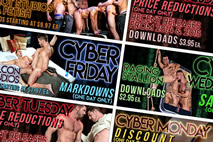 Stuff Your Stocking with Cyber Week Savings - Nearly every DVD and Scene in the Falcon Studios Group Store is available now at reduced pricing for the annual discount events making up Black Friday and Cyber Week. DVDs are available as low as $6.97 and Scenes starting at $2.95. Check out Black Friday and every daily Cyber Week Deal now. Read Full Story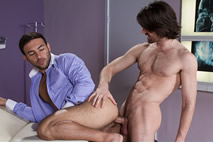 HotHouse.com World Premieres Debut Update from 'Internal Specialists' - HotHouse.com announced today the debut of the first scene from their upcoming medical fantasy feature, 'Internal Specialists.' The new update featuring A-Team Exclusives Woody Fox and Dorian Ferro was directed by Nick Foxx and is now live on HotHouse.com. Read Full Story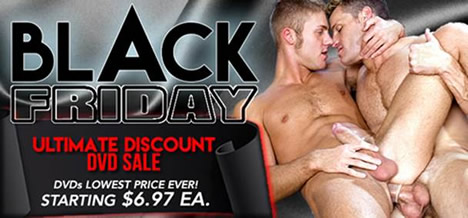 Landon Conrad & Seamus O'Reilly from Size Matters
Now on Humongous Cocks 38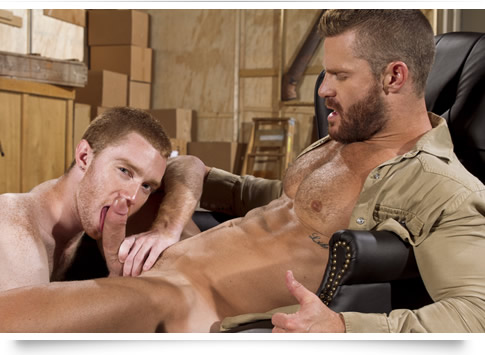 Landon Conrad is sporting a beard, and he kicks back in his leather chair. Hot, young ginger, Seamus O'Reilly kneels between his outspread thighs, wearing a jockstrap. He nuzzles Landon's crotch until Landon's pants are likely to burst. When Landon pulls out his fat and fully engorged meat, Seamus is on it in a microsecond. He sucks until his cheeks are hollow. Landon's hips surge, triggering Seamus to suck harder. Landon's shirt falls open to show pumped pecs and a hairy chest. Seamus is hairy himself, with thick ginger pubes and a huge cock. Landon shucks his pants to give full access to his balls, taint and ass. Seamus' oral skills make Landon twitch like electricity was running through him. He summons the willpower to pull Seamus off his cock, rewarding him with deep wet kisses, then reaming his ass with his tongue before planting his cock in Seamus' hole. Seamus bounces with passion and urgency until Landon's cock is as deep in his hole as it was in his throat. Landon picks him up bodily, swivels him around and lands him on his back, pile driving into him from above. With sweat coursing down his torso, Landon cums in Seamus' mouth and Seamus quirts his satisfaction in streaks across the room.