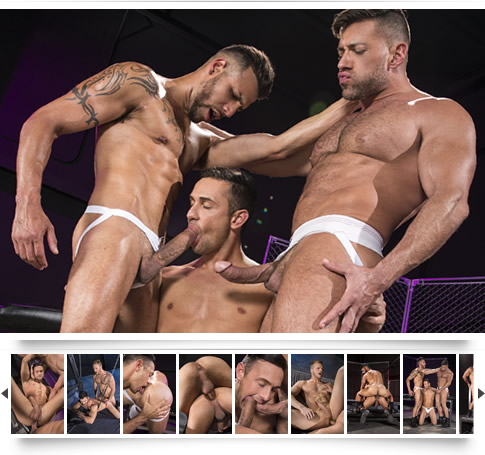 Instinct, pheromones, and dominance drive the dark and rough action in 'Primal'. A collection of seven insatiable studs come together to indulge their most animalistic sexual urges. The action directed by award winners Tony Dimarco and Steve Cruz is stripped down and intense - focusing on the base desires that drive hot men to fuck each other. To satisfy his craving for cock, Bruno Bernal opens up all his holes for Adam Ramzi's monster meat, and gets a dose of thick dude juice for his reward. Brian Bonds uses his big, girthy dick to pound Brogan Reed, then enjoys a flip fuck as Brogan returns the favor. Bruce Beckham and FX Rios tag team Josh Conners in an epic double scene that includes cocksucking, spit-roasting, rimming, and massive cumshots. Give in to your most essential desires and get wild with the men of 'Primal'.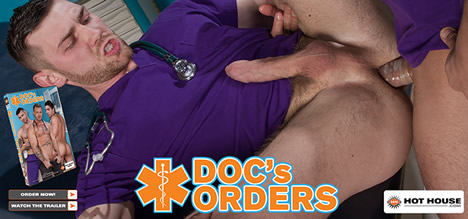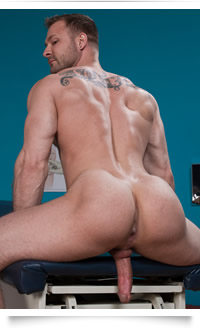 A-Team Exclusive Austin Wolf is a big, brawny mega-stud. His broad, beefy chest, muscular legs, and strong arms are even more impressive when you know that Austin stands 6'5" tall! With his super-intense sex drive and assertive demeanor, Austin is one of the most formidable power tops ever to appear in Falcon Studios Group films. A huge hunk, Austin looks like a Tom of Finland illustration come to life. In scene after scene, Austin delivers powerful fucking that pushes the limits of even the most insatiable bottoms! But even though Austin can pull a mean mug for the camera, he has a warm, genuine personality with a smile that will melt your heart. Let this big hunk of a man sweep you off your feet: check out his latest performances in hardcore features like Beef Squad from Raging Stallion and Doc's Orders, Ride It, and Towel Off from Hot House. With so much to offer, you can be sure that Austin will be filming many cock-stiffening, mouth-watering scenes to come.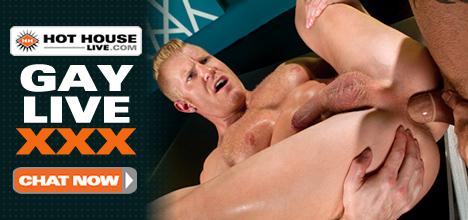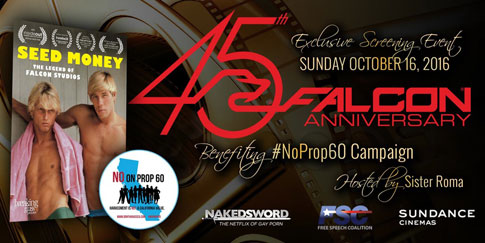 Breaking News: Falcon Studios Kicks Off 45th Anniversary Celebrations with 'Seed Money' Screening to Benefit 'No on 60'
Falcon Studios announced today that it will launch a year of special events to celebrate its 45th anniversary with a special screening of 'Seed Money' the documentary about Falcon founder, Chuck Holmes.
The leading producer of high-quality gay porn, which started business in 1971, plans to celebrate its 45th year in business with a full year of events, promotions, special releases and celebrations. The studio will kick off the year-long festivities on October 16th at the Kabuki Sundance Theater in San Francisco with the 'Seed Money' screening.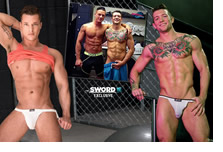 What It's Really Like To Bottom for Sebastian Kross - "I would have sat on that dick for an eternity." - Rex Cameron in a The Sword exclusive. Read Full Story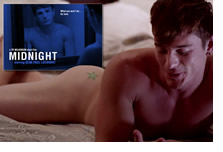 When Sexually Provocative & Emotionally Gritty Meet Up At "Midnight" - Brent Corrigan, the porn star or Sean Paul Lockhart, the actor. Whichever one you see on the screen begs the same question: can a gay couple survive an open relationship? Read Full Story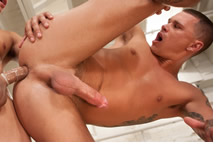 Tate Ryder Retired From Porn But Apparently, Not From Drama - Tate Ryder, the master of the ass selfie himself, high-tailed it out of the country and back to Australia a few years ago. But for his fans and his foes, it's as if he never left. Read Full Story


Hot Membership Site Scenes Available Now!



Falcon Studios Group Models Appearing Live in a City Near You.
September 23-25: Johnny V at Nob Hill Theatre, San Francisco, CA
October 12: Ryan Rose & Sebastian Kross at PINK X Gay Video Awards, Paris, France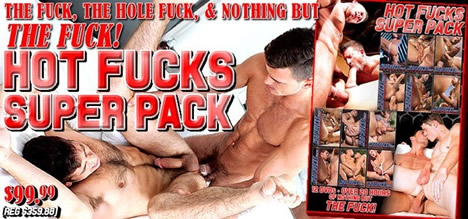 Hey HUNT Hunks,
Fall is in the air and HUNT eZine has some massive news! Falcon begins a year of 45th Anniversary celebrations! And, now you can celebrate with tons of free content and new releases.
Check the Breaking News item about the first special event celebrating 45 years of Falcon Studios: a special screening of Seed Money, the story of Falcon founder, Chuck Holmes. The event will be a special fundraiser for the No on 60 campaign.
Head on over to our Model Spotlight and get to know A-Team powerhouse Austin Wolf. Read up on everything this charming hunk of muscle is up to and peep his XXX gallery from his latest releases.
Strip down to the basics of good intense fucking in our Free Action Gallery featuring cum worthy action images from Raging Stallions latest release Primal.
Win a Falcon Studios Group or NakedSword 2017 Calendar autographed by your favorite A-Team Exclusives. Learn how to participate in the HUNT eZine Twitter contest by reading the Special Feature.
You can learn more about the selection of 2017 Falcon Studios Group Calendars; check out  Falcon A-Team Exclusive JJ Knight drilling hunk Ken Rodeo with 10" thick inches in the FalconStudios.com debut scene from Wild Weekend, Part 2 and the access the latest release from Hot House, Doc's Orders in Studio News.
Want some hot deals and offers? The Hot Fucks Super Pack 72-Hour Sale is on. Get all 12 of these special Hot Fuck collections of only fucking for only $99.99. This is your last chance to save $10 off the hottest new movies in the New Releases Collector's Editions and Value Packs Price Slash promotion. Finally, the Hot House Debuts and Backroom Exclusives Scene Sale and the Raging Stallion Scene Specials offers give you 50% off hundreds of scenes.
If it's the Free Scene Download you crave, scroll down for a nut busting scene from Damien Crosse and Marc Dylan originally found in the feature Sexo En Barcelona, Part 2. You can now find it on the new compilation, Humongous Cocks 37.
Enjoy,
The HUNT Staff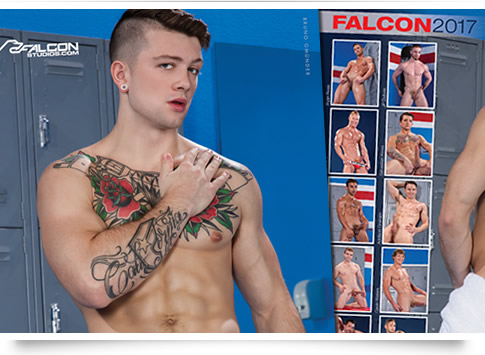 WIN a Signed 2017 Falcon Studios Group Calendar
2017 is just around the corner and Falcon Studios Group wants to give fans a chance to WIN one of our new, full-size 2017 calendars autographed by cover stud A-Team Exclusives Sebastian Kross, Sean Zevran and Johnny V. See shots of the guys holding their signed covers and read the full special feature to learn how you can win one of these one-of-a-kind calendars.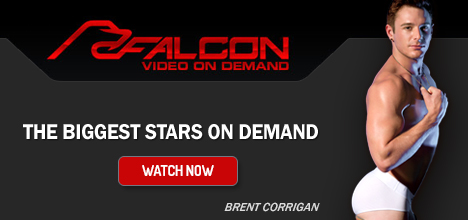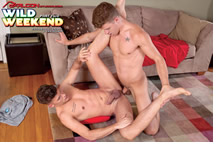 FalconStudios.com Premieres 'Wild Weekend, Part 2' with New Scene Update - FalconStudios.com announces the world premiere scene from the blockbuster 'Wild Weekend, Part 2' with a new scene update featuring A-Team Exclusive JJ Knight and rising European stud Ken Rodeo! Get onboard with this international group of horny, hunky Falcon guys who meet up in the Bay Area… Read Full Story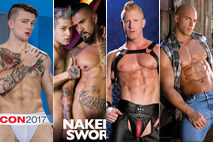 Falcon Studios Group and NakedSword Originals 2017 Calendars Now Available - Prepare for next year with one of Falcon Studios Group 2017 calendars featuring the men of Falcon Studios, Raging Stallion, Hot House and NakedSword Originals. The full-size 2017 calendars are now available on the Falcon Studios Group Store. Read Full Story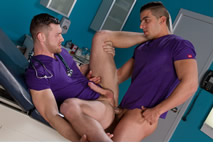 Hot House Delivers 'Doc's Orders' on DVD & Downloads - Hot House announced today the release of its newest medical feature, Doc's Orders, on DVD and scene download. Nick Foxx and Tony Dimarco are behind the camera while seven horny studs thoroughly examine each other. Fans can purchase the DVD or download scenes on the Falcon Studios Group Store. Read Full Story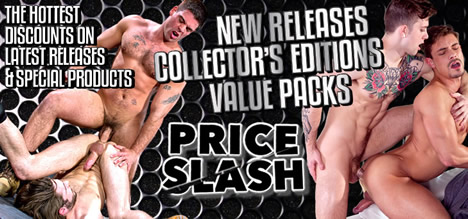 Damien Crosse & Marc Dylan from Sexo En Barcelona
Now on Humongous Cocks 37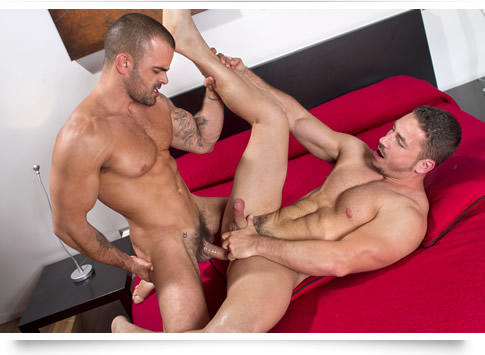 When Marc Dylan answers his doorbell, Damien Crosse bursts in with such force, you suspect foul play. Bodies collide, tongues meet, and the intruder's momentum propels Marc into the bedroom, whereupon they fall on the bed. Damien's too horned up to waste a second. While they're bouncing on the bed from the impact, Damien's got his shirt off. By the second bounce, Marc has removed his and Damien is sucking his cock. The landscape of Marc's chest is hard as rock, ridged in all the right places and complemented by a thatch of hair. Damien maintains constant suction and unbroken eye contact until his hard on demands relief. Marc is quick to trade places, grabbing Damien's hairy balls like a handle while his mouth descends over Damien's uncut cock. They arch and stretch into a power 69, Damien feeding on Marc's ass while Marc continues to suck. The intensity and uninhibited action continues with a smooth roll that finds Damien's cock lodged in Marc's chute. Each plunge sends jolts of sexual energy through Marc, who is sparked to switch roles again. Marc turns Damien around and spikes him from behind. Sweat pours and muscles ripple as they grapple towards orgasm. Damien shoots a load that covers his chest, with Marc's jism in hot pursuit.