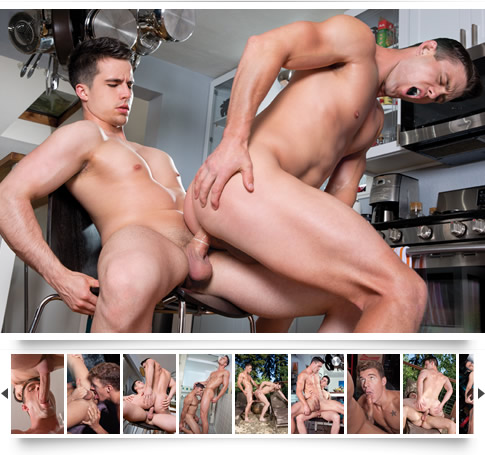 Ready for a sexual adventure? Get onboard with this international group of horny, hunky Falcon guys who meet up in the Bay Area for a 'Wild Weekend' enjoying San Francisco gay pride, summer weather, and uninhibited sex! They've arrived in California ready to let loose, celebrate their sexuality and share it with each other. Get your front row seat and an up-close-and-personal view in the two-part, steamy Falcon event, 'Wild Weekend.' In 'Wild Weekend, Part 1,' world-famous underwear model and all-American jock Ryan Rose has some impromptu San Francisco head with Jason Maddox on the Embarcadero before meeting up with his buddies and heading north to the river. At the vacation house, Euro studs Ken Rodeo and Brute ignite controversy when they say that American guys aren't as sexually liberated as Europeans. When Ken challenges American Wesley Woods to hook up on the first night, Wesley is taken aback at first, but then goes about proving him wrong by giving Ken a heavy pounding and a creamy facial. The next morning, Brute propositions Ryan Rose in the kitchen and gives the all-American stud a wake-up pounding. Dustin Holloway and Paul Cannon have been making eyes at each other all weekend, and they finally hook up in the hot tub, leading to an incredible, cum-spurting finale. Later that night, the crew hits the local gay bar, and JJ Knight has some spontaneous action with anonymous hunk Josh Conners. See what happens when desire and sexual competition fuel a 'Wild Weekend' of hot hookups and uninhibited action!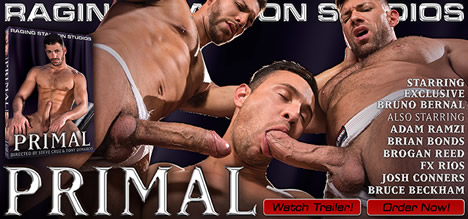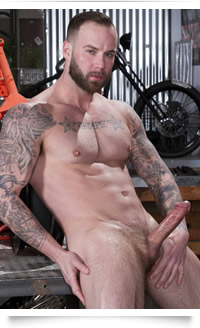 Chris Bines has long been a Falcon favorite, and last year we finally added him to our roster of A-Team Exclusives! This ripped, tattooed hunk is a powerhouse performer who brings dynamic, multifaceted sex appeal to each and every scene. He has a masculine beard, thick arms, beefy legs, and broad pecs topped with plump, pink nipples. Thanks to Chris' versatility, he frequently appears across all three studios, wielding his mouth-watering 8" cock as a top and giving up his exceptional ass as a power bottom. Even his body hair is versatile: whether you like him smooth or hirsute, Chris delivers intense, award-worthy performances every time he's on set. Chris recently appeared in both parts of the Falcon epic Heated, and lately he's been on a roll for Hot House, delivering unmissable performances in the anal-obsessed Ass Fiends, the motorcycle-themed Ride It, and most recently in the anonymous warehouse adventure Cruising Grounds. Stay tuned for more exciting new releases from this unstoppable superstud.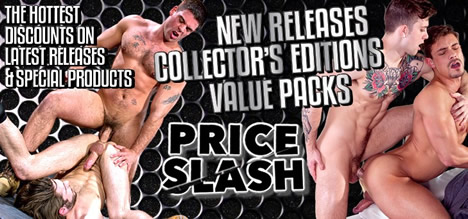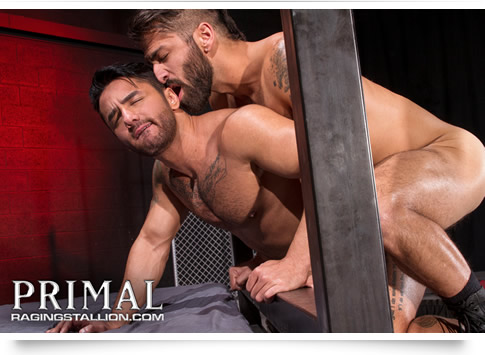 Raging Stallion Delivers 'Primal'
Sex on DVD & Download
Falcon Studios Group announces the release of Raging Stallion's 'Primal.' Instinct, pheromones, and dominance drive the dark, rough action when seven insatiable studs come together to indulge their most animalistic sexual urges. Directed by award winners Tony Dimarco and Steve Cruz, this release is stripped down and intense – focusing on the base desires that drive hot men to fuck each other. 'Primal' is now available for download and on DVD today at the Falcon Studios Group Store.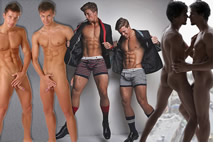 A Little Twincest With Your Gay Porn? - Zach and Wyatt Vinci are burning up social media these days. Will they ever go as far as the Peters Twins? Or the Mangiatti's? Or the other bookend brothers that have cum before? Read Full Story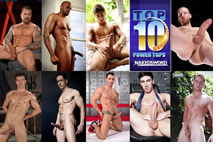 The Top Ten Power Tops at NakedSword - A big dick is just decorative if the man it's attached to doesn't know how to use it. Here are the ten ass crackers that leave their bottoms begging for more. Read Full Story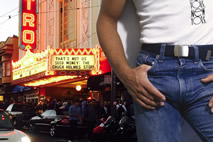 Gay Porn History Goes Global As "Seed Money" Goes Mainstream - The Sword co-founder turned filmmaker, Mike Stabile, has called Falcon founder Chuck Holmes "the gay Hugh Hefner." The rest of the world is about to find out why. Read Full Story


Hot Membership Site Scenes Available Now!



Falcon Studios Group Models Appearing Live in a City Near You.
September 16: Johnny V at Flex Nightclub, Raleigh, NC
September 17: Johnny V at Q Bar, Greensboro, NC
September 23-25: Johnny V at Nob Hill Theatre, San Francisco, CA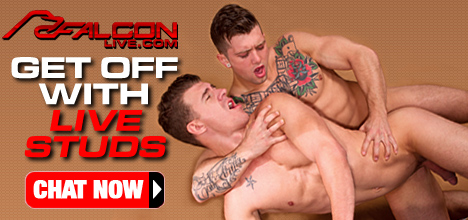 Hey HUNT Men,
We hope you had an incredible Labor Day with friends and family and some porn too. HUNT headquarters is back in action laying it on thick after the long holiday weekend, delivering hot new releases, smokin' news and complimentary content.
Before we get to all the good stuff, we have an IMPORTANT NOTICE:
This weekend we will be completing important upgrades to our email services. While we finish up these changes, links in HUNT and other Falcon Studios Group emails may not direct you to the proper landing pages. If you experience issues, we encourage you to visit www.huntezine.com and click on links there to get to the hot content you want to see.
Or, you can copy and paste the links below to go directly to our store, our blog, or special offers and new releases highlighted in this issue. Plus, for the inconvenience, we're giving you a special promo code that will save you an additional 10% off every purchase this weekend. Just enter EMAIL10 to access these additional savings.
Falcon Studios Group Store - http://store.falconstudios.com
Falcon Studios Group Blog - http://blog.falconstudios.com
NakedSword - Hard Friction - Stag Homme Download Discounts - Half Off Scenes from the Hottest Studios https://store.falconstudios.com/products?category=sale&salename=2016-hfv-shv-scene
New Releases Collector's Editions & Pack Sale - New Release for $10 off and Up to 80% Savings on special products and value packs -
https://store.falconstudios.com/products?category=sale&salename=2016-new-releases
New Raging Stallion Release: Primal - https://store.falconstudios.com/products/primal
Hit the Model Spotlight for a profile and gallery of tatted versatile stud, Chris Bines!
Breaking News features the release of Raging Stallion's latest feature Primal, and Studio News highlights the world premiere update from the movie on RagingStallion.com as well as the debut of The Trainer on HotHouse.com
Check out the Free Action Gallery, featuring the hottest action images from, Wild Weekend, Part 1, and for more on this Summer Blockbuster, visit the Special Feature for an interview with award-winning director about the making of Wild Weekend, Part 1 & 2.
Finally, don't miss the Free Scene Download featuring sexy studs Vince Ferelli and Adam Champ in a nut-busting scene from, Night Maneuvers. The scene can now be found on the new compilation Amazing Ass 12.
Cheers,
The HUNT Staff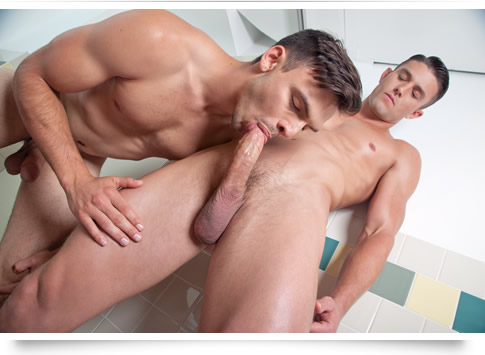 Making of 'Wild Weekend' Interview
with Director Tony Dimarco
HUNT eZine sits down with Falcon Studios Group's award-winning director Tony Dimarco to get insight into Tony's vision and inspiration for Falcon Studios' Summer Blockbuster Wild Weekend. Part 1 is already "wildly" popular, and Wild Weekend, Part 2 debuts later this month. Hear first hand what went into the making of this Falcon two-part sexual celebration!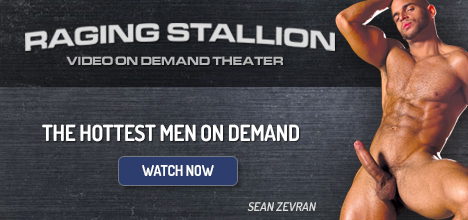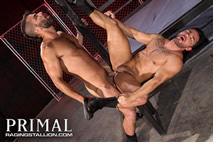 Raging Stallion Premieres Primal Update - RagingStallion.com announces the release of the first scene from Primal, starring A-Team Exclusive Bruno Bernal and Adam Ramzi. Instinct, pheromones, and dominance drive the dark and rough action in Primal. Read Full Story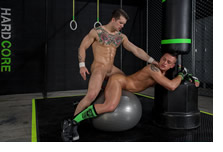 HotHouse.com Gets In Shape with New Update from The Trainer - Hot House, The Ass Authority - announces the debut of the first scene from their upcoming athletic driven feature The Trainer. The new update featuring A-Team Exclusive Sebastian Kross and gymnast-hunk Rex Cameron was directed by Nick Foxx… Read Full Story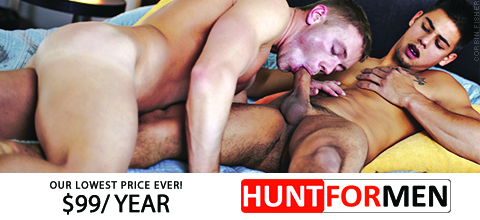 Vince Ferelli & Adam Champ from Night Maneuvers
Now on Amazing Ass 12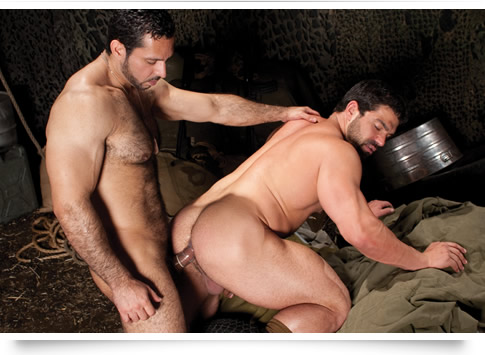 Hairy muscle hunks Vince Ferelli and Adam Champ share the latest girly magazine. This is Adam Champ's first ever Raging Stallion scene--and one of the reasons he was named as one of our two men of the year! Adam massages Vince's muscles to satisfy his desire to touch some skin. Vince does not mind the touch of another man. Their need for sex is too much to handle and they being caressing and admiring each others masculine hairy bodies. The heat continues to rises between the two. The musty smell of a man never tasted so sweet. Adam bends Vince over and rims his wide muscular ass, licking it wildly to get it ready for his big fat cock. Adam wastes no time and rams his shaft into Vince's wet hole. Vince enjoys being pounded hard and deep so Adam flips Vince onto his back and fucks him some more as he jerks Vince's cock. Adam pounds Vince's hole while jerking Vince's cock until he explodes all over his hairy stomach. Adam pulls out and adds to the pool of cum.