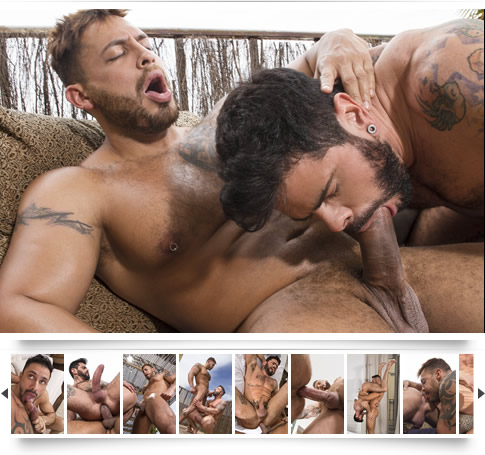 Big muscles, dark, thick Latin hair, tattoos, and hefty uncut cocks rule in the world of the 'Men of Madrid.' There's no stopping these macho studs from getting their fix of sweaty, dirty, man-on-man action! Steve Cruz heads to Spain to capture the hottest European studs in no-holds-barred Raging Stallion action. Viktor Rom cruises Ramwey Reis on the street, and they retreat to private rooftop with a sweeping view of the Madrid skyline for an intense fuck session. Sexy Spaniard Gabriel Taurus invites Mario Domenech over for some siesta action, indulging in advanced 69 techniques and vigorous ass-fucking. Hunky Abraham Al Malek gets into intense oral and heavy pounding with handsome stranger Antonio Miracle, but doesn't discover that Antonio is playing him until it's already too late. Flex Xtremo is nervous about hiring his first escort, but Xavi Duran quickly puts him at ease with a massage and hardcore hole-ramming. When Mario Domenech and Viktor Rom both get cancelled on by their flakey hookups, they turn to each other for fun, and end up having hotter sex than either of them ever imagined. If you're looking for intense, rugged, passionate man sex, you need the 'Men of Madrid.'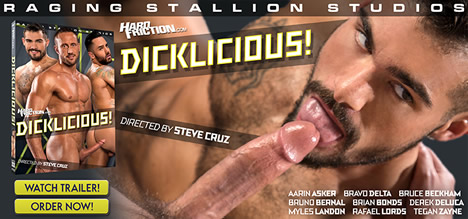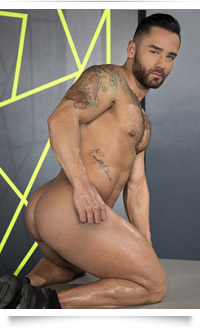 Fast-rising porn superstud Bruno Bernal is steadily adding to his devoted fan base with each hot, new scene. Signed as an A-Team Exclusive in February, Bruno brings an incredible vivacity to each performance. His bright, colorful tattoos splashed across his lightly hairy chest catch the eye; look up at his handsome, bearded face and you'll be mesmerized by his penetrating gaze; look down and you'll drop your jaw for his gorgeous cock, delectable bubble butt, and bulging, muscled legs. Bruno's toned, gymnast physique conveys strength and stamina from every angle, and fans have an ever-growing list of stellar scenes to check out. He recently brought his unique eroticism to performances in Raging Stallion's Drive Shaft, Hard Friction's The Thirst is Real, Hot House's Towel Off, and Falcon Edge's Amped. His latest appearance is in the new Hard Friction release Dicklicious, out now on DVD and Download. Stay tuned for much more from this dynamic, impressive stud.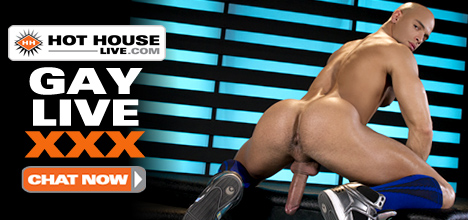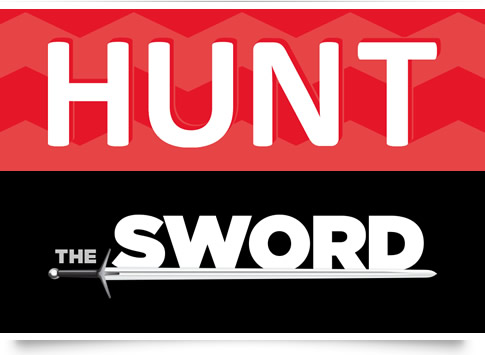 HUNT eZine & TheSword.com Join Forces
HUNT Now Features Articles from the Hugely Popular Gay Blog
Your favorite gay porn e-newsletter, HUNT eZine has joined forces with TheSword.com, the popular blog that covers everything 'GAY. SEX. LIFE.' to provide you with even more hot content in every issue. HUNT now features a selection of the hottest articles from the gay sex and lifestyle blog, TheSword.com, in a special branded section appearing below each issue's Breaking News item.
TheSword.com, one of the most popular and established gay lifestyle blogs created by the founders of the content rich gay porn membership site - NakedSword.com, covers the gay porn industry and models, gay sex and gay life. Whether it's commentary on the latest releases in the gay porn world, sexy features about current gay events or the often comical and relevant Stall Wall items shared on the blog, TheSword.com delivers sexy and gay like no other blog in the category.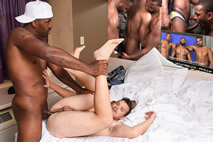 From the Boxing Ring to the Cock Ring: Philly Mark's Gay Porn Reality - Last October, when his hardcore gay three-way video made headlines, Philly "Yusaf" Mack was still on the low. Clearly, this father of ten has really cum out of his closet since then. Literally. Read Full Story


The Insemination of Elder Sorenson - "Elder Sorensen throws his head back and tries not to cry out. The sensation is overwhelming, almost more than he can take." Almost. Read Full Story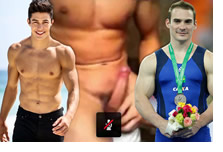 Ahhh Yes - Those Brazilian Gymnasts & Their Jack-Off Video - You might not remember Arthur Zanetti, Sergio Sasaki, and Arthur Nory from the 2012 Olympics, but how you could forget their real gold medal performance? Read Full Story


Hot Membership Site Scenes Available Now!



Falcon Studios Group Models Appearing Live in a City Near You.
August 15: JJ Knight & Trenton Ducati at Brass Key Guesthouse, Provincetown, MA
August 20: Johnny V at Vice Versa Club, Morgantown, WV
August 22: Austin Wolf at Sidewinders Bar, Albuquerque, NM
August 27-29: Johnny V at San Jose Gay Pride, San Jose, CA
September 01-03: Johnny V at Oz Nightclub, New Orleans, LA
September 03-04: Johnny V at Boscoe's, Columbus, OH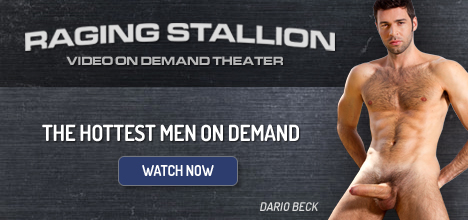 Hey HUNT Fans,
Happy Summer Games! The event where every four years muscled jocks from around the globe get sweaty, deliver hot action and go for the GOLD. Sounds a lot like gay porn to us, and that's why we're delivering a gold-medal, expanded issue with all the goodies you expect, and more! We're serving up every sex event you can think of with slobbering oral, intense anal, extreme kink and even Brazilian gymnasts, we've got your Summer Games right here. Read on for sweet deals, hot pics, and your complimentary video download.
We're also serving up medal-worthy values in our Summer Games DVD Deals and Summer Games Scene Savings promotions. Save up to 2/3 off DVDs and half off scenes in these once-every-four-years sales featuring all our hottest DVDs and Scenes with sports action and international studs.
HUNT brings you the latest news about the hottest action in gay porn, and our coverage is about to get even better! We're joining forces with TheSword.com to bring even more hot gay sex and gay life news to your inbox. Check out our Breaking News section for more details about this exciting partnership and scroll down to see this issues featured articles from TheSword.com.
We've got tons of hot new releases in Studio News that will have you reaching for your cock. In the debut scene from On the Market, available now on HotHouse.com, realtor Wesley Woods takes a break from consulting his client to dominate muscled delivery man Johnny V. If you love extreme penetration, head to Club Inferno for a dose of O.F.D. – Obsessive Fisting Disorder, Part 2, in which intense, anything goes pigs are overwhelmed with the compulsion to get their holes stuffed. Get a taste of Hard Friction's Dicklicious, and learn more about its debut update starring Aarin Asker and A-Team Exclusive Bravo Delta as well as its release on DVD and Download.
Dicklicious star Bruno Bernal is featured in his debut Model Spotlight, showing off his handsome features, delectable bubble butt, bulging muscles, and his mouthwatering cock! Check out his free photo gallery to see this stud for yourself from every angle.
Want more action? We've got even more free content ready to fuel your sex drive. The Free Action Gallery features all of the hottest action shots from Raging Stallion's Men of Madrid, with big muscles, dark, thick Latin hair, tattoos, and hefty uncut cocks. And our Special Feature is a Bonus: Free Action Gallery starring the stunning Falcon men of Desert Getaway as they navigate the beautiful vistas near Joshua Tree National Park and explore each other in a mega-hot sexual adventure.
To top it off, here's your Free Scene Download featuring Spencer Fox and Calvin Koons in Falcon Studios' Seduced. Watch as Calvin rides Spencer's cock like he's a cowboy at a rodeo, then takes Spencer's load in the face.
See you next time with fresh new action to get your heart racing, your blood pumping, and your cock throbbing.
Enjoy,
The Hunt Staff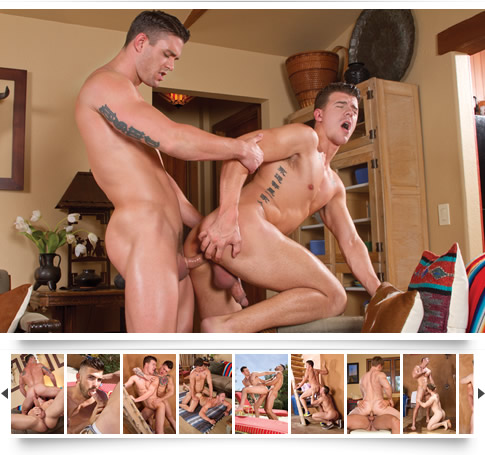 BONUS Free Action Gallery: Desert Getaway
Take a 'Desert Getaway' with the stunning men of Falcon as they navigate the beautiful vistas near Joshua Tree National Park and explore each other in this mega-hot sexual adventure. The landscape removes all distractions and provides a backdrop for these horny studs to focus on each other's ripped bodies, hard cocks and willing asses. Director Nick Foxx crafts a scorching story of a remote retreat that turns into an explosion of sexuality in 'Desert Getaway.' First to make it to their locked rental house, uncut Jacob Peterson and tanned, muscular Jonah Fontana share a searing flip fuck beneath the hot desert sun while waiting for their buddies to arrive with the keys. Ryan Rose instigates an outdoor fuck session with compact muscle hunk Gabriel Cross, indulging in soapy shower stroking, deep-throated cock sucking, and heavy anal man ramming. Ryan Rose and JJ Knight have an epic flip flop fuck session, each pushing the other to fuck faster, harder, deeper, culminating in two epic cum shots. Gabriel Cross has his sights set on Derek Bolt, the new guy. When Derek feels a bit left out of the friends' camaraderie, Gabriel makes sure Derek feels included with deep head and a spectacular flip fuck. As Derek and Gabriel bask in their afterglow, JJ Knight and Sebastian Kross pass through on their way to their own frisky business. JJ is eager to fuck Sebastian's ass, but Sebastian takes control and has his way with JJ's perfect bubble butt. With the beautiful, arid landscape as their backdrop, the sexual heat rises and these studs satisfy during their 'Desert Getaway.'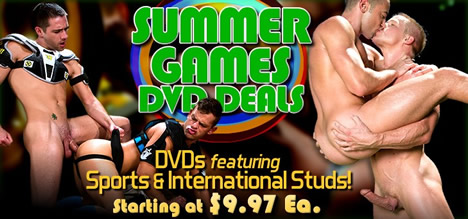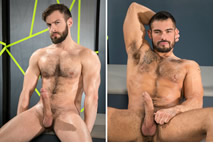 RagingStallion.com Offers First Taste of 'Dicklicious' from Hard Friction - RagingStallion.com announces the first scene from Hard Friction's new feature for fans of mouthwatering meat, 'Dicklicious', directed by Steve Cruz and starring A-Team Exclusive Bravo Delta with Aarin Asker. The scene goes live on RagingStallion.com on August 5, followed by the availability of the DVD and scene downloads on August 12, 2016 on the Falcon Studios Group Store. Read Full Story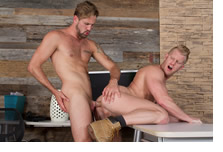 Hot House Premiers 'On the Market' with New Update - HotHouse.com, the Ass Authority, announces the world premiere of the debut scene from On the Market, in which award winning director Tony Dimarco takes you inside a competitive real estate office where the horny agents never stop cruising for high-intensity hookups. The scene, starring A-Team Exclusive Johnny V and fan favorite Wesley Woods, will debut on HotHouse.com on August 4. Read Full Story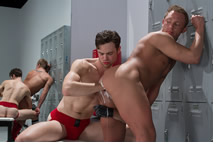 Club Inferno Releases O.F.D. - Obsessive Fisting Disorder, Part 2 - 'O.F.D. - Obsessive Fisting Disorder' is on the rise. These sexy perverts are overwhelmed with the compulsion to submit their holes to every fist, and gut punch every butt they see. In 'O.F.D. - Obsessive Fisting Disorder, Part 2,' Tom Moore directs three addicted fisting pigs getting probed and prodded inside and out, with no cure for their obsession in sight. Read Full Story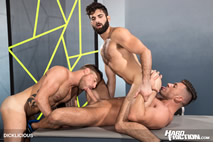 Get a Taste of Hard Friction's 'Dicklicious' Men on DVD & Download - Falcon Studios Group releases Hard Friction's 'Dicklicious'. Get a taste of nine 'Dicklicious' men with big, mouthwatering cocks and greedy holes that need filling! Director Steve Cruz pairs together the most irresistible dicks and fuckable asses, and the chemistry is off the charts. Read Full Story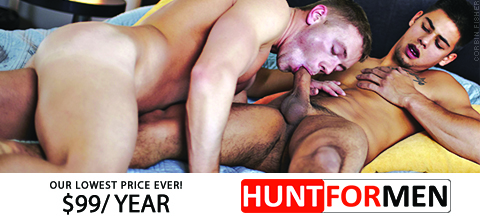 Spencer Fox & Calvin Koons from Seduced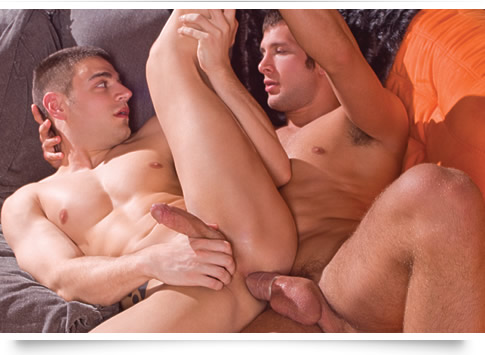 Tasty, muscled Spencer Fox and handsome Calvin Coons are clothed and making out on the sofa in their loft. Spencer's huge cock pops out of his underwear and Calvin can't get out of his clothes fast enough. As Calvin's dick comes out, Spencer is slurping on it right away, and Calvin gets right on Spencer's massive boner. Spencer spreads his legs wide open inviting Calvin to take turns between rimming him and sucking his tool. Deepthroating Spencer, Calvin bends over and offers up his tight, sweet hole for Spencer to eat, finger and fuck. After getting Calvin primed and ready, Spencer goes in for a deep plunge, driving his rock hard cock deep inside stroke after powerful stroke that Calvin takes willingly. Sitting down, Spencer offers his cock up for a ride by Calvin, who immediately jumps on board and mounts Spencer's hefty piece. From here on out it is an expert cock riding display -- Calvin is like a rodeo rockstar hitting it cowboy and reverse cowboy until he shoots his load on his leg and quickly gets on his knees so Spencer can shoot multiple spurts of jizz on Calvin's face and in his mouth.