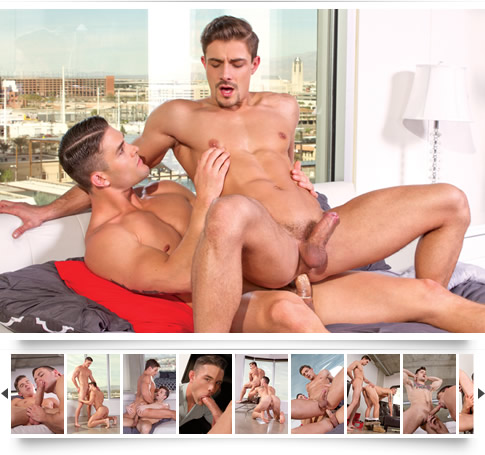 Sexflix and Chill? Getting some hot action is as easy as sending a quick text with this question, popping in a hot movie and letting the action take over. Director Steve Cruz shows you what happens when eight gorgeous, horny hunks get together to Sexflix and Chill. Ryan Rose arranges a hookup with Carter Dane, resulting in an intense fuck session that shows both these taut muscle studs at their finest. Beefy, uncut Jacob Peterson ditches the porn he was watching on his tablet and wakes up his dozing buddy, Scott Demarco, kicking off a multi-position fuckfest. Spit drips and cum flies when super-hung Jack Hunter and Brenner Bolton get together for some oral action. Sebastian Kross' throbbing cock puts Carter Dane's power bottoming to the test, and he passes with flying colors in a cum-splattering finale. Brenner Bolton interrupts JJ Knight's webcam session for a real-life encounter with JJ's giant, hole-stretching cock. With all this action, all you have to do is invite over a buddy or two, put on Sexflix and Chill and hit it hard.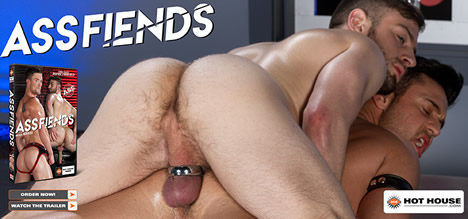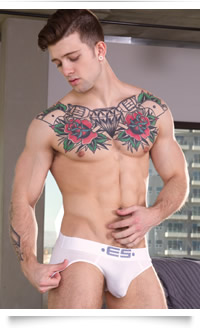 Rocketing to porn superstardom in less than a year, A-Team Exclusive Sebastian Kross packs a mouthwatering package that won't quit. The former Navy Seaman boasts a 7.5" cock, striking tattoos, and ripped abs. He has the face of a classic Falcon man, and his piercing, blue-eyed gaze projects the erotic energy of his performances. With a legion of fans following his every thrust, Sebastian has proven himself to be a fan favorite again and again. His roster of over 20 appearances earned him a Best Newcomer Award at the 2016 Cybersockets. You can see for yourself why Sebastian is worthy of commanding such attention in his latest scenes. Catch him in Pushing Limits from Hot House, Ultra Sex from Falcon Edge, and from the new Falcon release Sexflix and Chill, available now on DVD and Download from the Falcon Studios Group Store. Sebastian always has us coming back for more, so stay tuned to future issues of HUNT for breaking news about his latest releases.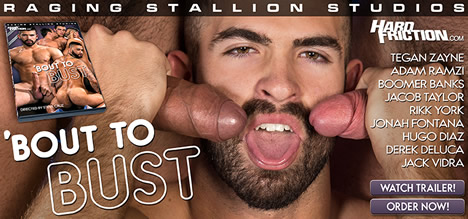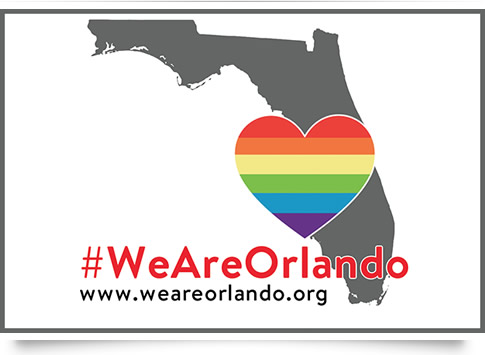 We Are Human
We feel pain. We feel sorrow. We feel grief at the senseless tragedy that took 49 of our brothers and sisters from this earth far too soon and critically injured another 53. The entire staff at the Falcon Studios Group and NakedSword Network want to extend our deepest sympathies to the families and loved ones of all the victims of the attack on Pulse Night Club in Orlando.
We Are Proud
We are a diverse team of LGBTQ and straight men and women from all kinds of backgrounds, races and ethnicities who are proud of our communities and are collective part in our greater community. With Gay Pride Month and major Gay Prides happening this weekend, we implore you all to stand tall, speak out and be proud.



Hot Membership Site Scenes Available Now!



Falcon Studios Group Models Appearing Live in a City Near You.
June 23-25: Jimmy Durano at RPlace Nightclub, Seattle, WA
June 24: Bray Love at Parliament House, Orlando, FL
June 24-26: Sebastian Kross & Tegan Zayne at Flamingo, St. Petersburg, FL
June 24-26: Johnny V at Scorch Fireball 2016, Minneapolis, MN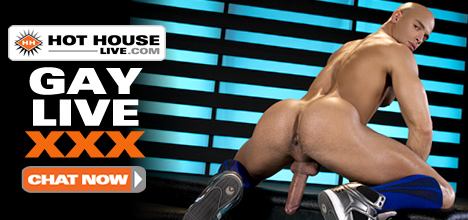 Hello HUNT readers,
HAPPY PRIDE!
Now more than ever is a time to stand tall and be proud. With the devastating attack that occurred at Pulse in Orlando, targeting patrons of an LGBTQ nightclub during Pride month, we must come together and continue to share messages of strength, unity, hope and love. Please take a moment to read the WE ARE ORLANDO message signed by staff and models of Falcon Studios Group and the NakedSword Network published in this issue. HUNT stands with Orlando, and we urge our readers to visit WeAreOrlando.org to learn how you can take action and help the victims.
This Pride edition of HUNT delivers special offers, scorching new photos, exciting new releases, and a mega-hot free scene download.
We've just launched our Annual Pride Promotions. The Annual Pride DVD Sale, with over 200 hot movies and savings of up to 60% off is now live. And, our Annual Pride Scene Savings offer gets you 50% off on over 800 satisfying downloads. Spend over $100 on either or both of these offers, and you'll get an additional 15% off the items from these promotions!
Rocketing to porn superstardom in less than a year, A-Team Exclusive Sebastian Kross is in our Model Spotlight. Plus, you can see him wielding his manhood in all its glory in the Free Action Gallery featuring the hottest pics from the new Falcon Studios release Sexflix and Chill. Getting a sexy hookup is as easy as sending a quick text to your buddy asking 'Sexflix and Chill?,' popping in a hot movie and letting the action take over.
For even more complimentary man-on-man action pics, check out this issue's Special Feature, a Bonus Action Gallery for the new NakedSword feature Fuck You I'm Infamous. And for even more freebies, check out the Free Scene Download from Falcon's Deep Inside, in which Andrew Justice measures his meat in the pleasure hole of buff stud Johnny Ryder. This hot scene is also available on the new compilation Amazing Ass 11.
In this issue's Studio News, we have a trio of new releases available on DVD and Download and a special event featuring A-Team Exclusives Sebastian Kross and Tegan Zayne who will auction off their undies and donate the proceeds to Orlando charities. In Hard Friction's Bout to Bust, director Steve Cruz captures the sexual connection that boils to the surface and over the edge. Fetish Force's Hangin' Hardcore delivers extreme fetish fantasies that won't leave you hanging. And in the new feature from Hot House, these Ass Fiends can't get enough butt.
We wish you all an exciting Fourth of July Holiday – keep a look out for explosive Independence Day offers arriving next weekend. We also wanted to give you a heads up that the HUNT team is going to take a week off for the holiday, and HUNT will be back in your inbox on July 15 with more exciting content!
Please have a safe, joyous and fun Pride!
All Our Best,
The HUNT Staff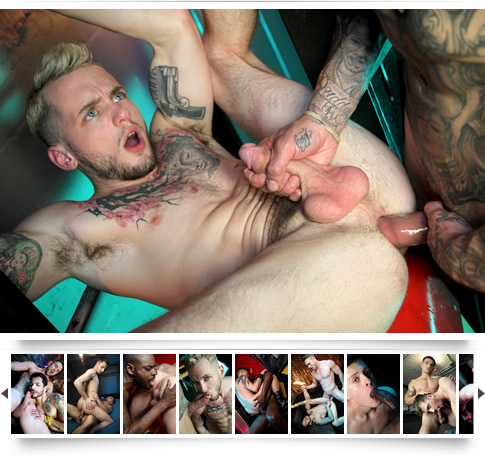 BONUS Free Action Gallery: Fuck You I'm Famous
Go ahead and google them. Police records, jail time, bum raps, DUIs, domestic violence, Twitter wars - even a shark dick - these bonafide bad boys of porn have done it all. You'll find them making headlines on TheSword.com and around the globe where their scandalous behavior, brutal honesty, and YOLO attitudes blur the lines between fame and infamy. Just ask them, they own their shit. No regrets. No apologies. Deep down they have hearts of gold and if you don't like it they have one thing to say: "Fuck You, I'm Infamous!"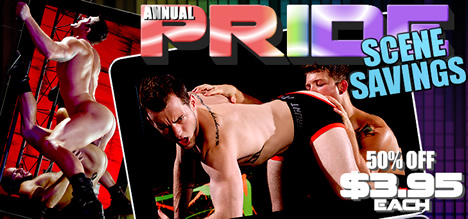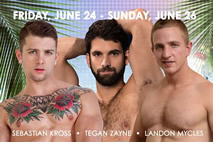 Sebastian Kross & Tegan Zayne to Raise Money for Orlando during St. Petersburg, FL Pride - What started out as a St. Petersburg Pride appearance, has become a full blown fundraiser for the victims of the Orlando Pulse Tragedy. At the suggestion of Sebastian Kross, he and fellow A-Team Exclusive will auction off their undies to raise money that will be donated to the victims. Read Full Story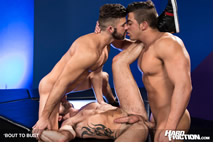 Hard Friction Busts Out Latest - Bout to Bust on DVD & Download - Sexual desire brings these men together, and the intense chemistry between them has them edging and Bout to Bust. Director Steve Cruz captures the sexual connection that boils to the surface and over the edge when nine ripped, muscled men get together in heated exchanges. Read Full Story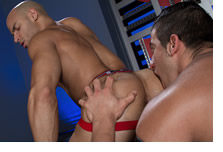 Hot House Unleashes Ass Fiends on DVD & Downloads - Falcon Studios Group announces the release Hot House's Ass Fiends on DVD and Download. These Ass Fiends can't get enough butt. They want to finger, lick, taste and rim every hot ass around, and Director Nick Foxx has found the hottest bubble butts to fulfill their every desire. Read Full Story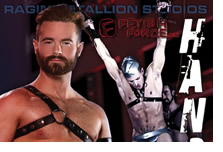 Fetish Force's Hangin' Hardcore Now on DVD & Download - 'Hangin' Hardcore' suspends belief of just how far these four hot studs will go to get off. Filled with BDSM, toys and intense, hardcore play, 'Hangin' Hardcore' delivers extreme fetish fantasies that won't leave you hanging. Read Full Story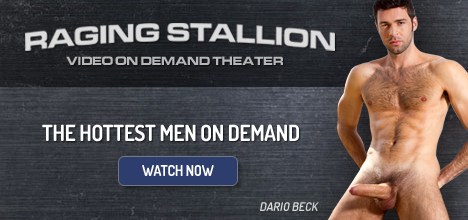 Andrew Justice & Johnny Rider from Deep Inside
Available Now in Amazing Ass 11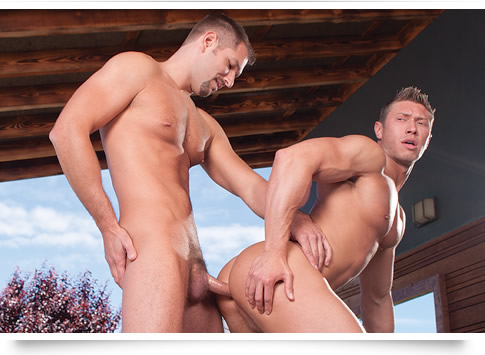 Handsome Andrew Justice finds sandy-haired Johnny Ryder practicing yoga on the deck one morning, and the younger bodybuilder offers to show him some preliminary moves. As he sidles in close behind to ease his buddy into position, his cock starts creeping out from under the waistband of his briefs. Easy moves turn into easy sex. Andrew knows the best move of all, and slips his raging hard-on into Johnny's mouth. Johnny spit shines the bulging head of Andrew's jawbreaker and swallows the long bone whole. Johnny's sturdy body, clipped pubes and tower-of-power cock make him a dish Andrew's compelled to devour. He goes down on Johnny's hefty knob in a way that can't be legal, claims the stud's granite ass for his sole jurisdiction, and throws him a power fuck that Johnny won't contest. His cock swells in his hand as Andrew repeatedly breaks into his deep tunnel of throbbing ass, until they're both drenched in creamy cum.