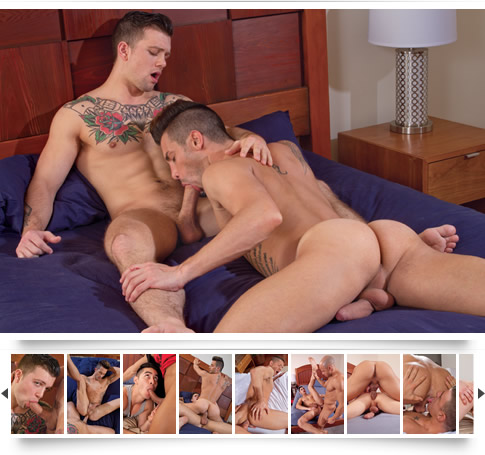 Get undressed and Between the Sheets with these ripped Falcon studs. They're striking, they're horny and they were made to hit it Between the Sheets, on the sheets and anywhere that lets them get off. Tony Dimarco directs while eight horny studs pound out load after load in the bedroom. Zander Cole has plans to go to the gym but Sean Zevran has plans to work something else out: Zander's tight hole. Sebastian Kross puts his massive manhood to use on Andrea Suarez' perfect, muscular ass. All-American hunks Jacob Peterson and Jack Hunter have a spectacular flip flop that leaves both studs with balls completely drained. JJ Knight's big dick puts a big smile on Kyle Kash's face in their intense, connected sexual encounter. Lock the door, take it all off and let your sexual desires loose Between the Sheets.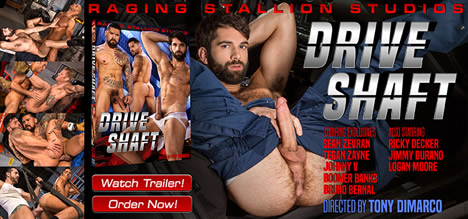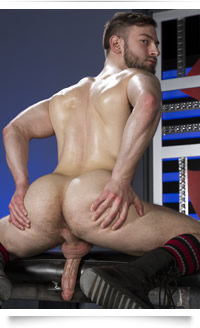 Bravo Delta has never been shy about sharing his athletic body and 8.5" cock with the world. His intense, sexually charged personality initially led Bravo to fame on X-Tube and Tumblr. The confidence, swagger, and unfiltered appetite for sex he displayed as an amateur soon amassed him a gigantic following. It wasn't long before he made the jump to professional gay porn. Now he is displaying his giant cock, hairy body, and piercing blue eyes as a Falcon Studios Group A-Team Exclusive, giving him the opportunity to shine as a professional porn superstar. Bravo's desire to share his authentic, sexually uninhibited personality with his fans makes him an incredible presence on camera. He loves making porn, which means the results are always super-hot! You can view his powerful, dynamic performances in Hot House's Towel Off and Ass Fiends, as well as Raging Stallion's Dick Moves. Coming up next, Bravo just wrapped a shoot for Hard Friction, so be on the lookout for that powerful scene on RagingStallion.com.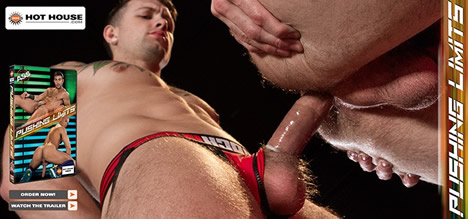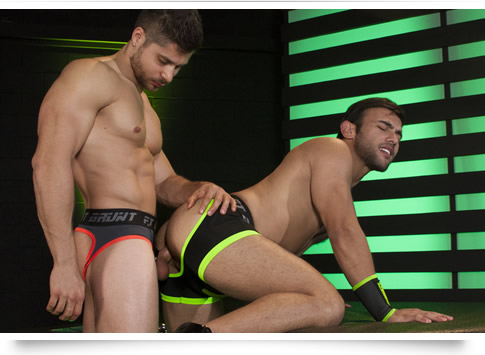 Hot House Expands Sexual Horizions
with Pushing Limits Release
Falcon Studios Group announces the DVD and download release of the latest Hot House feature Pushing Limits. These eight stunning men just can't get enough intense action, and they take their sexual desires to the edge, and finish off with erupting orgasms. They're filling hot asses to the max, they're pounding eager holes relentlessly, they're Pushing Limits.
Director Nick Foxx takes eight beefy studs – Falcon A-Team Exclusives Sebastian Kross, Sean Zevran, Tegan Zayne, and Dorian Ferro, and features fan favorites Rex Cameron, Fabio Acconi, Nick Sterling, and Alex Mason – on a journey that tests their sexual boundaries and gives them the hottest experiences they've ever enjoyed. This intense man-on-man action is now available for download and on DVD now on the Falcon Studios Group store.



Hot Membership Site Scenes Available Now!



Falcon Studios Group Models Appearing Live in a City Near You.
May 27: Grabby A-Team Party, Lucky Horseshoe, Chicago, IL
May 27: NakedSword Original Exclusives Bray Love & Mickey Taylor at Progress Bar, Chicago, IL
May 28: Skin XXII - Ryan Rose & JJ Knight Live, Steamworks, Chicago, IL
June 11: Johnny V at Motorball 2016, Detroit, MI
June 24-26: Sebastian Kross & Tegan Zayne at Gay Days, St. Petersburg, FL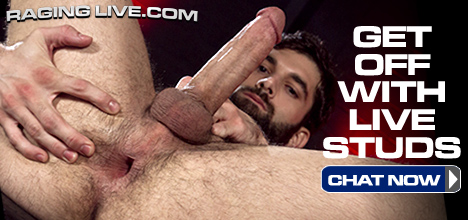 Welcome, HUNTers:
We're bringing you the heat in this Memorial Day Weekend issue of HUNT. With summer kicking into gear, we're letting it all hang out with new releases, action-packed photo galleries, and a steamy free scene download. We've got the inside scoop on the best parties at the Grabby Awards happening this weekend in Chicago. And it wouldn't be a proper holiday without our 72 Hour Memorial Day Sale to help you enjoy all that extra time on your hands! Read on and score some hot new content.
In Breaking News, Hot House's Pushing Limits is available now from the Falcon Studios Group Store on DVD and download. This scorching release features hung tops and beefy power bottoms stretching their holes and their sexual stamina to new extremes!
This weekend is the 2016 Grabby Awards in Chicago! If you're in the city for the Grabbys or the International Mr. Leather competition, don't miss this week's Special Feature. Check out our list of model appearances and meet your favorite Falcon Studios Group A-Team Superstars and NakedSword Originals studs. And wherever you are, you can take advantage of special deals in our 2016 Grabby DVD Sale and 2016 Grabby Scene Sale with award-winning and nominated DVDs and Scenes for as much as 50% Off.
Speaking of A-Team superstars, the smoldering Bravo Delta is the subject of this week's Model Spotlight. Learn more about this furry stud's amateur origins and his personal passion for making porn, and check out up-close-and-personal pics in his Model Spotlight Gallery.
For even more steamy photos, check out the Free Action Gallery featuring Falcon Studio's Between The Sheets. See what happens when eight gorgeous hunks get down and dirty Between the Sheets.
Get a load of all the fresh new content in this week's Studio News. Raging Stallion's Drive Shaft pairing muscled men with muscle cars, is now available for purchase on DVD or download. The new scene from Bout to Bust, starring A-Team Exclusive Tegan Zayne and Adam Ramzi, is now available to stream on RagingStallion.com. And Hot House has premiered the first update from Cruising Grounds, starring A-Team Exclusives JJ Knight and Chris Bines.
We told you we were bringing the heat in this issue, and this week's Free Scene Download is originally from Arab Heat, starring Raging Stallion hunks Alessio Romero and Antonio Biaggi. The scene is also available on the new Raging Stallion compilation Humongous Cocks 36.
Enjoy,
The HUNT Staff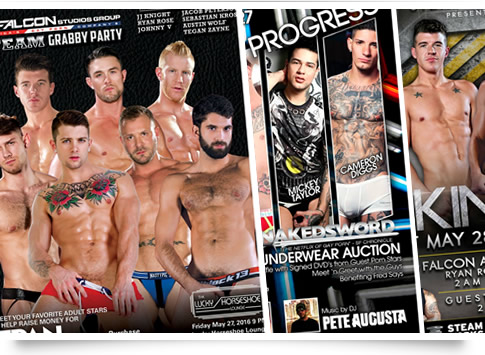 Your Guide to Grabby Weekend
If you're going to be in Chicago this weekend for the Grabbys or IML, here's your guide to everything Falcon Studios Group and NakedSword. Find out where to see and meet the Falcon Studios Group A-Team Superstars and NakedSword Originals Exclusives. We've compiled a list of events and happenings just for you, so you can maximize your star gazing opportunities and learn where you can get up close and personal with the hottest men in gay porn. Don't miss out on the fun, and we're looking forward to seeing you in Chicago.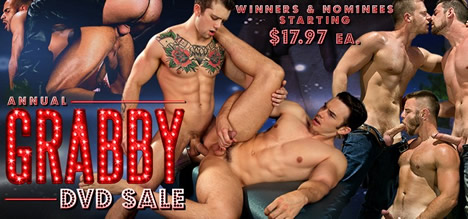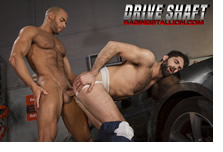 Raging Stallion Puts the Pedal to the Metal with Drive Shaft - Falcon Studios Group announces the release of Raging Stallion's Drive Shaft, a turbocharged erotic romp in the auto shop. Award-winning director Tony Dimarco captures the action as these horny grease monkeys get down and dirty all over the shop floor! Read Full Story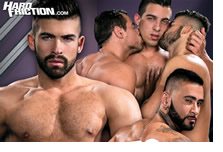 RagingStallion.com Premieres Bout to Bust from Hard Friction - RagingStallion.com announces the release of the first scene from the latest Hard Friction feature, 'Bout to Bust', directed by Steve Cruz and starring A-Team Exclusive Tegan Zayne and Adam Ramzi. The scene filled with connected passion is now live on RagingStallion.com. Read Full Story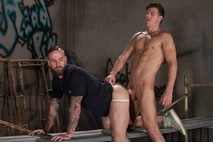 HotHouse.com Premieres Cruising Grounds with New Update - HotHouse.com announces the world premiere of the debut scene from Cruising Grounds, a glimpse into a world of seedy alleys and warehouses filled with spontaneous, anonymous sex. The scene, starring A-Team Exclusive JJ Knight and beefy bearded stud, Chris Bines, is directed by Tony Dimarco… Read Full Story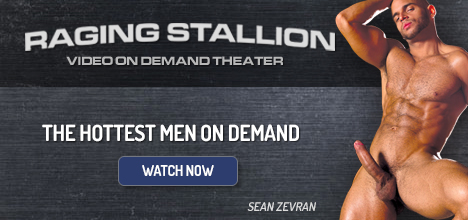 Alessio Romero & Antonio Biaggi from Arab Heat
Available Now in Humongous Cocks Vol. 36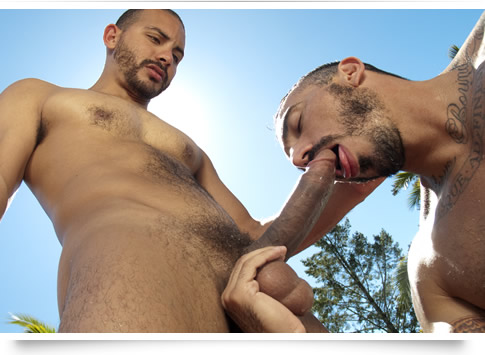 Cool water drips over Antonio Biaggi's lean torso, dripping down to his fat uncut cock, Alessio Romero sucks the water from Antonio's cock, satisfying his thirst. Alessio sucks, spits and gags on Antonio's prick as he shoves deep into Alessio's throat. Antonio flips Alessio over on to all fours, so he can get at Alessio's hot hairy crack. He pours water down Alessio's rear and laps up the liquid flowing down the crack, tasting the refreshing sweetness of sweat and water mixed together. Antonio then takes his monster member, and inserts it swiftly into Alessio's eager ass. The heat of the sun and their pulses build. Alessio straddles Antonio and impales himself on the horse cock, his ass swallowing it whole. Antonio finishes Alessio on his back, and plows his cock home, causing Alessio's to blast ribbons of white cum all over his hairy and sweat soaked torso. Antonio then jerks his cock, releasing his thick load all over them both, as they collapse in the hot sun, drenched, exhausted, fulfilled.