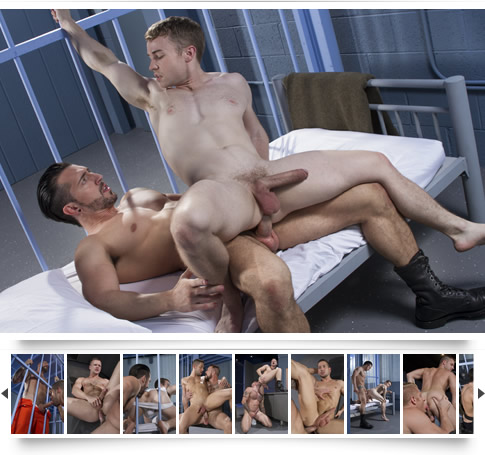 In 'Stiff Sentence', Bad boys and crooked cops get down and dirty as they're served a 'stiff Sentence'. Tony Dimarco directs seven horny officers and criminals who risk it all and break all the rules just to get off. Officer Jimmy Durano plows inmate Gabriel Cross first with his nightstick and then with his cock. Officers on duty Brian Bonds and Johnny V, take a break in the middle of their shift to have a go at one another's hole. Inmate Sean Duran calls out officer Brian Bonds for staring at him in the shower and gets a mouth and hole-full of Sean's fat dick. Kyle Kash is a new inmate at the prison and fellow inmate Rocco Steele offers his protection as long as Kyle sacrifices his smooth hole to Rocco's monstrous cock in exchange. These intense jailhouse sessions between CO's and inmates will give your cock a 'stiff Sentence' and have you setting it free!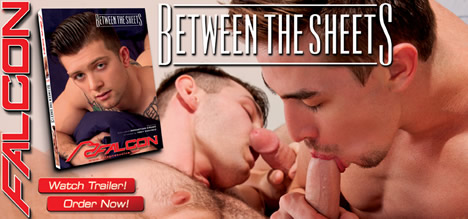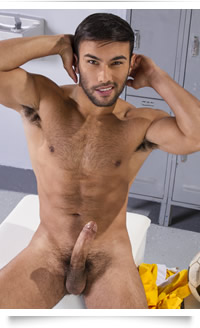 One of the standout members of the A-Team, Exclusive Dorian Ferro lays it all on the line with captivating performances. This versatile stunner got his start as an underwear model - not surprising given his exceptional good looks. With piercing eyes, a sculpted ass, and thrilling uncut cock, Dorian brings his signature eroticism to every scene. Whether he's smooth or hairy, topping or bottoming, Dorian always shows why he's an in-demand superstar. He has been featured in several hits since signing as an A-Team Exclusive in July 2015, including Heated, Part One from Falcon Studios, Labyrinth from Raging Stallion, and Fire and Ice from Hot House. In his latest scene from Raging Stallion's sports-oriented Beef Squad, Dorian pounds out an exciting flip flop with talented Jack Giles. Stay tuned for more edge-of-your-seat appearances from Dorian.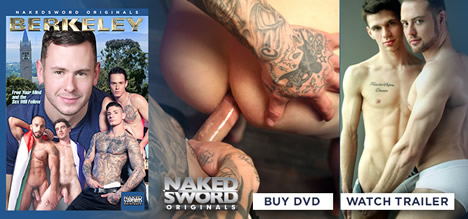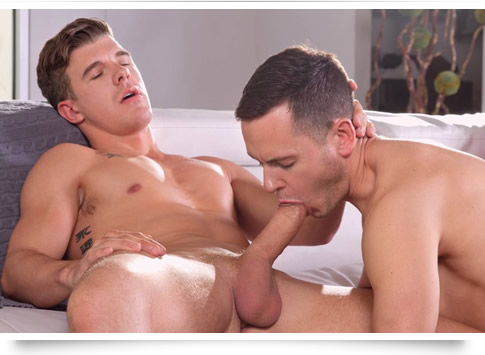 FalconStudios.com World Premieres Sexflix and Chill
FalconStudios.com announces the world premiere of the debut scene from the latest Falcon feature, Sexflix and Chill, starring super-endowed A-Team Exclusive JJ Knight and bubble-butt power-bottom Brenner Bolton. The scene from Sexflix and Chill, directed by Steve Cruz, debuts today on FalconStudios.com, and the DVD and scene downloads will become available on the Falcon Studios Group store, June 3.



Hot Membership Site Scenes Available Now!



Falcon Studios Group Models Appearing Live in a City Near You.
May 12-15: Austin Wolf at Bear Soup Mix 2016, St. Petersburg, FL
May 13: Johnny V at Parliament House, Orlando, FL
May 27: Grabby A-Team Party, Lucky Horseshoe, Chicago, IL
May 28: Skin XXII - Ryan Rose & JJ Knight Live Show, Steamworks, Chicago, IL
June 11: Johnny V at Motorball 2016, Detroit, MI
June 24-26: Sebastian Kross & Tegan Zayne at Gay Days, St. Petersburg, FL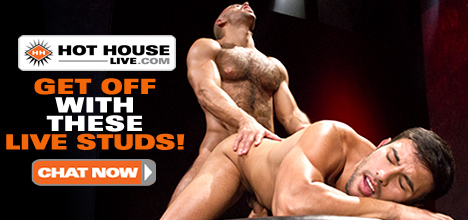 Hey HUNT Dude,
Are you sitting down? Because we're announcing one of the hottest promotions ever! For the first time, we're giving you 30% off EVERY PURCHASE made on the Falcon Studios Group Store! Just use the promo code SAVE30NOW when you check out on May 13, 14 and 15. No matter what you put in your cart, save 30%!
Stock up on New Releases from Falcon Studios, Raging Stallion, Hot House, NakedSword Originals, and more. Save when you download your favorite scenes. DVDs, Blue Rays, books, and calendars are all part of this first-ever promotion. Even our selection of toys - Super Cock and Signature Cock Dildos, Balls, Butt Plugs, Manrammers, and more - are eligible for the discount. But don't delay: this sale is only for three days, and when it's over, it's OVER! There are no extensions, so load up your cart and use the promo code SAVE30NOW before it's too late!
If that wasn't exciting enough, we still have a packed issue of HUNT with breaking news and tons of hot, complimentary content to give away! First up, our Breaking News item is the world premiere of Sexflix and Chill from Falcon Studios. Starring super-endowed A-Team Exclusive JJ Knight and bubble-butt power-bottom Brenner Bolton, the Steve Cruz-directed scene debuts today on FalconStudios.com.
For more intense action, just check out the Free Action Gallery featuring the hottest images from Hot House's Stiff Sentence, where bad boys and crooked cops get down and dirty! And, because we know how much you love free content, our Special Feature this week is a Bonus Action Gallery with boner-inducing stills from Hard Friction's The Thirst Is Real.
He may look sweet and innocent, but Dorian Ferro shows his naughty side in the Model Spotlight. The runway-ready hunk is an A-Team Exclusive model known for sizzling, versatile performances utilizing his juicy uncut cock and perfectly fuckable bubble butt. Check out the free gallery to see for yourself!
Studio News is packed with new releases available as DVDs or Downloads from the Falcon Studios Group Store. Watch horny college guys hit it hard in Berkeley, Part 1 from NakedSword Originals. Tony Dimarco directs eight eager studs who pound out load after load in the bedroom in Falcon Studios' Between The Sheets. And A-Team All-Stars: Johnny V collects the exclusive hunk's hottest scenes from his Falcon Studios Group A-Team appearances. Don't forget, if you purchase any of these between now and May 15 and use promo code SAVE30NOW, you'll get them for 30% off!
Fans of Johnny V are in for an extra treat: in addition to his A-Team All-Stars compilation, the Exclusive model is also featured in this week's Free Scene Download. The scene from Falcon Studios' Cockstar, with megahunk Lance Luciano, is a fiery blast of kissing, stroking, sucking, and fucking.
Cheers,
The HUNT Staff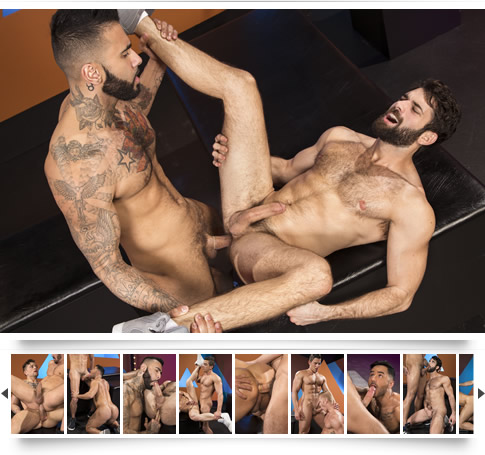 Bonus Action Gallery - The Thirst Is Real
These studs are THIRSTY…They want hot sex, they want it now, and it shows in 'The Thirst Is Real'. From the looks in their eyes, their stiff cocks and their twitching holes, you know they have to have it. Their desires rise to the surface and spill over in load after load in this refreshing release from Hard Friction. Steve Cruz delivers the brand's signature connected sex with a cast of eight hot and eager men, who quench their thirst with wild and passionate fucking. Ripped muscle studs Johnny V and Jacob Tyler suck and fuck their way to a massive climax. Brazilian power-bottom Bruno Bernal has a hole that needs attention and Scott Demarco's fat cock is the only thing in sight that will fulfill his desires. Sebastian Kross gets dirty with Brogan Reed, who opens up his hairy ass for a major pounding. Furry otter Tegan Zayne has an intense flip fuck with bad boy Rikk York, and the conclusion of their scene will make your jaw drop! 'The Thirst Is Real' and these eight studs are here to get you hard, hot and wet, so sit back, grab your cock and take a huge gulp of intense fucking to satisfy your sexual appetite.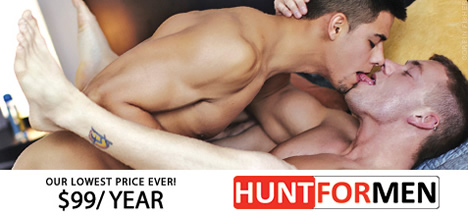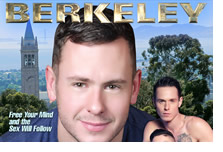 NakedSword Original's Berkeley DVD & Downloads Now Available - A horny student fantasizing about his professor, a tattooed punk rock star experimenting with gay sex for the first time, new dorm roommates that hit it hard, 'Berkeley 1' directed by mr. Pam, explores the progressive and vibrant town and encourages fans to free their mind and the sex will follow. Read Full Story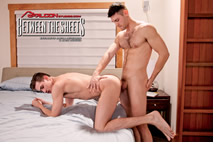 Get Between the Sheets with Falcon Studios' Sizzling Action - Falcon Studios Group announces the release of Falcon Studios' sizzling bedroom fantasy, Between the Sheets. These ripped Falcon hunks are striking, horny, and they were made to hit it Between the Sheets, on the sheets and anywhere that lets them get off. Award Winner Tony Dimarco directs eight eager studs… Read Full Story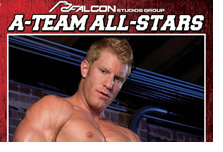 A-Team All-Stars: Johnny V Delivers Muscles, Men & More - A-Team All-Stars: Johnny V is a collection of the finest sex ever shot by Falcon Studios Group A-Team Exclusive Johnny V. This collector's edition includes Johnny V's hottest man-on-man action compiled into one steamy, dick-hardening, orgasm-creating DVD. Read Full Story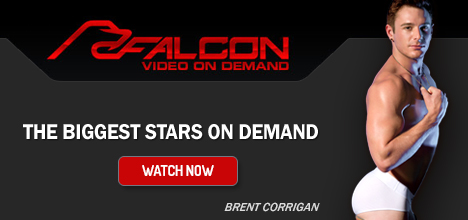 Johnny V & Lance Luciano from Cockstar
Available Now in A-Team All-Stars: Johnny V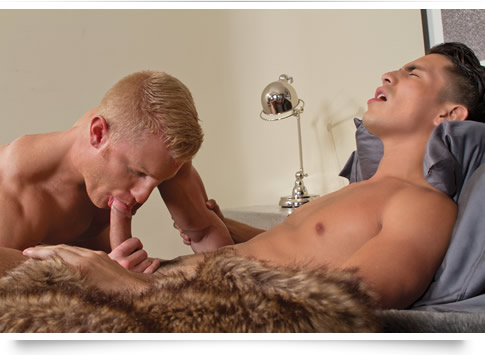 Lance Luciano is lounging in bed when his sexual desire walks into the room. Lance commands him to stop and strip, all the way down to his huge boner. Lance brings out his own manhood to stroke. Only then is Johnny V's face finally revealed. Their hot throats envelope each other's hard cocks. Johnny throws a leg across Lance's body like he's mounting a horse and lowers his hole onto Lance's fat waiting cock. Lance bucks and thrusts. Then he flips Johnny on his shoulders stand and plows him from above, his cock plunging vertically all the way in and out. When Lance finds the perfect angle and depth, Johnny's cock spurts thick ropes of jizz across his washboard abs, causing Lance to add his own giant load to Johnny's cum-spattered torso.