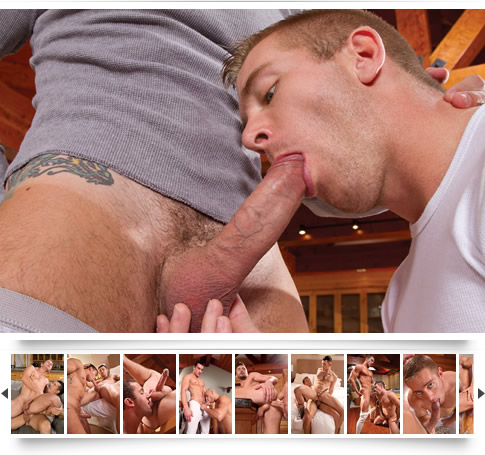 It's cold outside, but inside the sexual fire burns hotter than ever. What better way to escape the chill than warming up with intense, connected sex. Eleven stunning, beautiful men are 'Tahoe – Snowbound', and award-winning director Tony Dimarco turns up the heat. With a gorgeous house nestled in the snowy mountains all to themselves, they turn to each other for fiery, passionate exchanges! Hunky, uncut top Jimmy Durano turns up the heat on blond bottom Scott Riley, fucking in three positions and climaxing in a frenzied facial. All-American hunk Ryan Rose gets and gives oral pleasure with blond cocksucker Kevin Blake. Jason Styles strips down after hitting the slopes and has an intense flip fuck with Dylan Knight. Sean Zevran and Jordan boss share a spontaneous encounter in the hallway, trading blowjobs and blowing huge loads. JJ Knight helps Andrea Suarez relieve his morning wood right in the kitchen with a flip fuck that gets both these big-cocked studs shooting blasts of cum. Pumped from his workout, Jordan Boss gives Jacob Peterson one hell of a ride, resulting in an explosive finish. The stunning studs of 'Tahoe - Snowbound' have the goods to keep you hard and hot all winter long.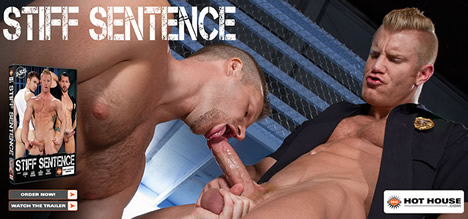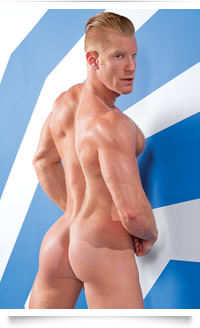 Midwestern muscle man Johnny V is one of the hottest All-American commodities on the Falcon Studios Group A-Team! Standing at 5'11" and boasting 185 lbs. of hard-earned muscle, Johnny is a sexual force to be reckoned with. With fat, impressive meat, a body ripped to shreds and an award-winning bottom, it's no wonder why Johnny holds the trophy for Hottest Bottom in gay porn. After winning the award for 'Hottest Bottom' and 'Best Duo' at the 2015 Grabby awards, Johnny has since gone on to star in over 20+ films for Falcon Studios Group, and he's racked up another eight nominations for this year's Grabbys including Performer of the Year. When Johnny isn't shooting award nominated scenes for Falcon Studios Group, he's busy working on American Muscle Hunks, a site he runs with his boyfriend, Joey D. Some of Johnny's latest work includes Stiff Sentence from Hot House, The Thirst Is Real from Hard Friction, Amped from Falcon Edge and Labyrinth from Raging Stallion. Get your dose of vitamin V, by catching Johnny in his latest, award-worthy performances, and stay tuned for ongoing news from this megastar.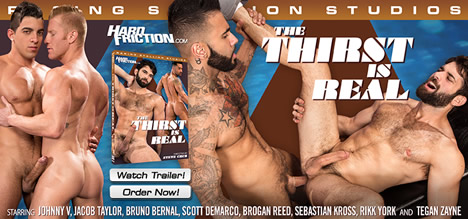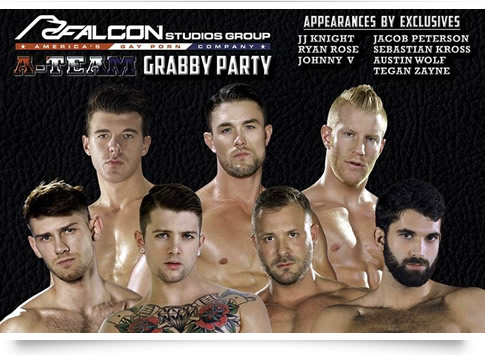 Grabby A-Team Party Announcement
Falcon Studios Group, America's Gay Porn Company and the world's largest gay porn production company, announced today that its A-Team Exclusives will host the Friday Night Grabby Party at Lucky Horseshoe Lounge, Friday May 27 at 9pm. In conjunction with Grab Magazine and the publication's Grabbys gay porn awards show, Falcon Studios Group and select Exclusives welcome fans to a night of appearances and go-go dancing by the some of the hottest men on the planet.



Hot Membership Site Scenes Available Now!



Falcon Studios Group Models Appearing Live in a City Near You.
April 30: Johnny V at Club Krave, Blue Island, IL
May 27: Grabby A-Team Party, Lucky Horseshoe, Chicago, IL
May 28: Skin XXII - Ryan Rose & JJ Knight Live Show, Steamworks, Chicago, IL
June 11: Johnny V at Motorball 2016, St. Andrews Hall, Detroit, MI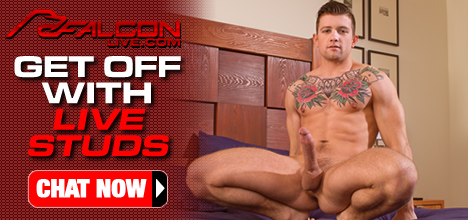 Hey HUNT Hunk,
We're celebrating the 5th Anniversary of HUNT. With our 125th issue, we've been delivering hot content every other week to you for 5 continuous years, and we'd like to thank you for your loyal readership. We're more than grateful and pledge to continue providing you with the hottest free scenes, model and action galleries, Falcon Studios Group news and promotions every time we send HUNT to your inbox.  So, take a seat, get comfortable, enjoy all the content in this milestone issue and review some of the hottest issues of the past year in the 5th Anniversary HUNT Special Feature.
Right out of the gate in Breaking News we're giving you an opportunity to meet your favorite Falcon Studios Group Exclusive Stars at the Annual A-Team Grabby Party in Chicago. Check it out and discover where you'll be able to find all of your favorite A-Teamers during Grabby weekend. While you're at it, check out Grabby's 2016 Performer of the Year nominee and 2015 Hottest Bottom, Johnny V in our Model Spotlight. Read up on all this A-Team powerhouse has to offer and see some of his hottest action images to date.
Hit the slopes with Falcon's latest winter blockbuster in the Free Action Gallery, featuring the sexy snow-melting images from Tahoe – Snowbound.
As a special 5th Anniversary treat, we're giving you a Free Scene Download that features a cum busting scene from Raging Stallion's Meat Packers, Part 1 starring hunks Fabio Stallone and Tony Orion.
With new releases and scene debuts, Studio News is sure to get you worked up. First, go to prison with Hot House's horny inmates and crooked cops in Stiff Sentence. Next, quench your thirst for hardcore sex with the irresistible men from Hard Friction's The Thirst Is Real.  Finally, A-Team Exclusive Sean Zevran and Tegan Zayne take a break from working on a car to fuck in the debut update from Drive Shaft.
If it's savings you want, HUNT always delivers with exclusive offers and promotions that will have you getting off for less. Over 160 movies featuring youthful studs are on sale for only $9.97 each in the Young Guns DVD Clearance. Debuts and fan favorites are half off in the Hot House Debuts + Backroom Exclusives Scene Sale. Finally, it's the final days of Falcon, Jocks & Mustang DVD Savings and New Release Scene Steals, so take advantage of these deals before it's too late!
Thank you again for being a loyal reader and for continuing to check out every issue of HUNT. Without amazing fans like you, none of this would be possible.
Cheers,
The HUNT Staff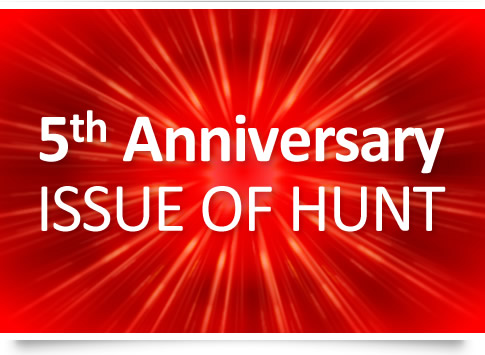 HUNT Turns 5! Fifth Anniversary Issue of HUNT eZine
Issue 125 marks five years of HUNT bringing gay porn fans bimonthly, high-quality, free content, as well as news and information from and about Falcon Studios Group and the industry at large directly into your inbox. With free scene downloads, complimentary action and model galleries, special features, breaking news and exclusive offers, HUNT delivers quality porn in every single issue. On this special anniversary, HUNT would like to thank all the readers for your loyal support and readership. We love keeping you up to date on your favorite models and movies, and we pledge to continue to give you complimentary access to tons of content in each issue.
The first-of-its-kind industry e-newsletter / eZine, HUNT has published over 400 news stories, circulated scores of Model Spotlight and Free Action Galleries and provided fans with 125 complimentary scenes during its five years of publication. Archived issues, Free Scene Downloads and a subscription for the e-newsletter can be accessed by visiting http://huntezine.com, the newsletter's home on the web.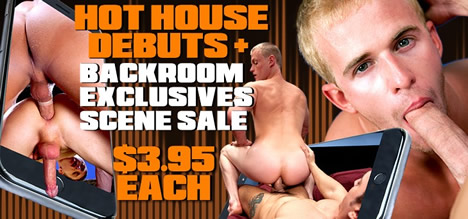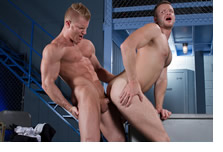 Do Hard Time with Hot House's 'Stiff Sentence' DVD and Downloads - Hot House, The Ass Authority, announced the release of its new prison themed feature, Stiff Sentence, on DVD and scene download. Tony Dimarco directs seven horny officers and criminals who risk it all and break all the rules just to get off. Read Full Story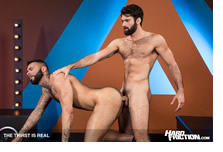 'The Thirst Is Real' DVD and Downloads - These studs are THIRSTY…They want hot sex, they want it now, and it shows in The Thirst Is Real. From the looks in their eyes, their stiff cocks and their twitching holes, you know they have to have it. Their desires rise to the surface and spill over in load after load in this refreshing release from Hard Friction. Read Full Story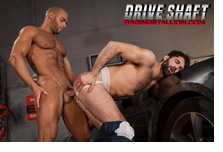 RagingStallion.com Premiers 'Drive Shaft' Update - RagingStallion.com announces the release of the first scene from the new, high-octane, full-throttle movie, 'Drive Shaft', starring A-Team Exclusives Sean Zevran and Tegan Zayne. Set in a hot auto shop, the scene features mechanic Zevran driving his dipstick deep into co-worker Zayne's backend. Read Full Story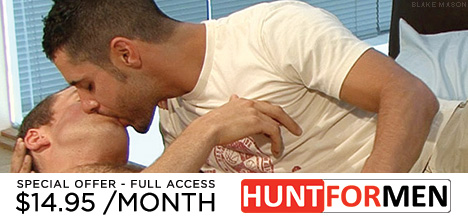 Fabio Stallone & Tony Orion from Meat Packers, Part 1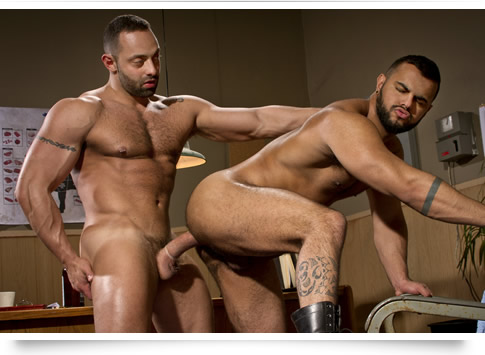 Tony Orion needs a job and the SF Meat Packers are hiring. He tells cigar-chomping foreman Fabio Stallone his lack of skills are offset by the fact that he's strong, he's flexible and he works really, really hard. Fabio's cock twitches at the prospect. Some might call Tony a bear cub but Fabio is more interested in his potential as a sex pig. Is Tony ready to get his chops porked? Fabio pulls out a monster uncut cock and puts him to the test. Tony sucks like he came from a feed lot where dick was the only food. He lets Fabio undress him and Fabio is transfixed by Tony's hard, hairy buns. Fabio orders Tony to finger his hole, then he leans in for a sniff and a taste. Tony's loins get a tobacco baste when Fabio shoves his cigar up Tony's chute. Then the meat packing commences. It's a deep grinding fuck that leaves Tony wide-eyed and wet with double loads of jism.