Tommy Deluca & Marc Dylan from Sektor 9, Part 2
Now Available on Amazing Ass 10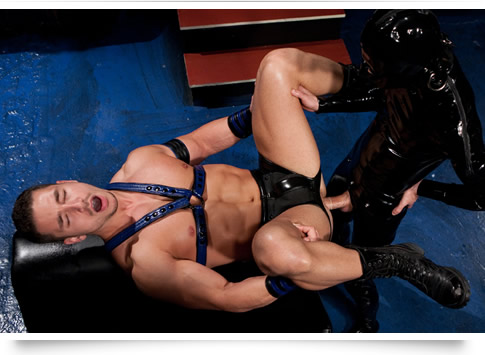 Thinking he has the entire Sektor 9 dungeon to himself, Marc Dylan kicks back on leather-padded sawhorse and fucks himself with a giant dildo. His moans attract the attention of one of the gulag's most prolific predators, a dominant top known only for his head-to-toe rubber suit and 11" battering-ram cock. The mystery-man silently circles Marc then pounces on him, stifling his cries of surprise with one hand while probing his ass with the other. He immediately whips out his enormous cock, shoves it deep in Marc's ass, and begins to power-fuck him. The muscular bottom rolls over and opens his hole to take every inch of the nearly foot-long rod. Marc's tight hole proves too much for the unknown assailant who pulls out and blows his load, then offers his masked face to Marc who jacks off and showers the rubber-man with cum.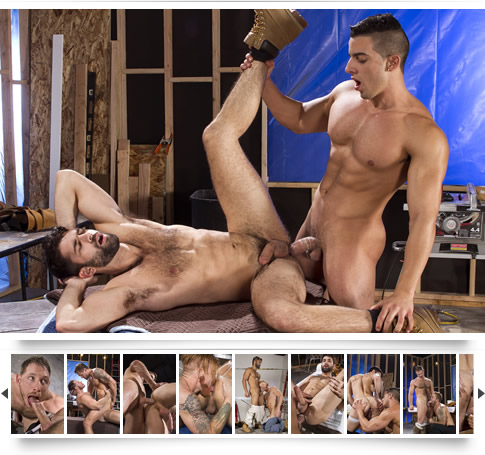 Erect This! is the shout heard by all the horny studs of this construction crew. They're not just talking about the building they're working on: these sweaty, hard-working tradesmen know how to work their tools and raise each other's wood. Director Steve Cruz is the architect behind this fast-paced project, full of powerful tools and all the nailing, drilling, and hammering you could ask for. Smooth, muscled Jacob Tyler has the goods to give bearded, toned Tegan Zayne the ride of his life. Hairy, uncut stud Spencer Whitman accepts an offer from foreman Wesley Woods that leads to an epic flip-fuck session. Tegan Zayne gets fucked like a jackhammer by Gabriel Taurus' meaty cock. Buff ginger Bennett Anthony and ripped, bearded Adam Ramzi use their break to satisfy their deepest sexual cravings in a flip fuck that will blow your tool belt off. The rough, uninhibited sexual encounters that these handymen have will give you everything you need to Erect This!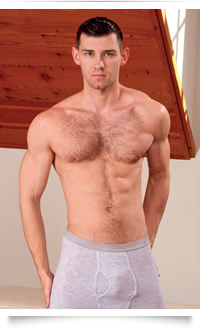 Falcon Studios Group A-Team Exclusive Jacob Peterson commands attention with his ripped swimmer's build and his breathtaking sexual stamina. At six feet tall and 185 lbs, Jacob is exceptionally cut and lean, with every muscle in his body visible as he strips down and gets dirty with other men. Add in his eight-inch uncut cock, spectacular bubble butt, and his hypnotizing erotic gaze, and it's no wonder that Jacob was signed to our list of A-List Exclusives last July. Since then, Jacob starred in some of Falcon Studios Group's biggest projects and even earned himself a nomination for 'Best Newcomer' at the 2016 Grabby Awards. When Jacob isn't busy filming award-worthy performances, he loves to connect with his dedicated fans via social media: find him on Twitter, Tumblr, Instagram, and Snapchat with the username jacobvpeterson. If you haven't had a chance to see this handsome stud in action, you can catch this A-Team superstar in his recent releases like Surge and Amped, both from Falcon Edge, as well as Heated, Part One and Tahoe - Snowbound, both from Falcon Studios. Buckle up, and join A-Team powerhouse Jacob Peterson on his rocket ride to porn superstardom!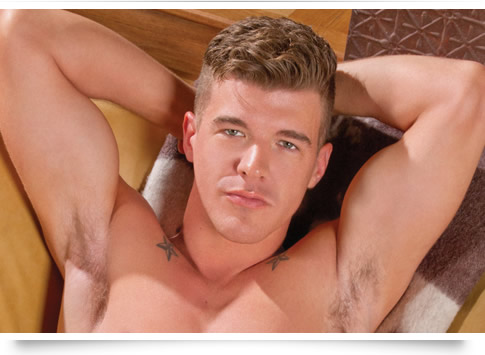 JJ Knight Signs Exclusive Agreement
with Falcon Studios Group
Falcon Studios Group announced that it has reached an exclusive agreement with handsome, well-endowed rising superstar, JJ Knight. The newest addition to the Falcon Studios Group A-Team will appear exclusively in Falcon releases and will represent the group as a Grabbys Co-Host. Knight will join hosts Chi Chi LaRue, Honey West and other porn star co-host in presenting the 17th Annual Grabby Awards on May 28, 2016 at the Metro Theater in Chicago.



Hot Membership Site Scenes Available Now!



Falcon Studios Group Models Appearing Live in a City Near You.
April 15: Johnny V's Birthday Bash at Seven Nightclub, Chicago, IL
April 16: Pornstars In Vegas at Share Nightclub, Las Vegas, NV
April 30: Johnny V at Club Krave, Blue Island, IL





Hey HUNT Guy,
This year, April delivers three issues of HUNT, and each of them is stuffed with tons of free content! New releases, scorching hot action images, and breaking model announcements will get you rock hard and ready to bust a nut. Get comfortable 'cause you'll want to savor this loaded issue of HUNT!
First off, the A-Team gets an exciting new addition, with JJ Knight signing on as the newest Exclusive in this issue's Breaking News. You'll see for yourself why the industry is raving about this fast-rising newcomer! In additional model news, Jacob Peterson - one of the most dynamic Falcon Studios Group performers - is in our Model Spotlight showing off steamy images from his hot new releases.
Horny men get busy while on the construction site in the Free Action Gallery from Raging Stallion's Erect This! See the hottest images from the blue-collar sex fest directed by Steve Cruz. If you're into hot action in the gym shower, head over to our Special Feature where we've include a BONUS Free Action Gallery with pulse-quickening images from Tony Dimarco's locker room flick, Towel Off.
Enjoy the edgy Free Scene Download featuring hunks Marc Dylan and Tommy Deluca in a toy-filled scene originally from Hot House's Sektor 9, Part 2. The scene can also now be found on the latest Hot House collection, Amazing Ass 10.
Studio News is full up with the latest and best from Falcon Studios Group and beyond. First up, hit the slopes in Tony Dimarco's latest winter retreat, Tahoe – Snowbound. Stag Homme's newest DVD, Raw Stags, hits the streets. RagingStallion.com releases the debut scene from The Thirst Is Real, starring A-Team Exclusive Bruno Bernal getting pounded by Scott Demarco. In the new update from Hot House's Ride It, A-Team Exclusive Chris Bines fucks Armond Rizzo in the motorcycle shop. O.F.D. Obsessive Fisting Disorder arrives on DVD and download from Club Inferno. And, finally, get Between The Sheets with A-Team Exclusive Sean Zevran as he fucks newcomer Zander Cole in this scene update directed by Tony Dimarco.
You want deals and offers? HUNT's got plenty of that for you too. Save and get off with these specials. Check out the new Falcon, Jocks & Mustang DVD Savings offer with features as low as $9.97 each.  We're offering 30% off recent download for a limited time in the New Release Scene Steals deal! Finally, This is your final warning that our Annual Spring DVD Clearance is coming to a close, and it gives you up to 60% savings on DVDs from all the hottest brands.
Cheers,
The HUNT Staff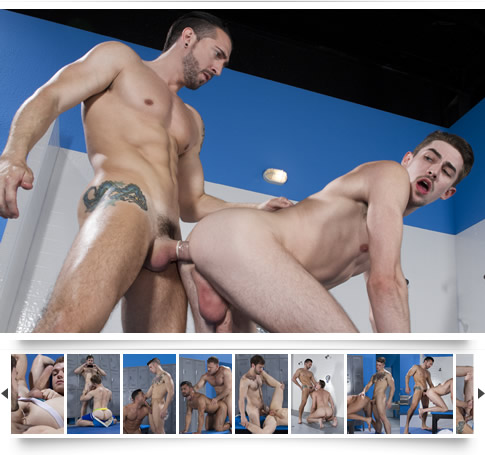 BONUS Free Action Gallery: Towel Off
In Towel Off, beefed up studs work out, hit the locker room, drop their towels, show their muscled butts and fuck hard. Josh Conners is caught by A-Team Exclusive Sebastian Kross jerking off so Sebastian lends a helping hand and his hard cock. Gabriel Cross tries to record Bravo Delta in the shower and gets caught, and must pay the penalty with his hole. Jack Hunter joins Jimmy Durano in the steamy showers for some mouth-to-cock action before getting bent over and fucked hard. Bruno Bernal is mesmerized by the heaping sight of Austin Wolf and quickly ends up bouncing on Austin's thick rod. After watching this hot, steamy and sticky action, you're going to need to Towel Off.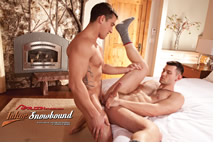 Falcon's Tahoe - Snowbound DVD and Downloads Hit the Slopes - America's Gay Porn Company, Falcon Studios Group, announces the latest release in the Falcon Studios Tahoe series, Tahoe - Snowbound. The snow flies and the cum falls as eleven stunningly beautiful men hit the slopes in Tahoe and turn up the heat with each other. Award-winning director, Tony Dimarco, keeps the passionate action on maximum temperature, delivering six award-worthy scenes. Tahoe – Snowbound DVD and scene downloads are now available on the Falcon Studios Group Store. Read Full Story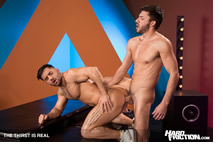 Bruno Bernal Quenches Scott Demarco's Thirst in Debut Update - RagingStallion.com announces the release of the first scene from Hard Friction's latest parched feature The Thirst Is Real starring A-Team Exclusive Bruno Bernal and fat-dicked Scott Demarco. The scene will go live on RagingStallion.com on April 08, followed by the availability of the DVD and scene downloads on April 22, 2016 on the Falcon Studios Group Store. Read Full Story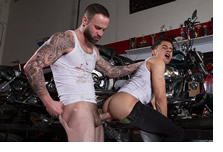 Armond Rizzo Gets Disciplined on the Job by Chris Bines in Debut HotHouse.com Update - Hot House, The Ass Authority – announces the debut of the first scene from Ride It. The new update featuring A-Team Exclusive Chris Bines and power-bottom Armond Rizzo was directed by Nick Foxx and goes live on HotHouse.com on Thursday, April 14. Additional updates from the production will appear on the membership site in coming weeks and the DVD and scene downloads will be made available on the Falcon Studios Group store on July 15, 2016. Read Full Story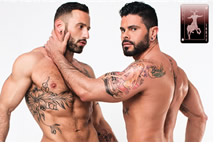 Raw Stags Bares All in New DVD & Downloads from Stag Homme - These relentless studs can't get enough bare, uninhibited action. They're Raw Stags hitting it hard and breeding holes with reckless abandon. Stag Homme returns with Francesco D'Macho directing their second bareback release starring six of Europe's hottest Raw Stags. Read Full Story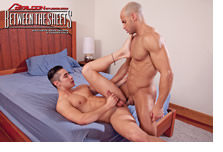 Sean Zevran and Zander Cole Get It On Between The Sheets in Debut Falcon Update - FalconStudios.com announces the world premiere of the debut scene from Between The Sheets, featuring A-Team Exclusive Sean Zevran and newcomer, Zander Cole. Directed by Tony Dimarco, the scene from 'Between The Sheets' will debut on FalconStudios.com Friday April 15, 2016. The DVD and remaining scene downloads will be made available May 06, on the Falcon Studios Group Store. Read Full Story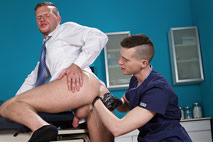 Catch O.F.D. Obsessive Fisting Disorder on DVD & Downloads - 'O.F.D. - Obsessive Fisting Disorder' is spreading. Hot studs are being overcome with the overwhelming urge to submit to every fist and pack their hands into every hole they see. In 'O.F.D. Obsessive Fisting Disorder, Part 1', Tom Moore directs, three obsessed ballers… Read Full Story